In this tutorial, I take your hand and walk you through the process of butterflying a whole chicken, prepping it with my special rub/mayo mixture and then smoking the chicken to perfection. I used my Hasty Bake Legacy with lump charcoal and pecan wood for these smoked chickens but you can do this on any smoker whether it's a charcoal, electric, pellet smoker or even a grill.
The recipe card is below and be sure to watch the video as I demonstrate the entire process for you.
Helpful Information
Prep Time: 15 minutes
Cook Time: 2.5 hours
Smoker Temp: 275°F
Meat Finish Temp: 165°F
Recommended Wood: Pecan
What You'll Need
Main prep
Brine (optional)
1 gallon of cold water
1 cup of coarse kosher salt
1 cup of brown sugar
Basting Sauce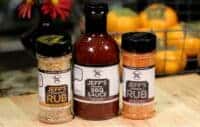 Please note that my rubs and barbecue sauce are now available in 2 formats– you can
purchase the formulas
and make them yourself OR you can
buy them already made
, in a bottle, ready to use.
Brining
Note I did not go over the brining process in the video however, I will be doing that in a future video and when I do, I will add a link to that in the "how to smoke chicken video".. For now, just follow the brining instructions below.
4-6 hours before you plan to prepare and smoke the chicken(s), make the brine by adding the cold water to a large container such as a tea pitcher. Add the coarse kosher salt and stir until the salt is dissolved and the water returns to clear. Stir in the brown sugar and the brine is ready to use.
Place the chicken in a glass or plastic container and pour the brine over the chicken to cover.
Place the container into the fridge for 4-6 hours while the chicken brines.
Once the brining process is finished, remove the chicken from the brine, rinse it under cold water and pat it dry with a paper towel. Discard the brine.
What is brining you ask?
Placing meat into a saltwater solution allows the salty water to aborb into the meat where it gets trapped between the strands. During cooking, moisture is always lost however, since it now has more water than it did naturally, it will end up being juicier.
Jeff's Smoking Meat Books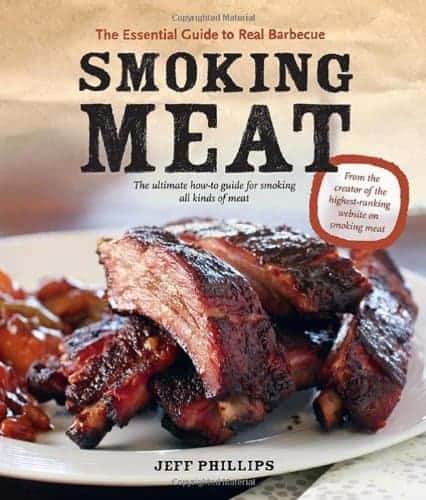 Smoking Meat: The Essential Guide to Real Barbecue – The book is full of recipes and contains tons of helpful information as well. Some have even said that "no smoker should be without this book"!
With more than 1000 reviews on Amazon.com and a rating of 4.7 out of 5 stars, it comes highly recommended and is a Bestseller in Barbecuing & Grilling books on Amazon.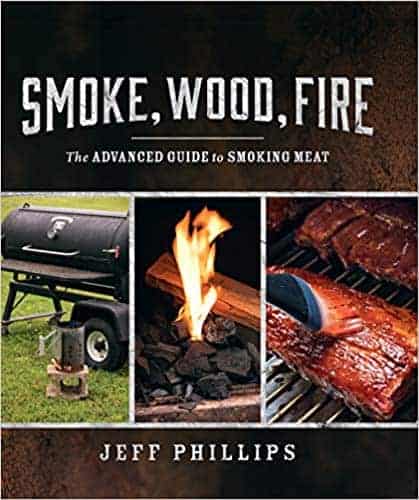 Smoke, Wood, Fire: The Advanced Guide to Smoking Meat – Unlike the first book, this book does not focus on recipes but rather uses every square inch of every page teaching you how to smoke meat. What my first book touched on, this second book takes it into much greater detail with lots of pictures.
It also includes a complete, step-by-step tutorial for making your own smoked "streaky" bacon using a 100 year old brine recipe.
Amazon | Barnes & Noble
Get Almost Anything at Amazon
If you enjoy the newsletter and would like to do something helpful, then..
The next time you decide to order something at Amazon.com, use THIS LINK to get there and we'll get a small commission off of what you purchase.
Thank you in advance for using our special link: http://www.smoking-meat.com/amazon
---
Printable Recipe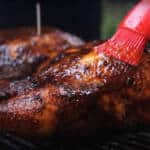 Print Recipe
How to Smoke Chicken
How to brine and butterfly a whole chicken, prepare it with my special rub/mayo mixture and then smoke the chicken to perfection.
Ingredients
Main Prep
1

Each Chicken

, Whole

1

Cup

Mayonnaise

1/4

Cup

Jeff's original rub
Brine
1

Gallon

Cold water

1

cup

Coarse kosher salt

1

cup

brown sugar

(dark or light)
Baste
1

stick butter

(melted)

2

TBS

Jeff's original rub
Instructions
Pour 1 gallon of cold water into large pitcher. Add salt and sugar and stir until dissolved.

Place chicken into non-reactive container and pour brine over chicken to cover. Refrigerate.

After 4 hours, remove the chicken, rinse and pat dry. Discard brine.

Cut along both sides of backbone to remove. Press chicken open and place skin side down on cutting board.

Mix together 1 cup of mayonnaise and 1/4 cup of Jeff's original rub. Place 1/2 of mixture on meat side of chicken. Spread to coat.

Flip chicken to skin side up and apply other half of mayo/rub mixture to skin side spreading it all over the breast, wings and legs to coat. Push some of it under the skin wherever you can.

Setup smoker for cooking indirect at 275 degrees using pecan wood for smoke. If your smoker uses a water pan, leave it dry.

Place chicken meat side down- cook chicken until internal temperature reaches 165 degrees F in the thickest part of the breast and thigh.

While the chicken is cooking, mix together 1 stick of melted butter and 2 TBS of Jeff's original rub. Brush this all over the skin side of the chicken 2 to 3 times during the cooking process or anytime it starts to look dry.

Once the chicken is finished cooking, remove it to the counter and let it rest for 15 minutes with foil tented over the top.

Carve the chicken and serve.