A year or two ago, a craze hit the internet known as the smoked bacon wrapped onion ring. I'm a little slow getting on that train, but, after putting my spin on it and trying it out, I'm wondering why I waited so long.
Some might complain that these are a little labor intensive but the remedy for that is to let everyone wrap their own. I do this for most of the appetizers that I do at my house and not only does it save me a ton of work, it gives everyone a since of being involved in the process and even the smaller ones can do something too.
Helpful Information
Prep Time: 40 minutes
Cook Time: 2 hours
Smoker Temp: 225-240°F
Meat Finish Temp: N/A
Recommended Wood: Pecan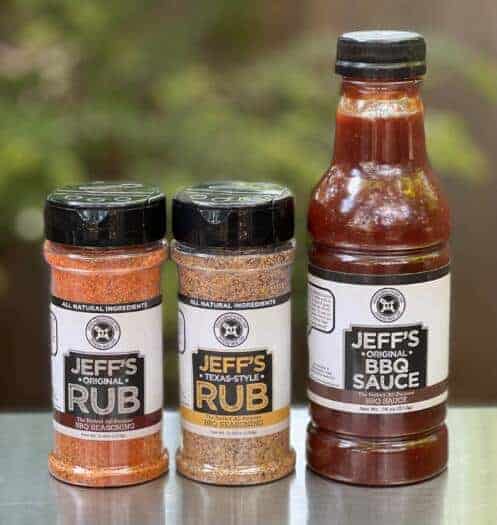 Please note that my rubs and barbecue sauce are now available in 2 formats– you can
purchase the formulas
and make them yourself OR you can
buy them already made
, in a bottle, ready to use.
Prepare the Onions
I had 6 sweet yellow onions but only used 4 onions to get 12 large rings with 2 layers each.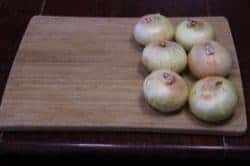 Cut about ¼ inch from the root end and the stem end. It will be flat on both sides.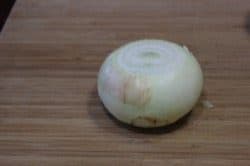 Peel the skin from the outside of the onions.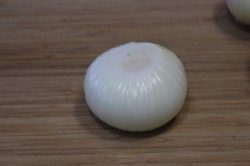 Cut the onion into ½ inch pieces. You should get 3-4 slices from each onion.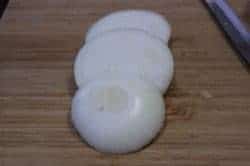 Remove the inner layers to leave the 2 largest outside layers.. we'll call them layer 1 and layer 2.
If the slices are large enough, you might be able to get another slice from the 3rd and 4th layer.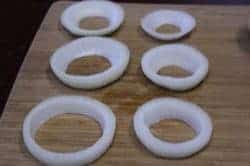 By using rings that are 2 layers thick, it's a lot more robust and holds together better. It also gives you more onion inside the bacon and that's a good thing.
Pick out 12 of the best rings of onion.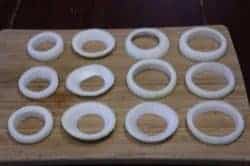 Sauce and Rub
Lay the raw onion rings on a plate, cutting board or perhaps a cookie sheet.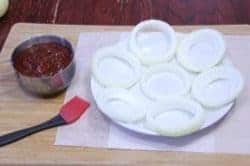 Brush the top and sides of each one with my original barbecue sauce (Purchase formula here | Purchase bottled sauce).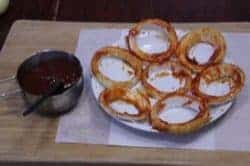 Sprinkle my original rub (Purchase formula here | Purchase bottled rub) on the top and sides of each ring.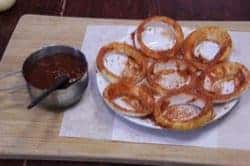 Flip the rings over and repeat the sauce and rub on the other side to complete this step.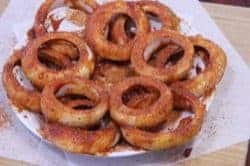 Wrap Onion Rings with Bacon
I recommend you use the thinnest bacon you can find. I usually count slices to determine which package has the thinnest bacon.
If a 1 lb package has 15-16 slices, that's about perfect.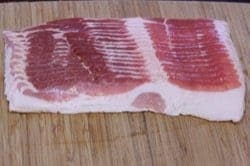 Hold the sauced and rubbed onion ring in one hand and manipulate a piece of bacon around the edges of the ring. When you finish with one slice of bacon, begin another one, going in the same direction.
Each onion ring, depending on the size will take from 2-3 pieces of bacon. If you are careful to stretch the bacon as you wrap, it will cover a little more area.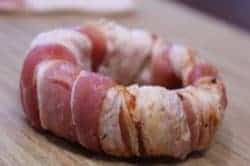 Some folks use toothpicks to hold the bacon in place, I find it to not be necessary with thin bacon but I will leave that up to you.
More Rub
Once all of the onion rings have been wrapped in bacon, lay them on a Bradley rack, Weber grill pan or a cooling rack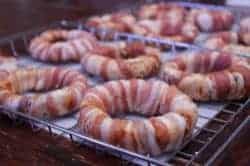 Apply a generous amount of my original rub (Purchase formula here | Purchase bottled rub) to the top and sides.
This rub will give you another layer of flavor and add to the flavor of this wonderful smoked appetizer.
Leave the rubbed onion rings sitting on the counter while you go get the smoker ready.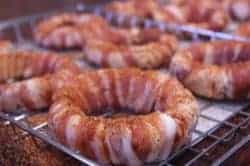 Smoke Time
Set up your smoker for cooking at about 240°F with indirect heat using pecan wood for smoke. Other smoking woods will work if you don't have pecan.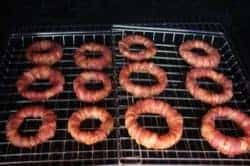 Place the racks of onion rings on the smoker grate and let them cook for 1.5 to 2 hours or until the bacon gets to the right color and is somewhat crisp.. i.e. has good bite-thru.
It's also important that the onion is vey soft.. you might have to eat one to test for that;-)
Bacon does not get crispy per se in the smoker but it does reach a point at this temperature where it is not chewy at all and has good bite-thru. This is what you are looking for.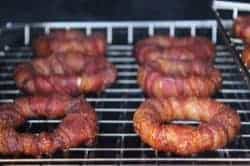 Finish and Serve
Remove the smoked bacon wrapped onion rings from the smoker when they are finished and serve them immediately so folks can eat them nice and hot.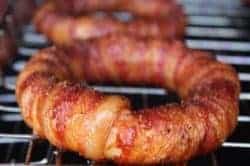 I did not dip them in anything but you could add Sriracha (to taste) to some mayo and a little lemon or lime juice for a good dipping sauce. My original barbecue sauce (Purchase formula here | Purchase bottled sauce) is always a great option and really compliments the smoke.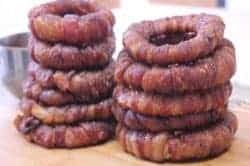 Enjoy these and promise yourself you'll make a triple batch next time!
Order Jeff's Rubs and Barbecue Sauce TODAY!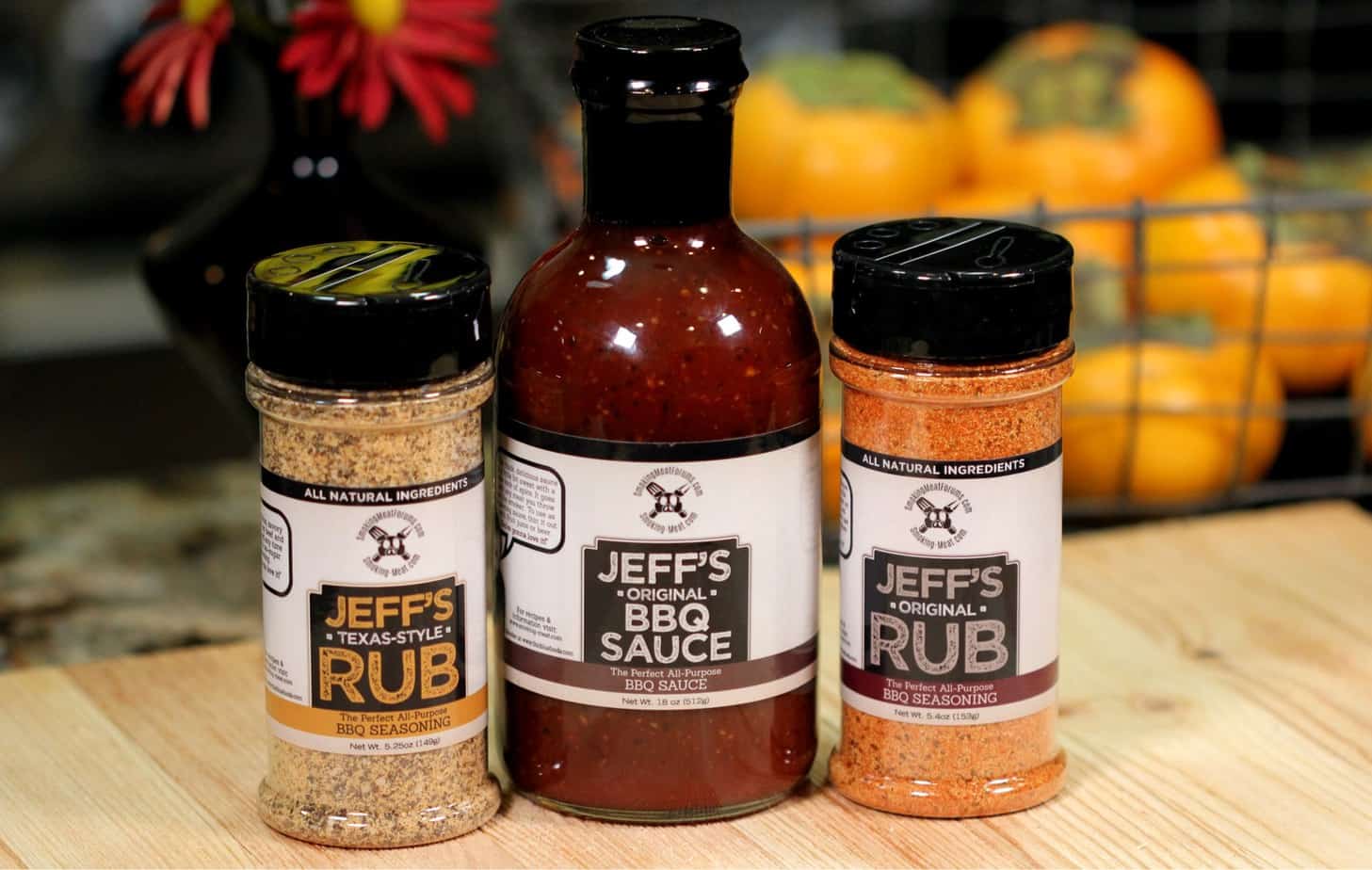 ✅ If you haven't ordered my rubs or sauce yet you can do that HERE. They are the best thing you've ever tasted and it's a great way to support what we do!
We ship blazingly fast and orders over $50 ship free!
You can also order the formulas for my rubs and sauce and make these yourself at home. Grab those HERE and download immediately.
Jeff's Smoking Meat Books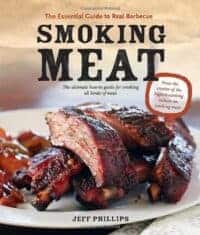 Smoking Meat: The Essential Guide to Real Barbecue – The book is full of recipes and contains tons of helpful information as well. Some have even said that "no smoker should be without this book"!
With more than 1000 reviews on Amazon.com and a rating of 4.7 out of 5 stars, it comes highly recommended and is a Bestseller in Barbecuing & Grilling books on Amazon.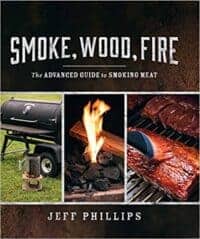 Smoke, Wood, Fire: The Advanced Guide to Smoking Meat – Unlike the first book, this book does not focus on recipes but rather uses every square inch of every page teaching you how to smoke meat. What my first book touched on, this second book takes it into much greater detail with lots of pictures.
It also includes a complete, step-by-step tutorial for making your own smoked "streaky" bacon using a 100 year old brine recipe.
Get Almost Anything at Amazon
If you enjoy the newsletter and would like to do something helpful, then..
The next time you decide to order something at Amazon.com, use THIS LINK to get there and we'll get a small commission off of what you purchase.
Thank you in advance for using our special link: http://www.smoking-meat.com/amazon
---
Printable Recipe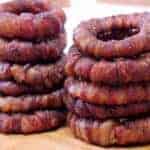 Print Recipe
Smoked Bacon Wrapped Onion Rings
With Super Bowl LI coming up.. you need some amazing appetizers regardless of who your team is.. here's one you need to add to the list.
Ingredients
3-4

sweet onions

((, large))

2

lbs

bacon

((, thin sliced))

Jeff's original barbecue sauce

Jeff's original rub

Toothpicks

(((optional)))
Instructions
Cut the root end and stem end off the onion.

Peel the skin from the outer layer of the onion.

Cut the onion into ½ inch slices and remove the centers to only leave about 2 layers.

Brush barbecue sauce onto the top of the onion slices then sprinkle with Jeffs' original rub.

Flip the onion slices over and repeat the sauce and rub on the other side.

Wrap strips of thin bacon around the edges of the onion slices. Expect to use about 2-3 slices each.

Lay the bacon wrapped onion rings onto a Bradley rack or cooling rack and sprinkle with a little more rub.

Set up your smoker for cooking at 240°F with indirect heat using pecan wood for smoke.

Smoke cook the onion rings for about 2 hours or until the bacon is crisp and nicely browned.

Serve immediately when finished.