Many folks across the continental U.S. know that smoked bologna is an Oklahoma thing that we take very seriously. I am a transplant to Oklahoma but it did not take me long to discover that this was a deep-rooted tradition around here and one that I enjoy sharing with my friends in other places.
You might think that we just throw a hunk of bologna in the smoker and that's it but we do some special things to it to make it meaningful and I aim to show you a few of those and even show you something of my own creation that will surely make you look at bologna in a whole new light.
Bologna comes in all shapes and sizes and even in a variety of flavors. You can buy the less expensive stuff in the supermarket or you can go with a "higher quality" (I use that term loosely) bologna made with all beef if you prefer. In the end it will all be good and my only recommendation is to start with the best and let the smoke do the rest.
For this demonstration I purchased a variety of types and sizes to show you what can be done with it. Let your imagination run wild and let me know in the comments below if you come up with something amazing!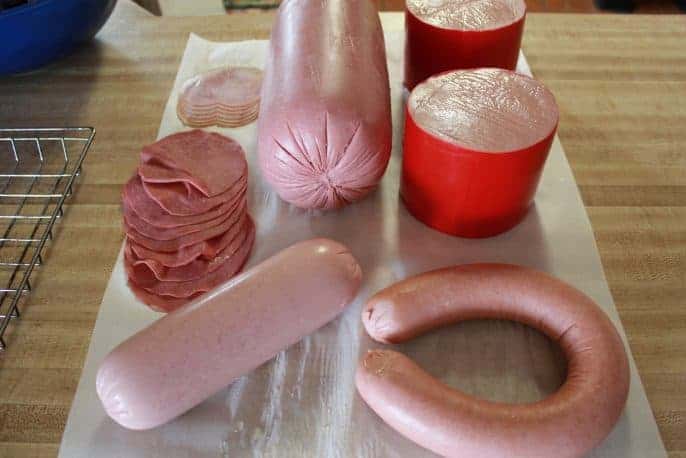 Here are the different things that I made with the bologna and the directions for each one:
Cream Cheese & Jalapeño Stuffed Smoked Baloney Rollup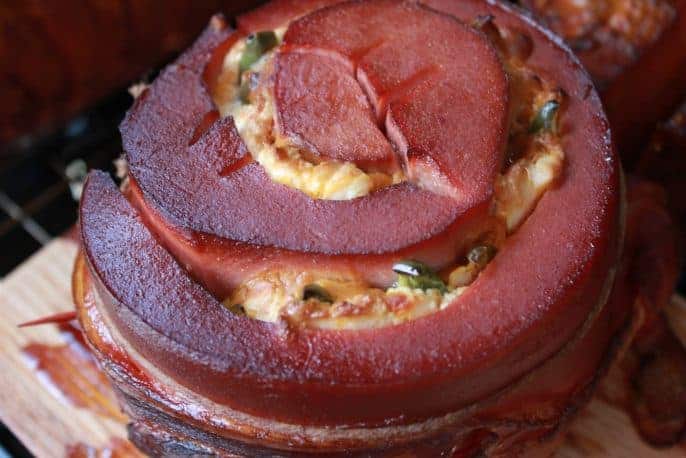 This recipe is my own very own creation and it not only looks really cool, it is extremely tasty
Ingredients
3 lb chub of bologna (or a 5lb chub cut in half)
8 oz package of cream cheese
1/2 cup shredded cheddar cheese
1 jalapeno, cleaned, deseeded and sliced into long, thin spears
5-6 pieces of thinly sliced smoked ham
2 tablespoons of Jeff's barbecue sauce (purchase recipes here)
2 tablespoons of yellow mustard (hotdog mustard)
2 slices of bacon
Directions
Using a 3 lb chub or bologna, remove the wax or paper from the outside and use a sharp knife to cut down into the bologna about 3/4 of an inch.
Turn the knife away from you and begin to butterfly the bologna by cutting a spiral into the bologna. Try to keep the thickness even and you should end up in the center when you are finished. It does NOT have to be perfect.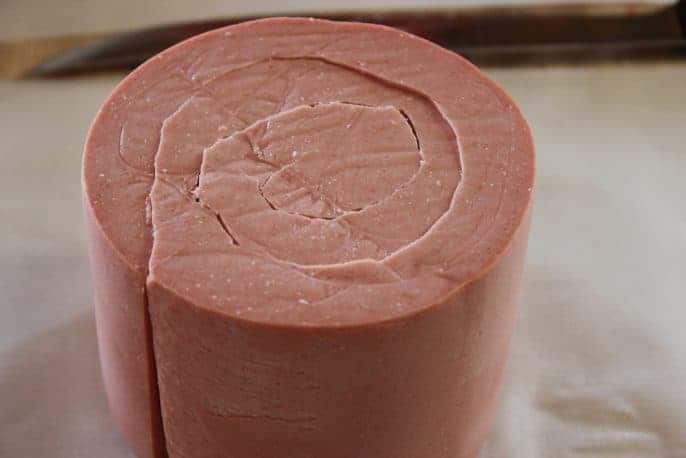 Once the cut is finished, unroll the bologna to lay it open and make it ready for stuffing.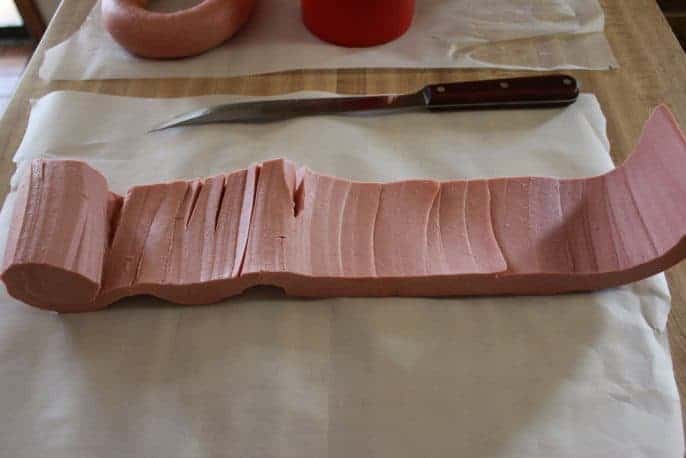 Mix the softened cream cheese, Jeff's original rub (purchase recipes here) and cheddar cheese together to form the mixture which we will spread onto the bologna.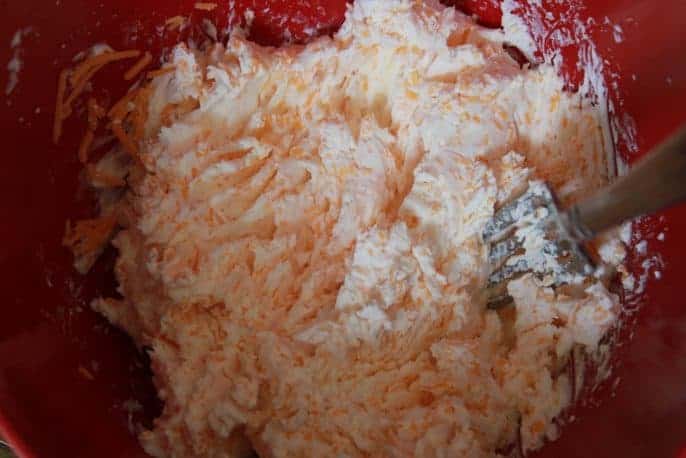 Spread a layer of the cream cheese and cheddar onto the bologna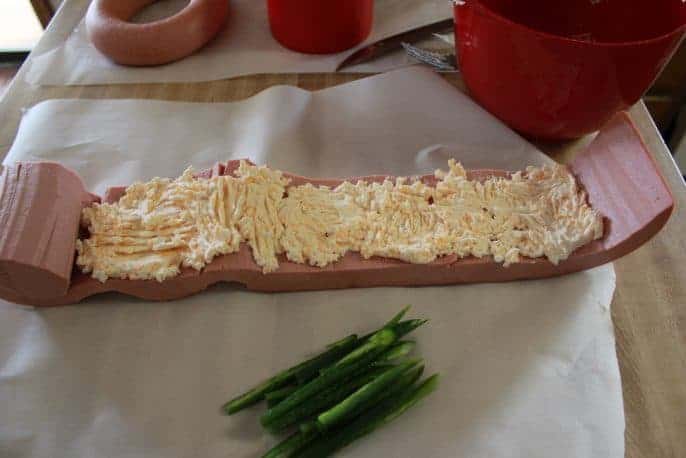 See the spears that I cut from a jalapeno in the picture above, lay them across the cream cheese at 1-inch intervals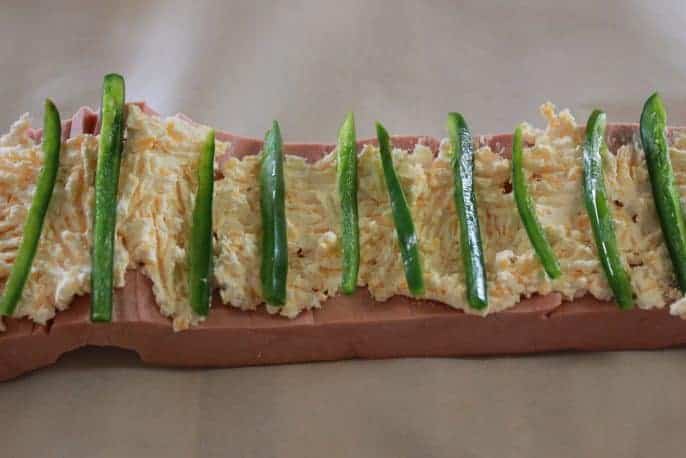 Now layer on the thinly sliced smoked ham.
Note: you could also use prosciutto, sliced turkey, roast beef, corned beef or any other thinly sliced deli meat.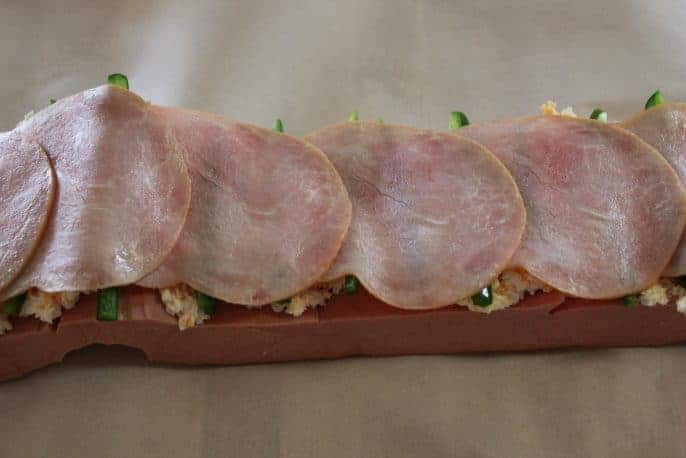 Jeff's Mustard Sauce
Mix equal parts of Jeff's barbecue sauce (purchase recipes here) with hotdog mustard for a wonderful sauce made specifically for smoked bologna.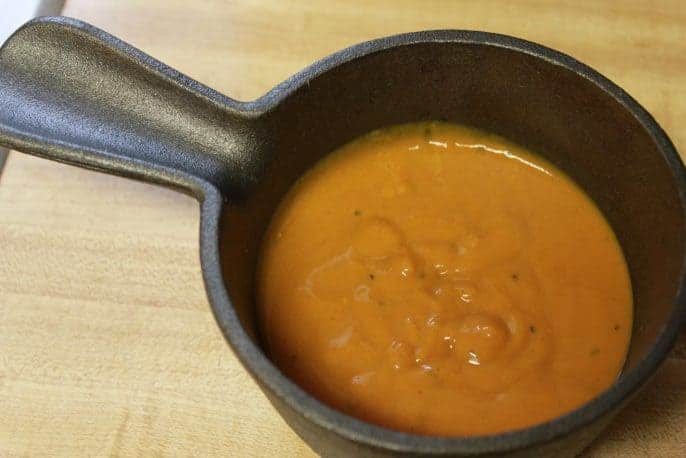 Spoon Jeff's mustard sauce onto the smoked ham
Now you are ready to roll it up. Roll the bologna up carefully just like you unrolled it. Tie (2) pieces of bacon together at one end and set the roll of bologna on top of the bacon. Bring the bacon up around the bologna and secure with a toothpick or two.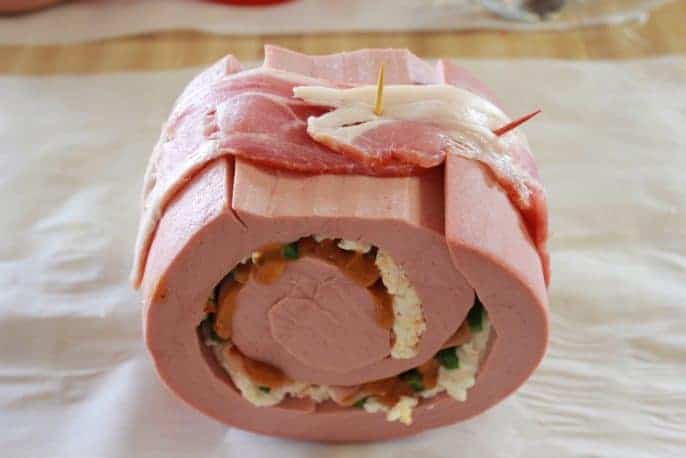 The bacon is mainly for looks so you will probably want to further secure the roll-up with some chef's twine on either side of the bacon.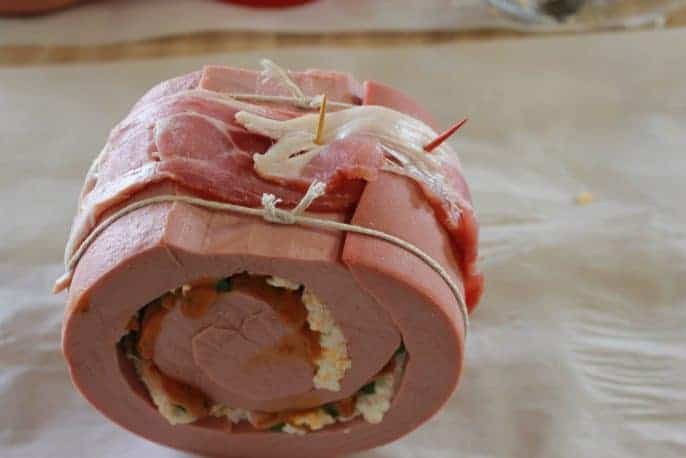 Lay the bologna roll-up on a plank (one flat side down) for great presentation and to keep the cream cheese mixture from oozing out too bad.
Place in a 225°F smoker for about 2 hours using pecan or your favorite smoking wood.
When it's finished, remove the twine, slice into 1/2 inch pieces and serve.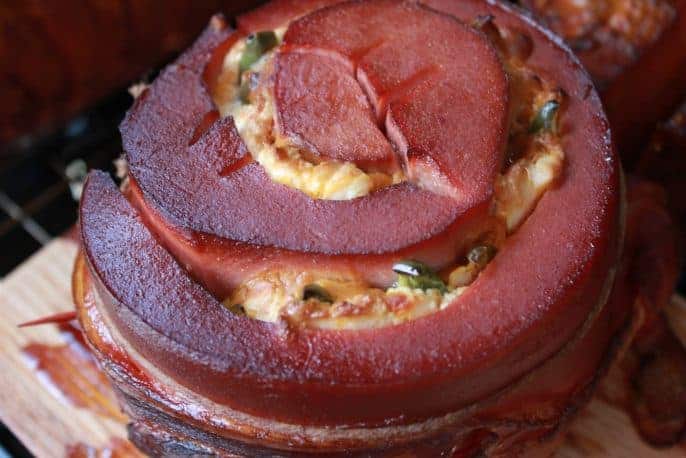 The Smoked Oklahoma Prime Rib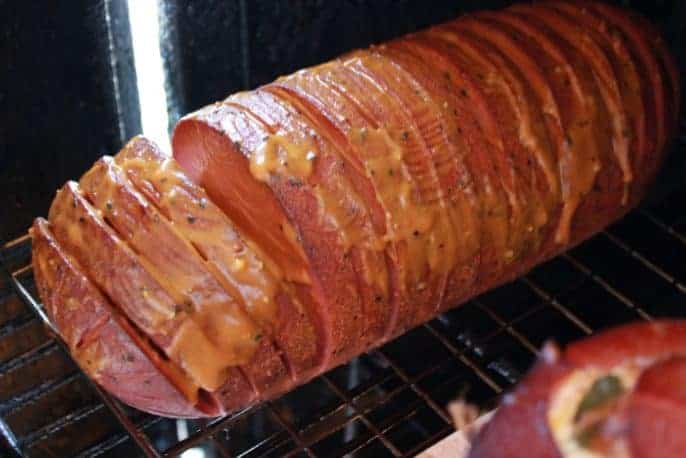 Ingredients
Directions
Remove the wax or paper from the 5 lb chub. Cut the bottom off to give it a flat place to sit and keep it from rolling.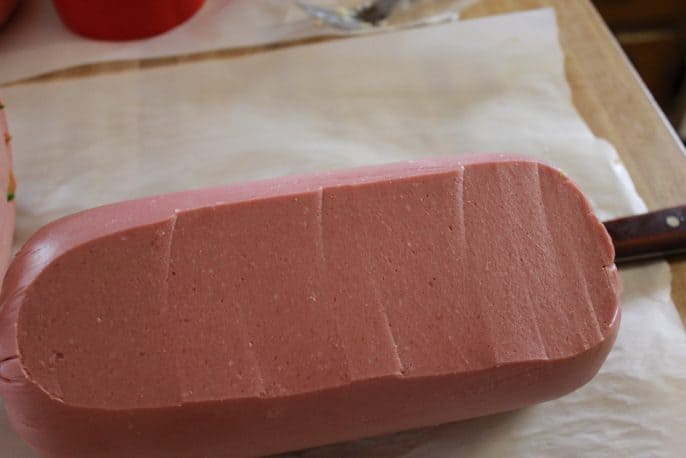 Using a sharp knife, make vertical cuts or slices in the bologna about 3/4 of the way through and at about 1/2 inch intervals.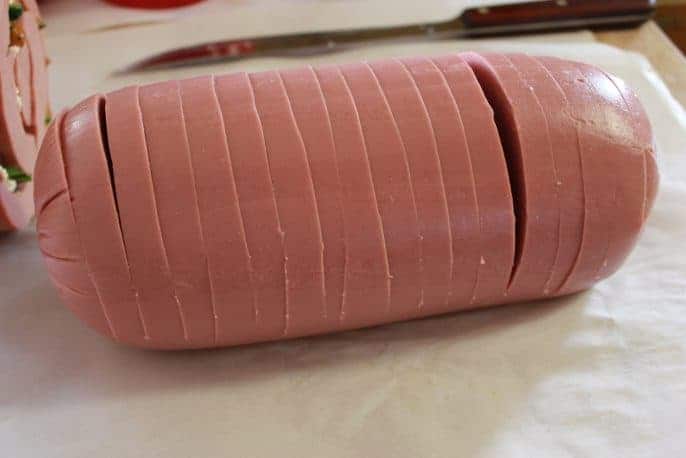 Slather on some of the "Jeff's Mustard Sauce" (recipe shown above) making sure to get it down in between the slices as much as possible. Be generous with this stuff!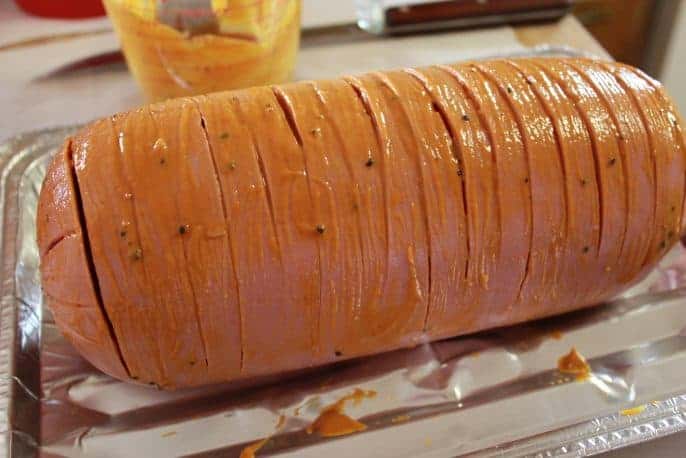 Sprinkle Jeff's original rub (purchase recipes here) onto the outside of the chub, making sure to get it on the sides and ends as well.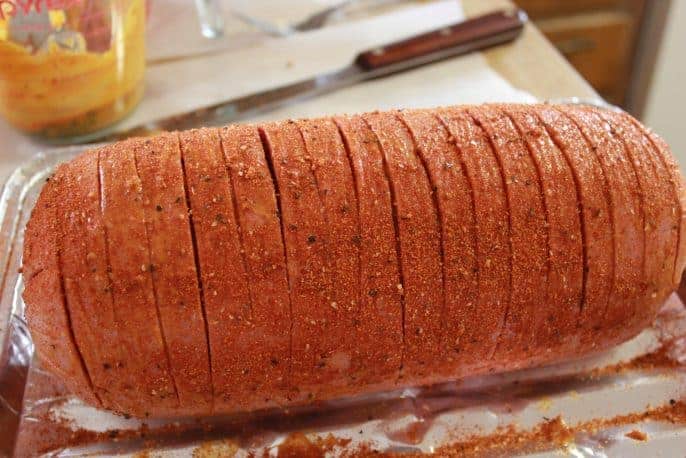 Place the Oklahoma Prime Rib into a 225°F smoker for about 2 hours using pecan or your favorite smoking wood.
When it's done smoking, slice and serve.
Smoked Blooming Bologna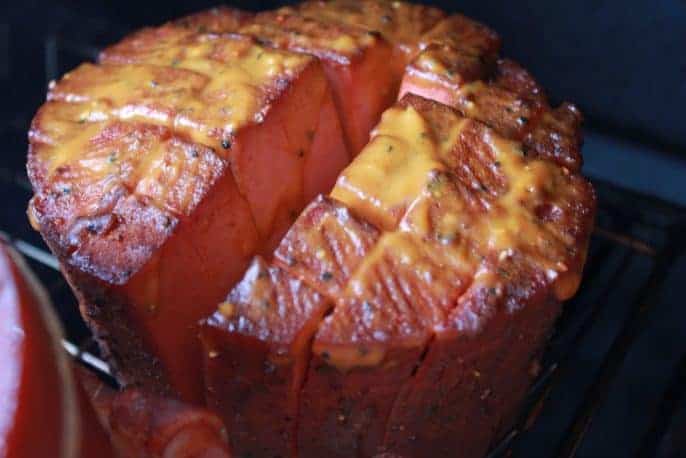 Ingredients
Directions
This is a simple one.. you simply set the chub on its end and cut a cross hatch pattern in the top down to about half way.
You then slather on the "Jeff's Mustard Sauce" (recipe shown above)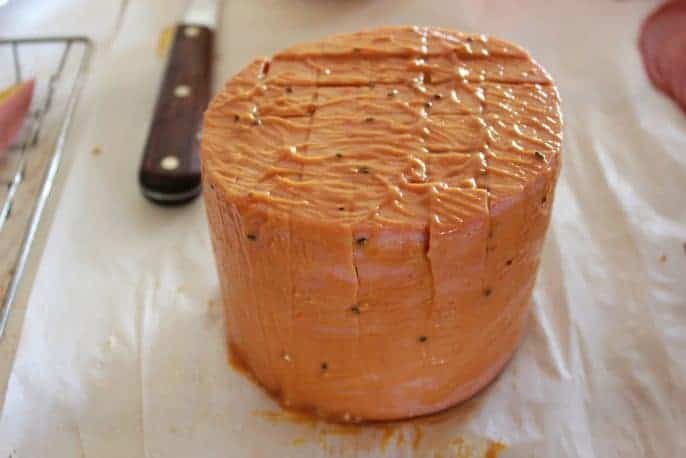 Sprinkle Jeff's original rub (purchase recipes here) onto the bologna making sure to get it all over the top, sides and bottom.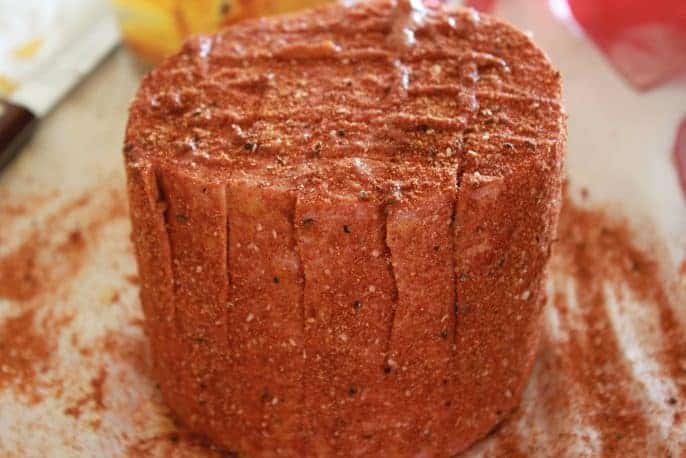 Smoke the blooming bologna for 2 hours at 225°F using pecan or your favorite smoking wood.
When it's finished smoking, slice into straws and serve with more sauce for dipping.
Smoked Bologna Medallions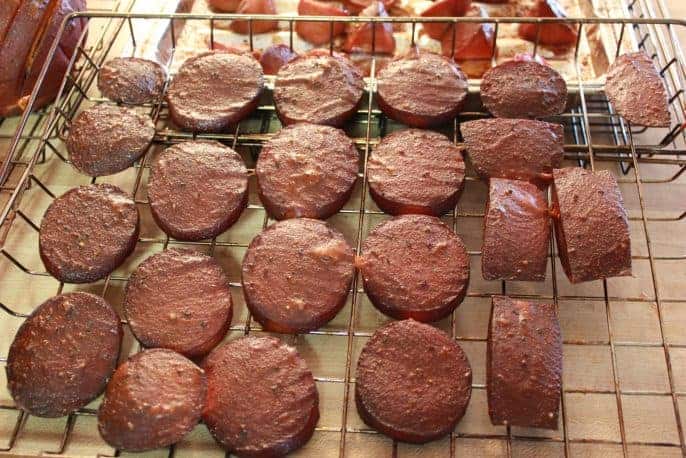 Ingredients
Remove wax or paper from bologna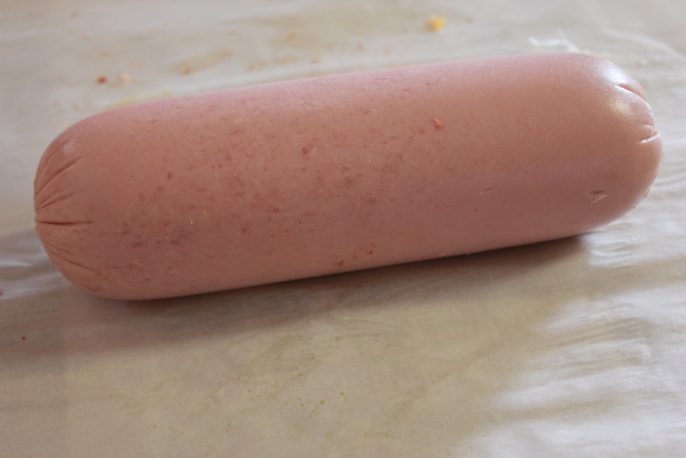 Cut/slice into 1/4 inch medallions at a 45 degree angle.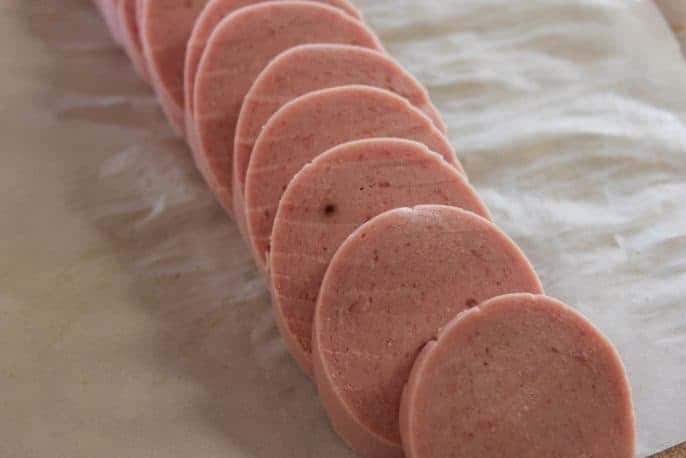 Add Jeff's Mustard Sauce and Jeff's original rub (purchase recipes here).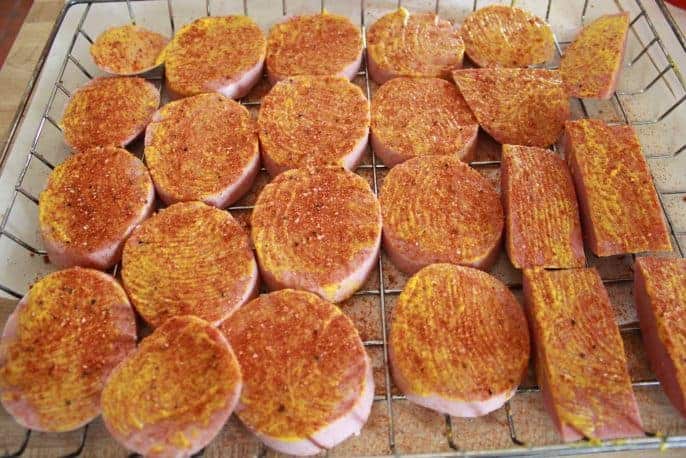 Note: the squared pieces are from the bottom that I cut off of the "Oklahoma Prime Rib" above.
Smoke cook in a 225°F smoker for 2 hours using pecan or your favorite smoking wood. These will get crispy (almost like beef jerky) on the outside and be nice and tender on the inside.
Delicious!
Serve on biscuits, rolls or eat them just like they are.
Smoked Bologna Bits and Pieces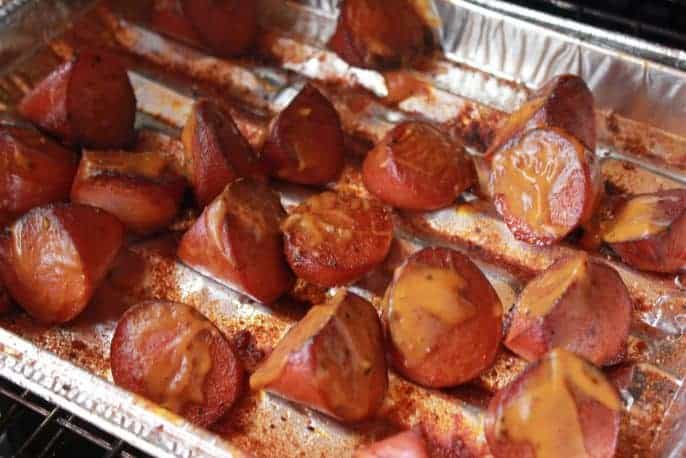 Use links of bologna or even a larger chub of bologna cut up into chunks. Follow the same process as the "Smoked Bologna Medallions" above.
---
Another Option
Use a apple corer to make (1) more holes all the way through a 3 lb chub. Save the plug(s) that comes out.
Fill the hole with plain barbecue sauce (purchase recipes here) or the "Jeff's Mustard Sauce" (recipe shown above).
Cut 3/4 inch pieces from the plug(s) that came out of the hole(s) to plug the ends and keep the sauce from oozing out.
Sauce the outside and coat with Jeff's original rub (purchase recipes here) .
Smoke cook at 225°F for 2 hours using pecan or your favorite smoking wood.
Slice and enjoy!
Smokers
All of these recipes are easy to do in ANY smoker. Here's some information that I have written on various smokers.
Note: In colder weather, it is advisable to preheat the smoker at least an hour or more before you are wanting to use it. Keep the door closed as much as possible and even skip basting if necessary to maintain proper smoking temperatures.
***Note: you get the Texas style rub recipe free with your order!
If I could give these recipes away, I would do that. I really want you to have them! But, then, this is how I support the newsletter, the website and all of the other stuff that we do here to promote the art of smoking meat.
Read these recent testimonies:
"Love the sauce and rub recipes. So far I have used them on beef ribs, pork ribs, and different chicken parts. Can't wait to do a beef brisket. Texas rub is great as well!" ~Peter S.
"I tried the rub on a beef brisket and some beef ribs the other day and our entire family enjoyed it tremendously. I also made a batch of the barbeque sauce that we used on the brisket as well as some chicken. We all agreed it was the best sauce we have had in a while." ~Darwyn B.
"Love the original rib rub and sauce! We have an annual rib fest competition at the lake every 4th of July. I will say we have won a great percent of the time over the past 15 years so we are not novices by any means. However, we didn't win last year and had to step up our game! We used Jeff's rub and sauce (sauce on the side) and it was a landslide win for us this year! Thanks Jeff for the great recipes. I'm looking forward to trying the Texas style rub in the near future!" ~Michelle M.
You see the raving testimonies and you wonder, "Can the recipes really be that good?"
No worries! Make up a batch and if it's not as good as you've heard.. simply ask for a refund. Now that's a bargain and you know it. Let's review:
You decide you don't like the recipes.. you don't pay!
The recipes are absolutely amazing!
Once you order, there'll be no more recipe ads in the email version of the newsletter
Well.. what are you waiting for.. click on the big orange button below to order the recipes now.

I really, really appreciate the support from my newsletter friends and be sure to let me know if you have any questions about this.
Jeff's Smoking Meat Book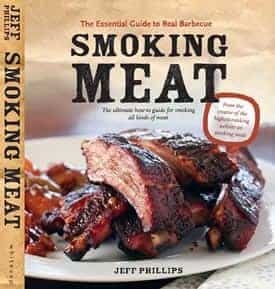 The book is full of recipes and contains tons of helpful information as well. Some have even said that "no smoker should be without this book"!
With more than 800 reviews on Amazon.com and a rating of 4.7 out of 5 stars, it comes highly recommended.
It is a Bestseller in Barbecueing & Grilling books on Amazon.
Amazon | Barnes & Noble | German Edition
Digital versions available via Nook | iTunes | Kindle
Get Almost Anything at Amazon
If you enjoy the newsletter and would like to do something helpful, then..
The next time you decide to order something at Amazon.com, use THIS LINK to get there and we'll get a small commission off of what you purchase.
Thank you in advance for using our special link: http://www.smoking-meat.com/amazon