Smoked Burgers, Hotdogs and Brats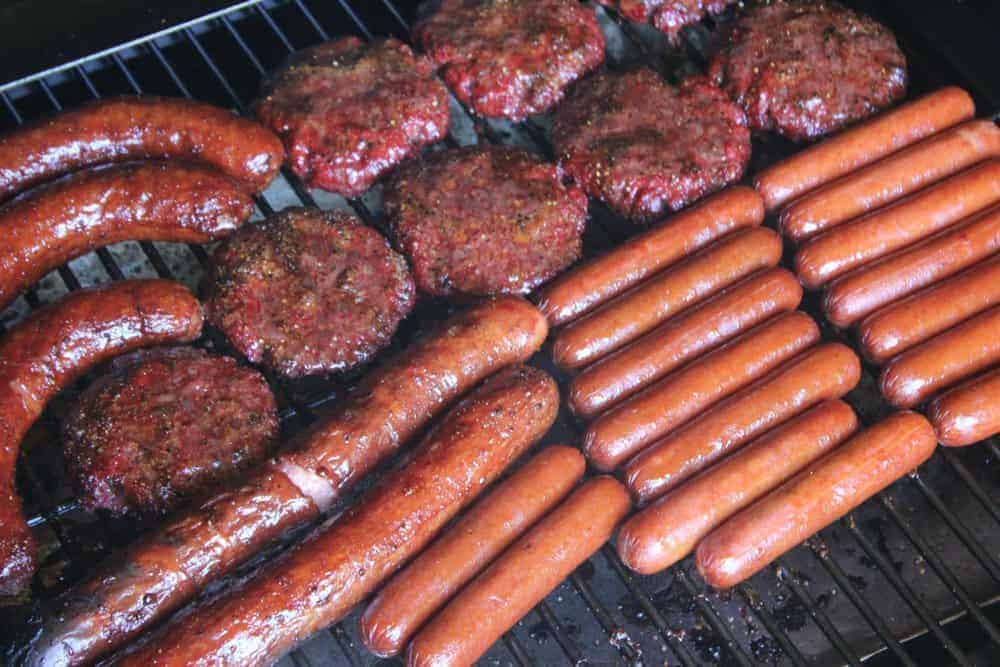 Smoking-Meat.com is supported by its readers. We may earn an affiliate commission at no extra cost to you if you buy through a link on this page.
Read this article without ads
Throughout this summer, you will no doubt have numerous opportunities to smoke hamburgers, hotdogs, brats and even boudin or sausages. The smoker is the perfect way to cook these up perfectly and usually in less than 2 hours.
Helpful Information
Prep Time: 15 minutes
Cook Time: 1-2 hours
Smoker Temp: 240°F
Meat Finish Temp: 160°F
Recommended Wood: Pecan
What You'll Need
Ground beef or chuck for burgers (80/20 or ), made into patties that are about 1/3 pound or whatever size you like
Assortment of hotdogs, sausages, brats and boudin
Jeff's original rub
Preparing the Meat
Burgers
When you purchase the meat, I recommend going for ground beef with a high fat content.. I usually use 80/20, 78/22 or even 73/27 depending on what's available. The first number is the percentage of lean meat and the second number is the percentage of fat. Remember, more fat = more flavor.
Divide the meat up into portions of whatever size or weight that you like.. you can eyeball it or use a small kitchen scale.
Make the meat into patties and season each one with the Texas style rub  on the top and the bottom.
In addition to the outside of the burgers, you can also mix some of the Texas style rub  into the meat if you like. Use about 1 TBS per pound of meat.
Set aside.
Note: Another option for burgers is to stuff them and wrap them with bacon.. I did an article about this last year.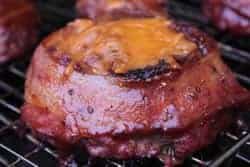 Hotdogs, Boudin, Brats and Sausages
Remove from the package and place into a bowl or container.
Set aside.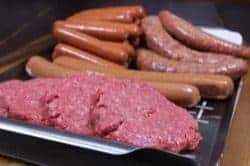 If you want to add some of my original rub  to the hotdogs, it's very delicious!
Just put some of the rub on a flat surface and roll the hotdogs in the rub.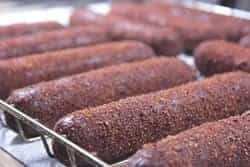 Another option for hotdogs is to spiral cut them.. it looks really cool and is incredibly easy to do. Check out my instructions for that here.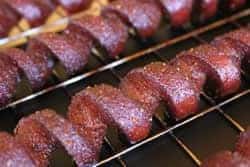 And then there's bacon wrapped hot links.. don't even get me started!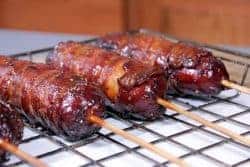 Setup the Smoker
I like to cook burgers and hotdogs at normal indirect smoking temperatures of about 225-240°F.
Have enough smoking wood for at least 1 hour of smoke but more than that is fine.
Make sure you use the water pan if your smoker is so equipped.
Once your smoker is preheated and up to temperature, it's ready to go.
Smoke the Meat
Place the brats, Boudin and sausages on the smoker first as these will usually take about an hour longer than burgers and hotdogs.
Smoke them for about 1 hour then place the hotdogs and burgers on the smoker grate.
I used a Weber grill pan to make it easy to transport the meat back and forth from the smoker to the kitchen. Bradley racks also work great if you have them.
About 20 minutes before the meat is done, brush some of my delicious barbecue sauce (Purchase formula here | Purchase bottled sauce) onto everything except the boudin if you like.. it's really good that way and the kids seem to love it especially well.
The boudin skin crisps up best if you just leave it alone, no sauce.
Crisp Up the Meat
Burgers, hotdogs etc. are really good when just done on the smoker but if you want to put a little crisp on the burgers, a little sizzle on the hotdogs, brats and sausages, then just move them to a grill preheated to high and ready to go about 20 minutes before they are due to be done.
I usually move them over to the hot grill before putting on the sauce. The high heat together with the sauce gives them a perfect finish.
Here's the cooking times/temperature that I recommend:
Burgers: 1 hour or 160°F in the center
Hotdogs: 1 hour or hot in the center and browned on the outside
Brats: 2 hours or 160°F in the center
Sausages: 2 hours or hot in the center and browned on the outside
Boudin: 2 hours or browned outside and crispy skin
Note: Be sure to use a digital remote meat thermometer like the Thermoworks "Smoke" or an accurate handheld thermometer like the Thermapen or the  ThermoPop on the burgers and brats to make sure they reach the perfect temperature without overcooking them.
And remember, if you need to get these done fast, there is nothing wrong with cranking up the temperature and just cooking them until they are the correct temperature or color.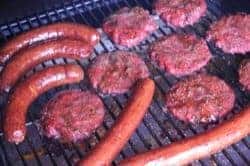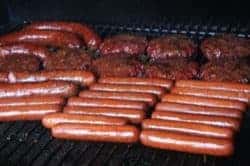 Get Jeff's Products!