I used to advise people to find the extra meaty ones and the ones I was able to get ended up great even though they were extra meaty but after a lot more testing, I've come to the conclusion, that the ones with a little less meat are actually a better purchase. In essence, the extra meat is pork loin left attached. Pork loin is very lean and is best cooked by itself and finished at a much lower temperature.
With more knowledge about the butchering of pork ribs, I now recommend the less meaty ones for a more consistent flavor, tenderness and juiciness.
If you do happen to get ahold of some extra meaty baby backs, it may be smart to sprinkle about ½ to 3/4 teaspoon of kosher salt on the top side and let the dry brining process do it's thing. the salt will pull juices to the surface and then that salty mixture will reabsorb back into the meat giving you more flavor and because it denatures the meat, it will hold more moisture during the cooking process and they will naturally end up more juicy as well.
Helpful Information
Prep Time: 25 minutes
Cook Time: 5 hours
Smoker Temp: 225°F
Meat Finish Temp: 185°F or until tender
Recommended Wood: Apple and/or Hickory
What You'll Need
1-3 Slabs of baby back ribs
Regular yellow mustard
Get the Recipes for Jeff's Rub and Sauce
---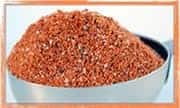 My rub is good on almost any kind of meat but, it was especially designed for pork ribs and, true to it's mission, it seriously rocks these smoked baby back ribs like nobody's business!
I promise you'll love my dry rub/seasoning recipe and my barbecue sauce recipe or you don't pay!
Reasons to buy: Support the newsletter and the website | Own "the recipes" | Get the email newsletter 100% AD FREE from now on | Includes the Texas style rub recipe

Prepare Baby Back Ribs
Normally the first thing you do to pork ribs is to remove the membrane from the boney side. This is not something done in restaurants usually but it's one of those things that makes homemade barbecue so much better than what you can find commercially.
The membrane is a thick plastic-like covering over the boney side of the ribs that really needs to come off in my opinion,
To remove the membrane, place the pork ribs meaty side down. Insert a semi-sharp object under the first layer of membrane and pry it up until you can get ahold of it.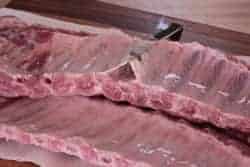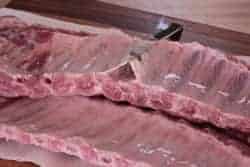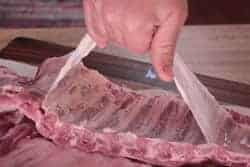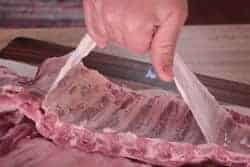 Grab it with a paper towel if you need to in order to get a better grip.
Pull the membrane clean off.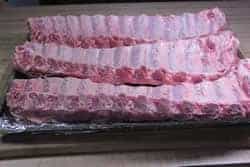 Apply a thin layer of yellow mustard onto the bone side of the ribs to help the rub to adhere to the ribs.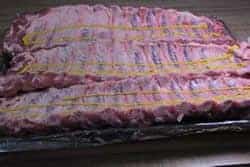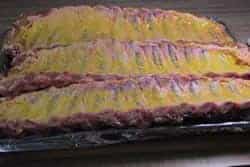 Sprinkle enough of my rub onto the ribs to cover the meat well. You should not be able to see the meat if you do it correctly. My rub is low on salt and high on flavor that compliments ribs extremely well.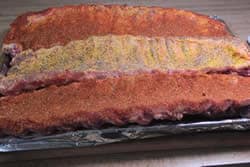 Let the rub sit on the bone side of the ribs for about 10 minutes or until it starts looking "wet" which means the rub, mustard and pork juices have mingled to create a nice paste.
At this point, turn the ribs over and repeat the same mustard and rub application to the meaty side of the ribs.
You will notice that I used the original rib rub on the outside racks and my new Texas style rub on the one in the center. All of them were good but I still think the original rib rub is hard to beat for pork and most other things when it comes to that perfect balance between sweet and spicy.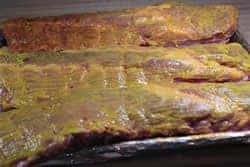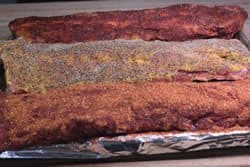 Leave them sitting on the counter while you go out and get the smoker ready to smoke.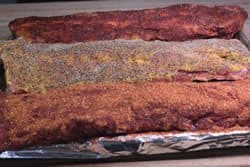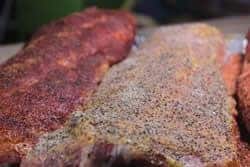 Get the Smoker Ready
In my opinion, ribs do best at low temperature between 225 and 240°F. For these, I recommend staying as close to 225°F as possible throughout the entire cook time.
Set up your particular smoker for about a 5-6 hour indirect cook making sure to have enough smoking wood for at least 2-3 hours of smoke.
If your smoker has a built-in water pan, use it.
Once the smoker is up to temperature and ready to go, go get them ribs.
Smoke the Baby Back Ribs
Place the ribs bone side down directly on the smoker grate.
If you are short on space, you can use a rib rack if you need to. These allow for a lot more ribs in a smaller amount of space.
Smoke the ribs until they are as tender as you like them. This will probably take about 5 hours at 225°F or perhaps an hour longer if the ribs have a little more meat on them.
To check for tenderness, pick them up on one end with a pair of tongs and if they almost bend in half and start to break, they are probably ready to eat.
Alternate Method for Super Tender Smoked Baby Back Ribs (2-2-1)
Place seasoned baby back ribs directly on smoker grate for 2 hours at 225°F.
At the 2 hour mark, wrap the baby ribs in foil or place them in a foil pan, spritzing the ribs with apple juice just before closing them up or covering them with foil over the top.
Cook the ribs at 225°F for 2 hours in the wrapped configuration.
At what is now the 4 hour mark, remove the ribs from the foil and place them back onto the grate to continue cooking for an additional 1 hour to firm up the bark and finish them off. This is also a great time to sauce them if that is how you like them.
To summarize: The first 2 hours smoke the ribs, the 2nd 2 hours tenderize the ribs and the final hour creates a nice bark and allows you to sauce them if you like. This process is known as 2-2-1. It's a great sequence and it works really well if you love really tender ribs.
Note: If you are able to find the extra meaty ribs, you may want to add an extra hour to the first stage of this process making it 3 hours on the grate, 2 hours in foil, 1 additional hour unwrapped.
This is the same sequence and times used for spare ribs which are equally meaty.
Finish Up and Serve the Smoked Baby Back Ribs
Once the ribs are tender to your liking, remove them from the smoker.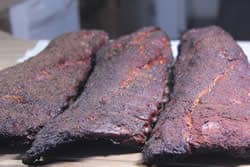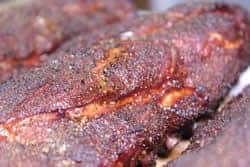 At this point they can be wrapped in foil and kept warm in the oven for a couple of hours or you can get busy slicing and serving.
To slice, I have the best luck turning them meaty side down so I can see the direction and location of the bones. This allows me to slice right between them with great accuracy.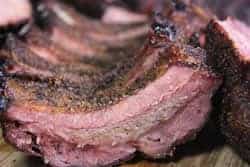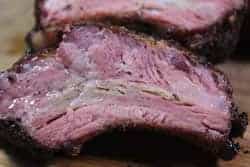 Comments/Notes:
Figure on about 2 to 2.5 eaters per rack of smoked baby back ribs.. for my family of 5, I normally smoke 2 racks and perhaps a 3rd one if I am feeling generous or want leftovers.
Serve with some of my barbecue sauce on the side for best results. This allows folks to try them with just the rub (my favorite way to eat them) and if they just have to have sauce (some folks do) they have it available.
I almost never check temperature on ribs of any kind but, if you must know, they are usually done at about 185°F or so.
Be sure to smoke ribs with indirect heat. If you have any radiant heat getting to them, they will burn during this long cook time. This goes for almost anything but you really want ribs to look nice and this is best achieved by keeping them in indirect heat the entire time.
***Note: you get the Texas style rub recipe free with your order!
If I could give these recipes away, I would do that. I really want you to have them! But, then, this is how I support the newsletter, the website and all of the other stuff that we do here to promote the art of smoking meat.
Read these recent testimonies:
"Love the sauce and rub recipes. So far I have used them on beef ribs, pork ribs, and different chicken parts. Can't wait to do a beef brisket. Texas rub is great as well!" ~Peter S.
"I tried the rub on a beef brisket and some beef ribs the other day and our entire family enjoyed it tremendously. I also made a batch of the barbeque sauce that we used on the brisket as well as some chicken. We all agreed it was the best sauce we have had in a while." ~Darwyn B.
"Love the original rib rub and sauce! We have an annual rib fest competition at the lake every 4th of July. I will say we have won a great percent of the time over the past 15 years so we are not novices by any means. However, we didn't win last year and had to step up our game! We used Jeff's rub and sauce (sauce on the side) and it was a landslide win for us this year! Thanks Jeff for the great recipes. I'm looking forward to trying the Texas style rub in the near future!" ~Michelle M.
You see the raving testimonies and you wonder, "Can the recipes really be that good?"
No worries! Make up a batch and if it's not as good as you've heard.. simply ask for a refund. Now that's a bargain and you know it. Let's review:
You decide you don't like the recipes.. you don't pay!
The recipes are absolutely amazing!
Once you order, there'll be no more recipe ads in the email version of the newsletter
Well.. what are you waiting for.. click on the big orange button below to order the recipes now.

I really, really appreciate the support from my newsletter friends and be sure to let me know if you have any questions about this.
Jeff's Smoking Meat Book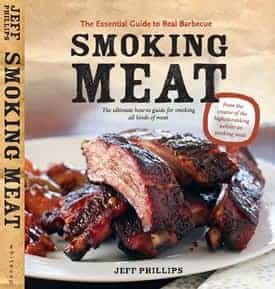 The book is full of recipes and contains tons of helpful information as well. Some have even said that "no smoker should be without this book"!
With more than 800 reviews on Amazon.com and a rating of 4.7 out of 5 stars, it comes highly recommended.
It is a Bestseller in Barbecueing & Grilling books on Amazon.
Amazon | Barnes & Noble | German Edition
Digital versions available via Nook | iTunes | Kindle
Get Almost Anything at Amazon
If you enjoy the newsletter and would like to do something helpful, then..
The next time you decide to order something at Amazon.com, use THIS LINK to get there and we'll get a small commission off of what you purchase.
Thank you in advance for using our special link: http://www.smoking-meat.com/amazon
Printable Recipe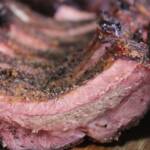 Print Recipe
Smoked Baby Back Ribs
Smoked baby back ribs are what great barbecues and summer time get togethers are made of and with this recipe, you'll be the talk of the neighborhood.
Ingredients
1-3

Slabs of baby back ribs

(((extra meaty if you can find them)))

Regular yellow mustard

Jeff's rub recipe

Jeff's sauce
Instructions
Prepare Baby Back Ribs for Smoking
Remove membrane from bone side of ribs using a paper towel to get a good grip

Apply a thin coat of yellow mustard to the bone side

Sprinkle enough of

Jeff's rub

onto he ribs to cover the meat

Once the rub gets that typical "wet" look, flip them over and repeat the mustard and rub on the meaty side
Smoking the Ribs
Set up your smoker for smoking at about 225°F

Place the ribs directly on the smoker grate or you can use a

rib rack

if you need to fit more

Let the ribs smoke cook until they are as tender as you like them. (this is normally about 5 hours for baby back ribs)

Sauce the ribs about 30 minutes before they are finished for best results.

When the ribs are finished cooking, remove them from the smoker, slice 'em up and serve.