Hot smoked salmon on a stick might seem like a strange name but you have to understand that we normally smoke salmon a little on the cool side, we fuss over it, try to make sure the white stuff (albumin) does not emerge to the surface and take all kinds of pains with it (or at least I do).
This version of smoked salmon is easy, hassle-free, and folks love having their own skewer of smoky salmon to eat.
When it's almost finished, we even brush on a little glaze to add some great flavor.
Helpful Information
Prep Time: 30 min
Cook Time: 1.5 hours
Smoker Temp: 225°F
Meat Finish Temp: 145°F
What You'll Need
3-4 lb Filet of Salmon
Olive oil
9 or 11 inch skewers
Get the Recipes for Jeff's Rub and Sauce
---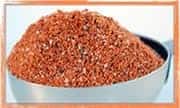 My rub is no stranger to salmon and as many of you have already discovered, it is every bit as good on salmon as it is on pork or anything else you might smoke up. The flavor of my rub and sauce compliments the fish amazingly well without hiding any of that natural smoked salmon goodness.
I promise you'll love my dry rub/seasoning recipe and my barbecue sauce recipe or you don't pay!
Reasons to buy: Support the newsletter and the website | Own "the recipes" | Get the email newsletter 100% AD FREE from now on | Includes the Texas style rub recipe

Prepare Salmon
Lay salmon filet on cutting board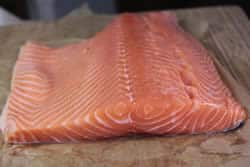 It is best to separate the thick side from the thin side. Look at the cross section of your fish and decide which part is thick and which is thin and simply cut them apart as shown below.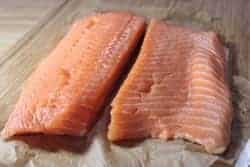 Further separate the thick and thin sides into strips that are about 1.5 to 2 inches wide.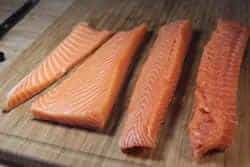 To make it easy to remove the skin, make vertical cuts through the fish stopping when you reach the skin. Then slide the knife under the fish at about a 10 degree angle to separate the fish from it's skin. Easy peasy!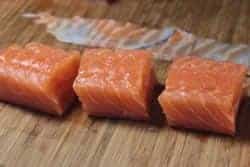 Once all of the fish is separated from the skin, separate them into groups of 4 or 5 of the same thickness since you will want each skewer to have similar thicknesses of salmon.
This way all of the fish pieces on the same skewer will get done at the same time.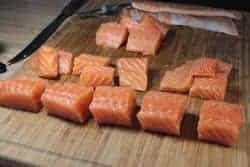 Put Salmon onto Skewers
Place 4-5 pieces of salmon onto each skewer. I opted to use two skewers in each one so that I could flip them over easily if I wanted to. This is completely optional but I do recommend it.
Once they are skewered, place them on a Bradley rack or cookie sheet to make it easy to carry them out to the smoker.
~Be sure to see my tip on using parchment paper in the "Smoking the Salmon" section below.~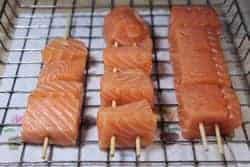 Season Salmon
Brush some olive oil onto the salmon pieces to help the rub to stick and to aid in helping the fish to not stick to the grates or whatever they are laying on.
Sprinkle a little of my rub on the salmon skewers making sure to hit the top sides and bottom for maximum flavor.
You are looking for about 30-40% coverage which means you are not trying to cover the salmon up like you would on ribs but just get a good sprinkle on it.
Get the Smoker Ready
I like to use the Bradley smoker when I am doing fish and these salmon skewers were no exception.
Obviously, you can use whatever smoker you have and as long as you can keep it around 225°F, you will be fine.
Get the smoker set up, fired up and ready to go and once it's holding the goal temperature, you are ready to smoke.
Smoking the Salmon
Place the salmon skewers on an oiled smoker grate (to help it not to stick) or use my parchment paper trick below:
Tip: lay the salmon on pieces of parchment paper instead of directly on the smoker grates. It completely eliminates the sticking problem. To make sure the paper does not block the flow of smoke, cut the paper into strips about 12 inches long and 3 inches wide and place one under each individual skewer. Be sure to leave about ½ inch between each strip of paper. This allows the smoke to flow properly and still works great at keeping the fish from sticking.
Let the salmon smoke cook for about 1 to 1.5 hours depending on the thickness of the salmon or until it reaches 145 °F in the center of the fish.
---
Temperature is very important when smoking meat so you really need to invest in a good meat thermometer if you don't already have one.
The Thermapen is a great thermometer to have especially for things like salmon where you may not want to leave the thermometer in the whole time but you want to check it periodically. The Thermapen is a high quality thermometer used by all of the pros and us backyard guys like them as well.
The cool thing is that it reads in around 2 seconds and you can quickly and easily check things like salmon to make sure every piece is perfectly done before removing it from the smoker.
It comes in a variety of 14 different colors.. mine is black but hey, if purple is your thing, then go for it!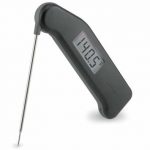 ---
About 15 minutes before the salmon is finished, brush on some of my barbecue sauce thinned with a little water, fruit juice, beer or even your favorite soft drink. I usually mix 1 part liquid to 1 part sauce to make a nice glaze that brushes on easily and adds a lot of flavor.
Serve the Salmon
Serve the salmon skewers right away.. no need to wait around.
Notes/Comments:
I did not brine or marinate this salmon, but you could if you wanted to. Use my normal brine formula of 1 gallon of water, 1 cup of salt and ¾ cup of brown sugar and place the fish pieces in that for 1 hour.
And.. because I know that someone will ask, I have not tried my Texas style rub recipe on salmon yet but I am quite certain that it would work well. If you try this, be sure to let me know how it goes.
---
We are now running a limited-time
25% off sale on the DOWNLOADABLE RECIPES
.
Click HERE
to purchase the instantly downloadable
recipes (formulas)
 for both of my rubs and barbecue sauce at an unbeatable discount. Somebody pinch me! Or better yet, just
go get them
😉
Note: The coupon should be automatically applied OR use SM25 during checkout if necessary.
***Note: you get the Texas style rub recipe free with your order!
If I could give these recipes away, I would do that. I really want you to have them! But, then, this is how I support the newsletter, the website and all of the other stuff that we do here to promote the art of smoking meat.
Read these recent testimonies:
"Love the sauce and rub recipes. So far I have used them on beef ribs, pork ribs, and different chicken parts. Can't wait to do a beef brisket. Texas rub is great as well!" ~Peter S.
"I tried the rub on a beef brisket and some beef ribs the other day and our entire family enjoyed it tremendously. I also made a batch of the barbeque sauce that we used on the brisket as well as some chicken. We all agreed it was the best sauce we have had in a while." ~Darwyn B.
"Love the original rib rub and sauce! We have an annual rib fest competition at the lake every 4th of July. I will say we have won a great percent of the time over the past 15 years so we are not novices by any means. However, we didn't win last year and had to step up our game! We used Jeff's rub and sauce (sauce on the side) and it was a landslide win for us this year! Thanks Jeff for the great recipes. I'm looking forward to trying the Texas style rub in the near future!" ~Michelle M.
You see the raving testimonies and you wonder, "Can the recipes really be that good?"
No worries! Make up a batch and if it's not as good as you've heard.. simply ask for a refund. Now that's a bargain and you know it. Let's review:
You decide you don't like the recipes.. you don't pay!
The recipes are absolutely amazing!
Once you order, there'll be no more recipe ads in the email version of the newsletter
Well.. what are you waiting for.. click on the big orange button below to order the recipes now.

I really, really appreciate the support from my newsletter friends and be sure to let me know if you have any questions about this.
Jeff's Smoking Meat Book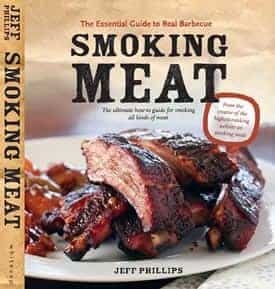 The book is full of recipes and contains tons of helpful information as well. Some have even said that "no smoker should be without this book"!
With more than 800 reviews on Amazon.com and a rating of 4.7 out of 5 stars, it comes highly recommended.
It is a Bestseller in Barbecueing & Grilling books on Amazon.
Amazon | Barnes & Noble | German Edition
Digital versions available via Nook | iTunes | Kindle
Get Almost Anything at Amazon
If you enjoy the newsletter and would like to do something helpful, then..
The next time you decide to order something at Amazon.com, use THIS LINK to get there and we'll get a small commission off of what you purchase.
Thank you in advance for using our special link: http://www.smoking-meat.com/amazon
Printable Recipe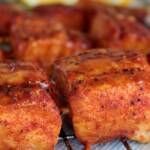 Hot Smoked Salmon on a Stick
This hot smoked salmon on a stick recipe is easy, quick and gives everyone their own skewer full of wonderful smoked salmon. You gotta love that!
What You'll Need
3-4

lb

Filet of Salmon

(fresh, wild caught is best)

Olive oil

Jeff's rub recipe

9

or 11 inch skewers
Instructions
Prepare Salmon
Cut salmon in half lengthwise separating the thick part from the thinner part.

Further separate lengthwise into strips that are 1.5 to 2 inches wide

Make cuts every 2 inches or so vertically through the fish stopping when you reach the skin

Slide the knife blade between the fish and the skin to separate the skin from the fish

Place the pieces of salmon onto skewers making sure to put pieces of similar thickness on the same skewer

Brush olive oil onto the salmon to help the rub to stick

Sprinkle

Jeff's rub

onto the salmon to add a nice layer of flavor and seasoning to the fish.
Smoking the Salmon
Place the salmon skewers onto oiled smoker grates

Smoke fish at 225 °F for about 1 to 1.5 hours or until it reaches 145 °F in the center.

Use a thermometer to check the temperature of the fish after about 45 minutes or sooner if the fish is a little on the thin side.
Serving the Smoked Salmon
When the fish has reached 145 °F, remove it from the smoker and serve immediately.