Smoked Queso – The Ultimate Cheese Dip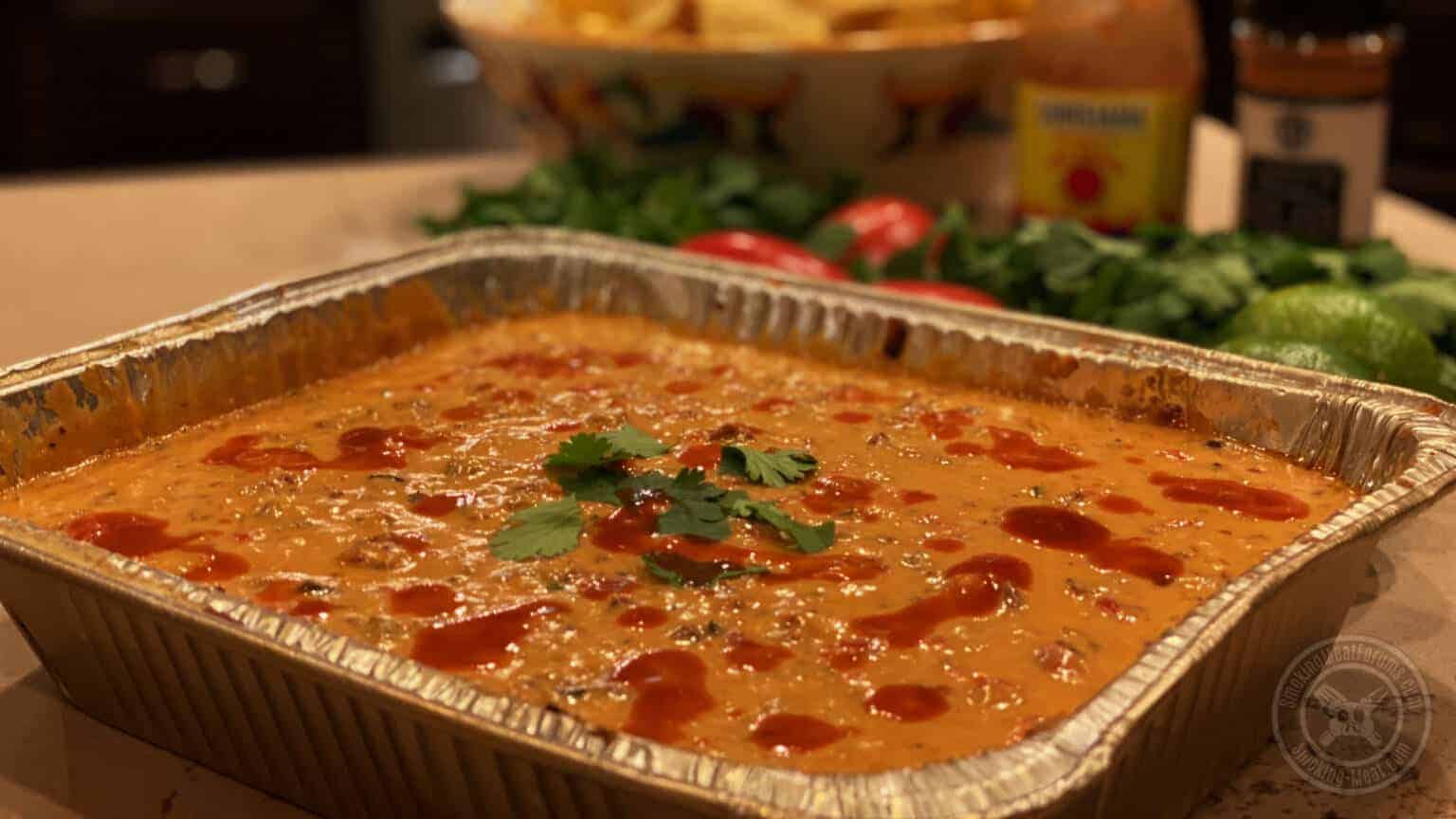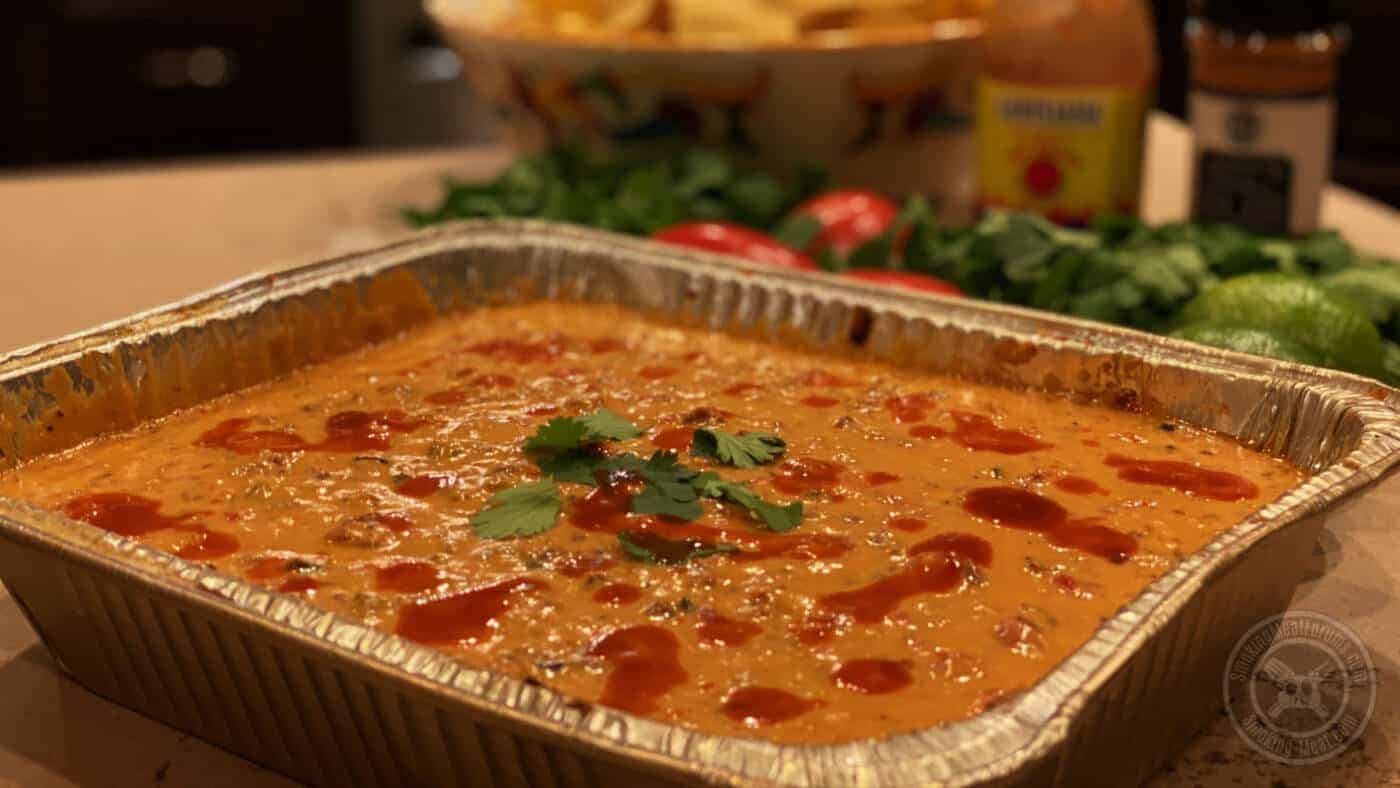 Smoking-Meat.com is supported by its readers. We may earn an affiliate commission at no extra cost to you if you buy through a link on this page.
Read this article without ads
Seems like everyone makes smoked queso these days and figured I'd throw my recipe in the proverbial hat.
Unlike most, this one does NOT use Velveeta® which is velvety smooth and tastes great but it contains some questionable chemicals and additives and in my path to becoming more healthy, I try to use wholesome ingredients anywhere I can. You can of course make this recipe with the Velveeta and/or different types of cheese if you so choose.
Helpful Information
Prep Time: 35 minutes
Cook Time: 3 hours
Smoker Temp: 180-225°F
Meat Finish Temp: N/A
Recommended Wood: Pecan or Hickory
What You'll Need
3 lbs of cheese (I used white cheddar in mine)
1 lb of chorizo (you can also use ground sausage or ground beef)
1 medium sweet yellow onion
2-3 jalapeños
6 garlic cloves, peeled
2 cans Rotel® diced tomatoes with green chilis
3 TBS Jeff's original rub
1-2 cups heavy whipping cream
1 bunch of cilantro
Plenty of tortilla chips
Step 1: Grate the Cheese
If you are using something like cheddar, Colby Jack, etc. then you will need to grate the cheese for faster and more uniform melting. If you are using a softer cheese then you can simply slice it up into small cubes.
Note: I don't like to use pre-shredded cheese in this as they add cellulose to keep it from sticking together. This will keep the end product from being as creamy and smooth as it can be.
Place the cheese into a half-size foil pan.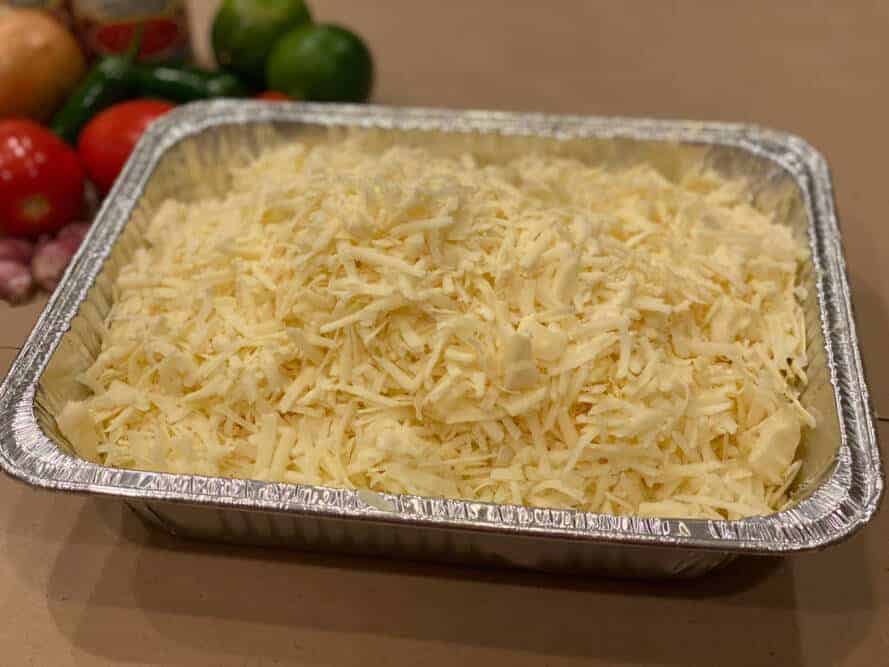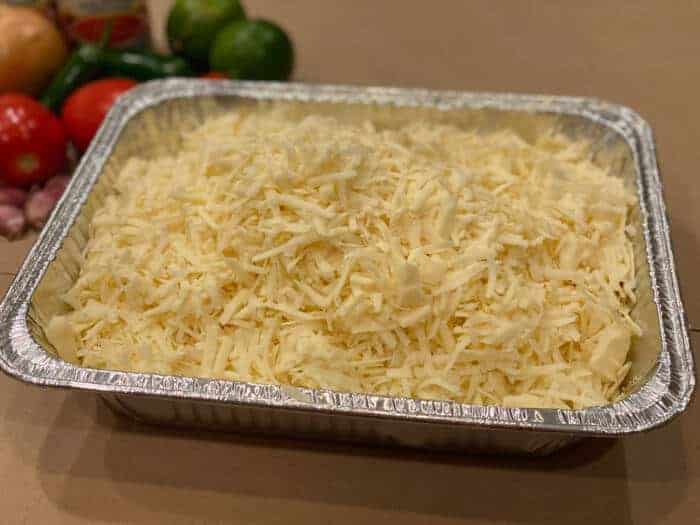 Step 2: Cook the Meat
Brown the meat in a large skillet then drain the grease through a strainer.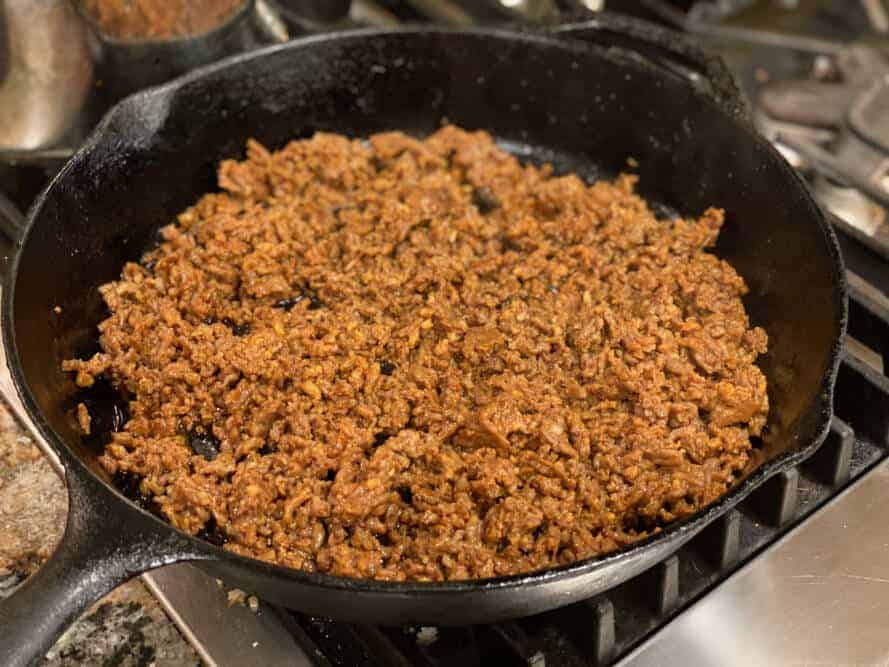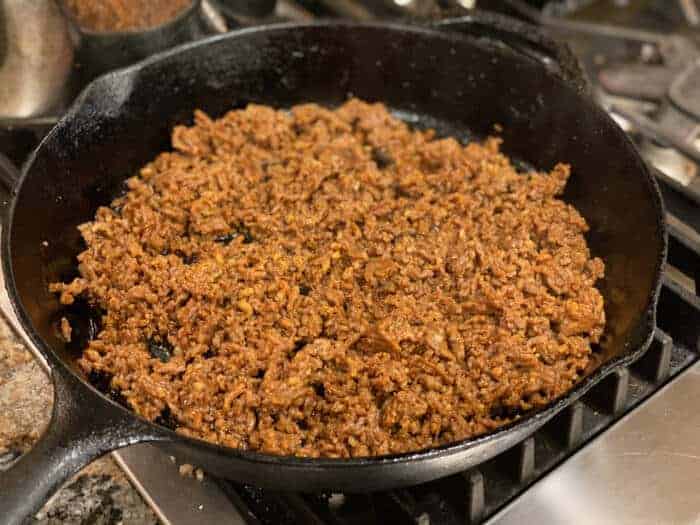 Set the meat aside to cool.
Step 3: Prepare the Vegetables
Cut the stem from the jalapeños, cut the jalapeños in half lengthwise then clean and deseed them. Once they are cleaned, simply slice them and they are ready to cook.
You can also use Serrano or other types of peppers if you want a different heat level.
Dice the onion and mince the peeled garlic cloves.
Once the meat is removed from the skillet, add the onions, garlic and peppers to the skillet. There may be enough grease from the cooked chorizo already in the pan, if not, add a little from the grease that was just strained from the meat.
Stir fry the vegetables until they are wimpy and browned.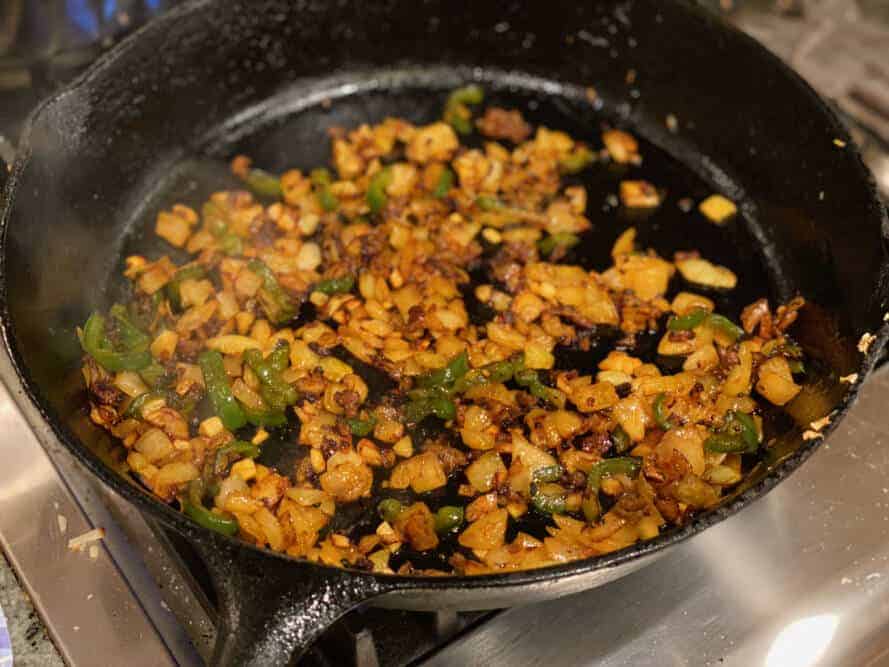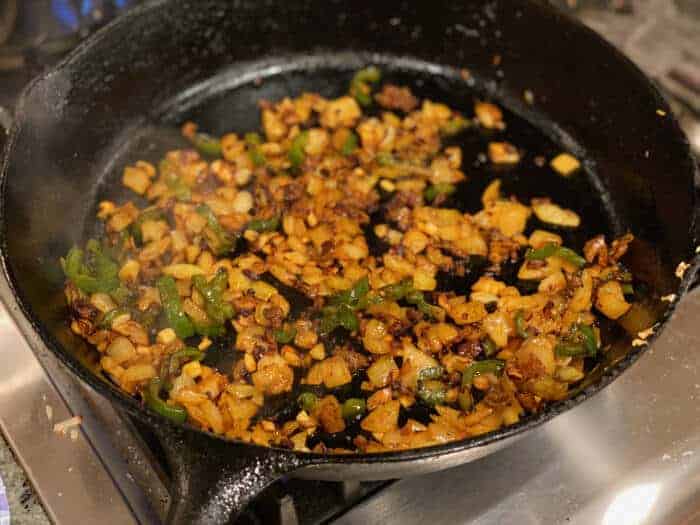 Set the vegetable aside to cool.
Step 4: Add Everything To Pan
Add the meat and the stir fried vegetables to the pan. Then add the (2) cans of Rotel and about 3 TBS of Jeff's original rub to the pan.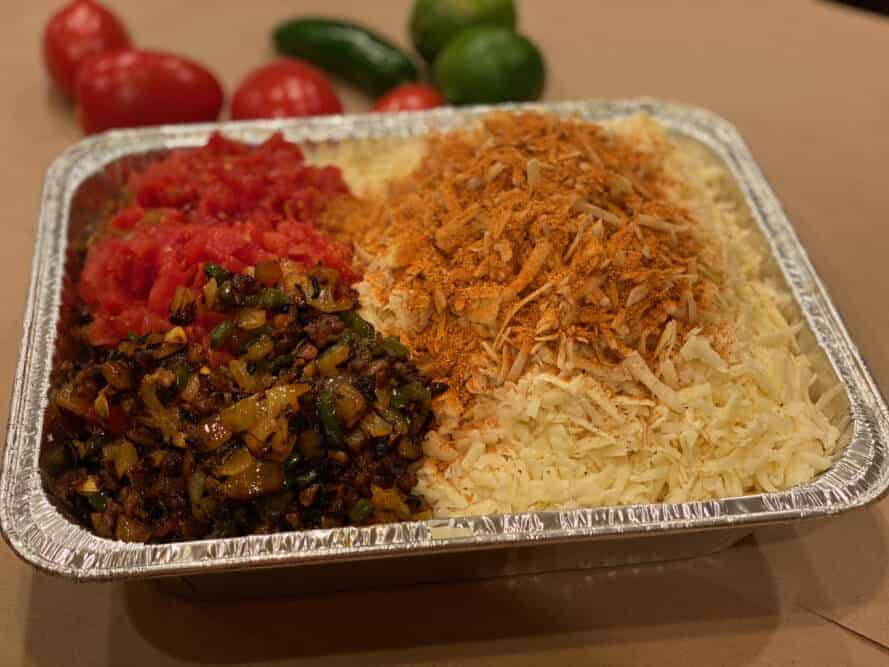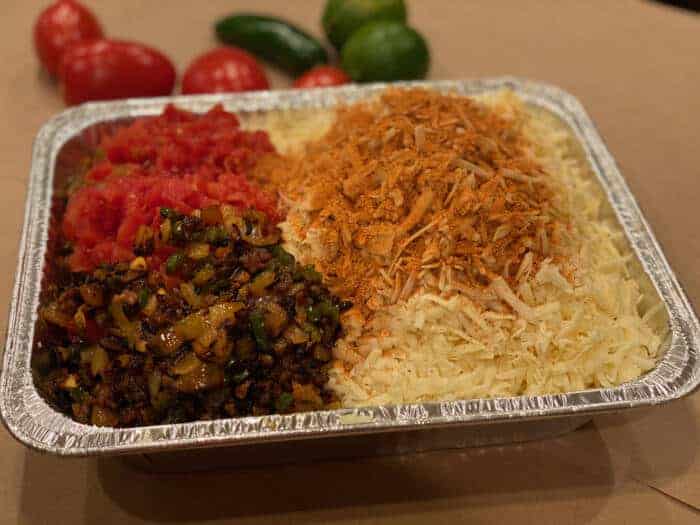 You can stir everything together now or wait until it starts melting and do it then. Your choice.
Step 5: Smoke Time
If you are using a pellet smoker, set up your smoker for cooking at about 180-200°F or just use the "Smoke" setting. For the first 2 hours you'll leave it at this low temperature to slowly melt and get a lot of good smoke flavor.
If you are using any other type of smoker, set it to anywhere between 200-225°F and the time it takes to melt and get smooth will be much less.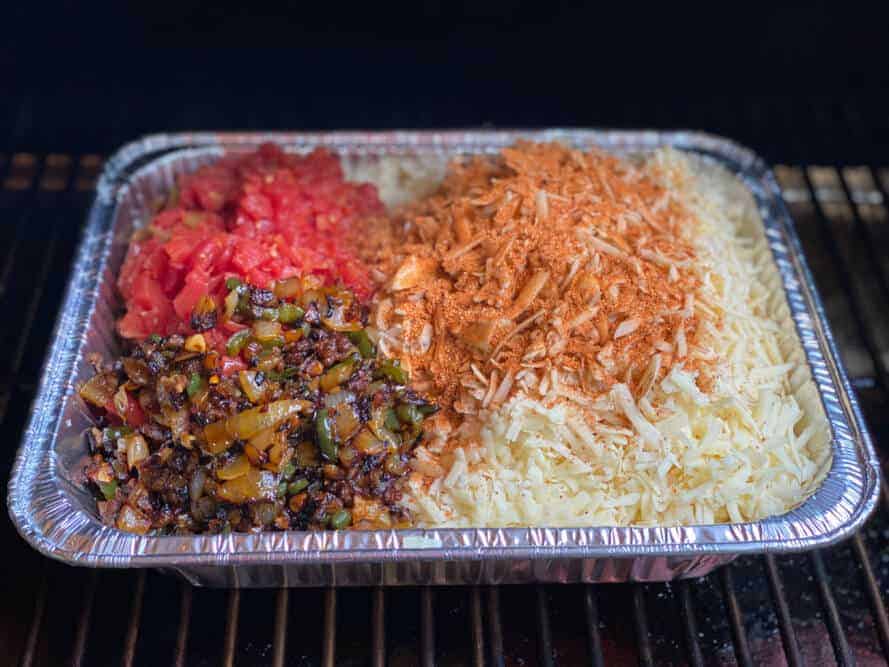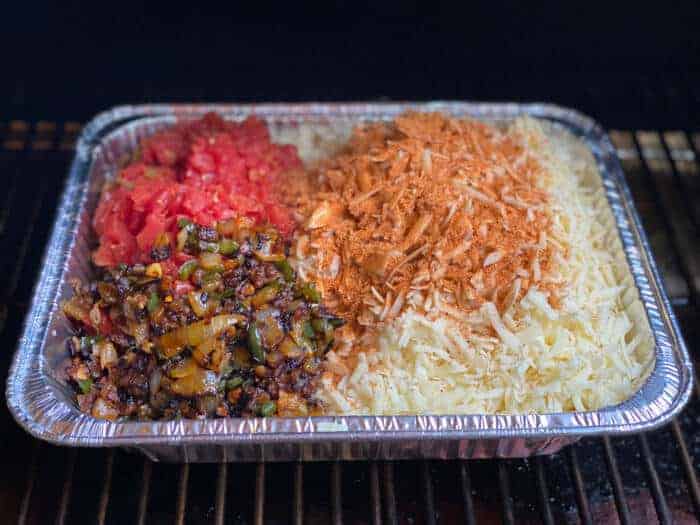 Once the cheese starts to melt real good, begin stirring the smoked queso about every 20-30 minutes until the cheese is completely melted.
This is 1 hour in in a pellet smoker at 180°F: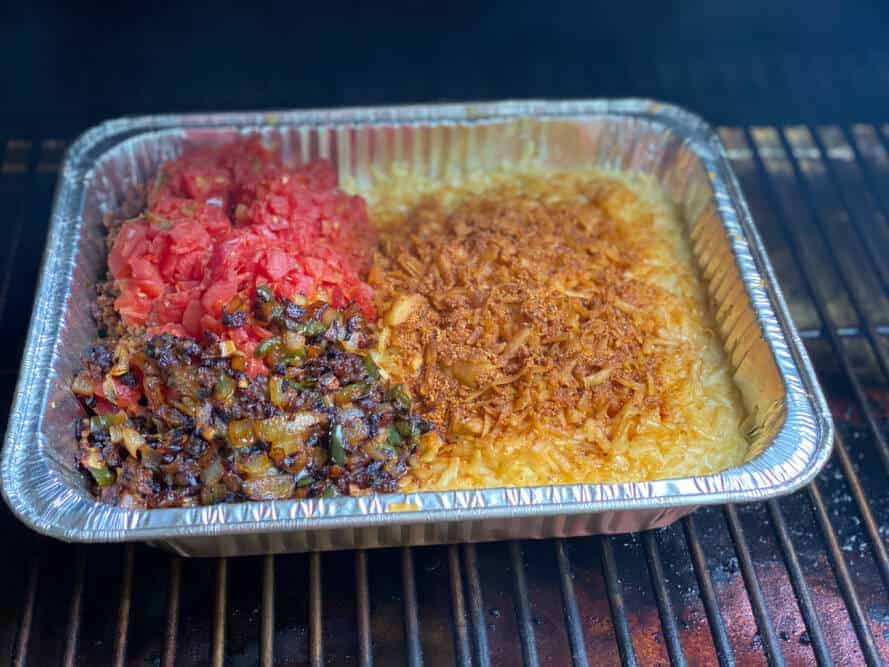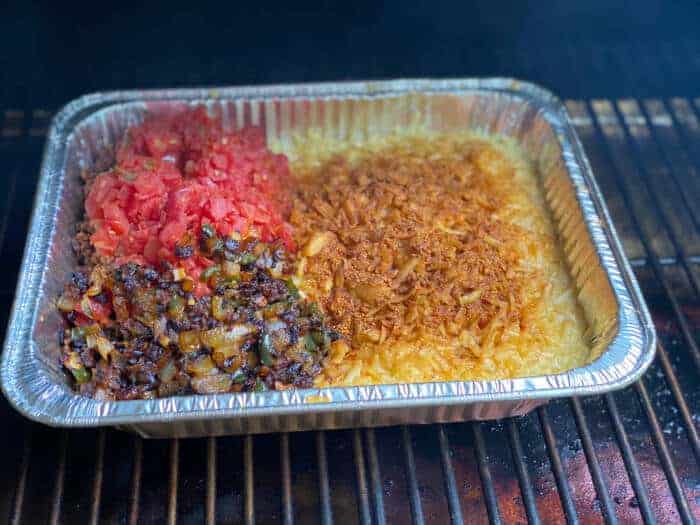 After about 2 hours at 180°F, I turned the heat up to 225°F to finish melting the cheese and get it to smooth out a lot more.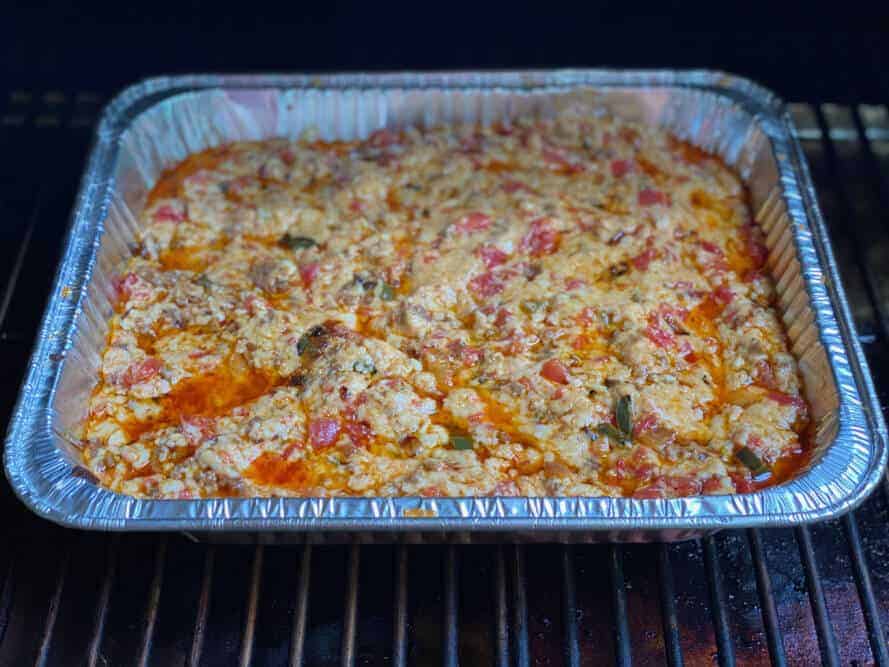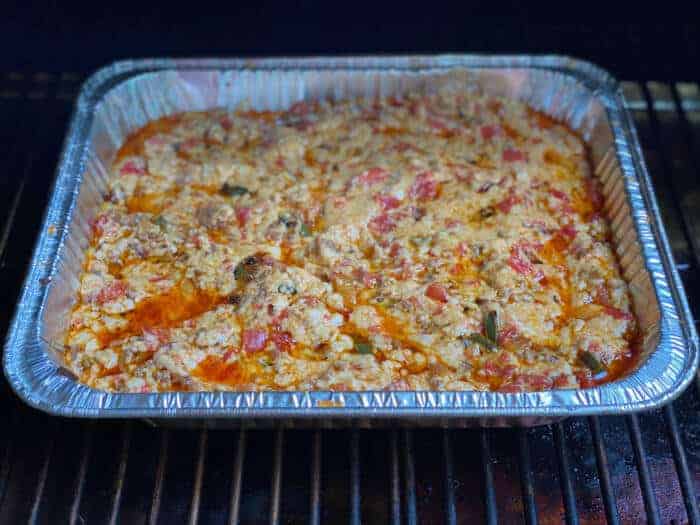 Once the cheese is completely melted, stir in about 1 cup of heavy whipping cream and see how that looks. If you want it to be more creamy, add a little more. I ended up using about 2 cups but every batch will be different and that just depends on the type of cheese, the type of meat, how much grease you leave in the meat, etc.
Please note that if you maintain 225°F for the entire time, the smoked queso will get done in much less time.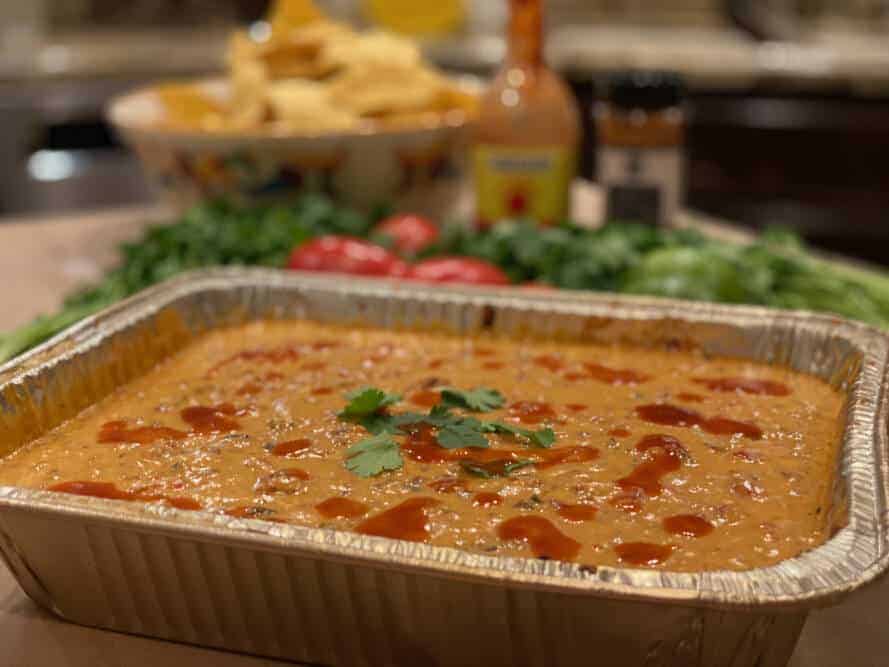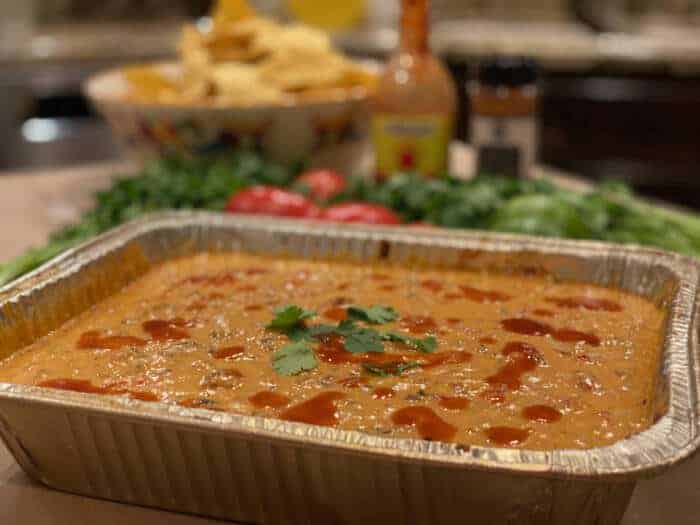 Options
There's a lot of things you can do to smoked queso to make it your own.. here's a list off the top of my head but the options are endless and only limited by your imagination:
Use Velveeta like the traditional smoked queso.
Use a mix of chorizo and hot breakfast sausage
Use Serrano peppers to amp up the heat.
Don't clean or deseed the jalapeños.
Add crushed pepper flakes
Use half Velveeta and half (your favorite cheese).
If you come up with something really amazing, let me know about it!
Smoked Queso - The Ultimate Cheese Dip
Smoked queso, while traditionally made from Velvetta, can also be made using real cheese. This one uses white cheddar but feel free to sub in your favorites.
Ingredients
3

lbs

Cheese

(cheddar, Colby Jack, Monterey, etc.)

1

lb

Chorizo

(or ground breakfast sausage)

1

each Onion

(yellow sweet (medium))

3

each Jalapeños

(Use more or less if desired)

6

each Garlic cloves

(peeled)

2

cans Rotel® diced tomatoes with green chilies

(10 ounce cans)

3

TBS

Jeff's original rub

2

cups

Heavy whipping cream

1

bunch Cilantro

(Garnish)

1-2

bags Tortilla chips
Instructions
Grate 3 lbs of hard cheese. If the cheese is soft like Velveeta or mexican, you can simply cube it. Place into a half-size foil pan.

Cook Cook the chorizo in a skillet until browned. Drain the grease and set aside to cool.

Dice Dice the onion and set aside.

Mince Mince the peeled garlic cloves and set aside.

Clean Clean, deseed and slice the jalapenos. Cut off the stem, slice in half lengthwise then remove all of the seeds and pith. Slice the half peppers into half-circles.

Stir-fry Stir fry the onion, garlic and jalapeno in a little of the chorizo grease until they are wimply and well browned. Set aside to cool.

Combine Add the meat, vegetables, Rotel to the foil pan with the cheese. Add 3 TBS of Jeff's original rub on top.

Smoke Smoke the queso at 180 degrees F (Pellet smoker) or 200-225 degrees (other smoker) until the cheese begins to melt down then stir ingredients in the pan to combine.

Finish Continue cooking until the queso is completely melted. Stir in about 1 cup of heavy whipping cream to make it more creamy. Add more as desired to get the right consistency.

Serve Serve immediately with plenty of tortilla chips garnished with cilantro. Add a little hot sauce to the top if desired.
Get Jeff's Products!