To make a large smoked beef top round in the 5-7 lb range like the one I recommend below, you'll probably have to speak to the butcher and get them to cut one for you. Most of the pieces in the meat department of your local grocer will be much smaller than this.
Season it up with my Texas style rub (Purchase formula here | Purchase bottled rub) and smoke it until it reaches a perfect medium rare for delicious and smoky goodness that won't quit!
Helpful Information
Prep Time: 10 minutes
Dry brine: 8-10 hours
Cook Time: 4-5 hours
Smoker Temp: 225-250°F
Meat Finish Temp: 130°F
Recommended Wood: Oak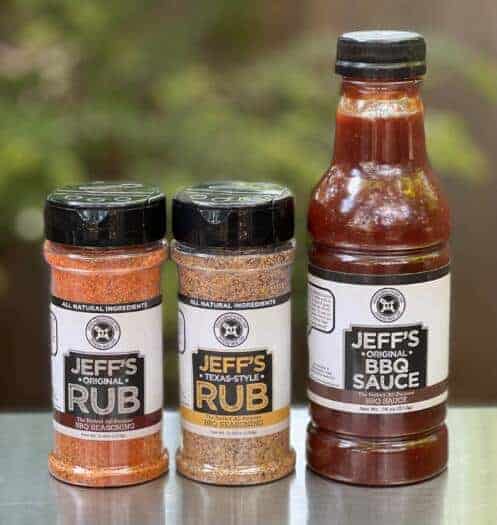 Please note that my rubs and barbecue sauce are now available in 2 formats– you can
purchase the formulas
and make them yourself OR you can
buy them already made
, in a bottle, ready to use.
Season/Dry Brine the Beef Top Round
6.5 lb top round ready to be brined/seasoned.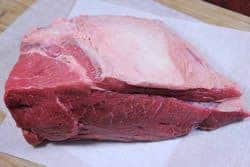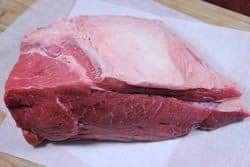 To dry brine is to add salt to the outside of a piece of meat. The salt draws out some of the natural meat juices which then mix with the salt and are drawn back into the meat.
There's a lot of science involved but the main thing is that it works very well on large chunks of beef like this top round.
My process is to coat the meat with my Texas style rub (Purchase formula here | Purchase bottled rub) first.
Then, because my Texas style rub has the right amount of salt to season but not enough to actually dry brine the beef perfectly, we add a little more coarse grained kosher salt all over.
Place the top round into a large lidded container or a jumbo zip top bag and put it in the fridge during the brining process.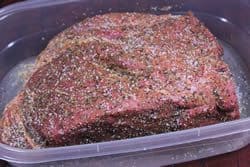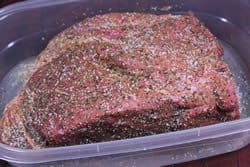 Let the meat dry brine in the fridge overnight for best results. Remove the meat from the fridge and it is ready for the smoker.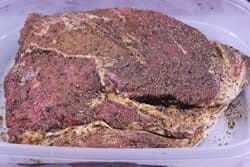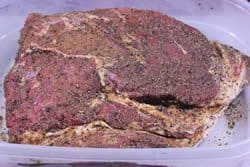 Because the meat is so big, the extra salt does not need to be rinsed off.
Smoke the Top Round
Set up your smoker for cooking at 225-250°F using indirect heat.
If your smoker uses a water pan, fill it up with hot water or other liquid of your choice.
Once the smoker is ready, place the meat directly on the smoker grate or you can use a Weber grill pan or Bradley rack to hold it in the smoker and to easily move it back to the kitchen when it's finished cooking.
Keep the smoke going for at least 2 hours if you are using a smoker that uses charcoal, gas or electric for fuel.
I recommend oak for this smoked top round but any smoking wood will work fine.
The cooking process should take about 4-5 hours to reach medium rare (130°F)  but may vary depending on your smoker, how often you open the smoker, the weather, meat thickness and even how cold the meat is when you place it into the smoker.
Here is the meat 4 hours in on my Meadow Creek TS120P barbecue smoker: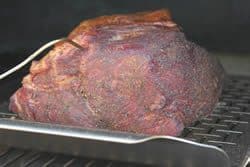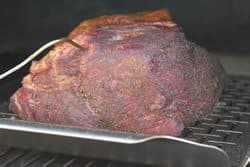 Be sure to use a digital probe meat thermometer that stays in the meat the entire time it is cooking. I use the "Smoke" by Thermoworks these days for accurate temperatures.
This allows you to keep the lid closed and still know when the meat needs to be removed from the smoker.
If you want to use an instant read such as the Thermapen or the Thermopop, that will work well also.
When the meat reaches 130°F it has reached medium rare and is the best temperature in my opinion for eating this cut of beef.
Serving the Top Round
Bring the top round into the kitchen and set it on a cutting board, tent some foil over it for about 10-15 minutes to allow the juices to redistribute before slicing.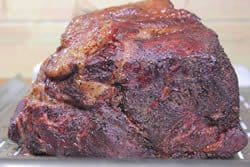 Slice the meat across the grain and serve immediately.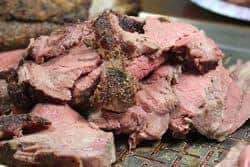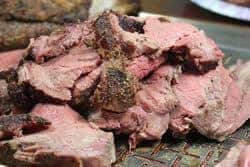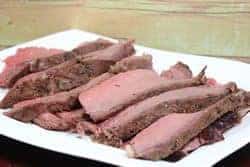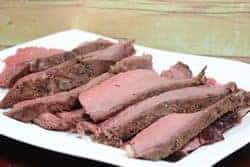 Serve like steaks with mashed potatoes, corn and green beans or you can slice it into thin strips for fajitas, tacos or even toppings for a salad.
Order Jeff's Rubs and Barbecue Sauce TODAY!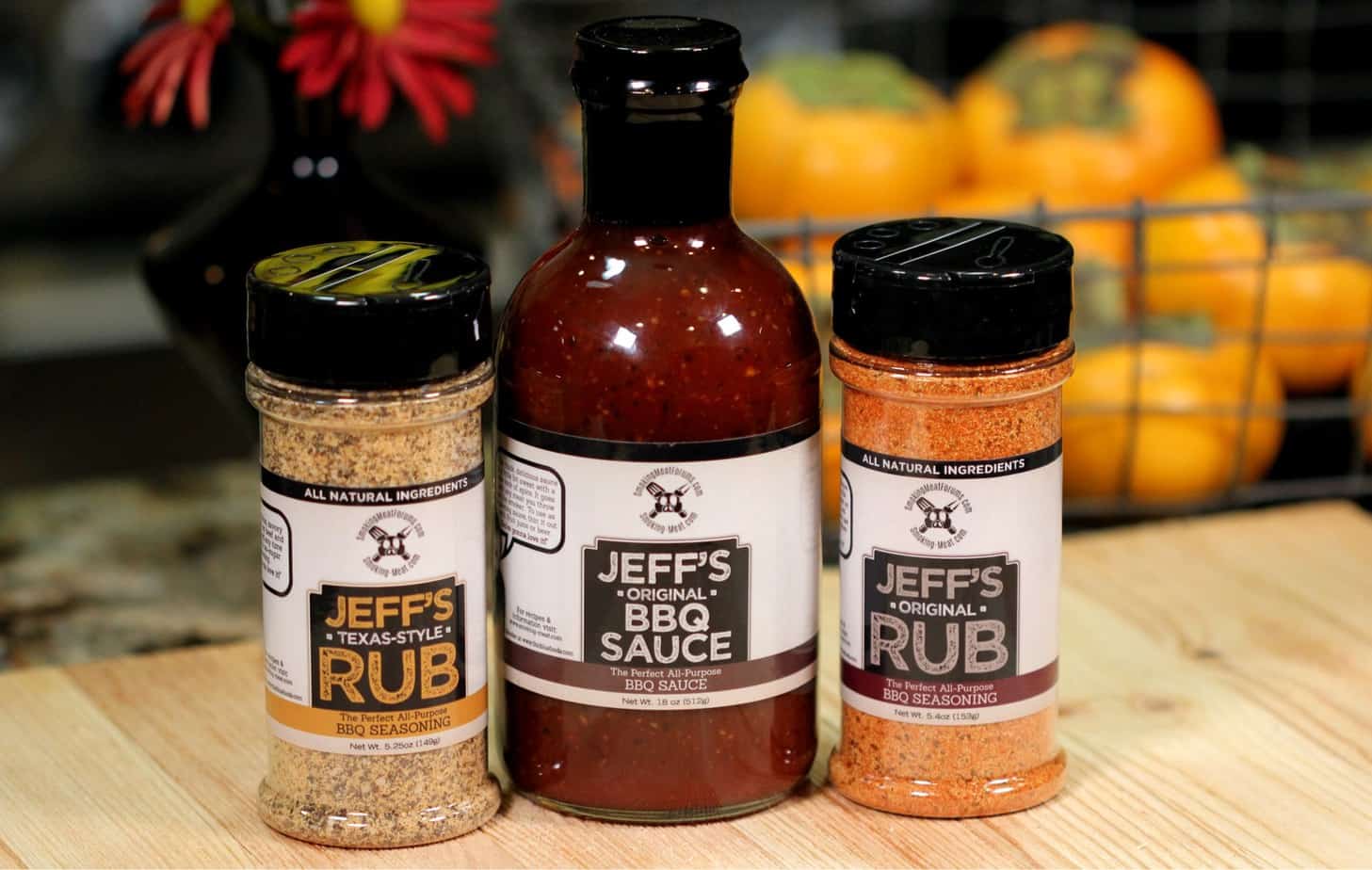 ✅ If you haven't ordered my rubs or sauce yet you can do that HERE. They are the best thing you've ever tasted and it's a great way to support what we do!
We ship blazingly fast and orders over $50 ship free!
You can also order the formulas for my rubs and sauce and make these yourself at home. Grab those HERE and download immediately.
Jeff's Smoking Meat Books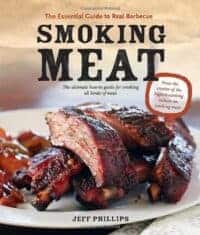 Smoking Meat: The Essential Guide to Real Barbecue – The book is full of recipes and contains tons of helpful information as well. Some have even said that "no smoker should be without this book"!
With more than 1000 reviews on Amazon.com and a rating of 4.7 out of 5 stars, it comes highly recommended and is a Bestseller in Barbecuing & Grilling books on Amazon.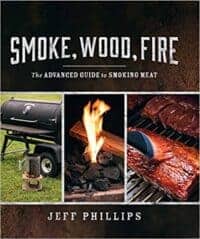 Smoke, Wood, Fire: The Advanced Guide to Smoking Meat – Unlike the first book, this book does not focus on recipes but rather uses every square inch of every page teaching you how to smoke meat. What my first book touched on, this second book takes it into much greater detail with lots of pictures.
It also includes a complete, step-by-step tutorial for making your own smoked "streaky" bacon using a 100 year old brine recipe.
Get Almost Anything at Amazon
If you enjoy the newsletter and would like to do something helpful, then..
The next time you decide to order something at Amazon.com, use THIS LINK to get there and we'll get a small commission off of what you purchase.
Thank you in advance for using our special link: http://www.smoking-meat.com/amazon
---
Printable Recipe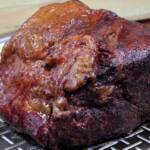 Print Recipe
Smoked Beef Top Round
Smoked beef top round, like most beef, does extremely well in the smoker. It can be cut up like steaks or into strips for use on tacos, salads, fajitas, etc.
Ingredients
Beef top round

((, 5-7 lb))

Kosher salt

((, coarse grained))

Jeff's Texas style rub recipe
Instructions
Add more coarse kosher salt to the meat to help with the dry brining process. See picture in web version of recipe to estimate proper coverage.

Place top round into lidded container and place into fridge overnight.

When the brining process is complete, remove the top round from the fridge and set aside.

Set up smoker for cooking at about 225-250°F with indirect heat.

Place the meat on the smoker grate and let it cook for 4-5 hours or until it reaches medium rare (130°F)

Use oak smoke for best results but any smoking wood will work fine.

Add smoke for at least 2 hours.

When the meat is finished cooking, let it rest for about 10 minutes then slice into steaks or strips.