Smoked Sloppy Joes are just what the doctor ordered.. well, maybe not the cardiologist but, we did use lean ground sirloin in this so I don't think he'd be too unhappy😁
A reader, Ed Richard, recommended that I try smoked sloppy joes. He places the ground meat on a screen type tray and stirs it a lot during the cooking process to get plenty of smoke on it.
While I was pondering the idea, it occurred to me that my barbecue sauce (Purchase formula here | Purchase bottled sauce) contains several of the ingredients that are typically used in homemade sloppy joes such as ketchup, Worcestershire sauce, brown sugar, etc. and what a great way to simplify a recipe and make it quick and easy without having to use a pre-made sauce!
It was a huge success and I can't wait for you to try it!
Helpful Information
Prep Time: 40 minutes
Cook Time: 1 hour
Smoker Temp: 225°F
Meat Finish Temp: 160°F
Recommended Wood: Pecan, Oak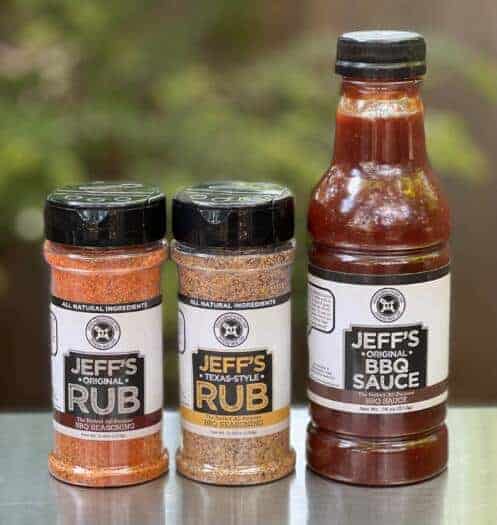 Please note that my rubs and barbecue sauce are now available in 2 formats– you can
purchase the formulas
and make them yourself OR you can
buy them already made
, in a bottle, ready to use.
Step 1: Smoke the Ground Beef
I recommend lean ground beef but you can use what you like including healthier options such as ground turkey. I used 90/10 ground sirloin in mine.
If you use anything fattier than 90/10, you'll want to drain most of the grease off before adding the other ingredients.
Setup your smoker for cooking at about 225 °F using pecan, oak, or whatever smoking wood you have available. If your smoker uses a water pan, fill it up.
Put 2 lbs of ground meat in a 12-inch iron skillet and break it up a little with a spatula to allow maximum smoke exposure.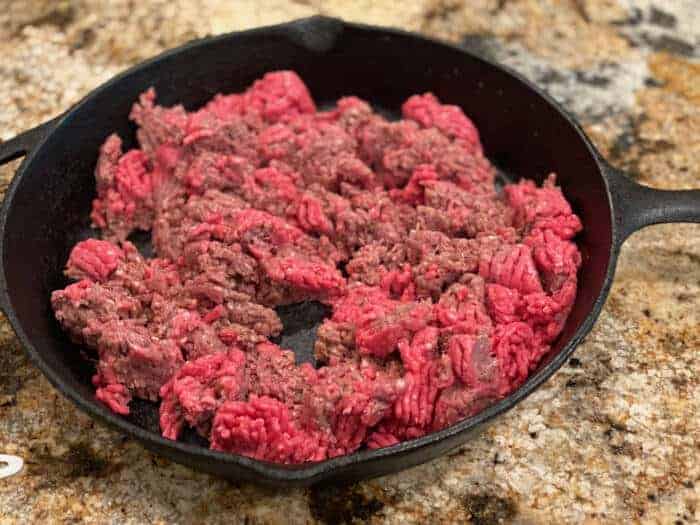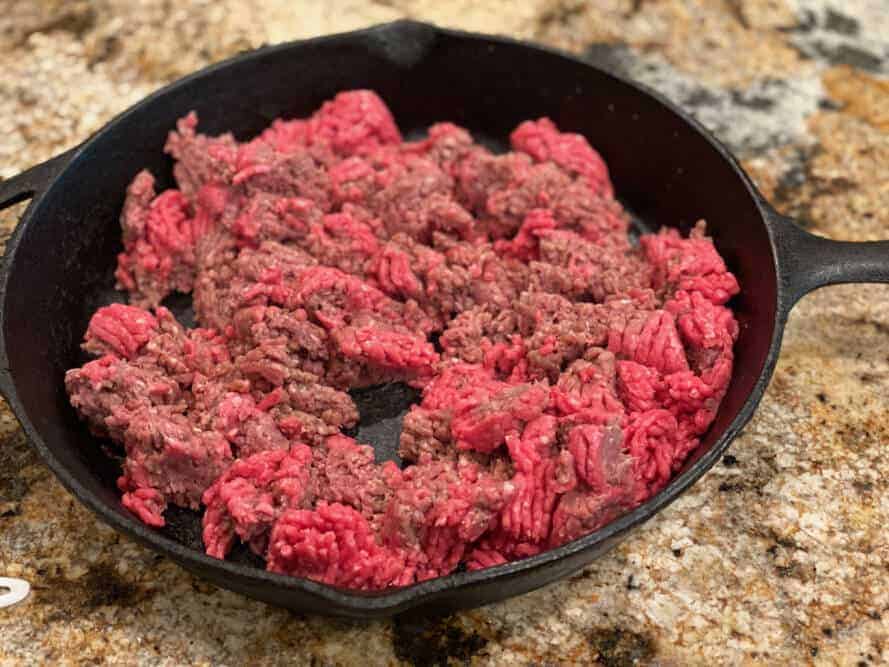 Once the smoker is ready, place the entire iron skillet on the smoker grate and let it cook for about 45-60 minutes or until the ground beef is browned and cooked.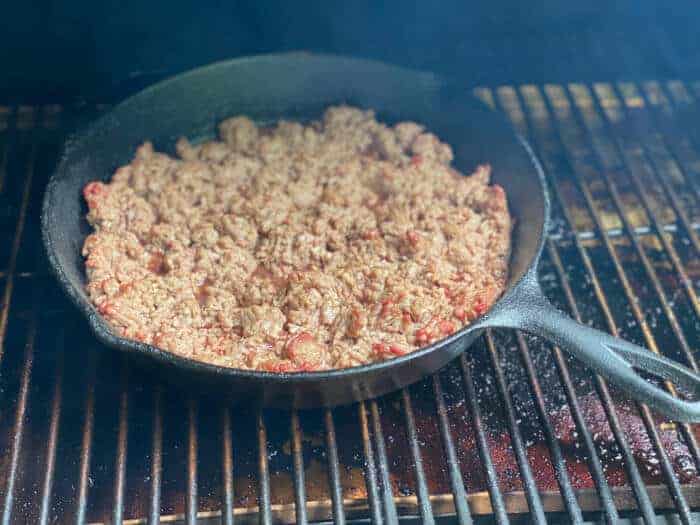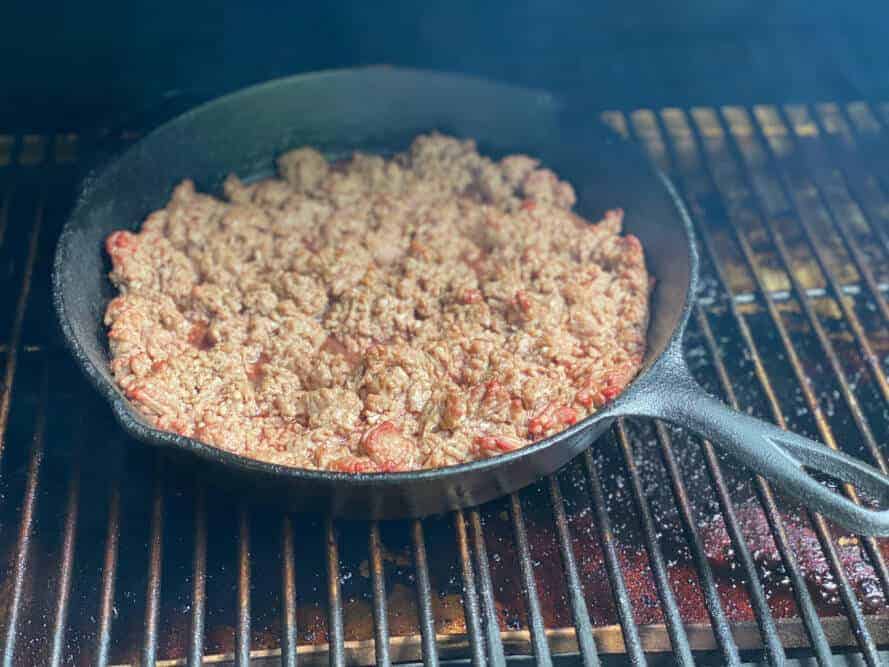 While the meat is cooking is a great time to chop and cook the onion, pepper and garlic.
Step 2: Prepare the Vegetables
Dice a medium onion.
Dice a whole green pepper (other colors are also okay)
Mince about 4 garlic cloves. Feel free to use more if you're a garlic freak like me.
Heat a large iron skillet over medium heat and add about 2 TBS of butter to the pan.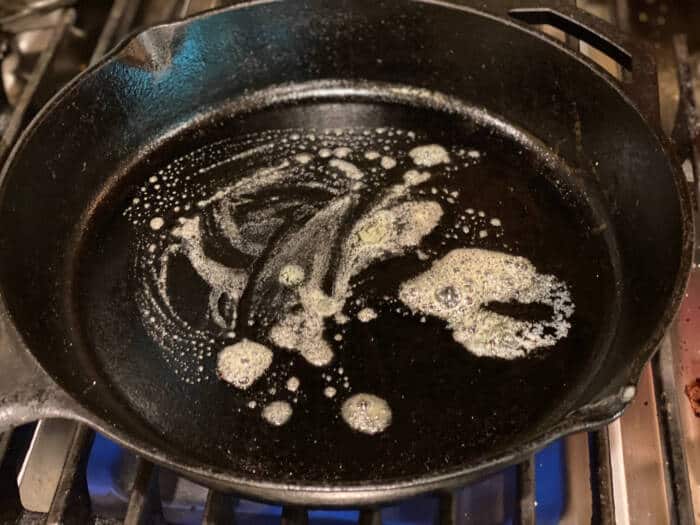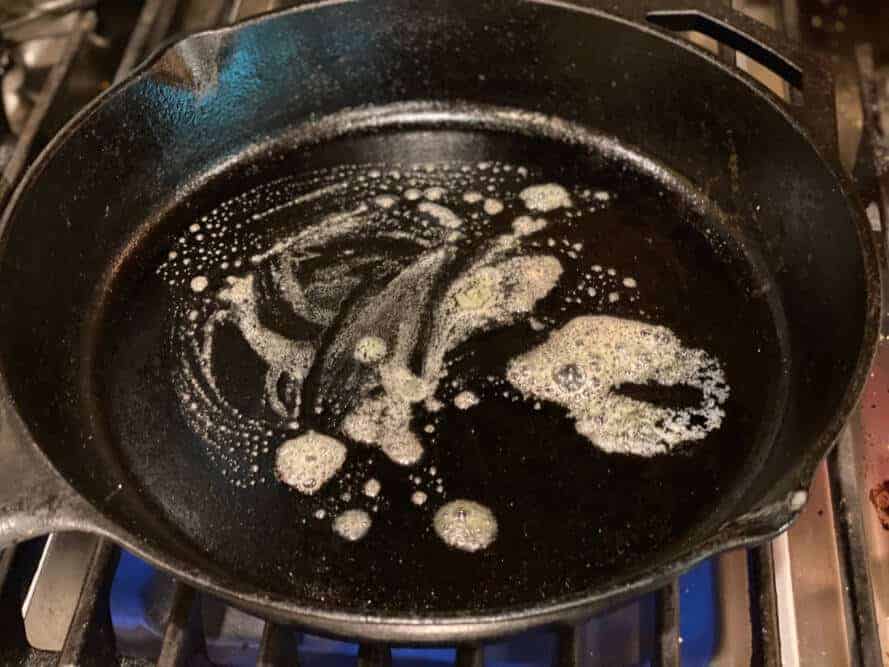 Once the butter is sizzling, add the vegetables and 1 TBS of the Texas style rub (Purchase formula here | Purchase bottled rub).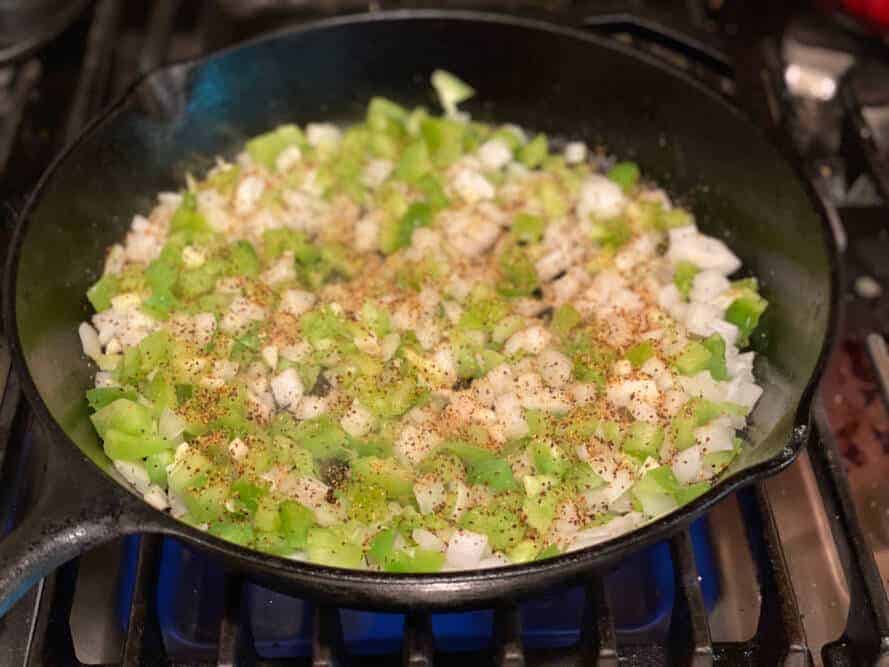 Let it cook for about 2 minutes before stirring them around. Let them cook for another 2 minutes and stir them around again. Continue this dance until they are soft and wimpy and you see some blackening starting to happen, especially on the onions.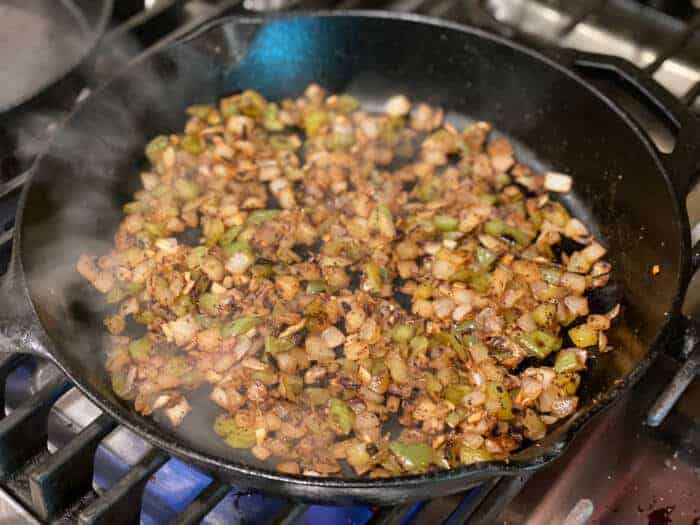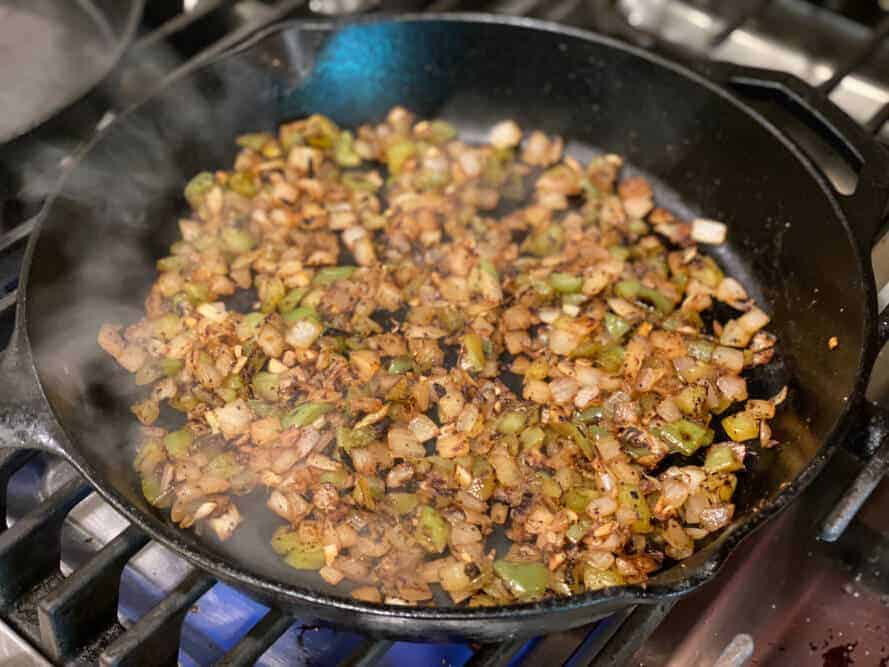 When they are finished, remove the pan from the heat.
Step 3: Mix and Simmer
When the meat is done smoking and is brown and fully cooked, bring it into the house and set the pan on the stove over low heat.
Reminder: if your ground beef is fattier than 90/10, you'll probably want to drain most of the grease before continuing with the recipe.
Add the vegetables as well as the barbecue sauce (Purchase formula here | Purchase bottled sauce), yellow mustard, chili powder, and condensed tomato soup (no water) to the same pan with the cooked meat and stir everything to combine.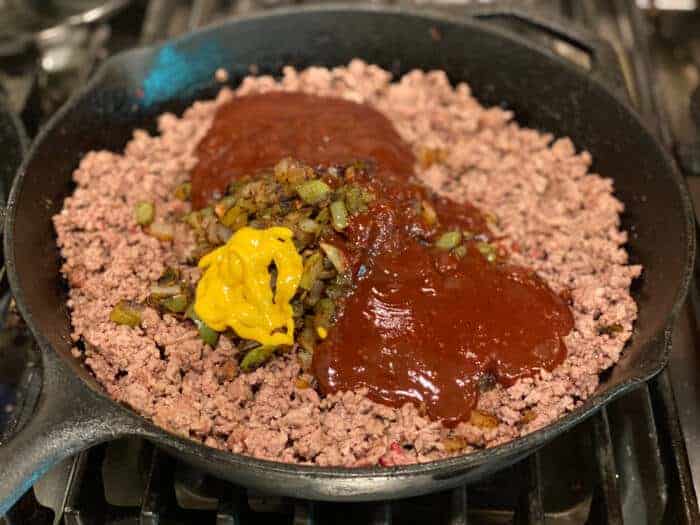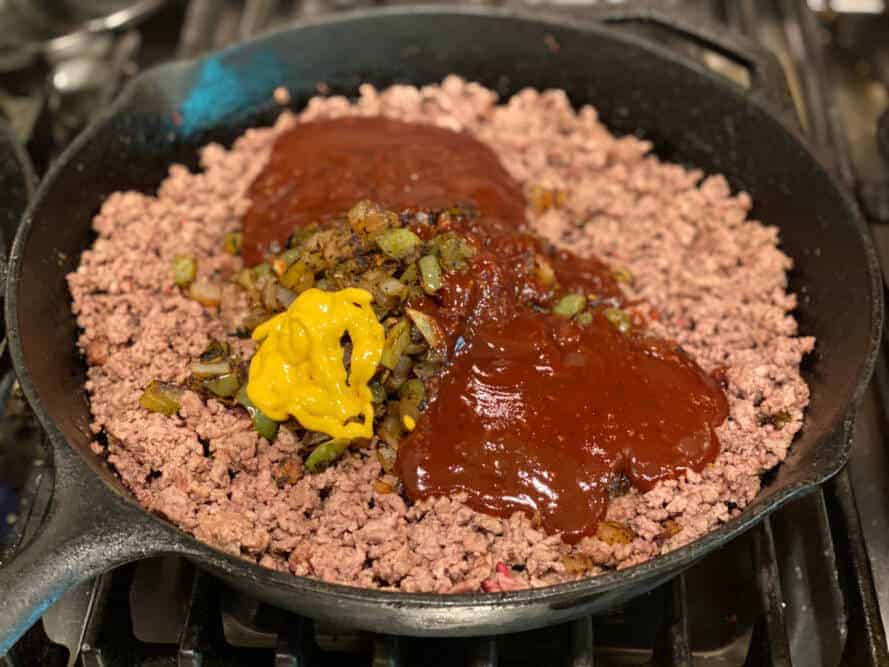 Let the smoked sloppy joes simmer in the pan uncovered until you are satisfied with the consistency. I don't like it to be soupy but it should be a really wet mix.
Mine took about 15 minutes of simmering to get the right consistency.
During this time, add a little salt and pepper to taste (optional). I ended up adding ½ teaspoon of coarse salt and 1 teaspoon of coarse ground black pepper to mine.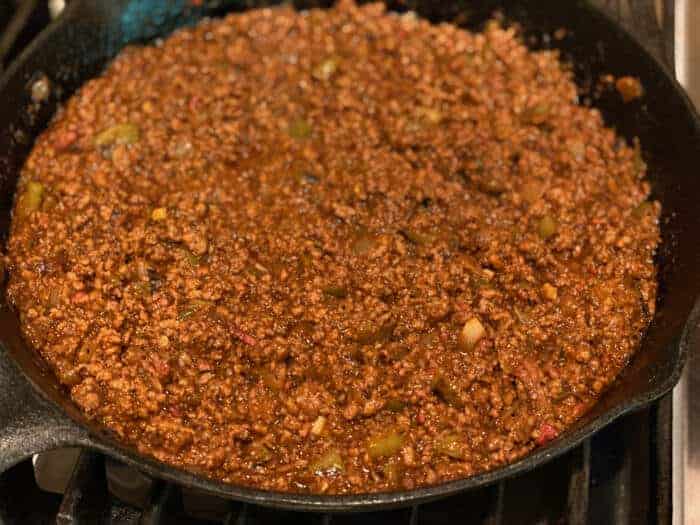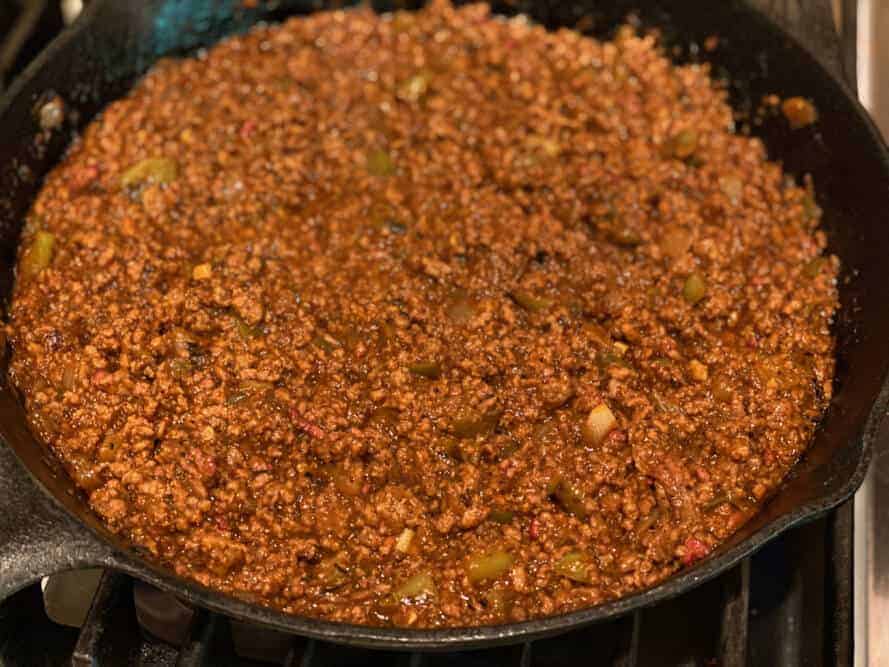 Note: if at any time you feel like it needs to have more liquid added to it, just add a little more of the condensed tomato soup or you can add a small amount of water.
Step 4: Toast the Buns
I've heard a lot of people say they don't like sloppy joes because they don't like soggy bread.. the trick is buttering and grilling the bottom of the buns. It becomes crisp and doesn't sog up like non-toasted bread does.
When the smoked sloppy joes are almost finished, butter up the buns.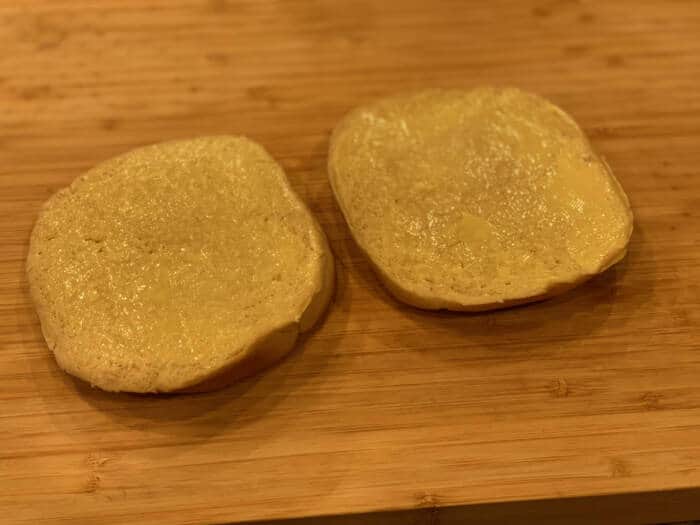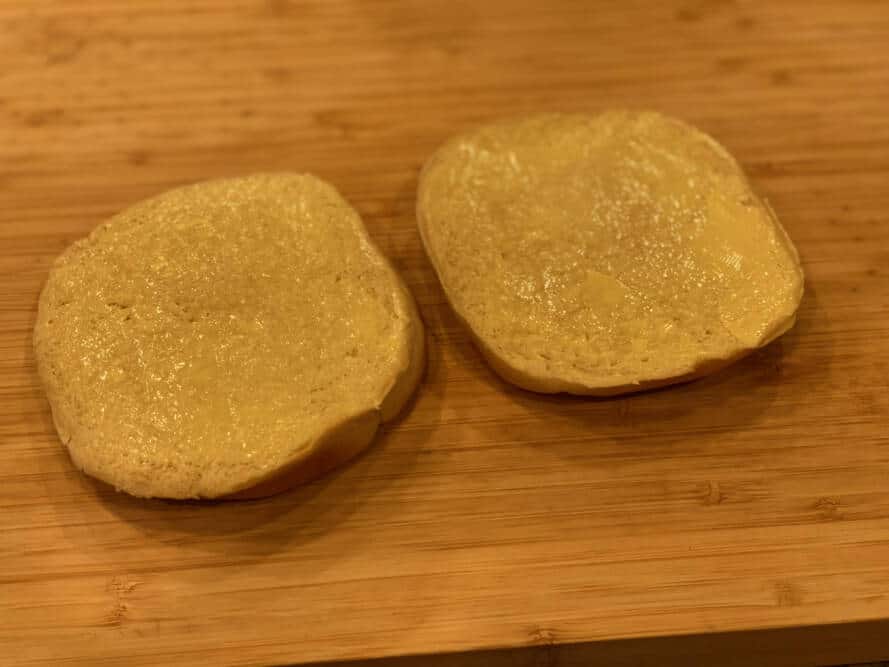 Place the buns buttered side down on a hot griddle or iron skillet over medium heat.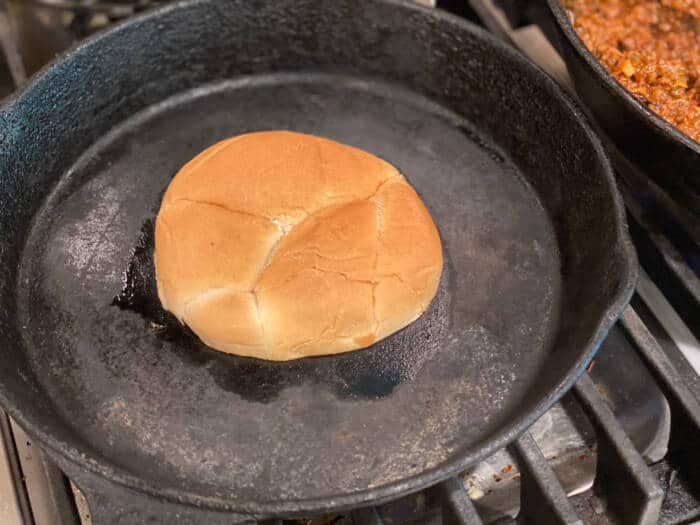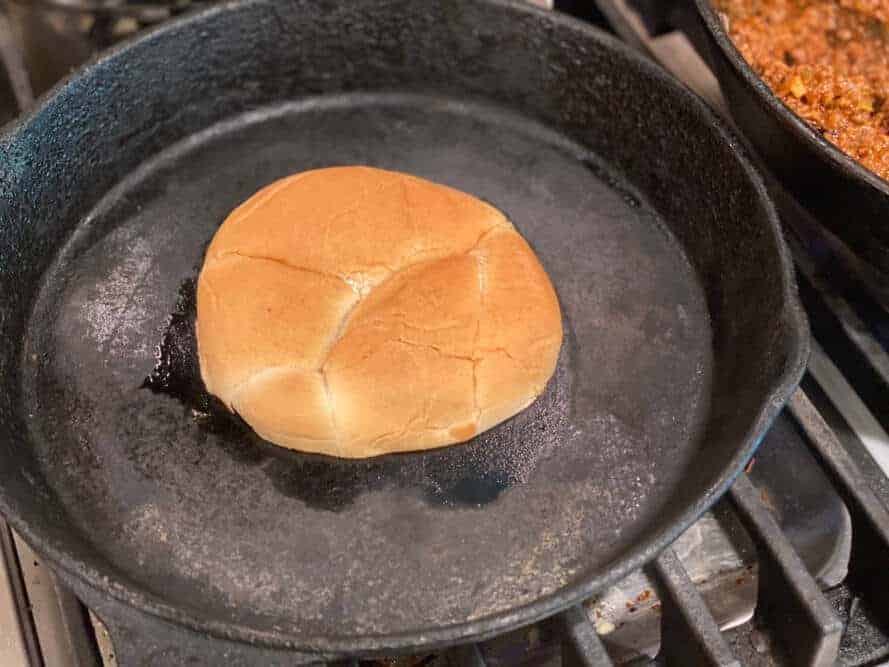 This only takes about a minute so keep a close eye on them until it gets the amount of "toastiness" that you like.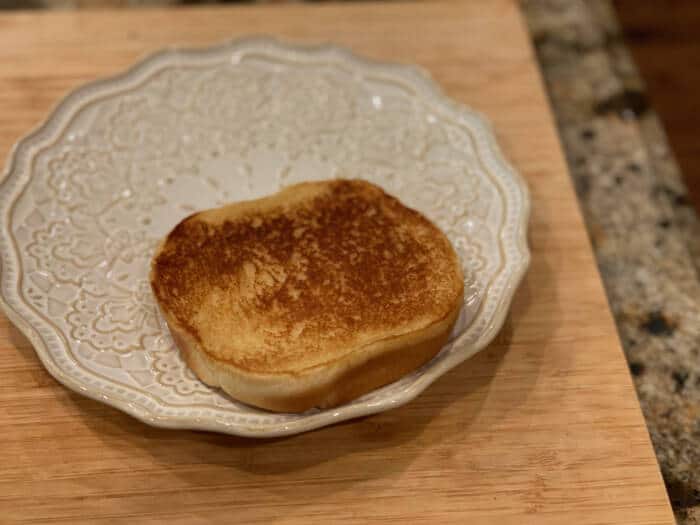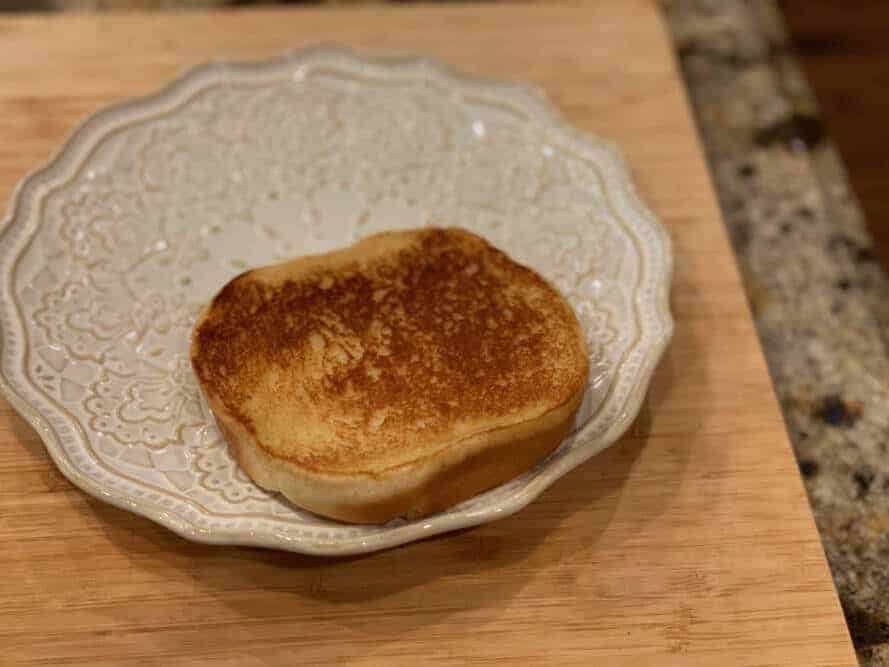 Step 5: Build the Sandwich
Pile about 1/3 cup of the smoked sloppy joes on the bottom bun and cap it off with the top bun.
I don't care for cheese on my sloppy Joes but if that's your thing, have at it!
Step 6: Serve it Up
When the sandwiches are ready, serve it up with plenty of paper towels and, of course, some good crunchy kettle chips on the side.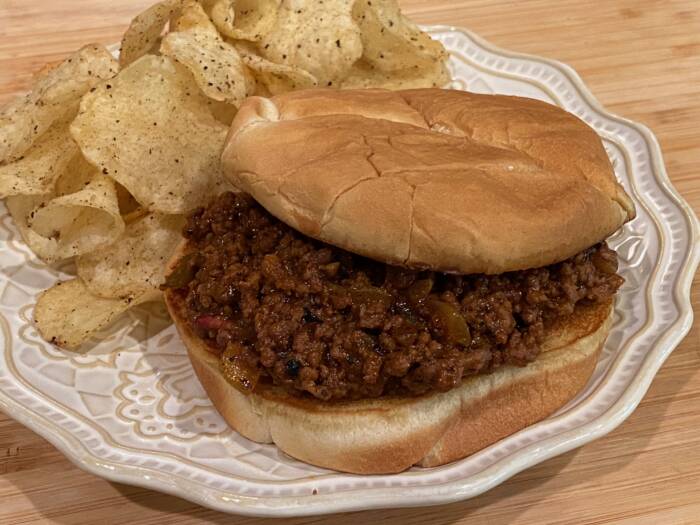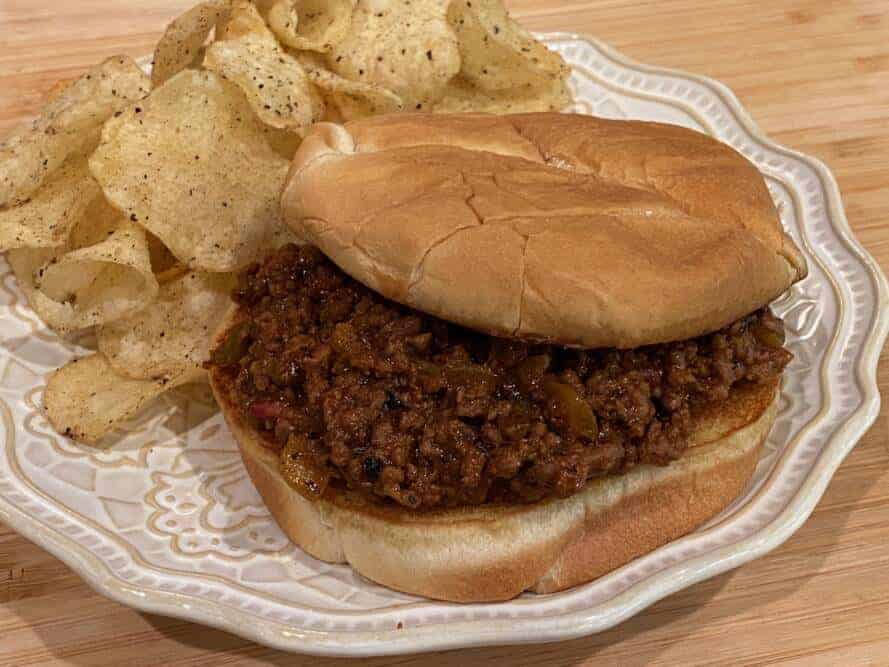 Notes/Comments
The smoke on the meat adds a nice layer of flavor but I could have used more smokiness. I am thinking you could possibly simmer this in the smoker instead of on the stove and get more smoke flavor that way.
Order Jeff's Rubs and Barbecue Sauce TODAY!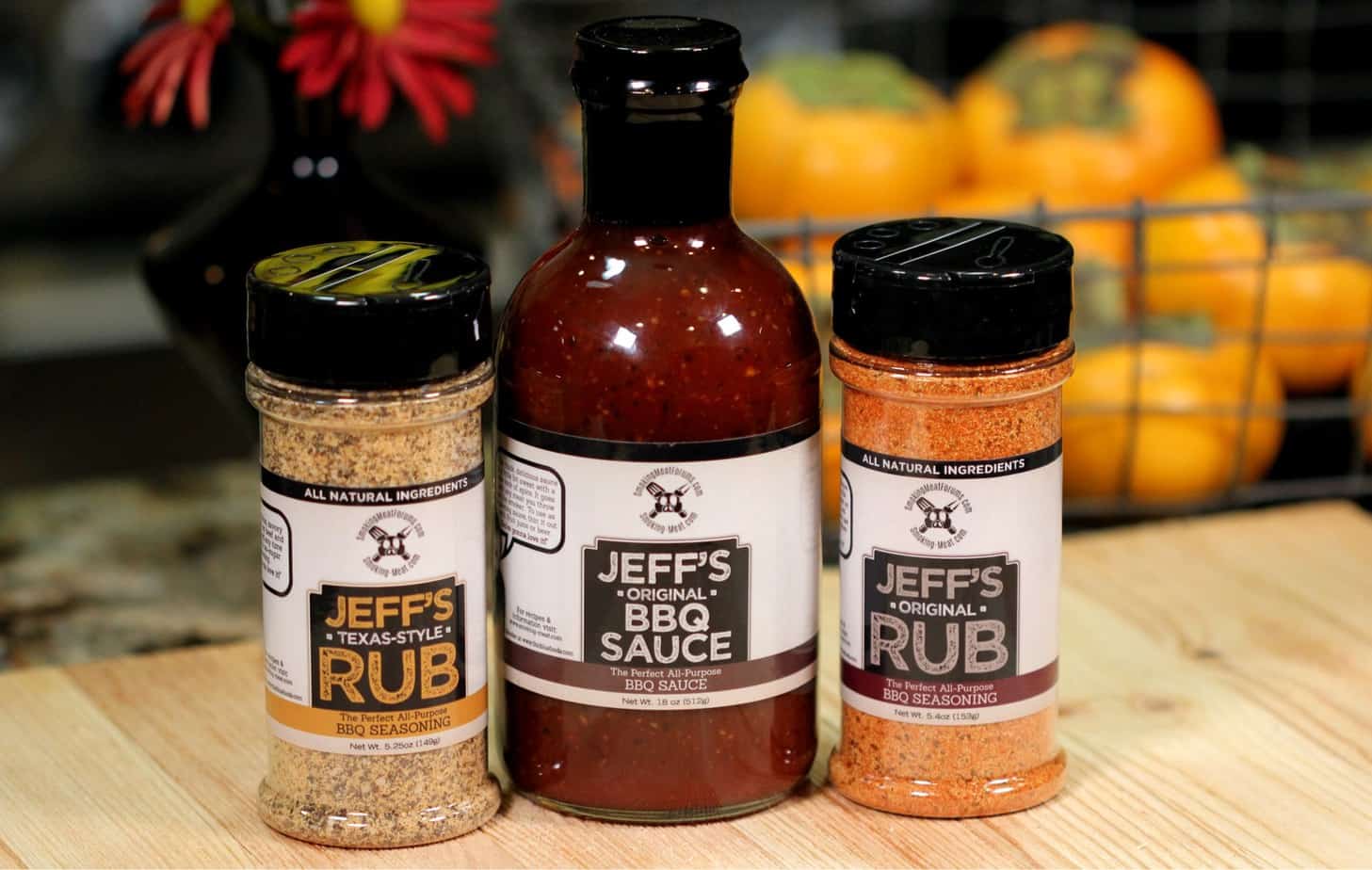 ✅ If you haven't ordered my rubs or sauce yet you can do that HERE. They are the best thing you've ever tasted and it's a great way to support what we do!
We ship blazingly fast and orders over $50 ship free!
You can also order the formulas for my rubs and sauce and make these yourself at home. Grab those HERE and download immediately.
Jeff's Smoking Meat Books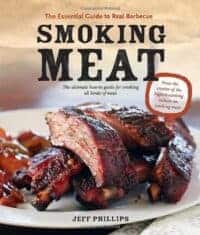 Smoking Meat: The Essential Guide to Real Barbecue – The book is full of recipes and contains tons of helpful information as well. Some have even said that "no smoker should be without this book"!
With more than 1000 reviews on Amazon.com and a rating of 4.7 out of 5 stars, it comes highly recommended and is a Bestseller in Barbecuing & Grilling books on Amazon.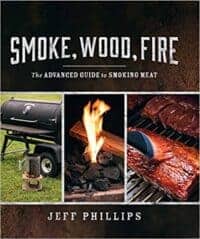 Smoke, Wood, Fire: The Advanced Guide to Smoking Meat – Unlike the first book, this book does not focus on recipes but rather uses every square inch of every page teaching you how to smoke meat. What my first book touched on, this second book takes it into much greater detail with lots of pictures.
It also includes a complete, step-by-step tutorial for making your own smoked "streaky" bacon using a 100 year old brine recipe.
Get Almost Anything at Amazon
If you enjoy the newsletter and would like to do something helpful, then..
The next time you decide to order something at Amazon.com, use THIS LINK to get there and we'll get a small commission off of what you purchase.
Thank you in advance for using our special link: http://www.smoking-meat.com/amazon
---
Printable Recipe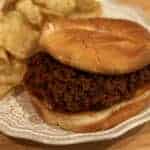 Print Recipe
Smoked Sloppy Joes
Smoked sloppy joes are everything you'd expect and more from a delicious sandwich that's known far and wide. The smokiness in the beef adds yet another wonderful layer of flavor.
Ingredients
2

lbs

lean ground beef

((90/10))

1

each

medium yellow onion

(, diced)

1

each

green bell pepper

4

each

garlic cloves

(, minced)

Butter

1

TBS

Jeff's Texas style rub

(https://thinbluefoods.com)

1

cup

Jeff's barbecue sauce

(https://thinbluefoods.com)

1

TBS

yellow mustard

½

cup

condensed tomato soup

1-½

teaspoons

chili powder

½

teaspoon

coarse kosher salt

1

teaspoon

coarse ground black pepper

Hamburger buns
Instructions
Place the meat in a large iron skillet and smoke it at 225 degrees until browned and cooked.

While the meat is cooking in the smoker, dice the onion and the pepper and mince the garlic.

Place the onion, peppers and garlic with 1 TBS of Jeff's Texas style rub and 2 TBS of butter in a large skillet over medium heat. Saute until they are soft and blackened.

Once the meat is done cooking, add the vegetables, 1 cup of barbecue sauce, 1/2 cup of condensed tomato soup, 1 TBS of yellow mustard and spices to the skillet with the meat and simmer over low heat.

Simmer until the mixture is no longer soupy and has the right consistency. If you need to make it more saucy, you can add more of the tomato soup or a small amount of water.

Butter the buns and toast them on a griddle or in an iron skillet until they are browned and crispy on the bread side.

Put about 1/3 cup of the smoked sloppy joes on the bottom bun and cap it off with the top bun.