My meat loaf recipe is to die for and I am going to share it with you here.
Several years ago I decided to try a meat loaf on the smoker and several people including close relatives thought I'd lost all sense of reality.
I asked my wife to mix up the meat loaf recipe like she normally would then formed it into a rectangular shape about 2 inches thick onto a square cookie sheet.
It was the best thing we'd ever eaten and everyone else agreed.
I have since perfected the process and it's only gotten better and better over the years. Here's how I do it nowadays:
Helpful Information
Preparation time: 30 minutes
Cook time: 3-4 hours
Smoker temperature: 240°F
Meat Finish temperature: 160°F
What You'll Need
1 lb ground chuck (80/20)
1 lb ground breakfast sausage, hot or regular
1/2 cup bell pepper (yellow, green, red mixed), diced
1/2 cup yellow onion, diced (1 small onion)
½ cup celery, diced
2 TBS olive oil
2 slices of loaf bread or a hamburger bun top and bottom
½ cup buttermilk
2 large eggs
Jeff's original rub recipe (purchase recipes here)
Get the Recipes for Jeff's Rub and Sauce
---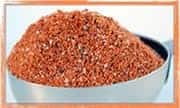 In this smoked meat loaf recipe, we are using Jeff's rub to season the mixture, Jeff's barbecue sauce to give it that wonderful tangy flavor and then we are brushing on more of Jeff's barbecue sauce as a glaze at the end.
Just when you thought smoked meatloaf couldn't get any better!
I promise you'll love my dry rub/seasoning recipe and my barbecue sauce recipe or you don't pay!
Reasons to buy: Support the newsletter and the website | Own "the recipes" | Get the email newsletter 100% AD FREE from now on | Includes the Texas style rub recipe

Step 1: Soak the Bread
Take two slices of loaf bread or the top and bottom half of a bun and tear it into small pieces. (About 1 cup of bread)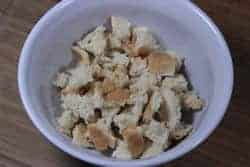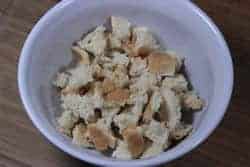 With the bread in a small bowl, pour ½ cup of buttermilk over the bread.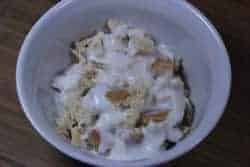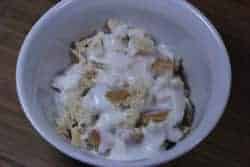 The bread will soak up the buttermilk and this will be part of what makes the meatloaf so moist.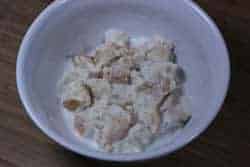 Once the milk is soaked in, crack a couple of large eggs onto the bread mixture. Stir gently to combine.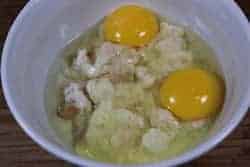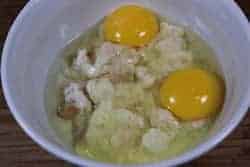 Set aside
Step 2: Saute Vegetables
Cooked vegetables release more moisture, are more tender and tend to be sweeter. Thus we will sauté them before use.
Dice bell peppers, onion and celery so that you end up with about ½ cup of each.
If you have extra, place them in a zip top bag and place them in the freezer for later.
Pour 2-3 TBS of olive oil into a skillet over medium heat.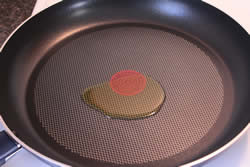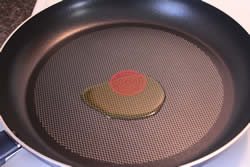 Once the pan is hot enough, pour in the onions, peppers and celery and stir to mix with the oil.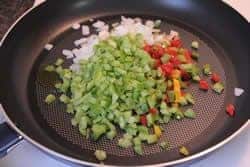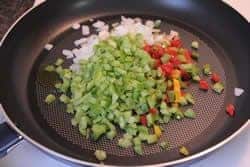 Let them cook for about 10 minutes or until the vegetables start to get slightly soft.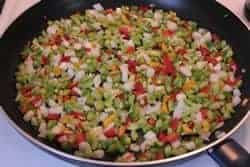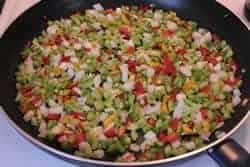 Once the veggies are finished cooking, remove them from the pan and into a plate or bowl to cool.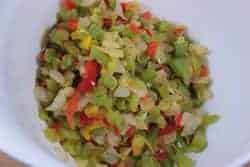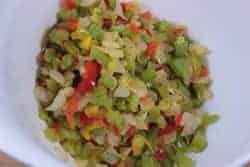 Add 1/4 cup of Jeff's barbecue sauce and 3 TBS of Jeff's rub (purchase recipes here) to the sautéed vegetables. Stir to combine.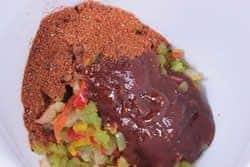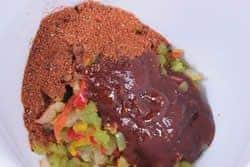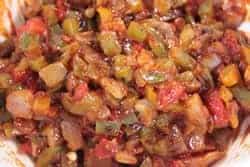 Step 3: Mix the Meatloaf
Place the 1 pound of ground chuck and 1 pound of ground sausage into a large mixing bowl.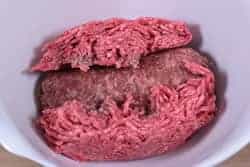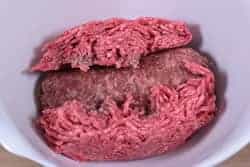 Add the bread, buttermilk and egg mixture to the top of the meat.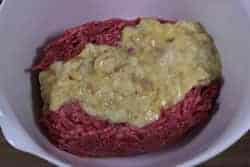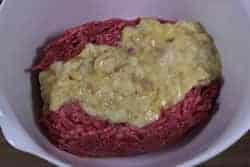 Add the vegetable, sauce and rub mixture to the top of the meat as well.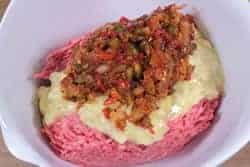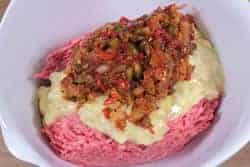 Add 1 teaspoon of salt to the top of the mixture and gently combine the ingredients together.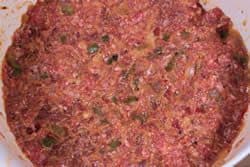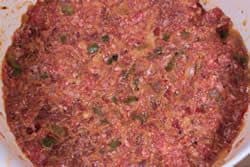 Do not overmix. Do just enough to combine and then stop. Overworking the meatloaf mixture will make it tough.
Step 4: Form Into a Loaf
Pour or scoop the mixture onto a cookie sheet, food grade butcher paper, etc. and form into a loaf with your hands.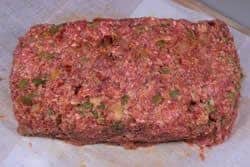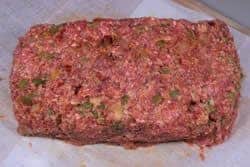 You can also place the mixture into a loaf pan to form it and then dump it out onto the pan, rack or tray that you will use to cook it.
You will notice that this mixture may be a little wetter than what you are used to using but that's ok. It will form and hold together just fine.
I recommend about 2 inches thick in the shape of a rectangle but you can get creative with this if you like.
If using a Bradley rack, I recommend placing a piece of parchment paper under the meat so it will be easier to remove once done. (I forgot to do this)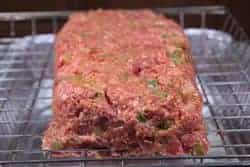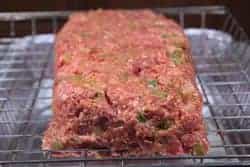 I kept the Bradley rack over a pan until I got out to the smoker to make sure I did not drop anything. I used the same method for bringing it in once it was finished.
Step 5: Smoke the Meatloaf
Set up your smoker for cooking at about 225-240°F using indirect heat with hickory smoke or whatever smoking wood you have available.
If your smoker has a water pan, I recommend that you use it.
Once your smoker is maintaining the proper temperature, the cooking can commence.
Place the meatloaf in the smoker.
Keep a light smoke going for at least 2 hours.
Let the loaf cook for 3-4 hours or until it reaches about 155°F.
Note: total time will depend on thickness of loaf, temperature of smoker and how often the door/lid is opened.
Step 6: Top with Sauce
At about 155°F, brush the top and sides of the meatloaf with plenty of Jeff's barbecue sauce (purchase recipes here). Give it about 25-30 minutes to caramelize then remove from the smoker.
Finish temperature for ground beef is actually 160°F but knowing that it will continue to cook and rise in temperature even after being removed from the smoker, it is ok to remove it a few degrees early.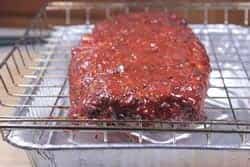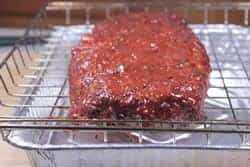 Step 7: Rest and Serve
Once the meat is brought into the house, tent some foil over the top and let it rest for 15-20 minutes before slicing and serving. This resting period gives the juices in the meat time to redistribute throughout the meat.
After resting, slice and serve. I moved mine to a nice platter and sliced at the table.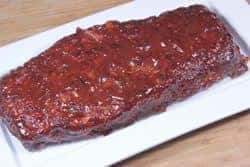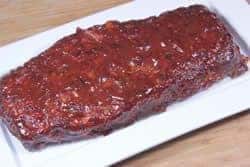 Tips for a better smoked meat loaf recipe:
Soaking the bread in milk before adding it to the meatloaf does a great job of helping the meat to be moist. I chose buttermilk for a richer flavor.
Sautéing the vegetables makes them a little softer at the front end and helps the meatloaf to end up more moist.
Making sure to remove the meatloaf at or just slightly before 160°F will ensure that it safe to eat but not dried out at all.
Do not overmix the meat. It is easy to overwork the meat trying to get a perfect balance of ingredients throughout the loaf but it is best to just mix as little as possible. Mixing the non-meat ingredients first then adding them to the meat helps to minimize the mixing process.
Cook the meatloaf sitting on a sheet pan, bradley rack or even a wooden plank instead of leaving it in a loaf pan. Letting it sit in juices, grease, etc. does not bring great results.
If you are worried about it being salty enough or overly salty/seasoned, fry a teaspoon of the mixture in a skillet and taste it before proceeding to form the loaf. This takes mere minutes and you will know exactly how well the meat is seasoned and/or if it needs a little extra salt.
Let the meat rest before slicing into it. We do this for many meats that we cook to allow the juices to settle back into the meat before cutting it open to minimize moisture loss.
If you are using a cookie sheet, I recommend an old one with holes drilled in the bottom to allow the juices to escape. Setting a foil pan with water below the meatloaf will give the drippings a place to safely fall and keep your smoker clean.
***Note: you get the Texas style rub recipe free with your order!
If I could give these recipes away, I would do that. I really want you to have them! But, then, this is how I support the newsletter, the website and all of the other stuff that we do here to promote the art of smoking meat.
Read these recent testimonies:
"Love the sauce and rub recipes. So far I have used them on beef ribs, pork ribs, and different chicken parts. Can't wait to do a beef brisket. Texas rub is great as well!" ~Peter S.
"I tried the rub on a beef brisket and some beef ribs the other day and our entire family enjoyed it tremendously. I also made a batch of the barbeque sauce that we used on the brisket as well as some chicken. We all agreed it was the best sauce we have had in a while." ~Darwyn B.
"Love the original rib rub and sauce! We have an annual rib fest competition at the lake every 4th of July. I will say we have won a great percent of the time over the past 15 years so we are not novices by any means. However, we didn't win last year and had to step up our game! We used Jeff's rub and sauce (sauce on the side) and it was a landslide win for us this year! Thanks Jeff for the great recipes. I'm looking forward to trying the Texas style rub in the near future!" ~Michelle M.
You see the raving testimonies and you wonder, "Can the recipes really be that good?"
No worries! Make up a batch and if it's not as good as you've heard.. simply ask for a refund. Now that's a bargain and you know it. Let's review:
You decide you don't like the recipes.. you don't pay!
The recipes are absolutely amazing!
Once you order, there'll be no more recipe ads in the email version of the newsletter
Well.. what are you waiting for.. click on the big orange button below to order the recipes now.

I really, really appreciate the support from my newsletter friends and be sure to let me know if you have any questions about this.
Jeff's Smoking Meat Book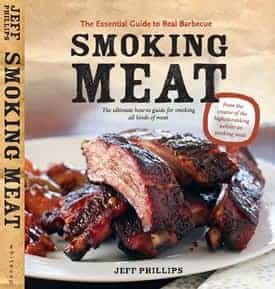 The book is full of recipes and contains tons of helpful information as well. Some have even said that "no smoker should be without this book"!
With more than 800 reviews on Amazon.com and a rating of 4.7 out of 5 stars, it comes highly recommended.
It is a Bestseller in Barbecueing & Grilling books on Amazon.
Amazon | Barnes & Noble | German Edition
Digital versions available via Nook | iTunes | Kindle
Get Almost Anything at Amazon
If you enjoy the newsletter and would like to do something helpful, then..
The next time you decide to order something at Amazon.com, use THIS LINK to get there and we'll get a small commission off of what you purchase.
Thank you in advance for using our special link: http://www.smoking-meat.com/amazon