I have to admit that I am not always a big fan of turkey or of the white meat in turkey.. just too dry for my taste. Well that used to be the case until I started really getting into brining and learning how to make it moist and delicious.
Just to prove how good the white meat can actually be, I am focusing entirely on smoked turkey breast in this edition and I will be stepping you through the entire process of choosing, brining and smoking a bone-in turkey breast.
Acquiring the Meat
There's not a lot that can go wrong here but I do highly recommend that you get the bone-in and not the boneless. To me the flavor difference is day and night. I have smoked these in tandem and everyone agrees that the tenderness, flavor and texture is so much better with the bone-in version.
These will come in sizes from around 5 lbs all the way up to 10 pounds or maybe a little more. In my opinion, the 5-7 lb birds are going to be your best bet for tenderness and cooking time.
These are almost always frozen especially if you buy them off season so be prepared to purchase them a few days before you need them so you can give them ample time to thaw before brining and cooking them.
---
Note: Thaw time at refrigerator temperatures is about 5 lbs per day. i.e. a 7 pound bird will require about 1.5 days to thaw in the fridge. A 10 pound bird will take around 2 days.
---
Brining – The Most Important Step
I don't care what anyone says, after smoking umpteen of these and seeing the difference between brined vs. unbrined, you really owe it to yourself to try brining.
There is a ton of argument about what really happens during the brining process and why. Is it osmosis or is it just something else? Personally, I don't care as much about why it happens as I do that it just happens.
During the smoking process, even if you keep the heat low and remove the bird just as soon as it is safe to eat, there is still a bit of drying out that takes place especially in the white meat of poultry.
When you brine meat, especially poultry, lots of extra moisture somehow ends up getting trapped in the fibers of the meat and you end up with a much juicier and more flavorful bird.
It just so happens that brining is way easy and there is absolutely no reason not to do it.
Here's how:
The night before you want to smoke the bird, simply place 1 gallon of water into a large tea pitcher. Mix in 1 cup of kosher salt and stir until it is dissolved and the water is clear.
I also like to add about 3/4 cup of brown sugar but you can white sugar or no sugar if you prefer. You can also add just about any other flavors you like to the water and it will miraculously end up in the meat of the bird. I sometimes add Worcestershire, hot sauce, molasses or even crazy things like liquid crab boil as well. Just use your imagination and if it's something you like then it will probably taste good in the turkey.
My Brine Recipe
2 Gal Water
2 Cups Kosher Salt
3 Cups Sugar
1/4 Cup Zatarains Liquid Crab Boil (optional)
4 TBS Black Pepper
1 TBS Dried Rosemary
1 TBS Thyme
1/4 Cup Molasses
1/4 Cup White Wine (not Cooking Wine)
1/4 Cup Worcestershire
Place the bird in a large foodsafe container made of glass or plastic and completely cover the bird with the brine solution. You may need to make a couple of batches to cover the bird completely.
If you are doing a large batch of turkey breasts like I did recently you can even use a large ice chest for the job.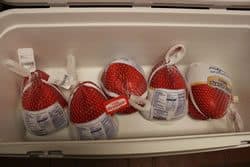 Keep the brine iced down and make sure to keep a thermometer in the brine to make sure it stays between 33 and 39 degrees F for safe food handling.
If you're just doing just one and it's not too large then you can probably even place it in a large zip-top bag with the brine. Set the bag down in a large stock pot, insert the turkey into the bag and then pour enough brine over the turkey to completely cover it. The pot will keep the bag steady and leak proof overnight in the fridge.
Leave the turkey breast in the brine for 8-12 hours for best results.
Prepare the Turkey Breast for Smoking
Remove the turkey from the brine container and rinse it well under cool water. Pat the turkey dry with a paper towel and set it aside.
At this point you may want to make up a batch of my rub as this turkey is going to get five star treatment. If you don't have my recipes, then this may be a good time to get them.
The easiest way to apply the rub is to place the turkey down in a large bag and do it "shake and smoke" style but you can also do the job by sprinkling it on.
I place my turkey breast down in a large zip top back and pour about 1/4 cup of canola oil over the turkey.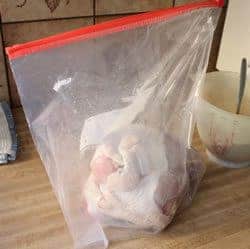 I then place 4 TBS of my rub right on top of the turkey, seal the bag and proceed to lightly shake and roll the bag end over end to completely coat the surface of the turkey with the tasty goodness.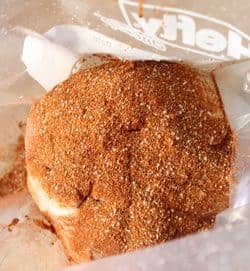 The cool thing about this method is that the rub gets inside the turkey, under the skin a little and all over the outside with very little effort.
Open the bag to get a good look at the turkey and if you think it needs more rub then by all means throw in a few more spoonfuls and shake it some more.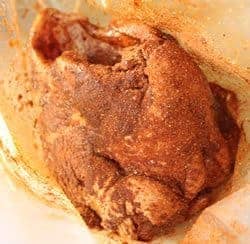 Once you are satisfied that the rub is all over then simply remove the turkey from the bag and set it on a pan for carrying out to the smoker.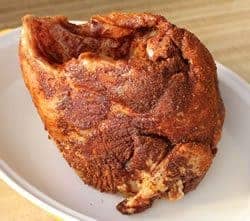 Preparing the Smoker
I take the low and slow very seriously and tend to keep the heat on the low side even for poultry in most cases. 225 -240 degrees is what I recommend and adhere to to make sure the sugar in the rub does not burn.
If you are one of those who absolutely must have crunchy skin on the bird then do what you must but to me, it's all about the meat being moist and the rub on the outside not being burnt.
Prepare the smoker for cooking at 225-240 degrees F and be sure to have enough smoking wood to keep the smoke going for about 4 hours or so.
Smoking the Turkey Breast
Once the smoker is clicking along at around 225-240 degrees F, place the turkey directly on the grate breast side up. At around the 3 hour mark, insert a digital probe meat thermometer into the breast of the turkey to begin monitoring the internal temperture.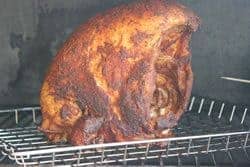 I highly recommend about 3 hours of cherry and 1 hour of pecan for some amazing flavor.
Rest and Tenderize
Once the breast reaches about 161-163 degrees, remove it from the smoker and immediately wrap it in a thick layer of heavy duty foil.
Place the turkey in a small ice chest or just wrap it in a couple of thick towels and lay it on the counter for about 30-45 minutes. An hour would not be a bad thing.
Do not skip this step if you can help it.. lots of wonderful things happen during this time.. the meat gets more tender and the juices that were forced to the surface during the cooking process, redistribute throughout the meat.
Serving the Meat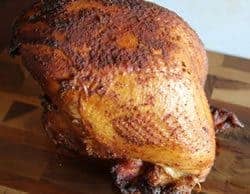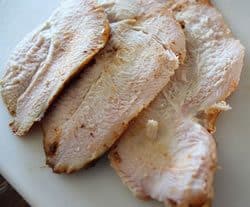 Grab a sharp piece of cutlery and cut some tender pieces of that breast off of each side of the bird. Stop for a moment to marvel at the beautiful smoke ring just before you sit down to enjoy a wonderful meal with family and friends!
***Note: you get the Texas style rub recipe free with your order!
If I could give these recipes away, I would do that. I really want you to have them! But, then, this is how I support the newsletter, the website and all of the other stuff that we do here to promote the art of smoking meat.
Read these recent testimonies:
"Love the sauce and rub recipes. So far I have used them on beef ribs, pork ribs, and different chicken parts. Can't wait to do a beef brisket. Texas rub is great as well!" ~Peter S.
"I tried the rub on a beef brisket and some beef ribs the other day and our entire family enjoyed it tremendously. I also made a batch of the barbeque sauce that we used on the brisket as well as some chicken. We all agreed it was the best sauce we have had in a while." ~Darwyn B.
"Love the original rib rub and sauce! We have an annual rib fest competition at the lake every 4th of July. I will say we have won a great percent of the time over the past 15 years so we are not novices by any means. However, we didn't win last year and had to step up our game! We used Jeff's rub and sauce (sauce on the side) and it was a landslide win for us this year! Thanks Jeff for the great recipes. I'm looking forward to trying the Texas style rub in the near future!" ~Michelle M.
You see the raving testimonies and you wonder, "Can the recipes really be that good?"
No worries! Make up a batch and if it's not as good as you've heard.. simply ask for a refund. Now that's a bargain and you know it. Let's review:
You decide you don't like the recipes.. you don't pay!
The recipes are absolutely amazing!
Once you order, there'll be no more recipe ads in the email version of the newsletter
Well.. what are you waiting for.. click on the big orange button below to order the recipes now.

I really, really appreciate the support from my newsletter friends and be sure to let me know if you have any questions about this.
Jeff's Smoking Meat Book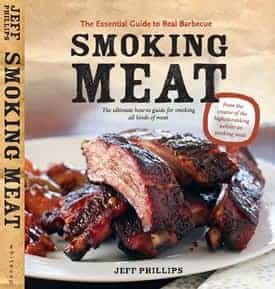 The book is full of recipes and contains tons of helpful information as well. Some have even said that "no smoker should be without this book"!
With more than 800 reviews on Amazon.com and a rating of 4.7 out of 5 stars, it comes highly recommended.
It is a Bestseller in Barbecueing & Grilling books on Amazon.
Amazon | Barnes & Noble | German Edition
Digital versions available via Nook | iTunes | Kindle
Get Almost Anything at Amazon
If you enjoy the newsletter and would like to do something helpful, then..
The next time you decide to order something at Amazon.com, use THIS LINK to get there and we'll get a small commission off of what you purchase.
Thank you in advance for using our special link: http://www.smoking-meat.com/amazon