Order Jeff's Rubs and Barbecue Sauce TODAY!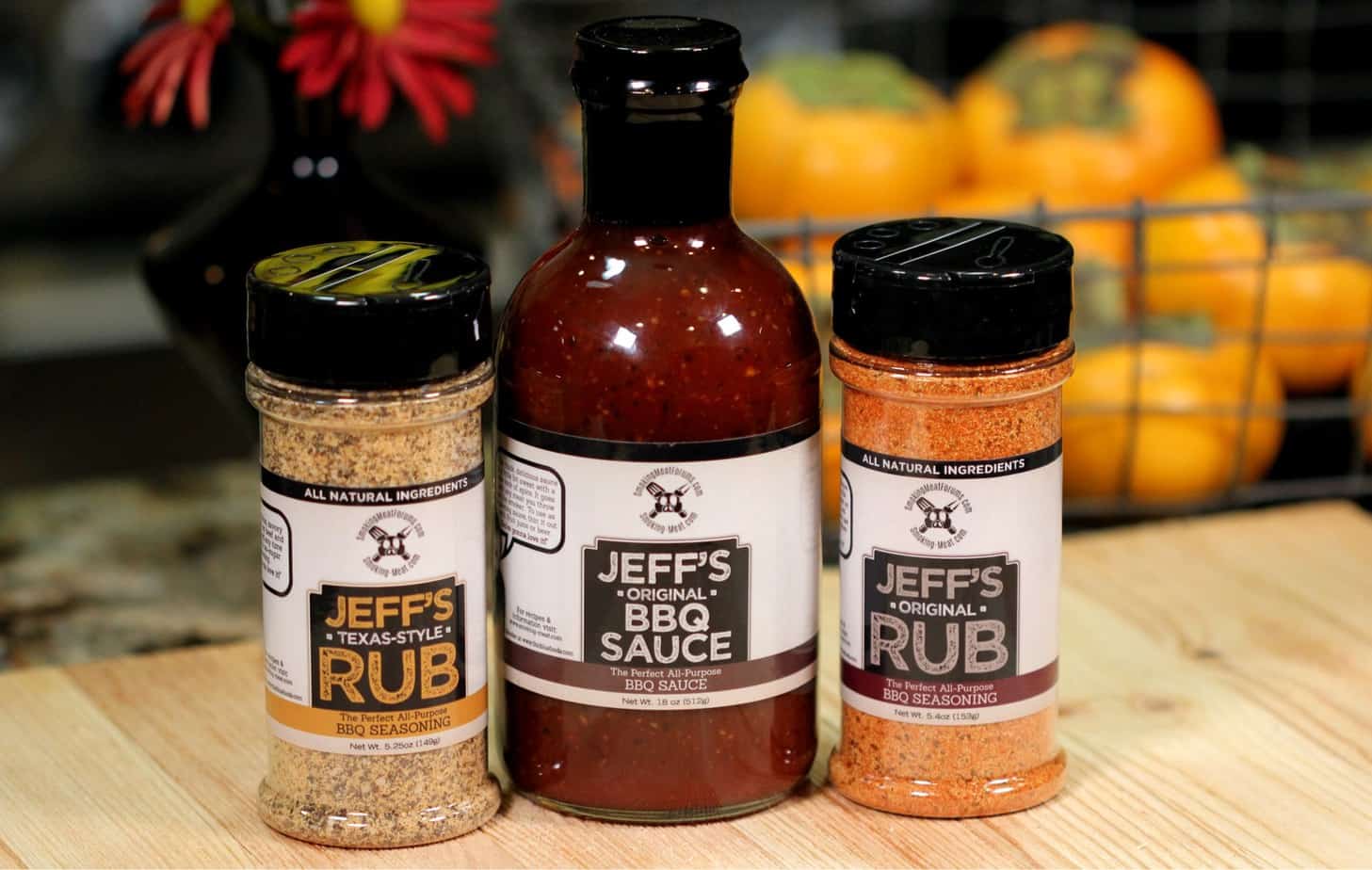 ✅ If you haven't ordered my rubs or sauce yet you can do that HERE. They are the best thing you've ever tasted and it's a great way to support what we do!
We ship blazingly fast and orders over $50 ship free!
You can also order the formulas for my rubs and sauce and make these yourself at home. Grab those HERE and download immediately.
Jeff's Smoking Meat Books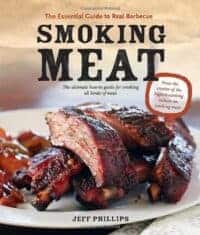 Smoking Meat: The Essential Guide to Real Barbecue – The book is full of recipes and contains tons of helpful information as well. Some have even said that "no smoker should be without this book"!
With more than 1000 reviews on Amazon.com and a rating of 4.7 out of 5 stars, it comes highly recommended and is a Bestseller in Barbecuing & Grilling books on Amazon.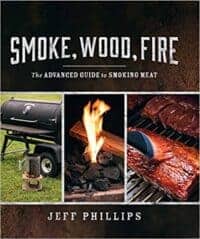 Smoke, Wood, Fire: The Advanced Guide to Smoking Meat – Unlike the first book, this book does not focus on recipes but rather uses every square inch of every page teaching you how to smoke meat. What my first book touched on, this second book takes it into much greater detail with lots of pictures.
It also includes a complete, step-by-step tutorial for making your own smoked "streaky" bacon using a 100 year old brine recipe.
Get Almost Anything at Amazon
If you enjoy the newsletter and would like to do something helpful, then..
The next time you decide to order something at Amazon.com, use THIS LINK to get there and we'll get a small commission off of what you purchase.
Thank you in advance for using our special link: http://www.smoking-meat.com/amazon
---
Printable Recipe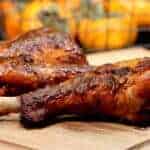 Print Recipe
Buttery Maple Glazed Smoked Turkey Legs
Here's my go to recipe for smoky, slightly sweet and savory turkey legs that will bring out the carnivore in just about anyone.
Ingredients
4-6

each turkey legs

1

gallon

Basic brine mixture

(((recipe below)))

1

cup

Mayonnaise

(((I recommend Duke's but use your favorite)))

1/2

cup

Jeff's original rub

1

cup

Maple Syrup

1

stick Butter

((melted))
Instructions
Step 1: Wet Brine
Make a brine mixture using 1 gallon of water, 1 cup of coarse kosher salt and 1 cup of brown sugar (light or dark).

Place the turkey legs in a plastic or glass container and pour the brine mixture over them to cover. Chill in the fridge for 8 to 10 hours.

Rinse turkey legs when they are finished brining.
Step 2: Seasoning
Make together 1 cup of mayonnaise and 1/4 cup of rub.

Apply mixture to all of the turkey legs getting it under the skin wherever possible.
Step 3: Smoke Time
Set up smoker for cooking at 225-250 degrees F using indirect heat.

Place turkey legs on smoker grate to cook.
Step 4: Glazing
When the turkey reaches about 160 degrees F, glaze the turkey with a mixture of 1 cup maple syrup, 1 stick of butter and 1/4 cup Jeff's origiinal rub.

Glaze again in about 15 minutes.
Step 5: Finish and Serve
When the turkey reaches 180 degrees in the thickest part, it is finished and can be removed from the heat.

Serve immediately.
Notes
For pellet smokers, you will most definitely get more smoke at lower temperatures and less smoke as you crank up the heat. Keep the heat low in pellet smokers for the best smoke flavor.
Turkey skin can benefit from cooking at temperatures of 250 to 275°F if your smoker is capable of higher temperatures. This will cut the time down to 1 to 1.5 hours.
To crank up the heat on a pellet smoker, cook the legs for 1 hour at very low heat to get that good smoke flavor then crank up the heat to finish.