Smoked meatloaf is one of those things that affects people in a big way. Almost without fail, every time someone tries it they proclaim that they will never eat "oven meatloaf" again.
I love meatloaf of all kinds but I do agree that there is something really special about smoked meatloaf and it takes you by surprise the first time and every time you try it.
Completely seasoned with my original rub (purchase recipes here) and topped with a deliciously caramelized layer of Jeff's barbecue sauce (purchase recipes here).
Get the Recipes for Jeff's Rub and Sauce
---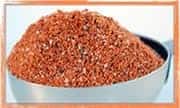 My original rub is exactly what the doctor ordered on this delicious smoked meatloaf and because we call for the rub to go on the inside where it get's all mixed up into the meat, you taste the perfection in every bite.
Coat the top with my delicious barbecue sauce for a flavor that will blow you away!
I promise you'll love my dry rub/seasoning recipes and my barbecue sauce recipe or you don't pay!
Reasons to buy: Support the newsletter and the website | Own "the recipes" | Get the email newsletter 100% AD FREE from now on | Includes the Texas style rub recipe | Immediate download + email download

Helpful Information
Prep Time: 25 minutes
Cook Time: 4 hours
Smoker Temp: 225-240°F
Meat Finish Temp: 160°F
Recommended Wood: Pecan, Hickory or Cherry
What You'll Need
Mix Up the Meatloaf
As I have mentioned in the past when making meatloaf, one of the things to remember is that over mixing a meatloaf will make it tough so you have to find a way to get good dispersion of ingredients without mixing it too much.
For this reason, I decided to try gently pressing the meatloaf out onto a cookie sheet, adding the ingredients one by one onto the top and then rolling it up.
Here is the process that I used but you can add the ingredients in any order that you like or mix them all together first and then add it to the top of the meat.
2 lbs of 85/15 ground chuck.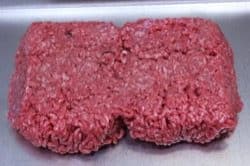 The meat is gently pressed flat onto a 9 x 13 cookie sheet.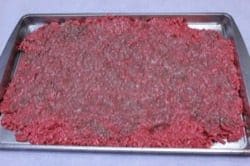 1 cup of bread crumbs.. I used Panko but you could crush saltines as well.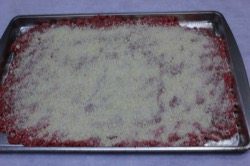 1/3 cup of Jeff's original rub (purchase recipes here) is sprinkled evenly over the entire area for perfect flavor.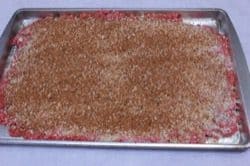 2 eggs are broken into a bowl and lightly whipped to combine the yolk and white. The egg is poured over the top of the meat.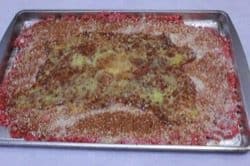 I grated about a cup and a half of smoked Gruyere cheese and added it to the top hoping it would melt into the meat and help to make it more moist.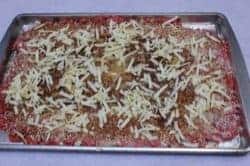 You have to add some minced onion.. about a cup (1 medium yellow onion).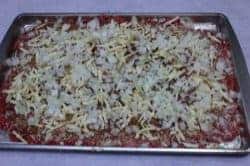 Finish off the ensemble with a cup of buttermilk and it's ready to roll up.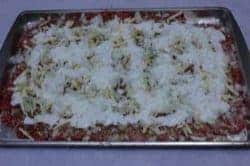 Proceed to roll up the meatloaf. It doesn't matter if things fall by the wayside or if it's not pretty. This is simply to reduce working the meat too much and it will all come together perfectly in the next step.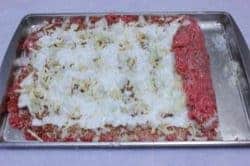 Update: I have received several emails from readers complaining about the "rolling" process and saying that it did not work out so well for them. Maybe I'm the last of the great meatloaf rollers or maybe I just got lucky with my rolling but it worked fine for me. Having said that, If you seem to be having trouble right from the start, just put everything into a bowl and mix it together.. only enough to make sure that things are dispersed, no more than that.
Form Into a Loaf
Drop the rolled up meatloaf "dough" into a bowl or loaf pan and carefully press it out to fill the bowl. Place it in the fridge for about 30 minutes or even overnight if you want to.
I used a loaf shaped bowl.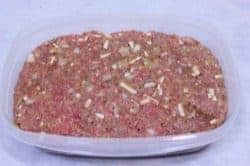 Once I was almost ready to cook it,  I coerced it out of the bowl on to a Weber grill pan.
The meatloaf ended up being about 2 inches thick.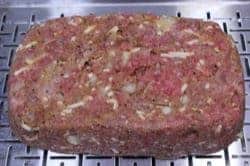 Smoke It
While the meatloaf is getting cold in the fridge is a great time to get the smoker going.
Set up your smoker for cooking at about 225-240°F with indirect heat.
If your smoker uses a water pan, fill it up.
This meatloaf will take between 3-4 hours (depending on how thick it is) to reach 160 °F so make sure you have enough smoking wood for at least 2 hours of smoke. If you want to add smoke longer, it won't hurt a thing.
I used pecan but other great woods for meatloaf are hickory (if you want something a little more robust or even cherry which is a great all around smoking wood and really good with beef in my opinion.
Once the smoker is preheated and ready to go, you can place the pan with the meatloaf into the smoker.
As I mentioned, I used a Weber grill pan and these are very handy but you can also use other types of pans as well but it's a great idea to have a way to drain the grease away from the meatloaf while it cooks.
I placed the Weber grill pan on top of a throw away foil pan while it cooked and this allowed the grease to drain away without dripping all into my smoker and creating a mess I'd have to clean up later.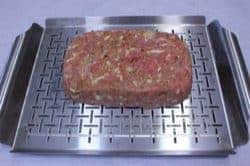 You could also drill holes into a cookie sheet and place it over a disposable pan or you could use a cooling rack over the top of a pan.. just use some imagination and you'll come up with a great way to make it work best for you.
Finish and Serve
Let the meatloaf continue to cook in the smoker until it reaches about 150°F at which point you'll want to start thinking about brushing on a heavy layer of Jeff's barbecue sauce (purchase recipes here) and giving it plenty of time to caramelize properly.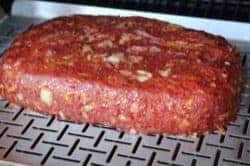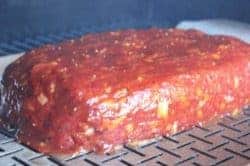 When the smoked meatloaf reaches 160°F it is perfectly finished and should be removed from the heat promptly.
Be sure to use a tried and true digital thermometer such as the Thermopop for testing the temperature of the meatloaf. This will allow you to scientifically get it done perfectly. This one reads in about 3-4 seconds and is one of my favorites!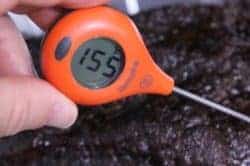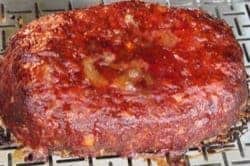 Let it rest for 7-10 minutes before slicing into it to let the juices redistribute throughout the meat.
Slice into ½ to ¾ inch pieces and serve.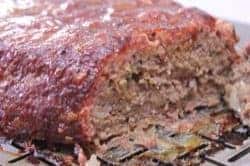 ***Note: you get the Texas style rub recipe free with your order!
If I could give these recipes away, I would do that. I really want you to have them! But, then, this is how I support the newsletter, the website and all of the other stuff that we do here to promote the art of smoking meat.
Read these recent testimonies:
"Love the sauce and rub recipes. So far I have used them on beef ribs, pork ribs, and different chicken parts. Can't wait to do a beef brisket. Texas rub is great as well!" ~Peter S.
"I tried the rub on a beef brisket and some beef ribs the other day and our entire family enjoyed it tremendously. I also made a batch of the barbeque sauce that we used on the brisket as well as some chicken. We all agreed it was the best sauce we have had in a while." ~Darwyn B.
"Love the original rib rub and sauce! We have an annual rib fest competition at the lake every 4th of July. I will say we have won a great percent of the time over the past 15 years so we are not novices by any means. However, we didn't win last year and had to step up our game! We used Jeff's rub and sauce (sauce on the side) and it was a landslide win for us this year! Thanks Jeff for the great recipes. I'm looking forward to trying the Texas style rub in the near future!" ~Michelle M.
You see the raving testimonies and you wonder, "Can the recipes really be that good?"
No worries! Make up a batch and if it's not as good as you've heard.. simply ask for a refund. Now that's a bargain and you know it. Let's review:
You decide you don't like the recipes.. you don't pay!
The recipes are absolutely amazing!
Once you order, there'll be no more recipe ads in the email version of the newsletter
Well.. what are you waiting for.. click on the big orange button below to order the recipes now.

I really, really appreciate the support from my newsletter friends and be sure to let me know if you have any questions about this.
Jeff's Smoking Meat Book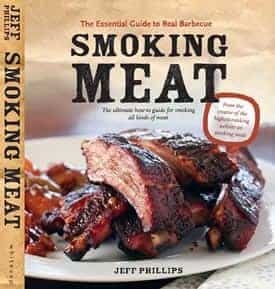 The book is full of recipes and contains tons of helpful information as well. Some have even said that "no smoker should be without this book"!
With more than 800 reviews on Amazon.com and a rating of 4.7 out of 5 stars, it comes highly recommended.
It is a Bestseller in Barbecueing & Grilling books on Amazon.
Amazon | Barnes & Noble | German Edition
Digital versions available via Nook | iTunes | Kindle
Get Almost Anything at Amazon
If you enjoy the newsletter and would like to do something helpful, then..
The next time you decide to order something at Amazon.com, use THIS LINK to get there and we'll get a small commission off of what you purchase.
Thank you in advance for using our special link: http://www.smoking-meat.com/amazon
Printable Recipe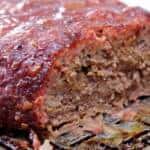 Print Recipe
Smoked Meatloaf - The Ultimate Comfort Food
Smoked meatloaf is one of those things that affects people in a big way. Almost without fail, every time someone tries it they proclaim that they will never eat "oven meatloaf" again. I love meatloaf of all kinds but I do agree that there is something really special about smoked meatloaf and it takes you by surprise the first time and every time you try it.
Ingredients
2

lbs

of ground chuck

(85/15)

1

cup

Panko bread crumbs

1/3

cup

Jeff's original rub

1

cup

minced onions

1-½

cups

Gruyere cheese

, grated (I used smoked)

2

eggs

1

cup

buttermilk
Instructions
Lay the meat onto a cookie sheet and press it out flat.

Evenly layer all of the ingredients except for the barbecue sauce on top of the meat.

Roll the meat and ingredients up and press it gently into a loaf shape.

Place the meatloaf "dough" into a loaf pan or a loaf shaped bowl and into the fridge for at least an hour or longer.

Get the smoker ready by preheating it to 225-240°F using indirect heat.

Place the rack on top of another pan so the grease can drain away and be caught by the pan. This prevents the meatloaf from sitting in grease and getting soggy.

Use pecan, hickory or cherry wood for smoke and let the meatloaf cook for 3-4 hours or until it reaches 160 in the center as measured by a

digital meat thermometer

.

Top the meatloaf with barbecue sauce about 30 minutes before it is finished cooking.

Let the meatloaf rest for 7-10 minutes then slice into ½ to ¾ inch servings.

Enjoy!