If you are looking for the perfect thing to cook in the smoker for this Labor Day, look no further than smoked pork steaks. Dry brined, seasoned with my original rub (purchase recipes here) and then smoked for about 2.5 hours. Glazing with my barbecue sauce (purchase recipes here) is optional but highly recommended.
Have a great Labor Day!
Get the Recipes for Jeff's Rub and Sauce
---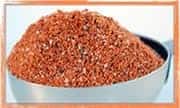 You and your guests deserve the very best this Labor Day so be sure to season these pork steaks real good with my original rub and glaze them over with my barbecue sauce when they are almost done. You'll be glad you did!
I promise you'll love my dry rub/seasoning recipes and my barbecue sauce recipe or you don't pay!
Reasons to buy: Support the newsletter and the website | Own "the recipes" | Get the email newsletter 100% AD FREE from now on | Includes the Texas style rub recipe | Immediate download + email download

Helpful Information
Prep Time: 5 minutes
Dry Brining Time: 3 hours
Cook Time: 2.5 hours
Smoker Temp: 225-240°F
Meat Finish Temp: 180°F
Recommended Wood: Pecan
What You'll Need
Pork steaks (1 per person)*
Kosher salt (Morton)
*If your butcher is not familiar with these, ask them to slice a pork butt (Boston butt) into ½-¾ inch slices and you'll have pork steaks.
Dry Brine
Place the pork streaks on a sheet pan or something similar.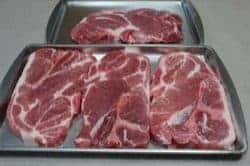 Sprinkle with kosher salt on the top side only. See picture below for coverage recommendation: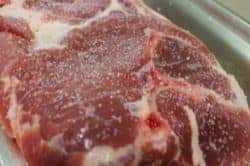 Place the meat in the fridge uncovered for about 3 hours.
The salt will draw some of the meat juices to the surface. The juices will mix with the salt and create a slurry which will then be drawn back deep into the meat.
This process tenderizes the meat and adds great flavor to the inside of the meat.
Rinse and Season with Rub
Some say you do not need to rinse the meat after dry brining but I prefer to do so just to make sure there is no residual salt left on the surface.
Lay the steaks back onto the sheet pan.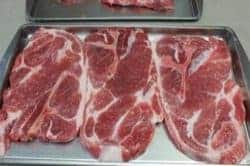 Sprinkle generously with Jeff's original rub (purchase recipes here). I do not recommend using store-bought rubs or most other seasonings unless they are low in salt.
Let the pork steaks sit for about 10 minutes until they start getting that familiar "wet" look.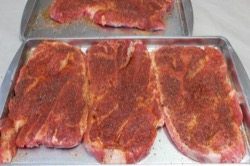 Flip them over and do the other side the same way.
Now leave them be while you go get the smoker ready.
Smoke the Pork Steaks
Set up your smoker for cooking at about 225°F with indirect heat.
If your smoker uses a water pan, fill it up.
Once the smoker is preheated and ready to go, place the pork steaks directly on the smoker grates or you can use a Bradley rack or Weber grill pan to make it easy.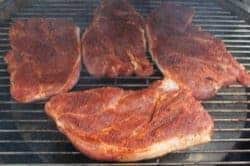 Use pecan or your favorite smoking wood for smoke.
If you are using a charcoal, electric or gas smoker, keep the smoke going for at least an hour. Longer is fine as long as the smoke is light.
You can use a digital probe meat thermometer such as the Maverick ET-733 to monitor the pork steaks so you'll know when they reach their perfect done temperature. I recommend taking them to about 180°F.
Another great tool is the recently improved ThermoPop digital pocket thermometer which reads in 3-4 seconds (that's fast), is splash-proof and is being offered now for only $29. One of my favorite toys.. er, tools;-)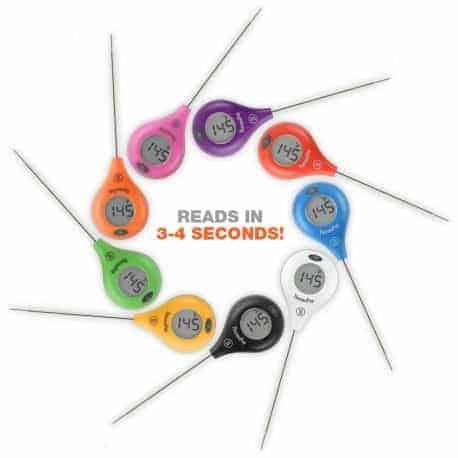 When the steaks are about 30 minutes from being done you can glaze the top side with Jeff's barbecue sauce (purchase recipes here).
Let the sauce caramelize for 15 minutes then flip them over and sauce the other side as well.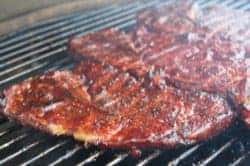 Finish and Serve
You can expect these to take around 2.5 hours depending on a few variables:
Meat thickness
How cold they are when you place them on the grate
Weather, wind, rain, etc.
Accuracy of your smoker thermometer
When the pork steaks reach 180°F they are finished.
Remove them from the heat.
Place a piece of foil loosely over the top of them and let them rest for about 10 minutes before serving.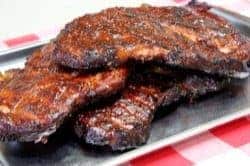 Questions
Can I cook these faster and get them done sooner?
If you want to cut the cooking time down on these you can cook them at 275°F. At this temperature, it will take them approximately 1.5 hours.
Why do you cook some pork to 145°F but you recommend 180°F on these? Won't that dry them out?
Great question! Some lean cuts of pork like loin and chops are tender and juicy at 145°F but not so on large fatty cuts like pork butt as these have lots of connective tissues that do best with long, slow heat.
These cuts do not get tender until they are cooked well past their safe temperature. Fortunately, because these have so much fat marbling, they can be cooked to 180°F and still end up juicy.
I've heard that some folks grill these but you don't mention that. Why?
They can definitely be grilled at high temperatures although that is not best for them in my opinion. If you get them done quickly, you are limiting the time with the smoke and ultimately the flavor.
It is also my opinion that the connective tissues break down better at the lower temperatures.
***Limited Time Offer***
Get 25% off the RECIPES for Jeff's Rub and Sauce
Use coupon code
SM25
during checkout
***Note: you get the Texas style rub recipe free with your order!
If I could give these recipes away, I would do that. I really want you to have them! But, then, this is how I support the newsletter, the website and all of the other stuff that we do here to promote the art of smoking meat.
Read these recent testimonies:
"Love the sauce and rub recipes. So far I have used them on beef ribs, pork ribs, and different chicken parts. Can't wait to do a beef brisket. Texas rub is great as well!" ~Peter S.
"I tried the rub on a beef brisket and some beef ribs the other day and our entire family enjoyed it tremendously. I also made a batch of the barbeque sauce that we used on the brisket as well as some chicken. We all agreed it was the best sauce we have had in a while." ~Darwyn B.
"Love the original rib rub and sauce! We have an annual rib fest competition at the lake every 4th of July. I will say we have won a great percent of the time over the past 15 years so we are not novices by any means. However, we didn't win last year and had to step up our game! We used Jeff's rub and sauce (sauce on the side) and it was a landslide win for us this year! Thanks Jeff for the great recipes. I'm looking forward to trying the Texas style rub in the near future!" ~Michelle M.
You see the raving testimonies and you wonder, "Can the recipes really be that good?"
No worries! Make up a batch and if it's not as good as you've heard.. simply ask for a refund. Now that's a bargain and you know it. Let's review:
You decide you don't like the recipes.. you don't pay!
The recipes are absolutely amazing!
Once you order, there'll be no more recipe ads in the email version of the newsletter
Well.. what are you waiting for.. click on the big orange button below to order the recipes now.
***Limited Time Offer***
Use coupon code
SM25
 during checkout

I really, really appreciate the support from my newsletter friends and be sure to let me know if you have any questions about this.
Jeff's Smoking Meat Book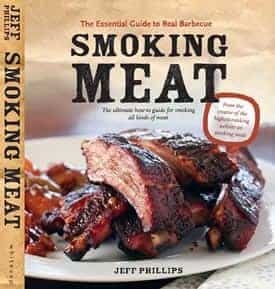 The book is full of recipes and contains tons of helpful information as well. Some have even said that "no smoker should be without this book"!
With more than 800 reviews on Amazon.com and a rating of 4.7 out of 5 stars, it comes highly recommended.
It is a Bestseller in Barbecueing & Grilling books on Amazon.
Amazon | Barnes & Noble | German Edition
Digital versions available via Nook | iTunes | Kindle
Get Almost Anything at Amazon
If you enjoy the newsletter and would like to do something helpful, then..
The next time you decide to order something at Amazon.com, use THIS LINK to get there and we'll get a small commission off of what you purchase.
Thank you in advance for using our special link: http://www.smoking-meat.com/amazon
Printable Recipe
Print
Pork Steaks for Labor Day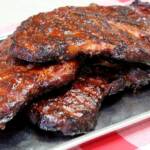 Author:
Prep Time:

5 mins

Cook Time:

2 hours 30 mins

Total Time:

2 hours 35 mins

Yield:

6

Category:

Entree

Cuisine:

Hot Smoking
Ingredients
Pork steaks (1 per person)*
Kosher salt (Morton)
Instructions
Lay the pork steaks on a cookie sheet or pan.
Sprinkle about 1 tsp of Mortons kosher salt on the top side of the pork steaks.
Place the steaks in the fridge uncovered for 3 hours.
Rinse the steaks under cold water to remove any residual salt.
Season both sides of the meat with Jeff's original rub.
Set up the smoker for cooking at about 225°F with indirect heat.
Use the water pan if you have one.
Cook the steaks on the smoker for about 2.5 hours or until they reach 180°F in the center.
About 30 minutes before they are finished, you can sauce them if you like.
Brush sauce onto top side, wait about 15 minutes then flip over and do the other side.
Rest under loose foil for about 10 minutes before serving.