Smoked Beef Back Ribs on a Wood Smoker (or any smoker)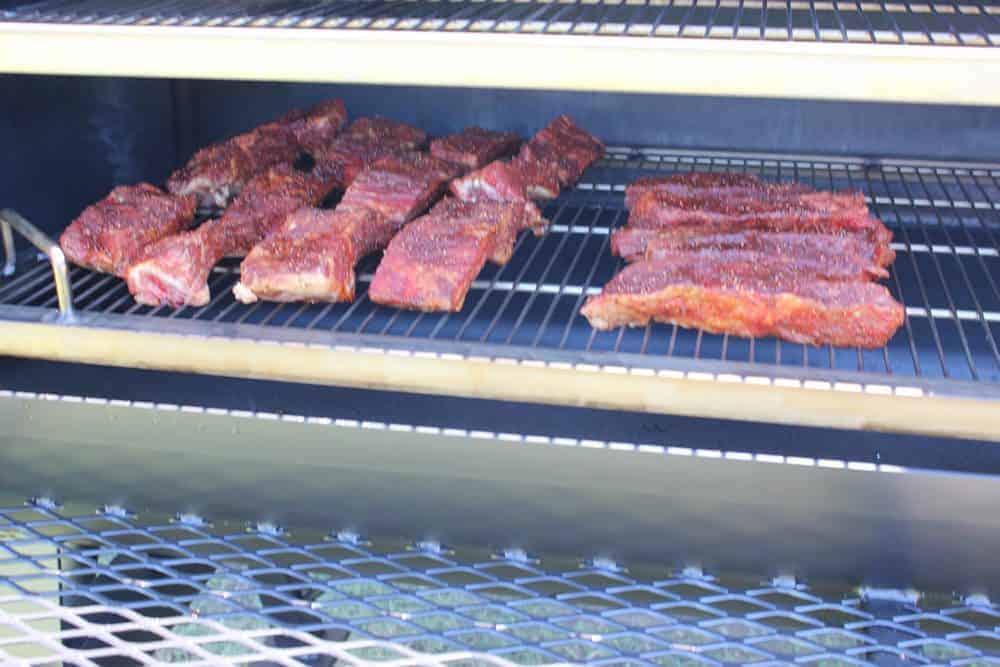 Smoking-Meat.com is supported by its readers. We may earn an affiliate commission at no extra cost to you if you buy through a link on this page.
Read this article without ads
Welcome to the newest edition of the smoking meat newsletter where we will be talking about smoked beef ribs in all of their smoke and glory! I am fortunate enough to have just acquired a brand new, TS120P Meadow Creek reverse flow wood smoker.
I can tell you that my initial feeling are those of elation and pure happiness;-)
One of the features that makes this smoker so great is the fact that it is "reverse flow" which just means that the heat and smoke are forced to travel under the grate for the length of the smoker before it is finally able to ascend to grate level and then flow back over the food just before exiting out the chimney.
The reverse flow process creates a very uniform heat in the smoker from front to back and side to side eliminating all hot spots.
There are other wonderful smoker companies out there but I can only write about my own personal experience.
Beef ribs are without a doubt every bit as tasty as pork ribs, if not more so, when they are seasoned and cooked properly.
If you will follow my instructions to the tee when it comes to preparing, seasoning, and cooking these ribs, you will be pinching yourself out of unbelief at how good they are.
Here's what you need to know up front..
Beef back ribs are not as meaty as most pork ribs but the flavor is worth the gnawing.
Some of the beef ribs are more meaty than others and that is just depending on the butcher or whoever did the cutting. They will vary when you buy them at the store so be choosy.
Here's what you'll need to get started:
(2) or more racks of beef back ribs (note: you may be able to find these already cut off the bone and if so, I recommend it)
Worcestershire sauce
(2) large throw-away aluminum pans
To prepare the ribs for smoking..
I recommend cutting the ribs in to individual pieces (if you did not buy them that way).. they just seem to work better.
Put the ribs meat side up down in a large throw-away aluminum pan and douse them all over with generous amounts of Worcestershire sauce. Let it soak in for a few minutes then douse them again.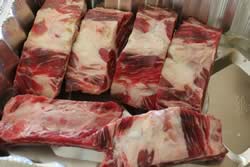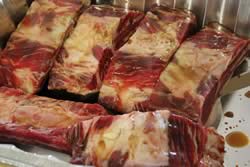 Sprinkle my rub all over the meaty side of the beef ribs and let them sit for about 8-10 minutes or until the rub looks wet and is sticking to the meat really well.
Turn the beef ribs up on their side and once again sprinkle my rub on them. Let them sit for a few minutes to once again, get that "wet" look. Flip them over to the other side and repeat with the rub.
When you are done, the top and both sides (where the meat is) should be covered with rub.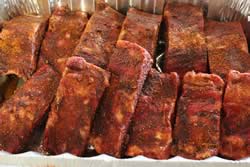 How much rub should you use?
Well.. I don't use as much as I do on pork ribs but I am not skimpy about it either. I want to just barely be able to see the meat through the rub when I'm done. See the picture above.
Smoking the Ribs
~ Note: this particular newsletter is geared toward showing off my brand spanking new wood smoker however, let it be known that you can do these ribs on ANY kind of smoker such as an electric smoker, a gas smoker, a charcoal smoker or even on a grill as long as you follow the same temperature recommendations.
At this point and possibly even before you prep the meat, you should start getting the smoker going.
There's a lot of metal there to heat up and going from cold to 225+ can take as much as an hour and possibly more in a wood smoker.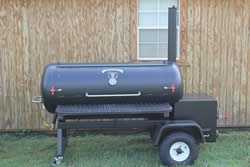 Now you may have your own signature way of starting the fire in a wood smoker but I am going to show you a couple of ways that you can do it both, of which, work quite well.
Now mind you, I've always started my previous wood smokers with wood just like in a fireplace. However, the firebox on this smoker is much smaller and the instructions recommend starting with charcoal then continuing with wood or more charcoal as needed.
So.. I'll try it that way for a few times and see how well it works.
Regardless of whether you start with charcoal or straight wood..
The fastest method is to use a propane weed burner.
~ Note: Make sure the chimney is FULL open and the vents on the firebox are FULL open before lighting.
Weed Burner Method
Not only is this a blast to use but it gets a roaring fire going in no time.
It's just a device that connects to a propane tank and when you light it, it shoots out a continuous blast of flames that will burn the weeds, kill ant hills and, of course, start the charcoal or wood to burning.
I recommend extreme caution as this thing will burn your eyebrows off if you're not careful closely followed by the hair on your arms and legs and other flammable body parts.
Hold the flame to the coals for about 10 minutes or until you see them turning white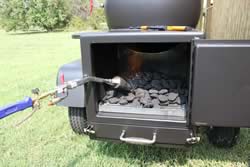 ~ FYI.. that's a lighter in the shape of a machine gun sitting on top of the firebox. My MIL bought it for me for Christmas last year and it works great;-)
Fire Starter Method
This method is similar to the way I start the Big Green Egg and several of my other charcoal burning smokers using the fire starting cubes or blocks. These are made of wood and wax for the most part and will light quickly and burn for 10 minutes or more to allow the charcoal to get started real good.
This method is a little slower but it works well especially if you light 3 pieces and put them in different areas of the charcoal pile.
Once the coals are white and/or glowing..
Place a single piece of wood on top of the coals and then close the door to the firebox. We are looking for a chamber temperature of 225 degrees.
Adjust the vents on the firebox to about 3/4 closed or more but NEVER all the way to maintain your goal temperature. On any smoker, this will take some practice to learn what the "sweet spot" is.
It is also recommended that you leave the chimney all the way open while you are cooking so as to never over smoke the food.
When the smoker is maintaining your goal temperature, place the food on the grates and quickly close the door.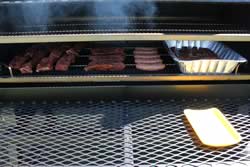 As you can probably see, I had more than just beef ribs in there;-)
Boneless country style beef ribs
Hot n' Spicy Brats
Steak fingers (later breaded and fried)
~ Note: Maintain the temperature in the smoker by adding more coals or wood when the temperature drops to around 200 degrees.
When are the beef back ribs done?
Normally, I would expect to cook beef ribs for at least 3 hours and probably closer to 4 to get them tender. I have only used this smoker a couple of times since I got it and I need to double check that the thermometer is working correctly however, these particular ribs were done in about 2 hours which is a little fast in my opinion.
I was hungry and very happy that they were done.. but, this still leaves me wondering if the factory thermometer needs to be calibrated.
I will get to that soon!
At any rate, as with most ribs, they are usually safe to eat way before they get tender. This means you really don't have to worry about the temperature of the ribs, just check them for tenderness and when they are done.. they're done.
This is usually at about 170 degrees however, due to the small amount of meat on each one, it is hard to check temperature on these.
So.. how in the world do you check beef ribs for tenderness?
I poke them with a toothpick and if the toothpick slides in easily, I pick it up and take a bite.
The true test of tenderness.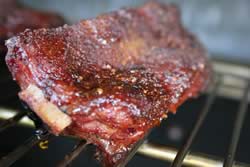 Using a different smoker for the beef back ribs..
I know that many of you are using electric, gas and charcoal and don't have a wood smoker for whatever reason.
This is fine and not a problem at all.
Setup your particular smoker to maintain 225-240 degrees.
Place meat directly on grate and apply smoke for entire time or at least 2 hours
Ribs are done when they are tender and about 170 degrees
How to cook the extra stuff..
Boneless Country Style Beef Ribs
Worcestershire or yellow mustard and generous amounts of my rub all over
About 2 hours this time (normally 3-4 hours)
Maintain smoker at 225-240 degrees
Check for tenderness with a toothpick
Normally done at about 165-170 degrees F
Steak Fingers
Cover with Worcestershire and a light coating of rub on one side
Smoke in a pan for about 45 minutes to 1 hour
Roll in batter and fry until golden brown
Hot n' Spicy Brats (or any brats)
Smoke for 2 hours right out of the package
Do not overcook or they will get tough
Recipe Summary
Place individual beef back ribs in a foil pan, meat side up
Douse with Worcestershire twice, 3-4 minutes apart
Coat top and sides with Jeff's rub
Prepare smoker for cooking at 225-240 degrees
Place meat directly on grate
Smoke cook for 2-4 hours or until the meat is tender to your liking
Notes/Tips
I highly recommend pecan wood if you have it
I really don't think you're gonna need sauce with these, but if you must, add it in the last 30 minutes as usual.
I had Meadow Creek insulate my firebox, with this setup, I can get 4 hours of 225 degree heat out of 6 lbs of charcoal and 2 sticks of pecan.
Order Jeff's Recipes
I started out more than 8 years ago selling my very own rub recipe and sauce recipe to support the website, forum and newsletter and I am still doing that today.
Folks love the recipes and most of them become raving fans due to how good it is and how well it works on so many things including these amazing beef ribs.
Tasting is believing and I invite you to prove me wrong.. try the recipes and if it's not the best rub you ever ate simply ask me to refund your money and I'll do it right away. This offer is good for 30 days after purchase.
I have received hundreds and hundreds of testimonies on the recipes over the years completely unsolicited and if that don't speak volumes then nothing will. Here's a few for you to read:
—————————————————
Did a Ham and using your rub it was as my wife and friends said the best tasting ham they have ever had. We are into our late years so that's saying a lot .Thanks for sharing ~ Jack
—————————————————
Wow! wow! wow! The best rub and sauce I have ever had. Also did the turkey for thanksgiving and it was the best turkey I ever had. I usually only eat dark meat and this turkey was so good I ate only white meat ~ Andy
—————————————————
I purchased the rub and sauce and I have to say that I love it and so has everyone that has tried it, just like you and others said they would. ~ Matt
—————————————————
Jeff I have to tell you that your rub and sauce recipes are the best. I had never smoked a rib or anything until last weekend and by fallowing your directions on your site I was the RIB KING for a day. Thanks a bunch pal, ~ Harold
—————————————————
Let me say that I've been using your Rib Rub for a couple years now. I use it on ribs (obviously), but I also use it on steak, ham, chicken, and everything else I smoke. My family and I absolutely LOVE it! It rocks! ~ Trapper
—————————————————
Jeff, I did a smoked pork roast yesterday and used your recipe both for the pork and for your Smoky Barbecue Sauce. Everyone loved it. My wife said the sauce was the best she had ever tasted and I have to agree. Fantastic. ~ Barry
—————————————————
You deserve the very best and is is completely within your grasp! Only $18.95 and worth every penny. Not only do you get the best rub recipe and sauce recipe available, you are supporting this website and helping to make sure the bills get paid so we can keep on doing what we do to teach thousands and thousands of people across the world the art of smoking meat.
What to Expect Once you Order
Here's how it works:
You order the recipes
My automated system sends you a download link in an email with a password
You click on the link and use the password to download the recipes to your computer
If you DON'T get the email with the link:
Check your spam/junk folder (sometimes they get caught there)
If you can't find it, email me and let me know you didn't get it
I will send the recipes to you as an attachment in an email
You let me know you got it, we are both happy campers!
Smoking Meat Book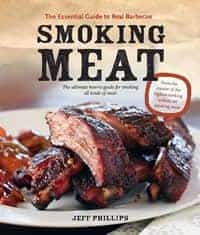 Cited to be one of the best books on smoking meat ever written and according to the high reviews on Amazon, sounds like you are agreeing with that!
I did work very hard on this book and I wanted it to be the essential guide that anyone could pick up and use very easily.
Lots of information on smoking meat as well as a ton of easy to follow recipes.
We just reprinted and all of the book stores have plenty of books in the warehouse. If they don't have it in the store, they can order it and get it to you very quickly.
You will want to have this book in your home cookbook library, I promise you that!
Some Testimonies
*********************************************************************
I received your book today!! Haven't been able to put it down. ~ Becky
*********************************************************************
Jeff when I got the email from you I ordered the book from Amazon and 2 days later it was in my hands. All I can say is AWESOME book. ~ Willie
*********************************************************************
Just got my copy of Smoking Meat, purchased from Amazon. I can't seem to put it down. Good Job!! ~ Charles
*********************************************************************
I got your new book last week….it is a beaut. Congratulations and good luck with sales. I am recommending it to all my BBQ buds. ~ Ted
*********************************************************************
Note 1: My (2) recipes that I sell in the newsletter to support the site are not included in the book. I have had several of you ask about this and I thought it might be prudent to make a note on here about that.
Adios and Happy Smoking
I appreciate ALL of you for allowing me to come into your homes electronically and do what I love to do.
This newsletter allows me to talk about my passion for cooking with smoke and I can't think of anything I'd rather be doing.
Be sure to shop Amazon.com if you need something for the home, auto, office or outdoors and if you use our special link, we get a few cents commission from it in most cases.
Oh, and by the way, I don't say this too often, but I am on Twitter and Facebook and I would love for you to be a part of that with me.
Until next time.. keep smoking and God Bless.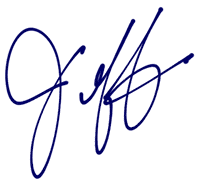 Jeff Phillips
Get Jeff's Products!