I think the reason many folks don't like brussel sprouts is because they've never been served properly cooked brussel sprouts.
These smoked brussel sprouts are cooked in the smoker for a bit and then finished off at a higher temperature in the cooker, grill or oven.
These may just give you a whole new perspective on life and cause you to re-think everything!
Helpful Information
Prep Time: 25 minutes
Cook Time: 1.5 hours
Smoker Temp: 200°F/450°F
Meat Finish Temp: N/A
Recommended Wood: Cherry
What You'll Need
1 lb of brussel sprouts
8 piece of thick sliced bacon
¼ cup (2 ounces) of bacon grease (from cooking the bacon)
1 teaspoon kosher salt
1 teaspoon coarse ground black pepper
1/3 cup chopped onion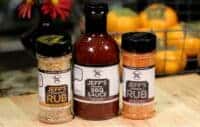 Please note that my rubs and barbecue sauce are now available in 2 formats-- you can
purchase the formulas
and make them yourself OR you can
buy them already made
, in a bottle, ready to use.
Prepare the Brussel Sprouts
Start by rinsing them off under cold water.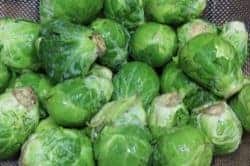 Cut off about 1/8 inch of the stem end to remove any browned area.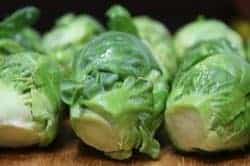 Remove any leaves that look brown or splotchy.
Cut the Brussel sprouts in half.
Note: Some folks cut an "X" in the stem end to help speed up the cooking time. When you cut them in half, this is not neccessary.
Place the brussel sprouts in a large pan or skillet. I like to use the big iron skillet!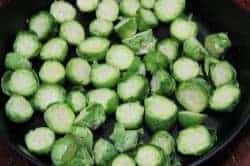 Fry the Bacon
Now we need to prepare the bacon so fry up about 8 slices of thick sliced bacon.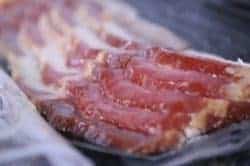 When they are done, eat 2 of them for all of your hard work and tear the other 6 into bits.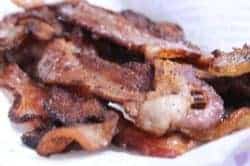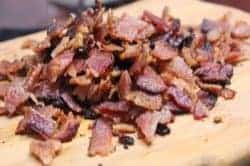 Save the bacon grease, you'll need it.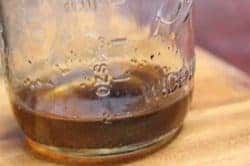 Put It Together
Pour the bacon grease over the top of the brussel sprouts and toss them around in it to coat well.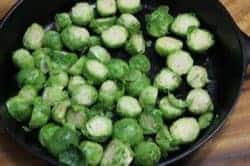 Mix a teaspoon of kosher salt and a teaspoon of coarse ground black pepper to make a quick salt/pepper rub.
Note: One reader commented that the Texas style rub (Purchase formula here | Purchase bottled rub) works really well on these as well.
Sprinkle all of this over a pound of brussel sprouts.
Place the bits of bacon that you made into the skillet.
Add about ½ to ¾ cups of chopped onion to the skillet. I used a small onion, chopped.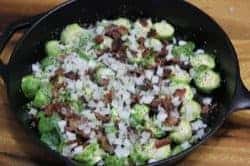 Now mix all of this together real well like you are tossing a salad and set it aside.
Smoke 'Dem Bad Boys!
We gotta go get the smoker ready.
Set up your smoker for cooking at about 200°F or a little cooler than that is fine. If you can manage 180-190°F, perfecto!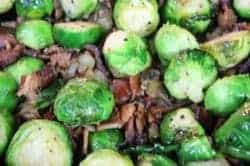 Use cherry wood or whatever smoking wood you have available.
In about 1 hour to 1 hour 15 minutes they should be starting to get some softness to them and plenty of smoke flavor.
Taste one and see what you think.
Crank Up the Heat
Brussel sprouts are best when they are finished with some high heat and I especially like to find some stray crispy leaves here and there.
If you are using a pellet smoker then you can simply crank up the heat to about 450°F. You could also use the grill or the oven at 450-500°F for about 25 minutes. Stir everything around several times during the roasting process.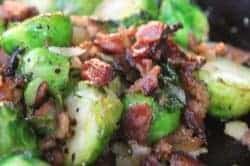 The brussel sprouts are finished when they are soft and slightly browned around the edges.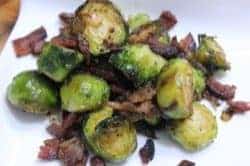 Enjoy!
Jeff's Smoking Meat Books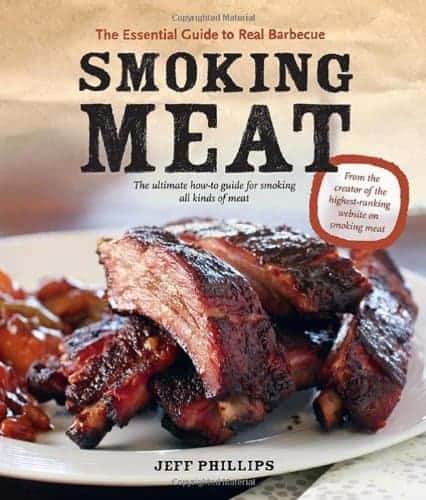 Smoking Meat: The Essential Guide to Real Barbecue – The book is full of recipes and contains tons of helpful information as well. Some have even said that "no smoker should be without this book"!
With more than 1000 reviews on Amazon.com and a rating of 4.7 out of 5 stars, it comes highly recommended and is a Bestseller in Barbecuing & Grilling books on Amazon.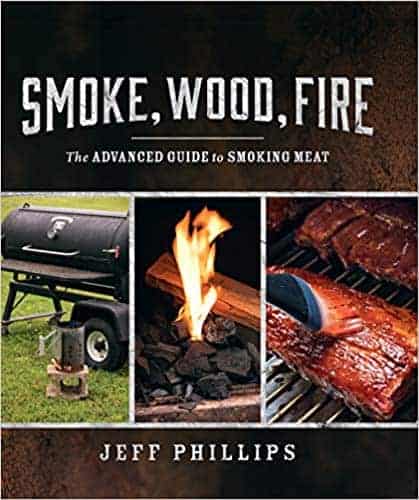 Smoke, Wood, Fire: The Advanced Guide to Smoking Meat – Unlike the first book, this book does not focus on recipes but rather uses every square inch of every page teaching you how to smoke meat. What my first book touched on, this second book takes it into much greater detail with lots of pictures.
It also includes a complete, step-by-step tutorial for making your own smoked "streaky" bacon using a 100 year old brine recipe.
Amazon | Barnes & Noble
Get Almost Anything at Amazon
If you enjoy the newsletter and would like to do something helpful, then..
The next time you decide to order something at Amazon.com, use THIS LINK to get there and we'll get a small commission off of what you purchase.
Thank you in advance for using our special link: http://www.smoking-meat.com/amazon