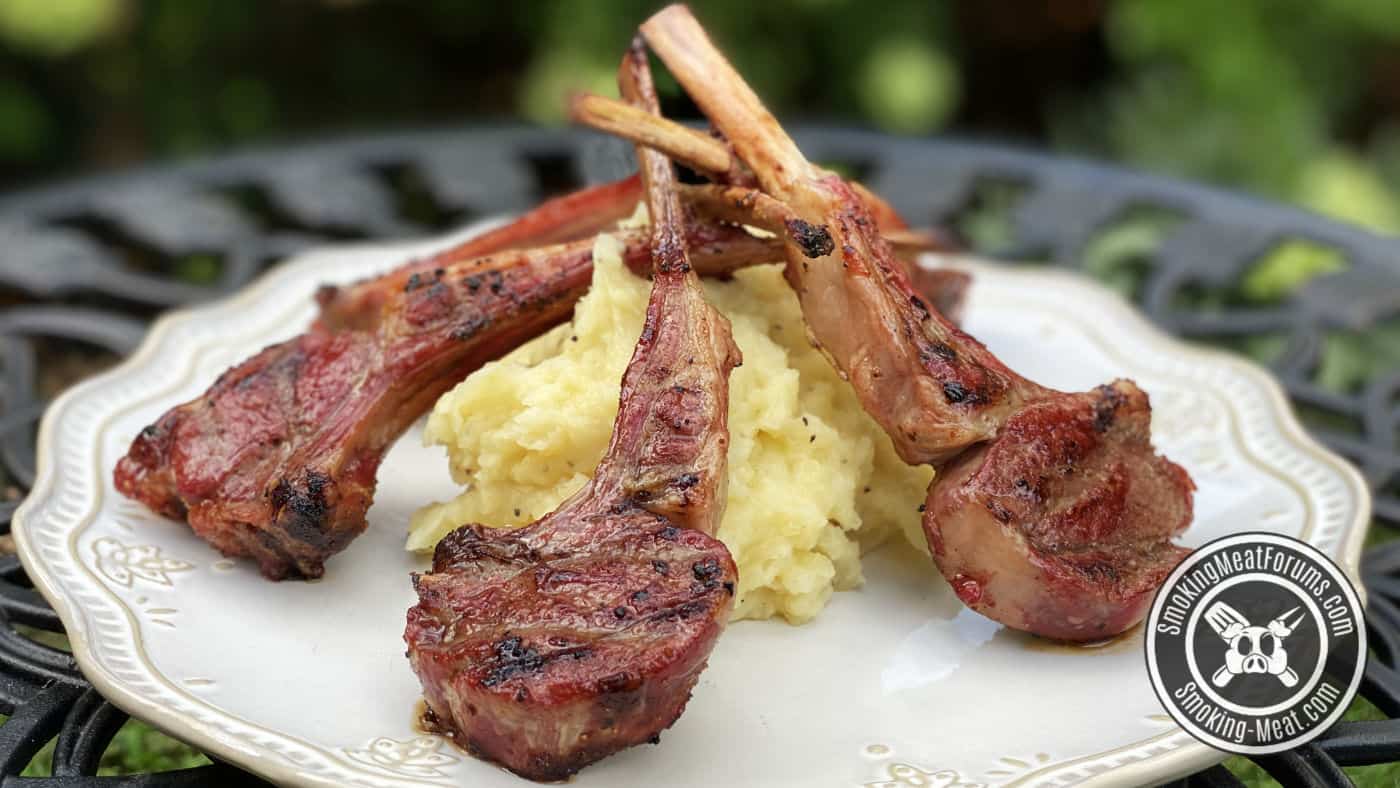 Smoking-Meat.com is supported by its readers. We may earn an affiliate commission at no extra cost to you if you buy through a link on this page.
Read this article without ads
Lamb doesn't seem to be the meat of choice for most people here in America however, once you taste these smoked lamb chops, you might decide to do them a lot more often!
Lamb chops are to a lamb as a bone in ribeye is to a cow. In essence, the whole rack of lamb is the "prime rib" of the lamb.
I keep these smoked lamb chops pretty simple with a dry brine and a little Texas style rub along with a tasty glaze, and in my opinion, they rival the best steak I've ever had, hands down. Try them soon and see if you agree with me.
Helpful Information
Prep Time: 25 minutes
Cook Time: 25-30 minutes
Smoker Temp: 220°F (104°C)
Meat Finish Temp: 130°F (54°C)
Recommended Wood: Oak
What You'll Need
4-5 Racks of lamb
2 TBS Coarse kosher salt (Morton blue box)
¼ cup Jeff's Texas style rub
½ cup Balsamic vinegar
3 TBS A1 sauce
Did you know? You can order the MASTER FORMULAS which allow you to make Jeff's original rubs and original barbecue sauce at home using your own ingredients! Order the Recipes
About Rack of Lamb
Lamb chops are to a lamb as a bone-in ribeye is to a cow. In essence, the whole rack of lamb is the "prime rib" of the lamb.
There are 8 bones to a rack of lamb and a normal serving is about 5-6. I usually figure on 2 rack per 3 people but I nearly always throw an extra one into the mix since I don't want anyone leaving the table hungry.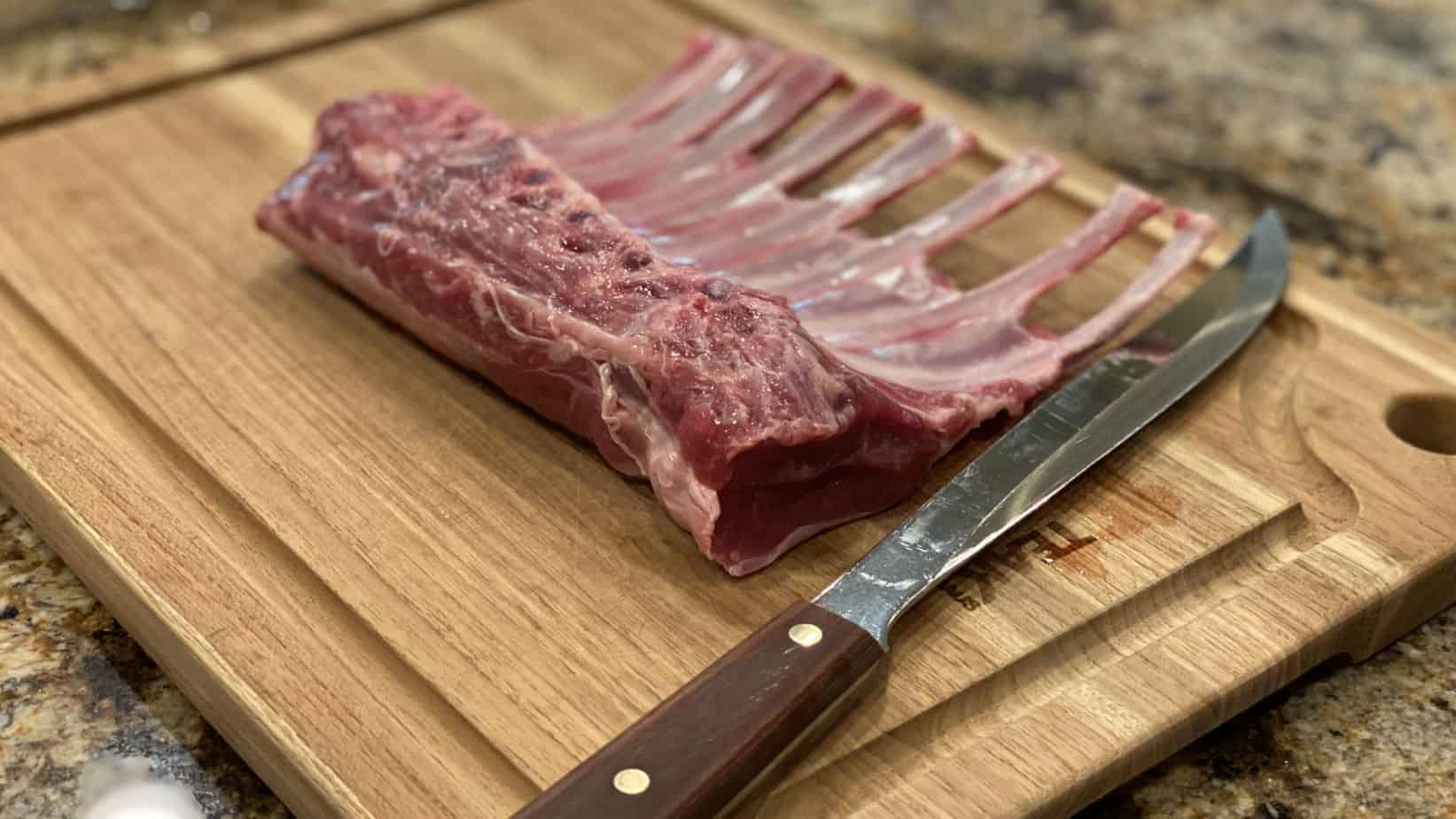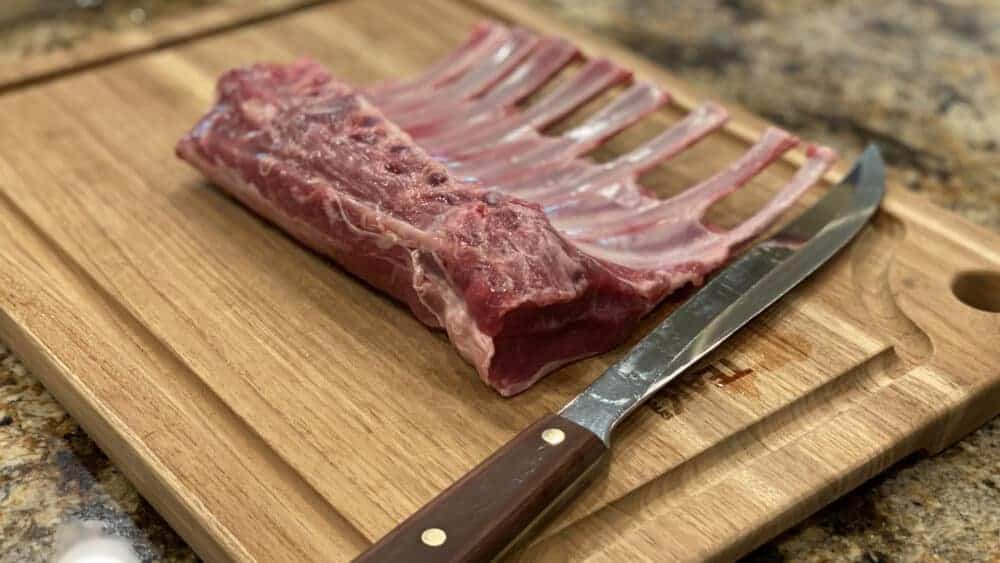 If you see the word "frenched" on a rack of lamb it just means that the ends of the bones or ribs have been scraped and cleaned of all meat and fat. This gives you a "lollipop" like piece of meat on the end of each bone and is a little fancier.
If they are not frenched from the store or butcher, you can do that yourself very easily.
Rack of lamb is a very tender and somewhat lean meat so it is best eaten medium rare (cooked to about 128-130°F) for best flavor and tenderness.
Step 1: Slice
I often cook the racks whole but lately I have been slicing these before cooking and they are SO much better in my opinion. More smoke flavor, ready to sear and serve each lollipop when they are done. It's a no brainer really!
Lay them bone side up so you can see where to make your cuts and use a very sharp knife to cut between each bone. If you have trouble, just stand them with the rib ends facing straight up and slice down between the bones. This is often the easiest way to slice.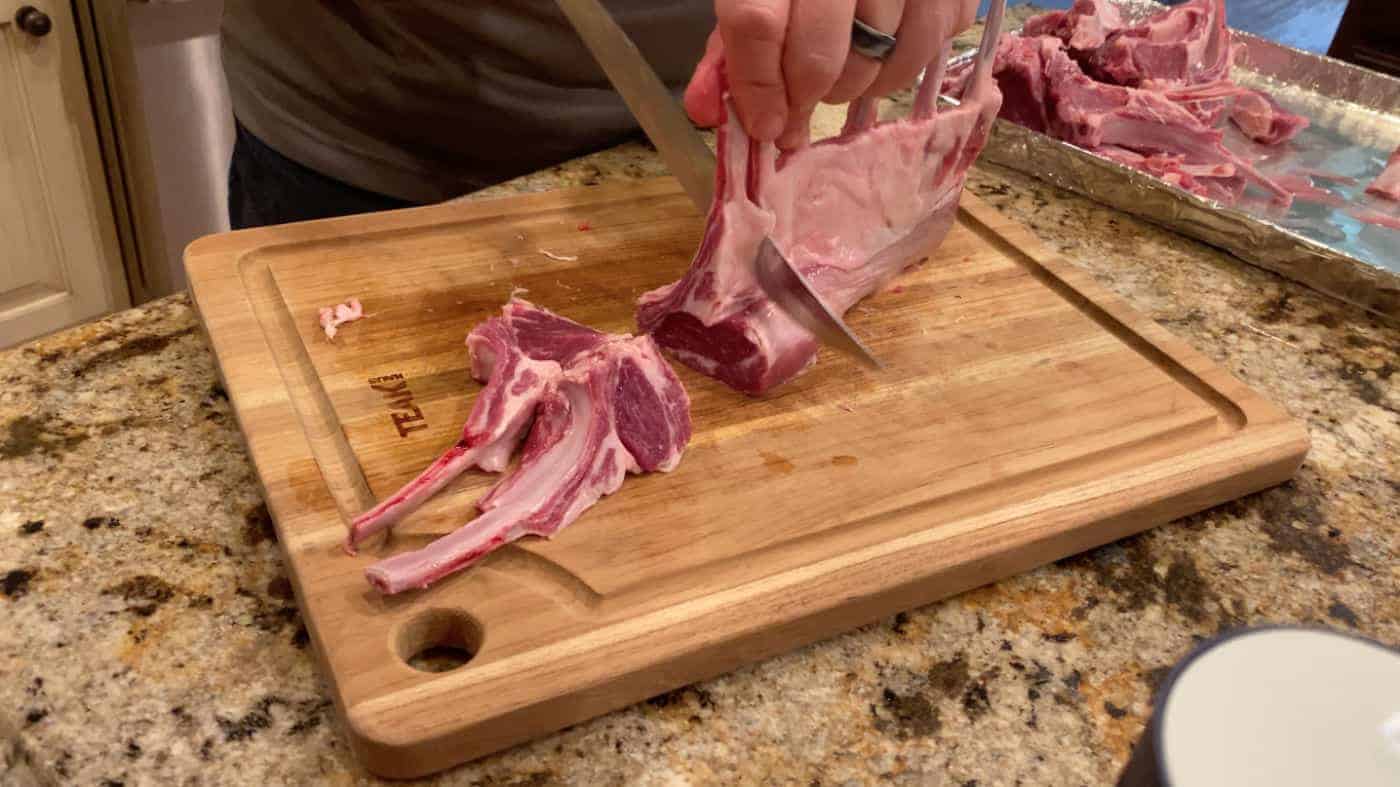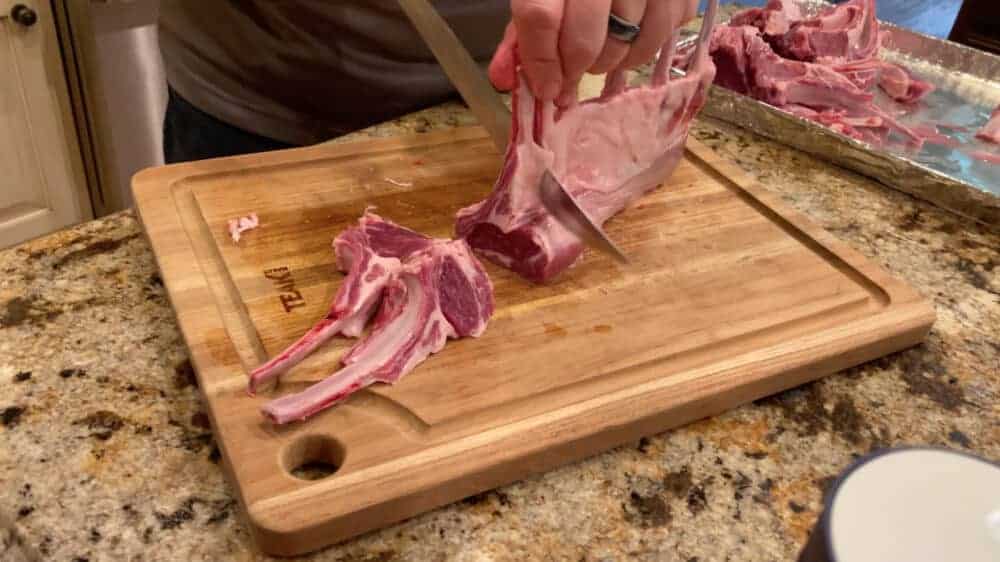 At one end of the rack there is usually a piece that is much thicker than the rest of them.. consider trimming this one to match the others. This gives you an extra little medallion of meat that can be cooked alongside the others.
You can also slice after every 2nd bone to make the servings 2 bones each if you prefer however this will affect the overall cook time.
Step 2: Dry Brine
Once the ribs are sliced, lay them flat into a cookie sheet very close together so they can be salted for dry brining.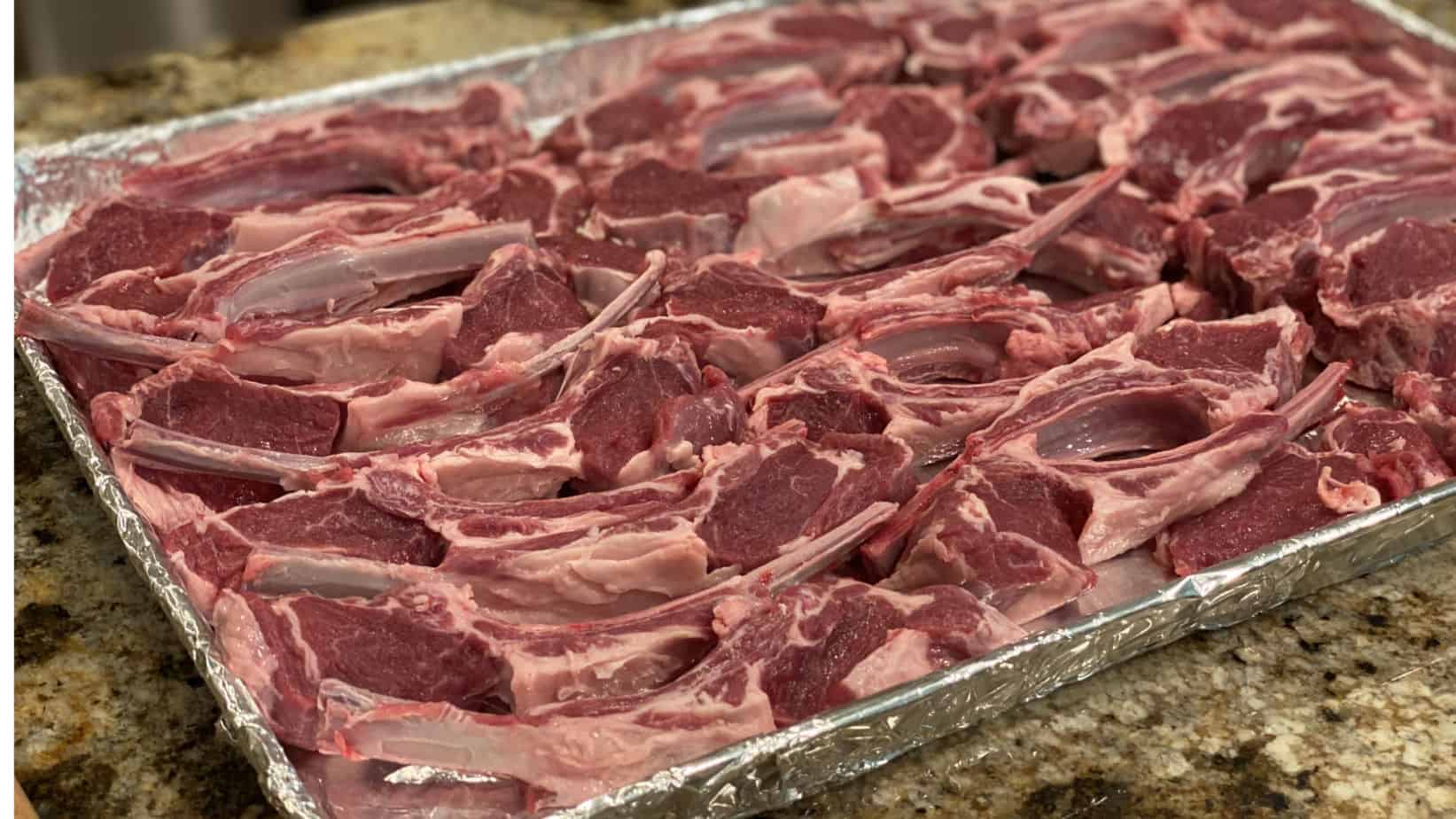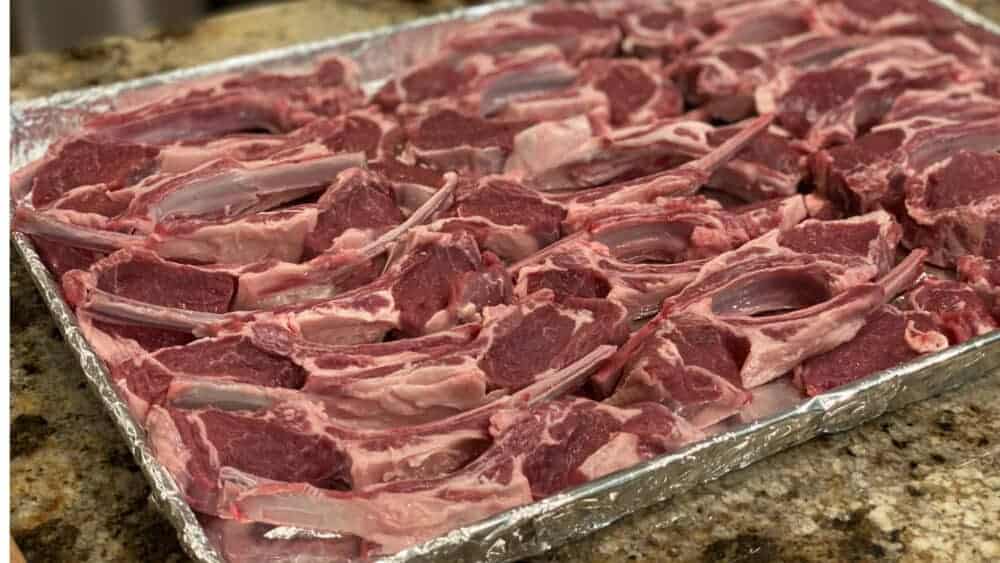 Chefs recommend about ½ teaspoon of coarse kosher salt per pound of meat however this is difficult to measure and dispense on small pieces of meat like this. My recommendation is to apply the salt fairly liberally on only one side. About a pinch on each one is sufficient and once you see what that looks like on one, you can use the shaker to replicate that coverage on all of them.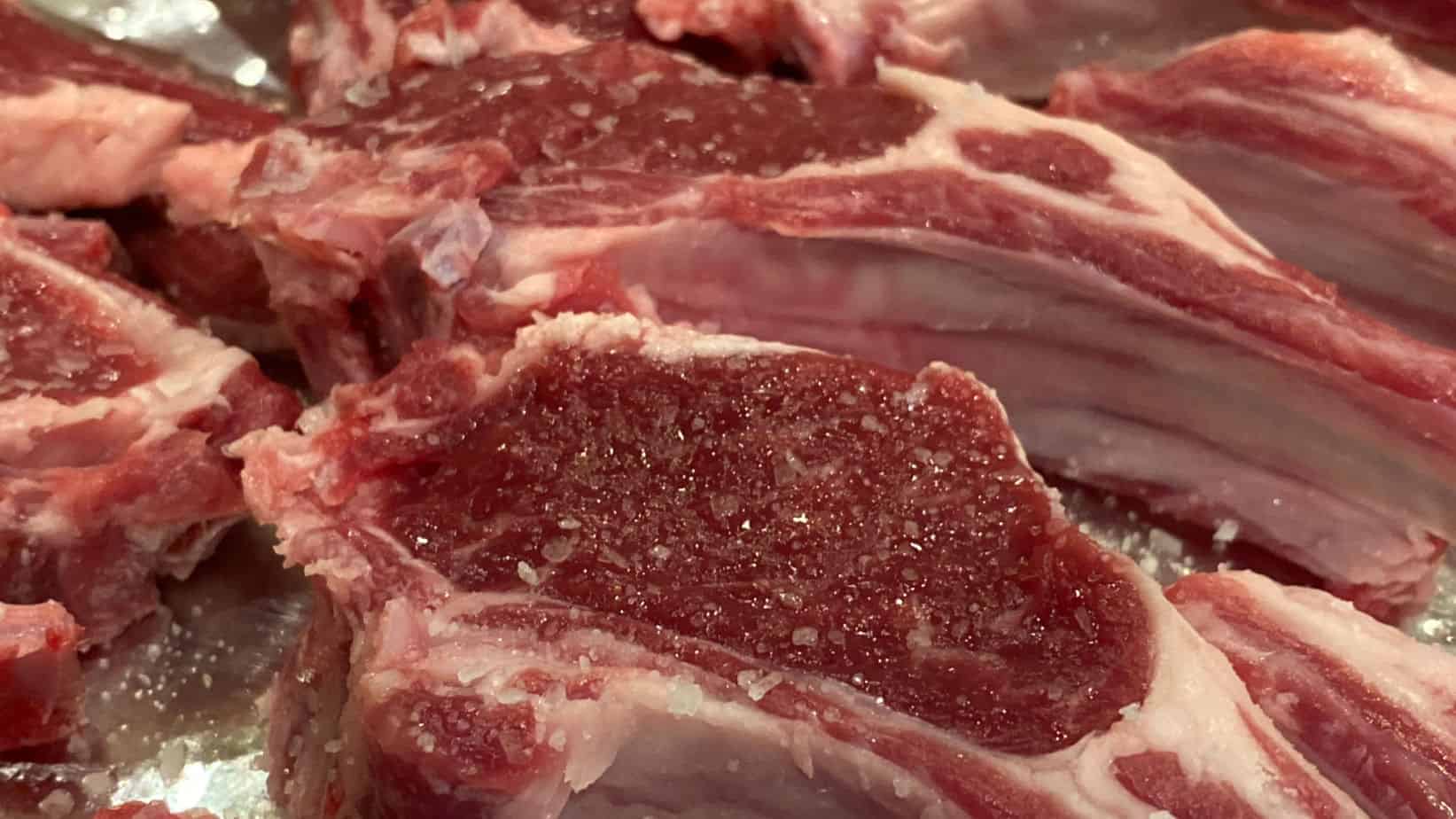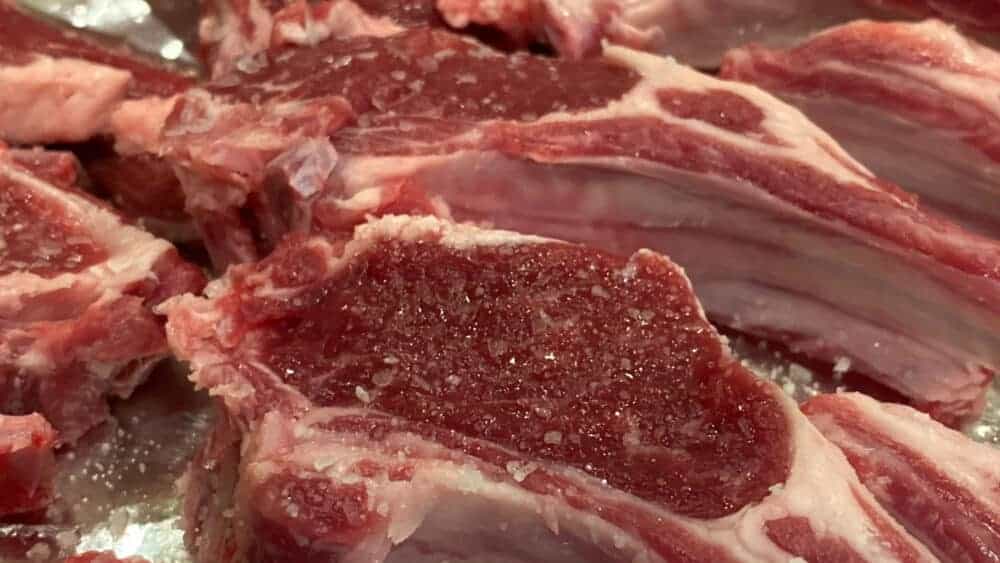 Place the pan of salted chops into the fridge for at least 2 hours although overnight is perfectly fine.
Step 3: Glaze and Seasoning
While the chops are brining, it's a great time to make up this tasty glaze, which will also serve as a binder for the Texas rub that will be applied later.
You'll need: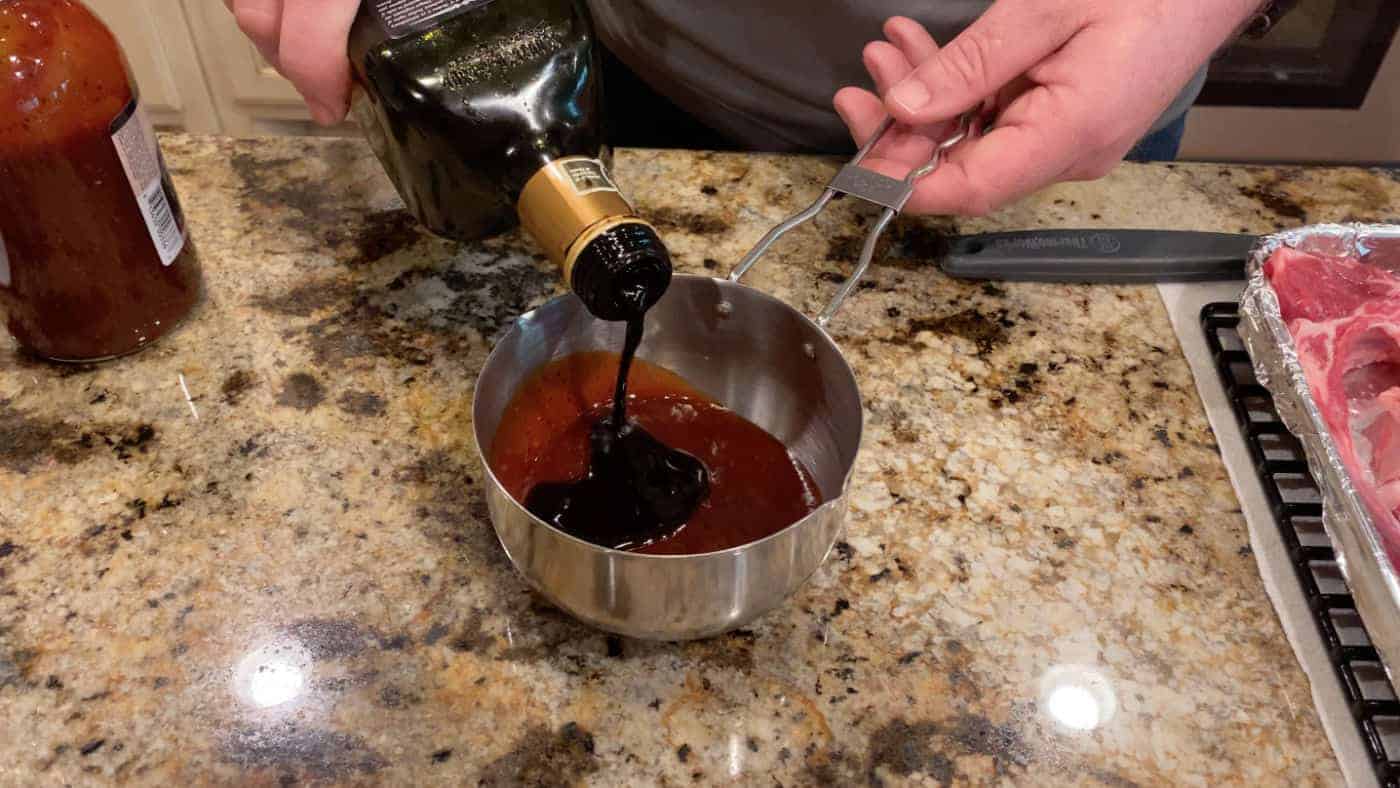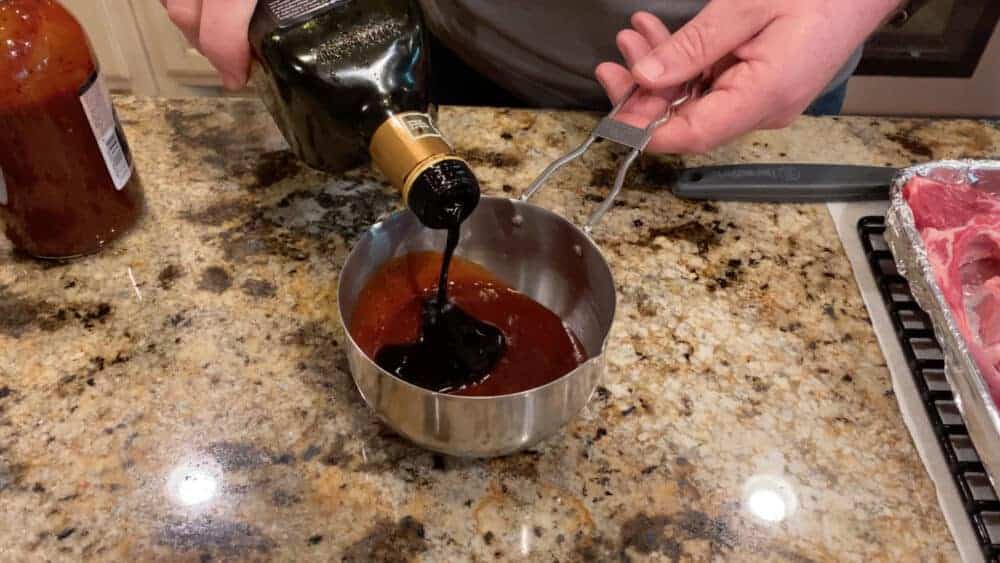 Stir the 3 ingredients together well then set it aside.
Once the chops are finished brining, remove them from the fridge and place the pan on the cabinet.
Brush each chop with the glaze/binder (top side only).
Save the rest of the glaze for use during the cooking process.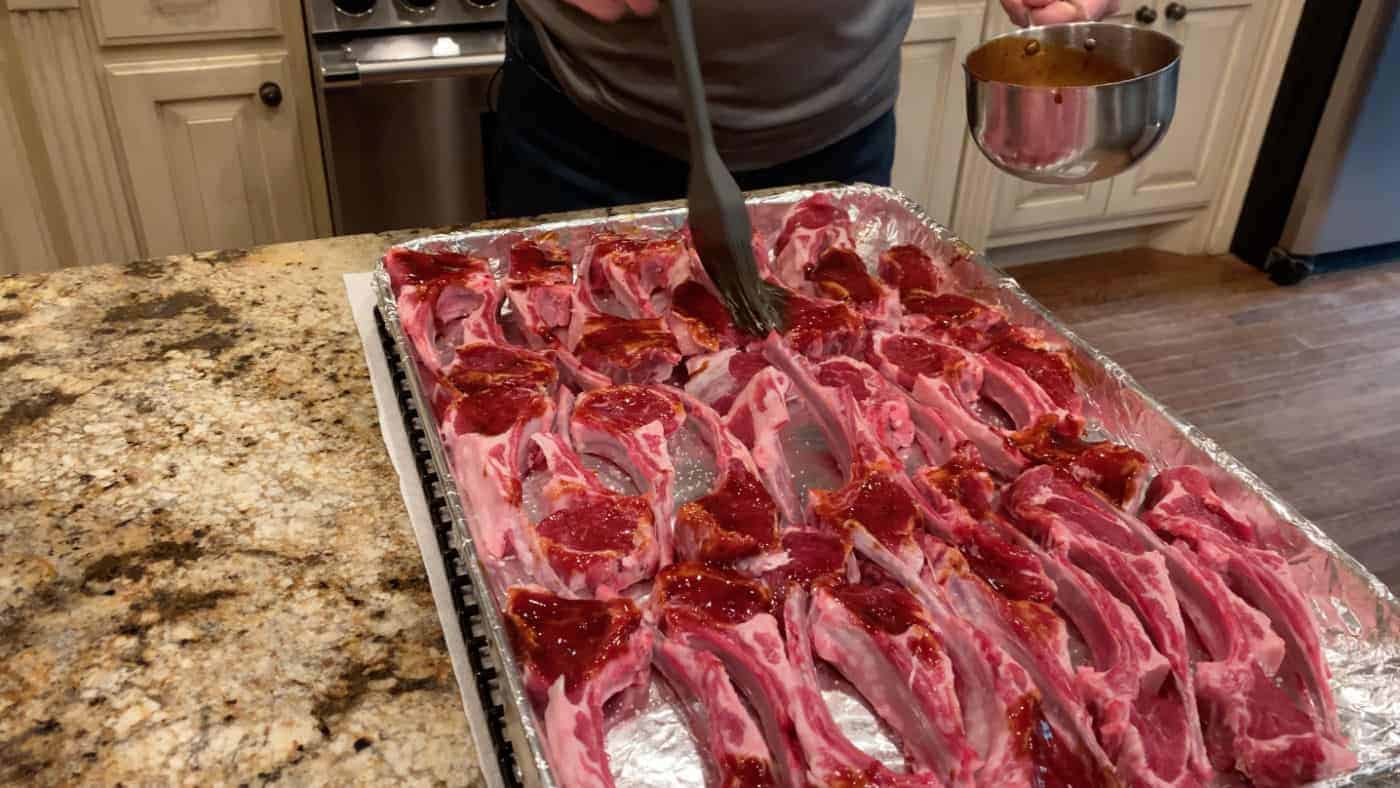 Apply a good sprinkling of the Texas style rub to the top of each chop.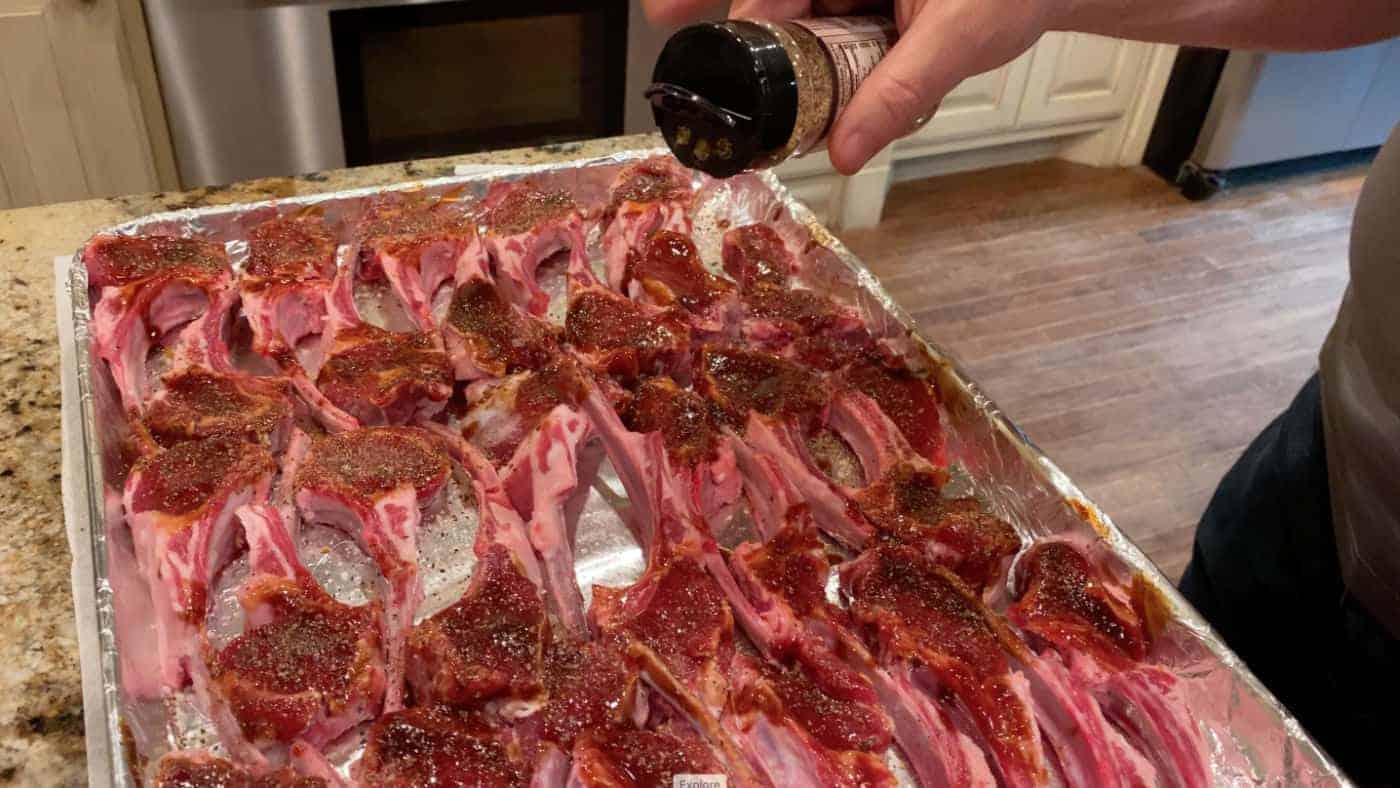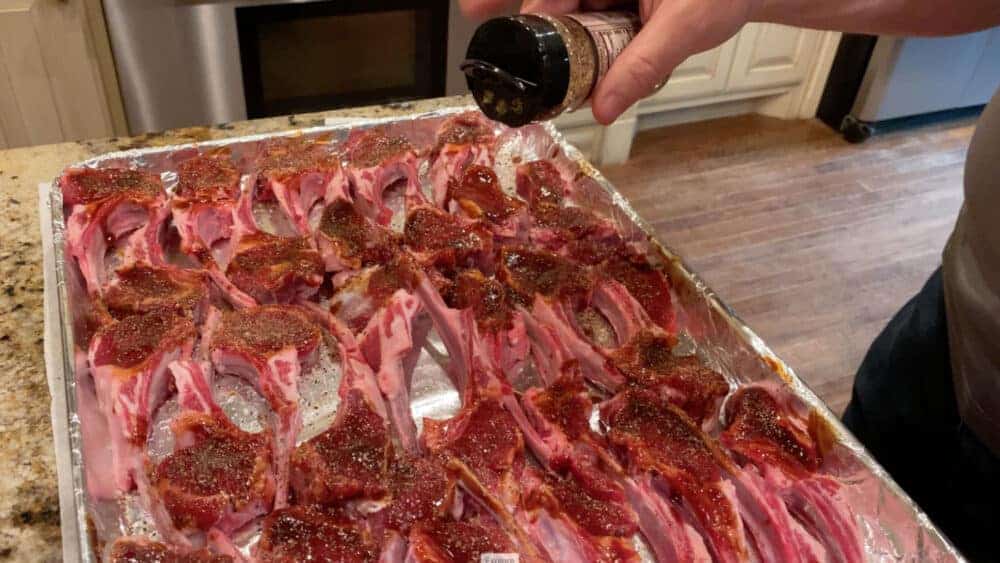 Step 4: Smoke
Set up your smoker for cooking low, slow and indirect at about 220°F (104°C). If your smoker uses a water pan, fill it up.
Oak is a great smoke wood for these if you have some otherwise, use what you have available.
Place the smoked lamb chops to be on the smoker grate or you can place them onto a pan with a rack to make them easy to transport to and from the smoker.
I used the Camp Chef Pursuit, a portable, RV sized pellet smoker for this cook.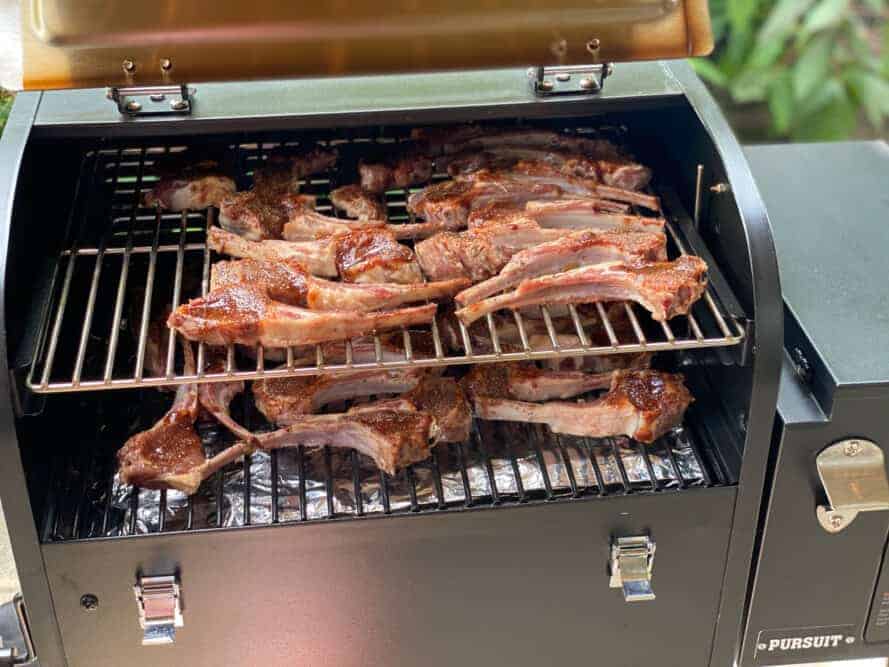 These will take approximately 25-30 minutes to reach medium rare so don't stray too far. You might even consider checking them at 20 minutes.
Brush on some glaze a couple of times during the cook.
Use a quality instant-read thermometer such as a Thermapen to make sure they are finished perfectly!
Note: If you're looking for a digital meat thermometer, my guide called "6 best digital meat thermometers" will help you decide which one is best for you.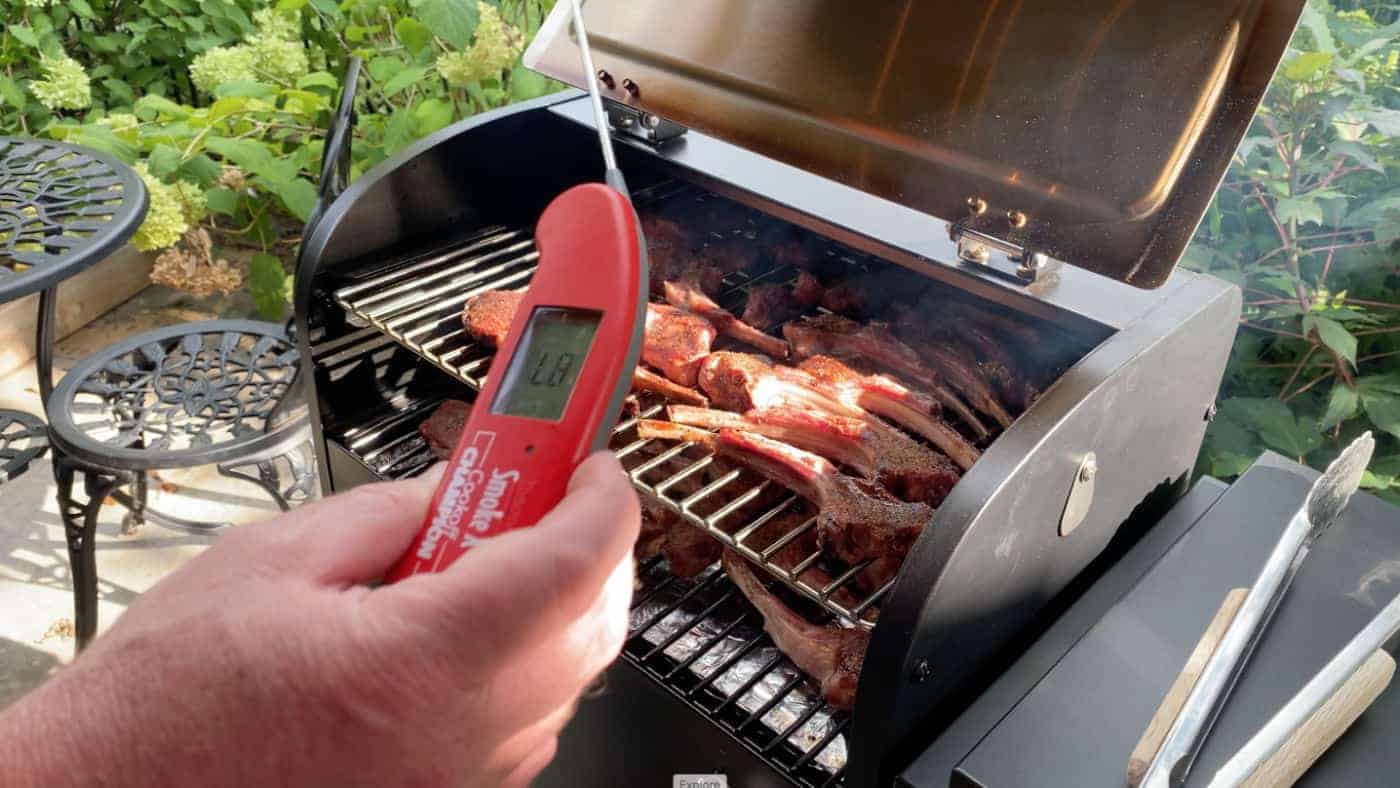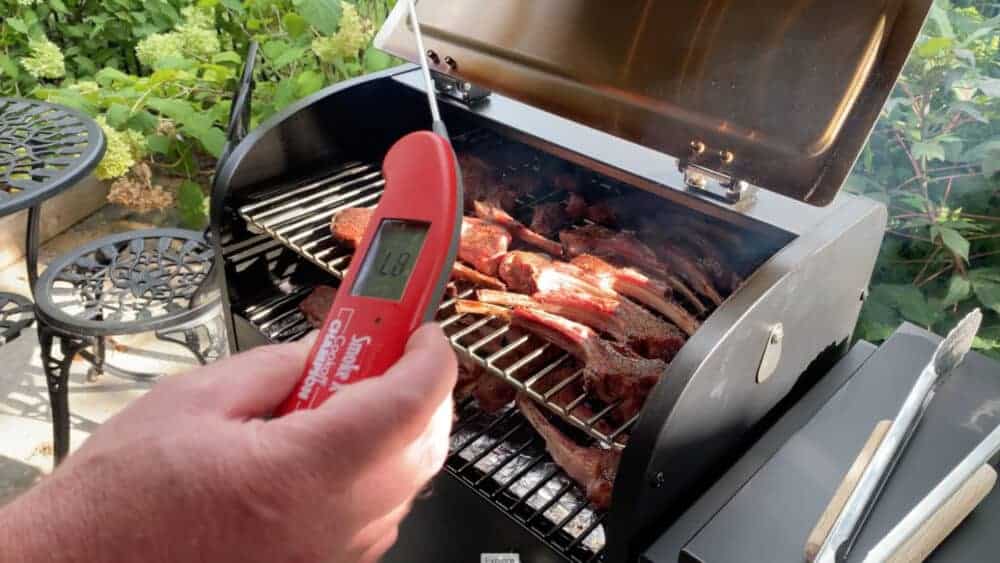 When they reach about 128-130°F (53-54°C), they are done cooking and after about a 10 minute rest under foil, they are ready for a quick sear on each side.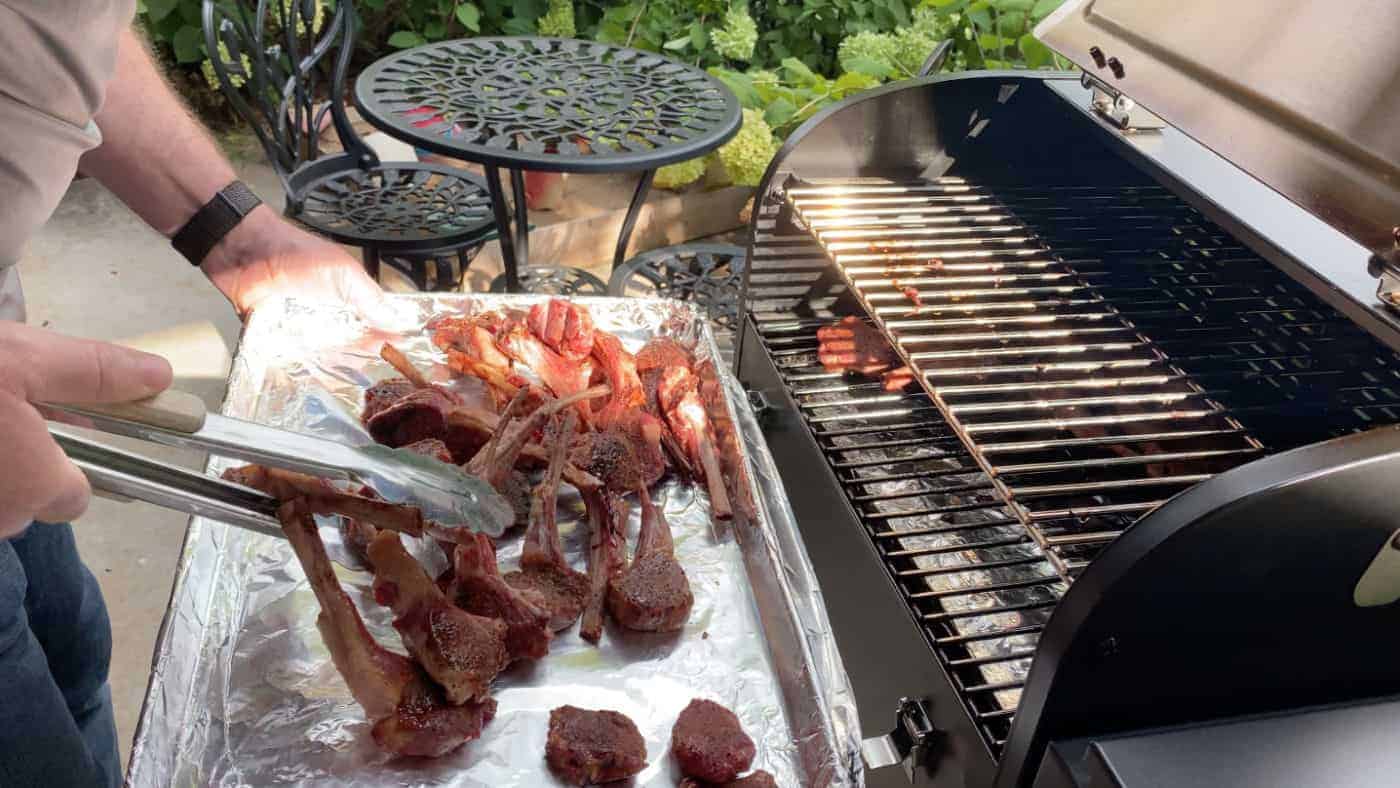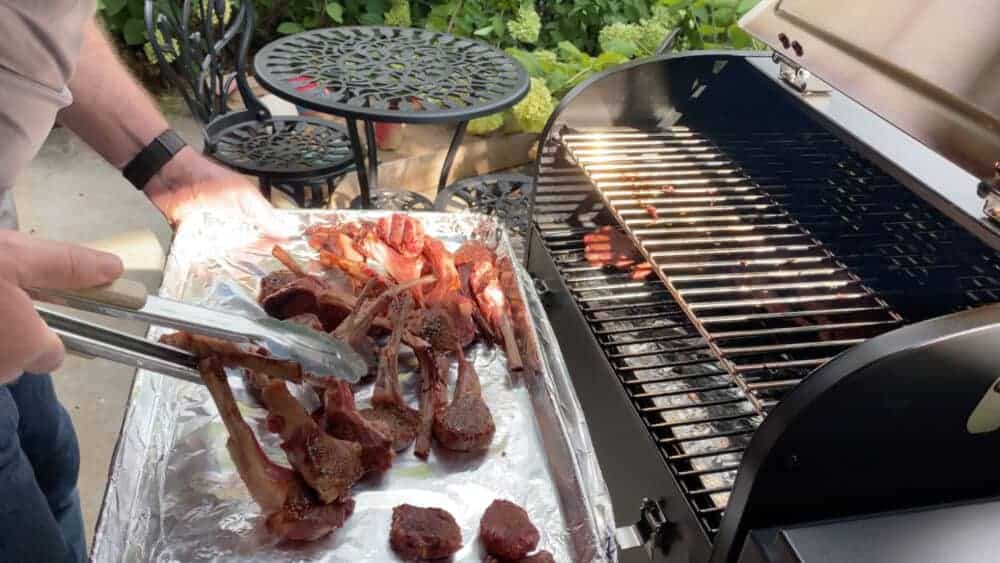 Step 5: Sear
If you happen to be fortunate enough to have a Camp Chef Woodwind with the side griddle or perhaps another outdoor griddle, you can heat it up to about 425°F (218°C).
Otherwise you can use a hot grill, the oven broiler or a really hot pan.
Sear each side for about 20 seconds or until it gets the level of sear that you like, flip it over and do the same thing on the other side. Once done, remove to a pan brush on any remaining glaze and it's time to eat.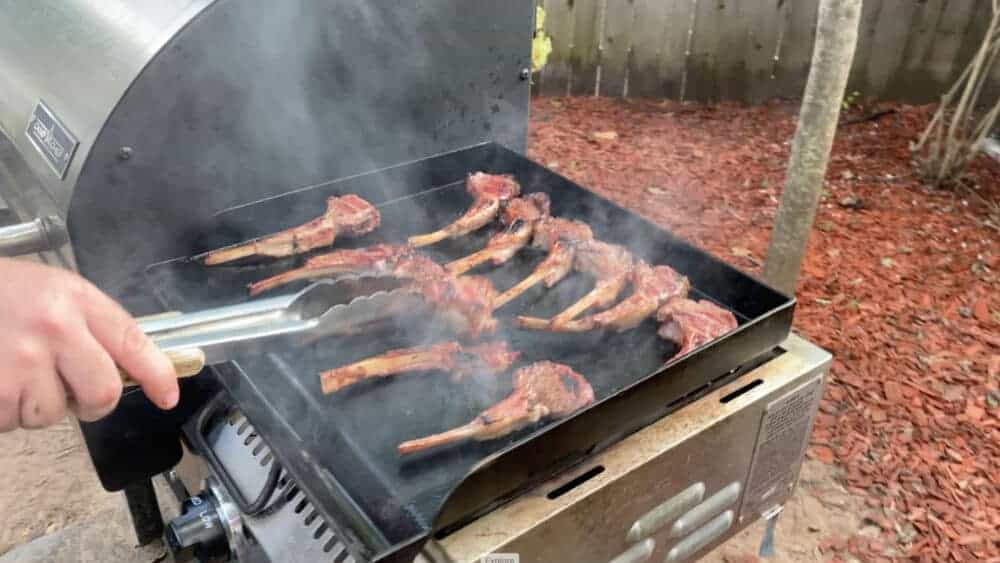 Step 6: Finish and Serve
Bring the pan of smoked lamb chops into the house and keep them covered tightly with foil until ready to serve. If you have to reheat them, do so gently and only heat them to warm for best results.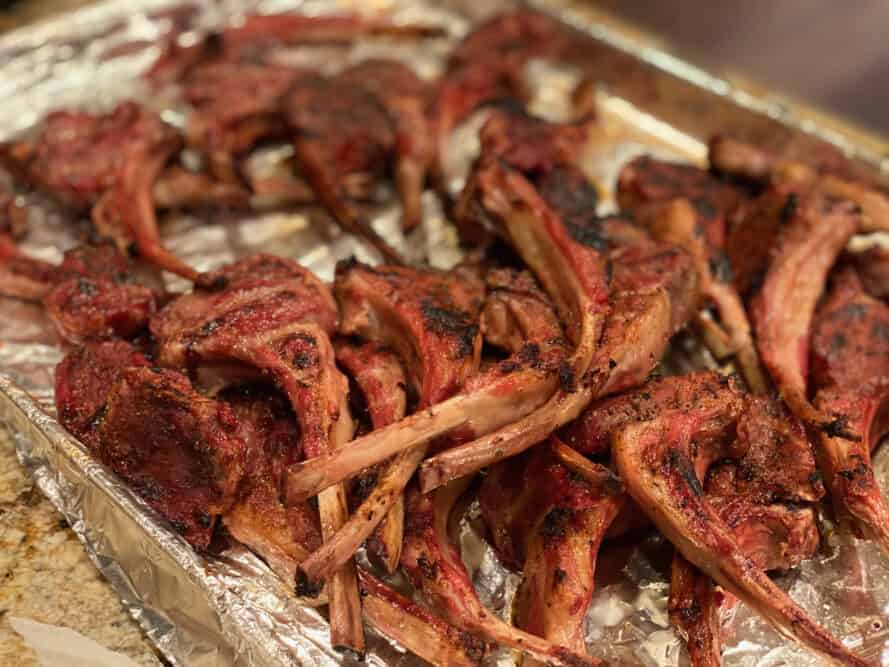 I hope you enjoy this smoked lamb chop recipe!
Smoked and Seared Lamb Chops
Smoked lamb chops are better than steak! So tender and juicy with flavor that will blow your socks off. Sear them when they finish for best results. Here's how!
Ingredients
Glaze
¾

cup

Jeff's original sauce

½

cup

Balsamic vinegar

3

TBS

A1 sauce
Instructions
Slice the racks of lamb into individual chops

Sprinkle a pinch of coarse kosher salt onto the top side of each chop. Place pan of chops into fridge for at least 2 hours or overnight. No need to rinse when finished.

Brush the top side of each chop with the glaze then Sprinkle the top of each chop with Jeff's Texas style rub. Be generous!

Set up your smoker for cooking at 220°F (104°C) using indirect heat. If your smoker uses a water pan, fill it up.

I recommend oak for smoke wood if you have some, otherwise use whatever

smoking wood

you have available.

Smoke cook chops for about 25-30 minutes or until they reach medium rare or ~130°F (54°C).

Brush glaze onto the chops a couple of times during the cooking process.

When they are finished cooking, rest for 10 minutes under foil before searing.

Use a griddle, hot pan, hot grill or broiler to quickly sear the top and bottom sides of the lamb chops.

Keep warm until serving time. Just before serving, brush on any remaining glaze and it's time to eat. Enjoy!
Get Jeff's Products!