Pimento Cheese Stuffed Jalapenos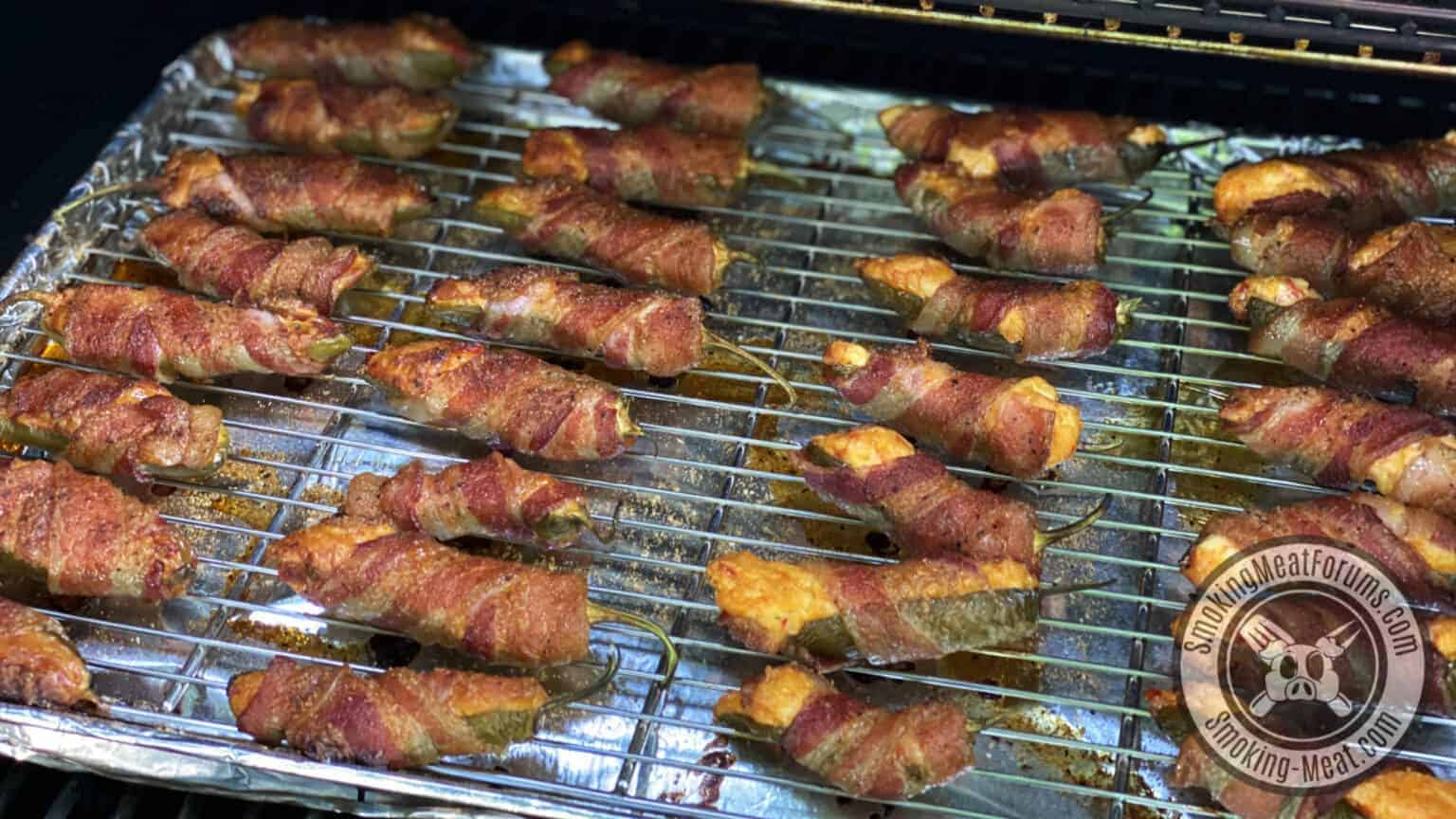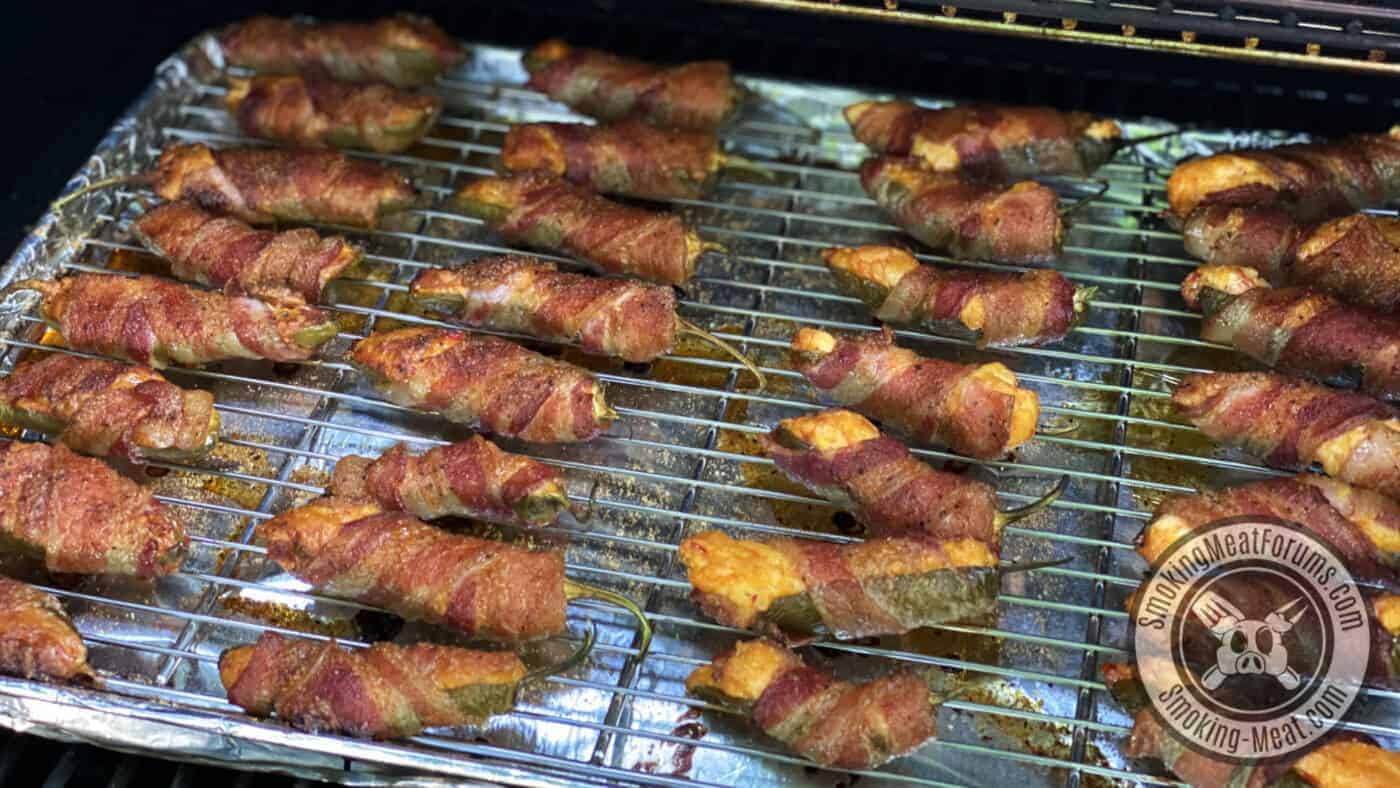 Smoking-Meat.com is supported by its readers. We may earn an affiliate commission at no extra cost to you if you buy through a link on this page.
Read this article without ads
I recently came up with the idea for pimento cheese stuffed jalapeños but it's only a slight deviation from the typical cream cheese and cheddar stuffed jalapeños that we usually make.
In both versions, the pepper is stuffed then wrapped in a piece of bacon and smoked until the bacon is crisp and the jalapeño is soft.
Give this a try SOON!
Helpful Information
Prep Time: 45 minutes
Cook Time: 3 hours
Smoker Temp: 225°F (107°C)
Meat Finish Temp: N/A
Recommended Wood: Maple or Cherry
What You'll Need
Jalapeños
Pimento cheese (homemade or store-bought)
Bacon, thin cut is best*
*Most thin cut bacon will have about 13-16 slices per pound but you should probably count them while you are in the store to make sure you get enough. The more slices per pound = the thinner the bacon.
Prepare Jalapeno Peppers
Cut the peppers in half length-wise leaving the stem on each piece for a handle.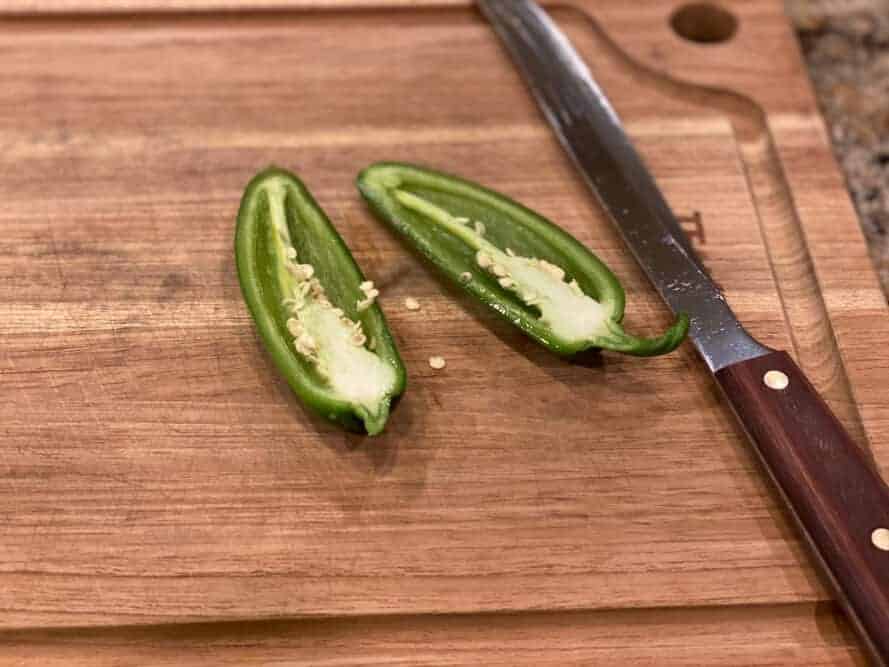 Use a spoon to remove the pith (white stuff) and seeds. I "borrowed" a teaspoon from Abi's kitchen and sharpened the edges with a file to make this job easier. (maybe she won't notice😉)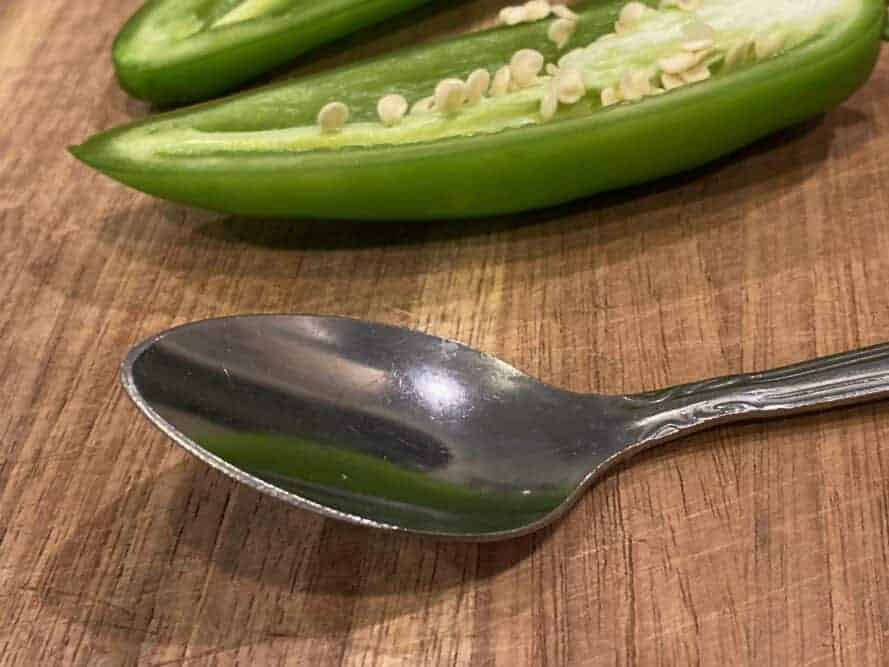 The sharpened spoon made a quick job of it. You can also use a grapefruit spoon if you have one of those.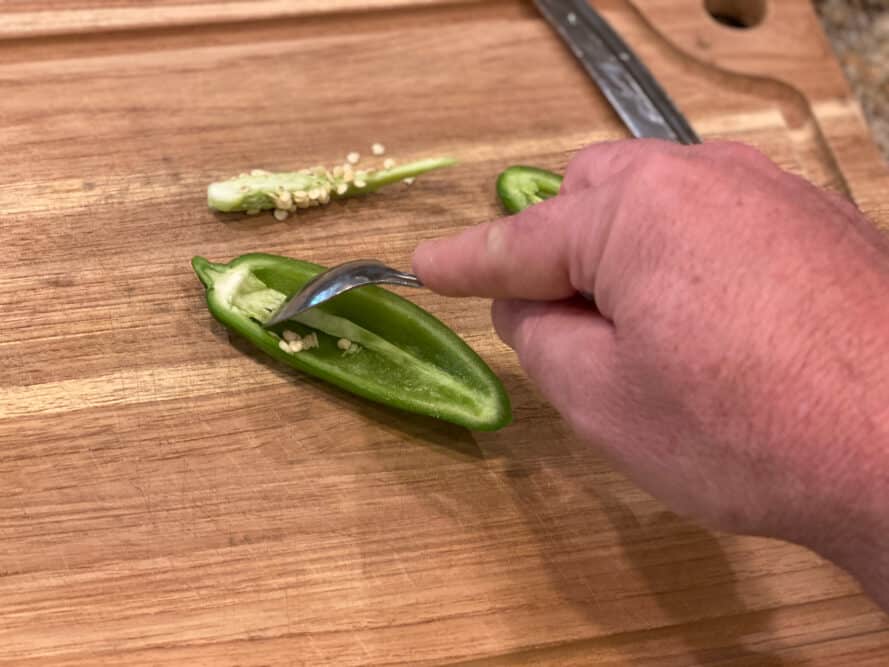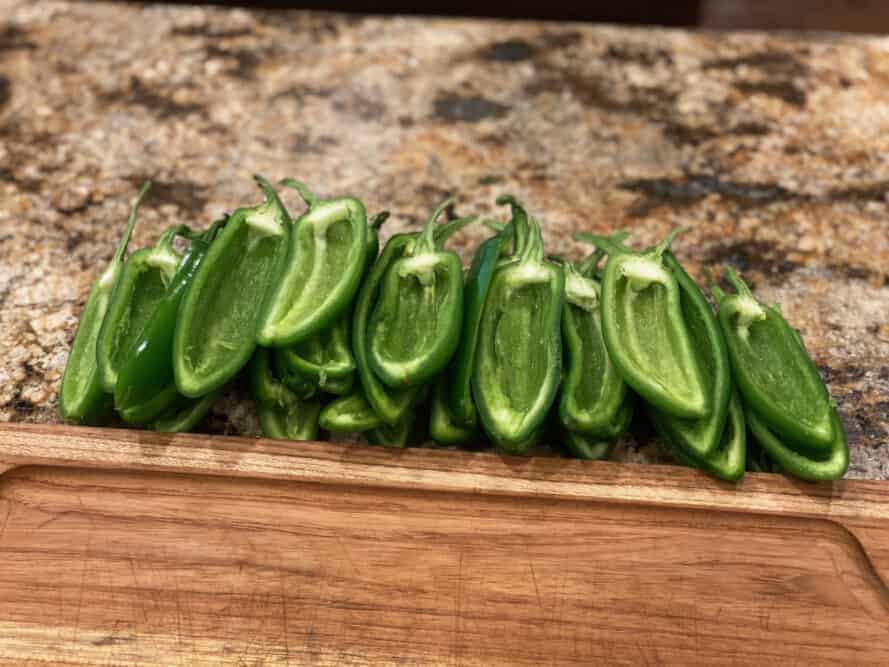 Fill the Jalapeños
I did not make my own pimento cheese but rather bought a few different kinds to see if it made a difference in the end.
Note: For the Tulsa locals.. I found all of these pimento cheeses at Reasors. Places like Krogers, Safeway, Food Lion, etc. should also have a few good selections as well and/or if you happen to make your own, that would be awesome as well.
On the left is the basic store brand. The next one is more fancy and has added jalapeños (why not, right?). The third one is also fancy but is just the classic pimento with nothing extra added in.
I tasted of each of these before stuffing the jalapeños, and there was a definite difference in the flavor of the fancy ones vs the basic. I still wasn't convinced I'd be able to tell that once they were stuffed, wrapped in bacon and smoked.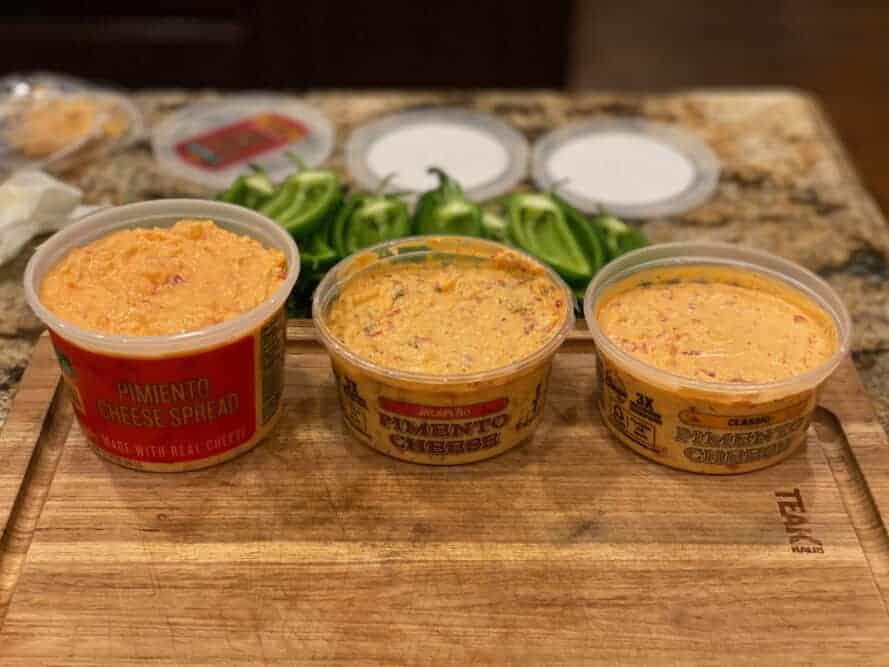 There's no right or wrong way to do this. Use a spoon or your hands to get the mixture into the half pepper boats.
I used the containers to let me know which peppers were stuffed with which type of pimento. I later marked the side of the pan so I'd be able to keep it straight.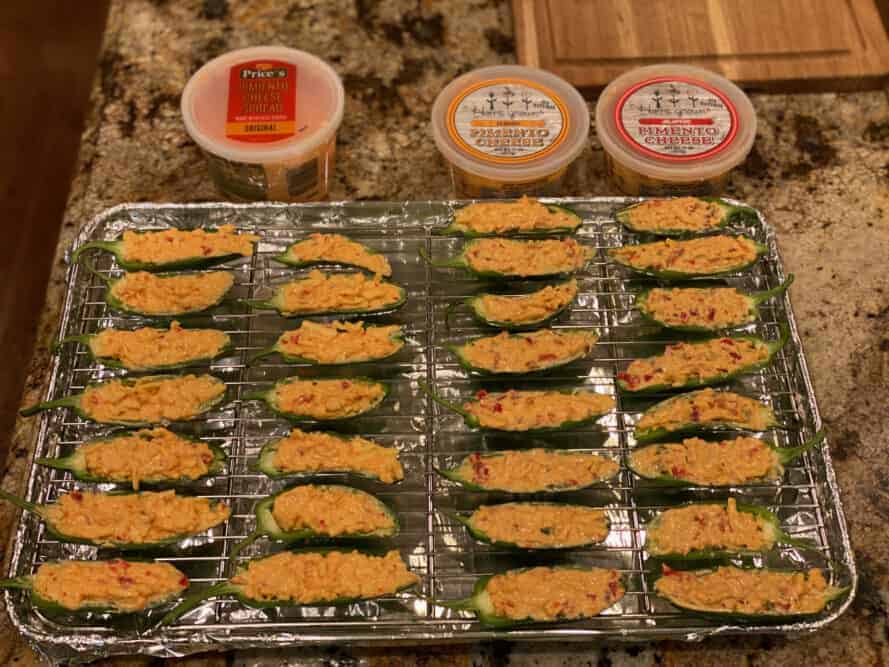 Wrap in Bacon
Cut the bacon in half if your peppers are small to medium. If you get hold of some that are large or extra large, you may need a whole piece of bacon for each ABT.
I made mine work with a half slice, but several of them really needed a whole slice, and I should not have been so stingy with it!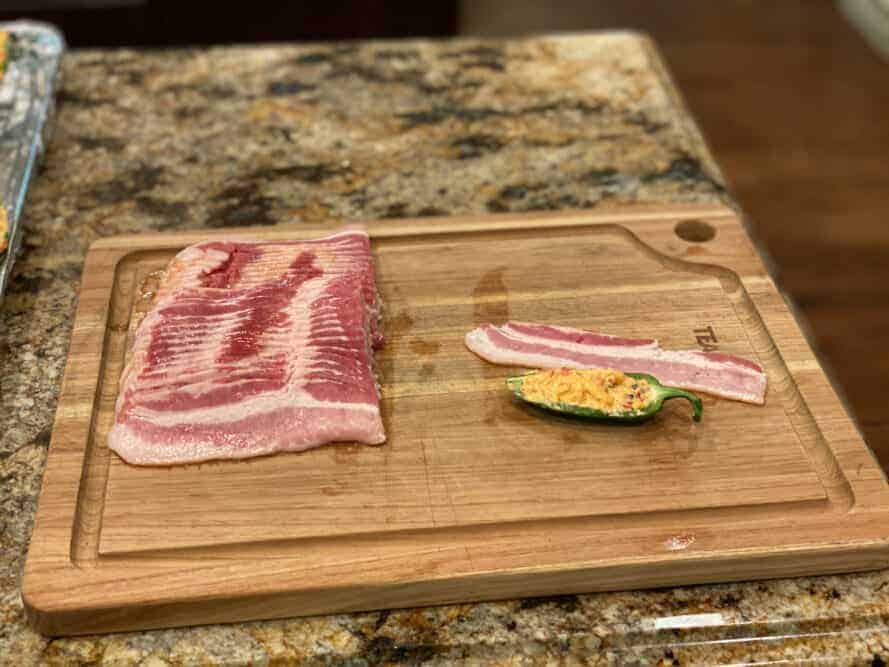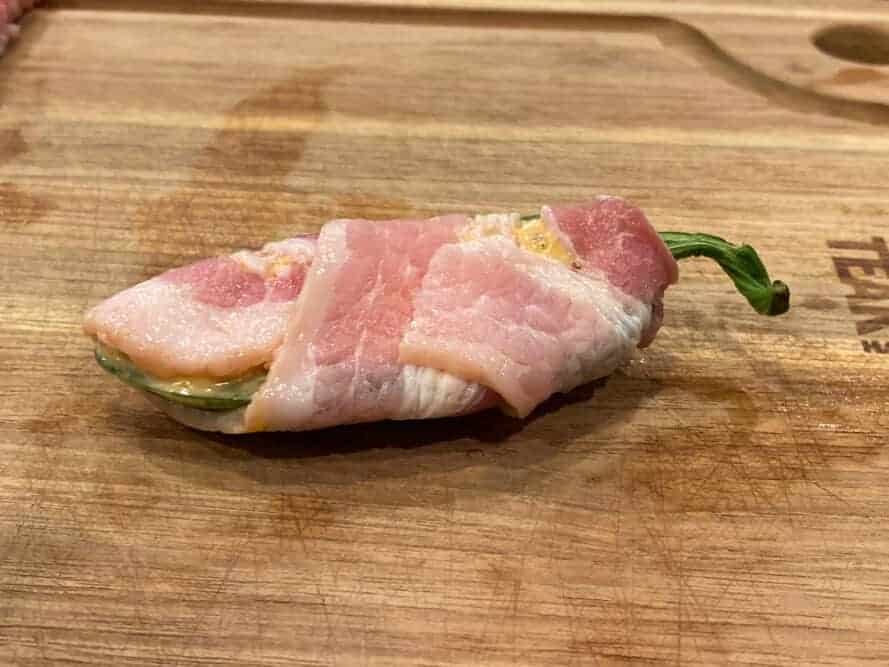 All of the peppers filled and wrapped and looking right "purdy"!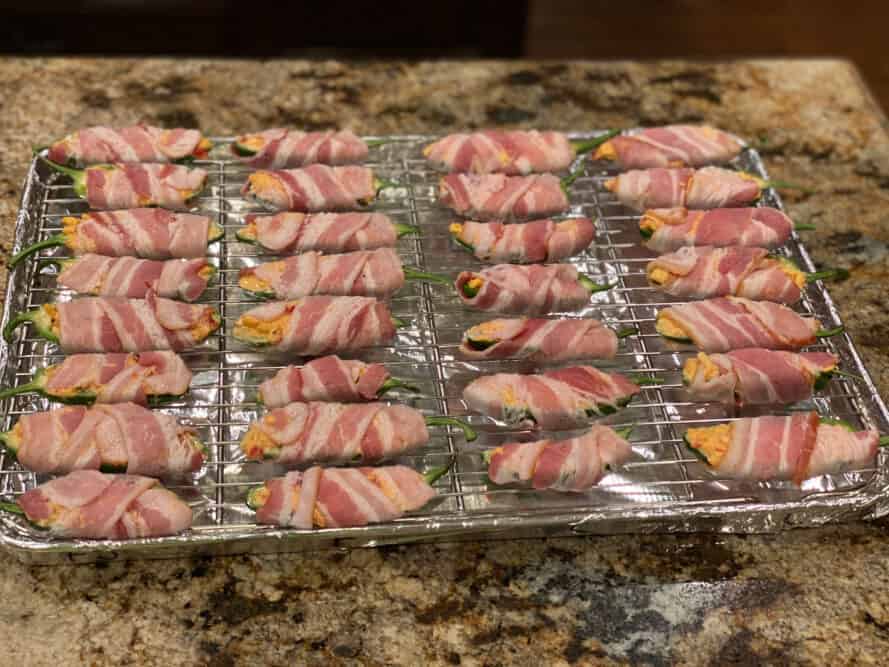 Give them a good sprinkle of my original rub, and they are ready for the smoker.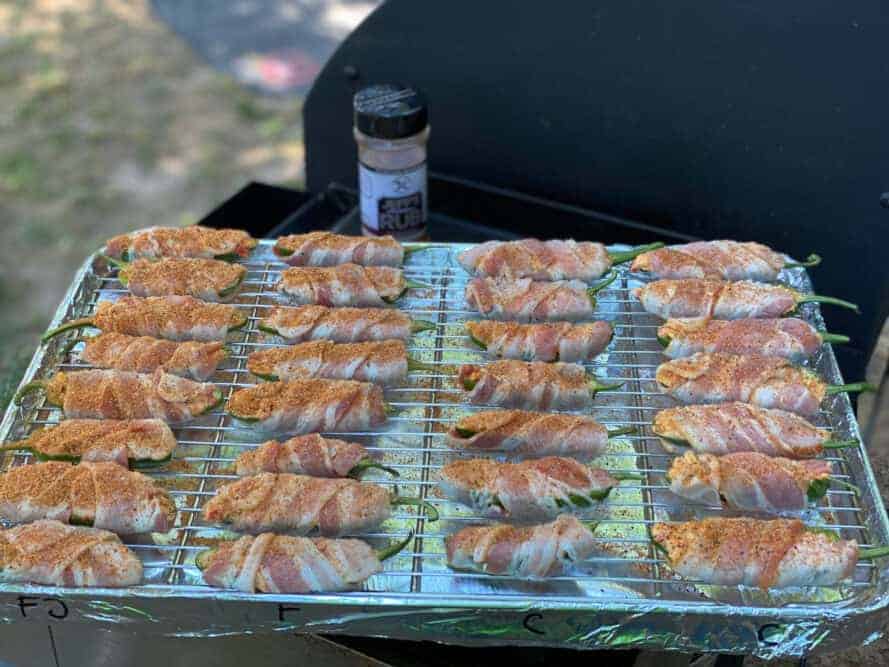 Key: FJ= Fancy with jalapeno, F= Fancy classic, C=Cheapo
Smoke Time
Set up your smoker for cooking at about 225°F (107°C) using indirect heat. If your smoker uses a water pan, fill it up.
Once the smoker is ready, place the peppers on the smoker grate and close the lid.
I like to use a pan with a rack to make it really easy to insert and remove the peppers from the smoker.
Finish and Serve
These will take about three hours for the pepper to get really soft and the bacon to obtain a good bite thru. Use your best judgement and call them done when they are perfect.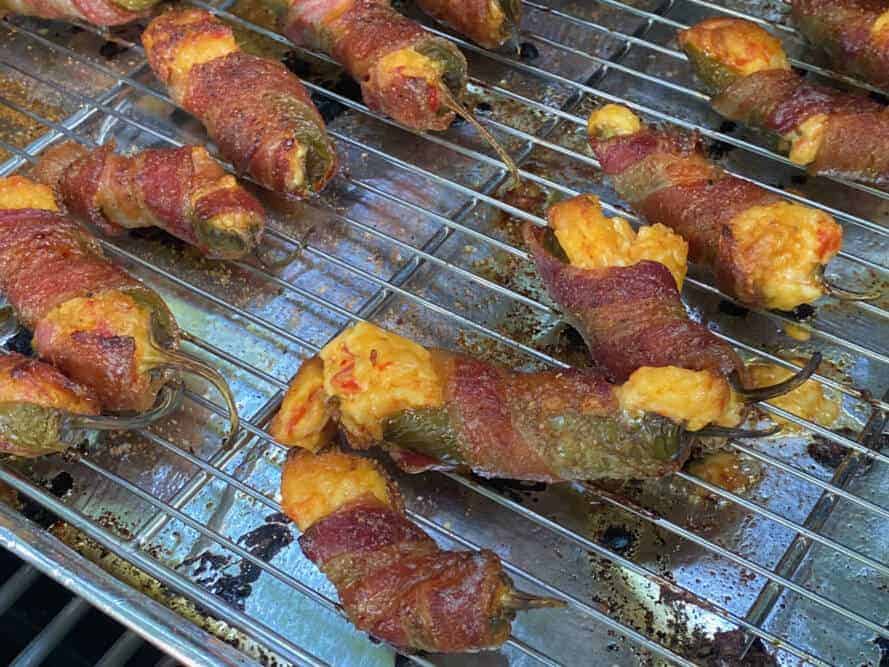 These were all utterly delicious.. I could not tell the difference in the various types of pimento although my wife and youngest daughter claimed the fancy was much better than the cheapo.
Try it and let me know what you think.
General Tips for ABT's
Get some help
Solicit a few other people to help with this. If you set up an assembly line where someone is cutting stems, a couple of folks are coring and then someone is cutting them in half, etc. it's much easier.
I was an engineer (IE & ME) in a previous life, so this appeals to me. The person removing the stems could also be cutting them in half to balance out the work and reduce bottlenecks.
If you only have one other helper, perhaps one could remove the stem and core while the next person cuts them in half and stuffs. You could then work together to wrap with bacon.
As you can see, this can be engineered down to a well oiled machine.
Reduce the "hotness"
If jalapeños are just too hot for some, you can soak them in sprite or some other lemon lime soda for a couple of hours once the seeds and veins are removed. You can do this whole or in halves.. works great either way.
Some of the spiciness will leach out into the soda and the peppers will become more mild. The longer you soak, the more mild they become.
Save the soda to use when marinating chicken or some other meat.. it will give them a nice jalapeño flavor.
I have no idea if you can use other types or flavors of soda. I heard about this trick several years ago and it worked so I figure if it's not broke..
Finding thin bacon
Anytime you are wrapping things in bacon for the smoker, thin bacon usually works best.
Bacon is usually not labeled as "thin" but what you can do is count the slices to see how thin it is. If you find a pound size package of bacon and it has 13-16 slices, it is cut fairly thin. The more pieces of bacon in the pound package, the thinner the bacon.
Pimento Cheese Stuffed Jalapenos
Instructions
Cut peppers in half lengthwise leaving part of the stem on each piece. Scrape out/remove the seeds and white parts inside the jalapeños.

Use storebought or homemade pimento cheese to stuff peppers full and slightly heaped up. Sprinkle liberally with

Jeff's original rub

.

Depending on the diameter of the pepper boats, wrap full or half-slices of bacon around each pepper beginning on one end and slightly overlapping until you get to the other end. Secure with a toothpick if necessary. Give them another sprinkle with

Jeff's original rub

, then set them aside while you get the smoker ready.

Set up your smoker for cooking at 225°F (107°C) using indirect heat and your favorite hardwood for smoke. We recommend maple or cherry. If your smoker uses a water pan, fill it up.

When the smoker is ready, place the peppers on the smoker grate and close the lid/door.

Cook for about 3 hours or until the bacon is crisp and peppers are soft.

Remove and serve immediately.
Get Jeff's Products!