Thermapen Mk4 Thermometer Review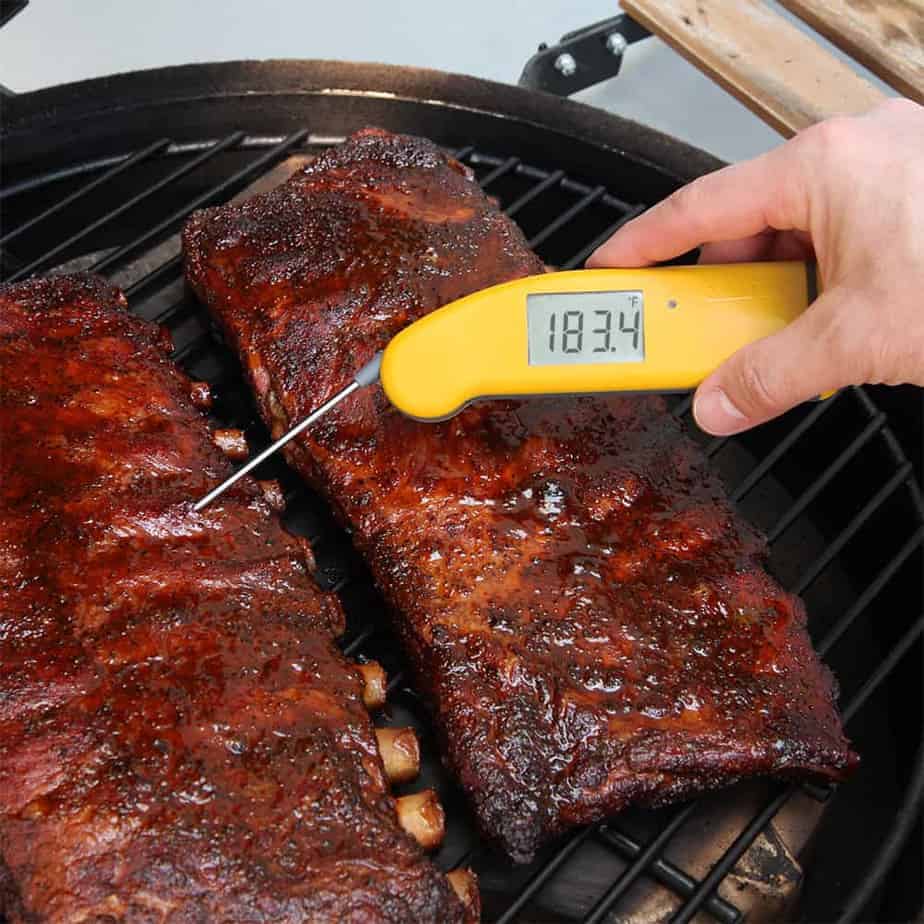 Smoking-Meat.com is supported by its readers. We may earn an affiliate commission at no extra cost to you if you buy through a link on this page.
I've had the Thermapen Mk4 for several years now and I can tell you right up front that it's without a doubt the best handheld thermometer available. It is the one that everyone else tries to match up to.. that's nothing but a compliment in my opinion!
It's tough. For starters, it feels extremely solid in your hand. It is made of some sort of heavy duty plastic but it's solid and feels like it could easily hold up to being tossed around a bit, thrown into the toolbox, just general use sort of stuff in a busy barbecue kitchen.
It reads in 2-3 seconds! That's fast by any standard where handheld thermometers are concerned.
While many thermometers have an initial reading and then spend 5-10 seconds counting up or down to the actual temperature, the Thermapen Mk4 immediately reads the temperature within 2-3 seconds of poking it into a piece of meat.
Amazing battery life. It boasts 3000 hours of life on a battery and I assume this is based on average use. I've had mine for several years and I have not needed to change the battery. Once I do, I'll update this post and let you know exactly how long it lasted for me.
Motion sensing wake-up. The classic thermapen was very nice but you had to close the probe and then open it again to wake it up. Well, sometimes we cooks have limited hands to work with and just being able to wake it up by picking it up with one hand is a dream come true.
Intelligent backlight. The light also comes on when it is opened and or woken up if it senses that the ambient light is too low.
Auto rotating display. The Thermapen Mk4 senses the way you are holding it and always shows you the temperature reading right side up. This means it is just as easy to be used by a left-handed person as a right-handed person or if you are hanging upside down like spiderman. Nifty!
Waterproof to IP67. This means you can wash it with soap and water under the running faucet without worrying that you are going to damage it.
Comes in 10 different colors. You can get this thermometer in 10 different colors including grey, white, black, orange, blue, green, pink, red, yellow and purple.
You can definitely purchase a cheaper handheld thermometer if you just want something that works. But if you want something that is hand assembled using quality parts, has lots of nice, useful features and feels super solid in your hand then look no further.
This is what the professionals use and there's a reason for that.
Get your Thermapen Mk4 today and you'll see what I mean😊
Did you know? You can order the MASTER FORMULAS which allow you to make Jeff's rubs and barbecue sauce at home using your own ingredients! Order the Recipes