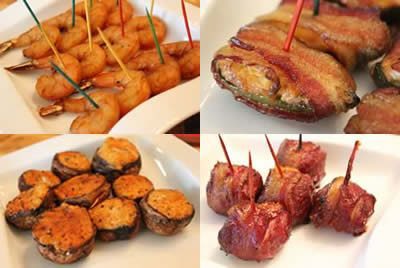 Hello friends and welcome to this Christmas holiday edition of the smoking meat newsletter. If you're anything like me, you get invited to a few parties around this time of year and it's always expected that you will show up with something of the "smoked" variety. I love doing party hors d'oeuvres on the smoker and in this newsletter I'm going to show you my top 5 things that folks just rave over every time I take them to an event,party or get together.
Most of these are super easy and don't take long to smoke so you can whip them up in no time at all.
Bacon Wrapped Meatballs
Bacon Wrapped Jalapeno Peppers
Chicken Bites
Stuffed Baby Bellas
Smoked Shrimp
It's All About the WOW!!

My rub recipe was initially designed and developed to give ribs that certain wow factor that is so often missing.. I spent years putting this recipe together but when I got done tweaking it to perfection.. I knew that I had created a legacy of flavor that would live forever. Order today and you'll see exactly what I mean.. nothing short of amazing and what's more, it's good on almost everything!!
My Previous Newsletter: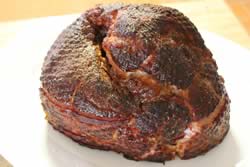 This ham recipe was a huge success in many of your homes.. I know that because I received your emails telling me such. If you have not tried this then I recommend that you do.
Smoked Bacon Wrapped Meatballs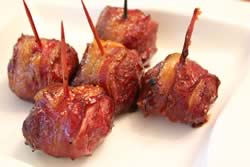 This is similar to moinks (moo+oink) which are very common in smoking meat circles however, I was smoking meatballs long before I ever heard of "moinks" and I do them just a little different than some. Feel free to get creative with these and see what you come up with. It's simply a meatball formed around a cheese cube, wrapped in bacon and smoked with a toothpick in it. I make my own meatballs with beef and sausage and I add egg and milk to the mixture. You could also add bread crumbs if you were so inclined and even some other ingredients like chives, chopped peppers, etc. to ramp up the flavor a little bit.
Here's my version:
Ingredients
1 lb. 80/20 ground beef (85/15 isn't bad either)
1 lb. HOT breakfast sausage (ground)
1/4 cup whole milk (or buttermilk if you like it richer)
1 large egg
1/2 cup of cheese cubes or 1 per meatball
1 lb. of thin sliced bacon (cut in half)
Jeff's Rub
Jeff's Sauce
Toothpicks
Instructions
Mix all ingredients together in a large bowl until well blended.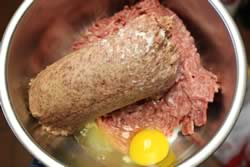 Form a golf ball sized meatball then flatten into a patty. Lay a cube of cheese in the center and reform the meat around the cheese into a ball again.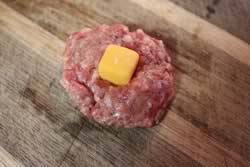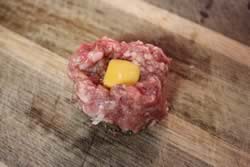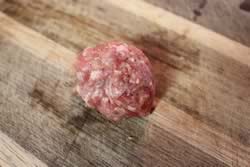 Lay the meatball onto a half strip of bacon and roll the meatball with the bacon strip around it. Push a toothpick through the end of the bacon and into the center of the meatball to hold everything in place.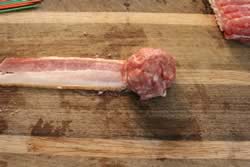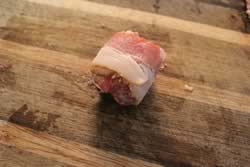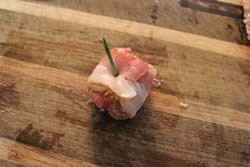 Place meatballs directly on smoker grate for 2.5 – 3 hours or until center of meatballs have reached 160 degrees F. I used hickory wood on these and let the smoke continue throughout the entire 3 hours.
Brush with my barbecue sauce about 30 minutes before they are finished for an added layer of flavor that will make you smile. This also makes them look amazing and adds a nice sheen.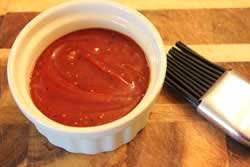 Note: If you want the bacon to be a lot crispier, you can remove them about 30 minutes early and put them under the broiler in your kitchen oven for 3-5 minutes but watch them carefully so they don't burn.
Summary
Mix ingredients to make meat mixture
Form into golfball sized meatballs
Press flat, add cheese cube, reform into ball
Wrap in bacon and secure with toothpick
Smoke at 225 for 3 hours
Brush with my sauce during last 30 minutes
Bacon Wrapped Jalapeno Peppers

Commonly called ABT's (Atomic Buffalo Turds)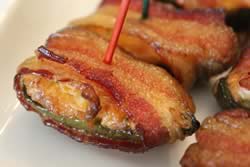 I don't know of a more excellent finger food than these smoked delicacies. Jalapeno peppers, stuffed with a delicious cream cheese filling and wrapped in bacon. You can get creative with the filling and mix in everything from pulled pork to shrimp pieces and everything in between and it's all good.. make plenty 'cause folks are gonna love 'em!
Ingredients
16-20 Jalapeno peppers (Makes 32-40 pieces)
8 oz. package of cream cheese (softened)
1 cup of shredded cheese (sharp cheddar is my favorite)
1/4 cup of chives (finely chopped)
1 lb. of thin sliced bacon (cut in half)
Jeff's Rub
Toothpicks
Instructions
Clean peppers then cut off stems and cut in half lengthwise. Clean and deseed the peppers.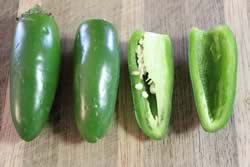 Mix cream cheese, shredded cheese and chives together until well blended then fill the hollowed out area of the pepper halves with the cream cheese mixture. Sprinkle a little of my rub onto the filling then wrap a half piece of bacon around the pepper lengthwise, end to end, and secure it with a toothpick.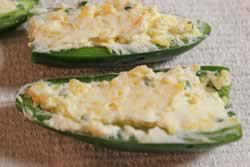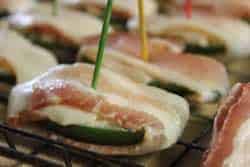 Smoke the peppers in boat-like fashion for 3 hours directly on the grate if possible for maximum smoke exposure. Remove and devour immediately or place them in a covered foil pan for taking them to a party. I recommend getting these done right before the party and then taking them straight there.. these are best right out of the smoker.
These can have a little bite to them so be sure to warn folks that don't like spicy foods to proceed with caution.
Summary
Remove stem, cut in half lengthwise, and deseed
Mix cream cheese, cheese, and chives to make filling
Fill peppers with filling then sprinkle on a little rub
Wrap with half-piece of bacon and secure with toothpick
Smoke at 225 for 3 hours
Bacon Wrapped Chicken Bites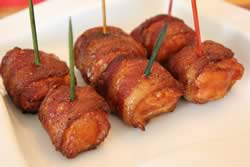 Super easy, super tasty and great for parties and events.. cut up some chicken breast or thigh meat into 1" x 1" cubes, wrap in bacon and smoke, it's that simple. Add my rub generously to the top just before placing them in the smoker for a perfect seasoning.
Ingredients
2 boneless, skinless chicken breasts or 4 boneless, skinless chicken thighs
1 lb. of thin sliced bacon
Jeff's Rub
Toothpicks
Instructions
Cut breast or thigh meat into cubes that are about 1" x 1" but they don't have to be perfect.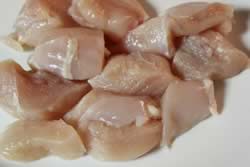 Lay a piece of the chicken on a half strip of bacon and roll the chicken and the bacon strip together. Secure the bacon with a toothpick.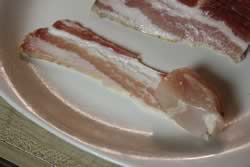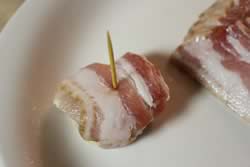 Sprinkle my rub on the top of the chicken bites to season them.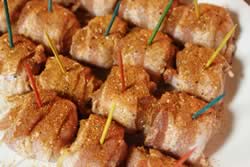 Lay the chicken bites directly on the smoker grate and smoke them for 2.5 – 3 hours at 225 degrees or until the chicken reaches 160 degrees F in the center.
Summary
Cut chicken into 1" x 1" cubes
Wrap chicken with half piece of bacon
Secure with toothpick
Sprinkle with Jeff's rub
Smoke at 225 for 3 hours or to 160 degrees F
Stuffed Baby Bellas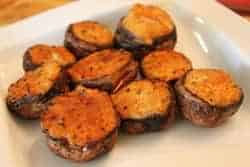 On a whim, I grabbed some baby portabellas a while back and used some extra cream cheese filling in them and then smoked them.. they were wonderful. Sometimes experimentation pans out and other times not so much. I highly recommend that you try these soon and I think you will agree that they belong at a party with people you like.. they are very good and did I mention that they are super easy to make?
Ingredients
1 lb. of baby portabella mushrooms
8 oz. package of cream cheese (softened)
1 cup shredded cheese
1/4 cup of chives (finely chopped)
Jeff's Rub
Instructions
Remove stems from mushrooms (I just grab them close to the gills and give it a little twist). Place the caps in water and let them soak for about 30 minutes to remove any grit, dirt, etc. then rinse several times to make sure they are clean.
Place the mushroom caps upside down (think upside down bowl) on a paper towel to drain while you are getting the other ingredients ready.
Mix cream cheese, shredded cheese and chives together until well blended. Spoon the mixture into the caps letting it mound up just a little. Sprinkle a little of my rub onto the top of the filling and they are ready for smoking.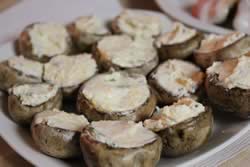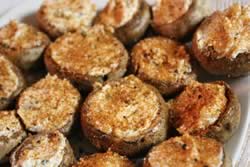 Lay the mushrooms directly on the smoker grate for best results. Smoke for about 1 hour at 225 degrees or until the top of the filling is a nice golden brown and the edges of the cap are starting to darken.
Summary
Remove stems from mushrooms
Soak caps in water for 30 minutes to clean
Rinse well under cold water
Mix cream cheese, cheese, and chives to make filling
Fill caps with filling
Sprinkle with Jeff's rub generously
Smoke at 225 for 1 hour or until top is golden brown
Smoked Shrimp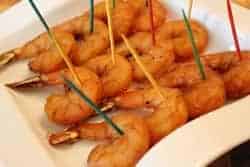 I wrote about these earlier this year and they went over extremely well. In fact, I'm still getting emails about it from folks who have tried it and were blown away. It just so happens that these also make a great party food and in my experience, you won't be having any left over to take home so if you want some for later, make a few extra and leave them at home;-) Extremely simple, marinate in my rub and smoke them for less than 20 minutes. Voila!
Ingredients
1 lb. of 26-30 jumbo shrimp (raw, peeled, tail on)
Jeff's Rub
Toothpicks
Instructions
Most likely the shrimp will be frozen when you get them so just place them in a colander and run cold water over them for a few minutes to thaw them out. If they are not peeled already, peel them but leave the tail on.
Place the shrimp in a ziploc bag and pour about 2-3 tablespoons of my rub over them. Close the bag and then massage the bag lightly to evenly coat the shrimp with the rub. Place the shrimp in the fridge for as little as 2 hours to let the flavor soak in or you can leave them overnight with great results as well. My rub is not heavy on salt so you will get a ton of great flavor without them being overly salty.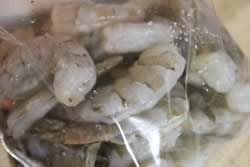 Place a toothpick into the top of the shrimp to make them easier to maneuver around and lay them directly on the grate or in a very shallow pan. I use the Bradley racks to make this really easy.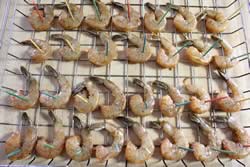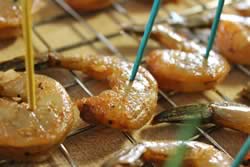 Smoke at 200 degrees for about 18-20 minutes or until the tails turn from brownish/grey to a pinkish color. Some shrimp do not have this color changing ability and you may just have to go by texture. You can smoke them hotter but they will get done in much less time. I recommend staying right by the smoker and keeping a very close eye on them to make sure they do not overcook.
These are excellent served hot or cold.
Do you like shrimp sauce?
For an amazing shrimp sauce, mix 2 tablespoons of horseradish to 1 cup of my barbecue sauce recipe. Use less or more horseradish depending on how "stout" you like it. This stuff is REALLY good!
Summary
Thaw shrimp under running water
Peel if required but leave tail on
Place shrimp in ziploc bag with Jeff's rub
Marinate for 2 hours or even overnight
Place a toothpick in each shrimp
Smoke at 200 for 18-20 minutes or until done
Folks.. I never stop amazing myself at how good my rib rub recipe and sauce recipe is on various kinds of meat.
Whether it is ribs, brisket, pork shoulder, turkey or even ham, chicken or chops, every time I use my rub and sauce I am blown away by the flavor all over AGAIN!
I always think to myself, "I sure hope everyone can try this.. it is too good to go through life never having experienced this!"
I am not being dramatic.. just try it and you will join the ranks of those who know if I'm lying then I'm dying! This stuff is Fan-flavor-tastic and you need it in a bad-bad way;-)
Here is a few recent testimonies from other folks who decided to go for it and are glad that they did. Be sure to send my your testimony once you try it and realize that you have just tasted of HEAVEN.
—————————————————
Jeff, your Rib Rub is to die for, I have used it on all meats including Venison and I have to say you have created a master piece, Thank you for letting us common folk in to your smokin life ~ Kevin
—————————————————
I would like to Thank You for the Rib Rub Recipe, I made this for my family and the results were unanimous, everyone said that the ribs were the BEST they ever tasted, and the meat was very tender and moist. I haven't tried the BBQ sauce recipe yet, but I will in the near future. ~ Jerome
—————————————————
I purchased the rub and sauce and I have to say that I love it and so has everyone that has tried it, just like you and others said they would. ~ Matt
—————————————————
Jeff I have to tell you that your rub and sauce recipes are the best. I had never smoked a rib or anything until last weekend and by fallowing your directions on your site I was the RIB KING for a day. Thanks a bunch pal, ~ Harold
—————————————————
Let me say that I've been using your Rib Rub for a couple years now. I use it on ribs (obviously), but I also use it on steak, ham, chicken, and everything else I smoke. My family and I absolutely LOVE it! It rocks! ~ Trapper
—————————————————
Jeff, I did a smoked pork roast yesterday and used your recipe both for the pork and for your Smoky Barbecue Sauce. Everyone loved it. My wife said the sauce was the best she had ever tasted and I have to agree. Fantastic. ~ Barry
—————————————————
You deserve the very best and is is completely within your grasp! Only $18.95 and worth every penny. Not only do you get the best rub recipe and sauce recipe available, you are supporting this website and helping to make sure the bills get paid so we can keep on doing what we do to teach thousands and thousands of people across the world the art of smoking meat.
Order Recipes | Read Testimonies
What Happens Once You Order?

My system is automated which means you should get a download email within mere MINUTES of ordering.. check your spam/junk folder first then, if you can't find them, contact me to get the recipes sent to you as an attachment. The download email will allow you to log in and save a copy of my recipe file to the hard drive of your computer. This recipe file is a PDF and contains my very own rub recipe and sauce recipe. Please let me know if you have other questions about these recipes.
Introducing Smoking Meat Forums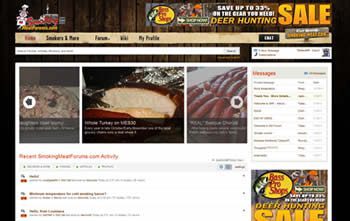 If you are not a member at Smoking Meat Forums then you are missing out on a great experience.
With 32,000 (update 1/2013: 45,000) members and more than 700,000 900,000 posts, questions are usually answered within minutes and is the single BEST way online to get an answer to your smoking meat questions.. all for free. We are also one of the few forums online where the newbies are allowed to feel as welcome as the seasoned members.
Topics range from how to build your own smoker at home from scratch, to making buck board bacon to what is the best electric smoker and this is only scratching the surface.
I am there every day helping to answer questions and making sure the user experience is top-notch. I look forward to seeing you there.
SmokingMeatForums.com.. a better way to do forums!
Click here to join for free
In Closing

Thank you for being a part of the smoking meat family which includes the newsletter, the forum, the smoking-meat.com website and many other resources that we try to provide to help you and countless others learn this great art.
A HUGE thank you to all of you who support the site by purchasing the recipes and other products that we sell. That is what keeps the wheels turning here at Smoking Meat HQ and it is much appreciated.
By the way, if you are shopping online this year, use our Amazon link. It doesn't cost you anything extra and we get a few cents from everything you purchase. I certainly appreciate it. CLICK HERE to shop at Amazon.com.
Until next time.. keep smoking and God Bless.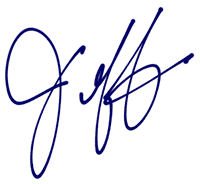 Jeff Phillips