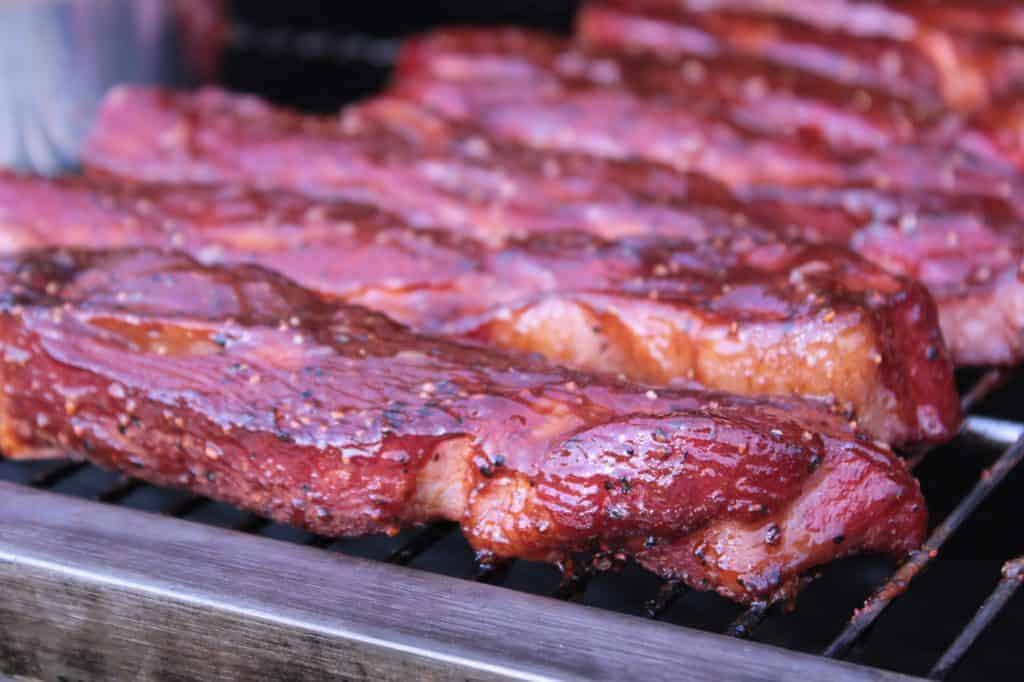 I have had a quite a few of you ask about smoked pork country style ribs over the last while so I decided to do a write-up on these lovely pieces of goodness brined with Cherry Dr. Pepper for good measure.
In my neck of the woods, the country style ribs are simply pork butt that has been sliced into pieces about 1 inch thick. I do know that this may not be the case where you live so you may want to find out how the ribs are cut and from what area they are cut before you decide to follow my directions.
Having said that, you might also be able to get your butcher to cut a pork butt into these ribs for you if you ask nicely;-)
I have done these on the grill quite often but smoking them is my all time favorite method for preparing these. I am going to show you my method for making these extremely tender and flavorful!
Try the Recipes for My Rub and Sauce..
Many of you have my very own rub recipe and sauce recipe and I highly recommend that you use them on these smoked pork country style ribs but if you don't have them, then do yourself a huge favor and get them today. They will add a massive amount of flavor to anything you cook and will boost your cooking to a level of success that is unmatched by anything else!
Smoked Pork Country Style Ribs Brined with Cherry Dr. Pepper
 Prep Time: 1 hour 10 minutes | Cook Time: 2.5 hours | Smoker Temp: 225-240 F | Meat Finish Temp: 180-200 | Recommended Wood: Cherry or Pecan
What You'll Need
About 5 lbs of pork country style ribs
2 liters of Cherry Dr. Pepper
1/2 cup of kosher salt
Brining container or large zip-top bag
Jeff's rub and sauce (purchase the recipes here)
How to Prepare
Make your brine using 2 liters of cherry Dr. Pepper and 1/2 cup of kosher salt.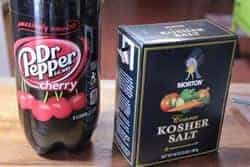 Stir the ingredients well until all of the salt is dissolved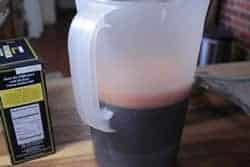 Rinse the country style ribs with cold water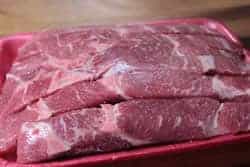 Place the pork country style ribs into a large 1-gallon zip top bag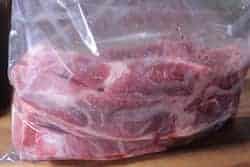 Pour the brine over the ribs into the zip top bag and zip closed.
Note: it is smart to place the bag down into a bowl to catch any accidental leaks.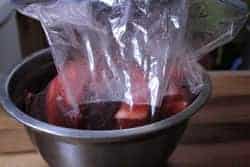 Brine the meat in the fridge for about 2 hours or up to 8 hours if you want to do them overnight.
Once the brining process is finished, rinse the meat well using cold water and lay them out so they can be seasoned with my rub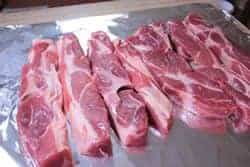 Normally, I like to use yellow mustard, oil, or some other sticky substance on the meat to help the rub to stick but just to show you that you don't have to do that if you have a little extra time, I am adding the rub directly to the meat without anything else.
Apply my rub generously to the top side of the meat and wait for them to get a "wet" look before you flip them over to do the other side.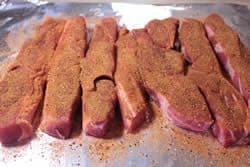 After about 10 minutes or so, I flipped the ribs over and applied my rub generously to the other side.
In about another 10 minutes or so, we had the "wet" look that we were waiting for and they were ready to smoke.
Does that look good or what!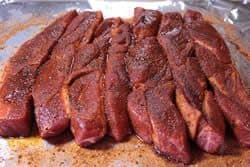 While the rub is sitting on the ribs is a great time to go get the smoker ready. I wanted to use my Meadow Creek stick burner for these so I already had it going.
Once the smoker is holding about 225-240 degrees F, place the meat directly on the grates making sure to leave just a little room between them to allow the smoke to get in there and do it's thing.
In about 2.5 hours to 3 hours the meat will be steak tender and about 180 degrees in the center (you cut it with a knife and eat it like a good steak).
Feel free to paint on some of my sauce when they are about 30 minutes from being finished.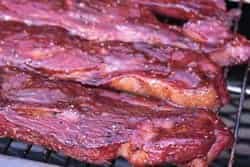 Want it Super Tender?
If you like it to be really, really tender (I recommend it), here is what you do. Once the meat reaches about 180 degrees, place the meat in a foil pan and cover with foil. Place the meat back into the smoker at about 240 degrees for 1 to 1.5 hours. I recommend checking it after 1 hour and then if you want it more tender, you can go another 30 minutes or so.
I did my latest ones this way and they were extremely tender and the family loved them!
We had this batch with eggs the next morning and you ain't never tasted a breakfast that good!
Summary
Brine meat for 2-8 hours depending on how much time you have.
Rinse well under cold water.
Add rub generously to all sides of ribs.
Smoke ribs at 240 degrees for 2.5 to 3 hours or until they reach about 180 degrees in the center.
To further tenderize, place in a covered foil pan and continue to cook at 240 degrees for an additional 1 to 1.5 hours.
Sauce them about 30 minutes before they are finished if you like.
Serve and enjoy!
My Recipes
Order Recipes | Read Customer Reviews
Folks.. you just have to try my recipes for rub and barbecue sauce. As so many people have told me, it can actually make a huge difference in the success of your outdoor cooking for family and friends. I even have folks who do not use or own a smoker who use the recipes in the kitchen on things like fried chicken, oven ribs (yep, different strokes for different folks), and even things like fried potatoes.. it really is that good and that versatile.
You have to try it to truly experience the "WOW"!
Whether it is ribs, brisket, pork shoulder or even something simple like chicken or chops, every time I use my rub and sauce I am blown away by the flavor all over AGAIN!
I always think to myself, "I sure hope everyone can try this.. it is too good to go through life never having experienced this!"
I am not being dramatic.. just try it and you will join the ranks of those who know if I'm lying then I'm dying! This stuff is Fan-flavor-tastic and you need it in a bad-bad way;-)
Here is a few testimonies from other folks who decided to go for it and are glad that they did. Be sure to send my your testimony once you try it and realize that you have just tasted of HEAVEN.
—————————————————
Jeff, I did a smoked pork roast yesterday and used your recipe both for the pork and for your Smoky Barbecue Sauce.  Everyone loved it.  My wife said the sauce was the best she had ever tasted and I have to agree.  Fantastic. ~ Barry
—————————————————
Hello Jeff I recently purchased your recipe for rub-n-sauce and just wanted to let you know that its off the chart. well worth the cost. I am cooking for about 50 family and friends at lake Texoma this weekend and cant wait to see everybody's reaction ~ Jack 
—————————————————
Jeff, You truly are the man. Bought your rib rub and your sakes alive sauce and love them both. Keep up the good work helping people like me learn to cook good BBQ with smoke. ~ Matt 
—————————————————
Jeff, I was smoking a Boston butt Saturday night for dinner Sunday and decided to try your bbq sauce. I have to say this is hands down the best sauce I've ever had and I've tried a lot of them. Its very easy to make, inexpensive and taste excellent. I will be using this recipe for a long time. ~ Doug 
—————————————————
Jeff,
Your Rib Rub is to die for, I have used it on all meats including Venison and I have to say you have created a master piece, Thank you for letting us common folk into your smokin life.~ Kevin
—————————————————
You deserve the very best and is is completely within your grasp! Only $18.95 and worth every penny. Not only do you get the best rub recipe and sauce recipe available, you are supporting this website and helping to make sure the bills get paid so we can keep on doing what we do to teach thousands and thousands of people across the world the art of smoking meat.
Order Recipes | Read Customer Reviews
Amazon.com Orders
If you enjoy the newsletter and would like to do something helpful, you can do so without sending me a dime.
The next time you decide to order something at Amazon.com, use THIS LINK to get there and we'll get a small commission off of what you purchase.
Thank you in advance for using our special link: http://www.smoking-meat.com/amazon