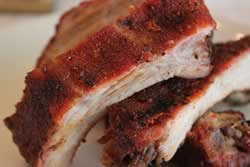 Hello and welcome to this edition of the smoking meat newsletter where I have some exciting meat smoking information lined up for you.. specifically baby back ribs also called loin back ribs. One of the most frequent questions that I get in my email inbox is how to achieve "fall off the bone" tender ribs and while many of our competition friends and judges frown on ribs that are that tender, this is what most barbecue enthusiasts are looking for.. and I'm here to show you how to make that happen using what we call 2-2-1 ribs using baby backs. The spare rib equivalent is called 3-2-1 ribs.
The trick is to get them extremely tender without drying them out and there is a method that we use to make that happen. I will show you how in this issue complete with plenty of pictures to show you how it's done.
As if that's not enough, I have recently become the owner of an XL Big Green Egg ceramic cooker. I do not have other ceramic cookers to compare it with so I cannot say that this brand is better or worse than others but I do know that this company has been around for awhile and they seem to have a good handle on how to make these things work very well.
I am going to show you how to get "fall off the bone" tender ribs on the ceramic cooker but you can also use these same instructions in all other smokers as well including gas, electric, charcoal and wood smokers using the same temperatures and times.
I highly recommend that you play around with the times in each of the cooking steps below and take careful notes to develop the tenderness and crustiness that is perfect for your family's taste.
My Rub Recipe on Ribs.. You Have to Try It!!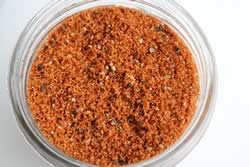 You can't argue with perfection and thousands of testimonies from happy customers.. my rub recipe and sauce recipe are way beyond what you can find online or even buy in a store in terms of flavor, versatility, and making your friends and family rave over your smoked food.
One of the things that makes a huge difference in cooking outdoors is the seasoning! Of course you want it to be juicy and tender and I will help you with that but don't stop there.. let me help you with the flavor as well by ordering my rub recipe and sauce recipe. You will absolutely be astounded at what it does for the flavor of these ribs and almost any meat or I will buy it back.. it's that simple.
Just as an FYI, I have quite a number of people using these recipes in competition barbecue and winning major trophies.. that makes me very proud;-)
These recipes are amazing on brisket, ribs, chicken, pork, burgers and even fish and seafood.. the flavor that I have been able to incorporate into this rub and sauce will blow your socks off!
More than just having a set of recipes that will take your cooking beyond what you could have ever imagined, I sell these recipes to support the website and while I don't charge for the newsletter or the forum or anything else that I do for the smoking meat community, this does give you an opportunity to give back in a small way.
If you have not done so already, order the recipes today and you'll not only help yourself, you'll play a major part in paying it forward.
2-2-1 Ribs – "Fall Off the Bone" Tender Baby Backs



What You'll Need

How to Prepare

Ribs are extremely easy to prepare making them a great "spur of the moment" thing to cook on the smoker if the mood strikes you.
If you're the kind of person who plans ahead, you can also do the prep ahead of time, wrap in saran wrap and place in the fridge overnight for cooking the next day.
The first step is to remove them from the packaging and place them bone side up on the cutting board or in a pan as I did.
Remove the membrane which is a thick plastic-like skin over the boney part of the ribs. removing this allows the smoke to penetrate the meat better.
Pry up on the membrane using a knife or other sharp utensil. Then grab the membrane with a paper towel and pull it clean off.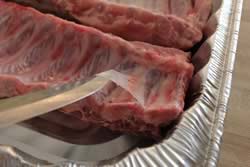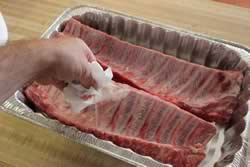 Now the ribs are ready to season up using my rub.
Simply make up a batch of my "Jeff's naked rib rub" or if you're like me, I always have some made up in an air-tight bowl in the freezer. Then I apply a light coating of yellow hotdog mustard on the boney side of the ribs to help the rub to stick real good. This time I chose to use French's spicy mustard instead of the regular and it turned out very well.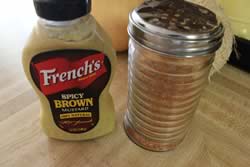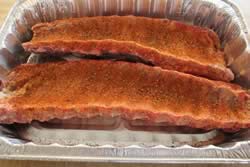 Once the boney or bottom side of the ribs are coated with mustard and rub, I flip them over and do the same with the top side.. light coat of mustard then sprinkle on the rub. Not too thick but enough to cover the ribs real good.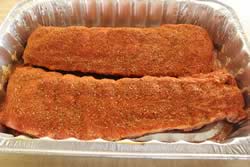 Note: I don't use quite as much of the rub on the boney side as I do on the meaty side but then that's up to you. My rub recipes calls for very little salt and allows you to add as much as you like for flavor without fear of being overly salty.
Once the ribs are coated on both sides with rub and mustard, I leave them there to go get the smoker ready.
Preparing the Big Green Egg or Ceramic Cooker for Smoking

Make sure you have plenty of lump charcoal in the fire bowl. I like to have it up to the top of the bowl which is an inch or two above the air holes.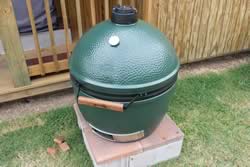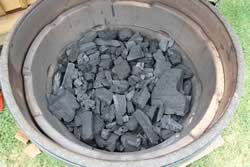 Make a slight impression in the center and place a fire starter. I don't use the Big Green Egg brand but you can use whatever you like. I buy an off-brand at my local department store and they work great. They're basically wax and sawdust and they light quickly and get the coals going within just a couple of minutes. Be sure to use the kind that are designed for barbecue.. some are not and say so on the warning label.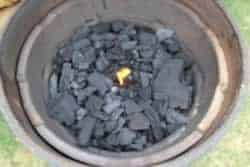 Note: You can also use an electric fire starter which is just a heating element that you bury into the coals and plug it in. It gets red hot and starts the coals within just a few minutes.
Once the fire starter is burning, pile a few larger pieces of charcoal on top of the flames making sure it can get a little air.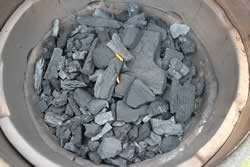 Most folks recommend placing soaked wood chips in a spiral pattern on top of the coals but that's just not enough smoke for me. I purchased a chip box for this purpose which I place just off center a little and it provides much better smoke in my opinion. I leave the chips dry instead of soaking them. This is a mix of pear, cherry and sugar maple.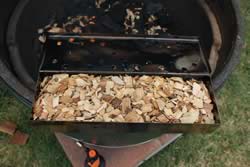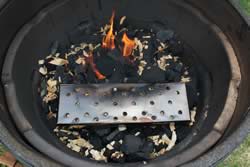 Place the plate setter in place with the legs facing up then place the food grate on top of that.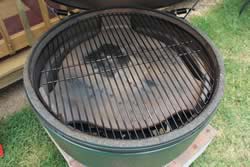 Tip: If you are worried about the drippings on your plate setter, you can place a drip pan on it or some foil which can be easily thrown away when you're finished cooking.
After the coals have been burning for about 7 minutes, close the lid on the ceramic cooker and leave the bottom and top vents all the way open until the smoker reaches about 230 degrees.
While the smoker is heating up, go ahead and get the ribs and place them on the grate bone side down.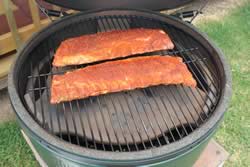 How to Smoke the Ribs Using the 2-2-1 Method

Once the smoker reaches 230 degrees, adjust the vent at the bottom and the top to hold this temperature. For me, that means the daisy wheel at the top is only slightly cracked open at about 20% open and the bottom vent is open about 3/4 of an inch or so as shown in the picture.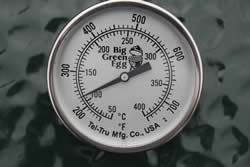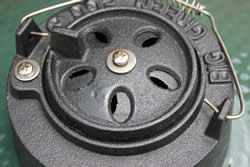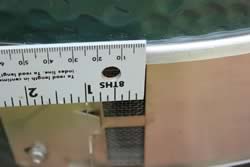 This is where the 2-2-1 method of making the ribs tender really starts. Start a timer or just make note of the time because the ribs will only stay in this current configuration for 2 hours.
Once 2 hours are up, the ribs should be wrapped in heavy duty foil or an easier method is to place them in a large foil pan with foil covering the top tightly. Some folks put apple juice down in the pan to create more steam and flavor but I have found lately that I much prefer to leave the pan or foil dry and let the natural juices do the job. It is this steaming action that super tenderizes the ribs.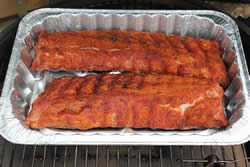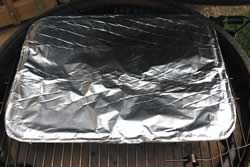 This is the 2nd step in the 2-2-1 method and lasts 2 hours just like the first step.
After 2 hours have expired with the ribs in foil or in the covered pan, remove them from the pan or foil and place them once again directly on the grates for 1 hour.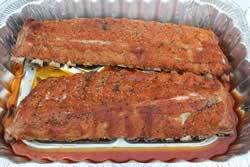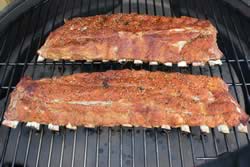 It's hard to see in the pictures but you will notice when they come out of the foil or pan that they look wet and there is no crust to speak of. The last hour on the grates, dries the top a little and develops the crust on the outside that is usually desired.
This is the last step and when the hour is up, the ribs are ready to slice and eat.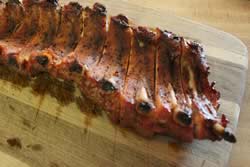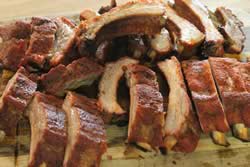 My rub together with the smoke produces some of the best looking ribs most folks have ever seen!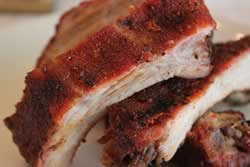 A Few Words on The 2-2-1 Method

I recommend doing them exactly as I have done them above the first time you do them but if you find that they are too tender or more done than you desire, you can adjust the time in the pan or foil to compensate for this.
The initial 2 hour step is where the smoke flavor gets into the meat, the middle 2 hour step is where the super tenderizing takes place. The last 1 hour step is where the crust develops on the outside.
Reducing this middle step by about 30 minutes will do a lot of good if you find that you want them a little less tender. Also feel free to increase the last step to help the crust to develop better.
Wanna Do Spare Ribs Instead?

That's easy, just add an extra hour to the first step, making them 3-2-1. Once again, feel free to adjust the middle and last step if you want less tenderness or more crust.
Dome Temperature Vs. Grate Temperature on the Big Green Egg

Usually, in most smokers, there is a difference between what the temperature reads in the lid and what it reads at food or grate level so just out of curiosity, I've been watching it. Surprisingly enough, the two temperatures are very, very close to the tune of +- 5 degrees once the temperatures settles out.
As you can see in my picture below, the digital was reading 241 and the dome lid thermometer was at about 243.. very close. I have been noticing this on mine and I have to say that I did not expect this. Both thermometers have been calibrated and are accurate.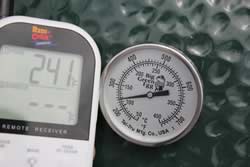 Summary

Remove ribs from packaging and lay bone side up
Remove membrane
Light coat of mustard then Jeff's rub on both sides
Get smoker ready to cook at 230 degrees
Place ribs directly on grate boney side down for 2 hours
Wrap ribs in foil or place them in foil pan and cook for 2 hours
Remove ribs from foil and place bone side down on grate for 1 hour
Slice and serve
Notes/Tips

These can be done in exactly the same way on ANY smoker and even the grill if you like. Maintain 230 degrees or so over indirect heat and follow the 3 steps.
If you want to decrease the tenderness, reduce the time in the pan or foil.
Spare ribs are done in exactly the same way by adding 1 hour to the initial step making them 3-2-1 ribs.
If you like sticky ribs as many folks do, brush my sauce onto the ribs a couple of times during the last hour depending on how "wet" you want them.
Folks.. I never stop amazing myself at how good my rib rub recipe and sauce recipe is on various kinds of meat and using it on these baby back ribs is nothing short of heavenly!
Whether it is fish, ribs, brisket, pork shoulder, turkey or even ham, chicken or chops, every time I use my rub and sauce I am blown away by the flavor all over AGAIN!
I always think to myself, "I sure hope everyone can try this.. it is too good to go through life never having experienced this!"
I am not being dramatic.. just try it and you will join the ranks of those who know if I'm lying then I'm dying! This stuff is Fan-flavor-tastic and you need it in a bad-bad way;-)
Here is a few recent testimonies from other folks who decided to go for it and are glad that they did. Be sure to send my your testimony once you try it and realize that you have just tasted of HEAVEN.
—————————————————
Did a Ham and using your rub it was as my wife and friends said the best tasting ham they have ever had. We are into our late years so that's saying a lot .Thanks for sharing ~ Jack
—————————————————
Wow! wow! wow! The best rub and sauce I have ever had. Also did the turkey for thanksgiving and it was the best turkey I ever had. I usually only eat dark meat and this turkey was so good I ate only white meat ~ Andy
—————————————————
I purchased the rub and sauce and I have to say that I love it and so has everyone that has tried it, just like you and others said they would. ~ Matt
—————————————————
Jeff I have to tell you that your rub and sauce recipes are the best. I had never smoked a rib or anything until last weekend and by fallowing your directions on your site I was the RIB KING for a day. Thanks a bunch pal, ~ Harold
—————————————————
Let me say that I've been using your Rib Rub for a couple years now. I use it on ribs (obviously), but I also use it on steak, ham, chicken, and everything else I smoke. My family and I absolutely LOVE it! It rocks! ~ Trapper
—————————————————
Jeff, I did a smoked pork roast yesterday and used your recipe both for the pork and for your Smoky Barbecue Sauce. Everyone loved it. My wife said the sauce was the best she had ever tasted and I have to agree. Fantastic. ~ Barry
—————————————————
I have hundreds of these testimonies from folks just like you who were skeptical at first then decided to go for it.. now they are so glad they did!
You deserve the very best and is is completely within your grasp! Only $18.95 and worth every penny. Not only do you get the best rub recipe and sauce recipe available, you are supporting this website and helping to make sure the bills get paid so we can keep on doing what we do to teach thousands and thousands of people across the world the art of smoking meat.
What to Expect Once you Order

My system is automated which means you should get a download email within mere MINUTES of ordering.. check your spam/junk folder first then, if you can't find them, contact me to get the recipes sent to you as an attachment. The download email will allow you to log in and save a copy of my recipe file to the hard drive of your computer. This recipe file is a PDF and contains my very own rub recipe and sauce recipe. Please let me know if you have other questions about these recipes.
My Brand New Book is Now Available Everywhere!!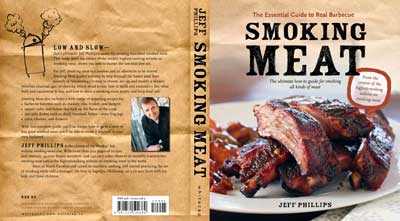 My book entitled, "Smoking Meat: The Essential Guide to Real Barbecue" is now available and thanks to all of you, it made it into the top 100 list on Amazon for several days.
Amazon now has plenty of books and is shipping same day on most orders. Amazon Prime members can receive the book in 2 days at no extra cost or next day for a small fee.
The book can be ordered on almost any book store online including Amazon.com, Barnes & Noble and Books-a-Million.
I highly recommend that you get your order in today to ensure that you get your book quickly.
Digital Versions of the Book

Brick and Mortar Stores

Some stores are carrying stock of the book and some are not. If you happen to see it in a local book store, please drop me an email and let me know so I can compile a list.
I have it on good authority that Costco will be carrying the book in some of their stores. If you happen to see it, please take a moment to let me know where you saw it by posting on Facebook or by sending me an email at [email protected]
The Costco in Frisco, TX near Dallas is supposed to be carrying my book for sure and here is the contact information for that store:
11220 Dallas Parkway
Frisco TX 75033
(469) 200-7107
These are excellent gifts for every occasion and a "must-have" addition to any cooking library.
Here's a few recent testimonies:
*********************************************************************
I received your book today!! Haven't been able to put it down. ~ Becky
*********************************************************************
Jeff when I got the email from you I ordered the book from Amazon and 2 days later it was in my hands. All I can say is AWESOME book. ~ Willie
*********************************************************************
Just got my copy of Smoking Meat, purchased from Amazon. I can't seem to put it down. Good Job!! ~ Charles
*********************************************************************
I got your new book last week….it is a beaut. Congratulations and good luck with sales. I am recommending it to all my BBQ buds. ~ Ted
*********************************************************************
Note 1: My (2) recipes that I sell in the newsletter to support the site are not included in the book. I have had several of you ask about this and I thought it might be prudent to make a note on here about that.
In Closing

I so appreciate all of you for being a part of the smoking meat family which includes the newsletter, the forum, the smoking-meat.com website and many other resources that we try to provide to help you and countless others learn this great art.
A HUGE thank you to all of you who support the site by purchasing the recipes and other products that we sell. That is what keeps the wheels turning here at Smoking Meat HQ and it is much appreciated.
By the way, if you shop online, use our Amazon link. It doesn't cost you anything extra and we get a few cents from everything you purchase. I certainly appreciate it. CLICK HERE to shop at Amazon.com.
Until next time.. keep smoking and God Bless.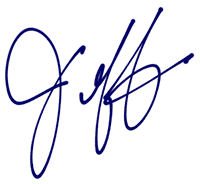 Jeff Phillips