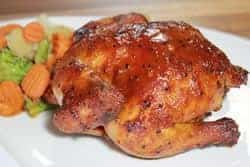 For as long as I can remember, I have been a huge fan of smoked cornish game hens, some folks call them rock hens. At any rate, these are single serving, tender, delicious chickens and there is no end to what you can do with them in terms of making a meal. This week I am going to show you how to make smoked cornish hens with a twist inspired by my intense love for hot wings.
I have featured these before in a newsletter back in 2010 but this week I want to go a different direction and show you how to make these into "hot chickens" as opposed to hot wings. I used my barbecue sauce to make a special "wing sauce" and I am not only basting these but I injected them with the stuff. I also used a light application of the wing sauce on the chicks to help the rub to stick.
It was a family favorite at my house and I am confident that you'll get an equally appropriate reception when you try these for your family and friends.
You will need the recipes for my rub and sauce to create this recipe as it is intended. Be sure to order them right away and if you don't get them in your email within minutes, be sure to let me know so I can get them to you pronto!
The Recipes for My Rub and Sauce.. Free Gift when you order;-)

The recipes for my rub and sauce have become a legend and many of you use them religiously. The hundreds of emails, testimonies and kind words let me know that you love the flavor, how easy they are to mix up and the cost savings from not having to buy pre-made stuff.
Forget the over-salted, half-flavored stuff from the store and start making your own today using my very own recipes. Easy to make using ingredients that you most likely already have in your pantry and you will not believe how it transforms into something so good.
Special: Order the recipes for my rub and my sauce and, for a limited time, you get to download the complete 28-page, 5-chapter eCourse in PDF format absolutely FREE.
If you have benefited at all from this newsletter or the website, then order today to support what we do here and you'll find yourself using the recipes on almost everything!
Did You Miss the Previous Newsletter?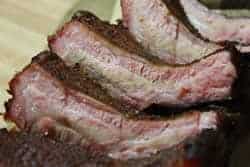 Everything you need to know and more about smoking pork ribs and learning how to master the process. This newsletter covers many tips and tricks to turning out perfect pork ribs every time including the 3-2-1 method and the 2-2-1 method.
Smoked Cornish Hens (Hot Wing Style)

You have several options when deciding to make these, you can brine them, then just baste the hot wing sauce on the outside or you can inject the hot wing sauce into the meat then baste the outside as it smokes. It all comes down to just how crazy you want to get with it and how crazy you are about hot wings.
What You'll Need
4-6 Cornish hens (about 1 lb each)
Jeff's Barbecue Hot Wing Sauce (recipe below)
1 batch of Jeff's Rub recipe (purchase recipe here)
Large foil pan (optional)
Preliminary Preparations for the Cornish Hens
These are usually frozen if you buy them in the grocery store so you'll need to get them a day or so ahead of when you need them to give them ample time for thawing in the fridge.
Remove the plastic from the outside and rinse them well under cold water.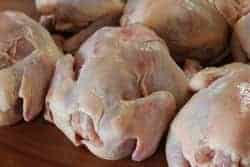 Brining the Birds (optional)
There is no rule that says you have to brine poultry but I highly recommend it since it tends to make it end up a lot more juicy. It is also a great way to get some added flavor into the meat.
Basic Brine Recipe
1 Gallon of water
1 cup of kosher salt
3/4 cup of brown sugar (white sugar will work but brown sugar seems to work better)
To this basic brine recipe you can add other things such as beer, wine, fruit juice, hot sauce, Dr. Pepper, etc. and whatever you add to the brine mixture will end up inside the meat by some miracle of science that I don't understand well enough to explain.
Since we are making these hot wing style, you could even replace about 2 cups of the water with barbecue hot wing sauce (recipe below) into the brine. An alternative to this would be to brine them as usual then inject the wing sauce into them using a flavor injector found at most stores that sell cooking utensils and supplies.
Mix the brine well then place the cornish hens into a plastic container (I use large ziploc bags) and pour the brine over them to cover. Seal or cover the container and place in the fridge for 2-3 hours.
Tip: if you use ziploc bags, once they are sealed, set the bag down into a large pot then place the entire pot into the fridge to prevent a mess in case of leakage. (a lesson I learned the hard way!)
Injecting the Cornish Hens
Regardless of whether you brine the birds or not, I can't begin to tell you how good it is to get some of the wing sauce down into the meat. It is amazing and here's the recipe for the barbecue hot wing sauce:
Barbecue Hot Wing Sauce
1/2 cup Jeff's Barbecue Sauce (minus the minced garlic and use fine ground black pepper instead of coarse ground at 1/2 the amount called for in the recipe) These changes are to keep the injector from getting plugged up.
1/2 cup Louisiana Wing Sauce (made by Bruce Foods and found in any grocery store)
1/4 lb butter (1 stick), melted
Mix the ingredients well and keep warm to make it easier to inject.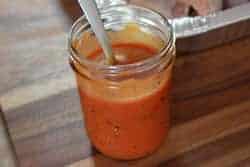 Using a flavor injector, inject about 1 ounce of sauce into each leg, and about 2 ounces into each breast. Add more anywhere you like and don't worry about the sauce that runs out, it just makes it better.
Insert the injector at a 45 degree angle and direct the sauce into the meat in multiple locations by simply moving the needle around inside the meat instead of pulling the needle out each time and making a new spot. This process is best learned by watching.. do a search on YouTube.com for videos of this process to see exactly how it is done.
Should you Brine or Inject?
Two different processes but one does not neccessarily negate the other. In this recipe, it is perfectly fine to brine the birds for juiciness, then inject to get the barbecue hot wing sauce into the meat for extra flavor. Both steps are completely optional and you can do one or the other or both at your own will.
Final Preparations for the Cornish Hens
Once the hens are brined, injected, etc. (if you chose to do that) you will want to add some rub to the outside. I like to add something to help the rub to stick and since we have the barbecued wing sauce, why not use that?!
Apply a light coating of the sauce.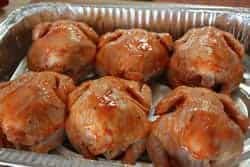 Sprinkle the rub onto the top, bottom and sides of the hens trying to get it up under the skin anywhere possible. My rub is not overly salty so feel free to be generous with it.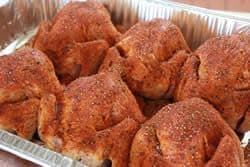 Once the cornish hens are seasoned with my rub, it is time to get the smoker ready if you have not already done this.
Note: depending on what smoker you are using and how long it takes to get it ready, you may want to get it ready ahead of time or place the hens in the fridge while you do so to prevent them from sitting out for too long. Anything more than about 20 minutes is too long in my opinion.
Get the Smoker Ready
We are going to be looking for about 225 degrees when smoking this birds. They get done fast and by keeping it low and slow, this gives us more time in the smoke and more smoke flavor.
Information on Popular Smokers
Here's some information that I have written on various smokers. I hope to include more very soon.
Note: In colder weather, it is advisable to preheat the smoker at least an hour or more before you are wanting to use it. Keep the door closed as much as possible and even skip basting if necessary to maintain proper smoking temperatures.
Preheat the smoker at 225 degrees F, fill the water pan if your smoker uses one and once it is holding steady, it is time to place the cornish hens in the smoker.
Smoking the Cornish Hens
Place the hens directly on the grate breast side down.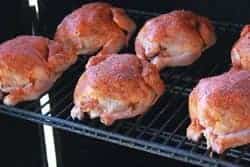 Smoke them for about 2 hours or until they reach 165 degrees in the thickest part of the breast meat.
Once they have been smoking for about 1 hour, baste them with the barbecue hot wing sauce using a brush but be careful to not brush too much or too hard as you do not want to mess up the flavorful rub layer that we put on at the beginning. Wait about 20 minutes and brush on some more if you want them really saucy. Otherwise, once is probably enough.
When they are finished smoking and have reached 165 degrees, place them in a foil pan covered with foil and let them rest for about 10 minutes before serving. This allows the juices to redistribute throughout the meat.
Serve with warm sauce on the side for dipping.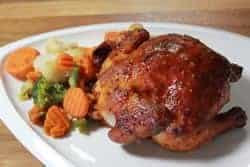 The Recipes for my Rub and Sauce – Order Today!

The really wonderful thing about my rub is that it's good on nearly everything. It not only flavors the meat really well but it also helps to bring out the natural flavors of the meat. In this recipe, like so many others, the rub and the sauce work together to create a complimentary masterpiece that is simply amazing.
I'm so thankful that I can call these recipes my own creations. I am also happy that I am able to share them with you folks in a way that benefits the website and the newsletter.
You really have to try them to truly experience the "WOW"! and if you've been teetering on the fence about it, then go ahead and try it out!
I am not being dramatic.. just try it and you will join the ranks of those who know if I'm lying then I'm dying! This stuff is amazing and you need it in a bad way;-)
Here are a few testimonies from other folks who decided to go for it and are glad that they did. Be sure to send me your testimony once you try it and realize that you have just tasted of HEAVEN.
—————————————————
Jeff, I did a smoked pork roast yesterday and used your recipe both for the pork and for your Smoky Barbecue Sauce. Everyone loved it. My wife said the sauce was the best she had ever tasted and I have to agree. Fantastic. ~ Barry
—————————————————
Hello Jeff I recently purchased your recipe for rub-n-sauce and just wanted to let you know that its off the chart. well worth the cost. I am cooking for about 50 family and friends at lake Texoma this weekend and cant wait to see everybody's reaction ~ Jack
—————————————————
Jeff, You truly are the man. Bought your rib rub and your sakes alive sauce and love them both. Keep up the good work helping people like me learn to cook good BBQ with smoke. ~ Matt
—————————————————
Jeff, I was smoking a Boston butt Saturday night for dinner Sunday and decided to try your bbq sauce. I have to say this is hands down the best sauce I've ever had and I've tried a lot of them. Its very easy to make, inexpensive and taste excellent. I will be using this recipe for a long time. ~ Doug
—————————————————
Jeff, Your Rib Rub is to die for, I have used it on all meats including Venison and I have to say you have created a master piece, Thank you for letting us common folk into your smokin life.~ Kevin
—————————————————
You deserve the very best and it is completely within your grasp! Only $18.95 and worth every penny. Not only do you get the best rub and sauce recipe available, you are supporting this website and helping to make sure the bills get paid so we can keep on doing what we do to teach thousands and thousands of people across the world the art of smoking meat.
Order Recipes | Read Testimonies
What to Expect Once you Order the Recipes

Here's how it works:
You order the recipes
My automated system sends you a download link in an email with a password
You click on the link and use the password to download the recipes and the free gifts to your computer
If you DON'T get the email with the link within 10 minutes:
Check your spam/junk folder (sometimes they get caught there)
If you can't find it, email me and let me know you didn't get it
I will send the recipes and login info to you as an attachment in an email
You let me know you got it, we are both happy campers!
How to Smoke Quail

As promised, I have written a tutorial on how to smoke quail for this edition of the smoking meat newsletter. I have placed it in a separate page at
http://www.smoking-meat.com/smoked-quail-recipe
for your convenience. For those of you who live in the Tulsa area, you can find quail almost anytime in the freezer section of Reasors Food Store.
Free Smoking Meat Newsletter