For the past several weeks we've been talking about smoking turkey and getting ready for the big day. In this newsletter, we'll finish up the 2013 Thanksgiving series with a few more tips and instructions for smoking the turkey and I'll show you how to double smoke a ham.
I'll also show you how to inject the ham with a rum or maple sauce before you smoke it to make it extra tasty.
I wish all of you a very happy Thanksgiving!
Important Information
Prep Time: 20 minutes
Cook Time: 3 hours
Smoker Temp: 230 degrees F
Meat Finish Temp: 140 F
Recommended Wood: Hickory, Pecan, Cherry
What You'll Need
Bone-in Ham (heat and eat)
Jeff's rub (purchase recipe here)
Rum sauce (or maple sauce) – recipes below
Get the Recipes for Jeff's Rub and Sauce
---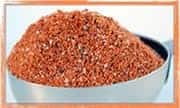 You don't want to miss out on using my rub on the ham this year..it's just too good for words! Take care of that today so you'll be ready to season up the turkey and the ham for Thanksgiving.
I promise you'll love my dry rub/seasoning recipe and my barbecue sauce recipe or you don't pay!
Reasons to buy: Support the newsletter and the website | Own "the recipes" | Get the email newsletter 100% AD FREE from now on | Includes the Texas style rub recipe

Injecting the Ham
First you'll need to mix up the rum sauce (or maple sauce if you prefer).
Tip: You might want to double the recipe so you'll have enough to brush or drizzle onto the finished ham slices once it's all done.
Rum Sauce for Injecting into Ham
You'll need:
1/3 cup of rum
1/3 cup of brown sugar (dark or light)
1/4 lb (1 stick) of butter
Pour the rum into a small sauce pan over low heat. Add the butter and let it melt while you stir it around. Add in the brown sugar and let it dissolve while you continue to stir. Once everything is melted and dissolved and warm, remove from the heat.
Do not let the sauce boil or you will end up making candy.
---
Maple Sauce for Injecting into Ham
Very similar to the rum sauce except you leave out the rum and only use 2 TBS of brown sugar:
1/3 cup of Maple syrup (grade A dark amber)
2 TBS brown sugar
1/4 lb (1 stick) butter
Pour the maple syrup into a small sauce pan over low heat. Add the butter and let it melt while you stir it around. Add in the brown sugar and let it dissolve while you continue to stir. Once everything is melted and dissolved and warm, remove from the heat.
Do not let the sauce boil or you will end up making candy.
Injecting the Sauce into the Ham
Once the rum sauce is finished, it is ready to inject into the ham.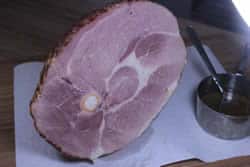 Warning: I highly recommend wrapping the ham in plastic wrap. When you inject it, some of the sauce will squirt out of unsuspected places in a geyser-like fashion and up to 5 feet away!
With the ham wrapped in plastic, fill the injector with the warm sauce and inject as much as you can at 1 inch intervals. Some of it will leak out but much of it stays in there and flavors the inside of the ham.
For those who are not familiar with injecting, push the needle into the meat at a 45 degree angle and slowly pull it out of the meat as you depress the plunger.
When the injecting is finished, remove the plastic.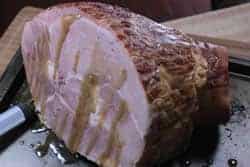 Seasoning the Ham
Now that you have flavored up the inside of the ham, you will also want to do something to the outside as well.
I recommend using my rub (if you have the recipe) or you can purchase it HERE.
Brush a little of the rum or maple sauce onto the ham to make it nice and sticky then sprinkle the rub all over the meat.
You will notice that I placed the injected ham on a Bradley rack to make it easy to transport to and from the smoker.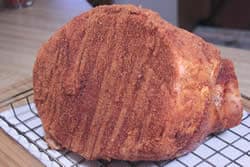 At the point, the ham is ready for the smoker.
Getting the Smoker Ready
You can use whatever smoker you have or even a grill with an indirect setup.
Preheat to about 230 degrees F and when it's holding steady, place the ham directly on the grate.
Smoking the Ham
Apple heat and smoke for about 3 hours or until the internal temperature of the ham reaches 140 degrees.
If your smoker is having no trouble maintaining the set temperature, consider brushing on rum or maple sauce a couple of times while it smokes.
If your smoker loses heat easily then it is best to leave the door or lid closed as much as possible. In this case, it is fine to brush on some of the rum or maple sauce about 30 minutes before the ham is finished.
Serving the Ham
Let the ham rest for about 15-20 minutes then slice it up into 1/4 inch thick pieces piled onto a nice platter.
If you have extra sauce, consider brushing or drizzling some onto the pieces that are sliced.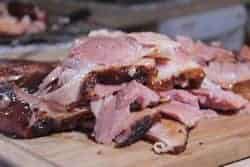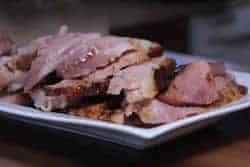 Note: If you use the rum sauce, I must tell you that not all of the alcohol cooks out of the sauce during the brief warming period and during the time in the smoker. Rum adds a lot of nice flavor but there is still alcohol present when it is being served.
The maple sauce is a very good alternative and contains no alcohol.
More Thanksgiving Smoking Questions Answered
Why should I cook two small birds instead of a large one?
Bacteria grows best between 40 -140 and is what we call the danger zone. In a larger turkey (more than 12 pounds), it takes a longer time to get past that 140 degree mark and proves to be a huge risk when cooking at low temperatures.
Smaller birds will get past this point much faster making it a much safer option.
So, if you need a 20 lb turkey, simply cook two 10 lb turkeys and not only will it get done faster, it will be a lot safer.
Why no stuffing inside the bird?
Same basic theory as above, the stuffing inside the bird will mix with the meat juices and it may not get past the 140 degree mark fast enough or even at all at the lower smoking temperatures.
Simply cook the stuffing separate then stuff it into the bird right before you serve it to make things much safer.
What is the best ham to purchase?
Any boneless or bone-in ham will do as long as it is a real ham and not a ham and water product. If it says 23% water on the package, you don't want it.
I prefer the bone-in but it's all personal preference as long as it's a good quality ham.
What about spiral sliced hams?
I like using the spiral sliced hams but since I wanted to inject this one, I opted for one that was not already sliced. you could, however, drizzle the sauce down in between the slices as an alternative to injecting it and that would be very good as well.
While you are at it, sprinkle some rub in between the slices as well.
What if the ham is already smoked?
What they do at the factory and what you can do at home in your own smoker is two different things. Don't even concern yourself about what they did, simply re-smoke it yourself and you will taste the amazing difference.
Can I smoke the turkey in my smoker then finish it in the oven?
Absolutely! If you want to do it this way, smoke it for about 3 hours in the smoker then move it to the oven. Continue maintaining the same temperature in the oven as you did in the smoker (240 degrees F or so) for best results.
What if I don't have a thermometer?
Digital meat thermometers can be found at most any store that sells cooking supplies now for less than $20 and you still have time to get one before the big day.
It is a known fact that juices running clear and legs that move freely in their joints are not accurate methods for determining when the turkey is done.
With food safety, you just can't be too careful.
How do I smoke the turkey ahead of time?
It's not the best method but you have to do what you have to do and if this is your best option, then be sure to brine it first. Smoke it per my instructions and make sure that you don't overcook it. It is done when the thickest part of the thigh/breast reaches 165 degrees and I often remove it at 160-163 knowing that it will raise a few degrees even after I remove it from the smoker.
Place the turkey in a foil pan with foil over the top and put it in the fridge right away for safe keeping. You might even consider placing it in the freezer or deep freeze for an hour or so to help speed along the cooling process. DON'T forget to put it in the fridge after about an hour or two.
On the day that you plan to eat it (no more than 3 days later), preheat the oven to about 275 degrees F.
Remove the foil and pour about 1/4 inch of water, juice or broth in the bottom of the pan. Put the foil back over the turkey real good and place it in the oven for about 2 hours or until it reaches about 130 degrees or a good eating temperature.
You probably won't have crispy skin but it should be pretty moist if it stays wrapped up good. The liquid in the pan will create steam and a very moist environment which will encourage the meat to not dry out while it heats.
What about cooking it at home then transferring it somewhere else?
Once the turkey gets done, wrap it in a double layer of foil, then in a couple of thick towels to insulate it. Place it down in an empty ice chest. Fill in any remaining space with more towels, small pillows, etc. and close the lid good and tight. It will stay above 140 degrees for 3-4 hours giving you some travel time.
I do recommend using a digital probe meat thermometer so you can monitor the internal temperature of the turkey during this time. If it gets below 140 degrees, it will need to get under ice pretty quick and reheated later.
Help… my bird turned out dry. What should I do?
Gravy is your friend in this case. The dark meat should be fine. Slice up the white meat, get some gravy over it and no one will know the difference in most cases.
Don't mention it and don't stress over it..it will be ok!
It's not the ideal way to serve it but a dilemma calls for drastic measures.
Do I still have time to order your rub recipe?
Yes! It is sent out via email and you have plenty of time at this point.
You should get an email with a download link just as soon as you order so you should go ahead and take care of that sooner rather than later, this way you can make sure you have it mixed up and ready to go.
If you order and don't get an email from my system within an hour, please shoot me an email and let me know so I can take care of it for you. You might also check your spam filter to make sure it didn't end up there.
Get the Digital Recipes for Jeff's Rub and Sauce
***Note: you get the Texas style rub recipe free with your order!
If I could give these recipes away, I would do that. I really want you to have them! But, then, this is how I support the newsletter, the website and all of the other stuff that we do here to promote the art of smoking meat.
Read these recent testimonies:
"Love the sauce and rub recipes. So far I have used them on beef ribs, pork ribs, and different chicken parts. Can't wait to do a beef brisket. Texas rub is great as well!" ~Peter S.
"I tried the rub on a beef brisket and some beef ribs the other day and our entire family enjoyed it tremendously. I also made a batch of the barbeque sauce that we used on the brisket as well as some chicken. We all agreed it was the best sauce we have had in a while." ~Darwyn B.
"Love the original rib rub and sauce! We have an annual rib fest competition at the lake every 4th of July. I will say we have won a great percent of the time over the past 15 years so we are not novices by any means. However, we didn't win last year and had to step up our game! We used Jeff's rub and sauce (sauce on the side) and it was a landslide win for us this year! Thanks Jeff for the great recipes. I'm looking forward to trying the Texas style rub in the near future!" ~Michelle M.
You see the raving testimonies and you wonder, "Can the recipes really be that good?"
No worries! Make up a batch and if it's not as good as you've heard.. simply ask for a refund. Now that's a bargain and you know it. Let's review:
You decide you don't like the recipes.. you don't pay!
The recipes are absolutely amazing!
Once you order, there'll be no more recipe ads in the email version of the newsletter
Well.. what are you waiting for.. click on the big orange button below to order the recipes now.

I really, really appreciate the support from my newsletter friends and be sure to let me know if you have any questions about this.
Wanna Smoke Something Besides Turkey or Ham?
Here's a few great ideas!
Jeff's Smoking Meat Book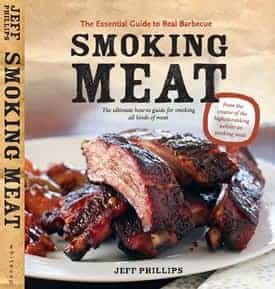 The book is full of recipes and contains tons of helpful information as well. Some have even said that "no smoker should be without this book"!
With more than 800 reviews on Amazon.com and a rating of 4.7 out of 5 stars, it comes highly recommended.
It is a Bestseller in Barbecueing & Grilling books on Amazon.
Amazon | Barnes & Noble | German Edition
Digital versions available via Nook | iTunes | Kindle
Get Almost Anything at Amazon
If you enjoy the newsletter and would like to do something helpful, then..
The next time you decide to order something at Amazon.com, use THIS LINK to get there and we'll get a small commission off of what you purchase.
Thank you in advance for using our special link: http://www.smoking-meat.com/amazon