For the next three weeks, we are going to be getting prepared for smoking turkey and ham on that big Thanksgiving day.. the biggest smoking day of the year. I get more emails, more questions, and more feedback during the month of November than any other month of the year bar none and this has been consistently true for the past nine years that we have been online.
It's a big day folks and you guys feel the pressure to produce a wonderful tasting smoked turkey for the family and friends that show up at your door. I understand that completely and I commit to doing everything that I can to help you turn out the best turkey and/or the best smoked ham you have ever tasted.
This first week, I am going to show you how to stuff bacon butter under the skin of the turkey before smoking it to moisturize that breast meat while it cooks in the smoker.
During the next two weeks, I will be showing you how to do a deconstructed version of the bird, a butterflied (spatchcocked) version and we'll even get into double smoking a little ham.
Don't miss the list of questions and answers below the main article.
Let's get started already!
Get the Recipes – Banish the Ads
I have folks who use my rub on their turkey every year and refuse to use anything else… it is definitley one of the best ways that you will find to season the turkey inside and out.
Guaranteed you'll love it or your money back!
Reasons to buy: Support the newsletter and the website | Own the recipes | Get the newsletter email 100% AD FREE from now on
Smoked Turkey with Bacon Butter

Important Information
Prep Time: 35 minutes
Brine Time: 10-12 hours
Cook Time: 7 hours 30 minutes
Smoker Temp: 230-240 degrees F
Meat Finish Temp: 165 F
Recommended Wood: Cherry
What You'll Need
Whole turkey, minimally processed, 12 lbs or less
Jeff's rub (purchase recipe here)
Bacon butter (recipe included below)
Turkey brine (recipe options below)
1/4 lb (1 stick) butter, melted
1 TBS of chopped parsley
Brining the Turkey
Brining a turkey is one of the most important things you can do for your turkey to ensure that it is juicy and tasty. I am not a scientist and I do not claim to fully understand exactly how it works but then, I don't really need to. The results are fantastic and that's all that matters.
Over the years, I have come up with several really good brines and I have included the recipes below. You do have options! My personal favorite is the buttermilk brine but the cranberry brine is also very good. If you just want something really simple to make sure the turkey is moist and flavorful, then the traditional brine might be for you.
Option 1: Traditional Brine
​Pour the water into a large plastic foodsafe container. Add the salt and stir until it is completely dissolved. Then add the brown sugar and rub and stir until it dissolved as much as possible. If you do not have a container large enough to handle 2 gallons, you can mix it up 1 gallon at a time by halving the recipe.
Option 2: Buttermilk Brine
1 gallon buttermilk
1 gallon water
2 cups kosher salt
1/3 cup Jeff's rub recipe

(

purchase recipe here

)
​Pour the buttermilk and water into a large plastic food-safe container. Add the salt and stir until it is completely dissolved. Then add the rub and stir until it is dissolved as much as possible. If you do not have a container large enough to handle 2 gallons, you can mix it up 1 gallon at a time by halving the recipe.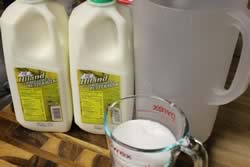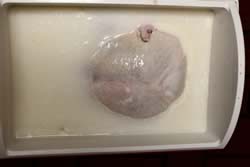 Option 3: Cranberry Brine
4 bottles (64 oz) of Cranberry-Pomegranate juice (Ocean Spray brand)
2 cups of kosher salt
1/3 cup of Jeff's rub

(

purchase recipe here

)
Pour the juice into a large plastic food-safe container. Add the salt and stir until it is completely dissolved. Then add the rub and stir until it is dissolved as much as possible. If you do not have a container large enough to handle 2 gallons, you can mix it up 1 gallon at a time by halving the recipe.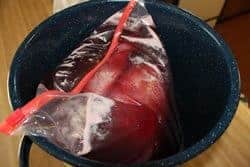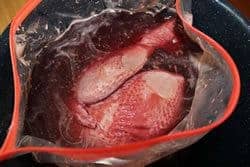 Once you have chosen and made the brine that you want to use:
Put the turkey into a very large brining bag, a clean empty cooler or a large plastic food-safe bucket and pour the brine over the turkey until it is completely submerged.
Let the turkey brine for 10-12 hours or overnight in the fridge making sure the temperature of the brine is less than 40 degrees to keep the turkey safe from spoilage.
Seasoning the Turkey
Once the turkey is finished brining, remove it from the brine, discard the brine and rinse the turkey really well under cold water.
Pat the turkey dry with a paper towel.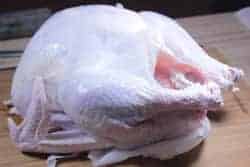 We are going to be using a concoction that I came up with consisting of my rub, butter and bacon, several of my favorite ingredients. We will put this under the skin where it can actually flavor the meat as well as the skin.
---
5 strips of bacon, cut up into smaller pieces (1/2 inch or so)
4 TBS of my rub

(

purchase recipe here

)

1/4 lb of butter (1 stick)
3 garlic cloves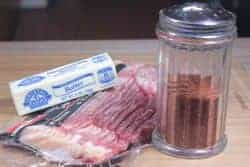 Place all of the ingredients in a food processor and run it until the butter is smooth. You may be able to use a blender for this if you don't have a food processor but I have not tried it and I don't know how well it would puree that bacon.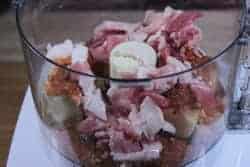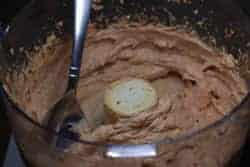 Stop occasionally and scrape down the sides to make sure the end product is well blended and smooth.
You could make this ahead of time if you wanted, form it into a log then store it in the fridge until you needed it. I simply made mine while the turkey was brining.
---
In order to get the bacon butter under the skin, we have to use our hands to separate the skin from the meat all along the breast. The skin is pretty tough but still be gentle enough so as to not tear it if possible.
Once you can get in there with your hands, begin stuffing the soft bacon butter under the skin by the handfuls. Push it down into the areas all around the breast and even onto the legs if you can.
Once you have it under the skin, rub the remaining bacon butter onto the outside of the skin for good measure.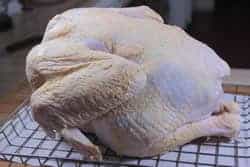 Getting the Smoker Ready
You can use ANY smoker to turn out a great turkey. Some smokers are easier than others but it all comes down to heat + smoke for a prescribed amount of time.
My turkey was about 12 lbs so I planned on it taking about 6-7 hours. Regardless of the plan, it doesn't come out of the smoker until it reaches 165 degrees in the thickest part of the thigh.
I moved the Bradley smoker close to the kitchen for this exercise since that is the smoker I wanted to use.
I tend to use the Bradley when I need or want to smoke something but don't have time to stand right there and watch it all day. I have had this smoker for several years now and I've used it year round with very few problems.
Use a water pan if you have one and I recommend a good flavorful smoke such as cherry, hickory, apple, maple, etc. depending on what you have available. I used cherry in the Bradley.
Once your smoker is setup and maintaining 230-240 degrees, it is time to get that turkey on the smoker.
Smoking the Turkey
I usually smoke the turkey breast side down for a couple of hours and then flip it over to breast side up to make sure it does not get too much heat and dry out but, for this one, I left it breast side down the entire time.
My thoughts were that the bacon butter will obviously melt and run downhill.. if the breast meat is downhill, well then that's exactly where I want the bacon butter to be.
I wanted the turkey to be as high and away from the heat as I could get it which was the 3rd rack from the bottom.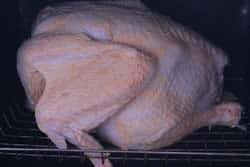 I left it alone for the better part of 5 hours and when I checked it, it was reading 150 degrees in the thickest part of the thigh. Right on schedule!
Finishing Up the Turkey
To get that really nice mahogany color and more good flavor on the outside of the skin, I mixed up some butter, rub and chopped parsley and brushed that onto the outside of the turkey a couple of times during the last hour or so.
1/4 lb (1 stick) of butter
2 TBS of my rub
1 TBS of chopped parsley
Melt the butter in the microwave then mix in the rub and the parsley. Brush onto the turkey generously.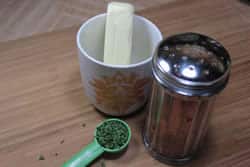 Serving the Turkey
When the turkey hit 165 degrees using my new ChefAlarm thermometer by Thermoworks, I removed it from the smoker and set it on the counter.
Let it rest for about 20-30 minutes if possible before carving to allow the juices to redistribute throughout the turkey.
Here it is still breast side down: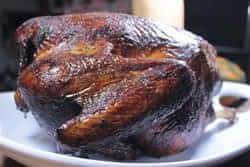 I flipped it over to the traditional breast side up configuration before carving and serving: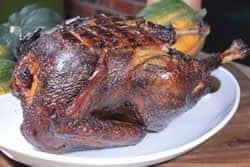 Questions and Answers about Turkey
Does brining make the turkey salty? Mine never do. I am not one to use a lot of salt on my foods.. I prefer low salt most of the time and the turkey never tastes too salty for me.
Can you brine a turkey that is already enhanced with a solution from the factory? Yes,I have done it many times and it always works well.
What about injecting instead of brining? I don't care as much about injecting as I do brining but, then, that is a personal thing. If you do decide to inject, add as much as you can at about 1 inch intervals on the breast, legs and thighs. I just inject at a 45 degree angle slowly pulling out the needle as the plunger goes in. Some of it will come out but much of it also stays in there and does it good. Be sure to wear an apron and face mask and watch out for geysers.
What is the best kind of turkey to buy? I recommend a minimally processed, fresh, never frozen turkey if you can find one. If you cannot find one, all is not lost, just use what you can find and it will be ok in the end.
Does the turkey have to be refrigerated while brining? Yes, the turkey must be kept below 40 degrees during the brining process to prevent spoilage. This can be accomplished by refrigeration or by adding ice to the brine. Use a thermometer to ensure proper temperatures are being maintained.
How long do I need to keep adding smoke to the turkey? My minimum recommendation for smoking is to keep the smoke going for at least half of the estimated cook time. With a charcoal, electric or gas smoker you may want to consider keeping the smoke going the entire time for extra smoke flavor.
Is it better to smoke a large turkey or two smaller ones? I have always recommended keeping the size of the turkey to 12 lbs or less for safety reasons. You do not want the bird to take so long to cook that it becomes unsafe during the process.
For this reason, you should figure out how many pounds of turkey you need and then split it between two smaller ones if you need more than a 12 lb bird. For instance, Let's say you need 20 lbs of turkey then I would recommend that you purchase two turkeys of about 10-12 lbs.
10-12 lb turkeys will take about 6-7 hours to finish even if you have more than one turkey in the smoker.
Can I put stuffing in the turkey when smoking like I do in the oven? Only AFTER it's finished cooking… NOT before. For safety reasons, the inside of the turkey should remain open to allow it to cook properly before stuffing it.
Make the dressing on the side and stuff it in the turkey just before serving if you want to stuff the turkey.
What is the best way to travel with the turkey? When the turkey is finished cooking (165 degrees F) wrap in foil then double wrap with thick towels. Place the wrapped turkey down into an empty ice cooler. Fill in any remaining space with more towels, throw pillows, newspaper, etc. to further insulate it. This should keep the turkey above 140 degrees F for 3-4 hours. Be sure to use a digital probe meat thermometer attached to the turkey to ensure that proper temperatures are maintained during travel time.
Other Important Tips
Be sure to give yourself some padding when cooking the turkey. It is easy to wrap and keep hot if it gets done a little early so figure your time then give yourself an extra 60-90 minutes.
Figure the time to cook a turkey at about 30-35 minutes per pound at 240 degrees F.
Consider explaining to folks that they might see a pink tint to the meat and that this is a result of the smoke on the meat and not undercooked meat. This is better than leaving folks wondering about it.
Order Jeff's Rub Recipe and Sauce Recipe
If I could give these recipes away, I would do that. I really want you to have them!
But, then, this is how I support the newsletter, the website and all of the other stuff that we do here to promote the art of smoking meat.
Read these testimonies:
Words can't describe how good your rub and sauce are. I just purchased your recipes last week and cooked outside three times already using the rub and sauce. I have never tasted anything that even comes close to this. Thanks so much for sharing this with us Jeff. ~Steve G.
Jeff, I bought your rub and sauce recipes a few months ago and you were ABSOLUTELY RIGHT! These are the best. Even my very picky wife and mother in law say they love them. I use them on everything I smoke, ribs,chicken.fish,roasts. Every newsletter you have I'm smoking it a couple days later! I used my smoker 15 times in the snow and it gets you thru winter a lot sooner! THANKS! ~Brian in Wisconsin
You see the raving testimonies and you wonder, "Can they really be that good?"
No worries!
Make up a batch and if it's not as good as you've heard.. simply ask for a refund.
Now that's a bargain and you know it.
Let's review:
Completely guaranteed.. No worries
The recipes are absolutely amazing
Once you order, every newsletter email will be Ad FREE
Well.. what are you waiting for.. click that link below that says "Order the Recipes Here"
Note: This ad should not show up in future newsletters once your purchase the recipes. Let us know if you are having any problems with this.
I really, really appreciate the support from my newsletter friends and be sure to let me know if you have any questions about this.
Wanna Smoke Something Besides Turkey?

Here's a few ideas!

My Book Makes an Excellent Gift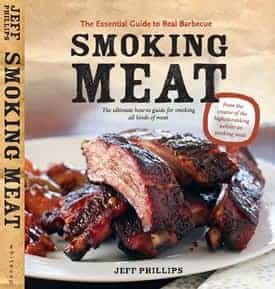 If you do not have a copy of my book on smoking meat, then get a copy today. It is full of recipes and tons of helpful information as well.
With 105 reviews on Amazon.com and a rating of 4.8 out of 5 stars, it comes highly recommended.
If you are interested in a digital copy, we have versions available via Nook | iTunes
Note: For my German readers, the book is now available under the title "American Smoker" and translated into German at Amazon.de
Amazon.com Orders

If you enjoy the newsletter and would like to do something helpful, then..
The next time you decide to order something at Amazon.com, use THIS LINK to get there and we'll get a small commission off of what you purchase.
Thank you in advance for using our special link: http://www.smoking-meat.com/amazon
Free Smoking Meat Newsletter