Smoked beef back ribs are not extremely meaty like most pork ribs but, I think they reign supreme in terms of flavor.
Cut from the prime rib, all that tasty fat is present to help the ribs stay moist and to give them tons of flavor. By cooking them low and slow, a lot of that fat will melt away leaving the meat extremely delicious and tender.
With a couple of amazing options, you'll be creating beefy fare fit for a king with this one!
Helpful Information
Prep Time: 10 minutes
Dry Brine: 2 hours
Cook Time: 4-5 hours
Smoker Temp: 225°F
Meat Finish Temp: 195°F or until tender
Recommended Wood: Oak and/or Pecan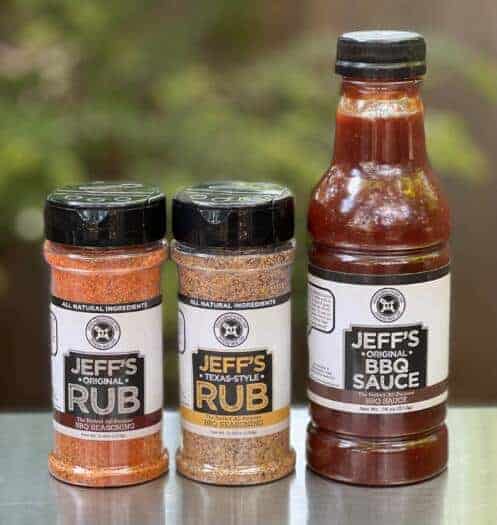 Please note that my rubs and barbecue sauce are now available in 2 formats– you can
purchase the formulas
and make them yourself OR you can
buy them already made
, in a bottle, ready to use.
Getting the Ribs Ready
I purchased some of the ribs already cut up and 1 whole slab so you could see each one.
The ones already cut up where slightly more expensive than the slab and the membrane was not removed. I'd rather buy the slab and prepare them myself personally.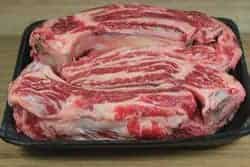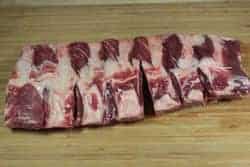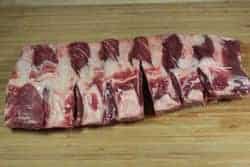 Here's how to remove the membrane:
Use your finger to get the membrane loose somewhere in the center of the slab. Continue to work your fingers/hand under it to loosen it. Some folks use a sharp object but I tend to do better with my hands. Find whatever works for you and you'll have the perfect tool for you.
A little patience and some practice and you'll be doing this like a pro. By starting in the center, once you have a good grip and are able to pull up on it, it starts coming loose from both ends at once.
Do the best you can and if it takes several tries to get it all, that's fine. You'll get better at this with practice.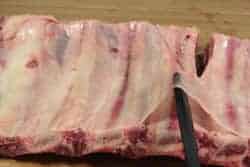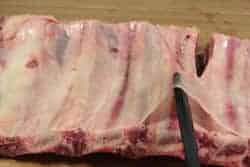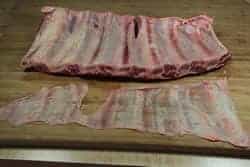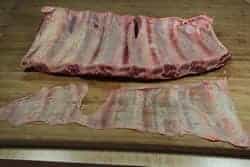 Once the membrane is removed, cut the slab up into individual bones. Try to cut right in between the bones leaving meat on both side of each bone.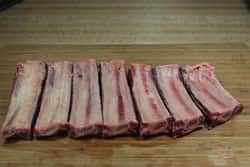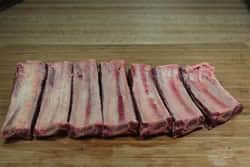 Dry Brining the Ribs
Place the cut up ribs into a bowl or container meat side up.
Brush on a little olive oil to help the rub to stick better.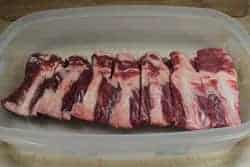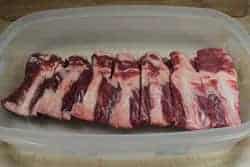 Sprinkle my original rub (Purchase formula here | Purchase bottled rub) on the ribs (top and sides).
You can also use my Texas style rub (Purchase formula here | Purchase bottled rub) on some or all of them if you prefer a more savory rub on beef.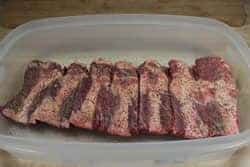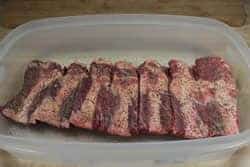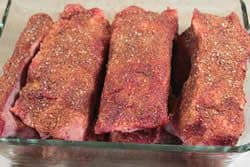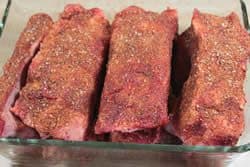 Place lids or covers on the containers and place the ribs in the fridge overnight or for at least 2 hours. This allows the salt in the rub to draw the juices to the outside of the meat where it can mix with the rub and be drawn back into the meat.
Remove the ribs from the fridge, remove the lids/covers and allow the ribs to sit out for about 30 minutes before placing them in the smoker.
**Do NOT rinse the rub from the meat**
Arrange the ribs on a pan/rack or you can take just take them out to the smoker as they are so you can place them directly onto the smoker grate.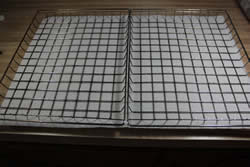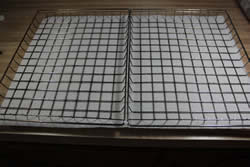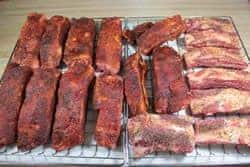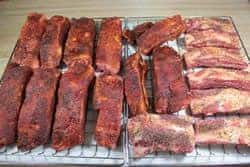 Here's a closeup of those Texas style (Purchase formula here | Purchase bottled rub) beef back ribs.. does that look good or what!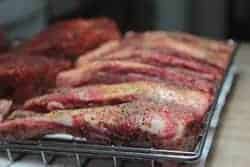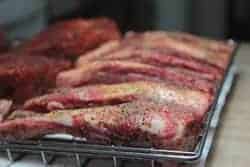 And the ones rubbed with my sweet and spicy original rub (Purchase formula here | Purchase bottled rub).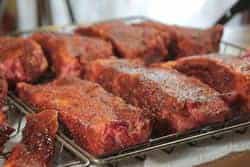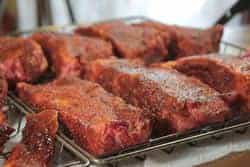 Ok.. enough salivating! Let's get these in the smoker.
While the ribs are sitting on the counter, it's a great time to get your smoker going and up to temperature.
Get the Smoker Going
These will do well in any smoker including charcoal, electric, gas, or wood as long as you maintain the temperature and keep the smoke going for at least 3 hours.
Get your smoker going and make sure you have plenty of smoking wood. I recommend oak and/or pecan if you have it. I used a mix of red oak and pecan since that's what I had available.
If your smoker uses a water pan, fill it up.
Once the smoker is ready, it's time to get cooking.
Smoking the Beef Back Ribs
Keep the heat at about 225°F since you want to cook these low and slow to allow the meat to tenderize. The long cook time will also do a good job of melting a lot of that fat.
If you are using an electric, gas or charcoal smoker, keep the smoke going for about 3 hours.
The ribs will usually take 4-5 hours to get tender enough but it will depend on how well you maintain the temperature in your smoker, what the meat temperature was when they started cooking and how often you open the door or lid on your smoker.
The ultimate goal is for the ribs to get tender. Forget about the temperature and don't remove them until they get tender.
To test for tenderness, just grab one and take a bite. They're not done until they are as tender as you like them.
This usually happens for me when they reach about 195°F but that may differ slightly for you.
Finishing Up
When they get done, serve them immediately. I recommend making plenty since they are not as meaty as pork ribs.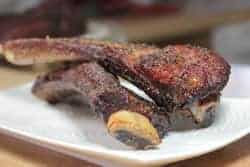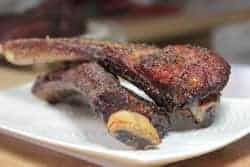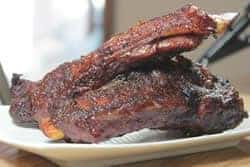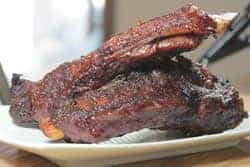 I served mine with savory potatoes and sautéed green beans (recipes below)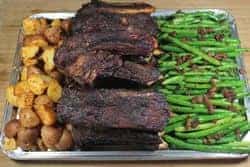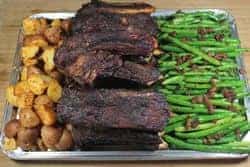 Making the Savory Potatoes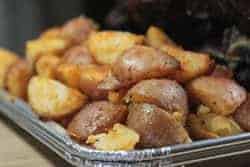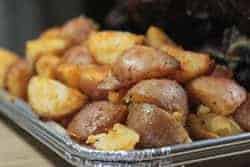 Quarter small potatoes and place them in a foil pan.
Toss them with olive oil and a good sprinkling of my original rub (Purchase formula here | Purchase bottled rub).
Place the pan in the smoker with the ribs during the last 2 hours
Stir occasionally
When they get as soft as you like them, they are done
Give them another good sprinkle of the original rub and serve
Making the Sautéed Green Beans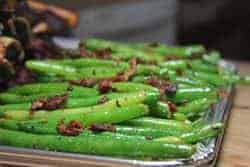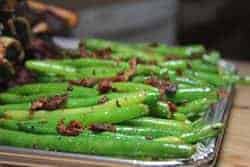 Clean and trim beans
Place 2 TBS of olive oil in a large skillet over medium heat
When the oil is nice and hot, it is ready.
Place the beans in the skillet and sauté.
Stir often to cook evenly
Continue to cook for about 5 minutes or until they are as done as you like them
Sprinkle with an equal mix of kosher salt and coarse ground black pepper and serve
Order Jeff's Rubs and Barbecue Sauce TODAY!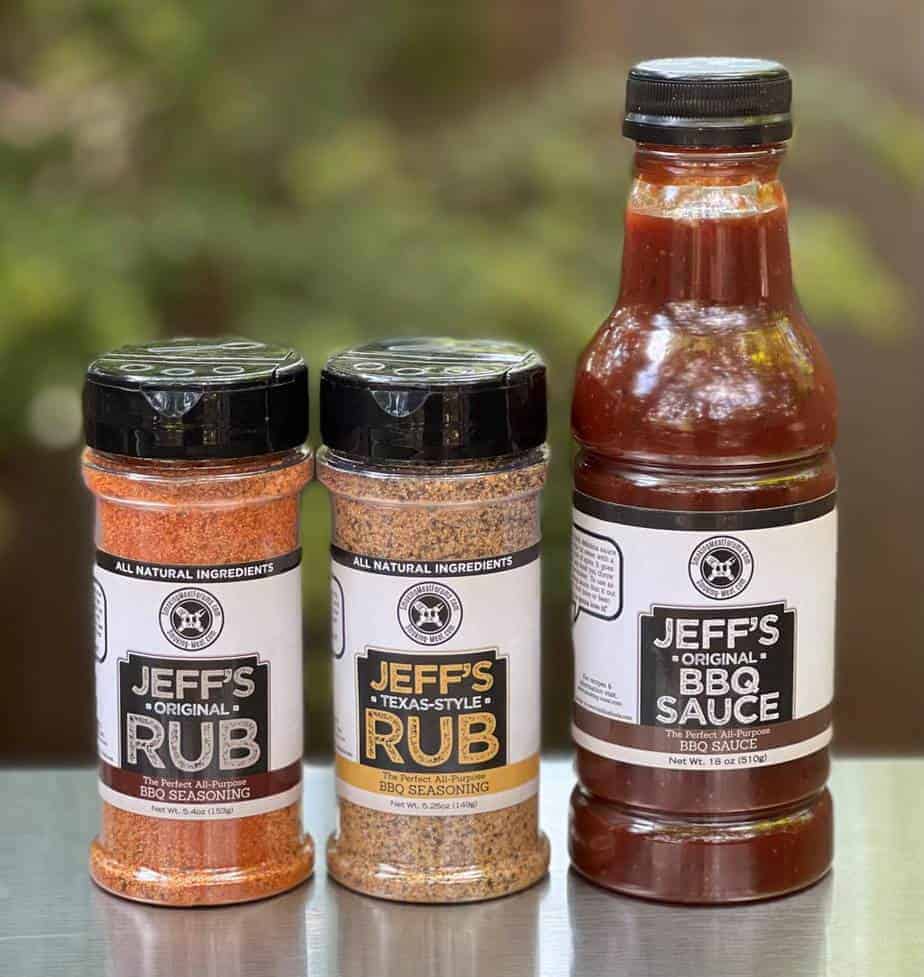 ✅ If you haven't ordered my rubs or sauce yet you can do that HERE. They are the best thing you've ever tasted and it's a great way to support what we do!
We ship blazingly fast and orders over $50 ship free!
You can also order the formulas for my rubs and sauce and make these yourself at home. Grab those HERE and download immediately.
Jeff's Smoking Meat Books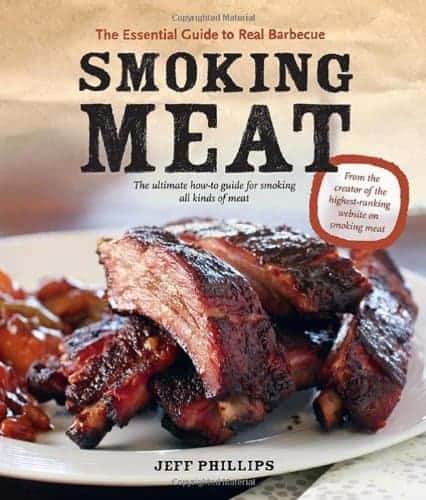 Smoking Meat: The Essential Guide to Real Barbecue – The book is full of recipes and contains tons of helpful information as well. Some have even said that "no smoker should be without this book"!
With more than 1000 reviews on Amazon.com and a rating of 4.7 out of 5 stars, it comes highly recommended and is a Bestseller in Barbecuing & Grilling books on Amazon.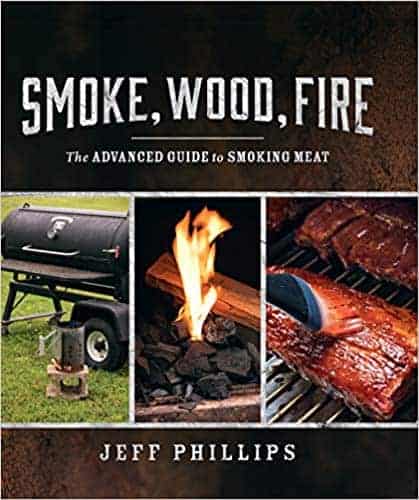 Smoke, Wood, Fire: The Advanced Guide to Smoking Meat – Unlike the first book, this book does not focus on recipes but rather uses every square inch of every page teaching you how to smoke meat. What my first book touched on, this second book takes it into much greater detail with lots of pictures.
It also includes a complete, step-by-step tutorial for making your own smoked "streaky" bacon using a 100 year old brine recipe.
Amazon | Barnes & Noble
Get Almost Anything at Amazon
If you enjoy the newsletter and would like to do something helpful, then..
The next time you decide to order something at Amazon.com, use THIS LINK to get there and we'll get a small commission off of what you purchase.
Thank you in advance for using our special link: http://www.smoking-meat.com/amazon
---
Printable Recipe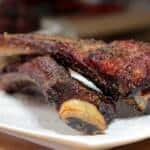 Print Recipe
Smoked Beef Back Ribs
Tasty beef back ribs dry brined for a couple of hours then smoked until perfectly tender and smoky giving you the ultimate in beef flavor.
Ingredients
6-8

lbs

beef back ribs

(((slab or already cut up)))

Jeff's Rub

(((purchase recipe here)))

Olive oil
Instructions
Getting the Ribs Ready
If you purchased a slab, remove the membrane from the boney side of the ribs

Cut them up into individual ribs
Dry Brining
Place the ribs into a bowl or container

Brush olive oil onto the meat and sprinkle rub onto the top and sides of the ribs

Cover the container and place the ribs in the fridge for 2 hours to dry brine

After 2 hours, remove the ribs from the fridge and allow them to sit on the counter for about 30 minutes (do not rinse off the rub)
Smoke the Ribs
Place the ribs bone side down directly on the smoker grate

Smoke at 225 °F for 4-5 hours or until they get as tender as you like them
Finish
Serve immediately with a couple of sides such as savory potatoes and sautéed green beans