Smoked Bacon Wrapped Chicken Thighs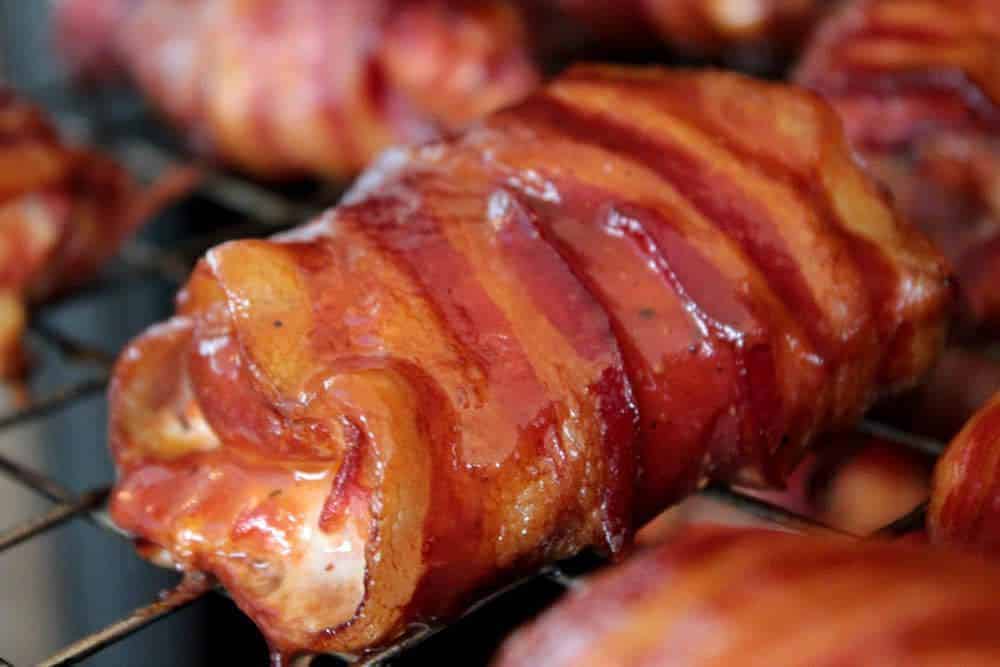 Smoking-Meat.com is supported by its readers. We may earn an affiliate commission at no extra cost to you if you buy through a link on this page.
Read this article without ads
These smoked, bacon wrapped chicken thighs, absolutely must be tried to be appreciated!
The thigh meat is naturally the tastiest part of the chicken, in my opinion, and then to soak it in buttermilk (for tenderness and flavor), dry brine it with my original rub and wrap it in bacon and smoke it until perfectly done just takes things to a level that makes my mouth water just thinking about it!
I also made an orange barbecue sauce and brushed that on a time or two during the process to keep the meat nice and moist while it cooked in the smoker and the flavor in that really came through as well.
Important Information
Prep Time: 15 minutes
Buttermilk Soak: 4 hours
Dry Brine: 2 hours
Cook Time: 2 hours
Smoker Temp: 240°F
Meat Finish Temp: 165°F
Recommended Wood: Cherry
What You'll Need
10-12 boneless, skinless chicken thighs
½ gallon buttermilk
1 lb bacon (1 piece per thigh)
½ cup orange juice (I use medium pulp)
Buttermilk Soak
For years people have known that soaking chicken in buttermilk just does something to the meat in terms of flavor and tenderness.
Remove the boneless chicken thighs from the package, trim off the extra fat with a pair of kitchen shears then place them in a medium sized bowl.
(As you can see, I got in a hurry and forgot to trim the fat before the soak. I took care of this afterwards.)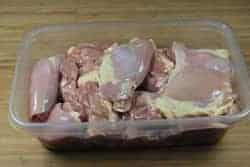 Pour enough buttermilk over the meat to cover, put a lid on it and place the bowl in the fridge for about 4 hours.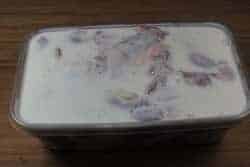 After 4 hours have expired, remove the chicken from the fridge and take the thigh meat out of the buttermilk, letting each piece drain a little bit before placing it into a separate, clean container.
Discard the buttermilk.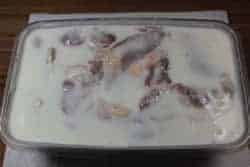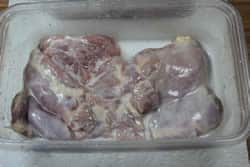 Some of you may be wondering, "why not just brine the chicken in buttermilk?"
Well, that's a great question!
The simple answer is that I have been experimenting with dry brining and I felt that these chicken thighs would be wonderful candidates for that process since brining just works so well for poultry.
---
In wet brining you mix water (or other liquids) with salt and then soak the meat in this salty solution. Dry brining is placing salt or even a rub with salt onto the outside of meat and allowing it to sit for a while. The salt pulls the meat juices to the surface where it mixes with the salt and other ingredients and forms a highly concentrated brine which then works the way any brine works in denaturing the meat proteins and causing it to end up more juicy and flavorful than it would be otherwise.
If you are interested in this process, I recommend you do a little research in Google and read up on it. Quite an interesting topic and one that I don't necessarily have to understand completely in order to know that it works very well.
---
To dry brine these chicken thighs, simply place the meat that you removed from the buttermilk soak into a separate container and coat each layer with my original rub .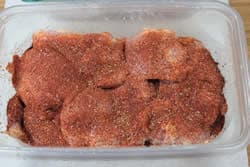 Place the chicken back into the fridge for about 2 hours.
After dry brining..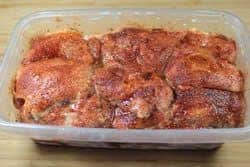 Wrap the Meat with Bacon
Anytime you are wrapping chicken or other meat with bacon, you are usually wanting it to end up somewhat crispy if possible and this is often not the case when cooking at smoking temperatures.
In thinking about this, I initially decided that I would cook the bacon partially before wrapping it around the chicken. However, I quickly found out that this made it very difficult to wrap correctly and that it make the bacon tear easily if I tried to get a nice, tight wrap.
After 4 or 5 attempts, I changed over to using uncooked bacon and decided that, crispy or not, uncooked bacon was the better option.
I also tried using 2 pieces of bacon per thigh, but decided that this would cook better if I used a single piece, not to mention being more economical.
My recommended method:
Stretch a single piece of bacon out as long as you can get it without tearing it in half. Then wrap it around the chicken starting at one end and ending up at the other.
Note: stretching the bacon before wrapping it helps it to firm up better in the low heat of the smoker better than it would otherwise.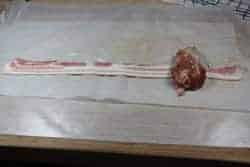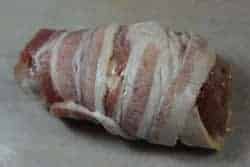 Place the wrapped chicken thighs on a cookie sheet or a Bradley Rack to make it easy to carry out to the smoker.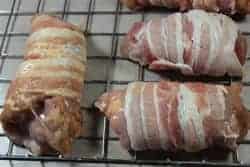 Get the Smoker Going
They were calling for rain/storms so I brought the Bradley smoker under a covered area attached to my house and pre-heated it to about 270°F. The temperature drops significantly when you open the door to put in the food so starting it out hotter than you actually need it seems to work quite well.
You can use a charcoal, electric, gas or wood smoker for these bacon wrapped chicken thighs and they will end up very good as long as you keep the temperature around 240°F and you remove them when they reach their perfect done temperature of 165°F.
Note: In colder weather, it is advisable to preheat the smoker at least an hour or more before you are wanting to use it. Keep the door closed as much as possible and even skip basting if necessary to maintain proper smoking temperatures.
Smoking the Bacon Wrapped Chicken Thighs
Place the bacon wrapped chicken thighs directly on the grate or leave them on the Bradley rack, set onto the grate of your smoker.
Continue to add smoking wood, I recommend cherry for these, to keep the smoke going the entire time if you are using a gas, charcoal or electric smoker.
Maintain the heat at about 240°F if possible for about 2 hours or until a Thermapen inserted into the center of the meat reads 165°F .
The Orange Barbecue Glaze
I have added a lot of things to my barbecue sauce (Purchase formula here | Purchase bottled sauce) over the years and most of the time, what I envisioned, usually works out pretty well. It's very versatile which allows us to do a lot of things with it to change it up.
Some of the things I have added include beer, mayonnaise, mustard, jams, maple syrup, honey, carbonated beverages such as Dr. Pepper, minced habanero, and now orange juice.
I started by adding a little of the orange juice and kept adding until it got to the taste and consistency that I wanted.
To make it, I simply combined:
I brushed this onto the chicken twice during the last hour of the smoking process. This not only kept the chicken from drying out on the ends but it added another wonderful layer of flavor.
I don't usually like barbecue sauce slopped onto the meat so by thinning it out with orange juice, it became a nice glaze that did it's job without being too much.
Some things that affect the cook time:
I often get emails from folks complaining that my recorded cook times do not match what they are experiencing in their own smokers. To clarify, I want to point out some things that do affect the overall cook times.
Opening the door/raising the lid is not necessarily a bad thing but if you do this a lot, your food will take longer to cook. Don't open the smoker just to look at the meat but if you need to baste or check temperature, then do that but do it as quickly as possible to minimize heat loss.
The temperature of the meat, when it goes into the smoker obviously affects the cook time. Cold meat straight from the fridge will take longer to reach 165°F than meat that has been sitting on the counter for a little while and allowed to warm up a bit.
The temperature of the smoker. Cooking at 250°F is going to get the meat done faster than cooking at 210°F.
There is some debate on this but I have found that different types of heat and the way the air flows through a smoker, as well as other individual properties of a smoker, can affect the amount of time it takes meat to cook. Meat cooked in my BGE (indirect heat with plate setter) gets done faster than meat cooked in the Bradley for instance.
Because the cook time can vary from smoker to smoker and from cook to cook depending on a range of variables, it is best to use meat temperature for most things to determine when it is done cooking.
I recommend a Thermapen for instant temperature reading ( 2-3 seconds) and or a remote digital meat thermometer such as the Smoke by Thermoworks for constant monitoring of the temperature of the meat while it cooks.
All Done
The only thing left to do is enjoy!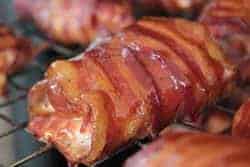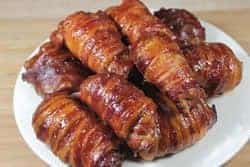 Smoked Bacon Wrapped Chicken Thighs
Delicious chicken thigh meat, soaked in buttermilk to bring out the absolute most in flavor and tenderness, then dry brined with
my rub
followed by a bacon wrap and a couple of hours in the smoker create an entree that must be tasted to be believed.
Ingredients
10-12

boneless

(skinless chicken thighs)

½

gallon

buttermilk

1

lb

bacon

(1 piece per thigh)

½

cup

orange juice

(I use medium pulp)
Instructions
Buttermilk Soak
Remove any extra, loose fat from meat

Place meat in bowl and cover with buttermilk

Cover and place in fridge for 4 hours

Remove from fridge and drain buttermilk.

Discard buttermilk
Dry Brine
Place single layer of meat into container

Sprinkle a generous coat of rub onto meat

Place another layer on top of the first

Sprinkle a generous coat of rub onto 2nd layer of meat

Repeat layers until all meat is coated with rub

Cover and place in fridge for 2 hours

Remove from fridge
Bacon Wrap
Stretch a piece of bacon until it is about 2x it's normal length

Wrap stretched piece of bacon around thigh

Lay on cookie sheet or Bradley rack
Smoking the Chicken Thighs
Preheat smoker to 240°F

Smoke cook with cherry wood for about 2 hours or until center of meat reads 165°F using a digital meat thermometer or

Thermapen

Serve immediately
Get Jeff's Products!