Here's my version of smoked mac and cheese and if you are a mac and cheese lover like I am, then you will appreciate this recipe beyond words!
The smoke goes with the cheesiness like it was just meant to happen and you seriously will not believe your taste buds when you taste it.
As if that is not enough, I also added more than a pound of crumbled bacon for one happy, happy, happy bowl of smoked mac and cheese!
You can serve this as is with any smoked meat or pile some pulled pork on top of it like I did.
I would like to thank my wife, Abi and my great friends, Josh and Carina, for helping me create this wonderful recipe!
This recipe is a lot easier than it looks. You simply cook the noodles, make the cheese sauce and then layer it in a throw away aluminum pan and smoke it for 2 to 3 hours in that order.
Helpful Information
Prep Time: 30 minutes
Cook Time: 2-3 hours
Smoker Temp: 225°F
Meat Finish Temp: n/a
Recommended Wood: Pecan or apple
What You'll Need
16 oz of medium or large elbow noodles
1/4 lb (1 stick) of butter
1/2 cup of all-purpose flour
1 teaspoon of ground mustard
1 teaspoon of salt (regular table salt)
1/3 teaspoon of paprika (McCormick's, sweet or smoked will all work just fine)
1/2 teaspoon of coarse ground black pepper
4 cups of cheddar cheese, grated
5 cups of Half & Half
9 x 13 x 3 (or so) deep foil pan
3 cups of a good 4 cheese mix
1 lb of bacon, crumbled
2 lbs of smoked pulled pork
Optional – Jeff's barbecue sauce (Purchase formula here | Purchase bottled sauce)
Optional – Jeff's original rub (Purchase formula here | Purchase bottled rub)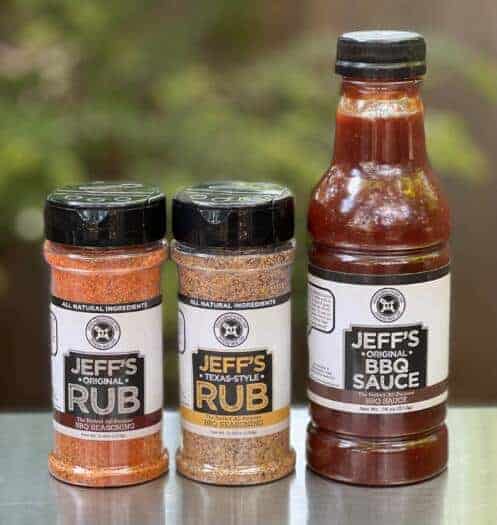 Please note that my rubs and barbecue sauce are now available in 2 formats– you can
purchase the formulas
and make them yourself OR you can
buy them already made
, in a bottle, ready to use.
Cooking the Noodles
You really have to just follow the recipes on the back of the box or bag for this since it may differ from brand to brand and depending on the exact type of noodles you purchase.
The main thing is that you only cook them to partially done (al dente) since they will finish softening up in the smoker.
Once the noodles are finished, quickly pour into a colander and run cold water over it to stop the cooking process.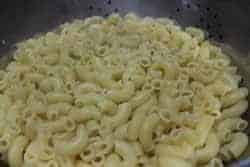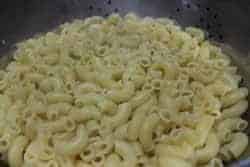 Pour the noodles into a large bowl and set aside for a few minutes.
Crumbling the Bacon
Note: This can be done while the noodles are cooking to save time.
The bacon really makes this dish so don't be stingy with it. I used 9 pieces when I made this for the pictures and it was not nearly enough. I now recommend at least a pound.
I also added the crumbled bacon to the noodles and it sort of got lost in the mix so upon further investigation and review, I now recommend placing the crumbled bacon right on top with the last layer of grated cheese and rub.
I use the oven to make the bacon but you can use whatever method you like.
About 15 minutes at 400°F crisps it up just perfectly in a non-stick cookie sheet.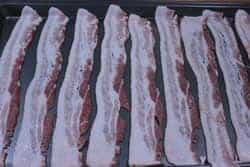 Allow the bacon to cool on a paper towel then crumble to your hearts desire.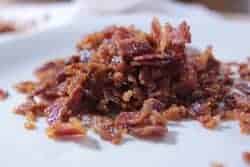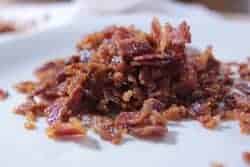 If you're anything like me, you might want to make a little extra since, you won't be able to control the urge to eat a few pieces!
Making the Cheese Sauce
Start out by adding a stick of butter to the bottom of a pan on medium heat (now I sound like Paula D.).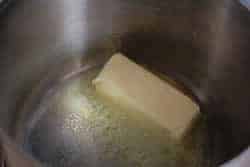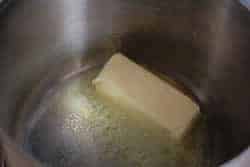 Once the butter is melted add the flour, pepper, salt, paprika and mustard and stir for a couple of minutes while the ingredients combine.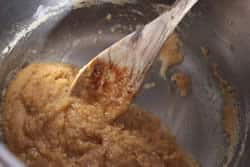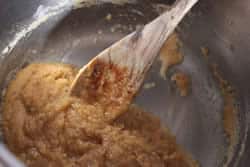 Add in the half & half and continue stirring until the sauce starts to get thick which usually takes 8-10 minutes.
Note: Use a whisk for best results.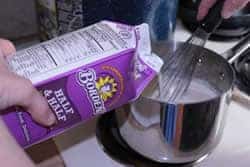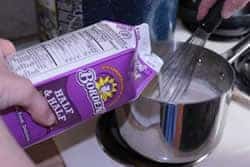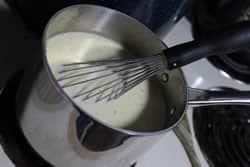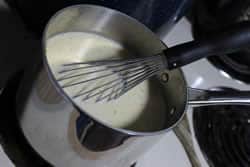 Place 4 cups of grated cheddar cheese into a large mixing bowl.
Pour the thickened sauce over the cheese and stir until it is well melted.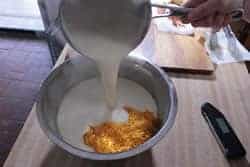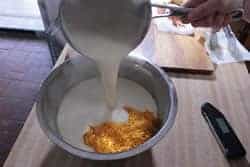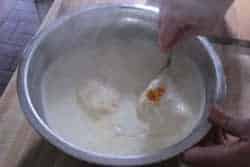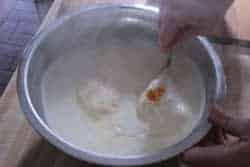 Once the cheddar cheese is melted, pour the cheese sauce over the noodles we set aside earlier and stir well to mix it all together.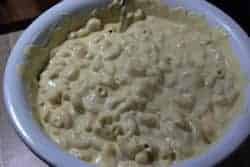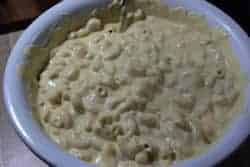 Layering the Noodles and Cheese into the Pan
Pour about 1/2 of the saucy noodles into the foil pan
Sprinkle about 1-1/2 cups of the 4-cheese mixture over the top of the noodles to cover completely.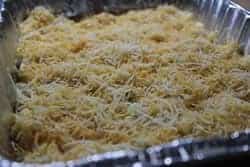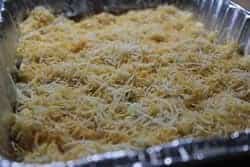 Sprinkle on a good generous helping of my original rub (Purchase formula here | Purchase bottled rub) for great flavor.
Now pour on the remainder of the noodles and once again add about 1-1/2 cups of the 4-cheese mixture and some of my original rub (Purchase formula here | Purchase bottled rub).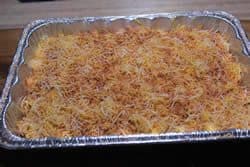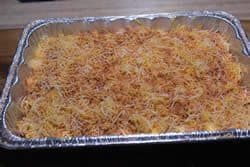 Sprinkle the crumbled bacon onto the top of the layered mac and cheese.
The mac and cheese is now ready for the smoker.
Smoking the Mac and Cheese
Set up your smoker or grill for indirect cooking at 225°F with pecan or apple wood if you have it. Any good smoking wood will work such as cherry, oak, hickory, etc.
Place the open pan of mac and cheese on the grate and let it enjoy the smoke for 2-3 hours or until it reaches the desired level of "brown" on top. The longer you leave it in the smoker the better the smoke flavor will be.
We like it nice and brown on top.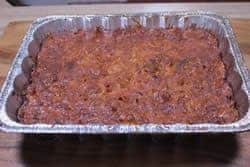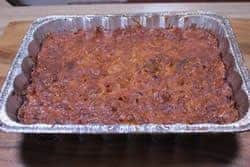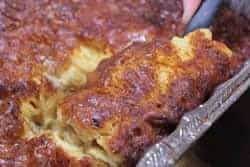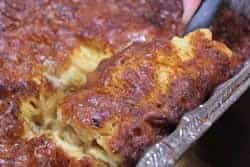 Serving the Smoked Mac and Cheese
You can eat the smoked mac and cheese as it is as a side (or a main dish if you're really into Mac and cheese) and that is fine and very good but you can also take it up to the next level by adding some meat on top of the Mac and cheese. I used smoked pulled pork on mine.
Place a good sized helping of the mac and cheese in a bowl and then put a tablespoon or two of smoked pulled pork right on top. Put some of my original barbecue sauce (Purchase formula here | Purchase bottled sauce) on top of the pulled pork and let it run down the sides like chocolate on ice cream.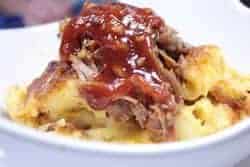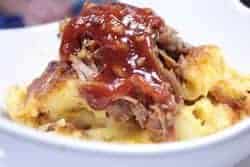 I smoked a pulled pork especially for this smoked mac and cheese but if you have some left over in the freezer, you can just heat it up and use that. If you need instructions for smoking up some pulled pork then check out my favorite pulled pork recipe or you can even watch me make pulled pork on video if you wish.
Don't blame me if the mac and cheese disappears too quickly.. it tends to do that at my house when I make it so I have learned to make plenty!
Alternate Methods
Try adding a light layer of blue cheese to the mac and cheese before smoking for a very adventurous but rewarding alternative.
For a super smoky mac and cheese, forego the top layer of cheese and bacon until the last hour. During the first hour or so, stir the mac and cheese every 20 minutes. Add the top layer of cheese and bacon with more rub during the last hour. If the top layer of cheese does not brown quickly enough, place the pan under a broiler for a minute or two but watch it carefully as it can burn fast.
Order Jeff's Rubs and Barbecue Sauce TODAY!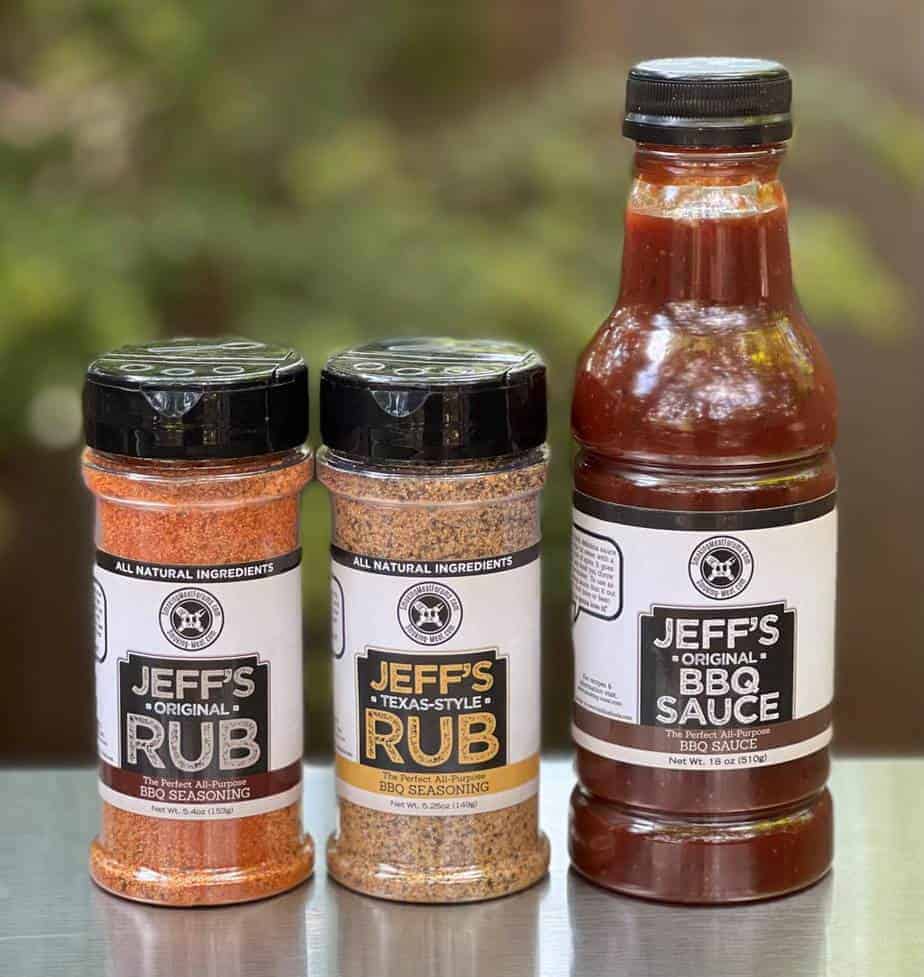 ✅ If you haven't ordered my rubs or sauce yet you can do that HERE. They are the best thing you've ever tasted and it's a great way to support what we do!
We ship blazingly fast and orders over $50 ship free!
You can also order the formulas for my rubs and sauce and make these yourself at home. Grab those HERE and download immediately.
Jeff's Smoking Meat Books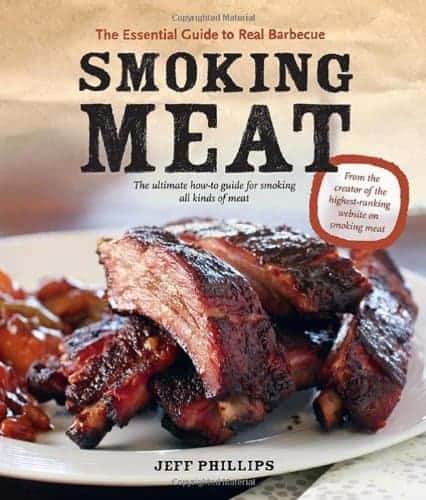 Smoking Meat: The Essential Guide to Real Barbecue – The book is full of recipes and contains tons of helpful information as well. Some have even said that "no smoker should be without this book"!
With more than 1000 reviews on Amazon.com and a rating of 4.7 out of 5 stars, it comes highly recommended and is a Bestseller in Barbecuing & Grilling books on Amazon.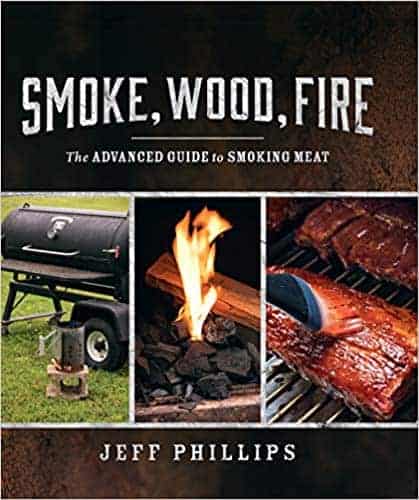 Smoke, Wood, Fire: The Advanced Guide to Smoking Meat – Unlike the first book, this book does not focus on recipes but rather uses every square inch of every page teaching you how to smoke meat. What my first book touched on, this second book takes it into much greater detail with lots of pictures.
It also includes a complete, step-by-step tutorial for making your own smoked "streaky" bacon using a 100 year old brine recipe.
Amazon | Barnes & Noble
Get Almost Anything at Amazon
If you enjoy the newsletter and would like to do something helpful, then..
The next time you decide to order something at Amazon.com, use THIS LINK to get there and we'll get a small commission off of what you purchase.
Thank you in advance for using our special link: http://www.smoking-meat.com/amazon