Hot & Fast Bourbon Smoked Pulled Pork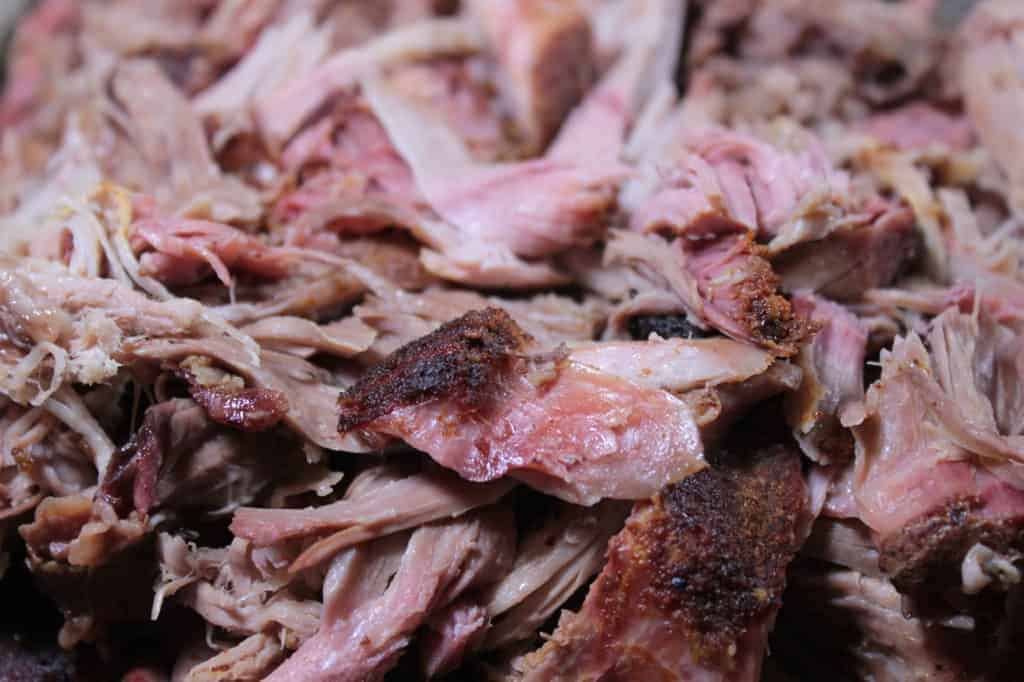 Smoking-Meat.com is supported by its readers. We may earn an affiliate commission at no extra cost to you if you buy through a link on this page.
Read this article without ads
I know that smoking meat is all about low and slow and especially for things like smoked pulled pork but what happens when you just don't have the 12-16 hours required to smoke a pulled pork?
Do you just give up and go to your local barbecue restaurant?
Absolutely not!
If you are severely limited on time and you really want to make some smoked pulled pork, let me tell you that it can be done and it can be done very successfully. In this newsletter I am going to show you how to put together some hot and fast bourbon smoked pulled pork in record time.
This version of smoked pulled pork does require that you have a smoker that will maintain hotter than usual smoking temperatures but even if you don't you can do a slightly altered version of the hot and fast smoked pulled pork by using your smoker as hot as it will go for about 3 hours then finishing it in your oven preheated to the correct temperature.
Folks, I am talking about amazing, delicious, smoked pulled pork in under 8 hours!
When you have the time to do it up right then grab a drink and a chair and let that baby go low and slow but when you are under the gun, this is your method for pulled pork.
Many, if not most of you, are not going to be able to maintain a high enough temperature in your smoker to get this smoked pulled pork done in less than 8 hours. For that reason, I will prescribe the smoker to oven method when you need to get some pulled pork done in a hurry. The rest of you who can run 325 F in your smokers can finish the entire process in your smoker.
Important Information
Prep Time: 15 minutes
Cook Time: 8 hours
Smoker Temp: 225°F for 3 hours then 325°F for 5 hours (approx.)
Meat Finish Temp: 205 F
What You'll Need
7-8 lb pork butt (Boston butt)
2-3 tablespoons spicy brown mustard
1-2 cups bourbon and/or apple juice
1 Large foil pan
Heavy duty foil
Preparing the Pork Butt
Start by placing the pork butt into a foil pan.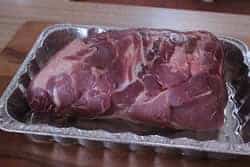 You can use regular yellow mustard if you prefer, but the spicy brown mustard is what I used on this one.
Don't even worry about measuring. Just squirt mustard all over the top as pictured.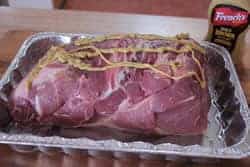 Spread the mustard onto the top and sides of the meat. You don't have to worry so much about the bottom since it will be sitting in a pan of juice later.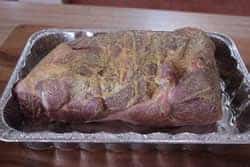 Place a cup or two of rub in a cheese shaker or other container with large holes. Sprinkle a heavy coating of my original rub onto the top and sides of the pork butt. The mustard will help it to stick and there is really no need to massage it in. Make sure it gets into every little nook and cranny for best results.
My original rub forms this beautiful mahogany crust on the outside of the meat and not only does it taste amazing, it looks amazing when it's all mixed into the meat later.
Be very generous with the rub! It is low on sodium and high on flavor.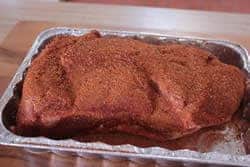 Leave the pork butt sitting on the cabinet for a few minutes while you go get the smoker ready.
Preparing the Smoker
For this hot and fast method of cooking and smoking pulled pork, it is ideal if you have a smoker such as a pellet smoker that can maintain about 325 °F while it smokes but most of us don't have this.
For this reason, if you are one of those who do good to cook at 225°F, that is fine. We will simply smoke the meat for about 3 hours then transfer it to a 325°F oven covered with foil.
Set up your smoker or grill for indirect cooking at 225°F with hickory wood if you have it. Any good smoking wood will work and some really good ones for pork are apple, cherry, pecan or oak.
I used my trusty Meadowcreek reverse flow wood smoker for this one.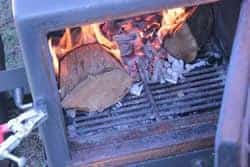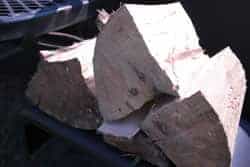 Smoking the Pork Butt
Place the pan with the  seasoned pork butt in it on the grate of your smoker. Maintain 225 °F for about 3 hours making sure to keep the smoke going real good the entire time.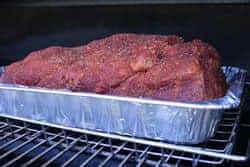 Into the Oven (if necessary)
Once the pork butt has smoke cooked for 3 hours, it is time for the hot and fast part.
By this time, the pork will have reached around 140°F as seen on my black thermapen.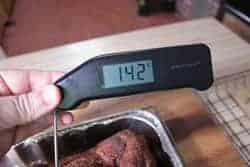 Pour about 1 to 2 cups of bourbon, apple juice or a 50:50 mix depending on how much bourbon flavor you want into the bottom of the pan. Pour on some extra rub for good measure. 1/4 cup or so on the pork and about 1/2 cup down in the liquid.
Using all bourbon, you will be able to taste that delicious bourbon flavor all the way through the smoked pulled pork when it gets finished. It just sort of steams the flavor into the meat and together with the rub, makes for some excellent pulled pork.
Note: If you want to tone it down some, dilute with apple juice. If you don't want to use any bourbon at all, then just use straight apple juice.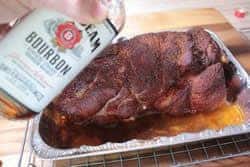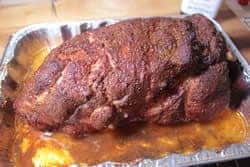 Cover the pan with heavy duty foil and seal it real good around the edges.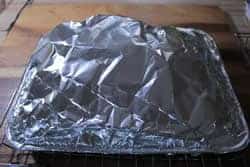 Place the pan with the pulled pork into the oven  preheated to 325 °F.
Note: I recommend (based on past experience) placing the pan onto a cookie sheet in case any of the liquid bubbles or leaks out.
Continue cooking the pulled pork until it reaches 205 °F in the center.
At this point, the bone will pull out of the meat with little to no effort.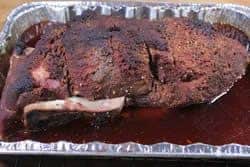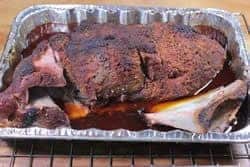 Pulling the Pork
The first thing I do, once I remove the bone, is to pull the meat apart into it's natural sections. These natural sections are usually separated by pockets of fat.
If I am careful, I am able to separate out most of the fat lickety split!
The way I grade good smoked pulled pork is by how well it was pulled and how much of the fat still remains in the meat. I can tell when someone knows what they are doing by simply observing this.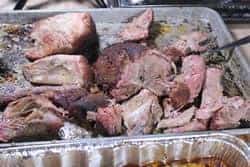 Once the fat is discarded and the meat is left, simply place the pieces into a large bowl and stir it around. If you cooked it to 205°F, it will just fall apart into perfect pulled pork.
If you took it out of the heat early, you might have to use some bear claws to pull it.
Serving the Pulled Pork
Smoked pulled pork is excellent served as:
Pulled pork sandwiches
Pulled pork nachos
Pulled pork tacos
Pulled pork pizza
Summary
Place pork in a foil pan
Apply mustard and my original rub to top and bottom of pork butt
Smoke pork butt at 225°F using hickory for 3 hours in smoker
Add bourbon and/or apple juice to pan and cover with foil.
Cook pork butt in 325°F oven for about 5 hours or 205°F in center of meat.
Remove bone and separate meat from fat
Pull pork into shreds and pieces and serve.
Get Jeff's Products!