Smoked pork tenderloin is lean, delicious and easy to cook in any smoker.
I used maple syrup mixed with my original rub (Purchase formula here | Purchase bottled rub) to create some nice kick and flavor as well.
Helpful Information
Prep Time: 30 minutes
Cook Time: 60-90 minutes
Smoker Temp: 225-240°F
Meat Finish Temp: 145°F
Recommended Wood: Cherry + Apple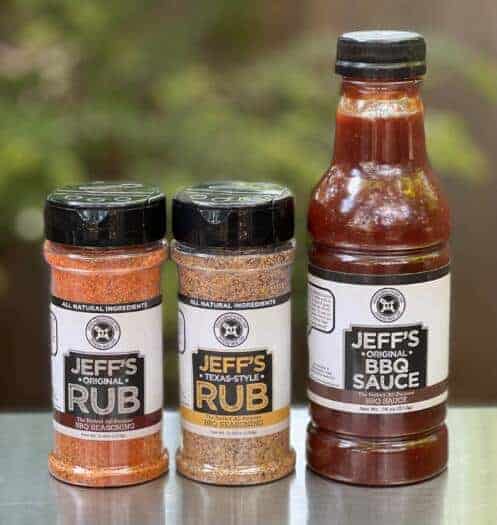 Please note that my rubs and barbecue sauce are now available in 2 formats– you can
purchase the formulas
and make them yourself OR you can
buy them already made
, in a bottle, ready to use.
Step 1: Rinse and Clean 'em Up
Remove the tenderloins from the package and rinse them off under cold water.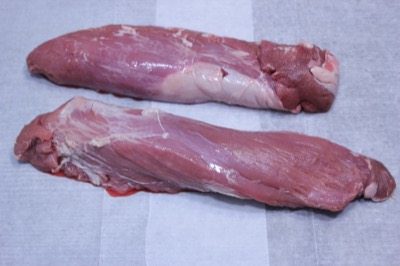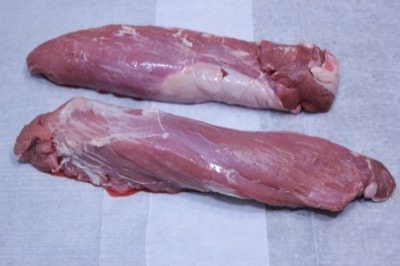 Use a sharp knife to remove any extra fat and silver skin from the meat.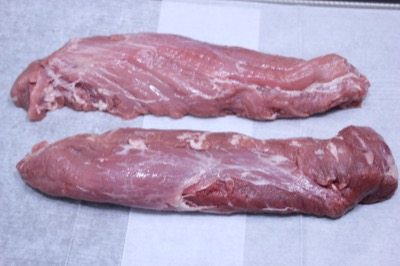 Step 2: Mayo and Rub
I often use yellow mustard and other condiments for moisturizing the meat and helping the rub to stick. This time I used mayonnaise.
Why does mayo work so well? It's basically oil and egg so it creates a great base for the rub and it even seems to help keep the meat more moist while it cooks in the smoker.
Use a heaping tablespoon for each pork tenderloin and spread it all over the meat from end to end and all around.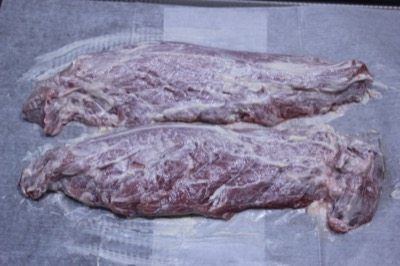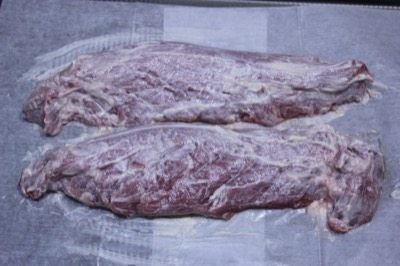 Now when you apply my original rub (Purchase formula here | Purchase bottled rub), it will stick really well and you don't have to worry about losing any of it.
Be generous with it!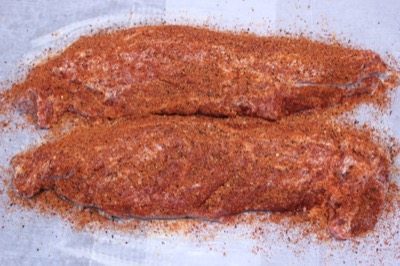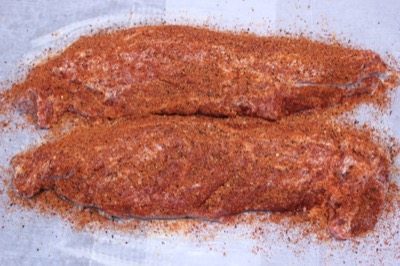 After only 10 minutes you can see that the rub is getting that "wet" look and they are ready to flip over and do the other side.
You can, of course, be doing other things while you wait such as getting the smoker ready.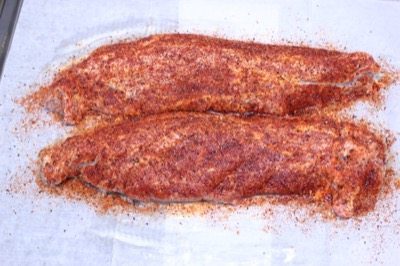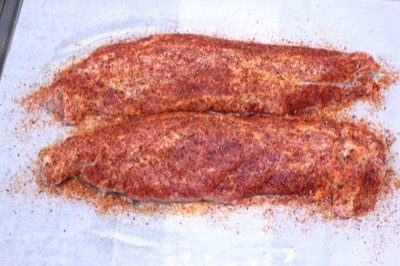 Once both sides are coated with mayo and my original rub (Purchase formula here | Purchase bottled rub), move them to a Bradley rack, Weber grill pan or even a cooling rack to make them easy to transport to and from the smoker.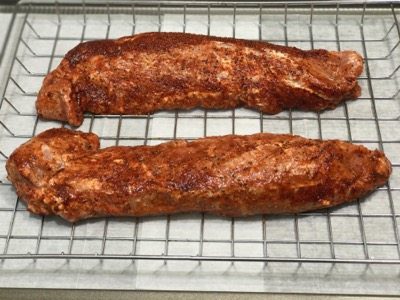 You will notice that I did not tie these up like I sometimes do. Tying strings around the diameter of the pork tenderloins every 2 inches or so gives the meat a round shape instead of flat and oblong. The round shape cooks more evenly but can take just a little longer since it increases the distance from the outside to the center of the meat.
On these, I wanted to demonstrate the ease of doing smoked pork tenderloins and how they are still really good even if you don't tie them up.
Now finish up getting the smoker ready while they sit there and get happy.
Step 3: Setup the Smoker
Set up your smoker for cooking at 225-240°F with indirect heat using a mix of apple and cherry if you have it. If not, most any fruit wood, pecan or even hickory will do a great job on these.
If your smoker uses a water pan, fill 'er up.
About the Smoker That I Used
The Camp Chef Woodwind SG pellet grill that I've now had for a while is getting a lot of use (as you can tell).. I just enjoy using it that much. I cannot believe the smoke flavor and the smoke rings that I am getting out of this thing.
I have been a huge fan of pellet smokers for a long time having used the Traeger and then the most recent Woodwind. For the most part, they all work in a similar fashion but the Woodwind has a few extra features within the same price point that really make it a nice one to own:
An ash cup on the bottom of the unit to catch the ashes and make cleanup a lot easier. I am pretty particular and still vacuum out the smoker but you certainly don't have to do that often with this added feature.
A chute opens on the bottom side of the hopper so you can dump the pellets into a container and replace them with a different flavor (nice!).
A 2nd cooking shelf comes standard. You just can't have too much shelf space in my opinion.
A propane powered sear box capable of 900°F that attaches to the right side of the unit. This allows you to sear burgers, steaks, chicken, etc. once they are done cooking. You could also just use it to cook steaks or other meats at very high heat.
3 year warranty and free shipping ain't a bad feature either!
If you are in the market for a smoker that is so easy to use a caveman could do it, introduces a ton of smoke flavor to your food and has the ability to cook from 160°F all the way up to about 500°F, with smoke, then this might be something you need to look at very closely.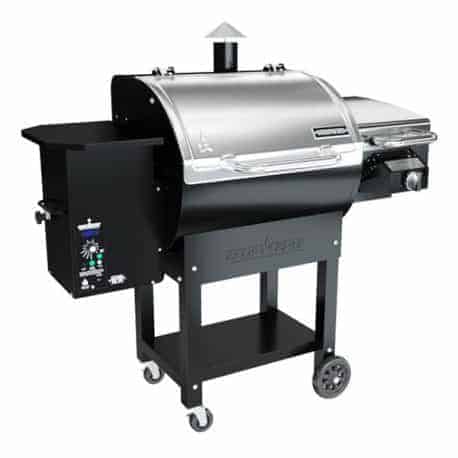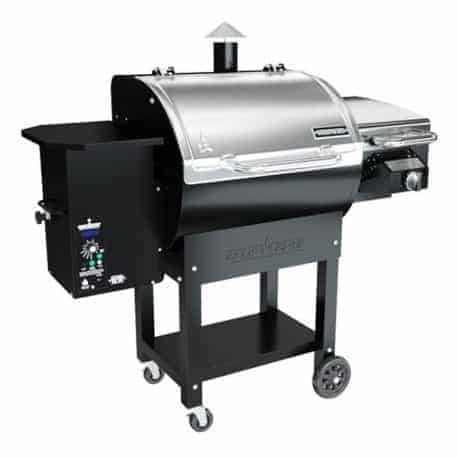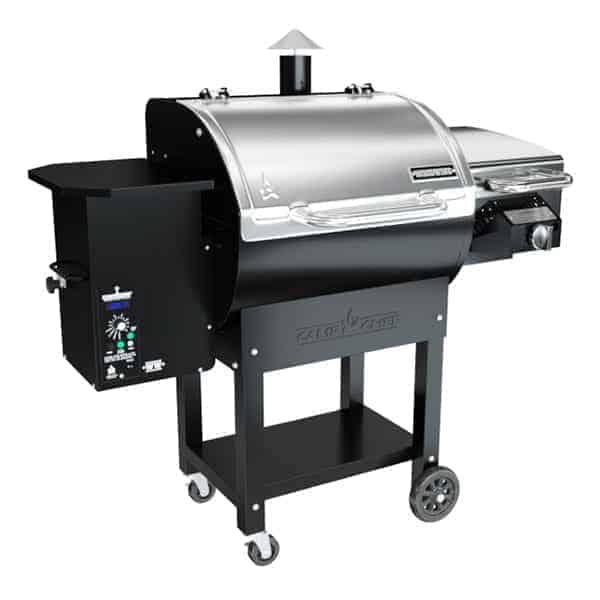 Once the smoker is preheated and ready to go, it's time to smoke!
Step 4: Smoke Time
Once your smoker is ready, place the meat on the grate and close the lid/door.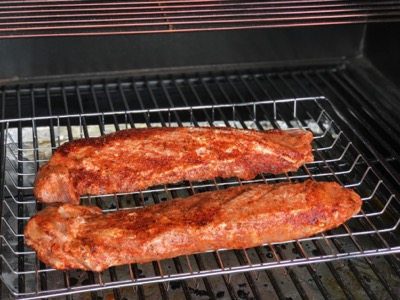 Step 5: Maple Barbecue Glaze
The pork tenderloins are smoking and you will need to glaze them pretty soon so it's time to mix up the glaze.
Pour 1 cup of maple syrup into a bowl.. (can you tell I shop at Costco?)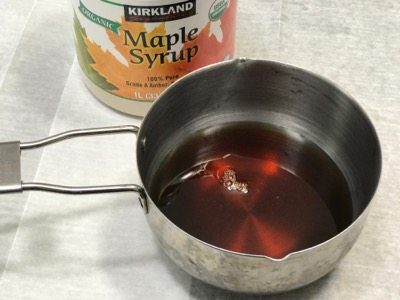 Add 2 heaping tablespoons of my original rub (Purchase formula here | Purchase bottled rub)..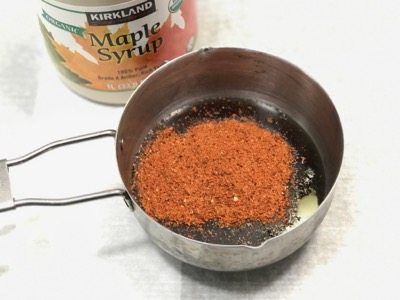 Stir it up real good and it's ready to use.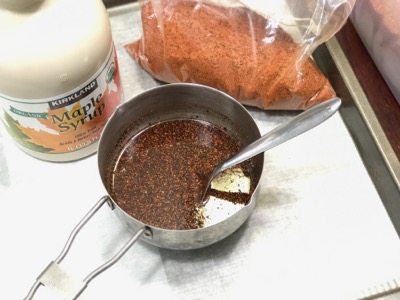 Step 6: Finish Smoking the Tenderloins
I recommend glazing the pork tenderloins about every 20-30 minutes until they reach the done temperature of 145°F.
Keep a close eye on the temperature
Just before I glazed for the first time, I wanted to setup a meat thermometer so I could monitor the temperature really close.
I took this opportunity to test my new Fireboard thermometer.
For those who haven't heard of it, it's a cloud connected thermometer with (6) inputs for probes, USB rechargeable, and connects to your phone via advanced bluetooth (I don't know much about this except that it automatically pairs with your phone without your help).
Oh, and the probes are waterproof. I am not sure of the IP rating but the thermometer manufacturer has stated that they have submerged the probes on several occasions and they performed very well.. now that's a breath of fresh air!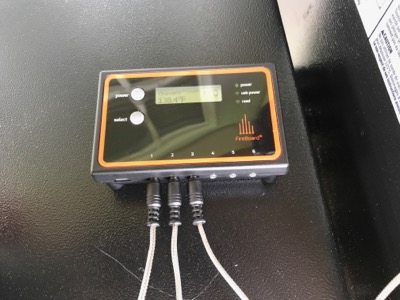 It allows me to name my probes in the app and even shows me a really nifty chart of my cooking session..
Here it is all connected to my pork tenderloins and one monitoring my pit temperature.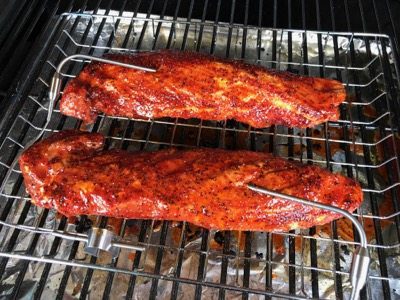 This thing has "Serious Smoker" written all over it and I think many of you will be biting at the bit to get your hand on one of these.
I guess I should mention that it has an extra input that was engineered for extra "stuff". Well, they have come out with a pit fan that will attach to this extra input and allow you to not only monitor up to (6) temperature probes but also control the temperature of your charcoal/wood smoker.
This thing does a lot but is surprisingly easy to use.
Pretty exciting stuff but I have to move on!
If you want to learn more about the Fireboard thermometer, click here.
Glazing
At about 30 minutes into the cook, use a silicone brush, spoon or even a turkey baster to coat the outside of the pork tenderloins with the maple barbecue glaze.
Then 30 minutes later, or just before they reach 145°F, do it again.
You will find that different smokers can vary on the actual cooking times just because each one heats a little different, allows the air to flow though them just a little different and it changes things on a small scale.
My cooking times are estimates only and unless I specify otherwise, monitoring the temperature of the meat is the only way to actually tell when the meat is perfectly done. There are very few exceptions to this.
My pork tenderloins required around 70 minutes, just over an hour, to reach the perfect temperature for safely done pork at 145°F.
You will note that the old 160°F safe temperature for pork was replaced by a new standard (145°F) just a few years back due in part to better farming practices and methods.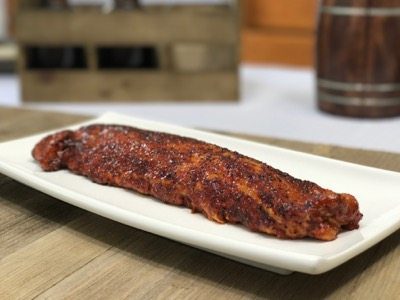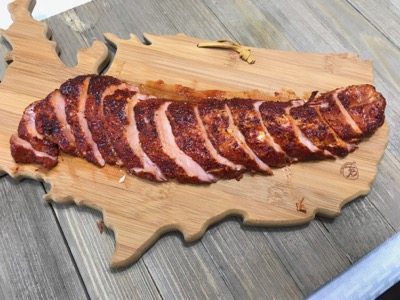 I had a few slices with nothing else then I tried a thick juicy slice on a Hawaiian roll with some onions and pickles.. I am drooling right now just thinking about it!
Order Jeff's Rubs and Barbecue Sauce TODAY!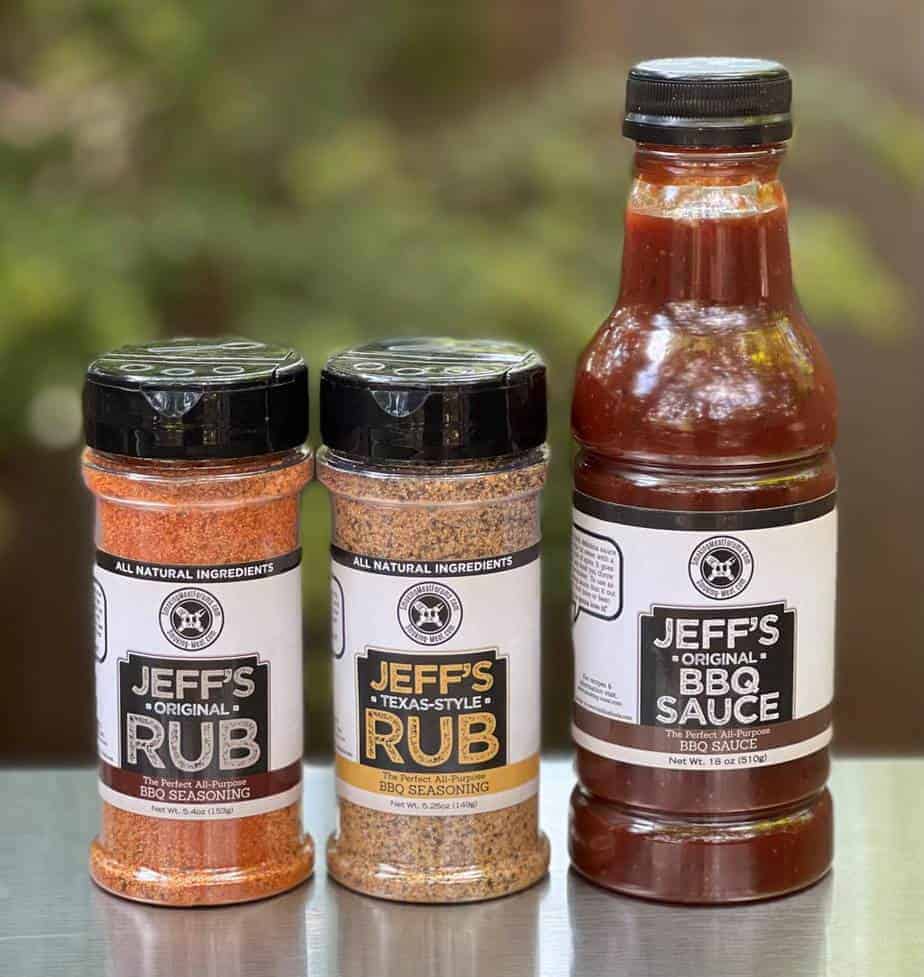 ✅ If you haven't ordered my rubs or sauce yet you can do that HERE. They are the best thing you've ever tasted and it's a great way to support what we do!
We ship blazingly fast and orders over $50 ship free!
You can also order the formulas for my rubs and sauce and make these yourself at home. Grab those HERE and download immediately.
Jeff's Smoking Meat Books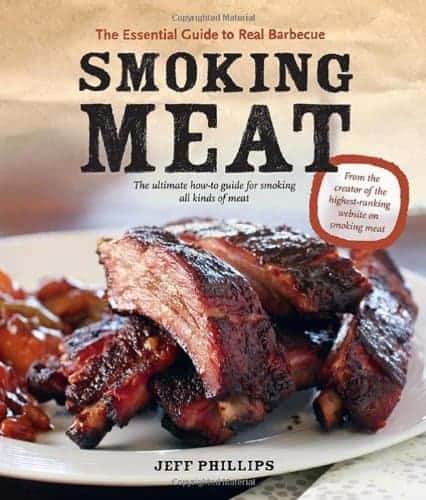 Smoking Meat: The Essential Guide to Real Barbecue – The book is full of recipes and contains tons of helpful information as well. Some have even said that "no smoker should be without this book"!
With more than 1000 reviews on Amazon.com and a rating of 4.7 out of 5 stars, it comes highly recommended and is a Bestseller in Barbecuing & Grilling books on Amazon.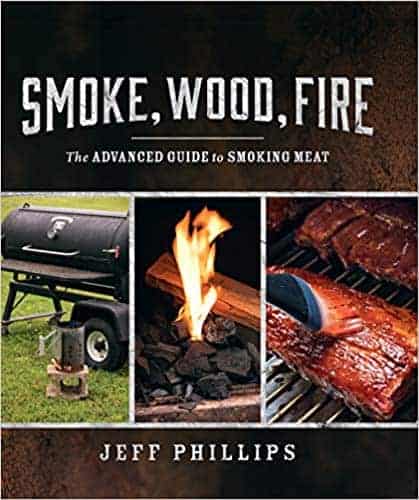 Smoke, Wood, Fire: The Advanced Guide to Smoking Meat – Unlike the first book, this book does not focus on recipes but rather uses every square inch of every page teaching you how to smoke meat. What my first book touched on, this second book takes it into much greater detail with lots of pictures.
It also includes a complete, step-by-step tutorial for making your own smoked "streaky" bacon using a 100 year old brine recipe.
Amazon | Barnes & Noble
Get Almost Anything at Amazon
If you enjoy the newsletter and would like to do something helpful, then..
The next time you decide to order something at Amazon.com, use THIS LINK to get there and we'll get a small commission off of what you purchase.
Thank you in advance for using our special link: http://www.smoking-meat.com/amazon
---
Printable Recipe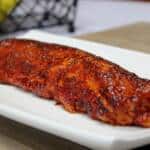 Print Recipe
Maple Barbecue Pork Tenderloins
Smoked pork tenderloin is lean, delicious and easy to cook in any smoker. With Labor Day just around the corner, this is a great recipe to have in your back pocket.
Ingredients
2

pork tenderloins

(((more if you like)))

Mayonnaise

Jeff's original rub recipe

Maple syrup
Instructions
Rinse pork tenderloins with cold water.

Use a sharp knife to remove any extra fat and silver skin.

Coat the outside of each tenderloin with a tablespoon of mayonnaise.

Generously sprinkle Jeff's original rub on to all sides of the pork tenderloins.

Prepare your smoker for cooking at 225-240°F with indirect heat.

If your smoker has a water pan, fill it up with water or liquid of your choice.

When the smoker is ready, place the pork tenderloins on the smoker grate and close the door/lid.

Prepare the maple barbecue glaze by mixing 1 cup of maple syrup to 2 heaping tablespoons of Jeff's original rub. Stir well to combine.

Baste the meat with the glaze every 30 minutes until it is finished cooking.

When the pork reaches 145°F as measured with a digital meat thermometer, it is perfectly done and should be removed from the smoker right away.

Allow the meat to rest under foil for about 10 minutes before slicing.

Serve and enjoy!