How to Smoke Rib Planks and Chicken Bites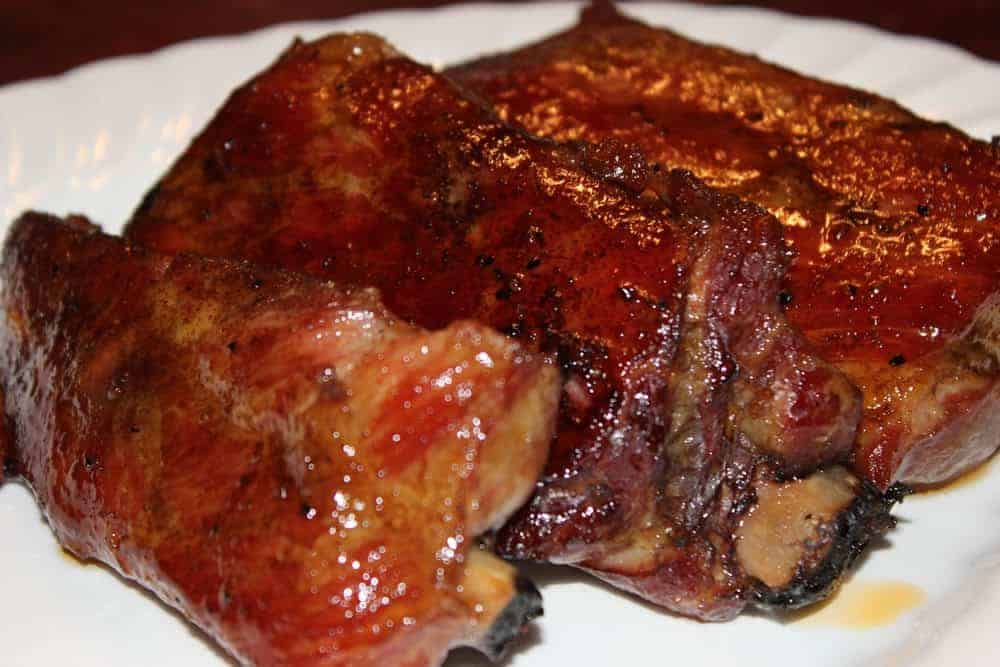 Smoking-Meat.com is supported by its readers. We may earn an affiliate commission at no extra cost to you if you buy through a link on this page.
Read this article without ads
This month, we are going to cook up some baby back ribs but we are going to do them a little different than what you might be used to and we are going to get a little adventurous with the flavors as well.
I was laying in bed a while back and it came to me in a flash, why not cut ribs in such a way so that you end up having more meat and less bone?
Why not brine the individual "planks" as I call them and infuse some flavor into the ribs? Would that even work?
Well, this led to some "playing with food" and what I came up with turned out to be really good.
Here's how it's done:
Purchase the Ribs
Purchase 2 slabs of baby back ribs in the 3-4 pound range. I prefer all natural ribs that are marked as MINIMALLY PROCESSED but if you can't find them this way, any of the processed baby back ribs will work.
Prepare the Ribs
Remove the membrane from the bone side of the ribs, trim a little fat off the meat side if necessary and then proceed to cut them up into individual ribs sort of competition style.
Cut the end bone off of the slab right away staying right next to the bone.
Make 2 cuts on either side of the next rib bone so that it has maximum meat on either side with a bone in the middle. In doing this, you end up with a rib that is 3 inches wide instead of 1 inch wide and while you end up with fewer ribs, you also end up with more meat per rib and the trade-off is so worth it.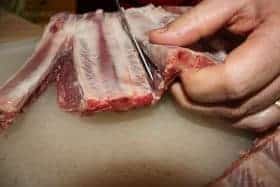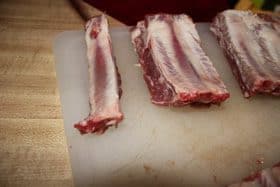 Once all the ribs are cut up, you should end up with about 5 planks per slab of ribs or in our case, 10 rib planks.
Note: For this experiment, I only brined 6 of the planks. The other 4 were not brined and were coated with my special rib rub entirely.
Order Jeff's Rub Recipe and Sauce Recipe
How to Brine Rib Planks
Note: I was not sure what would work best as far as flavors so I made two different brines.. here are the 2 recipes that I came up with:
Maple Syrup Brine
1/2 gallon of water
1/2 cup of kosher salt
1/4 cup of Log Cabin syrup
Add salt to water and mix until salt dissolves and water returns to clear. Add syrup and stir until dissolved.
Cajun Brine
1/2 gallon of water
1/2 cup of kosher salt
2 TBS of Zatarains Crab boil (liquid)
2 TBS of Worcestershire
5 Cloves of garlic, crushed
Add salt to water and mix until salt dissolves water returns to clear. Add crab boil, worcestershire and crushed garlic cloves to water and stir until well blended.
To brine the rib planks you will need 2 medium containers with lids, lay 3-4 rib planks into each container and pour the 1/2 gallon of maple syrup brine over the top of the ribs in one container then pour the Cajun brine over the ribs in the other container.
Add about 10 cubes of ice to each container to help cool the water quickly then close the lids and place the containers in the fridge for about 1.5 hours.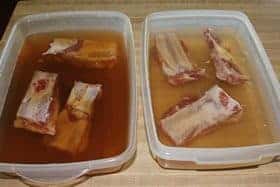 Prepare the Rib Planks for Smoking
Remove the ribs from the brine and rinse them well under cool water. Pat them dry with a paper towel then lay them bone side down in a large pan that will fit on your smoker grate.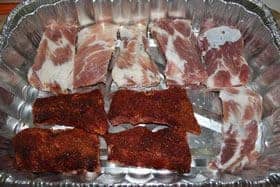 Maple Brined Ribs: I do not recommend putting any rub on these ribs other than a little black pepper perhaps. We will be glazing these when they are done cooking for more flavor and this way the maple flavor can really shine through.
Cajun Brined Ribs: I recommend a light dusting of my rib rub on these rib planks but don't overdo it. Since the ribs have been brined, too much seasoning could make them overly salty. Another option would be to make a batch of my rub with no salt and then you can add the rub without fear of too much saltiness.
Unbrined Rib Planks: Coat generously with Jeff's naked rib rub. To help the rub to stick better, apply a light coating of yellow mustard as a sticking agent.
Smoke the Rib Planks
Place the pan of rib planks on the smoker grate and smoke them at 225-240 degrees F for about 5 hours or until they reach the desired tenderness.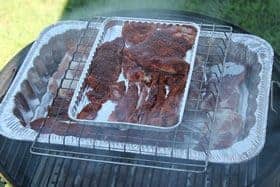 Note: As you can see here, I came up with some small bits and pieces from trimming the leftover bones and such. I placed a rack from my Bradley smoker across the pan then laid the pan of trimmings on the Bradley rack. Sometimes you have to get creative.
Finishing Up the Rib Planks
The unbrined rib planks with my rib rub can be served immediately or wrapped in foil and held in a warm oven for an hour or two in necessary.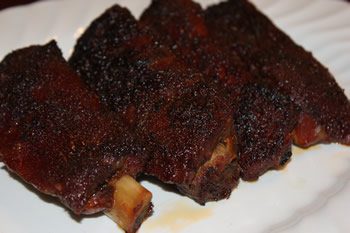 Maple Brined Ribs: About 30 minutes before the ribs are done cooking, use a brush to apply log cabin syrup to the meaty side of the ribs. Wait about 15 minutes and repeat for best results. For an added touch, you could also brush on a coat of real maple syrup to kick up the flavor of the maple.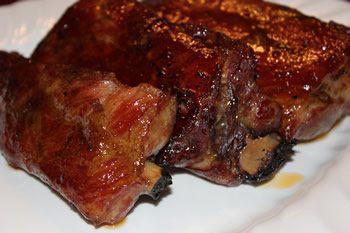 Cajun Brined Ribs: About 30 minutes before the ribs are done cooking, use a brush to apply a generous coat of my barbecue sauce to the meat side of the ribs. The sauce goes really well with the Louisiana flavor of the meat.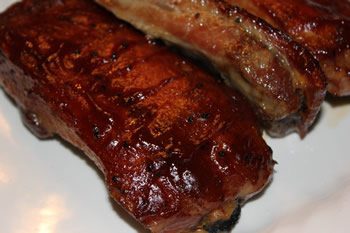 In Summary
As always, I cut up pieces of the meat for everyone to try and I am always interested to get the opinions of my wife and our 3 kids.
This time it was especially interesting since they have all let me know that my rub and sauce is the only way they like ribs and they claim I have them spoiled;-)
I made them all try the maple brined ribs as well as the cajun brined ribs and I of course watched their faces as well as listened to the comments that they made.
My wife, as expected, loudly proclaimed that she still liked the unbrined ones with my rub the best.
My oldest daughter, who is 14, preferred the Cajun ones with barbecue sauce and my 7 year old boy wants more of the maple ones for breakfast tomorrow morning..LOL
My 12 year old daughter just got braces on her teeth and claims she can no longer eat ribs… we'll see if she sneaks and eats some later. The ribs are really tender and I don't think they would be a problem but hey, I am proud of her for trying to follow the doctors orders.
I personally still prefer the unbrined ribs with my rib rub but then I wouldn't mind having some of the maple brined version for breakfast either so we'll see if Abi (my wife) took note of that request as she is normally in charge of breakfast.
Bacon Wrapped Chicken Bites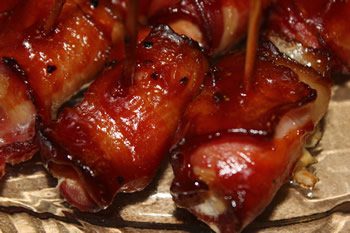 Here is something we do for parties and it's always a big hit. I like to use thigh meat since it tends to not dry out as bad but you can also use breast meat if you prefer. I do recommend that you use a brine if you choose to use chicken breast instead of thigh meat.
Enjoy!!
Ingredients
1 package of boneless, skinless chicken thighs or breasts
1 lb of regular sliced bacon (not thick sliced)
Wood toothpicks
Preparation
Cut chicken into small pieces of about 1″ x 1″.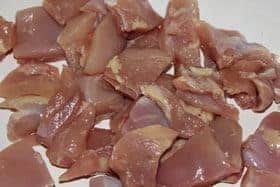 Cut entire package of bacon in half.
Make up a batch of Jeff's naked rib rub then pour about 1/4 cup or more into a plate and roll the chicken pieces in the rub making sure they are coated well. After coating with rub, wrap a half piece of bacon around each piece of chicken and push a toothpick through the bacon and into the chicken to hold everything in place.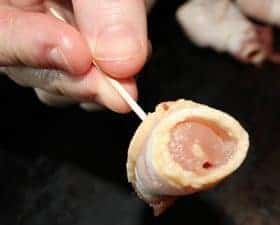 Smoking it
Place the bacon wrapped chicken bites directly on the grate or on a pan with some holes in it so the grease can fall through to a pan below or into the water pan of your smoker. Directly on the grate is best.
Smoke the chicken bites at 225-240 degrees for about 3 hours.
Finishing up
When the chicken/bacon starts to look done, do a quick test on one of the bites with a thermometer to make sure the chicken has reached at least 160 degrees F.
Brush some of my barbecue sauce onto the chicken bites and let the bites stay in the smoker about 30 more minutes for the sauce to caramelize a bit.
Alternative method: for crispier bacon, place the bites on a cookie sheet and place them under your oven broiler for 5 minutes. Remove them from the oven, brush on sauce and place them back under the broiler for about 3 additional minutes to caramelize the sauce.
Serve the bacon wrapped chicken bites hot with the toothpicks intact.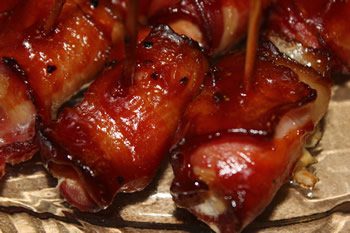 Get Jeff's Products!