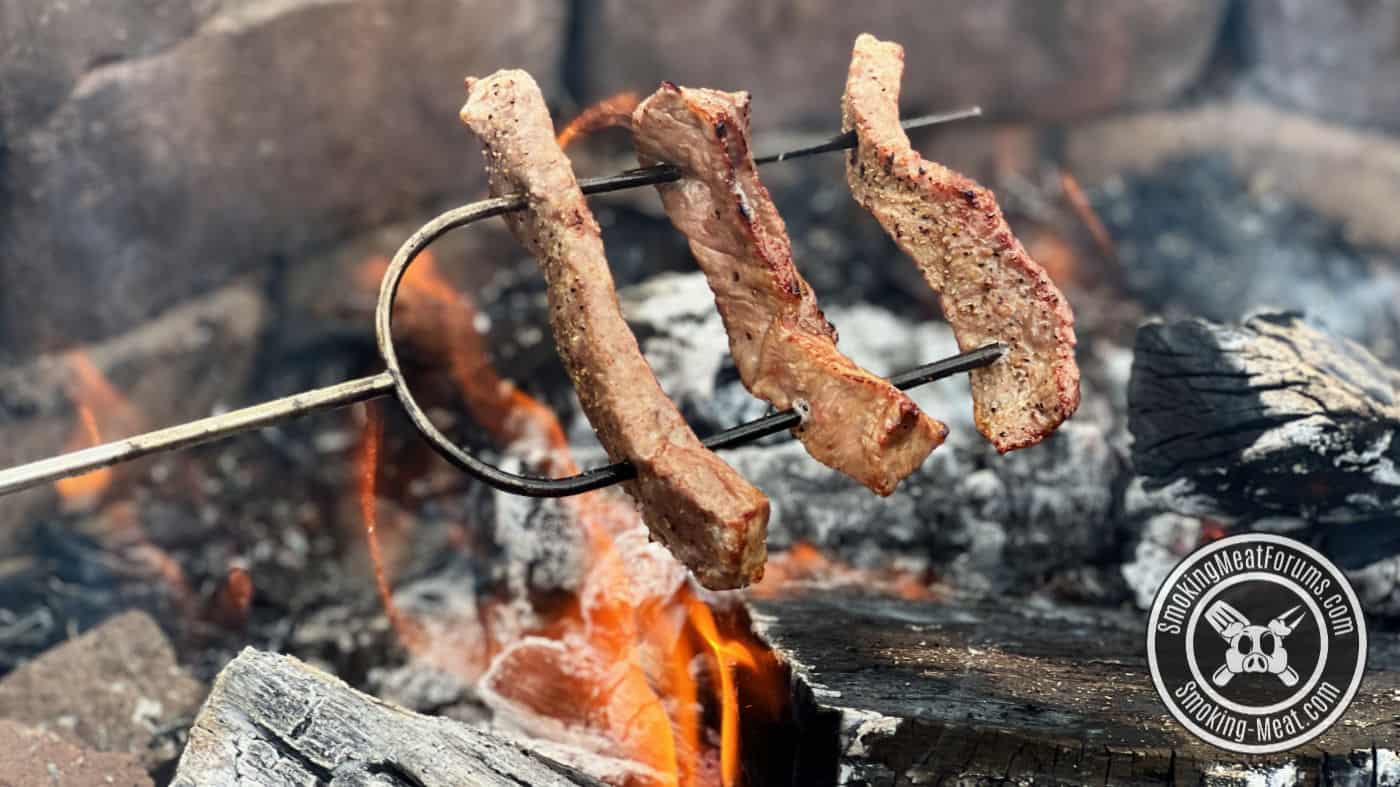 Smoking-Meat.com is supported by its readers. We may earn an affiliate commission at no extra cost to you if you buy through a link on this page.
Read this article without ads
I've smoked and grilled a lot of steak but one of my favorite methods is what I call campfire steak strips. This is such an easy way to prepare dinner when you're camping with a group.
The steak is pre-cut and pre-seasoned and everyone can cook their own strips of steak over the fire using a stick, campfire fork or even lay them on a grate over the fire.
They can cook the steak to their level of done and since everyone is cooking their own steak, all I have to worry about is a side or two such as baked potatoes, roasted corn, etc.
Here's instructions for preparing and cooking campfire steak strips.
Helpful Information
Prep Time: 15 minutes
Dry Brine Time: 2 hours
Cook Time: 5-10 minutes
What You'll Need
3-5 lbs Flat iron, NY strip, etc.
Coarse kosher salt (I use Mortons in the blue box)
Sharp knife
Campfire forks (pointy sticks also work in a pinch)
Did you know? You can order the MASTER FORMULAS which allow you to make Jeff's original rubs and original barbecue sauce at home using your own ingredients! Order the Recipes
What Kind of Steak is Best for Campfire Steak Strips?
I prefer flat iron steak over any other kind of steak. There is little fat and you can slice them up into strips in a jiffy.
In the absence of flat iron steaks, I like NY strips but of course you could also use sirloin. Ribeye tends to have too much fatty areas and won't make good strips.
I prefer steak that is ¾ inch thick or less. Flat iron steaks are often ½ inch or less and work perfectly.
Trim Them Up
If you use flat iron steaks for these, you will likely have no trimming to do. If you use NY strips or sirloin you may have some fat on the edges that will need to be trimmed off.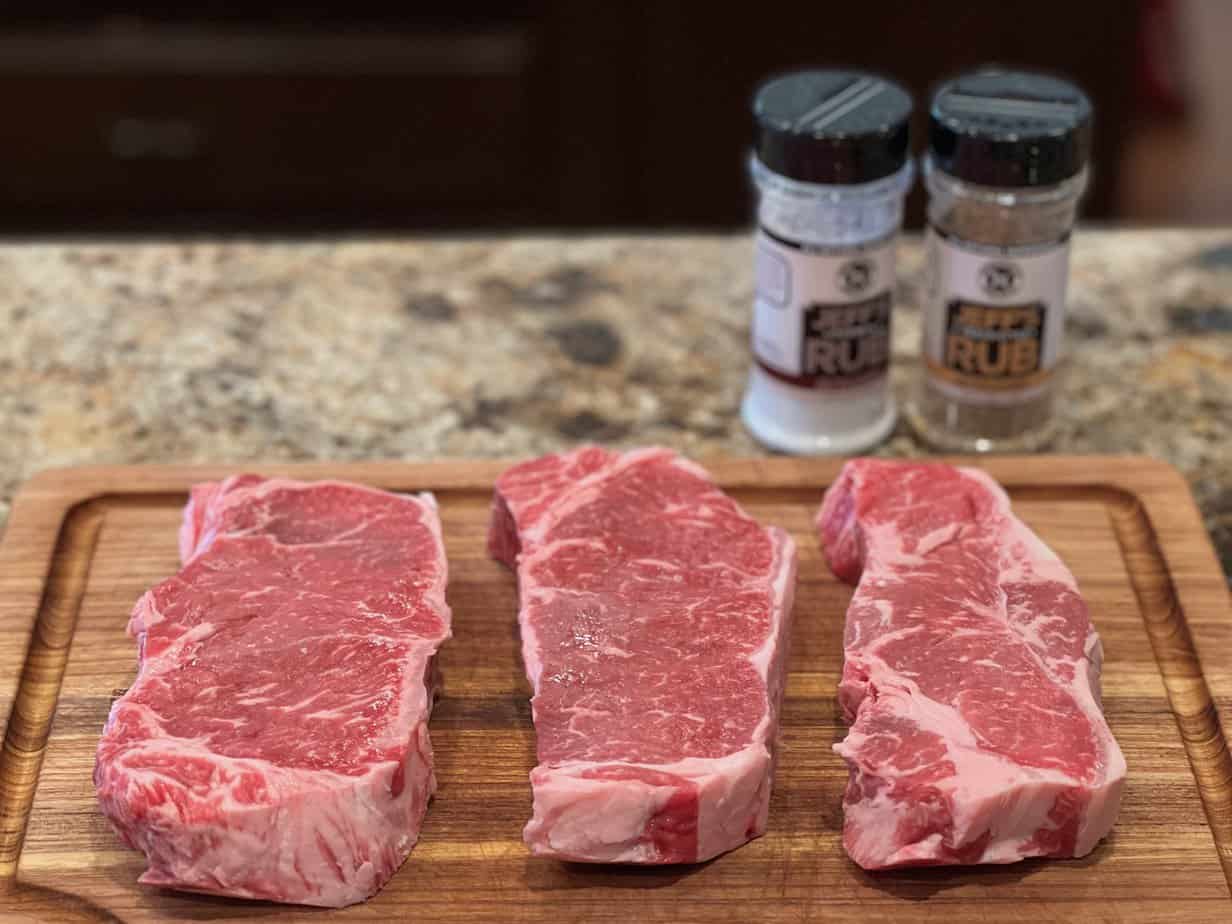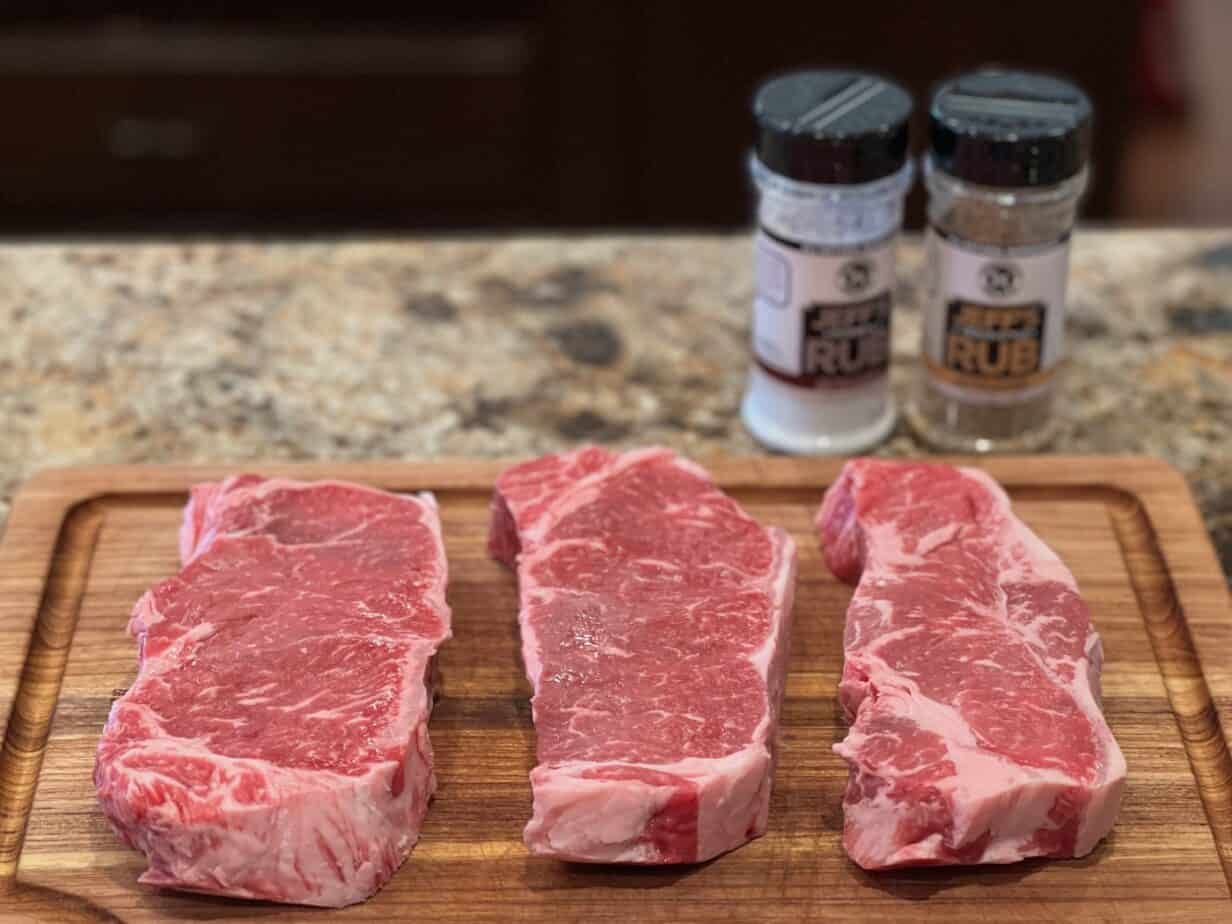 Marbling within the meat is good but chunks or layers of fat around the edges need to be trimmed off.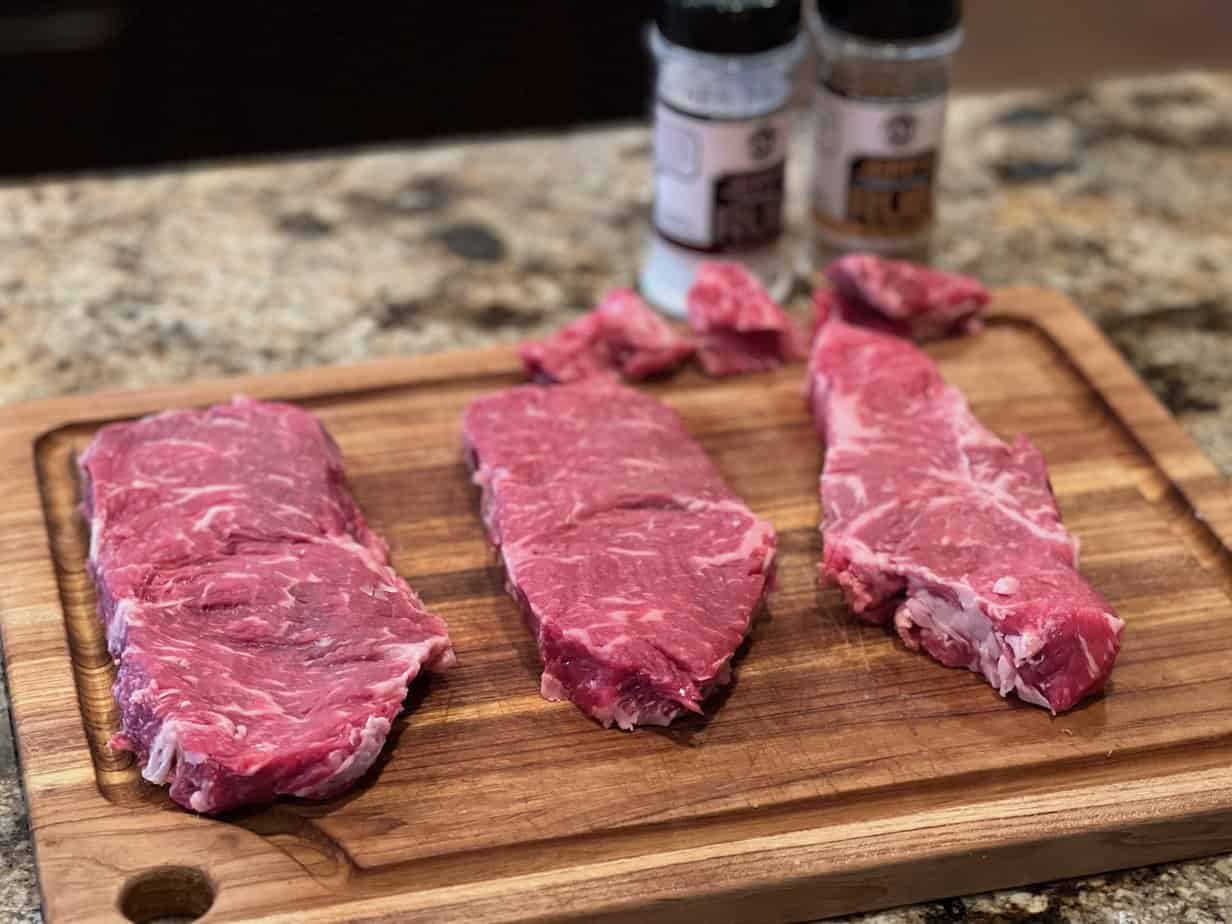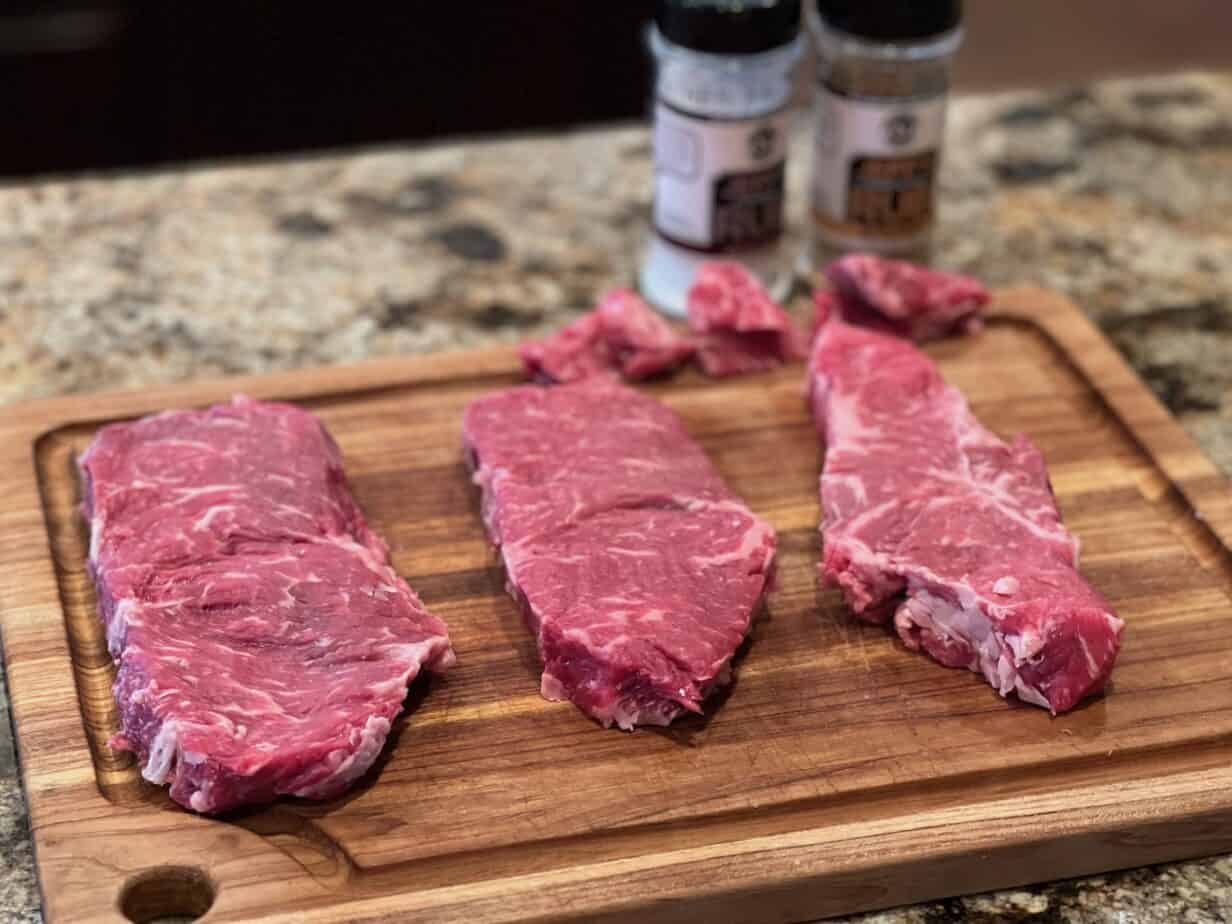 Once this is done, you are ready to move on.
Cut Them Into Strips
Freezing the steak for 30-45 minutes can really help with the slicing but I usually don't worry about this.
If the steak is ½ inch thick or less, I will slice them about ¾ inch wide. This is often the case with flat iron steak.
In taking the pictures for this, we had to use NY strips that were around ¾ inch thick so we sliced them only ¼ inch thick along the longest side.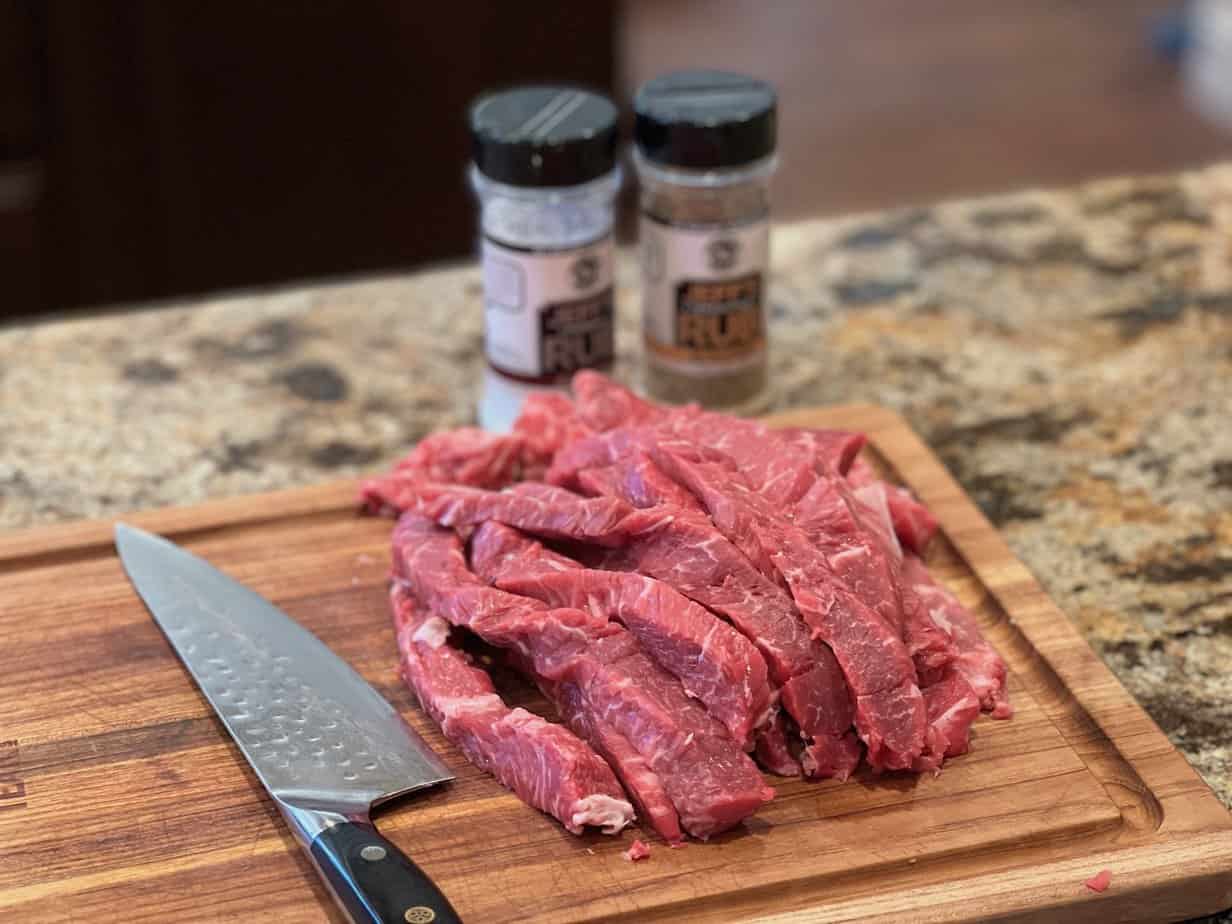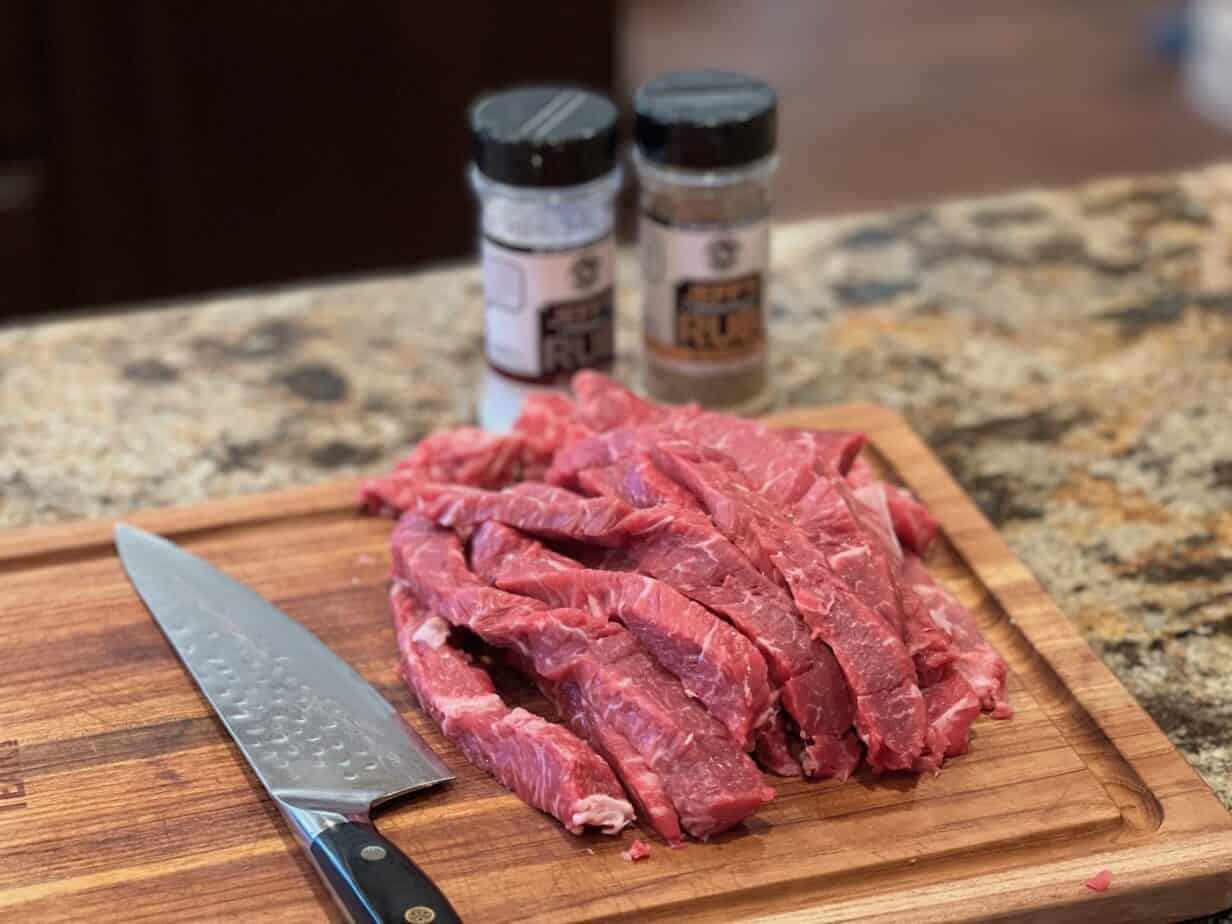 There are no hard and fast rules about this, just what I've found to work best over the years.
Dry Brine the Steak
If I'm out at the campsite doing this, I will often lay the steak on paper plates and do the salting that way, once I get them all salted, I place the steak into zip top bags and put the bag into the ice chest for 2 hours to keep the meat cold while it brines.
In doing this at home, I lay them out flat on a pan with a rack and dry brine them properly.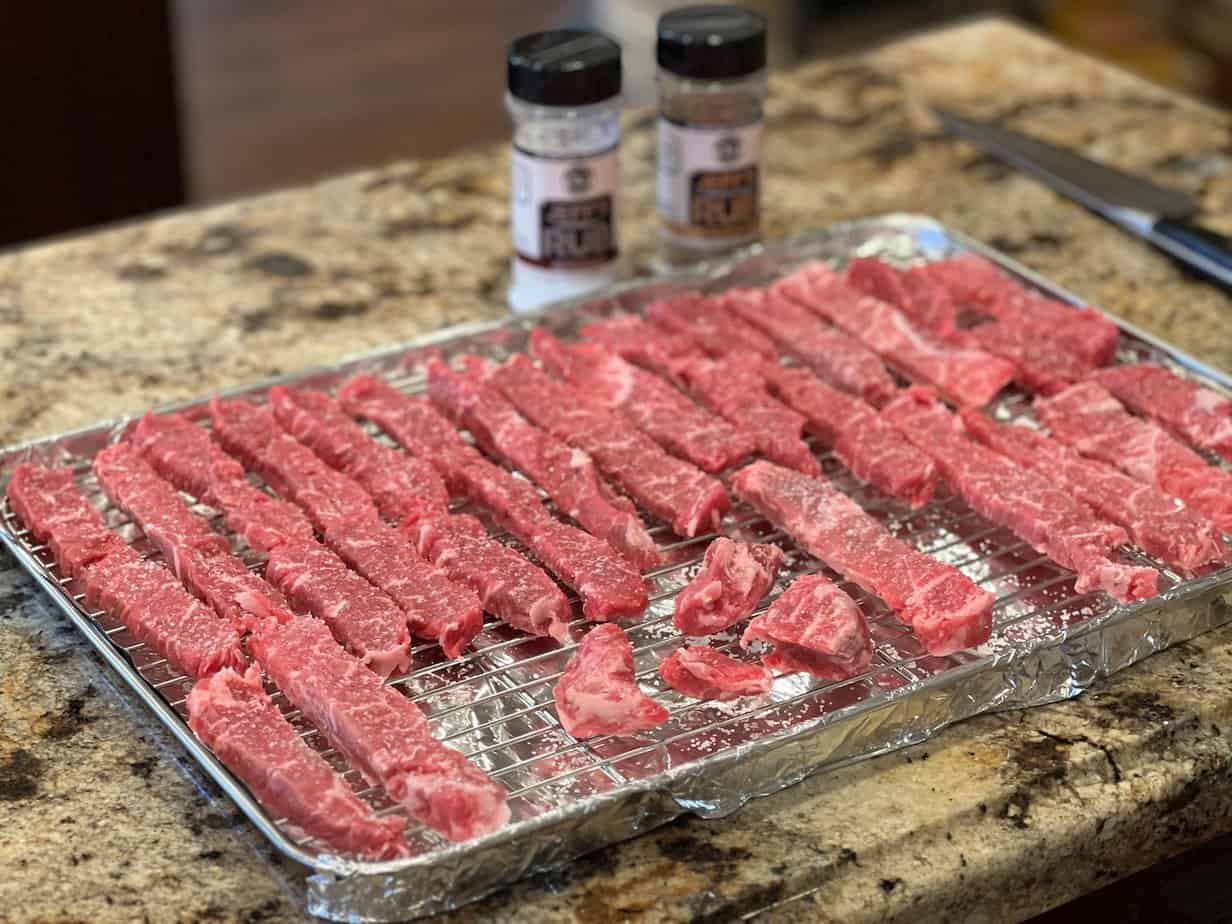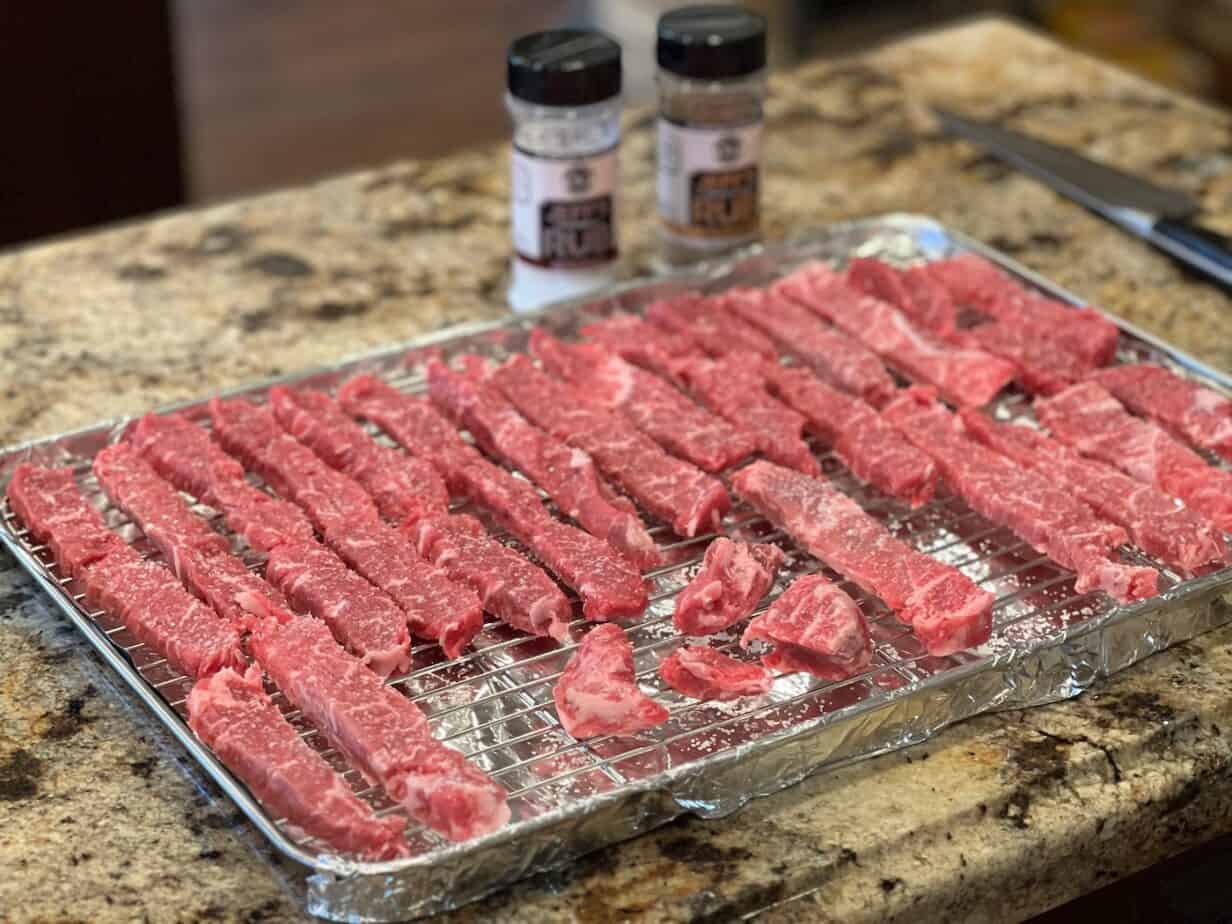 The professionals recommend ½ teaspoon of coarse kosher salt per pound of meat. I rarely measure but rather watch for visual cues to tell me when the salt is right.
Here's the perfect amount of salt for these ¼ inch thick pieces of NY Strip steak.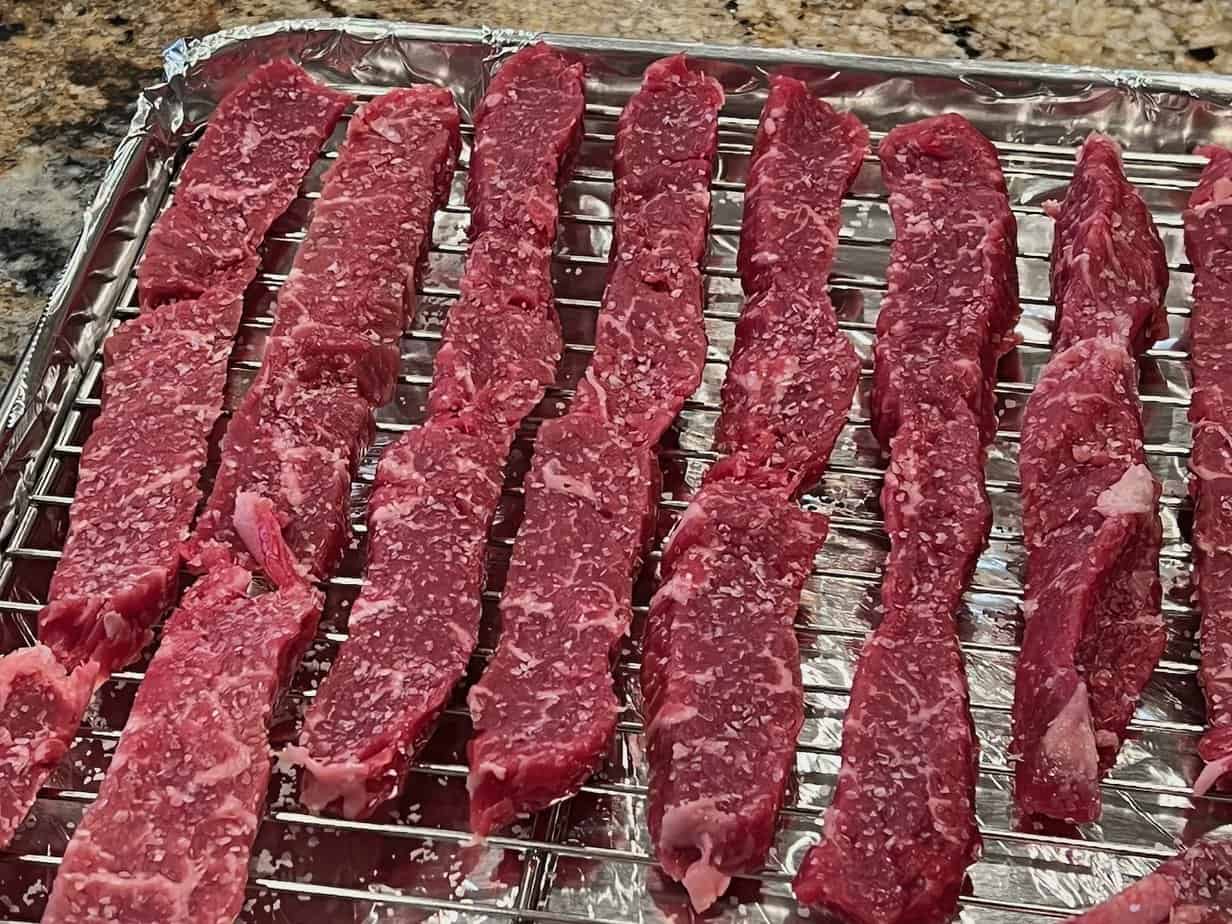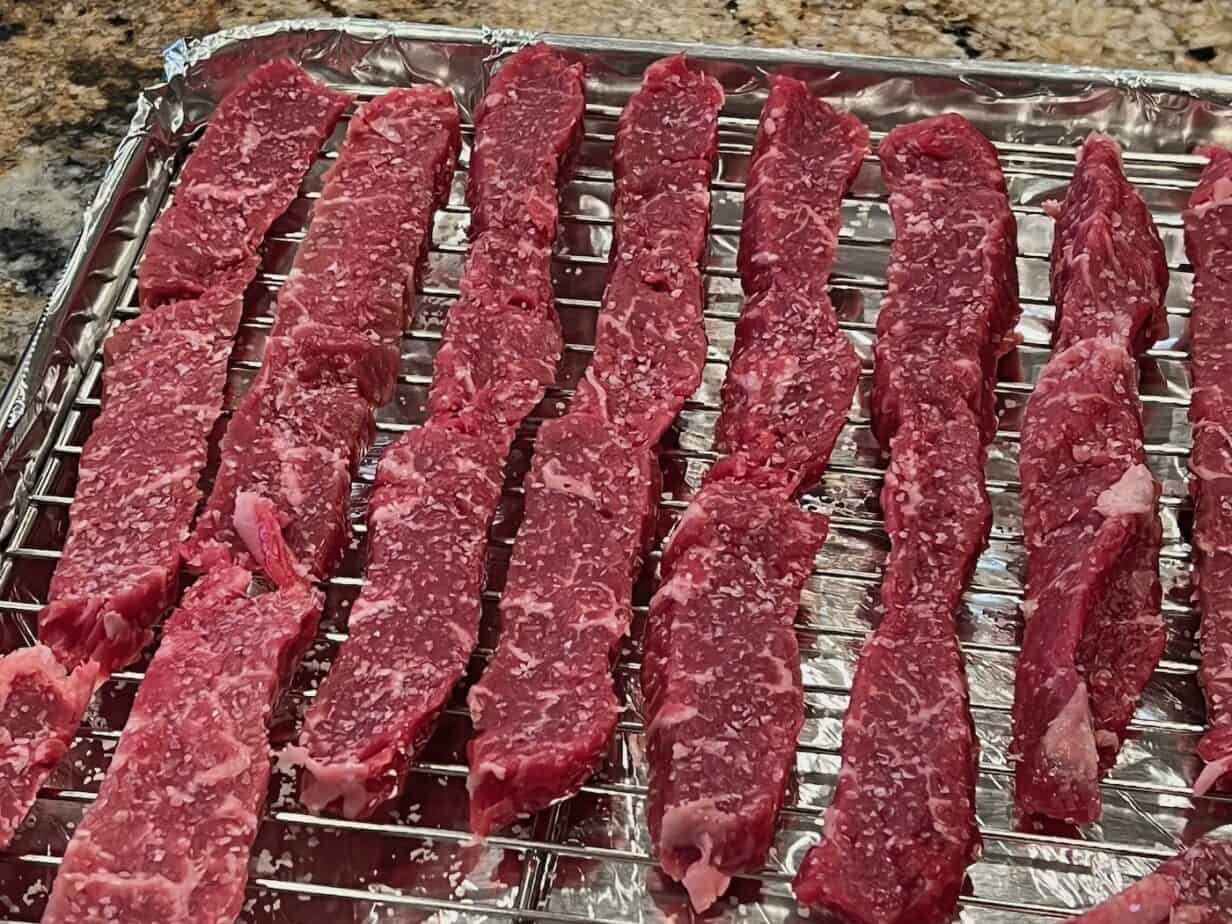 Once salted, leave the pan with the strips of steak on the counter for about 20 minutes until the salt begins to pull moisture from the steak to the surface.
See the moisture puddling? Never gets old!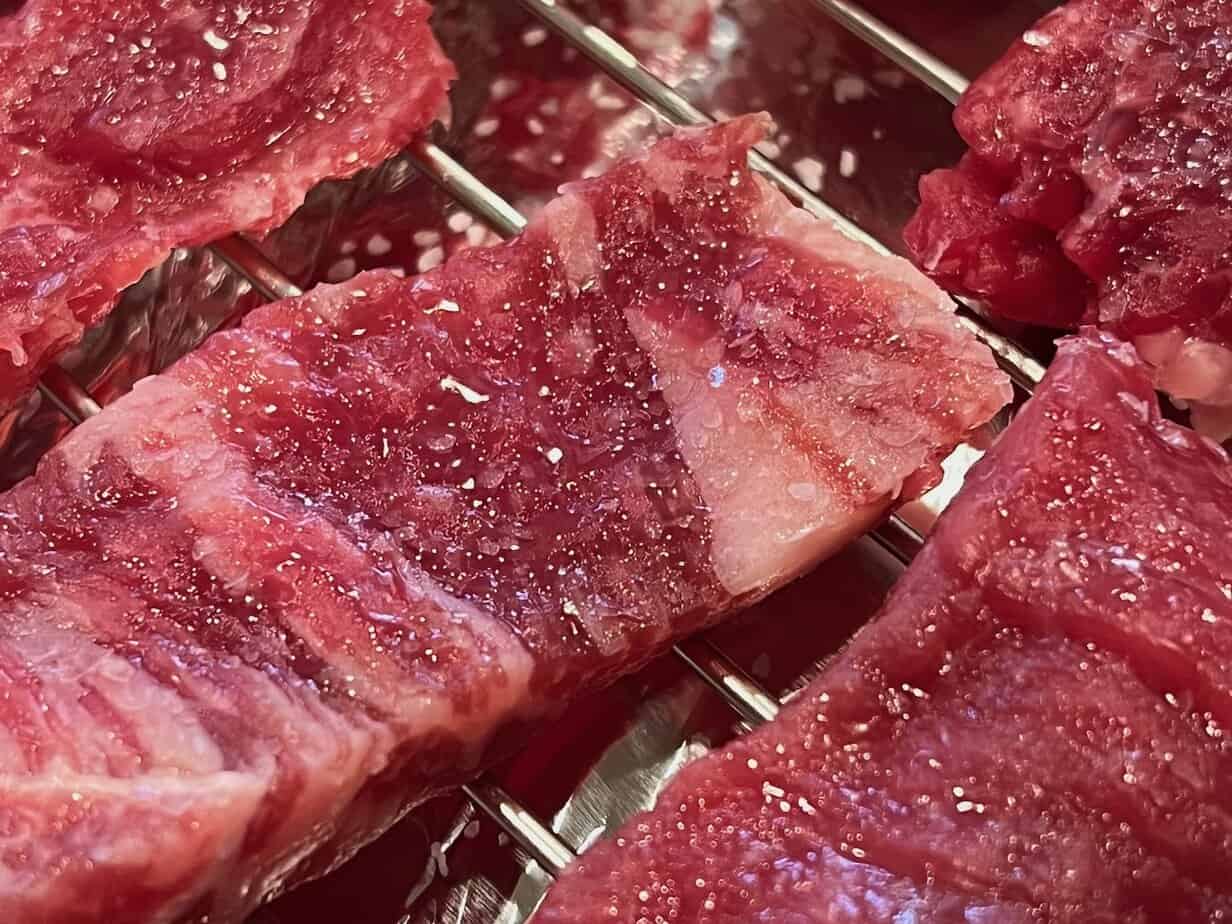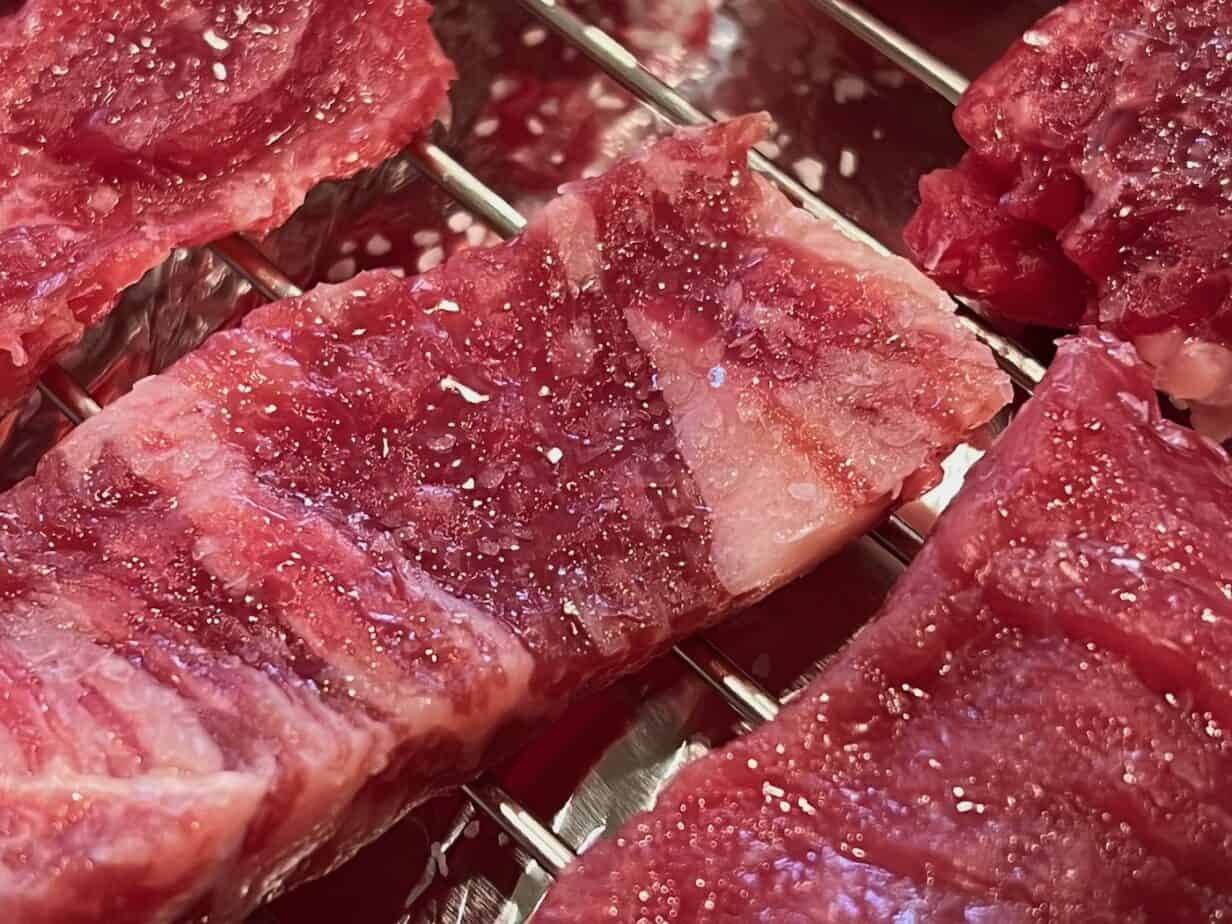 Once that happens, apply a very thin coat of Jeff's Texas style rub (Purchase formulas | Purchase bottled product) onto the top surface of the strips for a little extra flavor.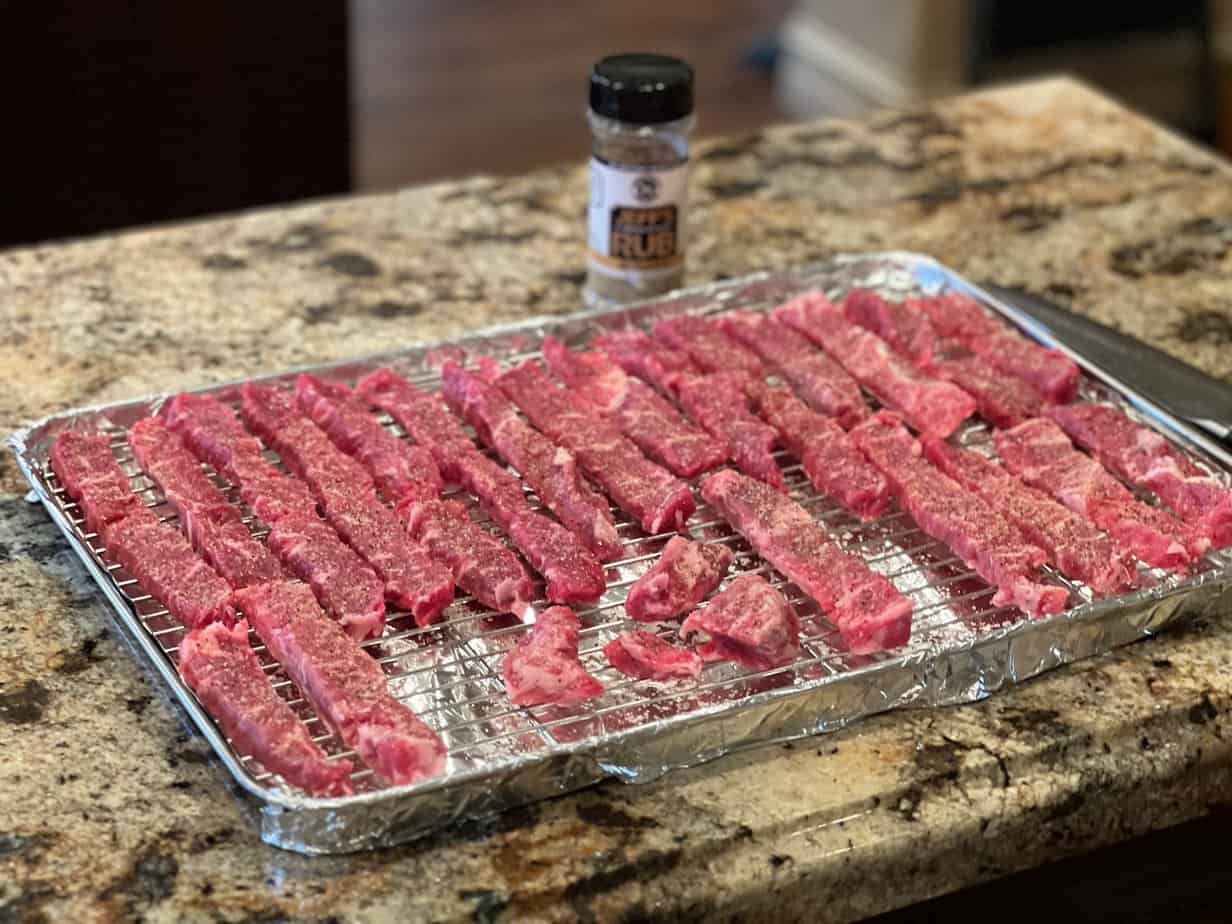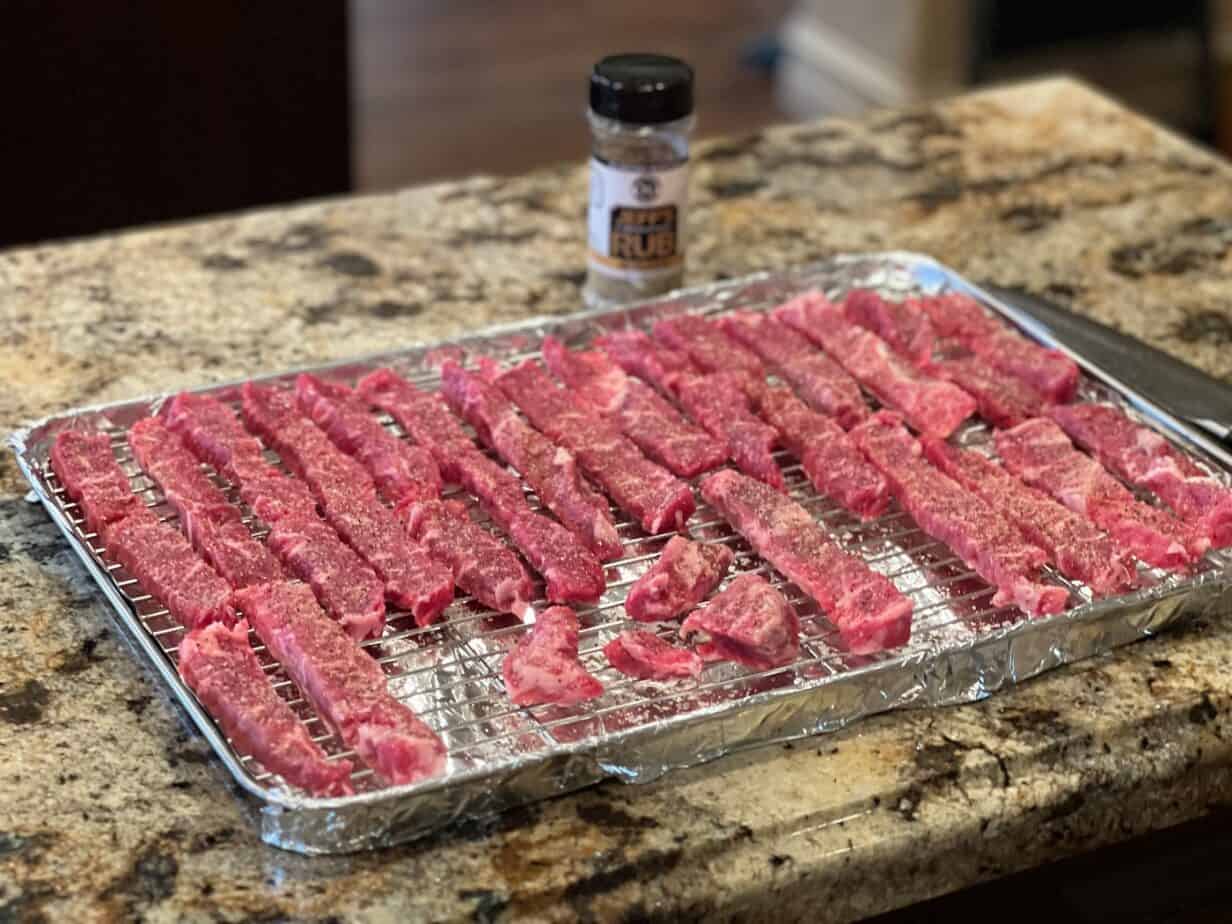 Place the pan into the fridge for 2 hours during which time the salty, seasoned moisture that got pulled to the surface, will be reabsorbed into the meat.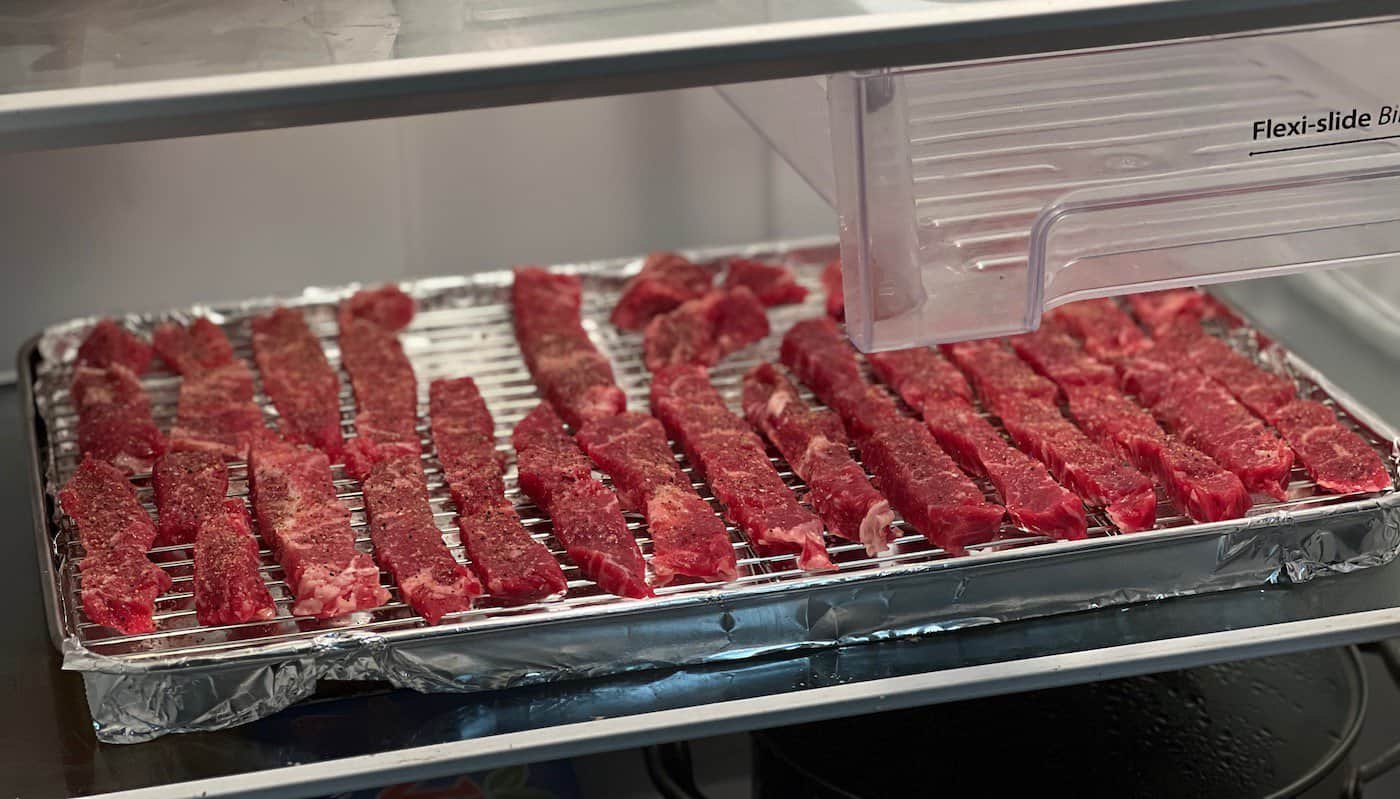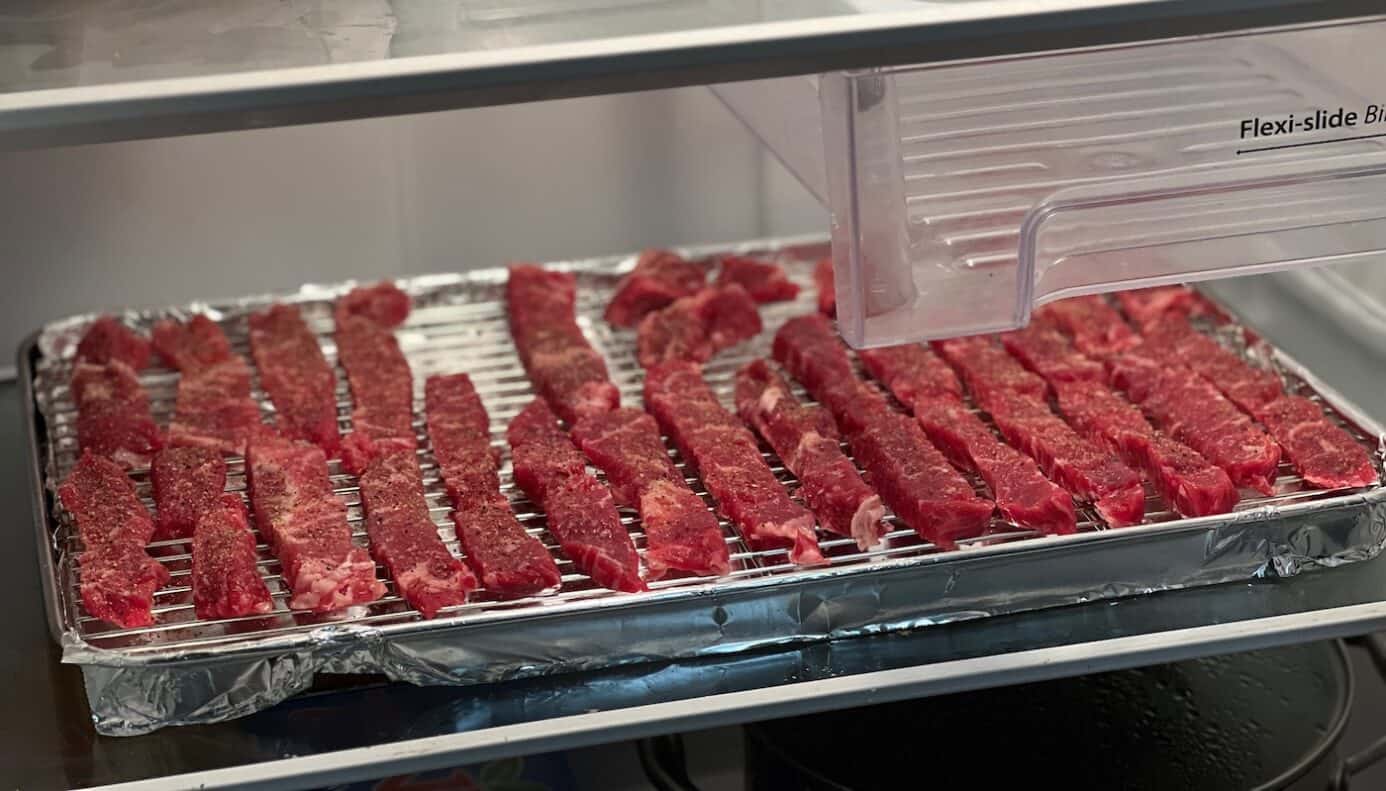 At the Campsite
Thread the meat onto campfire forks or sharp sticks. I usually let everyone do this however they see fit, even the kids enjoy this process.
Hold the meat about 12 inches above the fire and when you hear sizzling, it's time to rotate the campfire steak strips to the other side.
This is a fire pit that my son and I built a year or two ago and it only took about 4 hours using blocks, lava rock, landscape adhesive and lots of elbow grease.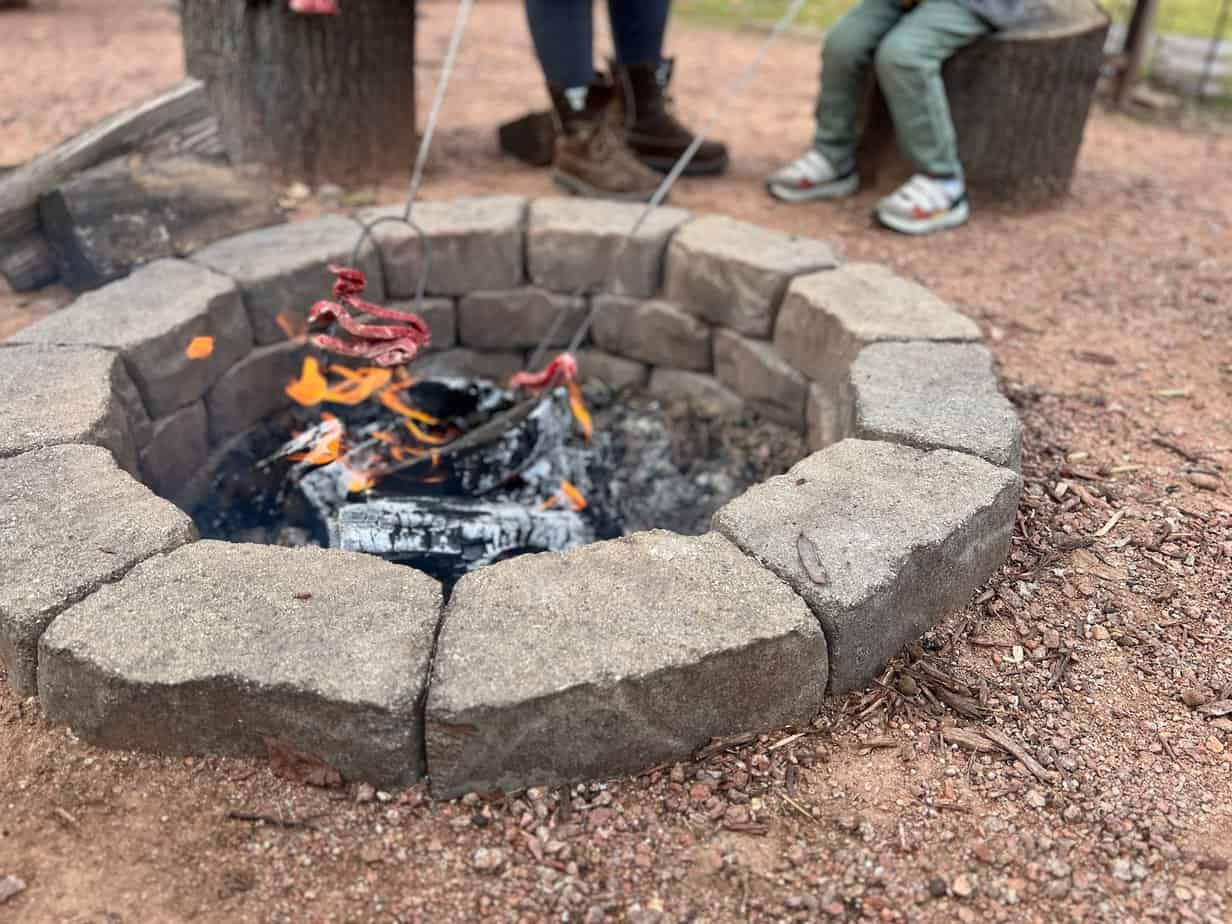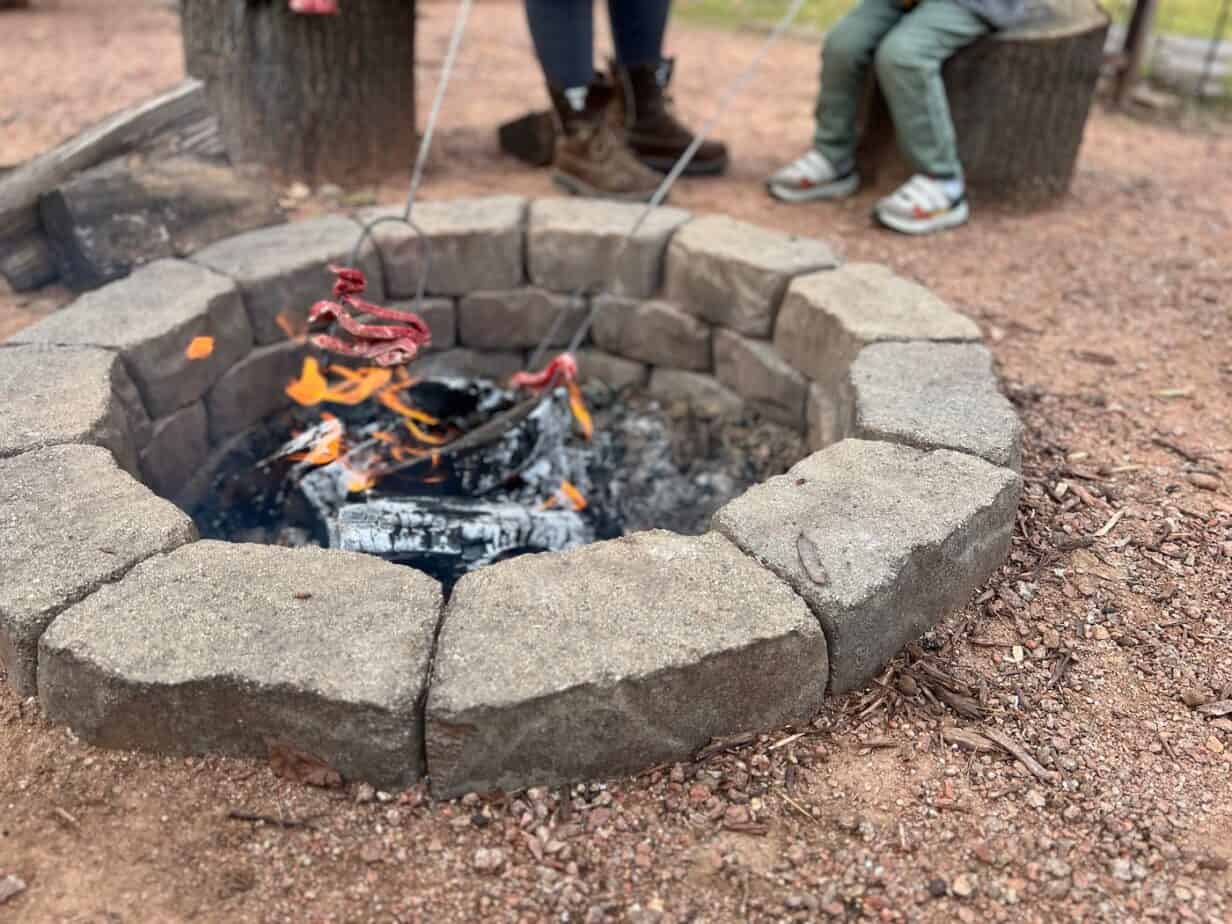 There is no wrong way to do do these campfire steak strips!
Resist the urge to use a thermometer for these. There's just something primal about cooking meat on a stick over a campfire that makes technology seem out of place.
These will taste amazing anywhere between medium rare and well done simply because they are cooked over the fire on a stick!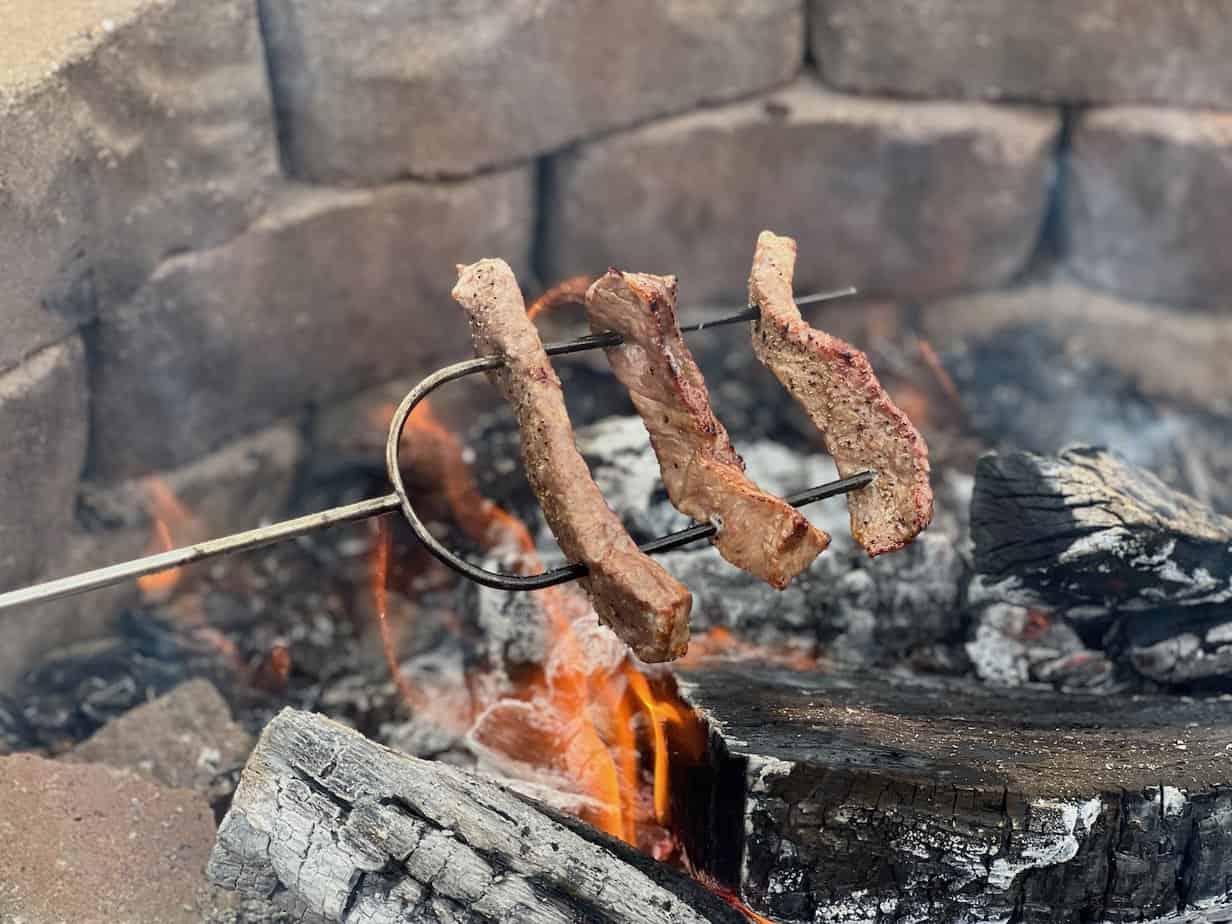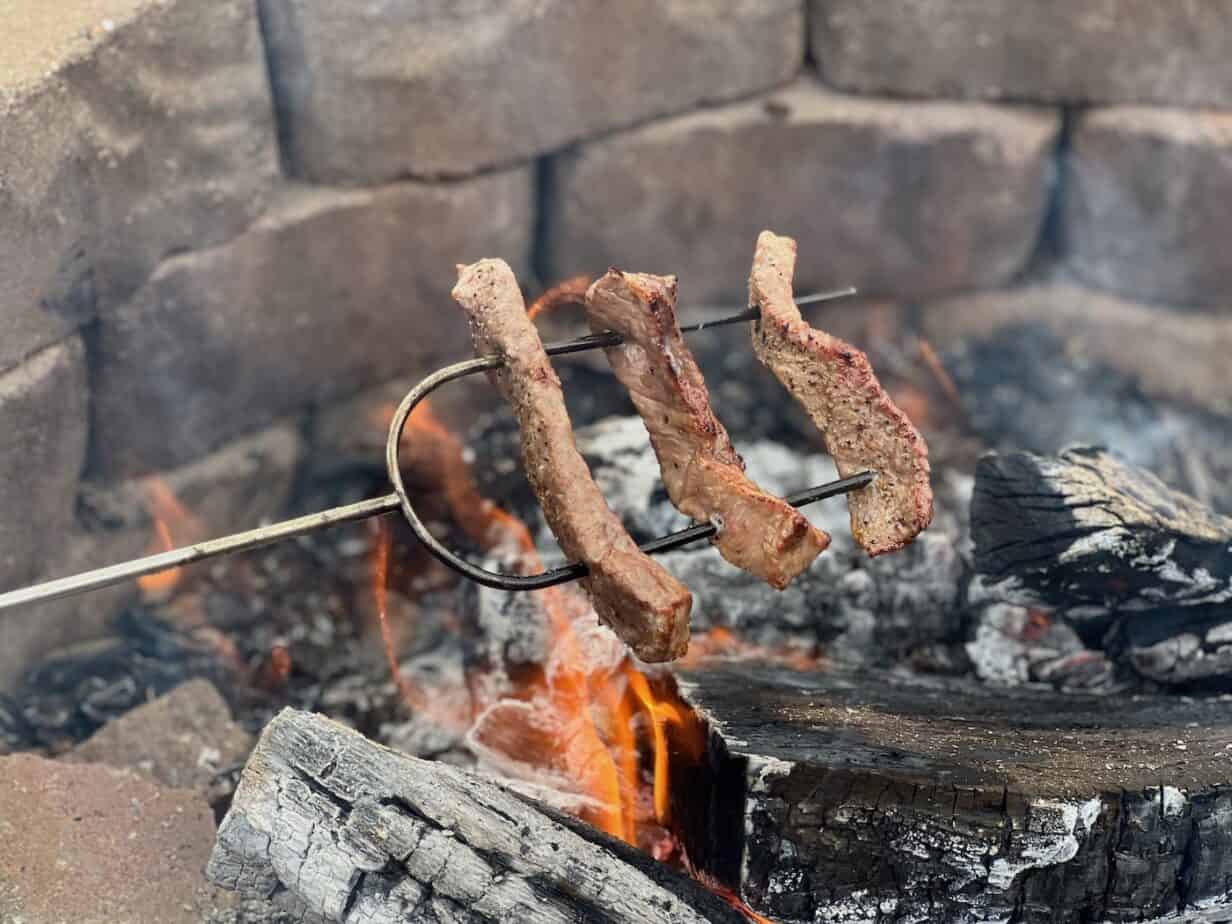 Serve these campfire steak strips with roasted corn or potatoes wrapped in foil and cooked under the coals.
You can also place several campfire steak strips on a hotdog bun or hoagie bun with cheese and grilled onions.
Have you cooked steak like this over a campfire? I'd love to hear about it in the comment area below!
Campfire Steak Strips
Strips of steak threaded onto campfire forks and cooked over a campfire allows everyone to cook their own steak just the way they like it!
Ingredients
3

lbs

flat iron

(NY strip, sirloin, etc. is also fine)

1

tbsp

coarse kosher salt

(I use Mortons in the blue box)

2

tbsp

Jeff's Texas style rub
Instructions
Trim fat from outside edge of steaks (if any).

 Slice steaks into pieces that about ¼ inch wide.

Lay strips out flat and sprinkle salt onto the top side at a rate of about ½ tsp per pound.

Once moisture begins to come to the surface (about 20 minutes), apply a light coat of

Jeff's Texas style rub

to the top side of the steak strips.

Place pan of steak strips into the fridge or ice chest and allow them to dry brine for 2 hours.

Build a campfire and thread strips of steak onto campfire forks.

Hold steak about 12 inches above hot coals until they begin to turn brown.

Rotate the campfire forks to cook the other side of the steak strips.

Once the strips are done to your liking, they are ready to eat.
Get Jeff's Products!