We all love the classics like smoked ribs, shrimp, brisket, etc. but it's also really great to find ways to use these classics in everyday meals whether it's for a purpose or just to use up leftovers.
With Valentine's Day coming up, I've been thinking about my wife's affinity for pasta and all things Italian and how to incorporate some of my delicious smoked shrimp and lobster into a nice fettuccine.
This smoked seafood fettuccine recipe is what I came up with and I think you'll find that the smoked seafood certainly takes it up a notch.
I served this to my family with Caprese skewers, which are a twist on an Italian classic and perfect for a romantic meal.  I've included the recipes for the Caprese skewers and homemade Alfredo sauce in this edition of the newsletter.
A perfect meal for Valentine's Day or almost any day for that matter!
Get the Recipes for Jeff's Rub and Sauce
---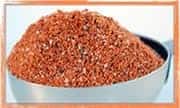 I have proven to many over the years that my rub and sauce are worth their weight in gold and simply put, anything that needs seasoning is a prime candidate for my dry rub. Buy it once and you never have to purchase rub again. When you need some, you simply whip up a fresh batch using ingredients you most likely already have in the panty and you're good to go!
I promise you'll love my dry rub/seasoning recipe and my barbecue sauce recipe or you don't pay!
Reasons to buy: Support the newsletter and the website | Own "the recipes" | Get the email newsletter 100% AD FREE from now on | Includes the Texas style rub recipe

Important Information
Prep Time: 30 minutes
Yield: 6 servings
Cook Time: 1 hour
Smoker Temp: 225°F
Meat Finish Temp: 140°F
Recommended Wood: Apple or Pecan
What You'll Need
1 small lobster per person, (4-5 oz)
1 lb of medium shrimp
2 lbs of fettuccine pasta
Alfredo sauce (recipe below)
Caprese Skewers (recipe below)
Garlic bread (optional)
Prepare the Lobster
Cut a slit along the top of the tail from the front all the way back to where the tail fin begins.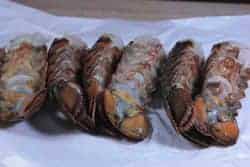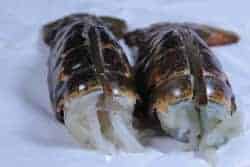 Lay the lobsters shell side up on a Bradley rack and they are ready for the smoker.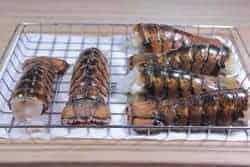 Note: for a more detailed article on smoking lobster tails, see smoked lobster
Prepare the Shrimp
If the shrimp are frozen, place them in a colander and run cold water over them for several minutes.
Remove shells and tails and place them in a bowl for seasoning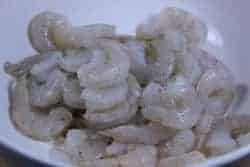 Drizzle about ½ cup of olive oil over the shrimp and stir to coat. Then sprinkle on about a tablespoon of my rub.
Stir to coat well.
These shrimp were fairly small and I wanted to use my Bradley rack so I quickly skewered them with extra long (4-inch) toothpicks to make sure they could not fall through the holes.
About 3 per toothpick.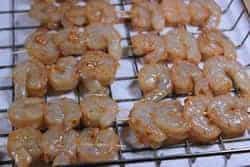 The shrimp are now ready for the smoker.
Getting the Smoker Ready
Both lobster and shrimp cook very quickly (an hour or less) so I recommend using a smoker that is quick and easy to setup if you have one available. The Bradley electric, Masterbuilt electric, and Landmann Propane are just a few smokers that come to mind but there are many other smokers, even inexpensive ones that are perfect for small projects such as this.
Set up your smoker for cooking at about 225°F with pecan or apple wood.
Here's some information that I have written on various smokers.
Note: In colder weather, it is advisable to preheat the smoker at least an hour or more before you are wanting to use it. Keep the door closed as much as possible and even skip basting if necessary to maintain proper smoking temperatures.
Smoking the Seafood
Place the lobster tails in the smoker first since it will take about 45-60 minutes. After about 30 minutes, place the shrimp in the smoker. This should get the lobster and the shrimp done at about the same time.
Estimated cook times are as follows:
4-5 oz lobster tails: 45-60 minutes, will be bright red/orange and about 140-145°F  in the center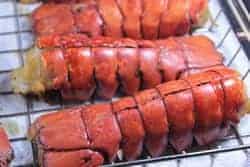 Medium shrimp (40-50/lb): 20-25 minutes, will turn from translucent to opaque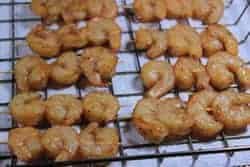 Making the Alfredo Sauce for Fettuccine
Note: This can be done while the lobster and shrimp are smoking.
Alfredo Sauce: (enough for 2 lbs of uncooked pasta)
2 cups fresh parmesan cheese, shredded
2 cups heavy whipping cream
2 sticks butter
sea salt and coarse pepper
Place 1 3/4 cups of the shredded cheese in a large bowl; set aside the remaining cheese for later.  In a saucepan, heat the butter and cream over low heat until the butter is melted (about 10 minutes).  Do not boil or turn up the heat.  Pour the heated cream and butter over the parmesan and stir to melt.  Pour over cooked, drained pasta and toss to coat with sauce.  Add the remaining parmesan and toss gently.  Season to taste with salt and pepper.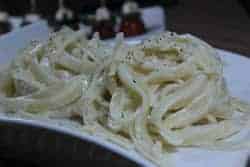 Putting it All Together
Remove lobster meat from shell and slice each into 6-8 medallions.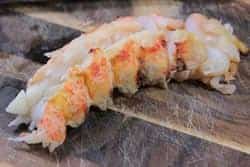 Place fettuccine onto plate with 7-8 shrimp and lobster medallions. Serve immediately!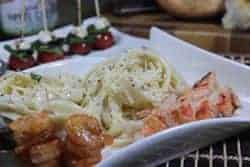 Making the Caprese Skewers
Ingredients:
12 grape tomatoes
12 miniature fresh mozzarella balls
12 fresh basil leaves
12 toothpicks
1 cup balsamic vinegar
Use the balsamic to make a reduction and set aside to cool.  If you need instructions for how to make balsamic reduction, follow this link.  http://www.yumsugar.com/How-Make-Balsamic-Reduction-22636318   Cut a small slice off the stem end of each tomato so they will sit flat on the plate.  Pinch the stems off the basil leaves and discard.  Rinse the leaves and pat dry with a paper towel.
To assemble: slide the mozzarella ball, a folded basil leaf and a tomato onto each toothpick and set upright in the plate.  You can drizzle the skewers with a few drops of olive oil and season with salt and pepper or you can leave them plain.  Use a spoon to drizzle a bit of the balsamic reduction over each skewer.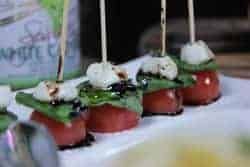 ***Note: you get the Texas style rub recipe free with your order!
If I could give these recipes away, I would do that. I really want you to have them! But, then, this is how I support the newsletter, the website and all of the other stuff that we do here to promote the art of smoking meat.
Read these recent testimonies:
"Love the sauce and rub recipes. So far I have used them on beef ribs, pork ribs, and different chicken parts. Can't wait to do a beef brisket. Texas rub is great as well!" ~Peter S.
"I tried the rub on a beef brisket and some beef ribs the other day and our entire family enjoyed it tremendously. I also made a batch of the barbeque sauce that we used on the brisket as well as some chicken. We all agreed it was the best sauce we have had in a while." ~Darwyn B.
"Love the original rib rub and sauce! We have an annual rib fest competition at the lake every 4th of July. I will say we have won a great percent of the time over the past 15 years so we are not novices by any means. However, we didn't win last year and had to step up our game! We used Jeff's rub and sauce (sauce on the side) and it was a landslide win for us this year! Thanks Jeff for the great recipes. I'm looking forward to trying the Texas style rub in the near future!" ~Michelle M.
You see the raving testimonies and you wonder, "Can the recipes really be that good?"
No worries! Make up a batch and if it's not as good as you've heard.. simply ask for a refund. Now that's a bargain and you know it. Let's review:
You decide you don't like the recipes.. you don't pay!
The recipes are absolutely amazing!
Once you order, there'll be no more recipe ads in the email version of the newsletter
Well.. what are you waiting for.. click on the big orange button below to order the recipes now.

I really, really appreciate the support from my newsletter friends and be sure to let me know if you have any questions about this.
Jeff's Smoking Meat Book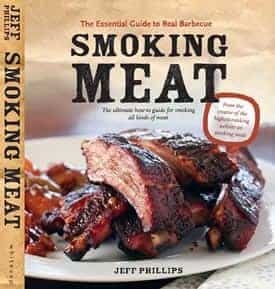 The book is full of recipes and contains tons of helpful information as well. Some have even said that "no smoker should be without this book"!
With more than 800 reviews on Amazon.com and a rating of 4.7 out of 5 stars, it comes highly recommended.
It is a Bestseller in Barbecueing & Grilling books on Amazon.
Amazon | Barnes & Noble | German Edition
Digital versions available via Nook | iTunes | Kindle
Get Almost Anything at Amazon
If you enjoy the newsletter and would like to do something helpful, then..
The next time you decide to order something at Amazon.com, use THIS LINK to get there and we'll get a small commission off of what you purchase.
Thank you in advance for using our special link: http://www.smoking-meat.com/amazon