Smoked flat iron steaks may be a best kept secret but if you can find them, you'll see what I mean when I say that they easily rival tri-tip and many other more expensive cuts for flavor and tenderness. Be sure to acquire my Texas style rub (Purchase formula here | Purchase bottled rub) to use on these.
Helpful Information
Prep Time: 10 minutes
Cook Time: 45-60 minutes
Smoker Temp: 225°F
Meat Finish Temp: 135°F
Recommended Wood: Hickory
What You'll Need
Prepare the Steaks for Smoking
These steaks come in different sizes and shapes depending on how the butcher decided to package them. I often find them cut into individual portions as well as in whole pieces like this one.
This is (2) pieces about 4 inches wide, 10-12 inches long and ¾ inches thick.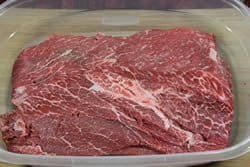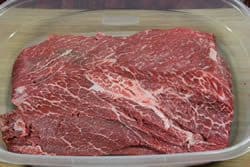 As with most seasonings and rubs that we apply to smoked meat, it is a good thing to add a little something to ensure the Texas style rub (Purchase formula here | Purchase bottled rub) stays put and doesn't fall off during the cooking process.
On these smoked flat iron steaks, I recommend a little olive or vegetable oil brushed onto both sides.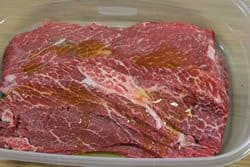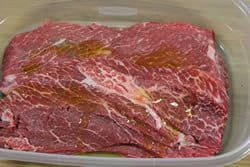 Once the oil is brushed onto the meat, add a generous sprinkling of my Texas style rub (Purchase formula here | Purchase bottled rub).
Like the original rub recipe, it is low in salt which means you can add as much flavor as you like without worrying about over-salting..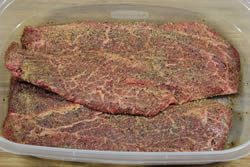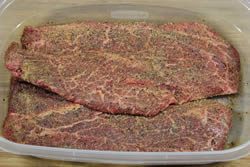 Flip the steaks over and oil/rub the other side as well.
Once both sides are seasoned well, place the steaks in a lidded container and place them in the fridge for 4 hours or overnight. More time is better but if all you have is a few hours, it's better than nothing.
By the way.. if you'd like to see a recipe for smoked flat iron steaks using my original rub recipe (also really, really good), Here it is:
Smoke the Flat Iron Steaks
Setup your smoker for cooking at about 225°F. I do not recommend going much hotter than that.
You do not want the steaks getting done too quickly.. they need to spend some quality time with the smoke. Keep the temperature on the low side and the let the smoke do it's thing.
Once the smoker is ready, place the steaks directly on the grate and leave them alone until they reach medium rare or your desired level of done.
I used hickory smoke but you can use mesquite, pecan, cherry or any number of other smoking woods depending on what you have available to you.
A few words on smokers:
I often have folks ask me for specific recipe instructions for various types and brands of smokers. Let me just say that in it's simplest form, normal hot smoking is simply heat with the addition of smoke.
The heat cooks the food and the smoke adds that wonderful flavor that we all love so much.
Different fuels are used to provide the heat including but not limited to wood logs, electricity, charcoal, propane, natural gas and other forms of wood such as pellets.
Without arguing about things that are subjective like what type of smokers give you the best flavor, I can tell you that the type of smoker is not nearly as important as the method, the recipe, the rub you use and ultimately the person doing the cooking.
Temperature is VERY important with steaks.
Use a digital probe meat thermometer such as the Smoke by ThermoWorks to monitor the temperature of the steak while it is in the smoker. This type of thermometer allows you to know the temperature of the meat without having to open the door of the smoker.
Note: I recommend using a Thermapen to check the temperature of each individual steak once they are close to being finished. The new Mk4 reads in about 3 seconds or less and I always keep mine close by anytime I am cooking.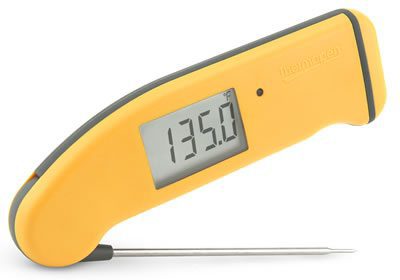 For medium rare, remove the steak when it reaches about 135°F. Carryover heat will bring it on up a degree or two for a perfect, edge to edge medium rare steak.
Finished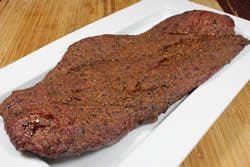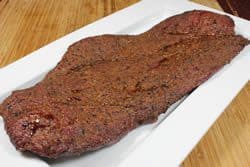 Rest for 7-10 minutes tented with foil before serving.
These smoked flat iron steaks can be served as individual steaks with traditional sides or you can slice them like I did to top a large, fresh salad.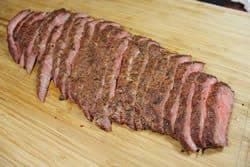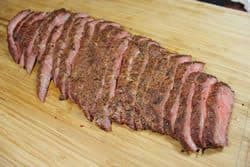 ***Note: you get the Texas style rub recipe free with your order!
If I could give these recipes away, I would do that. I really want you to have them! But, then, this is how I support the newsletter, the website and all of the other stuff that we do here to promote the art of smoking meat.
Read these recent testimonies:
"Love the sauce and rub recipes. So far I have used them on beef ribs, pork ribs, and different chicken parts. Can't wait to do a beef brisket. Texas rub is great as well!" ~Peter S.
"I tried the rub on a beef brisket and some beef ribs the other day and our entire family enjoyed it tremendously. I also made a batch of the barbeque sauce that we used on the brisket as well as some chicken. We all agreed it was the best sauce we have had in a while." ~Darwyn B.
"Love the original rib rub and sauce! We have an annual rib fest competition at the lake every 4th of July. I will say we have won a great percent of the time over the past 15 years so we are not novices by any means. However, we didn't win last year and had to step up our game! We used Jeff's rub and sauce (sauce on the side) and it was a landslide win for us this year! Thanks Jeff for the great recipes. I'm looking forward to trying the Texas style rub in the near future!" ~Michelle M.
You see the raving testimonies and you wonder, "Can the recipes really be that good?"
No worries! Make up a batch and if it's not as good as you've heard.. simply ask for a refund. Now that's a bargain and you know it. Let's review:
You decide you don't like the recipes.. you don't pay!
The recipes are absolutely amazing!
Once you order, there'll be no more recipe ads in the email version of the newsletter
Well.. what are you waiting for.. click on the big orange button below to order the recipes now.

I really, really appreciate the support from my newsletter friends and be sure to let me know if you have any questions about this.
Jeff's Smoking Meat Book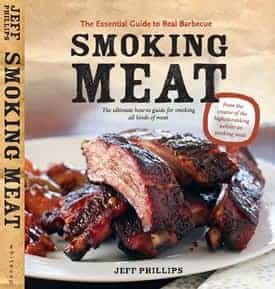 The book is full of recipes and contains tons of helpful information as well. Some have even said that "no smoker should be without this book"!
With more than 800 reviews on Amazon.com and a rating of 4.7 out of 5 stars, it comes highly recommended.
It is a Bestseller in Barbecueing & Grilling books on Amazon.
Amazon | Barnes & Noble | German Edition
Digital versions available via Nook | iTunes | Kindle
Get Almost Anything at Amazon
If you enjoy the newsletter and would like to do something helpful, then..
The next time you decide to order something at Amazon.com, use THIS LINK to get there and we'll get a small commission off of what you purchase.
Thank you in advance for using our special link: http://www.smoking-meat.com/amazon
Printable Recipe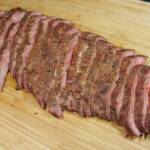 Print Recipe
Texas Style Smoked Flat Iron Steaks
Smoked flat iron steaks may be a best kept secret but if you can find them, you'll see what I mean when I say that they easily rival tri-tip and many other more expensive cuts for flavor and tenderness.
Ingredients
Flat iron steaks

(((about ¾ inch thick is common)))

Olive or vegetable oil

(1) batch of Jeff's Texas style rub
Instructions
Coat steaks with olive or vegetable oil.

Place in lidded or covered container and into fridge for 4 hours or overnight.

Setup smoker for cooking at 225°F with hickory or other

smoking wood

.

Place steaks on smoker grate.

Cook for about 45-60 minutes or until they reach 135-137°F (medium rare) in the center.

Rest for 7-10 minutes tented with foil before serving.