Here are several wonderful party foods and appetizers that you can make with smoked pulled pork. All of them are tremendously good and just perfect for game day or any day.
I highly recommend my Cherry Dr. Pepper pulled pork recipe for use in these recipes.
Pulled Pork Hot Dogs (Simply Amazing!)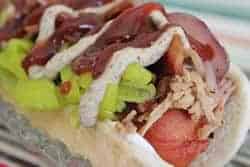 I am and have always been a huge fan of good hotdogs and I'm not referring to something boiled and eaten with ketchup and/or mustard like we did as kids. I am in favor of what I call "adult" hotdogs with all the trimmings.
Ingredients
Saute the red onions in the leftover bacon grease until just softened; drain on paper towel. Mix together mayonnaise and horseradish; spread onto the inside of the hotdog bun. Put the hotdog into the bun. Layer onto the hot dog: pulled pork, dash of rib rub, red onions, peppers, crumbled bacon, spicy mustard & barbecue sauce. Add wasabi if desired.
Enjoy immensely!!
Pulled Pork Party Dip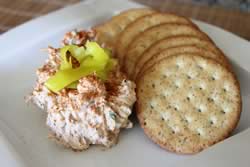 This might just be my favorite dip on almost anything including Doritos, Fritos, crackers, etc..
Ingredients
1 cup pulled pork, chopped (cold)
1 – 8 oz. block cream cheese
1/4 c. Jeff's barbecue sauce (Purchase formula here | Purchase bottled sauce)
2 Tbs. fresh jalapenos, seeded & diced
2 Tbs. pepperoncini peppers, minced
In a mixing bowl, beat the cream cheese and barbecue sauce until smooth. Fold in the pulled pork, jalapenos & peppers. Serve cold or at room temperature with crackers or chips.
Pulled Pork Parfaits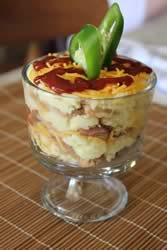 A beautiful conglomeration of mashed potatoes, meat, corn, sauce almost anything you like and layered in such a way so that it has the resemblance of an ice cream sundae.
These are really good and can be set up with all the toppings laid out on the table or bar so that everyone can make their own exactly the way they like it.
Ingredients
Layer into a parfait glass (or a bowl):
2 Tbs. pulled pork
4 Tbs. mashed potatoes
1 Tbs. cheddar cheese
1 tsp. Jeff's barbecue sauce (Purchase formula here | Purchase bottled sauce)
Repeat layer 2x; top with sliced jalapenos.
Pulled Pork on Spuds
There are several barbecue restaurants in the area that offer baked potatoes with smoked meat on top. Having said that, it's only as good as the smoked meat itself. A baked potato with subpar pulled pork or brisket on top is not worth eating but now you take that same potato and put some amazing pulled pork on top of it with anything else you like and add some of my very own barbecue sauce.. now you have a prize winning spud!
Ingredients
1 large baking potato, cooked and split open
butter & sour cream
1 cup pulled pork
bacon grease (optional)
1/4 c. each julienned red onions and green bell pepper
Jeff's barbecue sauce (Purchase formula here | Purchase bottled sauce)
Top the baked potato with butter; in a pan over medium heat, sauté onions and bell pepper in bacon grease for 2 minutes; add the pulled pork and sauté for 2 more minutes. Spoon onto the baked potato. Top with sour cream and Jeff's barbecue sauce.
Get the Digital Recipes for Jeff's Rub and Sauce
***Note: you get the Texas style rub recipe free with your order!
If I could give these recipes away, I would do that. I really want you to have them! But, then, this is how I support the newsletter, the website and all of the other stuff that we do here to promote the art of smoking meat.
Read these recent testimonies:
"Love the sauce and rub recipes. So far I have used them on beef ribs, pork ribs, and different chicken parts. Can't wait to do a beef brisket. Texas rub is great as well!" ~Peter S.
"I tried the rub on a beef brisket and some beef ribs the other day and our entire family enjoyed it tremendously. I also made a batch of the barbeque sauce that we used on the brisket as well as some chicken. We all agreed it was the best sauce we have had in a while." ~Darwyn B.
"Love the original rib rub and sauce! We have an annual rib fest competition at the lake every 4th of July. I will say we have won a great percent of the time over the past 15 years so we are not novices by any means. However, we didn't win last year and had to step up our game! We used Jeff's rub and sauce (sauce on the side) and it was a landslide win for us this year! Thanks Jeff for the great recipes. I'm looking forward to trying the Texas style rub in the near future!" ~Michelle M.
You see the raving testimonies and you wonder, "Can the recipes really be that good?"
No worries! Make up a batch and if it's not as good as you've heard.. simply ask for a refund. Now that's a bargain and you know it. Let's review:
You decide you don't like the recipes.. you don't pay!
The recipes are absolutely amazing!
Once you order, there'll be no more recipe ads in the email version of the newsletter
Well.. what are you waiting for.. click on the big orange button below to order the recipes now.

I really, really appreciate the support from my newsletter friends and be sure to let me know if you have any questions about this.
Jeff's Smoking Meat Book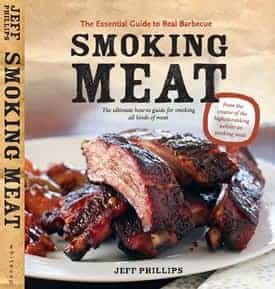 The book is full of recipes and contains tons of helpful information as well. Some have even said that "no smoker should be without this book"!
With more than 800 reviews on Amazon.com and a rating of 4.7 out of 5 stars, it comes highly recommended.
It is a Bestseller in Barbecueing & Grilling books on Amazon.
Amazon | Barnes & Noble | German Edition
Digital versions available via Nook | iTunes | Kindle
Get Almost Anything at Amazon
If you enjoy the newsletter and would like to do something helpful, then..
The next time you decide to order something at Amazon.com, use THIS LINK to get there and we'll get a small commission off of what you purchase.
Thank you in advance for using our special link: http://www.smoking-meat.com/amazon