Smoked Pulled Pork Appetizers for Football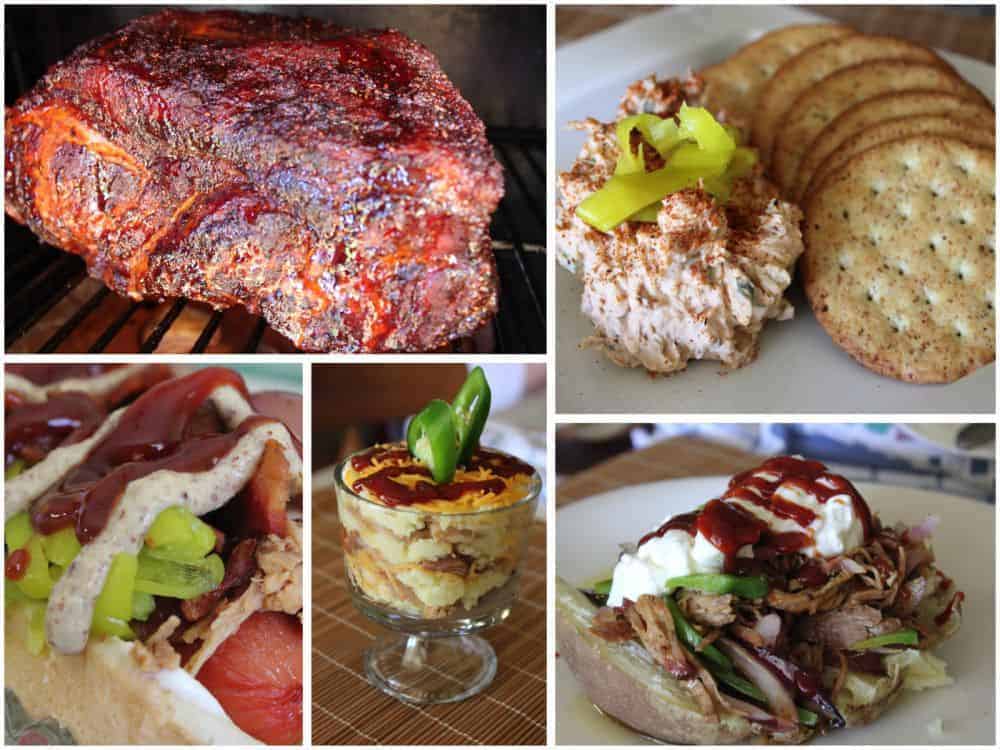 Smoking-Meat.com is supported by its readers. We may earn an affiliate commission at no extra cost to you if you buy through a link on this page.
Read this article without ads
Here are several wonderful party foods and appetizers that you can make with smoked pulled pork. All of them are tremendously good and just perfect for game day or any day.
I highly recommend my Cherry Dr. Pepper pulled pork recipe for use in these recipes.
Or.. if you're really pushed for time, here's my 5 hour method for making pulled pork.
Pulled Pork Hot Dogs (Simply Amazing!)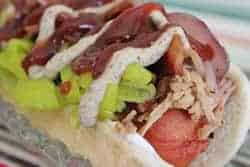 I am and have always been a huge fan of good hotdogs and I'm not referring to something boiled and eaten with ketchup and/or mustard like we did as kids. I am in favor of what I call "adult" hotdogs with all the trimmings.
Ingredients
Saute the red onions in the leftover bacon grease until just softened; drain on paper towel. Mix together mayonnaise and horseradish; spread onto the inside of the hotdog bun. Put the hotdog into the bun. Layer onto the hot dog: pulled pork, dash of rib rub, red onions, peppers, crumbled bacon, spicy mustard & barbecue sauce. Add wasabi if desired.
Enjoy immensely!!
Pulled Pork Party Dip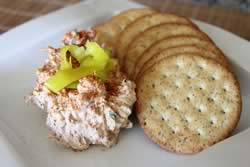 This might just be my favorite dip on almost anything including Doritos, Fritos, crackers, etc..
Ingredients
In a mixing bowl, beat the cream cheese and barbecue sauce until smooth. Fold in the pulled pork, jalapenos & peppers. Serve cold or at room temperature with crackers or chips.
Pulled Pork Parfaits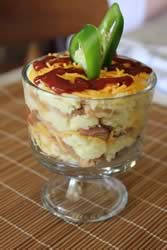 A beautiful conglomeration of mashed potatoes, meat, corn, sauce almost anything you like and layered in such a way so that it has the resemblance of an ice cream sundae.
These are really good and can be set up with all the toppings laid out on the table or bar so that everyone can make their own exactly the way they like it.
Ingredients
Layer into a parfait glass (or a bowl):
2 Tbs. pulled pork
4 Tbs. mashed potatoes
1 Tbs. cheddar cheese
1 tsp. Jeff's barbecue sauce
Repeat layer 2x; top with sliced jalapenos.
Pulled Pork on Spuds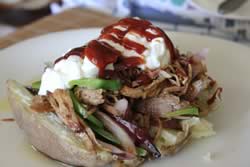 There are several barbecue restaurants in the area that offer baked potatoes with smoked meat on top. Having said that, it's only as good as the smoked meat itself. A baked potato with subpar pulled pork or brisket on top is not worth eating but now you take that same potato and put some amazing pulled pork on top of it with anything else you like and add some of my very own original barbecue sauce.. now you have a prize winning spud!
Ingredients
Top the baked potato with butter; in a pan over medium heat, sauté onions and bell pepper in bacon grease for 2 minutes; add the pulled pork and sauté for 2 more minutes. Spoon onto the baked potato. Top with sour cream and Jeff's barbecue sauce.
Get Jeff's Products!