Frozen Ribs in the Smoker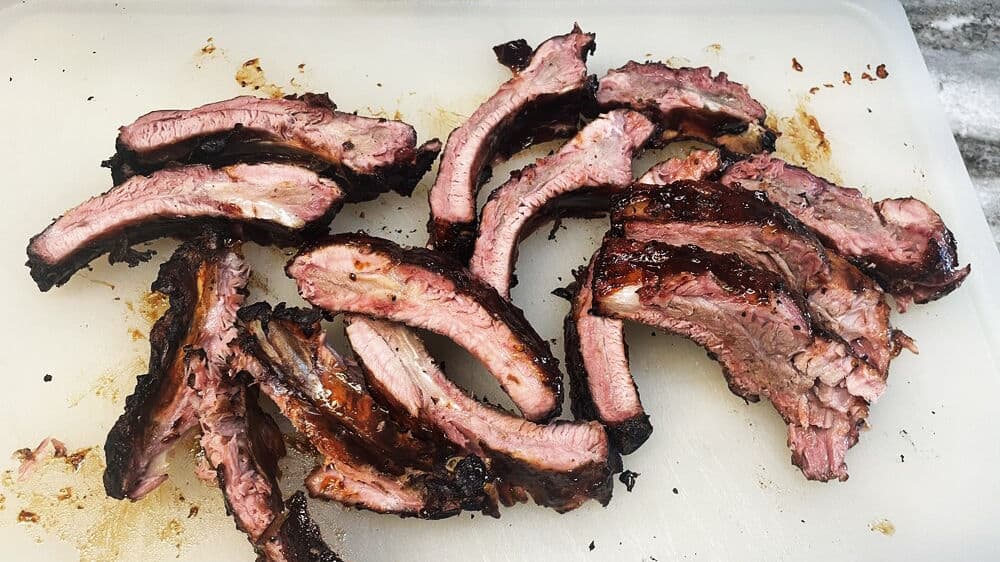 Smoking-Meat.com is supported by its readers. We may earn an affiliate commission at no extra cost to you if you buy through a link on this page.
My buddy and a long-time moderator, Al, over at the Smoking Meat Forums, posted a while back on how he placed some frozen ribs in the smoker to see how they would turn out. He was in a hurry for some baby back ribs and did not have time to thaw them out like usual.
They turned out really good in spite of being frozen and, of course, this got my attention and I just had to try it.
Like Al, I had great success with this and figured I'd share it with you.
I want to show you exactly how Al did his but I'll also show you some options that you have with this where relevant.
Al has been so kind to give me permission to use some of his original images for this write-up.
Let's get into this!
Helpful Information
Prep Time: 5 minutes
Cook Time: 5 hours
Smoker Temp: 250°F (121°C)
Meat Finish Temp: 195°F (91°C)
Recommend Wood: Hickory and Mesquite
What You'll Need
1 or more racks of frozen pork ribs*
Yellow mustard (hotdog mustard)
Salt
Pepper
3 TBS Jeff's Original rub 
Foil Wrap Concoction
¼ cup Apple cider vinegar
¼ cup Brown sugar
¼ cup Honey
½ stick Butter
*This recipe was written for baby backs. Spare ribs and/or St. Louis style spare ribs work equally well but may take an extra hour to reach 160°F (71°C) in the first stage of the cooking process.
Why Smoke Frozen Ribs?
It's around 10 AM and your better half wants some pork ribs real bad. Here's the problem.. they are in the deepest part of the freezer and frozen rock solid.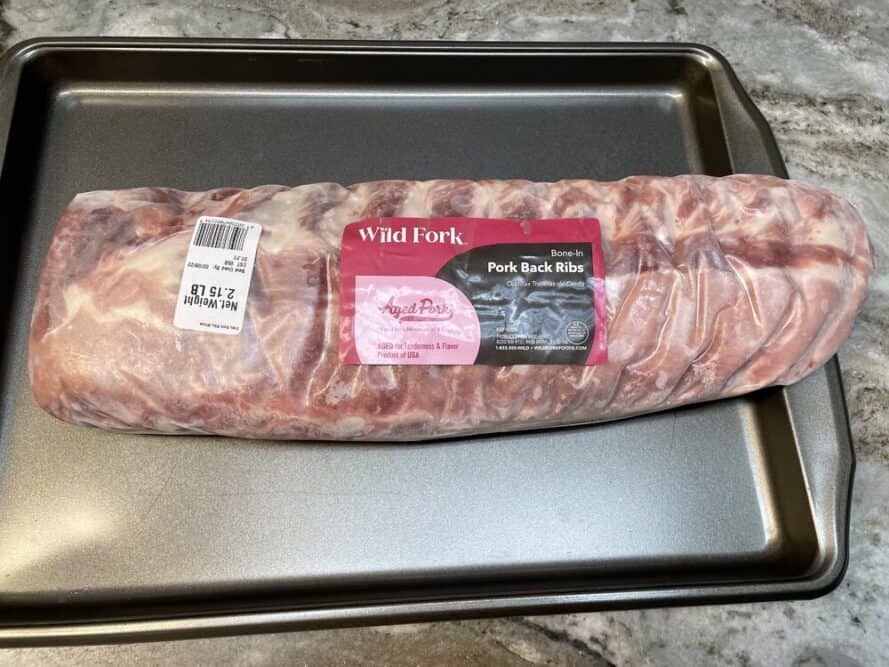 Normally you'd have to set them in the fridge and let them thaw overnight or best case scenario, place them in the sink with some cold water and spend the next couple of hours letting them thaw while you change the water out every 30 minutes.
Cooking them frozen allows you to get them started cooking right away and cooks them while they thaw so they still end up getting done in around 5-6 hours depending on whether they are baby backs or spares.
Removing the Membrane
Typically I recommend removing the membrane before cooking ribs however, because they are frozen ribs, this becomes something that must be done before they are frozen or after they are cooked.
The last batch I did was purchased fresh so I removed the membranes, then repackaged them and placed them in the freezer. When the mood struck, they were ready to season and cook. This worked very well for me.
There are also many rib smokers who feel the membrane helps to maintain moisture while the ribs cook and should be left on until after they are done cooking.
Al tends to burn the membrane off on the grill or just simply peels the membrane from the frozen ribs after they are done cooking as explained below.
Step 1: Mustard
In following Al's instructions, I did some with mustard and some without and the seasoning sticks okay without the mustard binder. I prefer to use mustard but it's your call on that.
Apply just enough to help the rub to stick and you're good to go.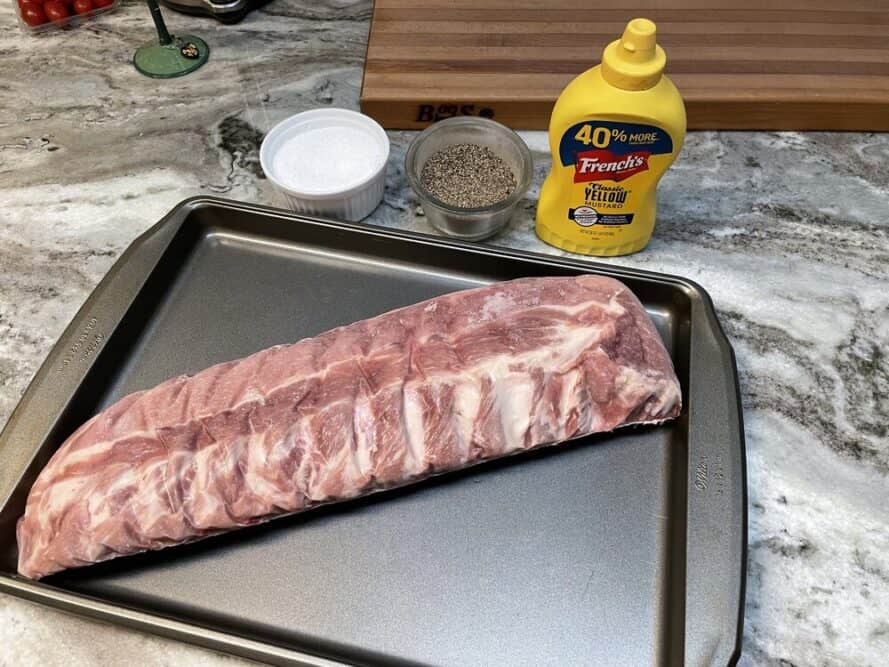 Be sure to get both sides and the edges.
Step 2: Seasoning Options
Al cooks his ribs with just salt and pepper and you can do the same if you prefer. I like to use my original rub on the ribs for a well balanced sweet and spicy flavor with not too much salt.
Add the seasoning to both sides and get the edges of the ribs wherever you can for good measure.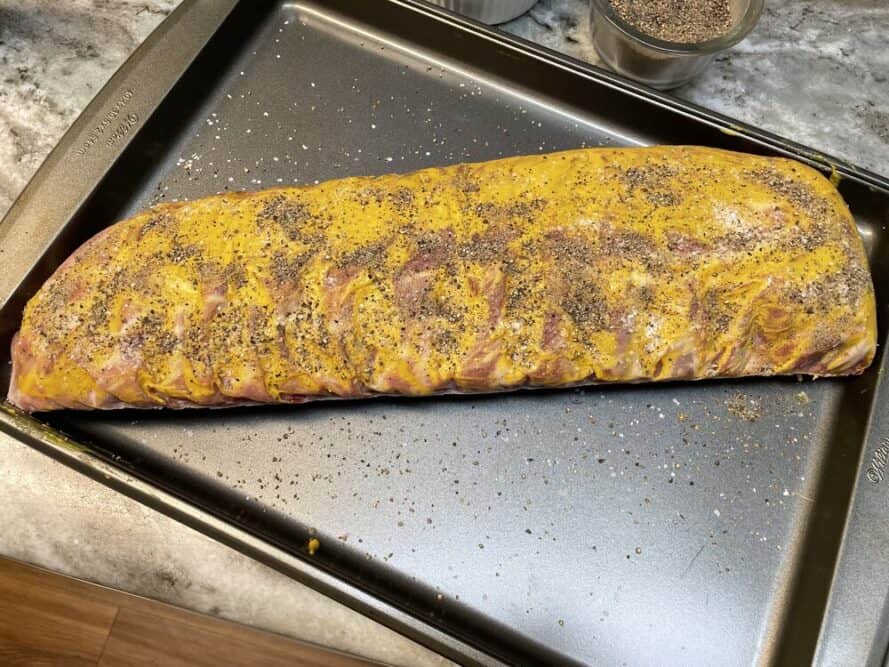 Step 3: Smoke 'em Up
Set up your smoker for cooking at about 250°F (121°C) if possible. Al used his Lang for cooking these.
When the smoker is hot and ready, place the rack of ribs directly on the grate.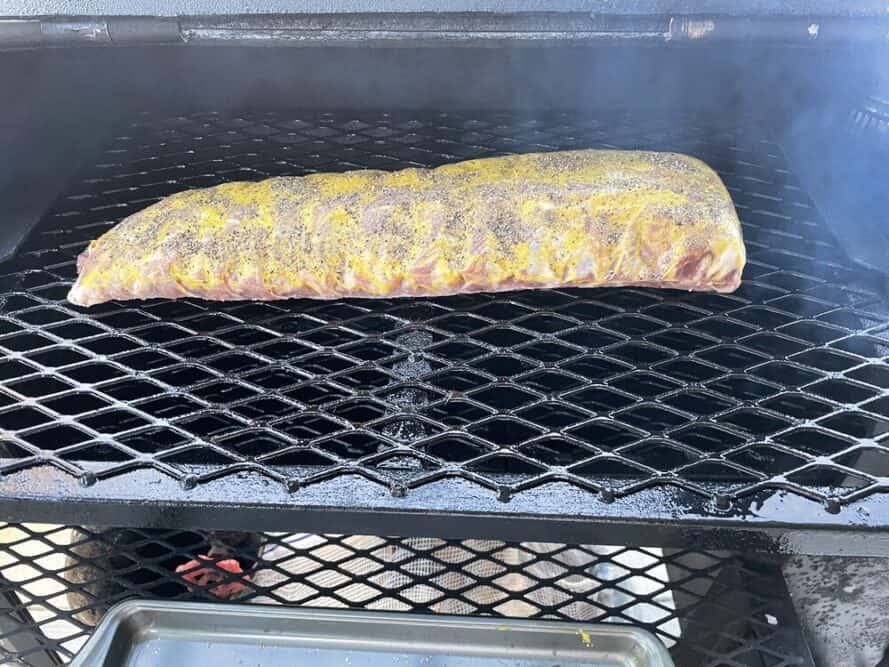 Let them be for about 2 hours or until they reach an internal temperature of 160°F (71°C).
Note: if you are cooking spares/St. Louis Style pork ribs, it may be closer to 3 hours.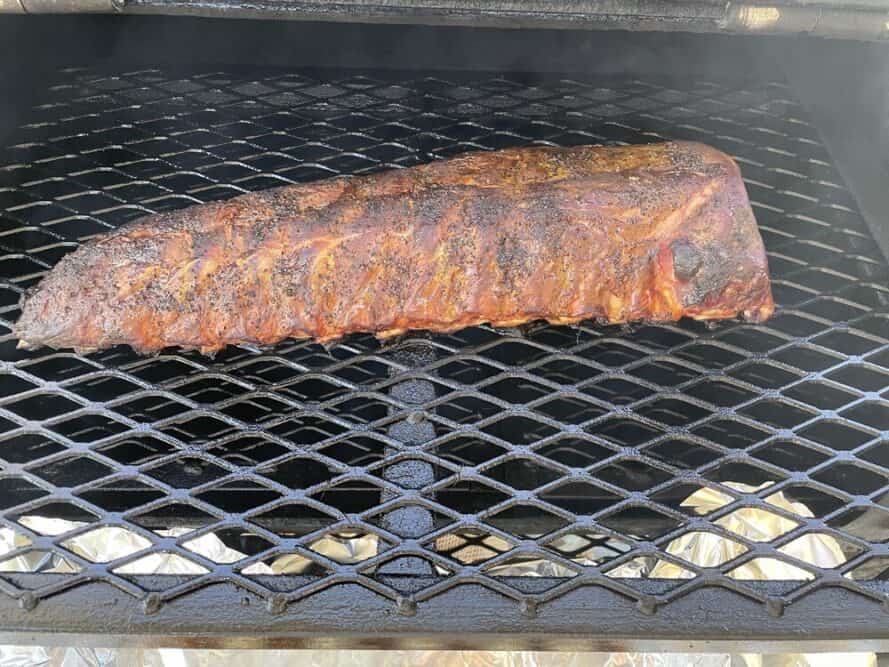 Step 4: Wrap 'em Up (optional)
Wrapping the ribs in foil when they reach 160°F (71°C) is definitely optional but if you like ribs to be really tender, it's highly recommended.
To wrap these, Al lays out a large piece of foil on the table or cutting board.
He then pours about ¼ cup ACV (apple cider vinegar), ¼ cup brown sugar, ¼ cup honey, and about ¼ cup of barbecue sauce along with ½ stick of butter cut into equally sized pats.
I recommend my original barbecue sauce if you have it.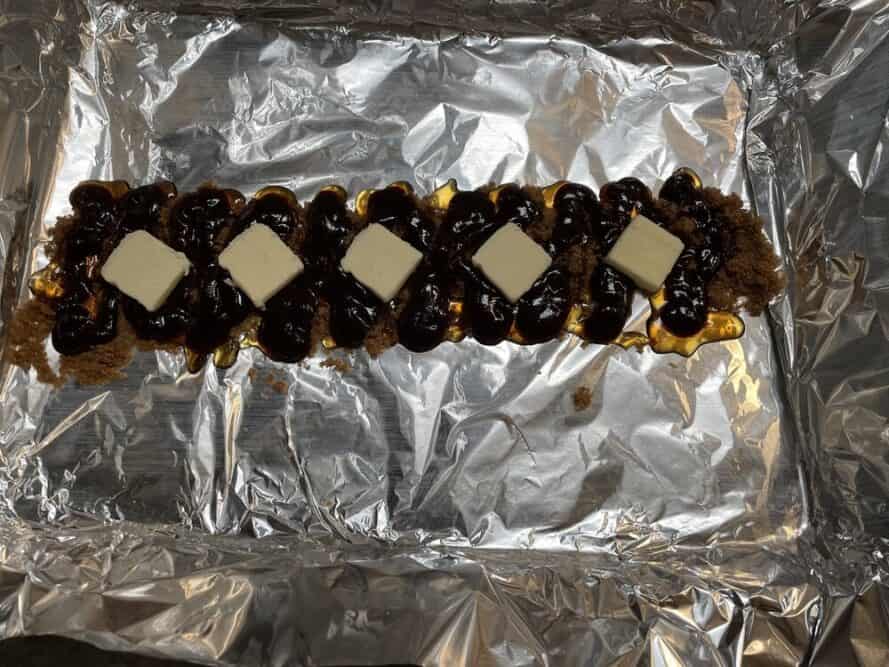 Lay the ribs meaty side down on top of that concoction and wrap the foil tightly around the ribs. I like to use a double layer of HD foil to make sure the steam does not get out.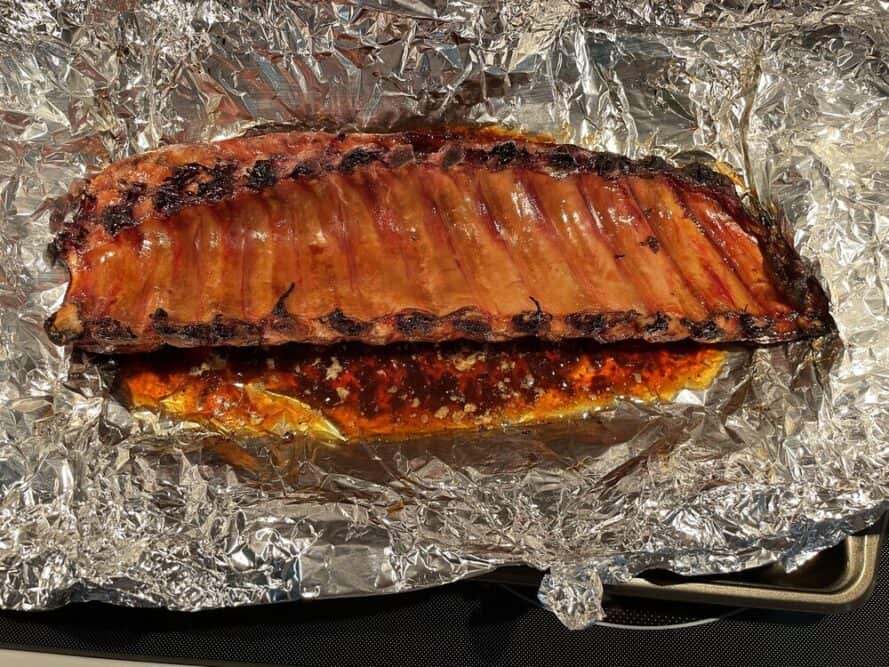 Step 5: Braise Tender
Place the wrapped baby back ribs back into the smoker for about 2 hours or until they reach 195°F (91°C) in the meat between the bones.
You can also use the oven if that is more convenient since this step is all about the heat and because they are all wrapped up, the smoke is not having an effect.
Step 6: Burn Off Membrane
At this point, he removes the ribs from the foil..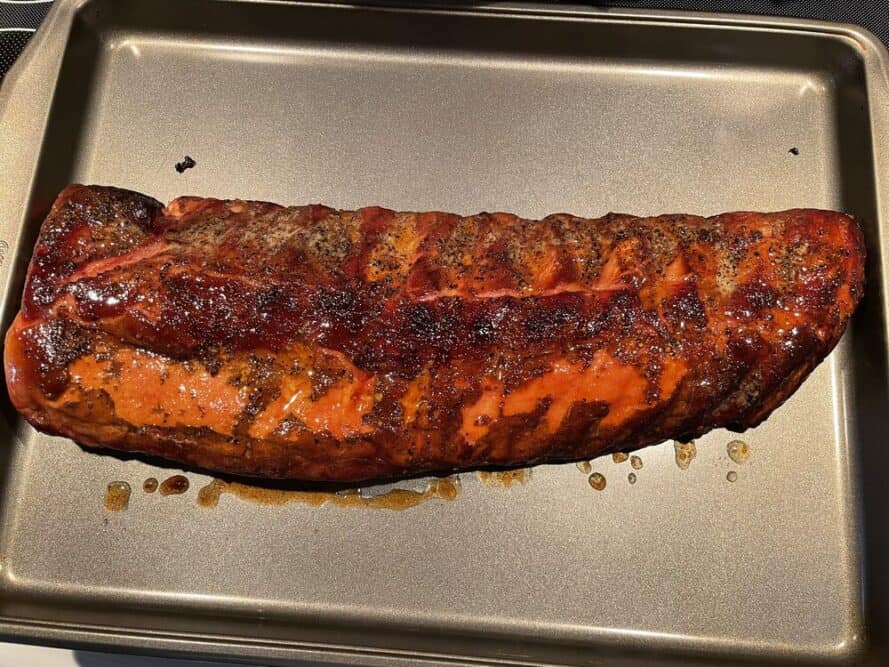 ..after resisting the urge to eat one right away, Al places them on the gas grill on high heat (600°F) to burn off the membrane and/or add some sauce if he is going for sticky ribs.
Place the rack of ribs membrane side down on the grate of the grill.
If your grill is nice and hot, this will only take about 3 minutes. Be sure to watch them carefully so it doesn't burn.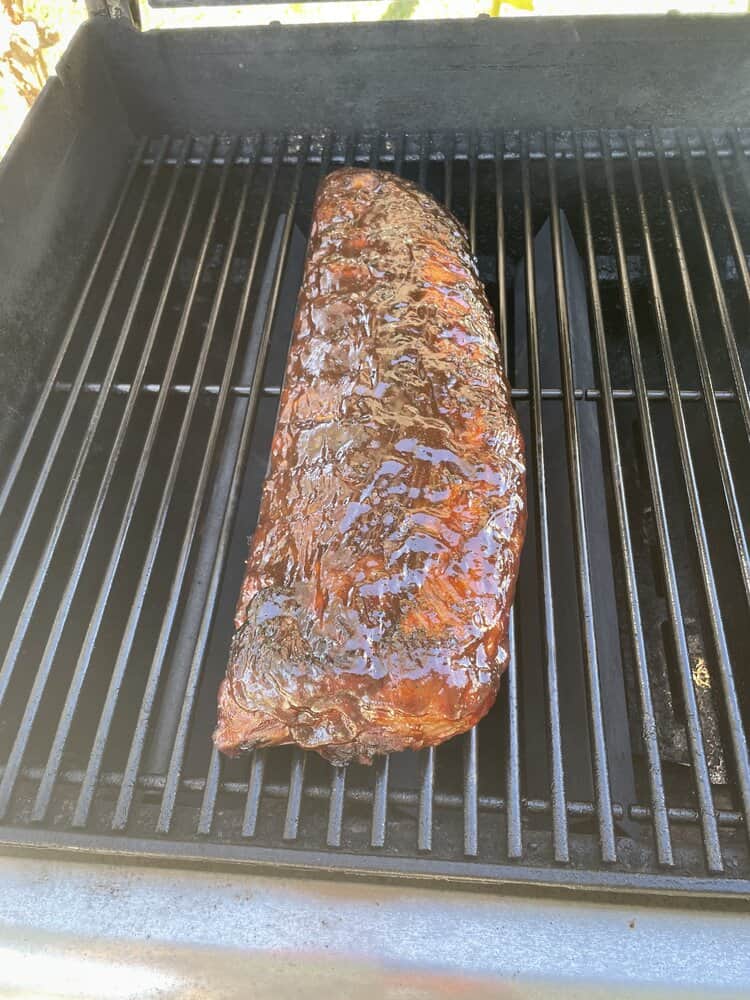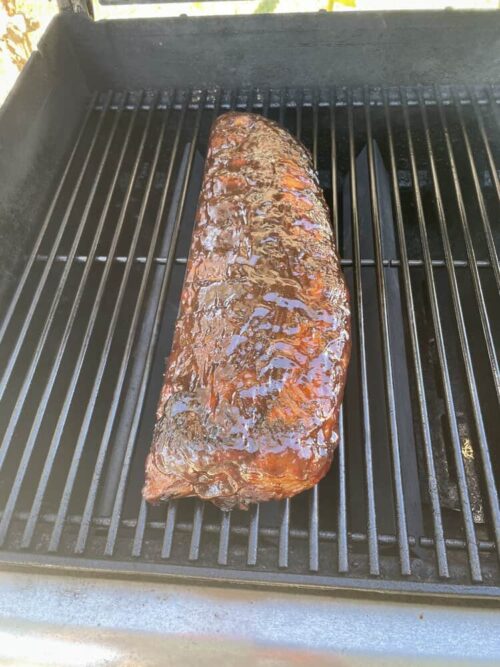 After about 3 minutes over 600°F (316°C) direct heat , they are ready to slice and eat.
Step 7: Slice and Serve
Slice up them ribs and be amazed at how frozen ribs can be placed into the smoker and turn out this amazing.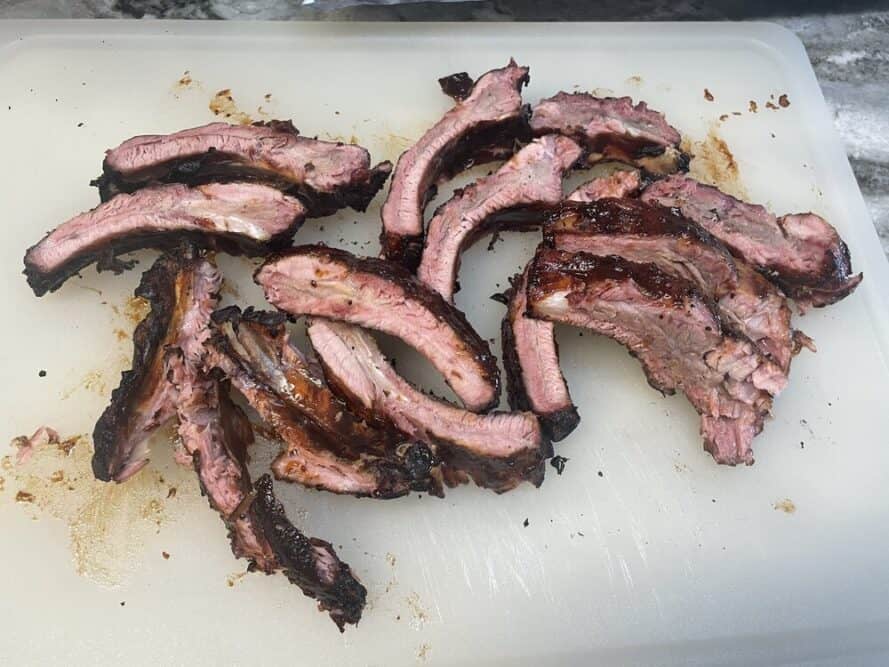 Comments
I've tried this multiple times since Al posted about this and they turn out great every time. I've cooked them on the grate with no wrap and I've cooked them using the 2-2-1 method wrapped in foil and, every time, they are just plain good.
The frozen aspect does not harm them in any way and, if anything, it seems to increase the moisture and creates a better smoke ring.
I've had a lot of folks ask if you could season these before freezing them. I haven't tried this yet but I think it would work just fine.
Give these a try and I'd LOVE to hear what you think.
By the way, if you wanna see Al's original post, you can see that over at the forum.
Print
Frozen Ribs in the Smoker
How to cook frozen ribs in the smoker without thawing them out first and have them turn out amazing!
Prep Time:

5 minutes

Cook Time:

5 hours

Total Time:

5 hours 5 minutes

Category:

Entree, Main
1

or more racks of frozen ribs
Yellow mustard (hotdog mustard)
Salt
Pepper

3

TBS Jeff's Original rub
Foil Wrap Concoction
1/4

cup

Apple cider vinegar

1/4

cup

Brown sugar

1/4

cup

Honey

1/4

cup

Jeff's Original BBQ Sauce

1/2

stick Butter
Instructions
Remove ribs from packaging.
Apply mustard to top and bottom of frozen ribs.
Apply rub and/or salt and pepper to top and bottom of ribs.
Set up smoker for cooking at about 250°F (121°C) using hickory and mesquite wood for smoke.
Place the rack(s) of ribs directly on the smoker grate and let them cook for approximately 2 hours or until they reach an internal temperature of 160°F (71°C).
Lay out a large piece of heavy duty foil and fold up the edges just a little.
Into the center of the foil, pour the apple cider vinegar, brown sugar, honey and barbecue sauce and lay the pats of butter right on top.
Lay the rack of ribs meaty side down onto the concoction that you just added to the center of the foil. Pull up the sides of the foil and wrap it tightly around the ribs.
Place the wrapped rack of ribs back onto the smoker grate for 2 hours or until they reach 195°F (91°C) when tested between the bones. Note: You can also use the kitchen oven if you prefer.
When the ribs are finished, remove them from the foil.
Apply barbecue sauce all over the top and place them over a very hot grill to burn off the membrane and set the sauce.
When the sauce is set they are finished.
Slice and serve immediately.
Did you know? You can order the MASTER FORMULAS which allow you to make Jeff's rubs and barbecue sauce at home using your own ingredients! Order the Recipes