39 Smoked Appetizers For Labor Day '22
My kryptonite, without a doubt, is smoked appetizers and almost anything wrapped in American style streaky bacon or made with bacon.
In preparation for the upcoming 2022 Labor Day holiday, one of the biggest cooking days of the year, here's 39 smoked appetizers that I have compiled just for you into one tidy, long page.
If this doesn't have smoked nirvana written all over it, then nothing does!😬
– By the way..do you have an appetizer that you make in the smoker that's NOT included in this list? Let me know in the comments below.
These smoked hot dog burnt ends are "off the hook" good and I must admit that I was pleasantly surprised at just how tasty they were as well as how easy they…
Smoked cream cheese is soft, warm and delicious and it may just change your life as you know it! I love cream cheese and tend to use it in a…
I first heard about these smoked shotgun shells sometime last year but didn't really get around to trying them until recently. They are so named because of their uncanny resemblance to…
Seems like everyone makes smoked queso these days and figured I'd throw my recipe in the proverbial hat. Unlike most, this one does NOT use Velveeta® which is velvety smooth…
I came up with the idea for pimento cheese stuffed jalapenos made like an ABT (atomic buffalo turd if you must know) with the pepper wrapped in a piece of…
This smoked Chex® mix takes things to a whole new level and I must warn you that if you show up at a football party with this stuff, you'll most…
On a mere whim, I went to my local grocery store the other day and picked up a large bag of Cheetos® Puffs– the idea had come to me to…
Who would have thought that something like smoked potato chips would be so amazingly good? I just had to try it and, as luck would have it, it worked out…
These "Texas twinkies" were named and made famous by Hutchins BBQ in McKinney, TX. Many of us have been stuffing peppers with cheese and meat and wrapping them in bacon…
Smoked meatballs are easy to eat, taste great and will be the first thing you run out of at parties. They are just that good and when they are made…
If you haven't discovered pork country style ribs yet then you are in for a real treat! Full disclosure: these are just a pork butt that's been sliced up to…
Smoked chicken wings are always a great idea no matter what the occasion is and with these I just decided to go back to the drawing board and showcase the…
These smoked pig shots have a big ol' hunk of cheddar in the bottom, surrounded by cream cheese and topped with diced onions and my original rub then wrapped lovingly in…
Don't be fooled by the simplicity of these bacon wrapped kielbasa appetizers lovingly glazed with a mixture of brown sugar and beer with pepper flake heat. Pop a few in…
I'm on my third batch of these smoked pork belly slices otherwise known as "pure deliciousness" in order to get the recipe and instructions absolutely perfect and I have to…
If you're looking for a smoked appetizer that has super bowl party written all over it.. you've found it! A slice of sausage, wrapped in thick bacon and held secure…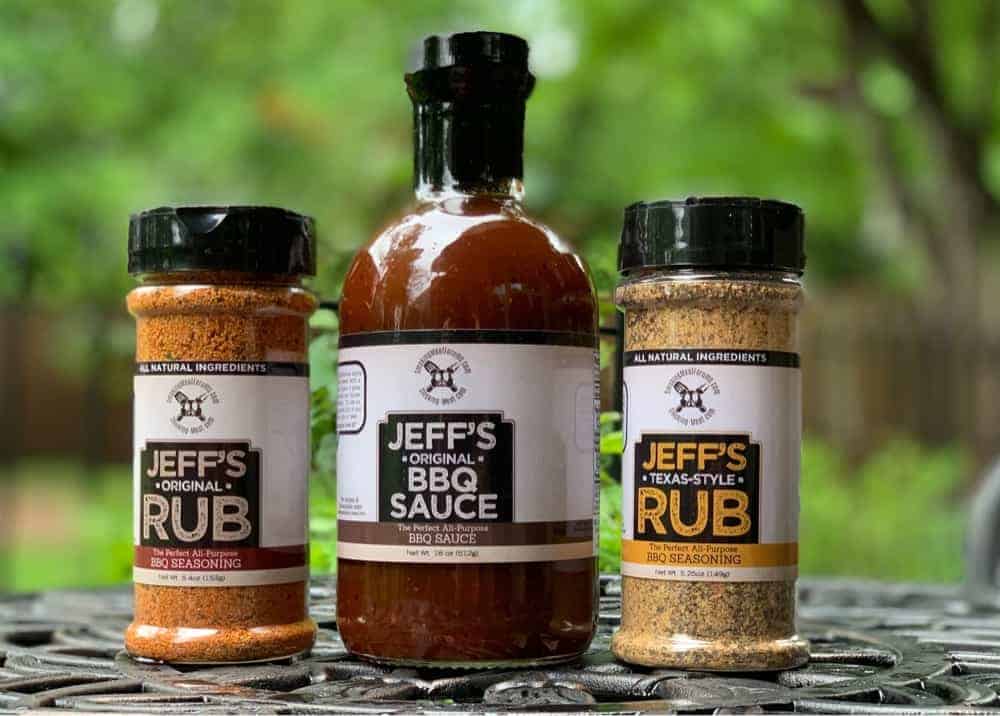 Order Jeff's Rubs and Barbecue Sauce TODAY!
✅ My rubs and sauce will be the best thing you've ever tasted and it's a great way to support what we do!
Note: You can also order the formulas for my rubs and sauce and make these yourself at home. Grab those HERE and download immediately.