Smoked Pork Country Style Ribs on a Stick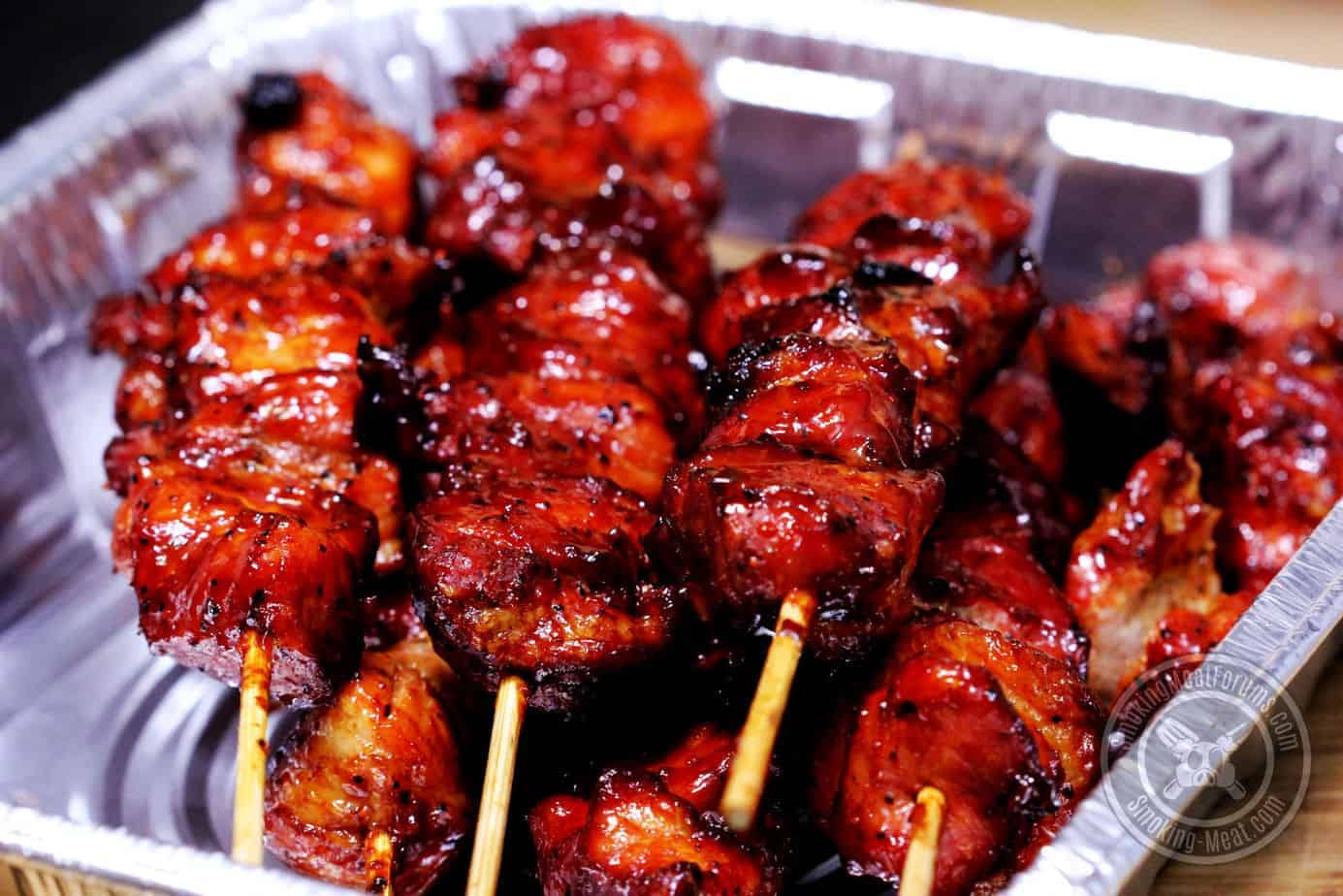 Smoking-Meat.com is supported by its readers. We may earn an affiliate commission at no extra cost to you if you buy through a link on this page.
Read this article without ads
If you haven't discovered smoked pork country style ribs yet then you are in for a real treat!
Full disclosure: these are just a pork butt that's been sliced up to look like ribs but they are delicious, quick and easy to cook, extremely versatile and they don't cost a lot– all of the wonderful things that make a great meal!
I love purchasing these in their boneless format and cutting them up for threading onto skewers and that's exactly what we are doing in this recipe tutorial.
I can hardly wait so let's get started.
[cp_popup display="inline" style_id="55533″ step_id = "1"][/cp_popup]
Helpful Information
Prep Time: 20 minutes
Cook Time: 2 hours 10 minutes
Smoker Temp: 240°F
Meat Finish Temp: 185-190°F
Recommended Wood: Pecan, Cherry, or Maple
What You'll Need
3-5 lbs pork country style ribs, boneless
12-inch wooden skewers (metal skewers also work fine)
Did you know? You can order the MASTER FORMULAS which allow you to make Jeff's original rubs and original barbecue sauce at home using your own ingredients! Order the Recipes
About Pork Country Style Ribs
Pork country style ribs are long strips of pork cut from the pork butt (Boston butt). Sometimes the bone is removed first and they are called boneless pork country style ribs.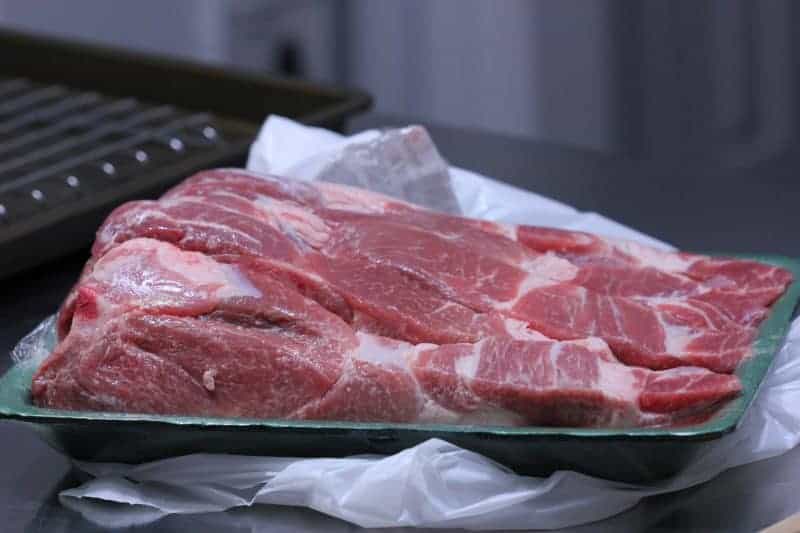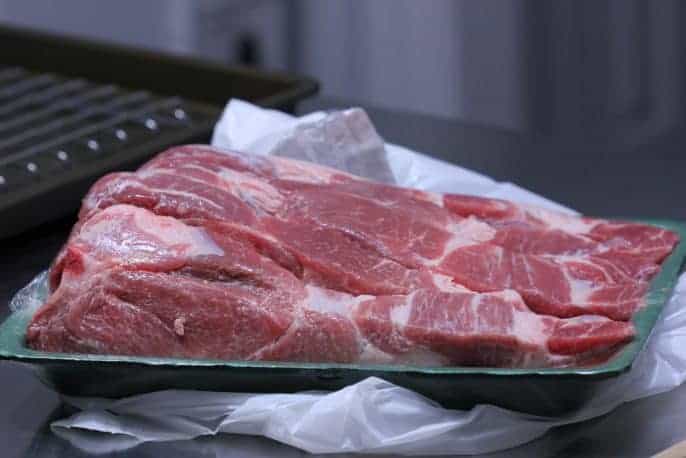 You do have to be careful as I have found these cut from pork loin and that's a completely different piece of meat and must be cooked differently. If you look at the meat from a pork loin versus the meat from a pork butt, you will notice that it looks different in texture, marbling and even color. Compare the pork country style ribs with a pork butt while you are in the store and make sure that they are the same. You can also ask the butcher or meat person behind the counter what they are cut from to make sure.
Optionally, you can purchase a pork butt and ask the butcher to debone it and cut it into 1.5 x 1.5 inch strips for you. Most stores will do this at no extra charge for the asking.
What to do if they are cut from a pork loin: Pork loin is much leaner and while it will work, it should only be cooked to a final temperature of 145°F to ensure it is juicy and delicious. Everything else remains the same.
Step 1: Cut Into Pieces
Instead of just merely cutting these into pieces, I take a little time to cut out the large chunks of fat first. There's plenty of fat marbling within the meat so you don't really need the large areas of fat. This is optional but I do recommend it.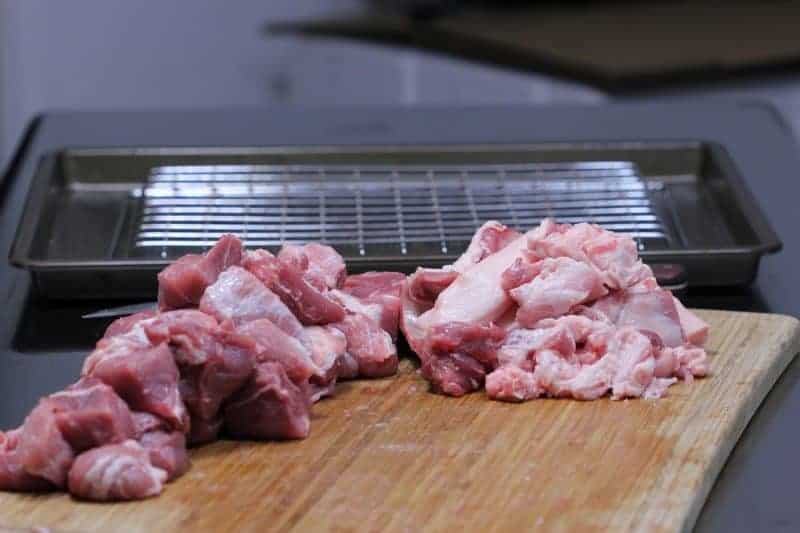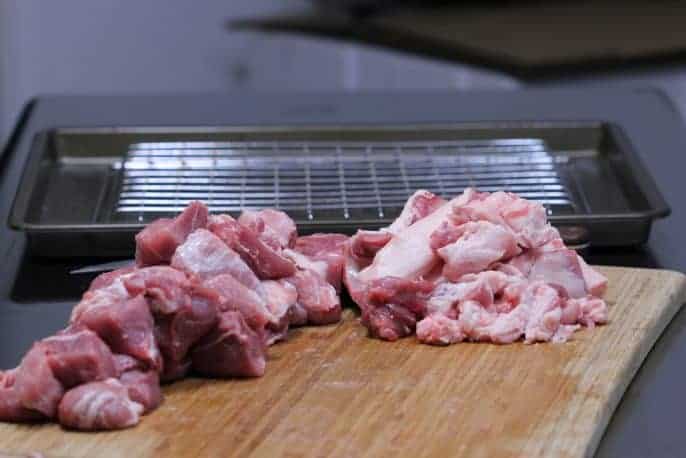 Cut the meat into pieces that are about 1 inch square or whatever size you like as long as you try to keep them fairly consistent in thickness.
Step 2: Season the Meat
Place all of the meat into a bag for seasoning with Jeff's original rub .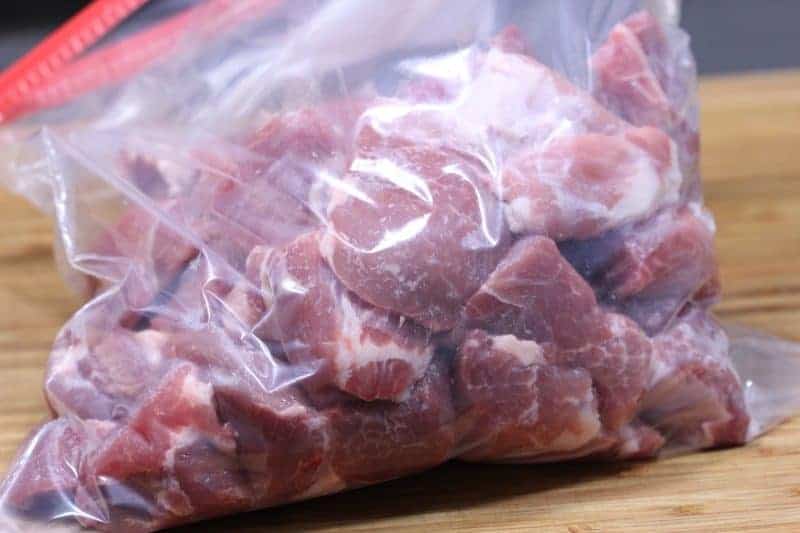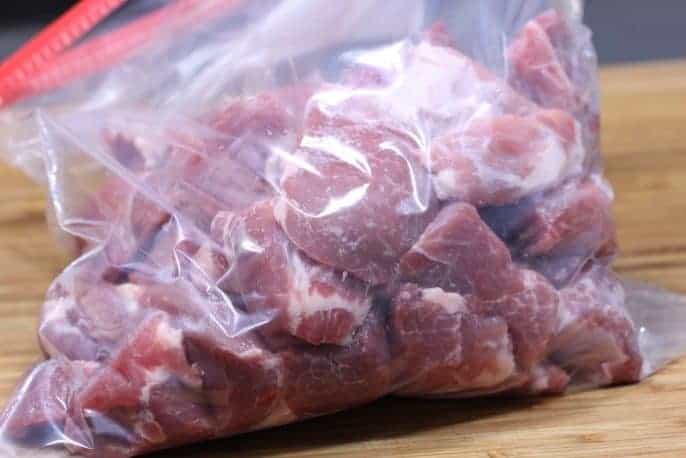 I used about ½ bottle of the rub. If you make it yourself via the formulas, start with about ½ cup.
You can always add more if it looks like it needs it.
Knead, roll, and shake the bag to make sure all of the meat gets rub on it then set the bag in the fridge for at least 2 hours to marinate. Overnight is even better if you plan ahead.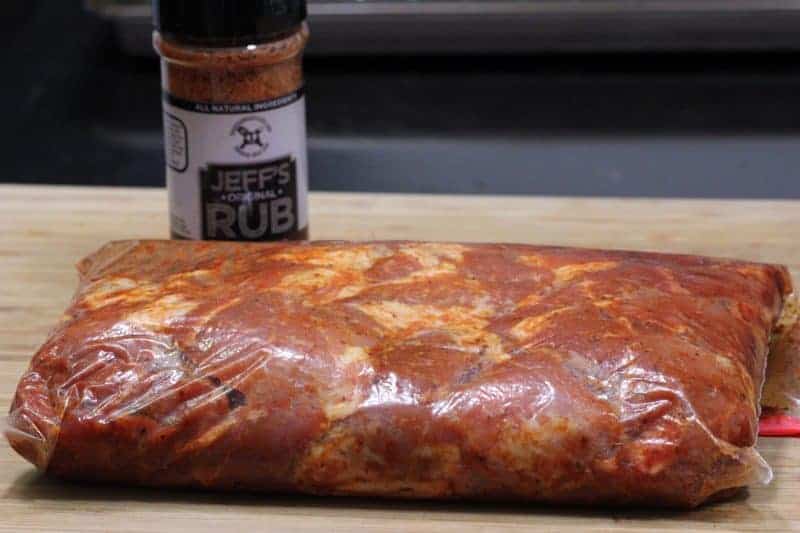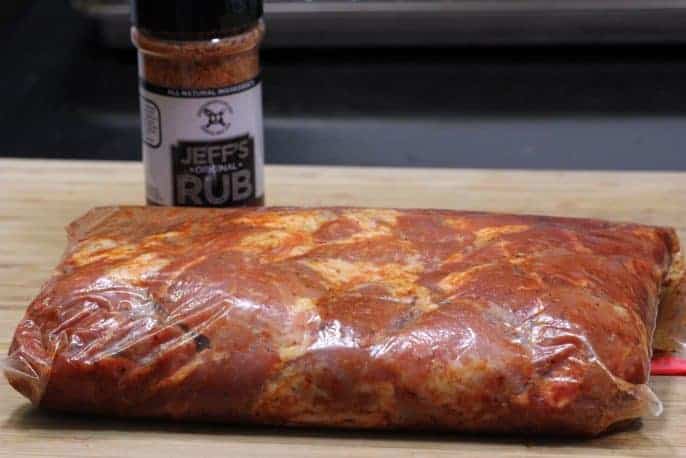 Step 3: Thread Onto Skewers
There is no need to soak the skewers in water if you are cooking these at normal smoking temperatures but if you are planning to cook these on the grill or over direct heat for an extended period of time, then I recommend placing the skewers in a pan of water for about 30 minutes to reduce the chance of them catching fire.
Thread 5 or 6 pieces of meat onto each 12-inch skewer and lay them on a pan with a rack or Weber grill pan as you complete them.
Once all of the meat has been used up, set the skewers aside while you get the smoker ready.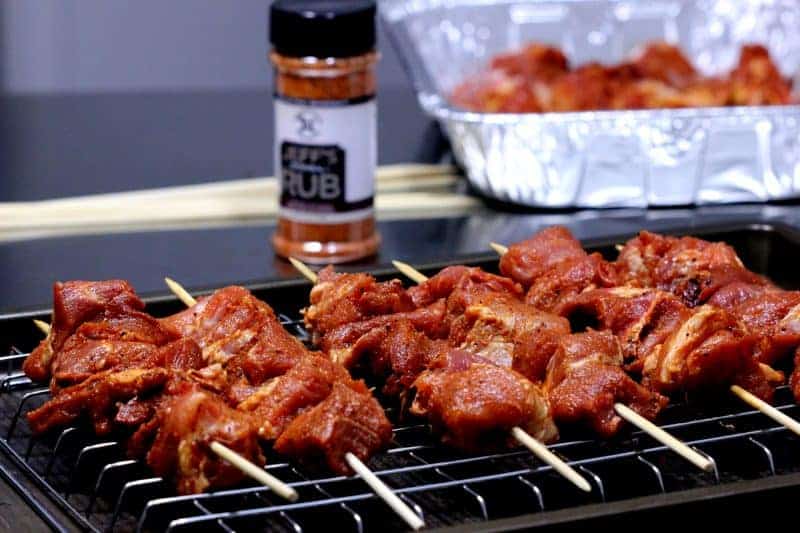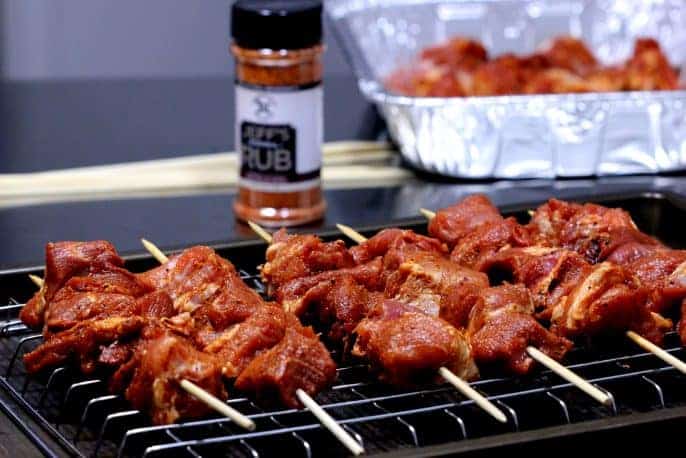 Step 4: Set Up the Smoker
For pellet smokers: start it up in the lowest setting with the lid open then once the flame is roaring (you'll be able to hear it) close the lid and set it to 225°F (107°C) or whatever temperature you are wanting to cook at.
Read some tips on smoking with a pellet grill
If you are using a traditional smoker or even an electric, gas or charcoal/wood smoker, that'll work too. Just set it up to cook at about 225°F (107°C) with indirect heat and if your smoker came with a water pan, fill it up.
Tip: In cold weather, I recommend filling it up with really hot water to help heat up the smoker faster.
Step 5: Smoke the Meat
Place the pan or rack of skewers on the grate or you can just place the skewers directly on the grate and close the lid. Keep the smoke flowing the entire time if possible and maintain around 225°F (107°C) for best results.
You can also cook these hotter if you prefer and they'll get done a little faster.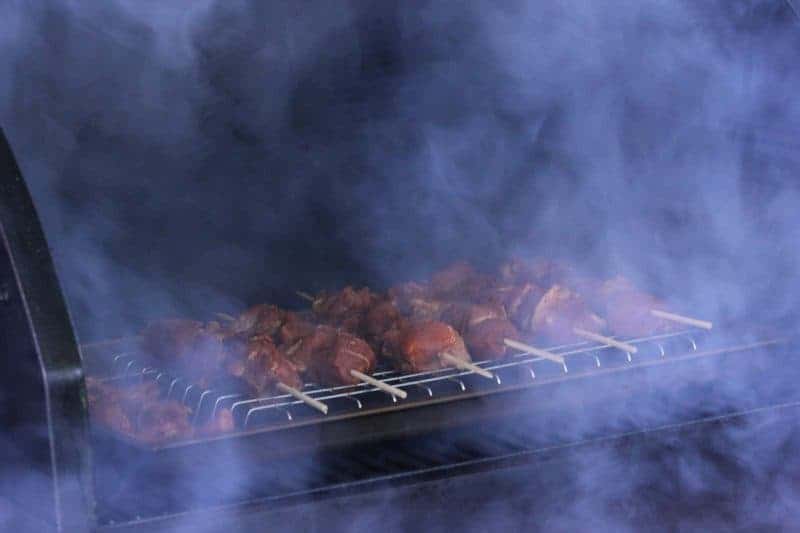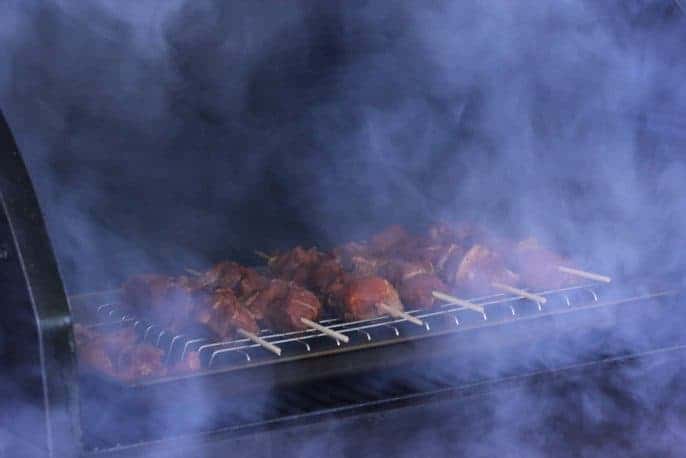 You can expect these to take about 2 hours and 10 minutes to reach 190°F (88°C).
Note: Every smoker cooks just a little different and heat flows differently depending on how your smoker is shaped and how the air flows in and out but the cook time estimation should not vary much from smoker to smoker. Even so, smoking meat is not an exact science and, for this reason, cook time is always an estimation and the food is not done until it reaches a certain temperature and/or level of tenderness.
Use an instant read thermometer such as the Thermapen ONE so you'll know exactly when they are perfectly done.
Once they reach their final temperature, they can be eaten as is or you can take them a step further which I'll explain in the next section.
Step 6: Sauce and Sear (optional but very good)
Brush on a little of my barbecue sauce  and get a sear on them to bring out some of that "grilled" flavor to go with the smoke.
Searing can be done over a hot grill, on a hot griddle or you can even place them under the broiler on your home oven for a minute or two.
Give them some high heat but watch them closely to make sure the sauce/meat doesn't burn. Turn them a time or two to make sure all sides get seared nicely.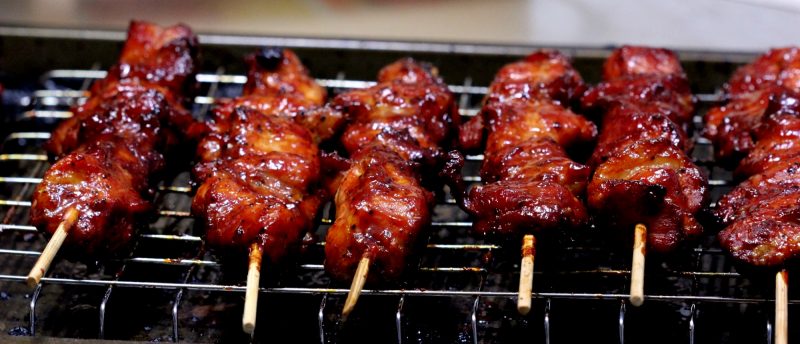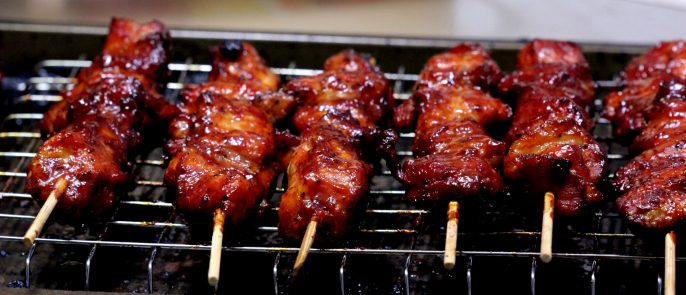 Step 7: Serve to Your Guests
I used these as an entree but they also make great appetizers. The cool thing about putting meat on a stick is that you don't need a plate or silverware. You just grab them and start eating right off the stick.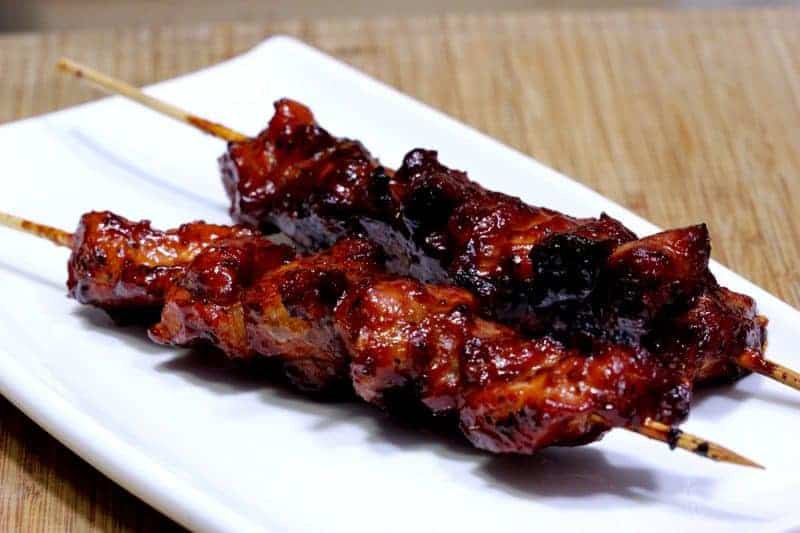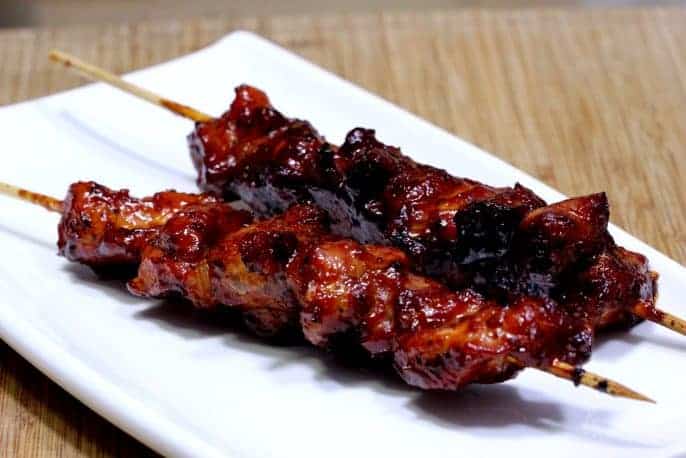 Enjoy these and if you come up with any modifications, let me know in the comments below what you did.
Did you know? You can order the MASTER FORMULAS which allow you to make Jeff's original rubs and original barbecue sauce at home using your own ingredients! Order the Recipes
Smoked Pork Country Style Ribs on a Stick
These boneless pork country style ribs are cut up, seasoned overnight, threaded onto a stick and smoked for one of the most delicious meals you'll eat this year.
Ingredients
3 to 5

lbs

country style ribs

(boneless)

Jeff's original rub 1/2 cup

8-12

each skewers

(12-inch, wood or metal)
Instructions
Separate meat from large clumps of fat

Cut meat into pieces of consistent size. I recommend about 1 x 1 inch.

Roll, knead, and shake the bag to coat the meat with the rub.

Place the bag of seasoned meat into the fridge for at least 2 hours or overnight to let the flavor absorb better.

Thread the meat onto skewers. I recommend 4-6 pieces per skewer depending on how large the pieces are.

Setup smoker for cooking indirect at about 225°F (107°C). If the smoker uses a water pan, fill it up. Use pecan, cherry and/or maple for wood smoke.

Place the meat on the grate and smoke cook for about 2 hours and 10 minutes or until they reach an internal temperature of 190°F (88°C).

Brush with barbecue sauce and place the skewers over a hot grill or under the oven broiler for a minute or two per side to get a good sear on them.

Serve to your guests.
Get Jeff's Products!