Meatballs and super bowl parties go hand in hand and when they are smoked meatballs full of cheesy goodness, it's a no brainer!
Get ready to cheer on your team with some of the best smoked appetizers and party snacks around.
Helpful Information
Prep Time: 35 minutes
Cook Time: 1.5 – 2 hours
Smoker Temp: 225-240°F
Meat Finish Temp: 160°F
What You'll Need
1 lb of 85/15 ground chuck (80/20 will also work)
¼ lb ground pork or ground breakfast sausage
1/3 cup bread crumbs
½ cup grated parmesan
½ cup shredded cheddar or cheddar mix
½ cup finely chopped onion
1/3 cup finely chopped jalapeno
1/3 cup plain yogurt (I used greek style)
1 large egg (the whole thing)
¼ cup Worcestershire
¼ to ½ inch cubes of cheddar, pepper jack, or other favorite cheese (sharp cheddar is my recommendation)
Get the Recipes for Jeff's Rub and Sauce
---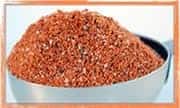 These smoked meatballs are seasoned exclusively with my great tasting rub and delicious sauce.. no other seasoning is needed. Highly recommended!
I promise you'll love my dry rub/seasoning recipe and my barbecue sauce recipe or you don't pay!
Reasons to buy: Support the newsletter and the website | Own "the recipes" | Get the email newsletter 100% AD FREE from now on | Includes the Texas style rub recipe

Step 1: Make the Meatball Mix
Place the ground chuck, ground pork (or sausage), egg, parmesan, jalapeño, onion, grated cheddar, bread crumbs, Jeff's rub (purchase recipes here), Jeff's barbecue sauce, Worcestershire and yogurt into a large mixing bowl.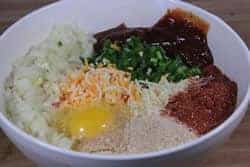 Now get in there with your clean bare hands to combine everything thoroughly.
Step 2: Form the Meatballs
Use your hands to form meatballs that are about 1.5 inch in diameter. I used an ice cream scoop to make sure I was getting the same amount every time then rolled it between my cupped palms to make it round.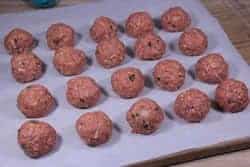 In the above picture, I wasn't quite finished making all of the meatballs. I made them a little on the small side and ended up with about 24 meatballs. Multiply the recipe as required.
Step 3: Add the Cubed Cheese
Press the ¼ to ½ inch cubes of cheese right down into the center of each meatball.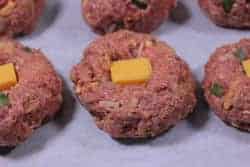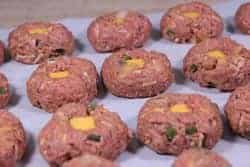 Roll the meatball between cupped palms again to reform them into round shapes.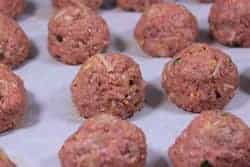 Optional: Transfer the meatballs to a Bradley rack or cookie sheet to help transport them to the smoker.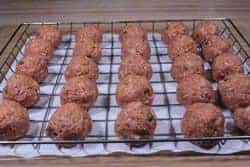 Step 4: Smoke the Cheesy Meatballs
Set up your smoker for cooking at about 225°F using apple wood if you have it. Other fruit woods will work as well as pecan, oak, or almost any smoking wood that you have and like.
Once ready, place the cheesy meatballs (or the entire Bradley rack if you are using them), directly onto the smoker grate.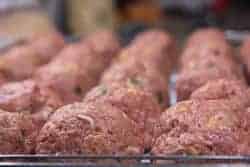 Keep the smoke going the entire time and do your best to maintain 225°F throughout.
Step 5: Brush on the Sauce (optional)
Brushing on sauce while they cook is completely optional
I chose to serve my barbecue sauce (purchase recipes here) on the side but I was asked by more than one person why I did not sauce them. I'm just saying.. you might consider it;)
If you choose to sauce them, do so at about the 30 and 45 minute mark. This will give the sauce time to glaze over so they are not too sticky.
Step 6: Finishing Up
Check the temperature of the meatballs using a Thermapen Mk4 and when they reach 160°F, they are done.
This should take about 1.5 hours or so, but you might check them sooner than this to get a feel for how fast they are getting done.
The amount of time required will be determined by:
The temperature of the meatballs when they go into the smoker
How often you open the door and let the heat escape
The diameter of the meatballs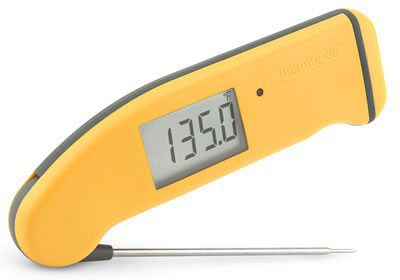 Speaking of Thermapen Mk4.. this is the thermometer I use and you should have one in your hands, as well, anytime you are cooking.
Patented auto-rotating display | Use in either hand | Motion-sensing sleep & wake mode | Intelligent backlight | Waterproof to IP67 | 3,000 hour battery life (AAA Battery) | 3-second readings! | High accuracy to ±0.7°F (±0.4°C) | 10 colors
Step 7: Serve the Cheesy Smoked Meatballs
Serving the cheesy smoked meatballs simply means that you bring them into the house (after having hid a few for yourself).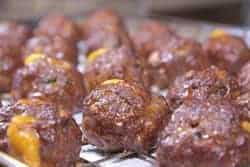 If anyone asks what happened to the other meatballs (in case you forget to rearrange them so it looks like none are missing), chew it over with a smoked meatball and make grunting noises. They'll give up eventually.
Other Options for the Smoked Meatballs
Wrap in half slices of bacon
Use these for meatball subs (delicious)
Use ground turkey or ground chicken for healthier choices
Use over pasta (spaghetti, linguini, etc.)
Add 2 to 3 tablespoons of red pepper flakes to the mix
Add 3 to 4 teaspoons of fresh minced garlic (or a lot more if you really like garlic)
***Note: you get the Texas style rub recipe free with your order!
If I could give these recipes away, I would do that. I really want you to have them! But, then, this is how I support the newsletter, the website and all of the other stuff that we do here to promote the art of smoking meat.
Read these recent testimonies:
"Love the sauce and rub recipes. So far I have used them on beef ribs, pork ribs, and different chicken parts. Can't wait to do a beef brisket. Texas rub is great as well!" ~Peter S.
"I tried the rub on a beef brisket and some beef ribs the other day and our entire family enjoyed it tremendously. I also made a batch of the barbeque sauce that we used on the brisket as well as some chicken. We all agreed it was the best sauce we have had in a while." ~Darwyn B.
"Love the original rib rub and sauce! We have an annual rib fest competition at the lake every 4th of July. I will say we have won a great percent of the time over the past 15 years so we are not novices by any means. However, we didn't win last year and had to step up our game! We used Jeff's rub and sauce (sauce on the side) and it was a landslide win for us this year! Thanks Jeff for the great recipes. I'm looking forward to trying the Texas style rub in the near future!" ~Michelle M.
You see the raving testimonies and you wonder, "Can the recipes really be that good?"
No worries! Make up a batch and if it's not as good as you've heard.. simply ask for a refund. Now that's a bargain and you know it. Let's review:
You decide you don't like the recipes.. you don't pay!
The recipes are absolutely amazing!
Once you order, there'll be no more recipe ads in the email version of the newsletter
Well.. what are you waiting for.. click on the big orange button below to order the recipes now.

I really, really appreciate the support from my newsletter friends and be sure to let me know if you have any questions about this.
Jeff's Smoking Meat Book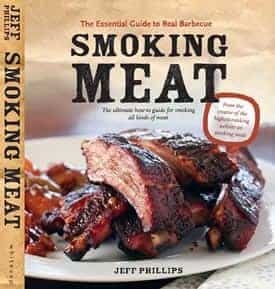 The book is full of recipes and contains tons of helpful information as well. Some have even said that "no smoker should be without this book"!
With more than 800 reviews on Amazon.com and a rating of 4.7 out of 5 stars, it comes highly recommended.
It is a Bestseller in Barbecueing & Grilling books on Amazon.
Amazon | Barnes & Noble | German Edition
Digital versions available via Nook | iTunes | Kindle
Get Almost Anything at Amazon
If you enjoy the newsletter and would like to do something helpful, then..
The next time you decide to order something at Amazon.com, use THIS LINK to get there and we'll get a small commission off of what you purchase.
Thank you in advance for using our special link: http://www.smoking-meat.com/amazon
Printable Recipe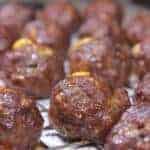 Print Recipe
Cheesy Smoked Meatballs for Super Bowl
Meatballs and super bowl parties go hand in hand and when they are smoked meatballs full of cheesy goodness, it's a no brainer!
Ingredients
1

lb

of 85/15 ground chuck ¼ lb ground pork or ground breakfast sausage ⅓ cup bread crumbs ½ cup grated parmesan ½ cup shredded cheddar or cheddar mix ½ cup chopped onion ⅓ cup chopped jalapeno ⅓ cup plain yogurt

(I used greek style) 1 large egg (the whole thing) ¼ cup Worcestershire ¼ cup Jeff's original rub (purchase recipes here) ½ cup Jeff's barbecue sauce (purchase recipes here) ¼ inch cubes of cheddar, pepper jack, or other favorite cheese. (sharp cheddar is my recommendation)
Instructions
Step 1: Make the Meatball Mix