When you think of smoked burnt ends, most folks don't think of using chuck roast but I can tell you that chuck roast burnt ends are just as good as brisket in my opinion.. if not better. I couldn't stop eating them as they were getting finished. Let's just say I ended up with a lot less than I started with ;-)
The cool thing about smoked chuck roast burnt ends is that you have multiple opportunities to add layers of flavor throughout the process. I used my original rub (Purchase original rub recipe | Purchase bottled rub) on the chuck roast during the marinating process and then once they were finished and cut into cubes, adding more of my original rub and sauce took them to that final gooey, delicious, burnt end place of goodness.
Wanna see every burnt end recipe on this website? Here they are
Helpful Information
Prep Time: 10 minutes
Marinate Time: 8-12 hours
Cook Time: 8 hours
Smoker Temp: 240°F
Meat Finish Temp: 190°F
Recommended Wood: Cherry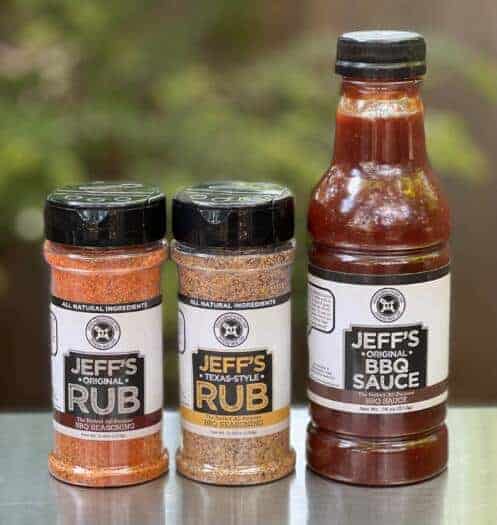 Please note that my rubs and barbecue sauce are now available in 2 formats– you can
purchase the formulas
and make them yourself OR you can
buy them already made
, in a bottle, ready to use.
Season/Marinate the Chuck Roast(s)
I selected and purchased (2) chuck roasts that were about 3 lbs each and had even thickness and were nicely marbled with fat.
This a great size to work with.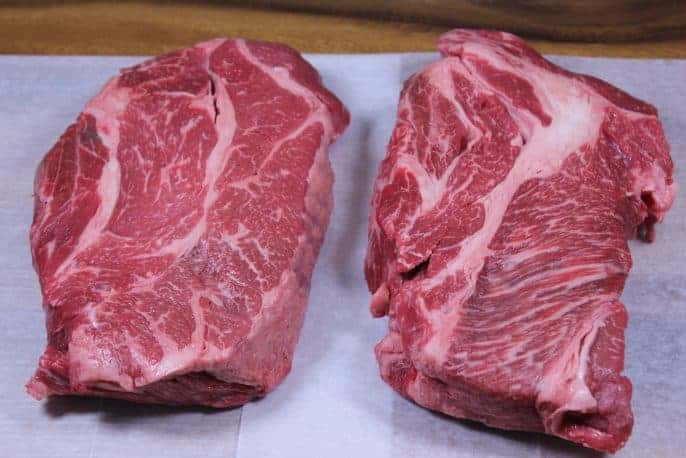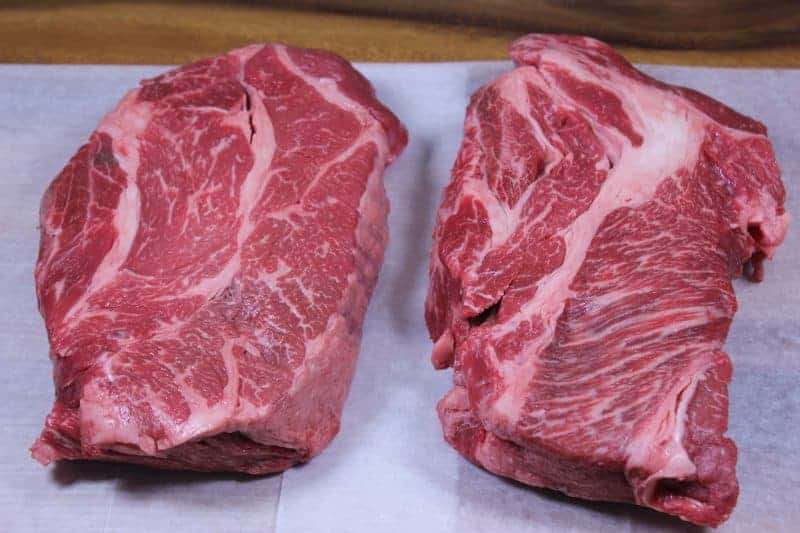 Place the chuck roasts into a lidded container.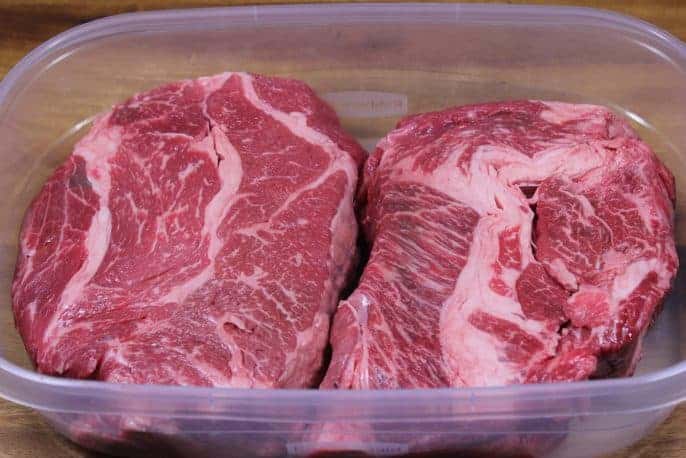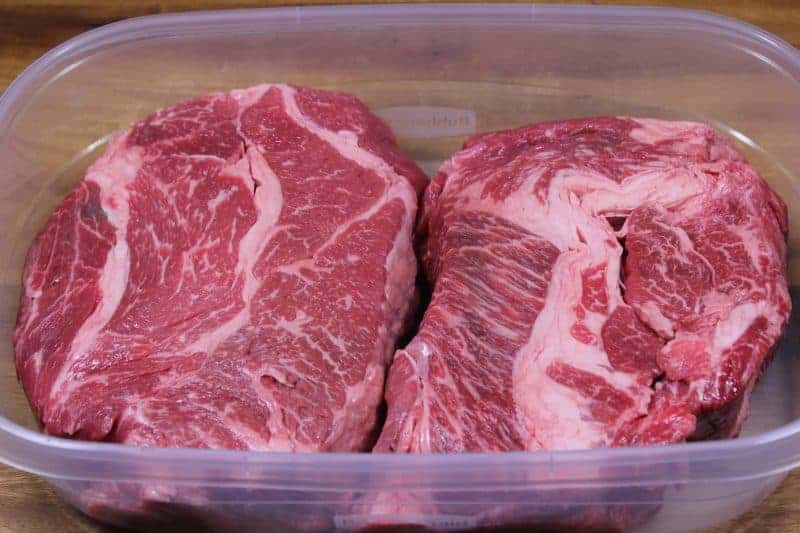 Pour about 1 cup of Worcestershire sauce over the top of the meat.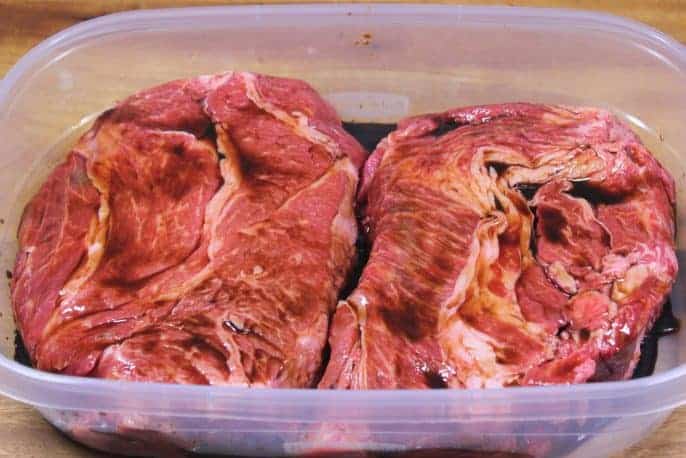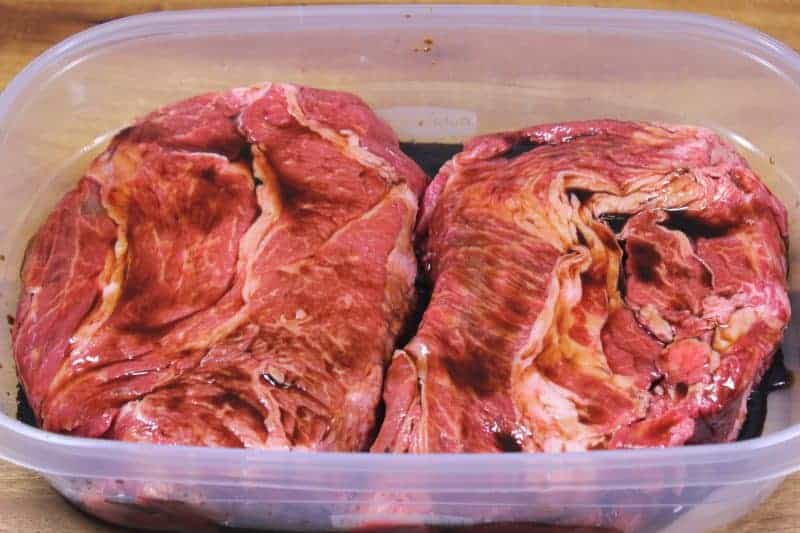 Add a good sprinkling of Jeff's original rub (Purchase original rub recipe | Purchase bottled rub) onto the top of the meat.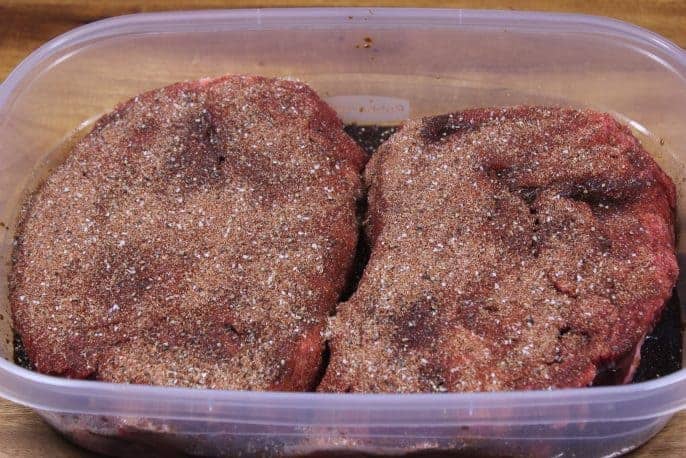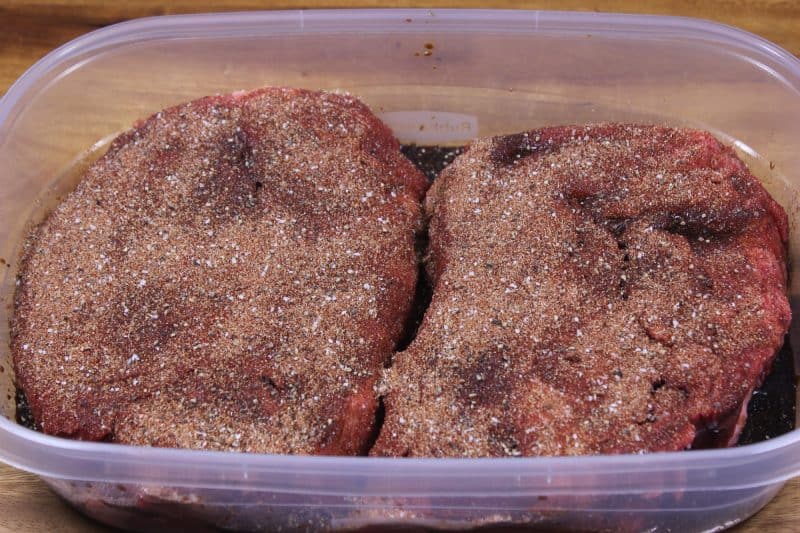 Use a sharp knife to carefully make cuts into the meat down to about the center.
This will pull some of the rub down into the meat along with the liquid.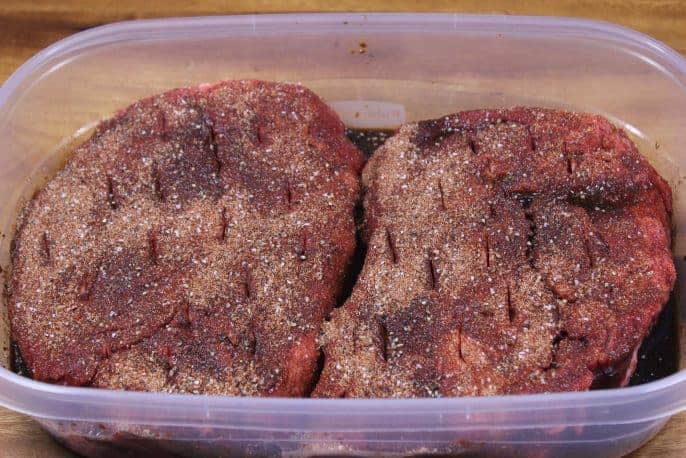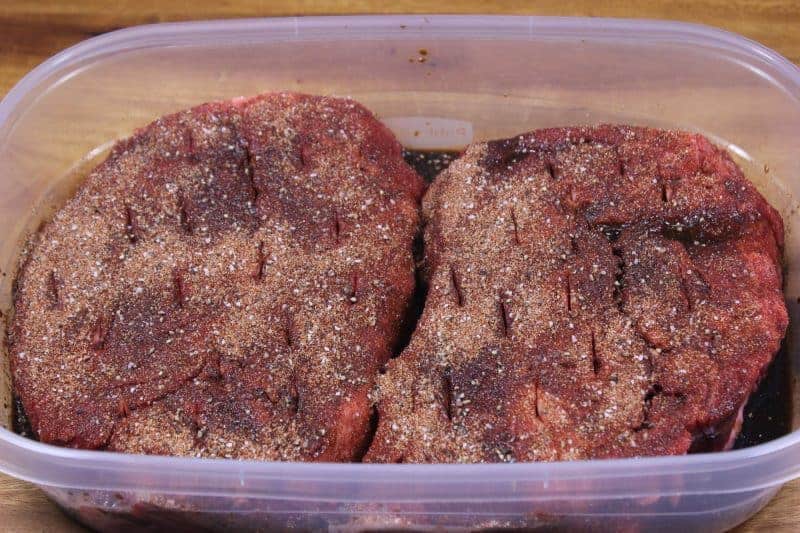 Carefully drizzle about another ½ cup of Worcestershire sauce onto the top of the meat. Do it slowly so as to not wash the rub away.
The Worcestershire will seep down into the holes we just made and that's a good thing!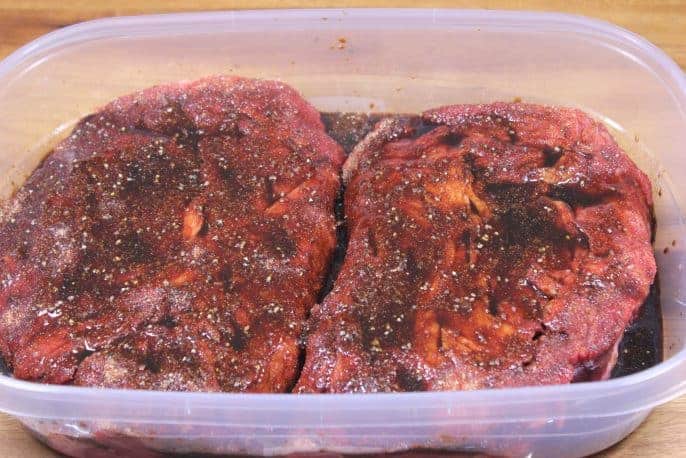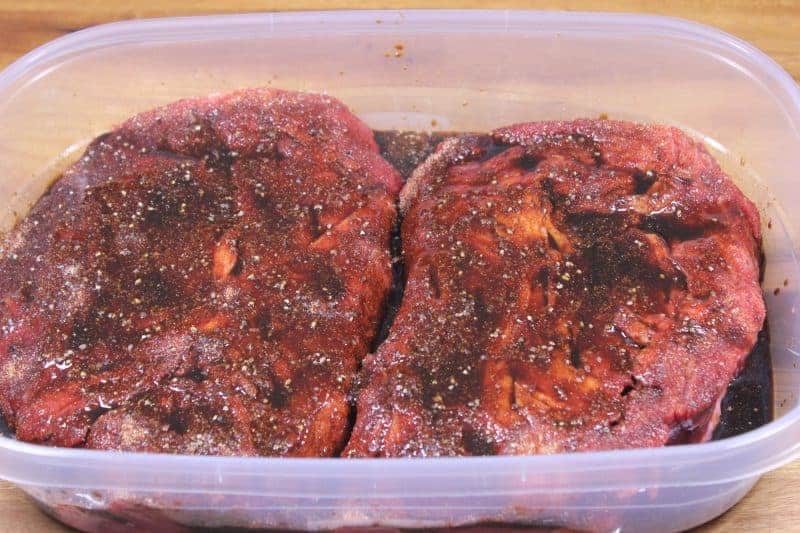 Place the lid on the container and place it in the fridge overnight or for at least 4 hours if possible.
Smoke the Meat
When you are ready to start smoking the chuck roast, remove the meat from the fridge but don't rinse it or do anything to it. It will come out of the plastic container and go into the smoker as is.
Preheat your smoker to 240°F using indirect heat.
If your smoker has a water pan, fill it up.
You will need enough wood chips to produce smoke for at least 4 hours but longer is ok as long as the smoke is light.
By the way, if you're using a pellet smoker, here's 9 of my best tips to help you out.
Once the smoker is ready, place the chuck roast(s) on a Weber grill pan, or pan with a rack to make it easy to take it out to the smoker.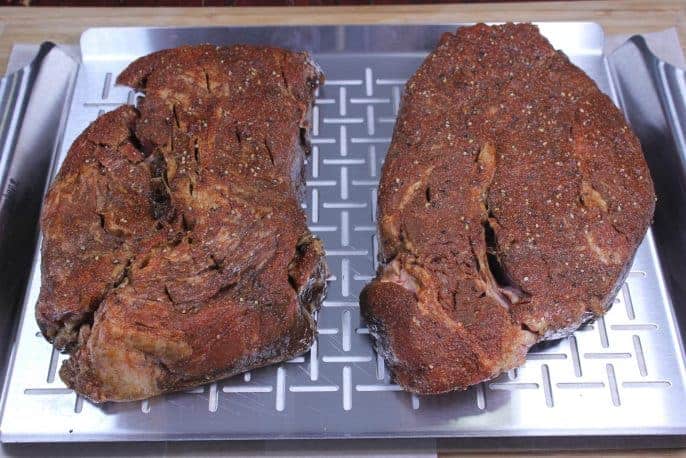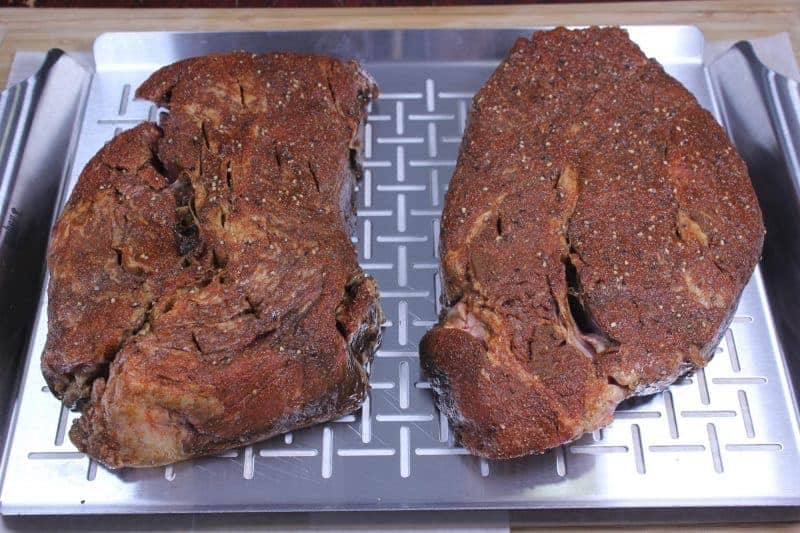 Smoke the meat for 7-8 hours or until a thermometer inserted into the thickest part of the meat reads about 190°F.
Much more than this and the meat may be too tender to cut into cubes.
I recommend a digital probe meat thermometer such as the "Smoke" by Thermoworks to monitor the temperature of the meat while it cooks.
I did not at any time wrap the meat in foil. You can if you like but it does mess with the crust formation and to me that is a very important part.
The chuck roast should have nice dark, deep mahogany crust when it is finished cooking.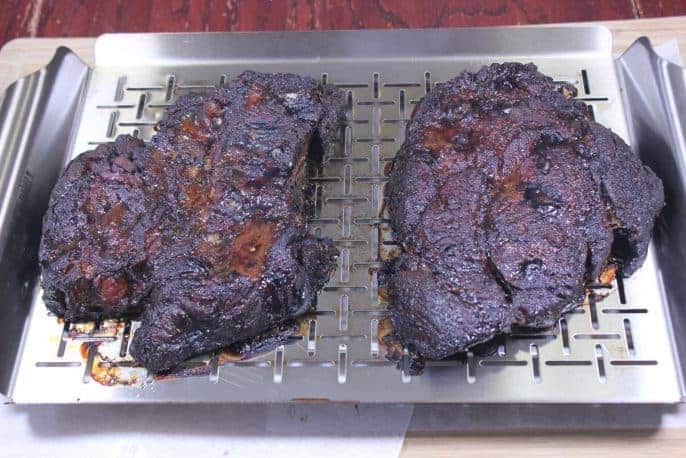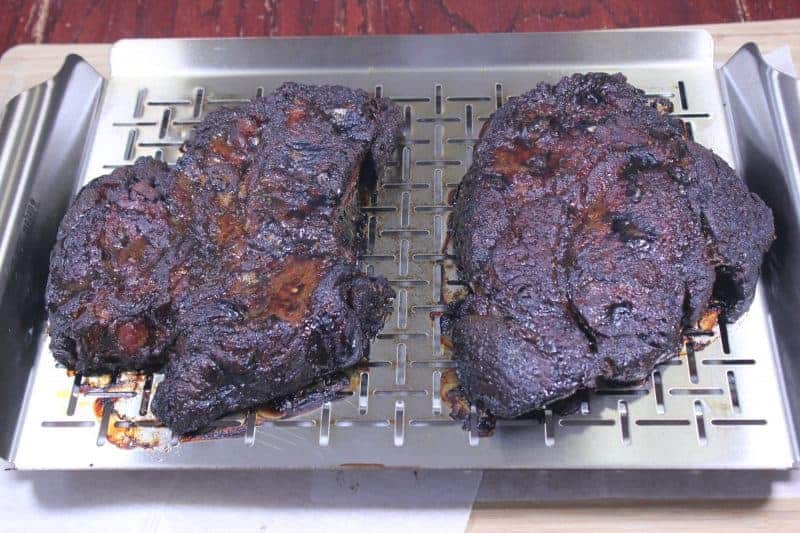 At this point, you could slice the chuck roast and eat it but why do that when you can make burnt ends out of them!
Carry on, stay focused and your patience will reward you greatly!
Sauce, Rub and Sizzle!
Lay the chuck roast on the cutting board.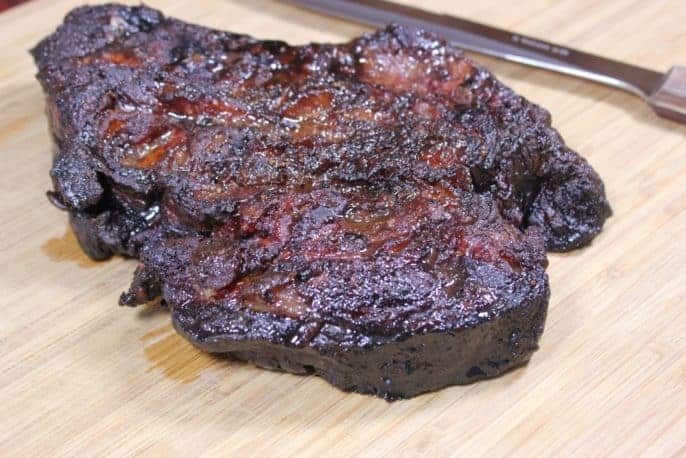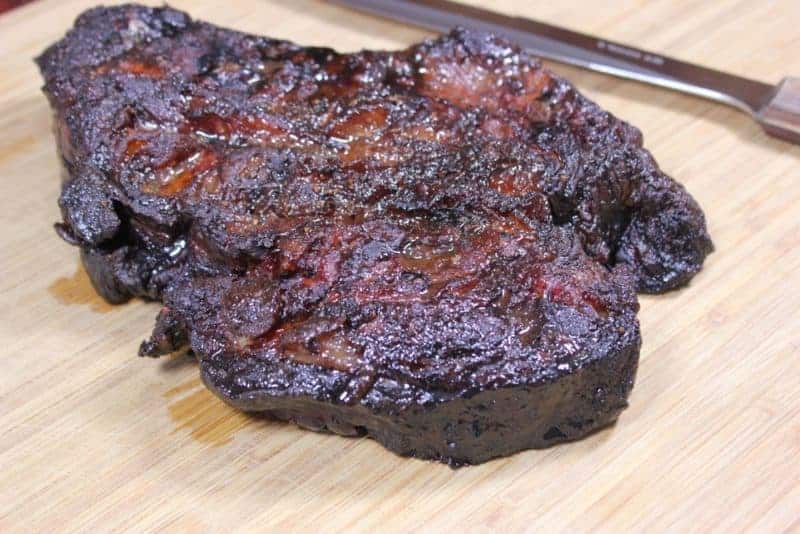 Cut it into bite sized cubes.. bite sizes may vary.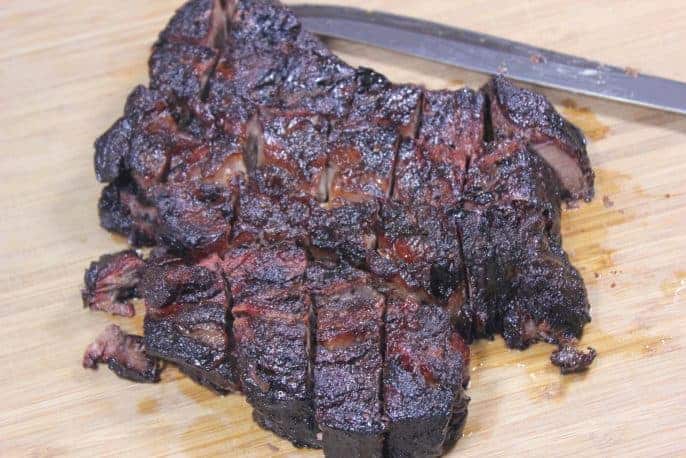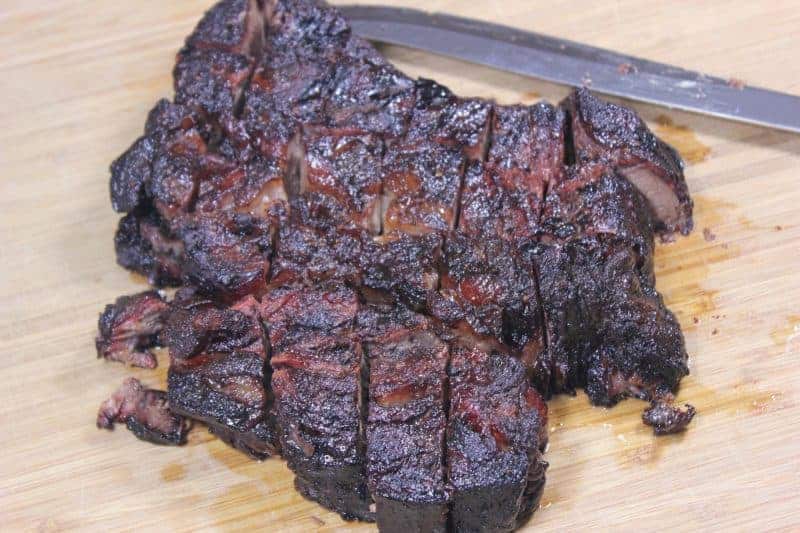 Into a pan..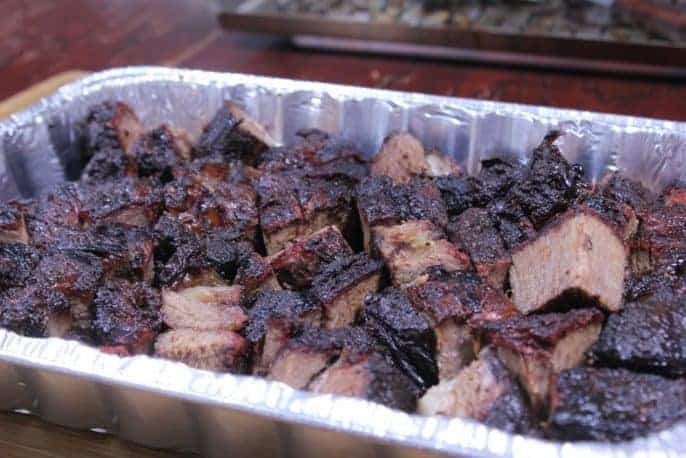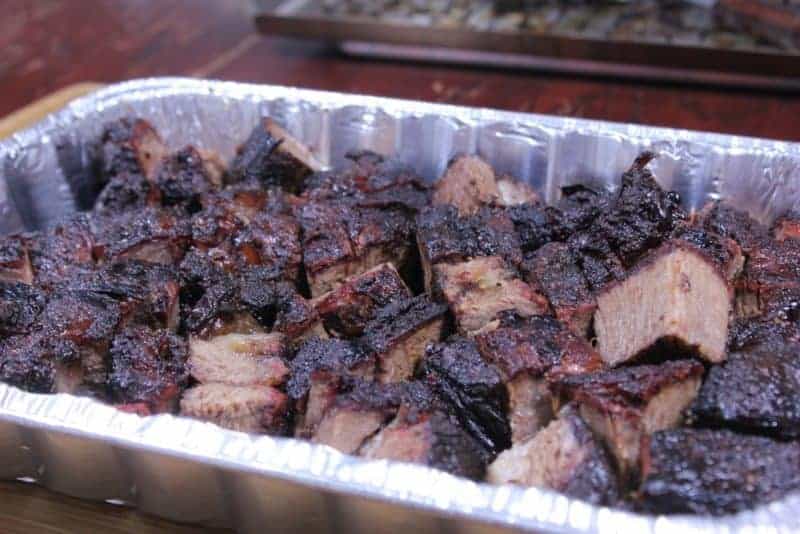 Add some of my delicious, better than any sauce you've ever tasted original barbecue sauce (Purchase formula here | Purchase bottled sauce).
Go head and get happy with it.. don't hold back.
Use a spatula to turn the cubes of meat over and over a few times to get the sauce onto every square inch of surface area.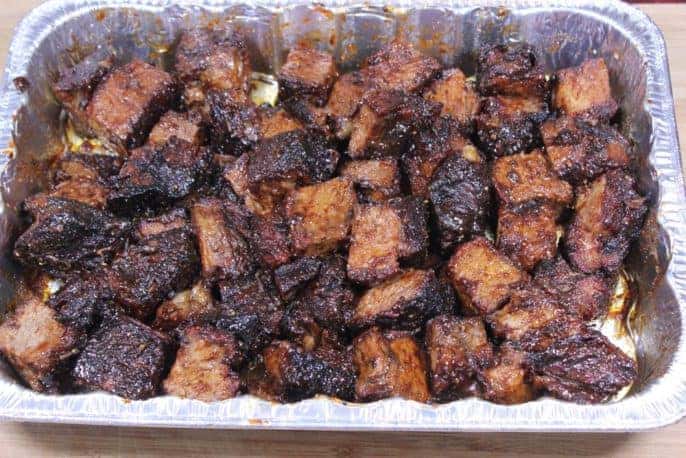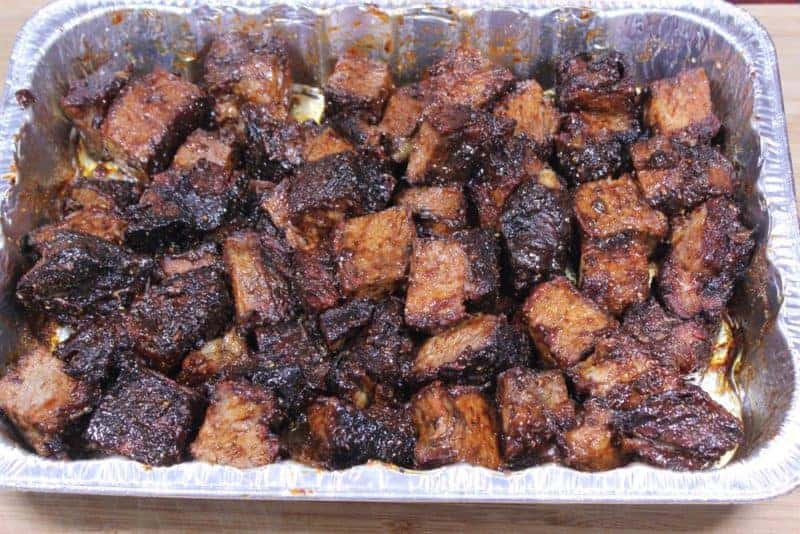 Now sprinkle Jeff's original rub (Purchase formula here | Purchase bottled rub) all over the top of the meat and once again, use a spatula to turn them over a few times and make sure they are well coated.
Add more rub if you need it. Every piece should have a fair amount on it.
This sauce and rub combination becomes your crust and is essential to the final product.
Here is where you have a few options:
Option 1: Use the Smoker
Place the pan back into the smoker for about 2 hours at 240°F stirring the meat every 30 minutes.
You can add more smoke if you like and the flavor will be really good.
Option 2: Use the Grill
Place the pan of of cubed meat onto the grill over high heat and stir around every few minutes until the outside of the pieces are as dark and caramelized as you like.
Option 3: Use the  Broiler on the Oven
Yeah, yeah.. it works so why not!
Works just like the grill except it cooks them from the top down rather than from the bottom up.
Stir them around every few minutes and when they get to the desired color and are deeply caramelized, they are done.. get them out of there!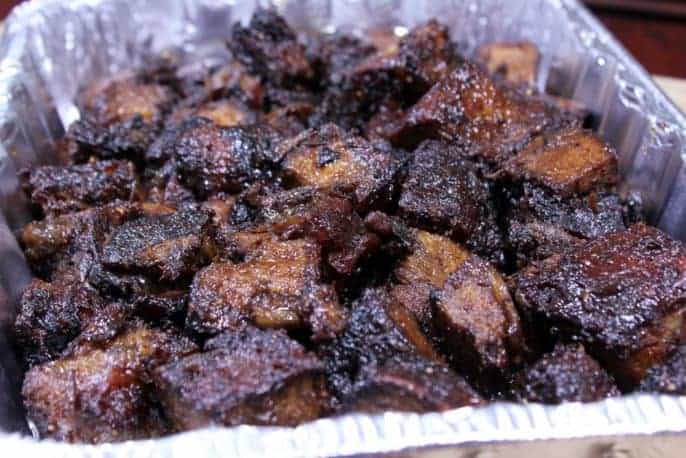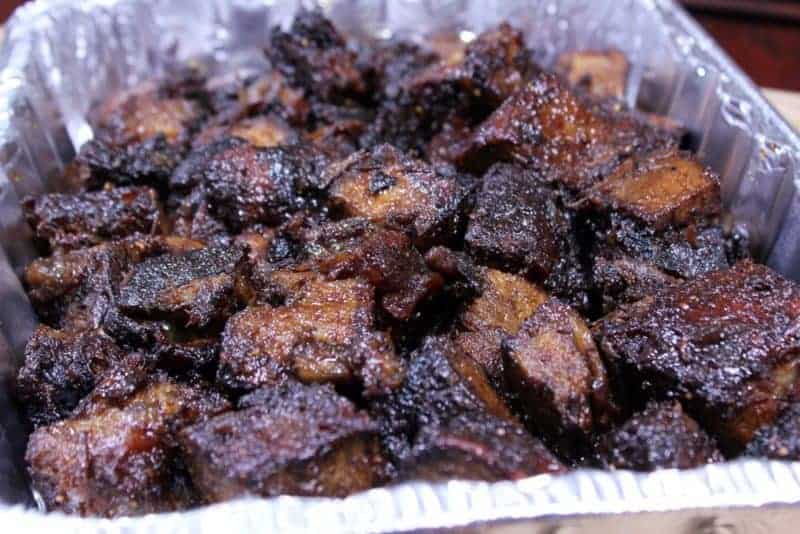 Finish and Serve
I love just sitting these on the table as smoked appetizers and letting folks just grab and eat but they also work great as a main entree with a couple of sides or you can pile them high on a bun with your favorite toppings.
..Speaking of smoked appetizers, here's all of the smoked appetizers on this website.
The sky's the limit with these bad boys!
Order Jeff's Rubs and Barbecue Sauce TODAY!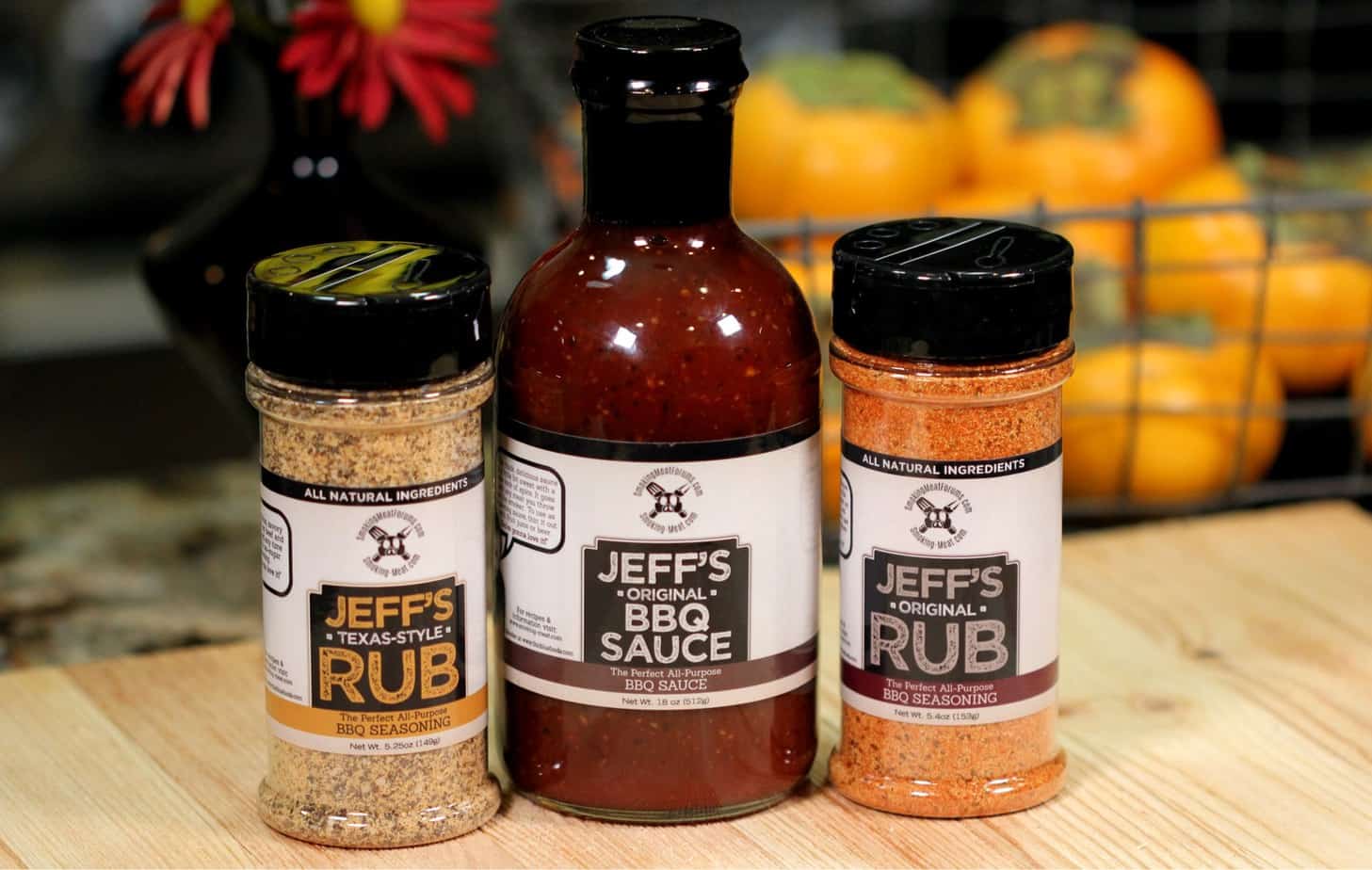 ✅ If you haven't ordered my rubs or sauce yet you can do that HERE. They are the best thing you've ever tasted and it's a great way to support what we do!
We ship blazingly fast and orders over $50 ship free!
You can also order the formulas for my rubs and sauce and make these yourself at home. Grab those HERE and download immediately.
Jeff's Smoking Meat Books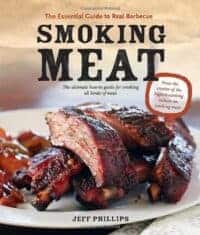 Smoking Meat: The Essential Guide to Real Barbecue – The book is full of recipes and contains tons of helpful information as well. Some have even said that "no smoker should be without this book"!
With more than 1000 reviews on Amazon.com and a rating of 4.7 out of 5 stars, it comes highly recommended and is a Bestseller in Barbecuing & Grilling books on Amazon.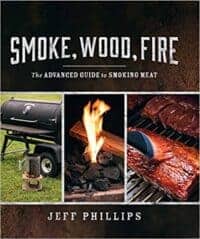 Smoke, Wood, Fire: The Advanced Guide to Smoking Meat – Unlike the first book, this book does not focus on recipes but rather uses every square inch of every page teaching you how to smoke meat. What my first book touched on, this second book takes it into much greater detail with lots of pictures.
It also includes a complete, step-by-step tutorial for making your own smoked "streaky" bacon using a 100 year old brine recipe.
Get Almost Anything at Amazon
If you enjoy the newsletter and would like to do something helpful, then..
The next time you decide to order something at Amazon.com, use THIS LINK to get there and we'll get a small commission off of what you purchase.
Thank you in advance for using our special link: http://www.smoking-meat.com/amazon
---
Printable Recipe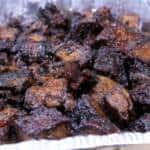 Print Recipe
Smoked Chuck Roast Burnt Ends
When you think of smoked burnt ends, most folks don't think of using chuck roast but I tried it and I can tell you that it is just as good as brisket in my opinion.
Ingredients
3

lb

chuck roast x 2

(((find ones that are uniform and even in thickness for best results)))

Lidded container for marinating meat

Worcestershire sauce

Jeff's original rub recipe

Jeff's original barbecue sauce
Instructions
Place chuck roast into a lidded container. Pour 4-6 ounces of Worcestershire over the meat.

Sprinkle some of Jeff's original rub onto the top of the meat.

Use a sharp knife to make cuts through the top into the center of the meat.

Drizzle on more Worcestershire so it can seep down into the holes.

Place a lid on the container and let the meat marinate overnight.

Preheat smoker to 240 °F using indirect heat and cherry wood for smoke.

Smoke the chuck roast in a foil pan to contain the juices or you can cook it directly on the smoker grate if you prefer. Let the meat smoke cook for about 8 hours or until it reads 190°F in the thickest part.

Cut the chuck roast into bite size cubes. Place the cubes in a foil pan.

Add Jeff's original sauce and original rub onto the meat making sure it is well coated.

Place the meat back into the smoker at 240 °F for about 2 hours stirring every 30 minutes.

When the color is right and the sauce/rub is caramelized, they are done.
Notes
For the final cook stage, you can also place the meat on the grill over high heat or in the oven on broil stirring every few minutes to get it done much quicker.