How to Build a Fire with Charcoal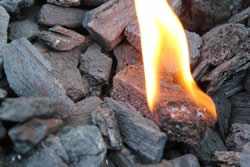 Smoking-Meat.com is supported by its readers. We may earn an affiliate commission at no extra cost to you if you buy through a link on this page.
[wptouch target="non-mobile"][raw_html_snippet id="adsense_after_p1"][/wptouch]
This is something I recieve a lot of questions about.. how is the best way to start the fire when using lump charcoal. Well.. all of you know that I am death on using lighter fluid to get the fire going.. so there has to be an alternative.
Well there are several alternatives and I am going to share them right here on this page right now.
Charcoal Chimney

The first thing I want to talk about is using a charcoal chimney which is a device that allows you an easy way to get a pound or so of charcoal burning and ready to cook with in just a few minutes using only a wad of newspaper and a lighter or match.
Looking at the picture at left for reference, you wad up a couple pieces of newspaper and stuff it in the bottom of the charcoal chimney.
You then turn it right side up and fill the chimney up with lump charcoal. You can then light the paper through the holes in the side of the chimney and as the paper burns it lights the charcoal and in just a matter of a few minutes you have a chimney full of red hot, glowing coal ready to be dumped into the charcoal pan or even the firebox of your small smoker.
For the Brinkmann water smoker this works really well.. a couple of chimney's full and I am ready to start smoking. For an offset smoker it may take 4 or 5 chimneys to get started and then another chimney full every hour or so.
Strike-a-Fire Charcoal Starters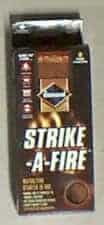 These are something that I purchase at my local supermarket but I have seen them at Wal-mart and various hardware stores as well.
They are made by Diamond and look like giant, really thick matches.
You start them burning by striking the end on the abrasive edge of the box just as you would a match and lay a couple in the bottom of the charcoal pan.
You can then stack lump charcoal on top of them and within just a few minutes the fire is blazing hot and well on the way to being ready to cook with.
Remember to use lump charcoal for best results as opposed to the briquettes which normally have fillers of various substances added in and if you are anything at all like me you do not want your food flavored with anything but 100% hardwood.
Lump charcoal tends to burn a little hotter than briquettes so you may want to take that into consideration when building a fire with lump charcoal.
Did you know? You can order the MASTER FORMULAS which allow you to make Jeff's rubs and barbecue sauce at home using your own ingredients! Order the Recipes