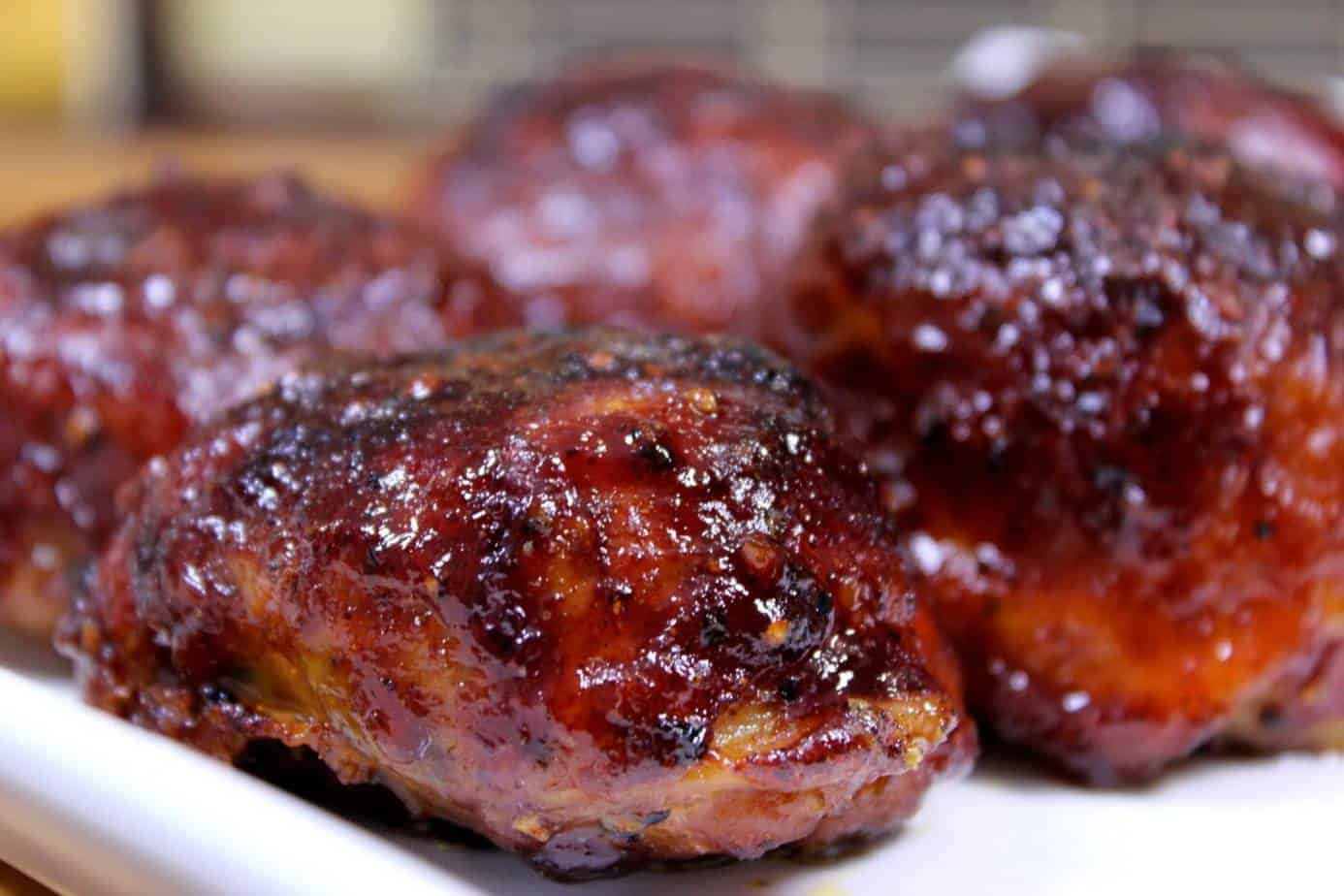 Smoked cupcake chicken was made popular on the barbecue competition trail and is a way to make smoked chicken thighs so that they come out uniform, juicy and properly seasoned.
I made a few changes as I usually do but the basic method remains the same and it's definitely a great recipe to try when you have a hankering for smoked chicken thighs.
I used my original rub at the end caramelized onto the delicious chicken skin.
Helpful Information
Prep Time: 30 minutes
Cook Time: 3 hours
Smoker Temp: 275°F
Meat Finish Temp: 175°F
Recommended Wood: Cherry
What You'll Need
6 or more chicken thighs, bone-in and skin on*
Muffin pan, disposable, silicone or a cheap one
Large cookie sheet
Jeff's original rub
*Boneless, skinless will work however it will be important to keep the outside of the chicken moist as skinless chicken tends to dry out on the smoker.
The Muffin or Cupcake Pan
The pan needs to have a ¼ inch hole drilled in the center of each cup.
This is a lot easier if the pan is one of the foil ones or a silicone one as the hole can be made with scissors, a nail or any number of implements you mind find around the house.
If you decide to use a regular metal pan, then you'll need a drill and bit. I recommend a 1/8 inch bit to start and then a ¼ to open it up to full size.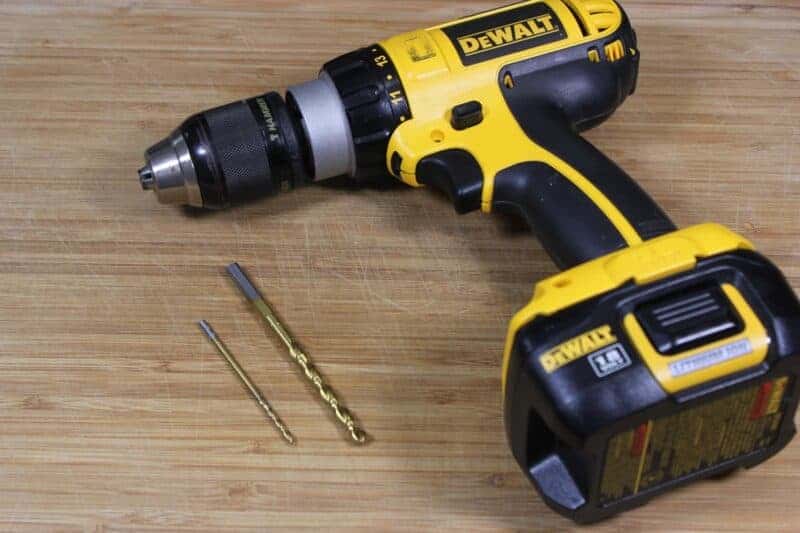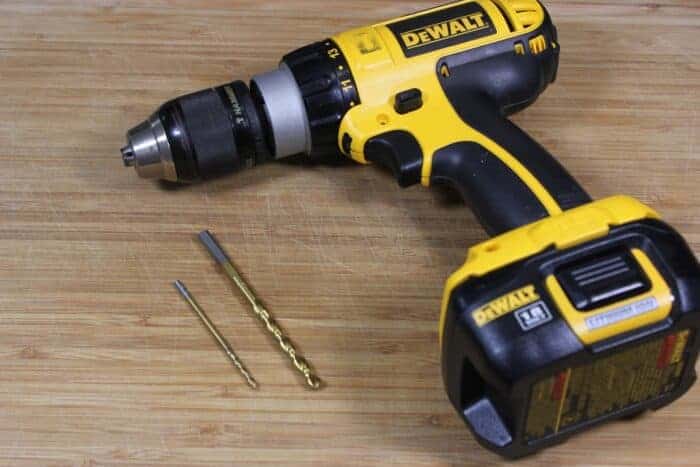 Drill from the inside out so the burrs will be on the outside and easily filed off.
1/8 inch bit first.. I just eyeballed the center.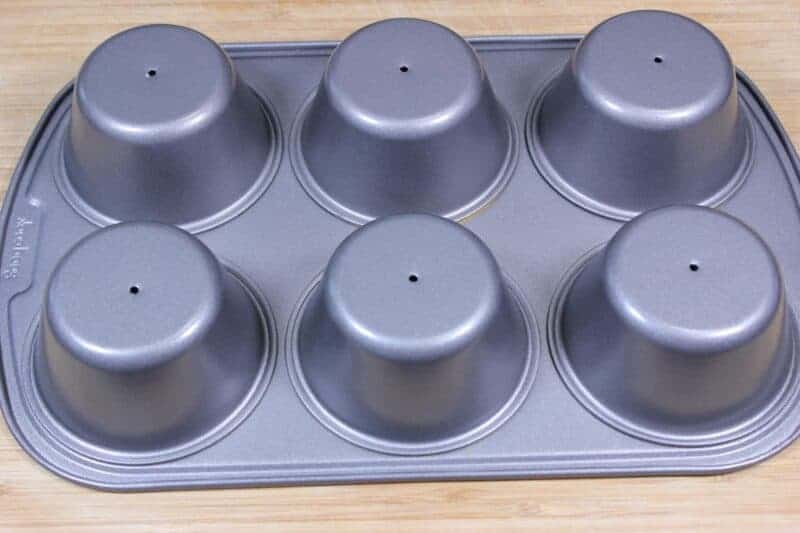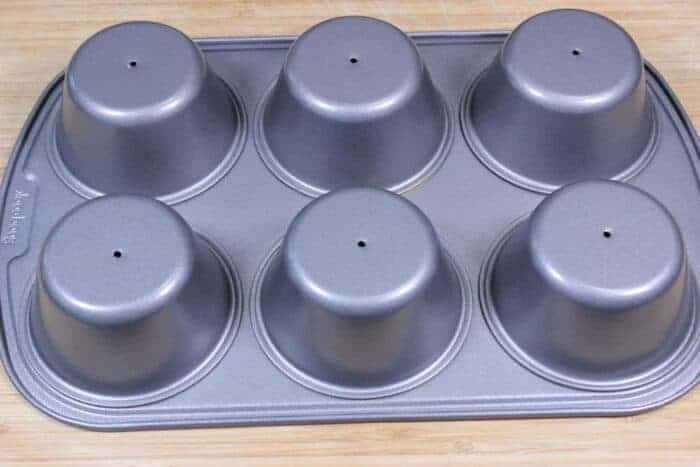 ¼ inch to open up the hole..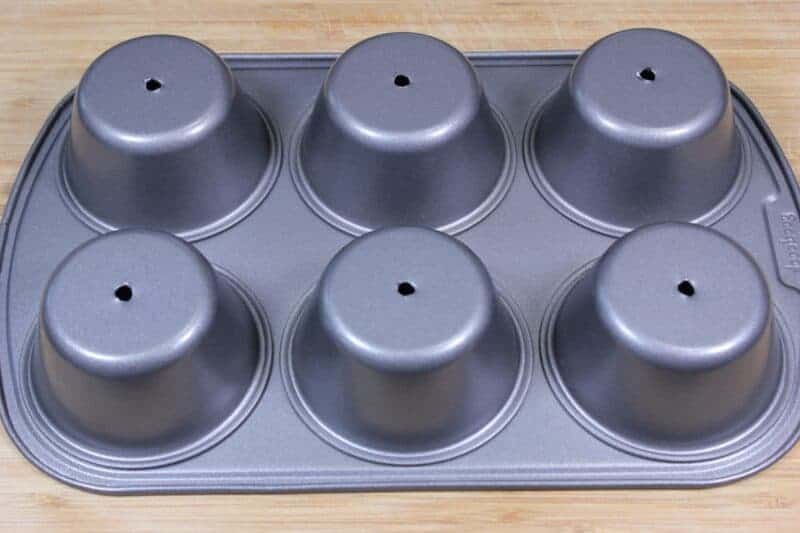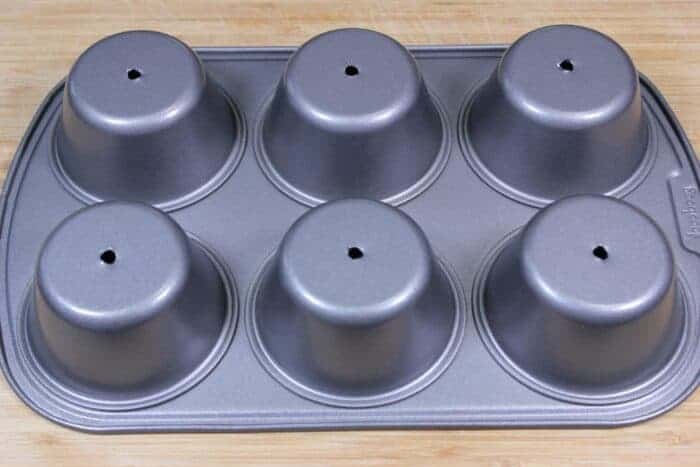 File off the burrs on the outside, wash the pan with soap and you're ready to cook.
Preparing the Chicken
Lay the chicken thighs on a cutting board bone side up and find the knuckle.
I like to remove the entire bone but most just clip off the knuckles on the ends of the bones with heavy duty kitchen shears or something similar.
This is to reduce the width of the chicken and allow it to conform to the shape of the muffin tin cups without hindrance.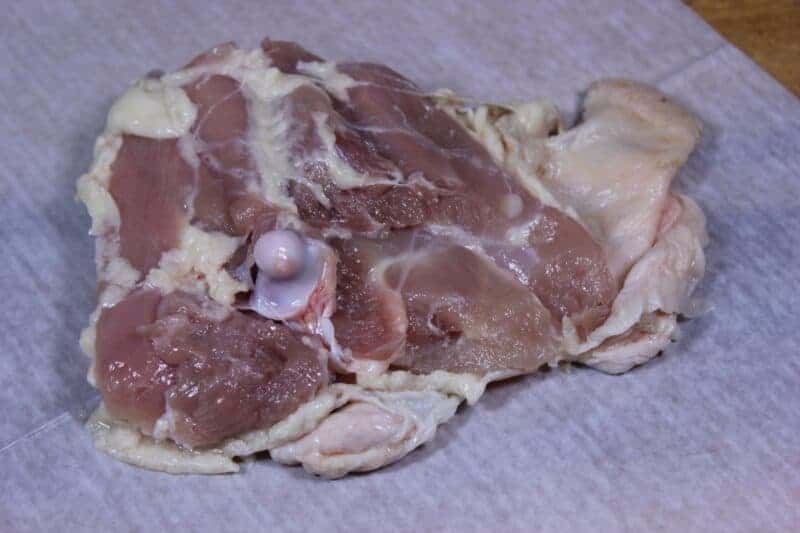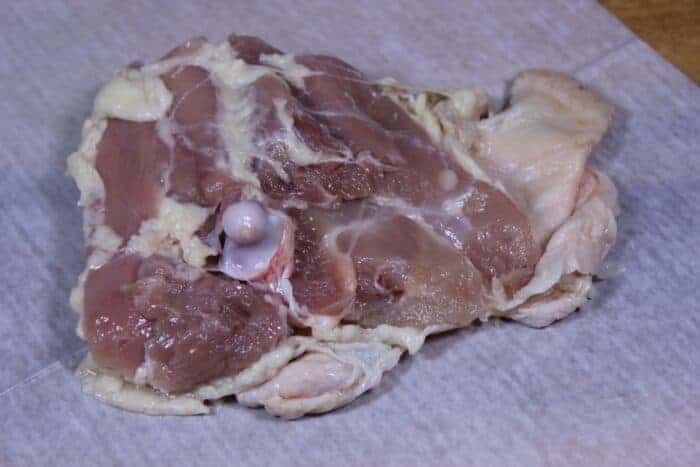 I removed the bone by cutting along both sides with a very sharp knife but you really don't have to do that.
Note: You can purchase and use the boneless, skinless chicken but just make sure you keep the chicken basted with oil a few times during the cook to make sure the meat does not dry out.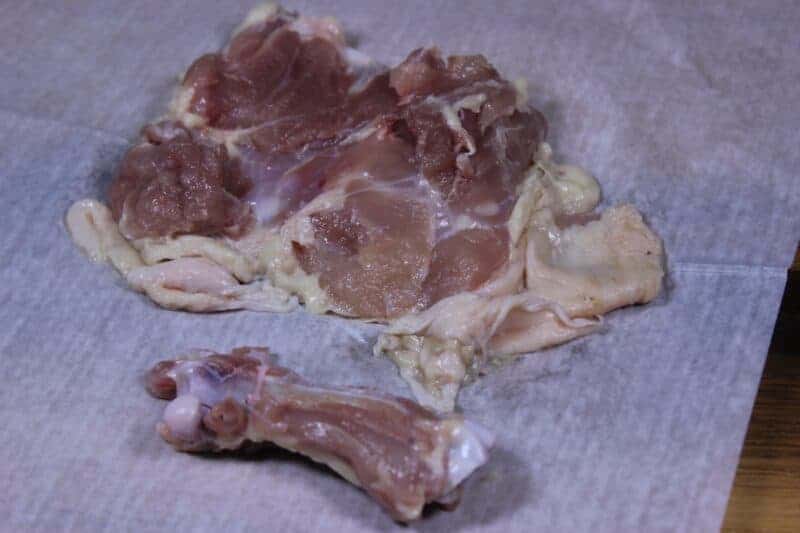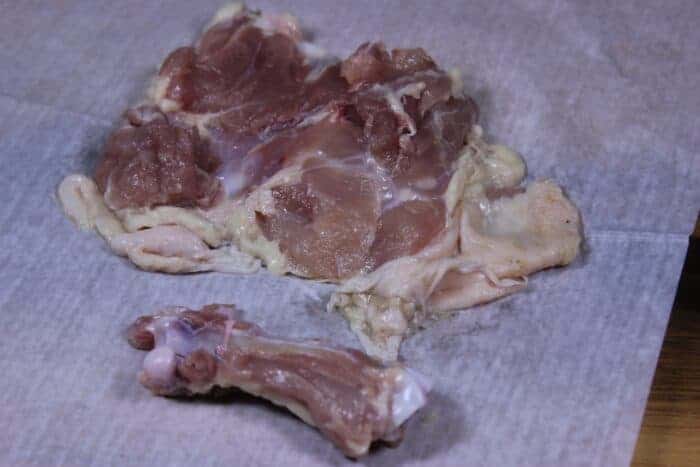 Flip the piece of chicken over and remove the chicken skin.. it should just pull right off like it's meant to happen.
I also squared up the skin a little but unless you are competing and serving to judges, it may be overkill.
While you are at it, if you see any large pieces of fat, just cut it off with a knife or kitchen scissors.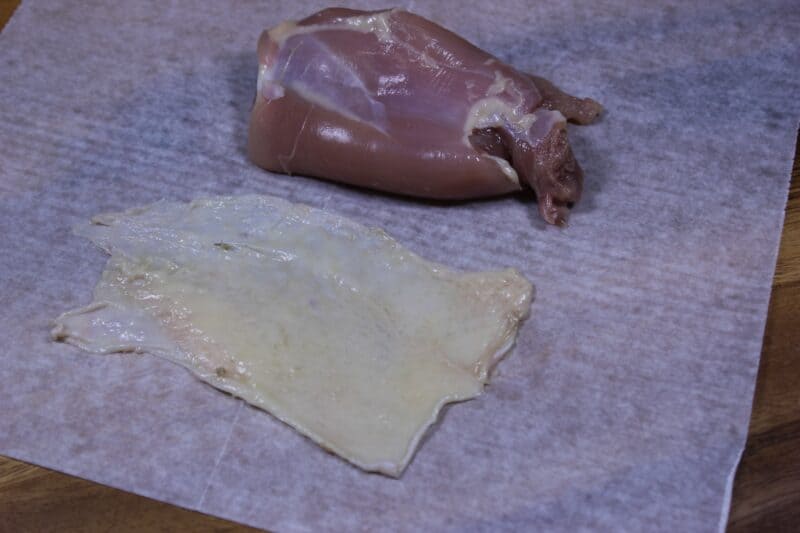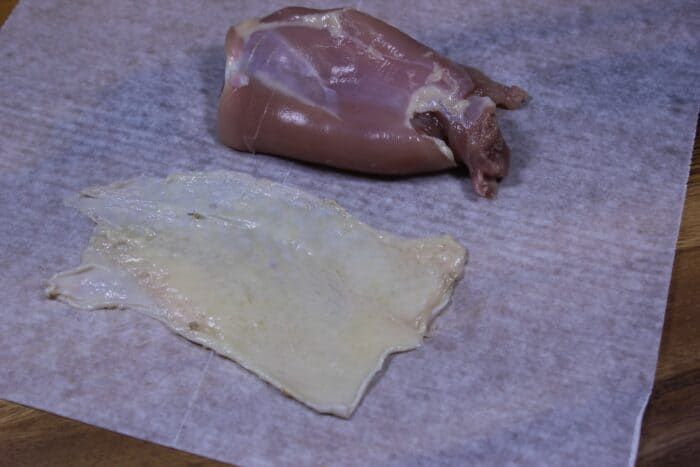 Seasoning the Chicken
With the bones snipped or removed and the skin removed, place the thighs in a pan or container to be seasoned.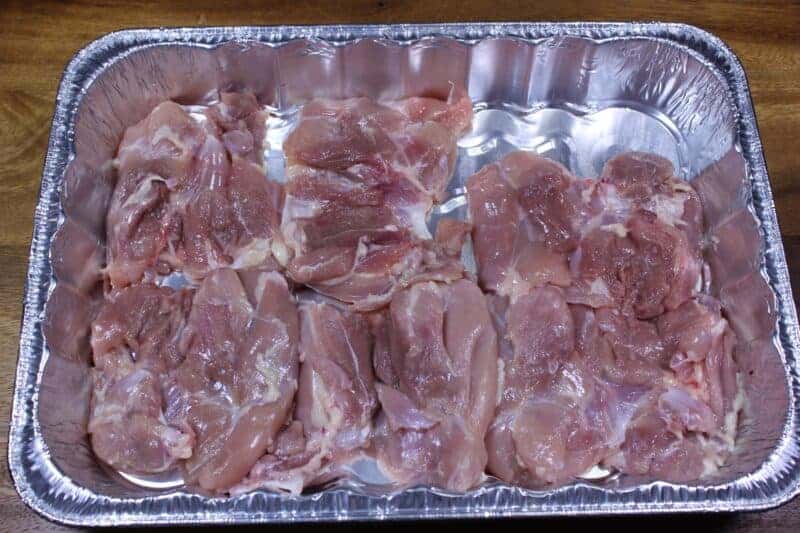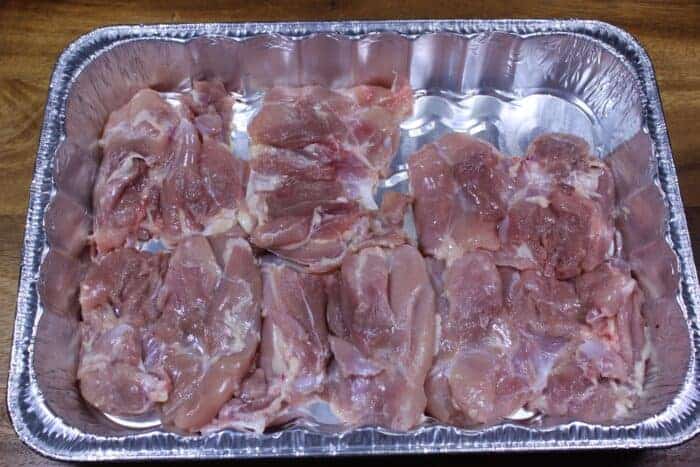 I like to do a light coat of seasoning on both sides.
Be sure to use the Jeff's original rub for these.. it's very tasty!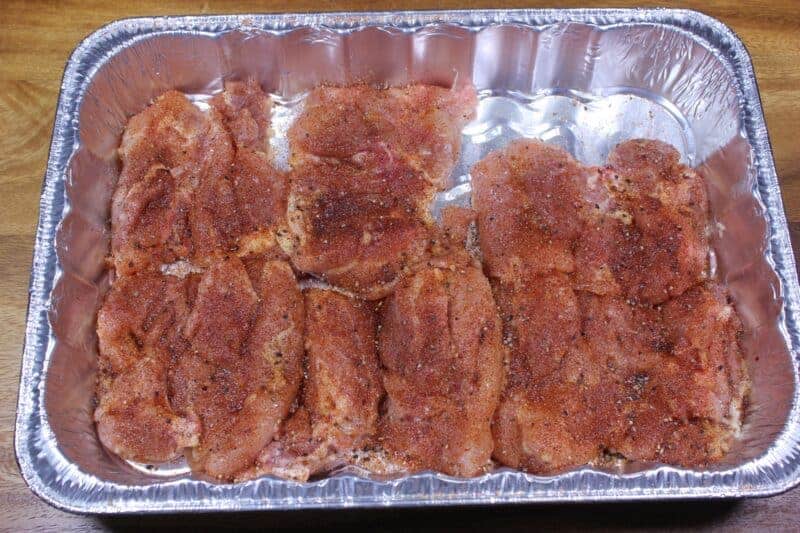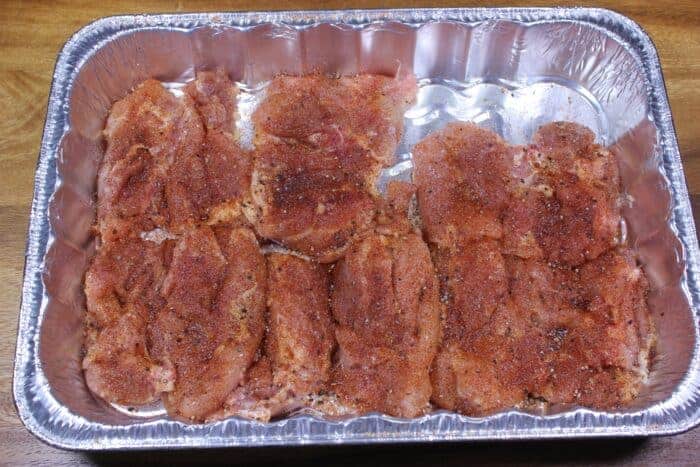 Optional: place the seasoned meat and the skins you removed into a ziptop bag or container and let it marinate overnight in the original rub and chicken juices.
The meat is now ready to be made back into skin covered thighs again.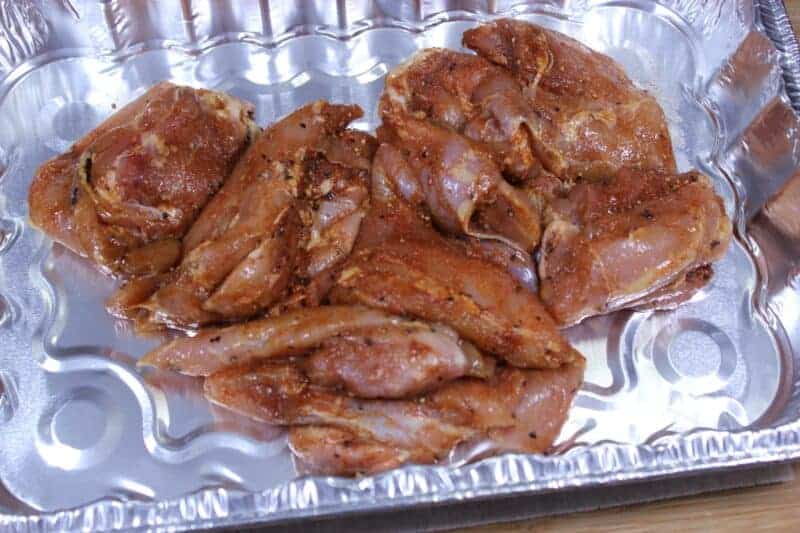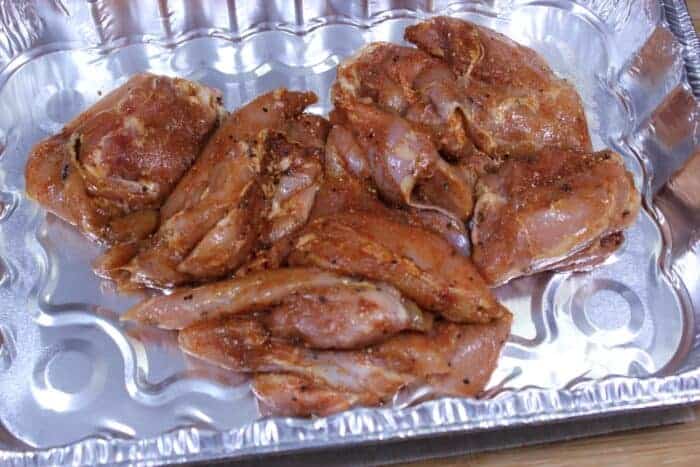 You will notice that I did not bother seasoning the skin.. we'll do that in a later step.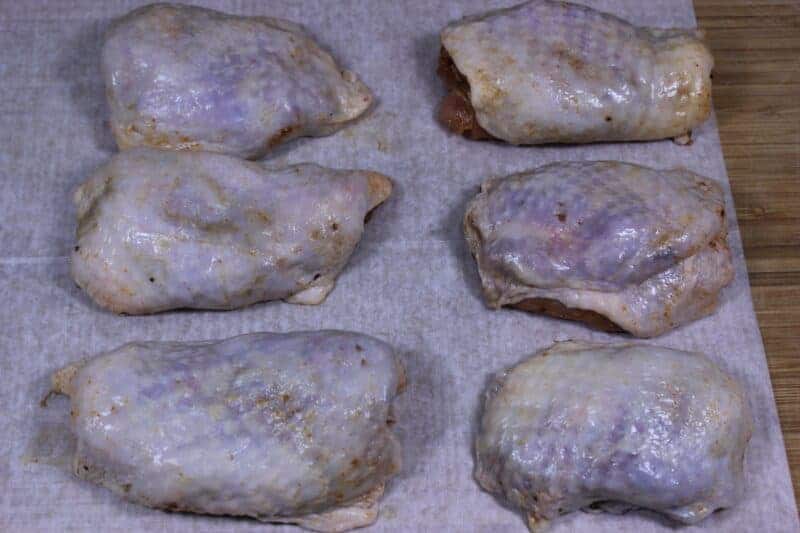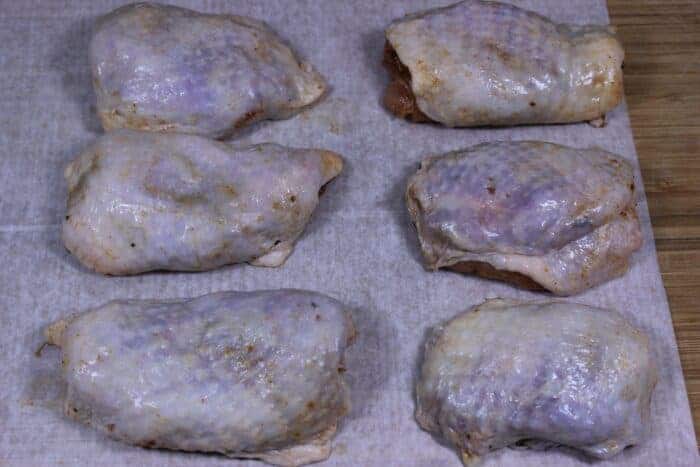 Into the Muffin or Cupcake Pan
Place the skin (outside part of the skin facing down) into the muffin tins first then place the thigh meat on top.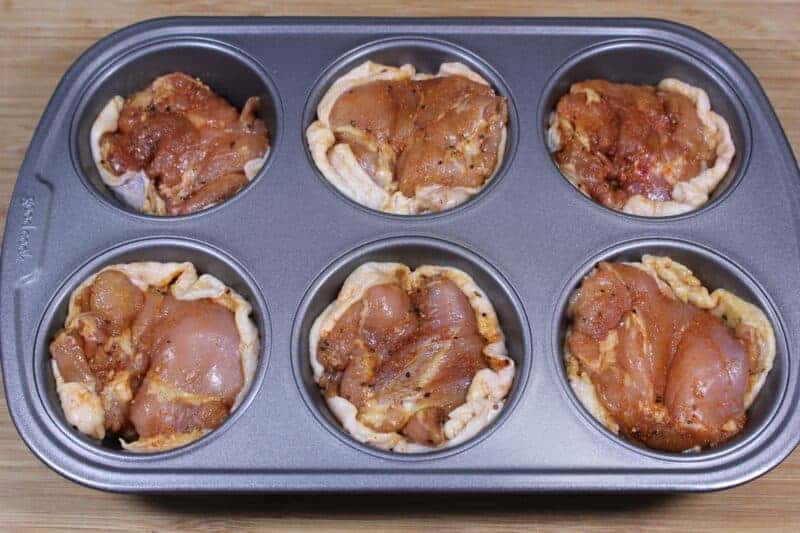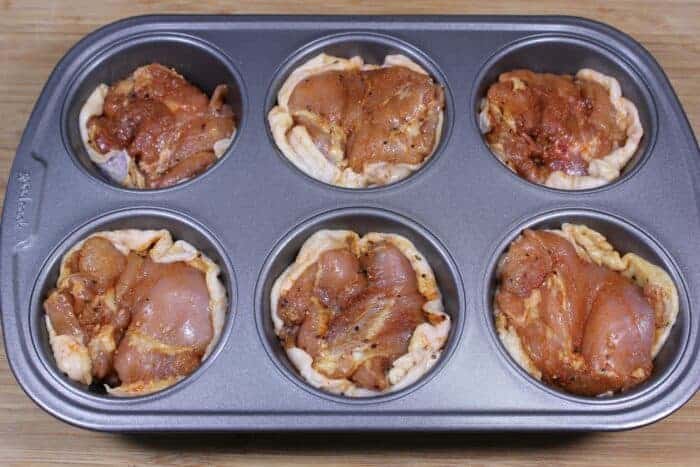 Set the muffin pan onto a cookie sheet..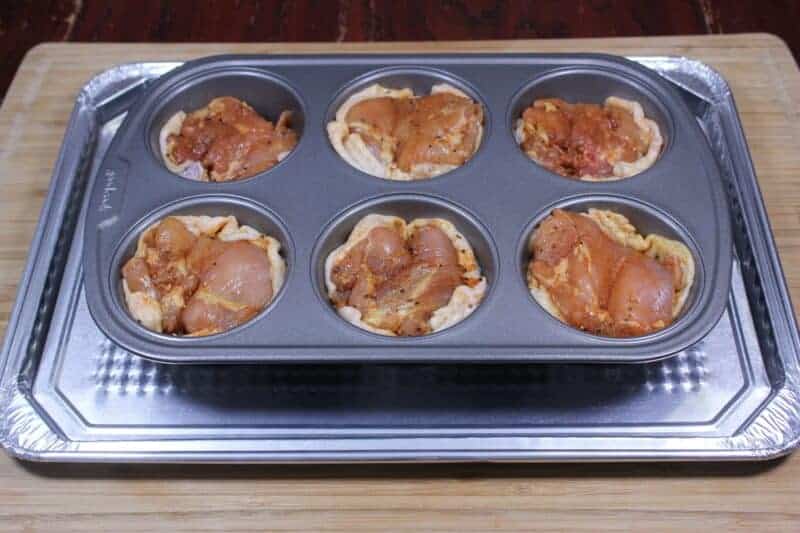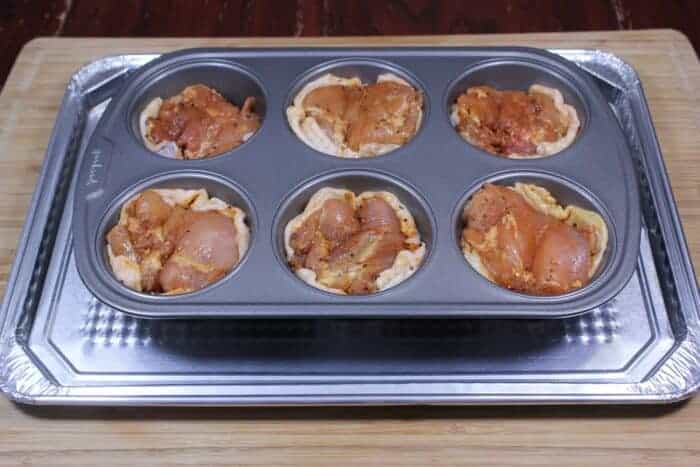 We are going to add some liquid to the cookie sheet eventually but I prefer to do that once it's in the smoker.
Get the Smoker Ready
Set up your smoker for cooking at about 275°F with indirect heat. This higher heat helps to cook the chicken faster and creates a better bite-thru on the skin.
The entire process takes about 3 hours and I recommend keeping the smoke going throughout. I used cherry wood for smoke but any good smoking wood will work just fine.
Stage One: Skin Down
Place the muffin pan/cookie sheet on the smoker grate.
Fill the cookie sheet with about ¼ inch of liquid. Most recommend chicken broth but you can use other things if you wish. The options are endless and include things like soda pop, fruit juice, wine, vegetable broth, etc.
Keep the chicken in this configuration for 1.5 hours at 275°F.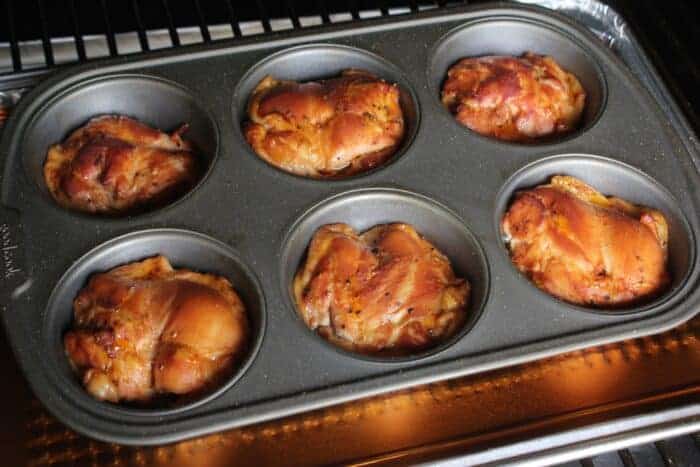 At the end of this stage the chicken temperature was at 140°F.
Stage Two: Skin Up
Carefully dump the chicken out of the muffin pan and into the cookie sheet.
You may have to use a butter knife to unstick the chicken from the edges if they seem to be having trouble coming out.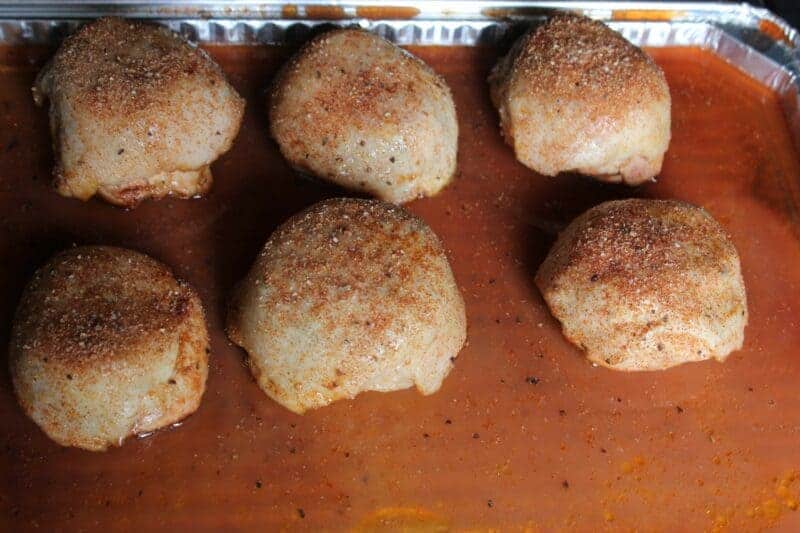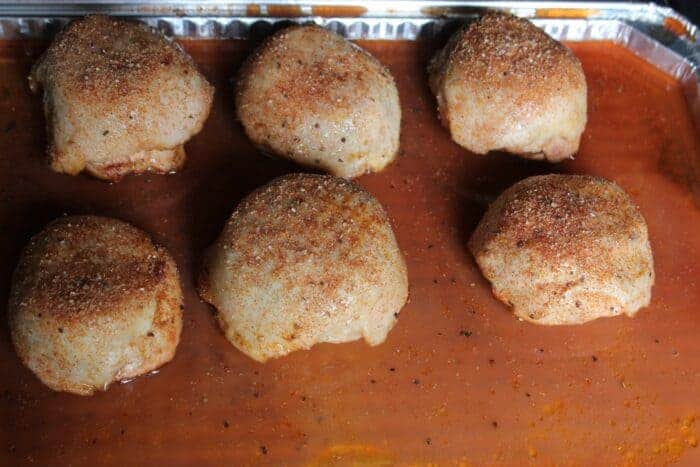 Put the chicken back into the muffin cups skin side up.
Add a sprinkling of Jeff's original rub on top and go for another 45 minutes.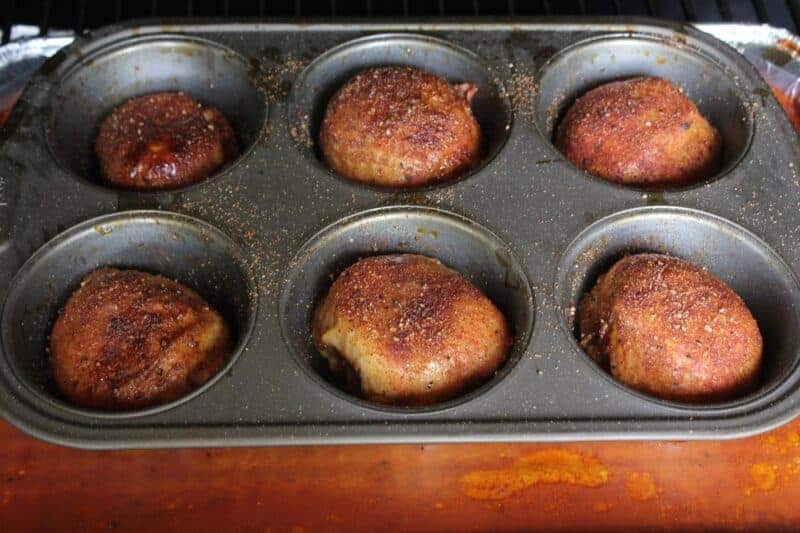 I checked the temperature at this stage and they were at 170°F which is great for chicken thighs.
Chicken thighs have a lot of fat in the meat and tends to end up more tender if you cook it a little higher than it's safe temperature (165°F). I even go as high as 175 to 180°F sometimes.
Stage Three: Sauce
Remove the chicken from the muffin pan and set them skin side up on the dry cookie sheet (I poured off any juice that remained in the cookie sheet).
Brush the top and sides with Jeff's original barbecue sauce (Purchase formula here | Purchase bottled sauce) and leave them in the smoker for 30 minutes to let the sauce get real good and caramelized.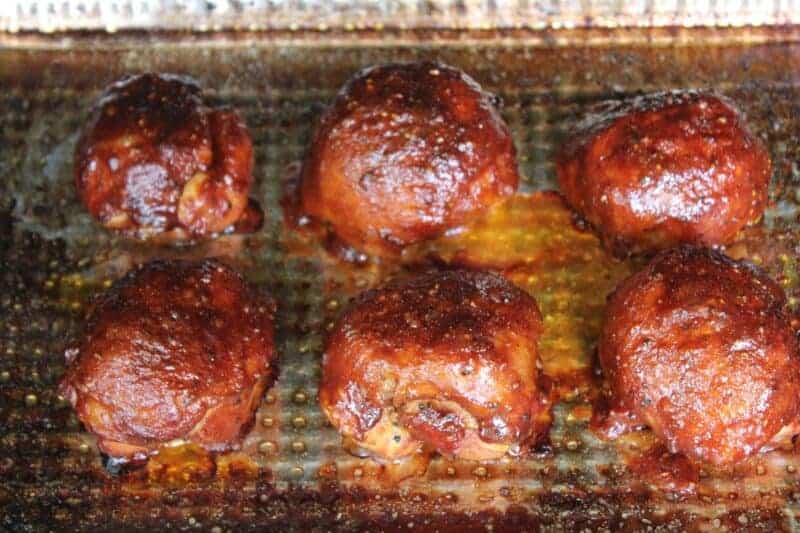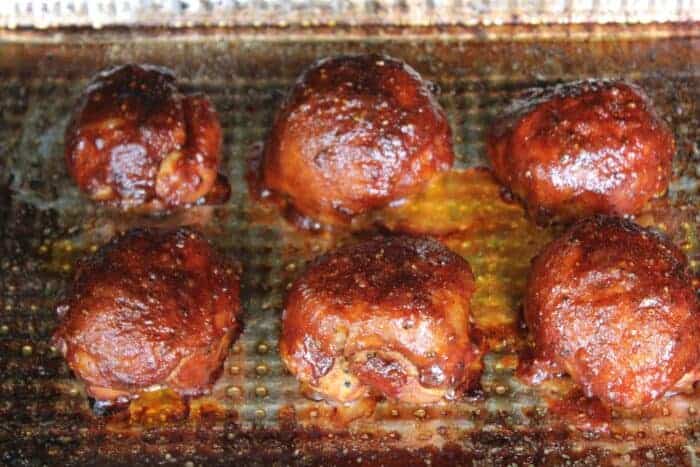 Finished
Once the smoked chicken thighs are finished, serve them up immediately.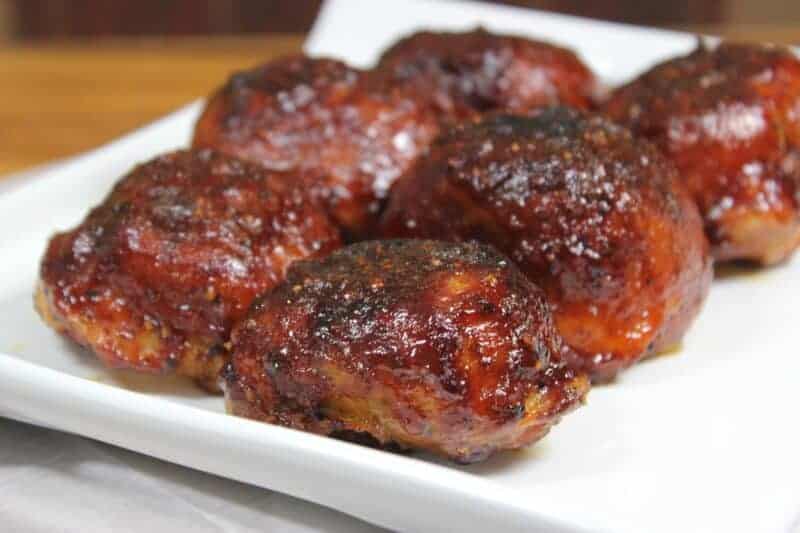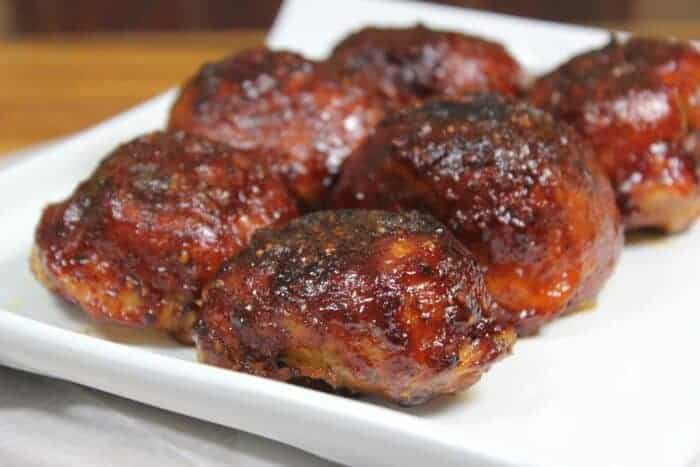 All in all, a little more labor intensive than most other smoked chicken thigh recipes but I think it's worth it and something fun to do occasionally.
Print
Smoked Cupcake Chicken
Smoked cupcake chicken is a recipe that was made popular by Myron Mixon in the competition circuit. It is a way to make smoked chicken thighs so that they come out uniform, juicy and properly seasoned for the judges.
Author:
Prep Time:

30 minutes

Cook Time:

3 hours

Total Time:

3 hours 30 minutes

Yield:

6

1

x
Category:

Entree

Cuisine:

Hot Smoking
6

or more chicken thighs ((, bone-in and skin on))
Muffin pan ((, disposable, silicone or a cheap one))
Large cookie sheet
Jeff's original rub recipe
Instructions
Remove skin from thighs, snip knuckles from bones and remove any excess fat.
Add Jeff's original rub to chicken thighs on top and bottom. Refrigerate overnight if you like or get right on with it.
Replace skin on to chicken thighs.
Put chicken skin side down into special, pre-drilled muffin pan.
Place the muffin pan onto a cookie sheet filled with ¼ inch of chicken broth and smoke cook at 275 for 1.5 hours.
Flip chicken over in muffin pan to skin side up, add some seasoning and smoke cook at 275 for another 45 minutes.
Remove chicken from muffin pan and place skin side up onto cookie sheet.
Sauce top and sides and smoke cook at 275 for an additional 30 minutes to let the sauce caramelize or until the internal temperature reaches 175℉.
Serve immediately.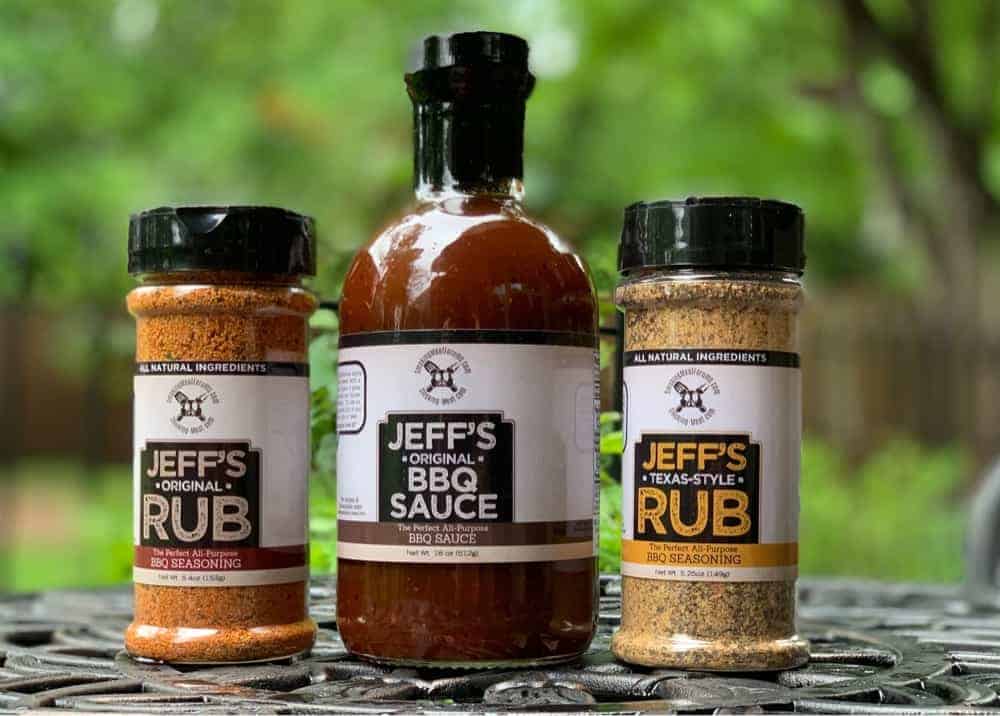 Order Jeff's Rubs and Barbecue Sauce TODAY!
✅ My rubs and sauce will be the best thing you've ever tasted and it's a great way to support what we do!
Note: You can also order the formulas for my rubs and sauce and make these yourself at home. Grab those HERE and download immediately.