Cherry Smoked Country Style Ribs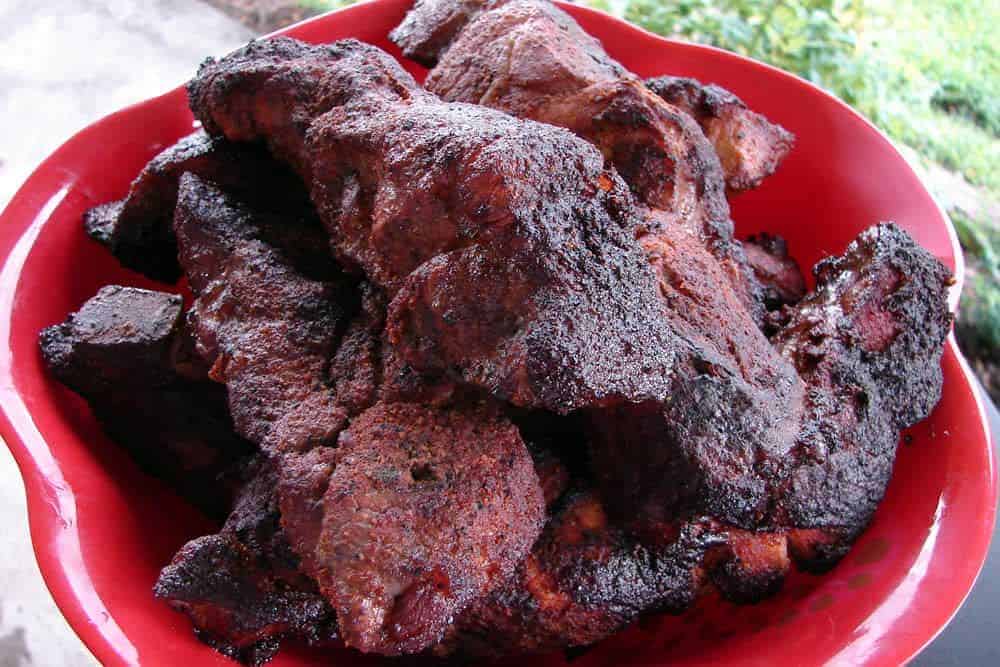 Smoking-Meat.com is supported by its readers. We may earn an affiliate commission at no extra cost to you if you buy through a link on this page.
Read this article without ads
As you may already know.. the country style ribs that we have here in our part of the country are not really ribs at all but rather the pork butt sliced up into long fat pieces of meat. There is plenty of fat to make it good for smoking and the cool thing is that it only takes about 4 hours to get them done.
Ingredients:
10 lbs Pork Country Style Ribs (boneless are best)
1 batch of Jeff's Naked Rib Rub
Prepping the Ribs for Smoking
Remove meat from package and lay them close together in a shallow pan such as a cookie sheet. At this point I would normally rub the ribs with a light coat of yellow prepared mustard to help the rub to stick however, I opted to spray on extra virgin olive oil instead. using the sprayable olive oil, I coated the top and sides of the meat with a good coat of the oil.
Adding the Rub for Flavor
I mixed up a batch of my famous rib rub and after eating a spoonful or two (yep, it's that good) I used my bare hands to just sprinkle the stuff all over the tops of the ribs. The oil helped the rub to stick to the meat. Once the rub started looking wet all over, I flipped them over to the opposite side and once again, sprinkled a healthy portion of rub all over the ribs. I wanted to let the rub sit on the meat for about 30 minutes before smoking them so I left them there while I went outside to the smoker ready.
Setting up the Smoker
For this cooking session, I opted to use my Weber Smokey Mountain smoker with charcoal and small cherry splits. I used about 10 pounds of unlit charcoal in the bottom of the smoker and about 3/4 of a chimney of lit charcoal on top.
I filled the water pan completely to the top, put the grates back into place and went back inside for the meat.
The Smoking Process
I had about 10 pounds of country style ribs and all of them were able to fit on the top rack of the smoker with a little space between each one to allow the smoke to be able to get to the meat with no problems.
I laid them directly on the grate and replaced the lid. I opted to use cherry for this batch of meat and had a small split which was about 2.5 inches wide and 12 inches long. I laid the split right on top of the charcoal and let her smoke away.
I kept the smoker at 225 throughout the process but for some reason the meat got done much faster than what I had anticipated. I was estimating about 3.5 to 4 hours but the meat was at 165-170 at just under 3 hours. I'm blaming it on the thunder storm that popped up where lightning must have struck the smoker and grilled the ribs to perfection when I wasn't looking!
No problem.. I was hungry and after testing a piece to make sure it was safe for the family, I took it all up in a bowl and brought it into the house for dinner.
How to Serve
In my opinion these will not need sauce however, if I have guests over I almost always serve warm barbecue sauce on the side. Some folks just have to have sauce and I try to accomodate them.
These country style ribs go great with mashed potatoes, corn on the cob, green beans sauteed with bacon, barbecue beans, slaw, etc. You get the idea.
As a lighter alternative, you could slice the meat into thin half dollar size medallions and place 10-12 pieces on top of a nice garden salad. cut them at a 45 degree angle to show off the smoke ring.
Final Thoughts on the Country Style Ribs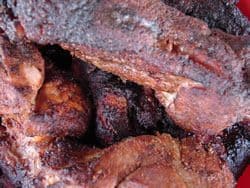 I told you guys these were easy and it had been a while since I have smoked any of these. I actually forgot just how easy and tasty they are. I will say that there is quite a bit of fat that does not render out of these so you just go into it knowing that you have to gnaw around the fat a little but over all, the flavor is amazing.
The cherry wood was excellent and the 1/4 inch smoke ring was a real beauty.
These are perfect when you want to smoke something in a hurry or when those unexpected relatives pop in for a visit and you don't want to break out the prime rib. From prep to table in under 4 hours and that's not bad for what we call low and slow!!
I do think my rub made all the difference in these ribs.. occasionally I will buy something from the store labeled as rib rub or some amazing seasoning and it just never measures up to the flavor that I get from my own personal rib rub.
If you decide to smoke some of these up, shoot me an email and let me know how it goes.
Get Jeff's Products!