Smoked pork tenderloin is one of my favorite cuts of pork and I, being the pork lover that I am, have a hard time choosing between this cut and the filet of beef.. it really is THAT good. Cooked correctly, it is tender, tasty, and very moist without a lot of fuss.
It does cost a little more than the pork loin, pound for pound but, then, you get what you pay for and your taste buds will thank you time and time again.
I smoked these pork tenderloins with peach wood and even made a quick chutney using my barbecue sauce recipe as a base that I know you'll love.
Add some grilled vegetable skewers to this meal and you have a real winner on your hands.
Important Information
Prep Time: 15 minutes
Cook Time: 2 hours
Smoker Temp: 225°F
Meat Finish Temp: 145°F
Recommended Wood: Peach, apricot or other light fruit wood
What You'll Need
2 pork tenderloins
Maple syrup
Peach jam (I like the Smuckers Simply Fruit®)
Get the Recipes for Jeff's Rub and Sauce
---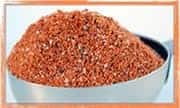 Smoked pork tenderloin is naturally tender and tasty but adding a nice crust of rub on the outside, makes a good thing, a whole lot better. In this recipe, I also used my barbecue sauce as a base for some peach chutney that was an amazing addition to the dish.
It never ceases to amaze me how versatile these recipes are and you'll see what I mean once you order and begin to use them.
I promise you'll love my dry rub/seasoning recipe and my barbecue sauce recipe or you don't pay!
Reasons to buy: Support the newsletter and the website | Own "the recipes" | Get the email newsletter 100% AD FREE from now on | Includes the Texas style rub recipe

Prep and Season the Pork Tenderloins
Remove the pork tenderloin from it's package and rinse well under cold water. Pat dry with a paper towel and remove any loose pieces, clumps of fat, etc.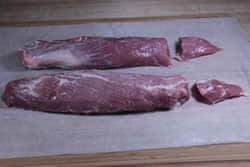 Cut off the tail to even it up a little bit. This thinner piece on the end will get done earlier than the rest and by cutting if off, you can season and cook them as normal and remove it from the cooker when it is perfectly done.
Not cutting it off and cooking it separately would result in having a piece at the end that is overdone, dried out and just not very good.
Seasoning the Meat
We all know that sweet and pork just go together. For this reason, I decided to brush on some maple syrup to help the rub to stick better and to add some extra sweetness to the mix.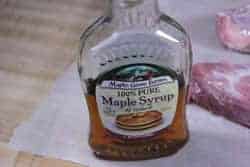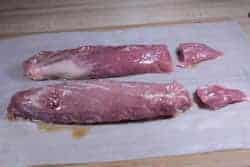 Sprinkle my original rub onto the pork tenderloins making sure to get it onto all sides.
(Make the rub yourself | Purchase bottled rub)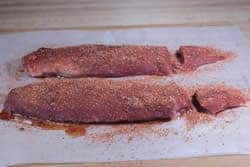 Place the meat on a Bradley rack or a cookie sheet and you are good to go.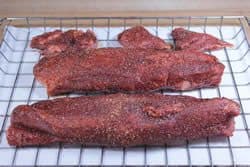 Getting the Smoker Ready
I have been using my ceramic cooker, specifically the Big Green Egg, for the last month or so. If you really want to get a handle on a certain grill or cooker, you have to use it, learn it, experiment and find out what makes it "tick" and that, my friends, is what I've been doing.
I have been noticing that things tend to be getting done faster than normal in the "egg".. anyone also notice that?
At any rate, these will cook up nicely in almost any smoker as long as you maintain proper heat, and don't open the lid any more than necessary. Once you have the smoker of your choice running at about 225°F , you are ready to smoke some pork tenderloin!
Here's some information that I have written on various other smokers.
Note: In colder weather, it is advisable to preheat the smoker at least an hour or more before you are wanting to use it. Keep the door closed as much as possible and even skip basting if necessary to maintain proper smoking temperatures.
Smoking the Pork Tenderloin
Place the pork tenderloins directly on the smoker grate or if you used a Bradley rack, you can simply set the Bradley rack on the grate and it will work great.
Note: the Bradley racks audcasinos are approximately 11 x 15 so they may or may not fit your particular smoke. Be sure to check the size of your grates before ordering a set of these racks.
I happened to have some peach wood from a tree I cut down a year or so ago but any fruit wood will work. Even pecan or hickory will work if that is all you have. When it comes to smoking wood, you sometimes have to be flexible.
Maintain 225°F until the pork tenderloins reach 145°F internally.
Use a remote digital thermometer such as the "Smoke" by Thermoworks or you can use a Thermapen for almost instant results. My red Thermapen reads in about 2-3 seconds consistently and that's VERY fast for thermometers.
If you want to use a leave-in wireless thermometer to monitor the temperature of the chicken and/or the pit, look no further than the "Smoke" by Thermoworks. This is the dual-probe remote thermometer that I use and you can count on it being rugged, accurate and easy to use.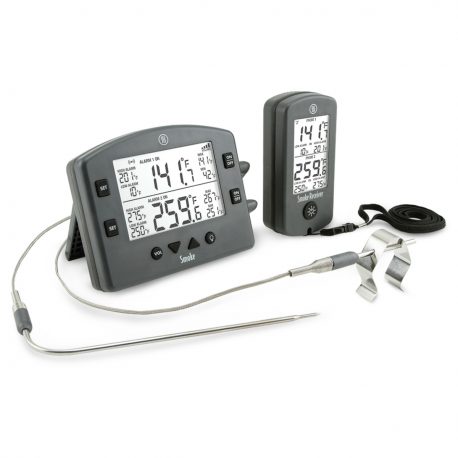 My (2) tenderloins got done in about 1.5 hours but normally these take 2 hours or more. The important thing is that you watch the temperature using a trusted thermometer. Place the probe in the center of the meat and when it reaches 145°F, it is done and should be removed right away.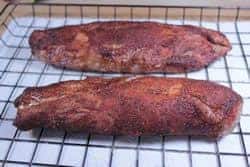 Serving the Smoked Pork Tenderloin
Let the meat rest for about 30 minutes under foil before slicing to allow all of that juice to redistribute throughout the meat. Slice the meat into ¼ inch medallions and serve right away.
During the resting period, I removed the plate setter from the BGE and grilled some vegetable skewers. You can also do this on the grill or even in your broiler if you have to.
Alternate yellow squash, red onion, tomato, zucchini and even mushrooms for some really great flavors.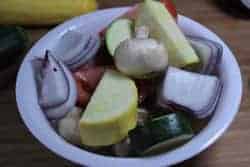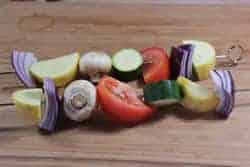 Make a grilling mop for the veggies using ½ cup of olive oil, 1 TBS of my original rub and a little extra coarse salt (to taste) if you want more saltiness (my rub is not salt based like many other rubs).
Brush some olive oil mixture onto the veggies and grill for about 10-12 minutes turning and basting with the olive oil mixture until they are as tender as you like them.
All served up!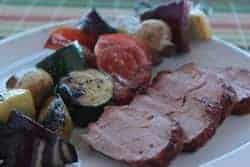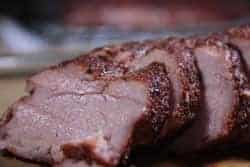 If you want to make a quick chutney to go with it like I did, place about ½ cup of peach jam into a sauce pot over medium heat. Once it starts to melt a little, add ½ cup of my barbecue sauce and stir often until it is thoroughly mixed and heated through.
I used Smuckers® Simply Fruit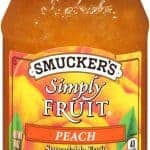 (Purchase recipe for the barbecue sauce here | Purchase bottled sauce)
This has all of the tanginess, sweetness and fruitiness of a true chutney and tastes incredible on the smoked pork tenderloin!
The smoked pork tenderloin with a little of the chutney drizzled over it adds a little extra specialness to the dinner if you want to take it to that level.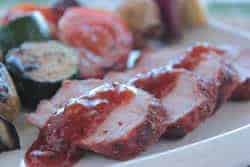 ***Note: you get the Texas style rub recipe free with your order!
If I could give these recipes away, I would do that. I really want you to have them! But, then, this is how I support the newsletter, the website and all of the other stuff that we do here to promote the art of smoking meat.
Read these recent testimonies:
"Love the sauce and rub recipes. So far I have used them on beef ribs, pork ribs, and different chicken parts. Can't wait to do a beef brisket. Texas rub is great as well!" ~Peter S.
"I tried the rub on a beef brisket and some beef ribs the other day and our entire family enjoyed it tremendously. I also made a batch of the barbeque sauce that we used on the brisket as well as some chicken. We all agreed it was the best sauce we have had in a while." ~Darwyn B.
"Love the original rib rub and sauce! We have an annual rib fest competition at the lake every 4th of July. I will say we have won a great percent of the time over the past 15 years so we are not novices by any means. However, we didn't win last year and had to step up our game! We used Jeff's rub and sauce (sauce on the side) and it was a landslide win for us this year! Thanks Jeff for the great recipes. I'm looking forward to trying the Texas style rub in the near future!" ~Michelle M.
You see the raving testimonies and you wonder, "Can the recipes really be that good?"
No worries! Make up a batch and if it's not as good as you've heard.. simply ask for a refund. Now that's a bargain and you know it. Let's review:
You decide you don't like the recipes.. you don't pay!
The recipes are absolutely amazing!
Once you order, there'll be no more recipe ads in the email version of the newsletter
Well.. what are you waiting for.. click on the big orange button below to order the recipes now.

I really, really appreciate the support from my newsletter friends and be sure to let me know if you have any questions about this.
Jeff's Smoking Meat Book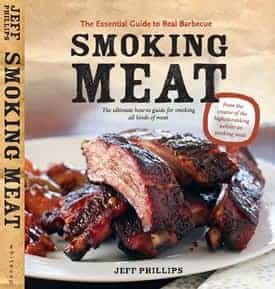 The book is full of recipes and contains tons of helpful information as well. Some have even said that "no smoker should be without this book"!
With more than 800 reviews on Amazon.com and a rating of 4.7 out of 5 stars, it comes highly recommended.
It is a Bestseller in Barbecueing & Grilling books on Amazon.
Amazon | Barnes & Noble | German Edition
Digital versions available via Nook | iTunes | Kindle
Get Almost Anything at Amazon
If you enjoy the newsletter and would like to do something helpful, then..
The next time you decide to order something at Amazon.com, use THIS LINK to get there and we'll get a small commission off of what you purchase.
Thank you in advance for using our special link: http://www.smoking-meat.com/amazon
Printable Recipe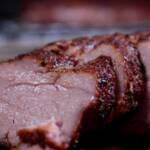 Print Recipe
Smoked Pork Tenderloin - Tender, Tasty, Moist
When it comes to pork, the tenderloin is unbeatable in flavor and tenderness. It is also incredibly lean. Ounce for ounce, it is just as lean as a skinless chicken breast. So you really can have the flavors you love and still rest easy knowing you are eating healthy!
Ingredients
2

pork tenderloins

Maple syrup

Jeff's Rub

(((purchase recipes here)))

Peach jam

(((I like the Smuckers Simply Fruit®)))
Instructions
Prep and Season
Remove from packaging and rinse well under cold water

Pat dry with paper towel

Brush some maple syrup to add flavor and help the rub to stick
Smoking the Tenderloins
Get the smoker going and let it level out at 225°F

Place the meat directly on the smoker grate

Use peach wood or other fruity wood to apply smoke for entire session

Meat is done when a trusted meat thermometer reads 145°F in the thickest part
Serving
Allow the meat to rest on the counter under foil for 25-30 minutes

Slice into ¼ inch medallions and serve immediately.
Instructions
Put jam into a sauce pan over medium heat

Once the jam starts to melt, add the barbecue sauce to the pan

Stir until it is well mixed and heated through