These smoked cornish hens are fun-sized at about a pound each and are a great choice for dinner guests or even a family dinner since everyone gets their own little personal chicken.
I started thinking about brining these in beer after considering them as a small version of the beer can chicken. The problem with setting them on a can of beer is that, while it helps them stand upright, it does not effectively add any beer flavor to the meat.
By brining them in beer, you are not only adding that beer flavor directly into the meat, you are going to end up with a much more juicy chicken than you would otherwise.
As if that wasn't good enough, I mixed my barbecue sauce with equal parts of beer and it was so good, I was eating it by the spoonful before it ever glazed the chickens.
Important Information
Prep Time: 25 minutes
Brine time: 4 hours
Cook Time: 2 hours
Smoker Temp: 250°F
Meat Finish Temp: 165°F
What You'll Need
4 cornish hens (or one per person)*
Beer**
Beer brine (recipe below)
Spicy brown mustard
Beer barbecue sauce (recipe below)
*The cornish hens I usually find locally are sold frozen and weigh in at about a pound or a little more each. Bigger birds are fine but it will naturally increase the cooking time.
**I used a Bock style beer for it's flavor but anything you have on hand will work as long as you like it. You will taste it in the meat.
Get the Recipes for Jeff's Rub and Sauce
---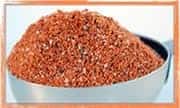 My rub recipe goes great with any kind of poultry and using my easy instructions you'll have a batch whipped up in no time. It'll make these smoked cornish hens taste so good that folks will be asking you what you for your secret.
Easy to mix up, the perfect seasoning on almost anything you cook indoors or out.
I promise you'll love my dry rub/seasoning recipe and my barbecue sauce recipe or you don't pay!
Reasons to buy: Support the newsletter and the website | Own "the recipes" | Get the email newsletter 100% AD FREE from now on | Includes the Texas style rub recipe

Thaw and Brine the Cornish Hens
These birds will thaw in about a day in the fridge but if you need them in a hurry, just put them down in cold water for 2-3 hours, changing the water every 30 minutes.
While the birds are thawing is a great time to make the beer brine:
Beer Brine (½ gallon)
36 oz of beer – (12 oz bottles x3 or equivalent)
½ cup kosher salt
1.5 quarts (or 6 cups) of ice cubes
1 yellow onion, chopped
6 garlic cloves, whole
¼ cup of Jeff's rub (purchase recipe here)
Add everything except the ice to a large pot and bring to a boil over medium-high heat stirring occasionally. Once it just starts to boil, remove from heat and cover for about 10 minutes.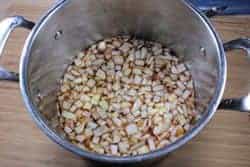 Add about 1.5 quarts of ice to hot brine and stir to cool it down. Place brine in fridge or freezer to cool it down to  40°F or less before using it.
After adding the ice, you can also use more ice in a zip top bag to cool it down further. When the ice in the bag is melted, pour out the water and replace with more ice. Repeat a few times until brine is cold enough. This is to cool it down without diluting the brine any further.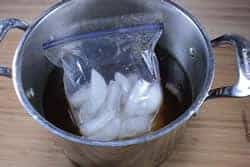 Once the brine is ready and the birds are thawed, place the hens in a large zip top bag or another brining container. Anything plastic or glass with a lid will work.
Pour the cold brine over the chickens until they are submerged then put them in the fridge to keep them cold while they brine.
You will notice that I always place the bag down in a larger bowl in case of accidental leakage.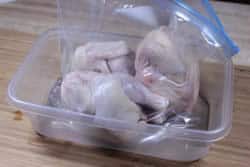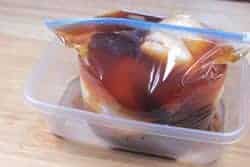 About 4 hours is plenty of brine time and I do not recommend brining them longer than this. If you need to brine them ahead of time, do it for the recommended amount of time then rinse them off well and hold them in the fridge until you are ready to continue with the process.
Once the hens are finished brining, rinse them well under cold water. They are now ready for seasoning.
Preparing and Seasoning the Meat
Note: I like to tie up the legs with cooking twine for a better presentation. This can be done before, after or at any time during the seasoning process.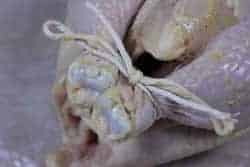 Cornish hens that have been brined do not require a high salt seasoning. This is why my rub recipe works so well and if you don't have it, I highly recommend you order it right away.
Apply a layer of spicy brown mustard to the outside of the chickens to create a sticky surface which the rub will adhere to and not fall off.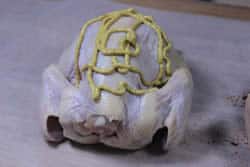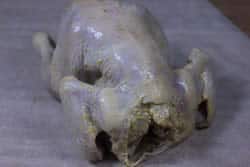 Next, apply a generous coat of my rub to all parts of the chicken.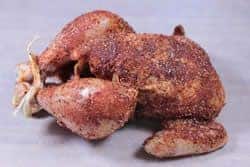 Place the cornish hens on a Bradley rack or a cookie sheet to make it easy to carry them out to the smoker. They are now ready for smoking.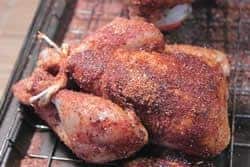 Getting the Smoker Ready
I like to cook chicken low and slow to give it more time with the smoke but bumping up the temperature a little will help to get more crispiness to the skin. Somewhere around 250°F works for me.
Setup the smoker of your choice to cook at around 250°F if possible and make sure you have enough smoking wood to last about 2 hours.
Once the temperature is holding steady, you are ready to start cooking.
Here's some information that I have written on various smokers.
Note: In colder weather, it is advisable to preheat the smoker at least an hour or more before you are wanting to use it. Keep the door closed as much as possible and even skip basting if necessary to maintain proper smoking temperatures.
Smoking the Cornish Hens
Place the cornish hens directly on the smoker grate breast side up.
Let them smoke for about 2 hours or until they reach 165°F in the thickest part of the thigh or breast.
About 30 minutes before the chicken is done cooking, apply some beer barbecue sauce (recipe below) using a basting brush or mop.
Beer Barbecue Sauce
Stir to combine well
Use an instant read Thermapen (reads in 2-3 seconds) or a digital probe meat thermometer such as the Maverick ET-732 to ensure that you cook the chickens perfectly and that they are safely done.
Be sure to use the water pan if your smoker has one and keep the lid closed as much as possible to maintain good and consistent heat.
If you are using an electric, charcoal or gas smoker, I recommend keeping the smoke going for the entire time.
When the meat reaches 165°F, remove them from the smoker right away and serve right away.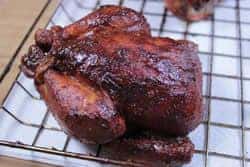 Served Up
I served these with bacon wrapped corn on the cob and some of the warm beer barbecue sauce on the side.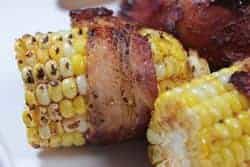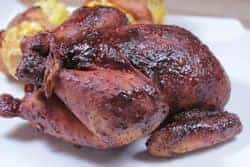 ***Note: you get the Texas style rub recipe free with your order!
If I could give these recipes away, I would do that. I really want you to have them! But, then, this is how I support the newsletter, the website and all of the other stuff that we do here to promote the art of smoking meat.
Read these recent testimonies:
"Love the sauce and rub recipes. So far I have used them on beef ribs, pork ribs, and different chicken parts. Can't wait to do a beef brisket. Texas rub is great as well!" ~Peter S.
"I tried the rub on a beef brisket and some beef ribs the other day and our entire family enjoyed it tremendously. I also made a batch of the barbeque sauce that we used on the brisket as well as some chicken. We all agreed it was the best sauce we have had in a while." ~Darwyn B.
"Love the original rib rub and sauce! We have an annual rib fest competition at the lake every 4th of July. I will say we have won a great percent of the time over the past 15 years so we are not novices by any means. However, we didn't win last year and had to step up our game! We used Jeff's rub and sauce (sauce on the side) and it was a landslide win for us this year! Thanks Jeff for the great recipes. I'm looking forward to trying the Texas style rub in the near future!" ~Michelle M.
You see the raving testimonies and you wonder, "Can the recipes really be that good?"
No worries! Make up a batch and if it's not as good as you've heard.. simply ask for a refund. Now that's a bargain and you know it. Let's review:
You decide you don't like the recipes.. you don't pay!
The recipes are absolutely amazing!
Once you order, there'll be no more recipe ads in the email version of the newsletter
Well.. what are you waiting for.. click on the big orange button below to order the recipes now.

I really, really appreciate the support from my newsletter friends and be sure to let me know if you have any questions about this.
Jeff's Smoking Meat Book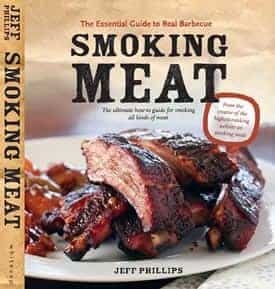 The book is full of recipes and contains tons of helpful information as well. Some have even said that "no smoker should be without this book"!
With more than 800 reviews on Amazon.com and a rating of 4.7 out of 5 stars, it comes highly recommended.
It is a Bestseller in Barbecueing & Grilling books on Amazon.
Amazon | Barnes & Noble | German Edition
Digital versions available via Nook | iTunes | Kindle
Get Almost Anything at Amazon
If you enjoy the newsletter and would like to do something helpful, then..
The next time you decide to order something at Amazon.com, use THIS LINK to get there and we'll get a small commission off of what you purchase.
Thank you in advance for using our special link: http://www.smoking-meat.com/amazon
Printable Recipe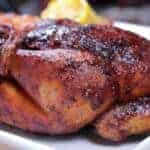 Print Recipe
Beer Brined Smoked Cornish Hens
The flavor of the beer as well as the onions, garlic and seasoning really comes through in these cornish hens due to the brining process. Great for when you have guests or a family dinner.
Ingredients
4

cornish hens

(or one per person)

Beer brine

(recipe below)

Spicy brown mustard

Jeff's Rub

(purchase recipes here)

Beer barbecue sauce

(recipe below)
Instructions
Brine Recipe
yellow onion, chopped

garlic cloves x 6

beer (3 bottles or 36 oz)

(½ cup) kosher salt

(6 cups or 1.5 qts) of ice cubes
Brine Making Instructions
Put all ingredients except ice in a large pot and bring to a boil stirring occasionally.

Cover and let sit for about 10 minutes

Add ice cubes and stir to cool down. Finish cooling in fridge if necessary.
Brining the Cornish Hens
Place the chickens in a zip top bag or other brining container

Pour cold brine over birds to cover.

Place brining container/bag in the fridge for 4 hours

After 4 hours, rinse cornish hens under cold water
Seasoning the Outside
Apply some spicy brown mustard to the outside of the hens
Smoking the Birds
Place meat breast side up directly on smoker grate

Smoke cook at 250°F for about 2 hrs or until they reach 165°F in the thickest part of the breast or thigh

Brush on beer barbecue sauce (recipe below) about 30 minutes before chickens are done cooking
Finishing Up
Serve immediately giving each person their own cornish hen.
Beer Barbecue Sauce Ingredients
Beer Barbecue Sauce Instructions