Herb Rubbed Smoked Pork Loin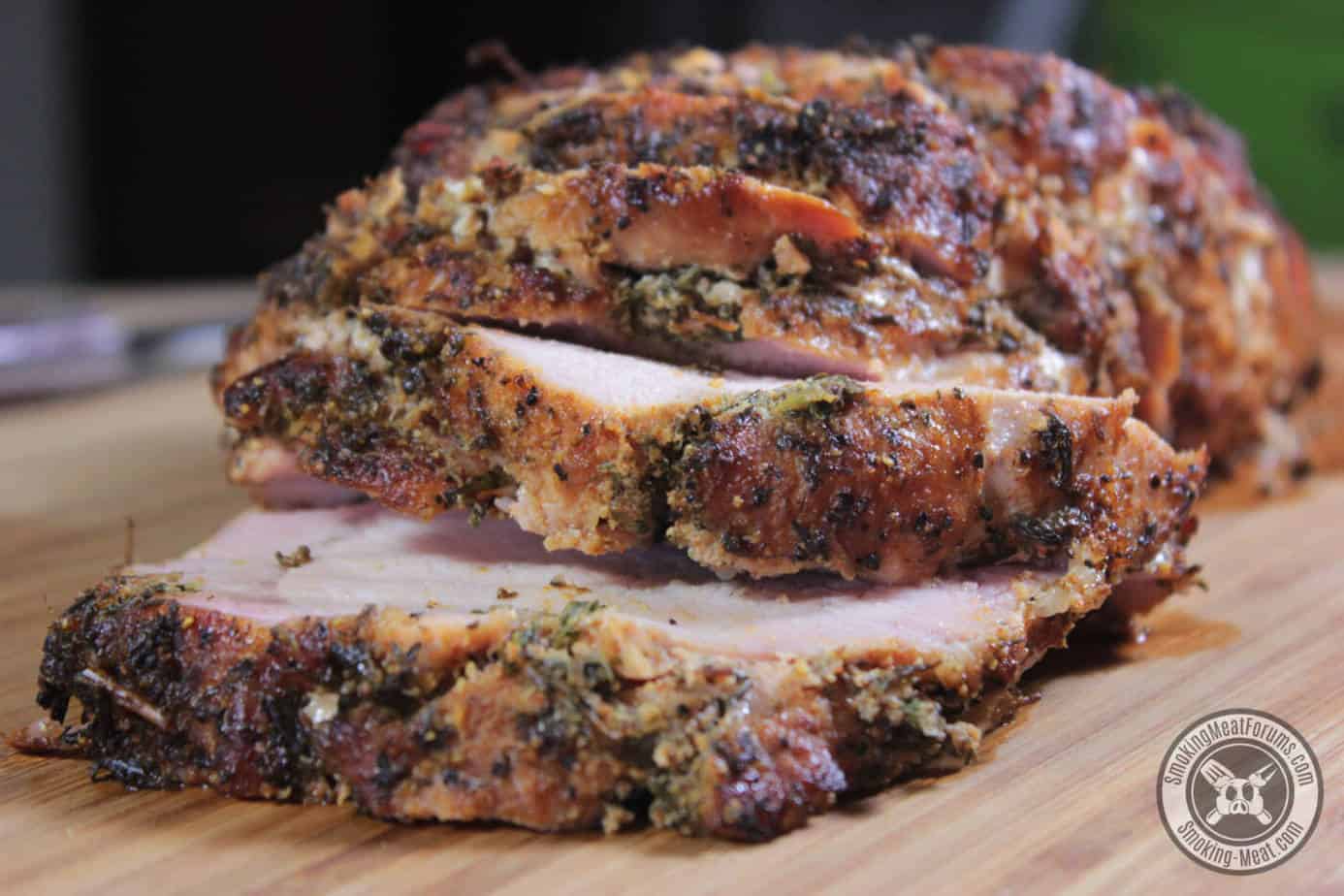 Smoking-Meat.com is supported by its readers. We may earn an affiliate commission at no extra cost to you if you buy through a link on this page.
Read this article without ads
Not only is smoked pork loin a great choice in terms of flavor, it is also lean and healthy right up there with the white meat of chicken and I know that is something a lot of people will appreciate.
The thyme, rosemary, garlic herb rub I made for this is also a big part of the recipe so don't skip it!
Helpful Information
Prep Time: 30 minutes
Cook Time: 3 to 4 hours (can vary based on thickness and whether you tie it up or not)
Smoker Temp: 225-240°F (107-116°C)
Meat Finish Temp: 145°F (63°C)
Recommended Wood: Cherry and apple mix (or any fruitwood)
What You'll Need
Half pork loin (Buy the whole loin and cut it in half or just buy a half if it's available. If you need more meat, cook both halves and double the recipe on the herb rub) Very little shrinkage so about ½ lb per person
2 TBS Olive oil (brush on to help the rub to stick)
¼ cup Jeff's Texas style rub
Cooking twine
Herb Rub
1 cup fresh thyme sprigs (hard to measure things like this.. just a good handful)
1-½ sprigs of fresh rosemary
4 cloves of garlic,
2 heaping tablespoons Jeff's original rub
½ cup of olive oil (you may opt to use more if it's not liquid enough)
Make the Herb Rub
Note: if you must use previously chopped or dried herbs, it will end up being around 2-3 TBS of thyme and 1 tsp of rosemary to give you an idea of the ratio.
Rosemary is very strong and only a little is needed in comparison to the thyme.
Place herbs, garlic, oil and rub into a food processor or you can chop herbs and garlic by hand and mix with the oil and rub until well combined.
Garlic cloves did not make it into the picture.. they were shy ;)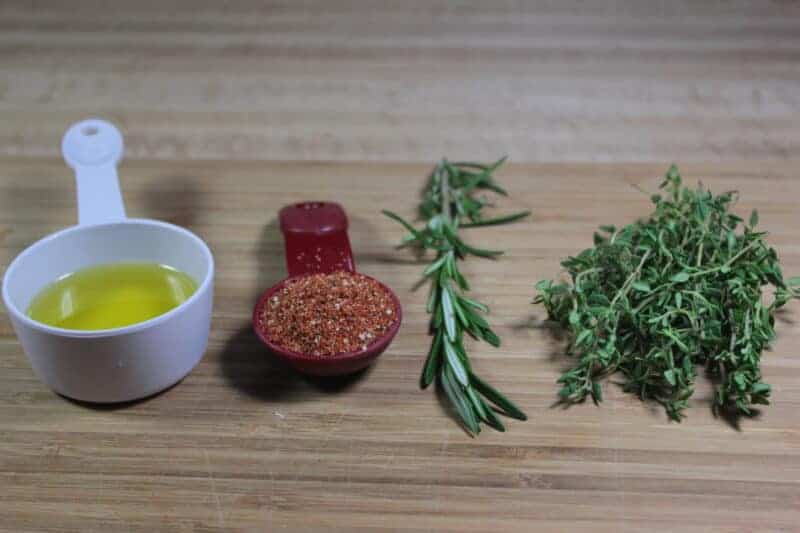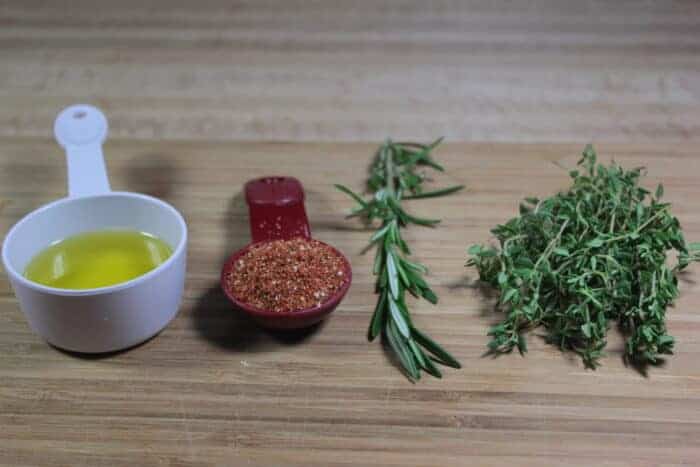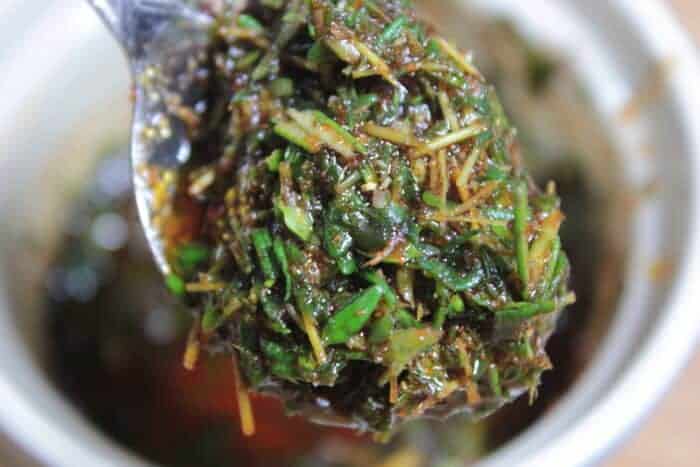 Prepare Meat for Seasoning
Remove as much of the fat from the outside of the meat as possible including the silver skin with a sharp knife.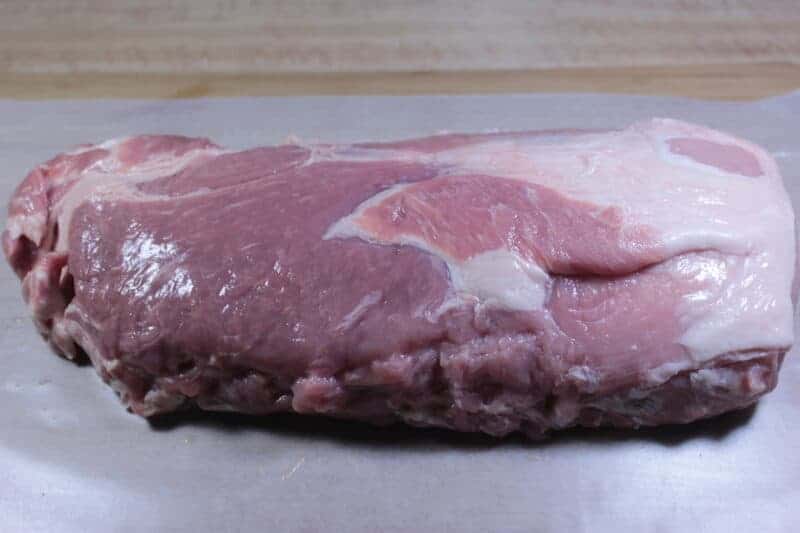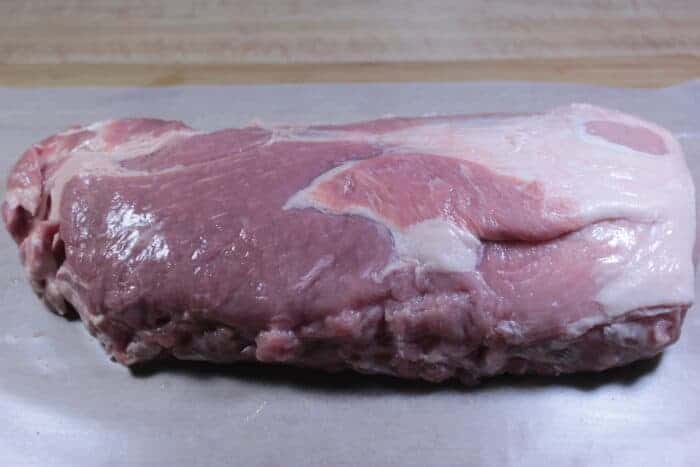 I like to cut off the tapered end to square it up (if applicable)
You don't have to but it does make it look nicer in my opinion.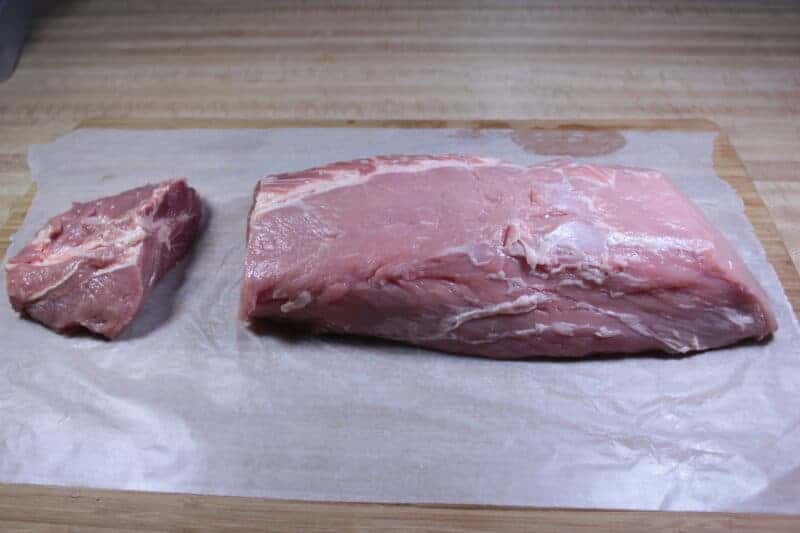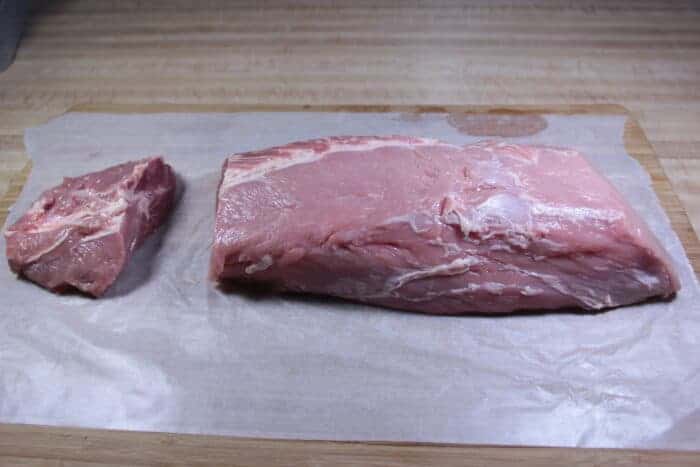 Make diagonal cuts on all sides about ¼ inch deep to give the rub and herbs extra surface area to stick to.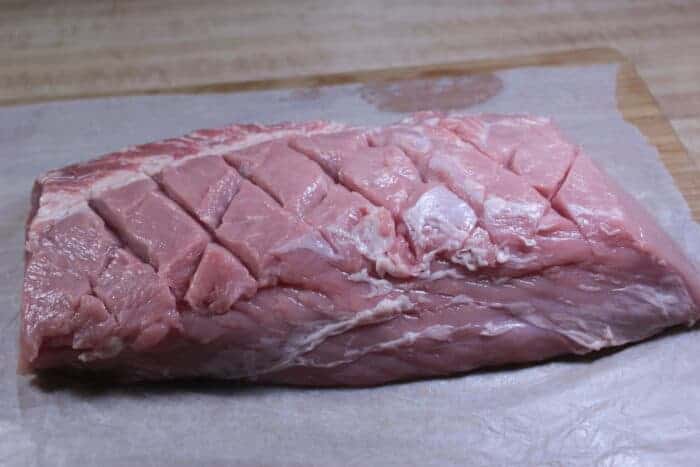 The pork loin is now ready for the seasoning process.
Season the Pork Loin
Brush on some olive oil to help the rub to stick.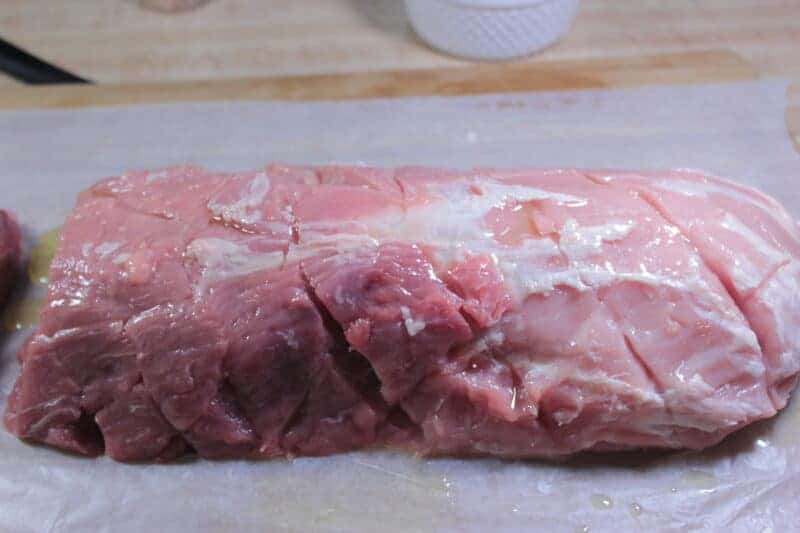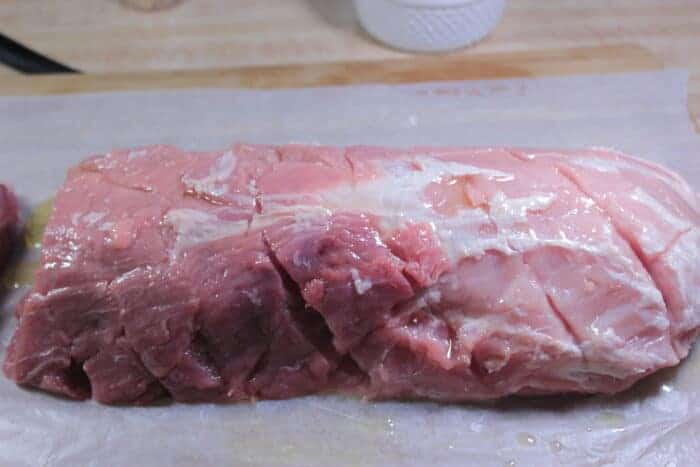 Apply a good coat of the Texas style rub all over the pork loin (top, bottom, sides and ends)
You can also use the original rub if you prefer or if that's all you have.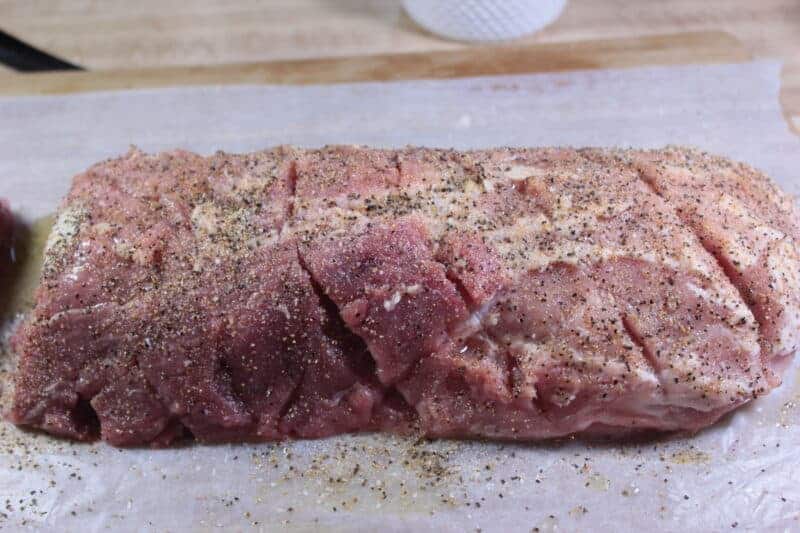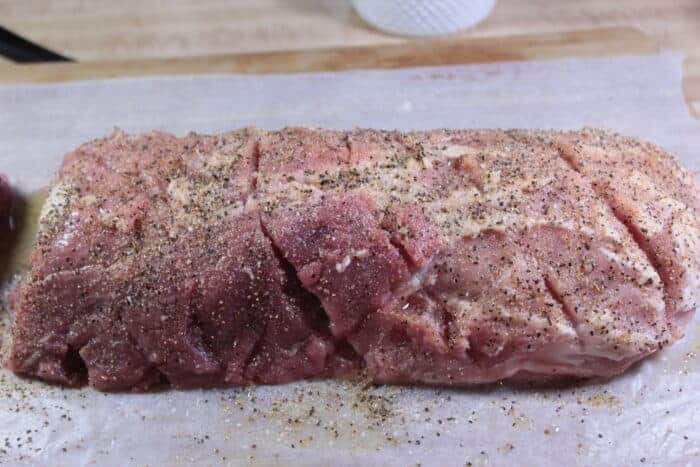 Apply the Herb Rub
Place about half of the herb rub on the top side of the pork loin and rub it all over the top and sides of the meat.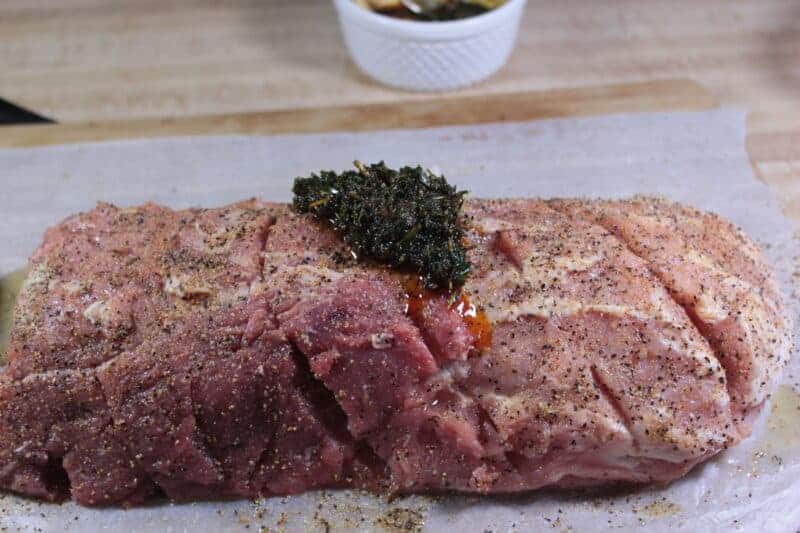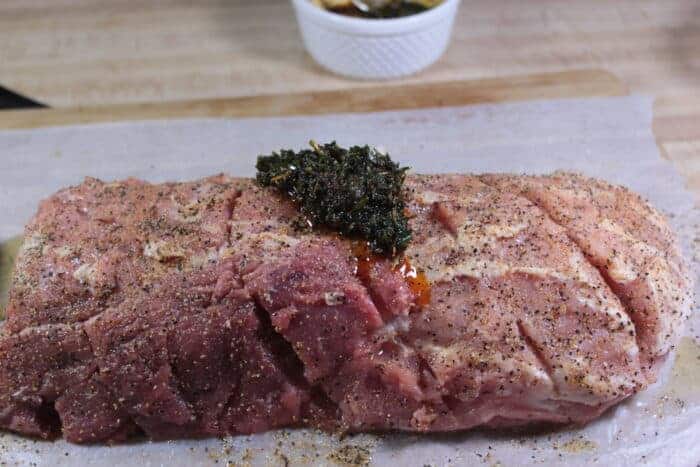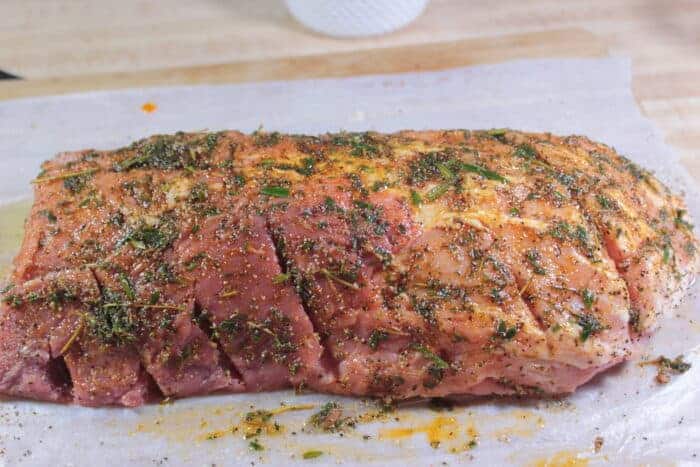 Flip the pork loin over and put the other half of the herb rub on the bottom side and more on the sides and ends wherever needed.
Refrigerator Time
Place the rubbed pork loin into a bowl with a lid.
Put the bowl with the pork loin into the fridge for about 4-6 hours or overnight is even better.
A few minutes before you are ready to smoke the meat, take the pork loin out of the fridge and place it on a pan with a rack to make it easy to transport out to the smoker.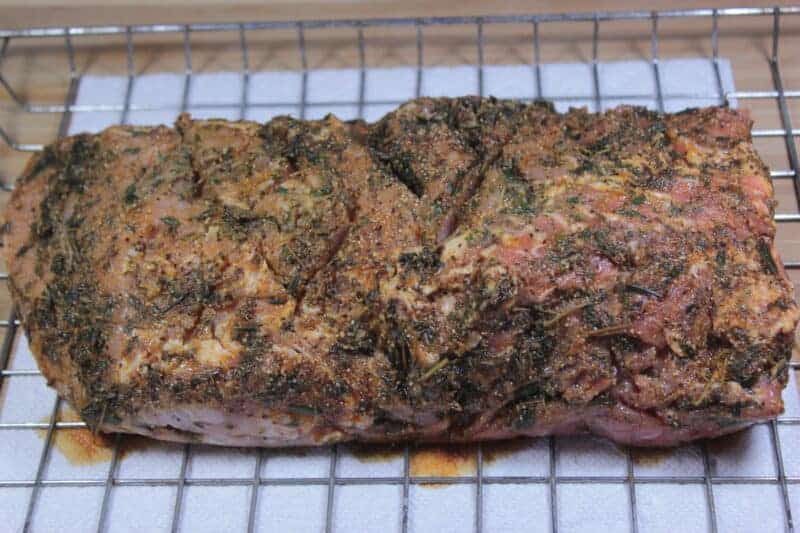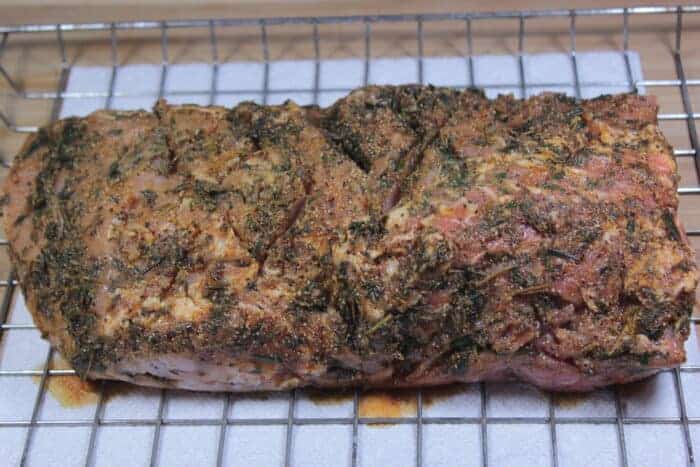 Tying it up
Tying up the pork loin is a very good idea in that it makes the pork loin round instead of oblong and this will help it to cook more evenly. It also makes the roast look better in my opinion.
I simply cut 7-8 strings and tied a basic knot on each one.
I recommend tying a string around the meat about every inch or so all the way along the pork loin half.
If you look closely at the picture below, you can see how I did it.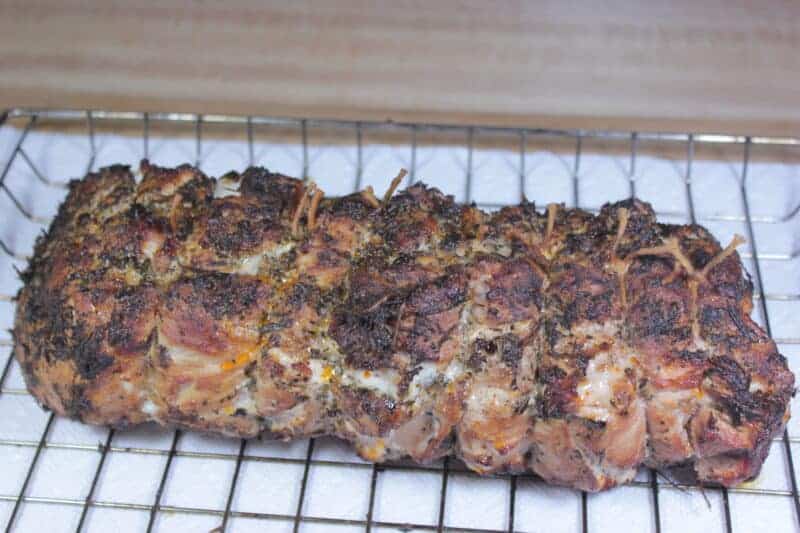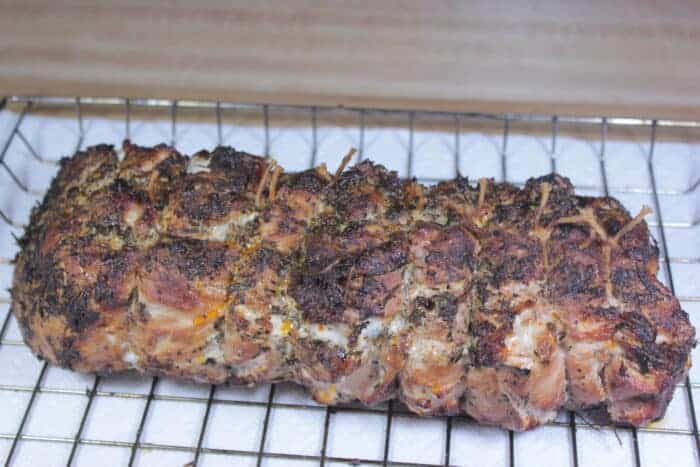 Getting the Smoker Ready
I used a mix of apple and cherry for smoke and you can use any smoker known to man or even a grill as long as you can maintain around 225°F (107 °C) for about 3-4 hours and provide some smoke to the heated environment.
Get the smoker preheated and once it is holding steady, you are ready to smoke.
Smoking the Pork Loin
Place the pork loin directly on the grate or use a Bradley rack.
Let it smoke cook for about 3.5 – 4 hours or until it reaches 145°F (63 °C) in the center of the meat using a durable, high-quality digital probe meat thermometer such as the ThermoWorks Smoke. When it reaches 145°F (63°C), remove it immediately from the heat, it is done.
If you have a water pan in your smoker, be sure to use it. It does a lot of good things for the smoking environment and should be used whenever possible.
I recommend adding smoke for at least 2 hours but it also completely fine and even recommended to add well-vented, light smoke for the entire time it is cooking. I do this most of the time and I love the well pronounced smoke flavors that I get in my charcoal, electric, and gas smokers by using this method.
Just a note: If you are using a pellet smoker, (I really enjoy using my Camp Chef Woodwind for this recipe!), consider using the "Lo Smoke" setting for about an hour before turning the knob to "Hi Smoke" or "225" if you prefer. Pellet smokers produce more smoke at lower temperatures and your best flavor will come from running it as low as possible for an hour or so before turning it up a bit. Cooking it low at first may add an extra half hour or so to this recipe but it's worth it.
Slice and Serve
The pork loin will cool down quickly so with it only being 145°F in the center when it is finished, let it rest for 3-5 minutes then remove the cooking twine if you tied it up. Slice into ½ inch slices and serve immediately.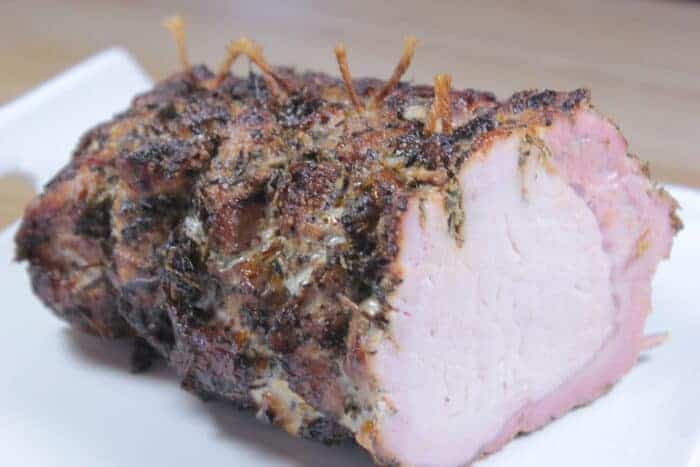 Do you see how moist that is?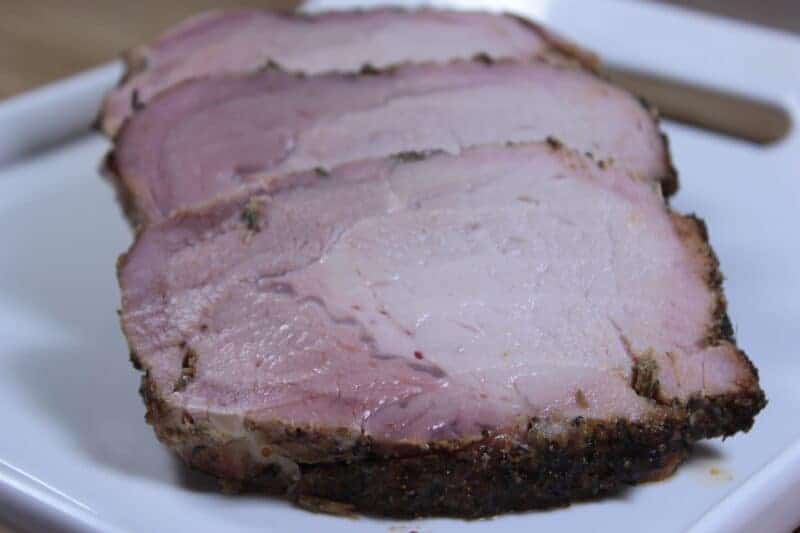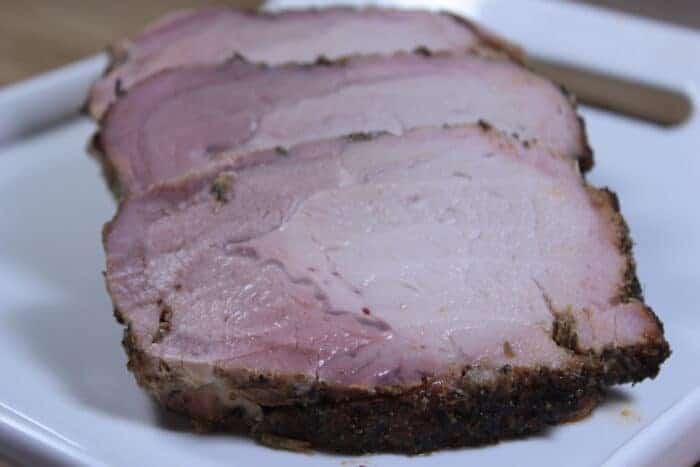 Sliced and served up.. let's eat!!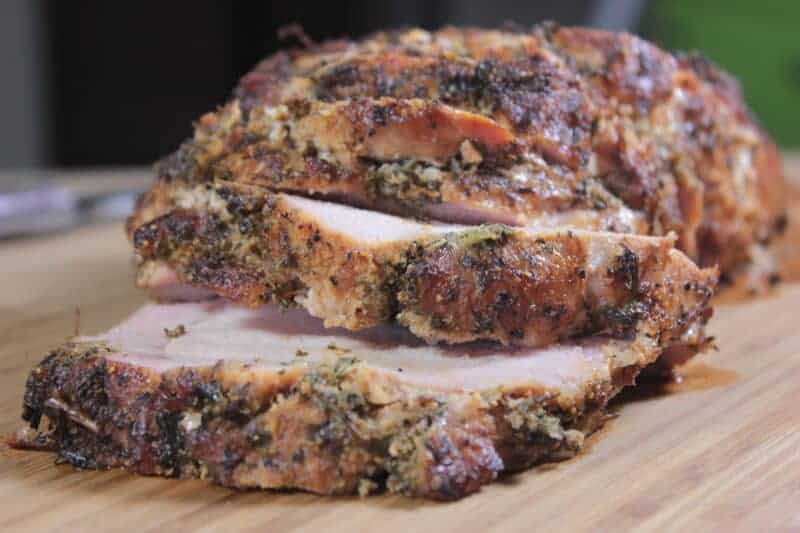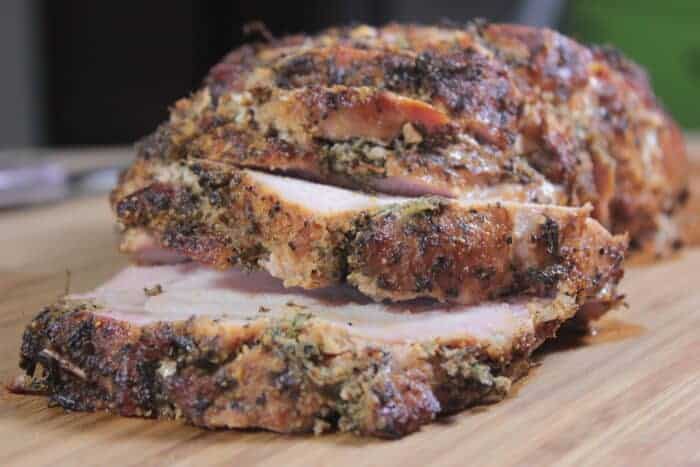 Special Notes
If You Don't Need a Whole Pork Loin
If you don't need a whole pork loin right now, buy a whole one and simply cut it half. Freeze one half and cook the other.
Watch the Temperature of the Pork Loin
If you don't remember anything else, remember this: the most important thing you can do to make sure that this pork loin comes out juicy and tender is to use a trusted, tested meat thermometer and when it reaches 145°F (63°C) in the center, it is done. Remove it from the smoker immediately.
In years past, we were taught to cook pork to a much higher temperature and this resulted in something that just wasn't as palatable as it could have been. The USDA has now informed us that 145°F (63°C) is completely safe for pork and it has been music to my ears and my stomach ever since.
Smoker Temperature
Maintain as close to 225°F (107 °C) in your smoker as possible and DON'T trust that factory thermometer.. it is most likely not accurate.
If you have a digital probe meat thermometer, (you should try your best to get one if you don't), push the probe through a potato horizontally and lay the potato on the grate right next to the pork loin or whatever meat you are cooking. This will give you an accurate reading of what the meat is experiencing. Some thermometers come with a clip that holds it just above the grate.. these are very handy as well.
Note: The potato is just a device to hold the thermometer probe up off the grate but you can eat the potato when you are finished if you want to.
I recommend the "Smoke" by Thermoworks for a "leave-in-the-smoker" thermometer and the Thermapen for checking the temperature of the meat on the spot (it reads in about 2 seconds and I never cook without it anymore.
Yep.. He Said it!
Even if you DON'T have a smoker YET, this entire method will work great in the home oven using the same preparation and temperature recommendations. Having said that, this recipe is SO much better done with smoke and that is a fact.
You owe it to yourself to get a smoker, even if it is a cheap one or a second hand one found at a yard sale and learn how to use it.
You will soon find yourself using the oven less and less.
Why is the Meat Pink?
If you cook the pork correctly and call it done at 145°F (63°C) in the center, it will probably be a little pink as you can see in the pictures above.
For this reason, you may have folks ask you why the meat is pink and, if they are really out of touch with reality, they may even insinuate that the meat is not properly done.
All you can do is try to educate them and hope they accept the facts as they are today and not as they were in yesteryears.
Perfectly done whole (unground) pork will be a little pink and should be juicy, tender and tasty. If it's dry and tastes like a hockey puck, it's most likely overcooked.
Herb Rubbed Smoked Pork Loin
I created this recipe especially for Mother's day but it would also be good on any other special occasion or perhaps on an ordinary day when it's just a family dinner get together. Whatever the reason, this recipe will fit the bill.
Ingredients
Herb Rub
1

cup

thyme sprigs

1.5

sprigs rosemary

4

cloves

garlic

2

TBS

Jeff's original rub

(heaping)

½

cup

olive oil
Instructions
Make herb rub by adding the herbs, garlic, rub and oil to a food processor and pulse until rough chopped and well combined. Set aside.

Place the pork loin on a cutting board and trim off all exterior fat and silver skin using a sharp knife

Make diagonal cuts into the meat about ¼ inch deep and about 1 inch apart all over the meat.

Brush a little olive oil onto the meat to help the

Texas style rub

to stick then add a good sprinkling of

Jeff's Texas style rub

all over the meat and work it in good to get it down into the cuts.

Add half of the herb rub to the top of the pork loin and work it into the top and sides of the meat. Flip the meat over and apply the other half of the herb rub.

Put the pork loin into a lidded container and place in the fridge overnight.

About 30 minutes before ready to smoke, remove meat from fridge and tie it up using kitchen twine to make it nice and round instead of oblong.

Set up your smoker for cooking at 225°F (107°C) using indirect heat. If your smoker uses a water pan, fill it up.

When the smoker is ready, place the pork loin onto the smoker grate and quickly close the lid/door.

Let the loin cook for 3-4 hours or until it reaches 145°F (63°C) in the center of the roast as measured by a meat thermometer.

Remove from the smoker and slice into ½ inch thick slices.

Serve immediately.
Get Jeff's Products!