For this article I picked up some chicken legs and thighs and I want to show you how easy it is to throw some of these together for a party or outdoor event. They are delicious when seasoned up with some of my rub and smoked and unlike whole chickens, you don't have to cut them up.. when they get done, folks can start grabbing and eating and that's what parties are all about.
Half dozen chicken legs
Half dozen chicken thighs
1 cup of Jeff's rub
1 cup Extra virgin olive oil
Large Ziploc bag
Prepping the Chicken
Place all of the chicken pieces down in a large ziploc bag and pour about 1 cup of olive oil over the top of the chicken. Pour the rub over the chicken as well then zip the top and roll/toss the chicken around until all of the chicken is well coated with the rub/oil mixture.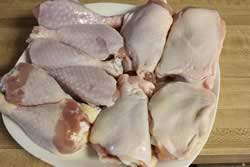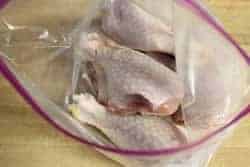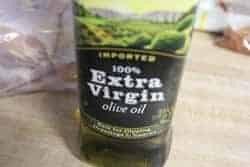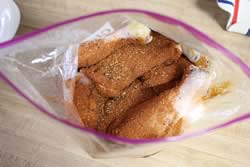 The cool thing about this technique that I have discovered is that the oil mixes with the rub turning it into a paste which then tends to get all up under the skin as well as all over the outside of the skin. This is the perfect way to get that flavor where it needs to be without having to pull the skin back on each individual piece.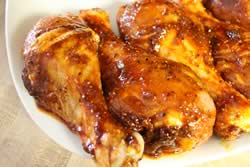 Getting the Smoker Ready
For this recipe I had some errands to run so I thought it would be an excellent opportunity to try out the Bradley smoker unattended.
I have the 4-rack digital model so I set it up with about 2 hours worth of "Special Blend" smoking biscuits or "pucks" and a bowl of water for the spent ones to fall into.
I set the smoker timer for 2 hours, the oven temperature on 220 and the oven timer on 4 hours.
Smoking the Chicken
I love the Bradley smoker racks and use them excessively even when I am using a different smoker. They are perfect for keeping the meat secure while it is carried back and forth from the kitchen to the smoker. I brought a couple of the racks into the house, laid it on a large cookie sheet to contain drips and loaded it up with the chicken.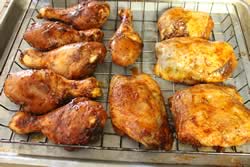 I also threw some boudin on another rack for good measure.. boudin, brats or even some sausage links are always a good thing to throw on while you are smoking something else. The boudin is ready to eat with some crackers in about 2.5 to 3 hours.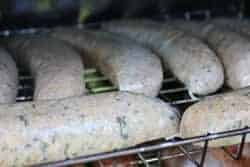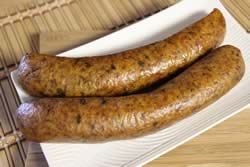 The racks were loaded into the smoker with the chicken on the bottom and the boudin on top (you don't want that chicken dripping on the boudin).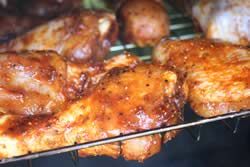 I did a final check to make sure everything was setup right and I took off leaving the Bradley to maintain my set temperature and to provide perfect thin blue smoke for the alotted time.
When is it Done?
You might think that chicken pieces being small would get done really fast but it usually takes about as much time as it does to smoke a whole chicken. The advantage is that it's already all cut up and no carving is required.
These pieces, as I figured, took about 4 hours and 10 minutes at the 220 degree temperature I cooked them at.
The rub did NOT burn and they were perfectly tender and juicy at 165 degrees internal temperature.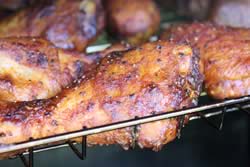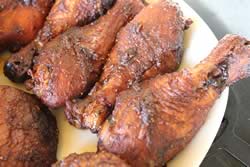 How to Get the Chicken Skin Crispy
I have come to the conclusion that chicken skin from the smoker is just not going to have that "crispy bite" that fried chicken has. The olive oil in this recipe helps to crisp up the skin some and if you are really desperate you can throw the chicken on a really hot grill for just a few minutes when it gets almost done but you have to be careful as you don't want the rub to burn.
As an alternative to the grill you can place the chicken under the broiler of your oven for a couple of minutes but watch it carefully so it does not burn.
Some folks opt to smoke the chicken at much higher temperatures (250-275) however, while this will crisp the chicken a little more, I prefer to cook it at the lower temperatures so I can use a good rub and ensure that it does not burn during the cooking process.
What About Chicken Quarters?
You can do chicken quarters in the same manner as the legs and thighs and in fact, I think chicken quarters are sometimes a better option when you are doing a dinner with sides. One quarter is usually perfect portion and they are also very inexpensive. Add a little smoke and it's a meal fit for a king! Just like the legs and thighs, the quarters will take about 4 hours to reach 165 degrees if you keep the temperature down low.
Chicken Wings
If you are interested in chicken wings, you need to read my latest article dedicated completely to that subject. It can be found here.
What's up With Using Pucks in that Bradley?
The biscuits or "pucks" as I call them work very well but I have discovered that if you get in a pinch and run out of them, you can lay a chunk of mesquite, hickory or whatever you have on the metal rack that heats up to make the "pucks" smoke and it will provide smoke for a while. You will have to keep replacing the chunks every 30 minutes or so which is sort of counter productive to what that smoker is all about.
***Note: you get the Texas style rub recipe free with your order!
If I could give these recipes away, I would do that. I really want you to have them! But, then, this is how I support the newsletter, the website and all of the other stuff that we do here to promote the art of smoking meat.
Read these recent testimonies:
"Love the sauce and rub recipes. So far I have used them on beef ribs, pork ribs, and different chicken parts. Can't wait to do a beef brisket. Texas rub is great as well!" ~Peter S.
"I tried the rub on a beef brisket and some beef ribs the other day and our entire family enjoyed it tremendously. I also made a batch of the barbeque sauce that we used on the brisket as well as some chicken. We all agreed it was the best sauce we have had in a while." ~Darwyn B.
"Love the original rib rub and sauce! We have an annual rib fest competition at the lake every 4th of July. I will say we have won a great percent of the time over the past 15 years so we are not novices by any means. However, we didn't win last year and had to step up our game! We used Jeff's rub and sauce (sauce on the side) and it was a landslide win for us this year! Thanks Jeff for the great recipes. I'm looking forward to trying the Texas style rub in the near future!" ~Michelle M.
You see the raving testimonies and you wonder, "Can the recipes really be that good?"
No worries! Make up a batch and if it's not as good as you've heard.. simply ask for a refund. Now that's a bargain and you know it. Let's review:
You decide you don't like the recipes.. you don't pay!
The recipes are absolutely amazing!
Once you order, there'll be no more recipe ads in the email version of the newsletter
Well.. what are you waiting for.. click on the big orange button below to order the recipes now.

I really, really appreciate the support from my newsletter friends and be sure to let me know if you have any questions about this.
Jeff's Smoking Meat Book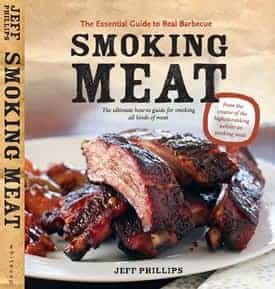 The book is full of recipes and contains tons of helpful information as well. Some have even said that "no smoker should be without this book"!
With more than 800 reviews on Amazon.com and a rating of 4.7 out of 5 stars, it comes highly recommended.
It is a Bestseller in Barbecueing & Grilling books on Amazon.
Amazon | Barnes & Noble | German Edition
Digital versions available via Nook | iTunes | Kindle
Get Almost Anything at Amazon
If you enjoy the newsletter and would like to do something helpful, then..
The next time you decide to order something at Amazon.com, use THIS LINK to get there and we'll get a small commission off of what you purchase.
Thank you in advance for using our special link: http://www.smoking-meat.com/amazon