In my humble opinion, the best part of the chicken is the thigh. There is plenty of fat to keep it moist and of course the fat is where the flavor is. Unfortunately it is not the healthiest part so this should be a treat, not an everyday staple;-) These smoked chicken thighs are seasoned front and back with my original rub (purchase recipes here) then stuffed with strips of fresh jalapeño and a good sized dollop of cream cheese.
To hold everything together, we wrap a single slice of thin bacon around the chicken thigh and smoke them until done. If you like, they can be glazed with my thick, tasty barbecue sauce (purchase recipes here) to take them to the next level of delicious.
I'm not even going to tell you how many of these I ate.. they were SO good!
Helpful Information
What You'll Need
8 boneless, skinless chicken thighs
8 oz cream cheese
4 fresh jalapenos, cleaned, deseeded
8 slices of thin bacon
½ to ¾ stick of butter
Muffin pan with at least 8 holes. Large rectangles are best.
Step 1: Prepare Peppers and Cream Cheese
Clean and deseed the jalapeño peppers. Then cut them into strips that are about ¼ inch wide.
I got (6) strips out of each pepper.
Open the 8 ounce box of cream cheese and lay it on a cutting board. Use a knife to cut it in half, then cut the 2 pieces in half, then cut the 4 pieces in half. You'll end up with (8) pieces that are equal in size.
Set the peppers and cream cheese aside.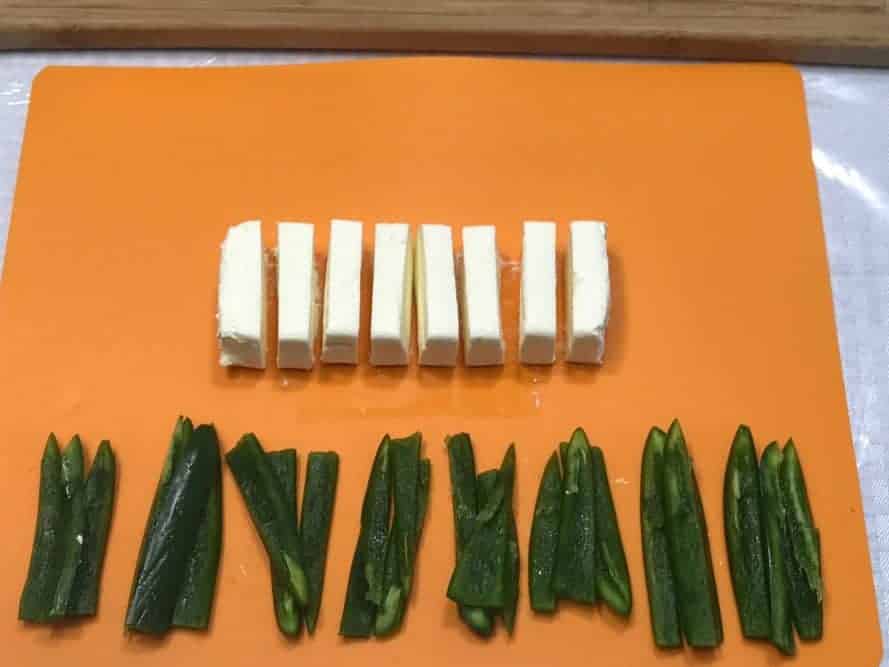 Step 2: Clean up and Season the Thighs
The thighs I purchased had a considerable amount of fat on them so I used some kitchen shears in tandem with a sharp knife to remove most of this.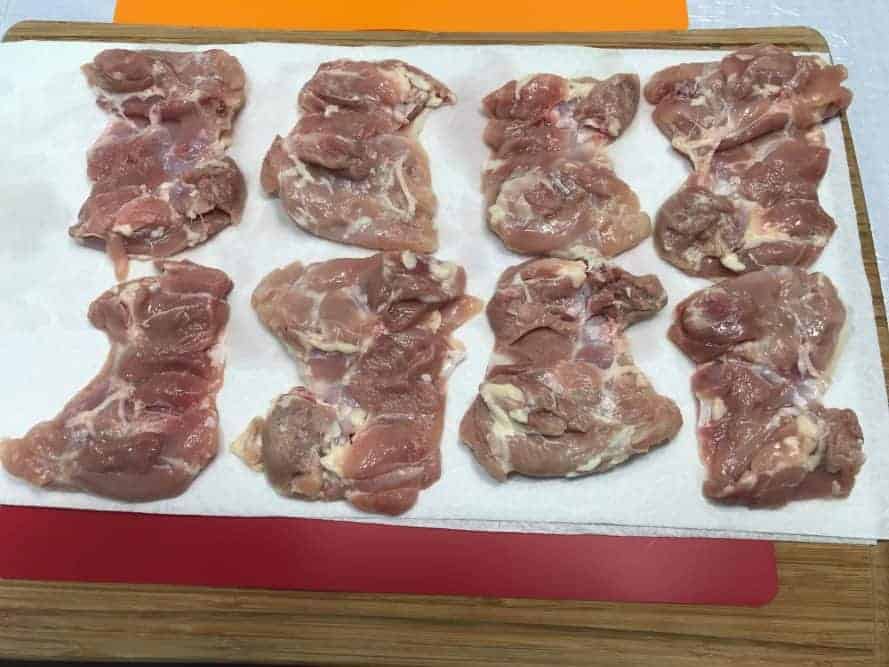 Lay the thighs flat on a cutting board and season the inside liberally with Jeff's original rub (purchase recipes here).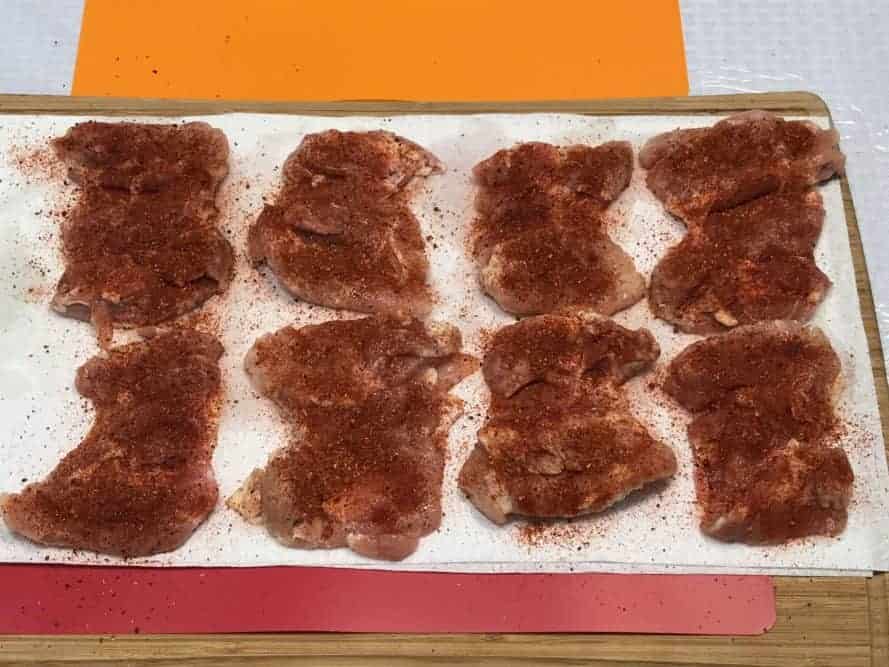 Step 3: Stuff the Thighs
With the seasoned thighs laying out flat, lay a piece of the cream cheese and 2-3 strips of the jalapeno pepper in the center.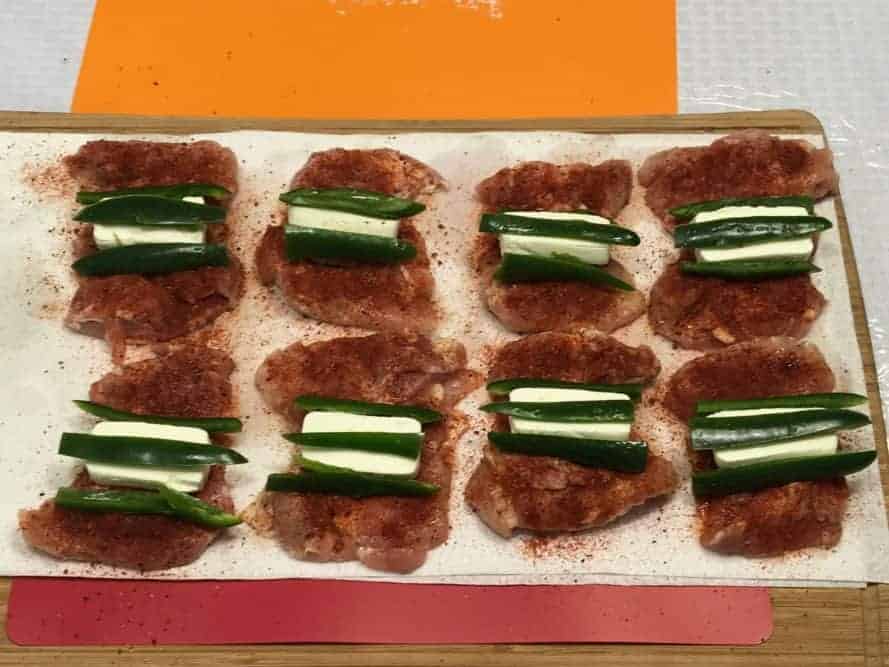 Fold the thighs over the top of the "stuffing" and they are ready to wrap in bacon.
Step 4: Wrap Them Up
You will need a single slice of thin bacon for each chicken thigh. Stretch the bacon a little if you can to make it longer and this will give you more wrapping capability.
Hold the stuffed thigh in your hand and wrap a piece of stretched bacon around the thigh to hold it together.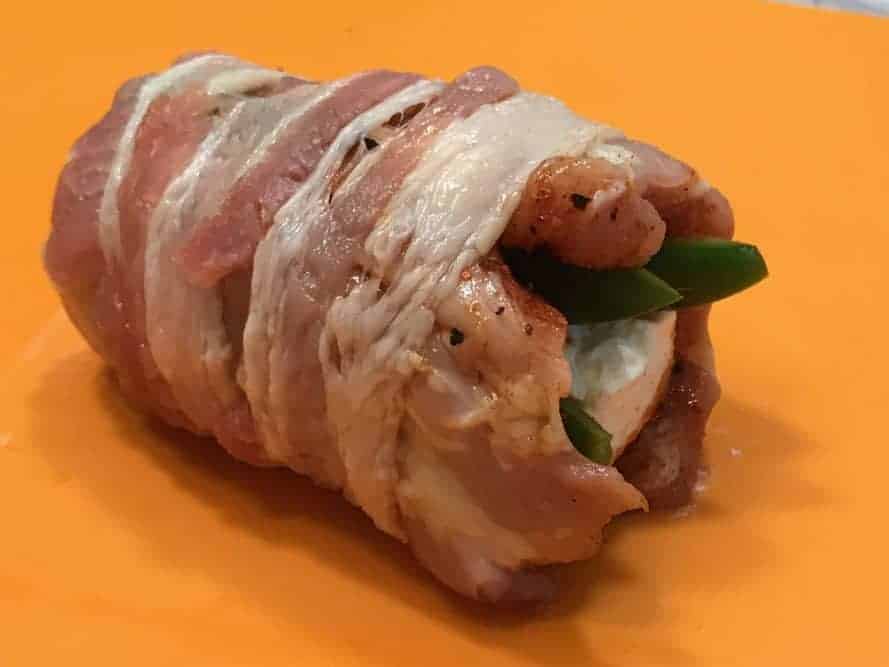 Step 5: Into the Muffin Pan with Butter
As you finish wrapping the thighs with bacon, place each one in a hole in the muffin pan. This will help to hold it together and give it great shape.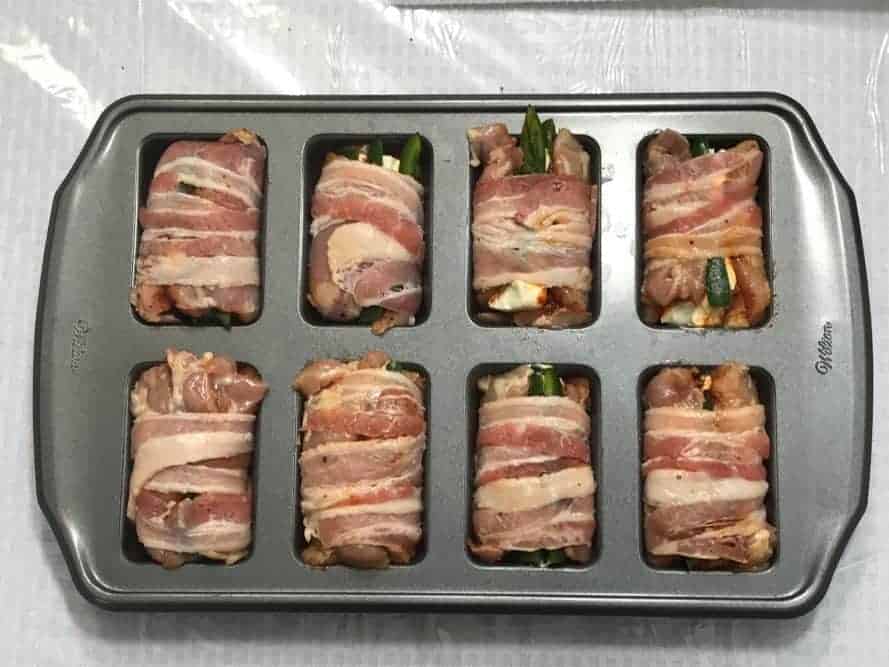 If you do not have a muffin pan, carefully lay them on a Weber grill pan for easy transport to and from the smoker.
If you like, you can purchase this pan on Amazon.
Give them another good sprinkling of Jeff's original rub (purchase recipes here) for great flavor.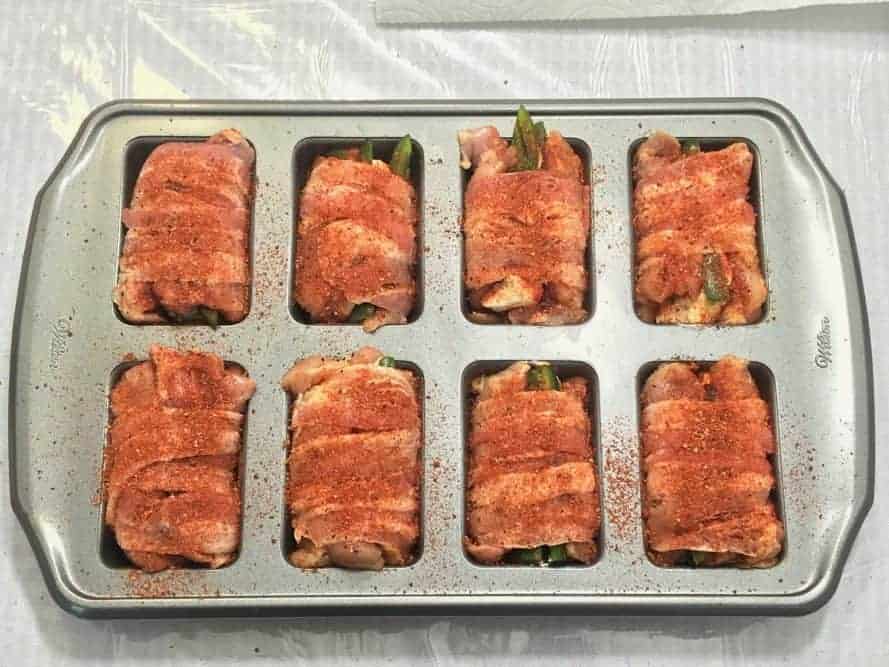 Most who make these place a pat of butter on top of each one for flavor and moisture.. I rarely say no to butter 😉
I just happened to have ¾ stick of butter in the fridge and I cut it into 8 equally sized pieces.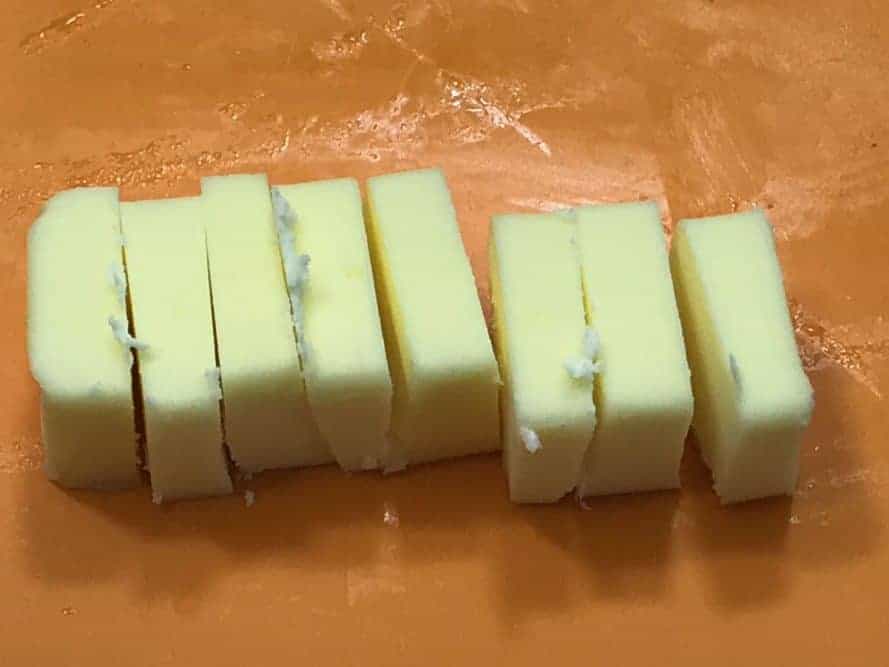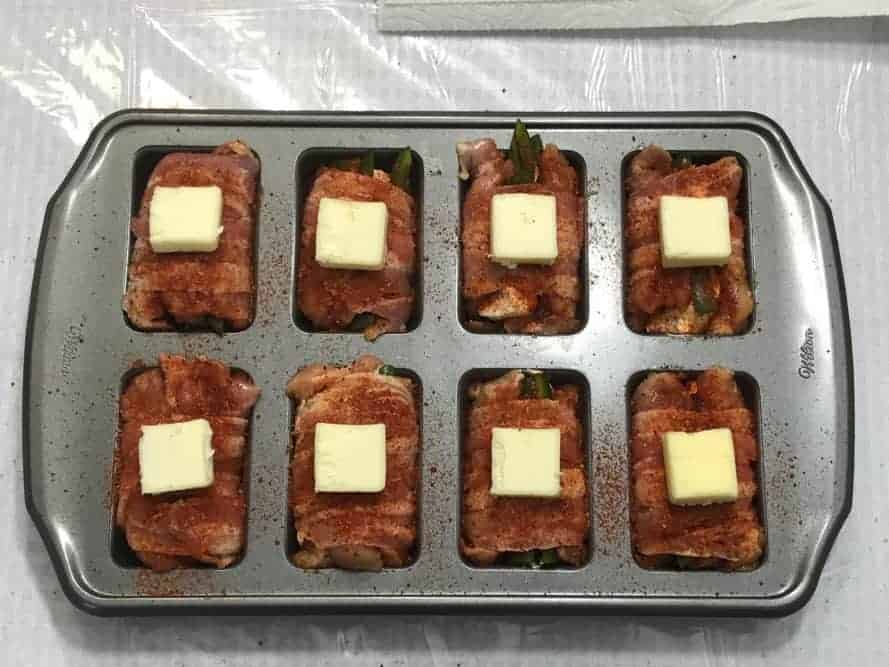 Step 6: Set up the Smoker
Setup your smoker for cooking at about 275°F with indirect heat. If your smoker uses a water pan, fill it up.
I recommend letting any smoker preheat for 30-60 minutes before using it as this allows all of the metal to heat up and that helps to maintain heat and to recover faster when you open the door or lid.
I used the Camp Chef Woodwind (now called Woodwind SG) pellet grill for chicken thighs but any smoker will work great as long as it can maintain the temperature adequately. You can definitely cook these at lower temperatures if you need to but it will take longer.
About the Camp Chef Woodwind SG
Pellet smoking is an ALL WOOD method of smoking.. like a big stick burner, the heat comes from burning real wood and the smoke is just something that naturally happens when you burn wood. There is nothing more "real" than using real wood to cook and smoke your food.
Among pellet grills, the Camp Chef Woodwind is one of the best due to how well it works and all of the great features that it has.. many that are not found on the other brands and models:
An ash cup on the bottom of the unit to catch the ashes and make cleanup a lot easier. I am pretty particular and still vacuum out the smoker but you certainly don't have to do that often with this added feature.
A chute opens on the bottom side of the hopper so you can dump the pellets into a container and replace them with a different flavor (nice!).
A 2nd full-size cooking shelf comes standard. You just can't have too much shelf space in my opinion.
A propane powered sear box capable of 900°F that attaches to the right side of the unit. This allows you to sear burgers, steaks, chicken, etc. once they are done cooking. You could also just use it to cook steaks or other meats at very high heat.
3 year warranty and free shipping ain't a bad feature either!
Did I mention that the fire pot where the pellets burn is made from stainless steel.. it will probably outlast me!
Last but certainly not least, there's a knob on the outside that allows you to slide the heat deflector to the side which lets some of the flames and direct heat come straight up, through cutouts in the drip pan, and to the food you are cooking. This "direct heat" means you can put a sizzle on things like hot dogs, burgers, chicken, etc although I still like the searbox much better for this purpose.
Many of you have let me know that you purchased this pellet grill due to my recommendations and that you are having the time of your life using it. I love hearing how you are having fun with your smoker! I only recommend smokers that I love to use and if I love to use it, I just naturally think that you will too.
If you are looking for an easy to use smoker that burns REAL WOOD for heat and smoke, that's versatile enough to smoke, bake, barbecue, grill and even sear, then look no further. This grill is for YOU!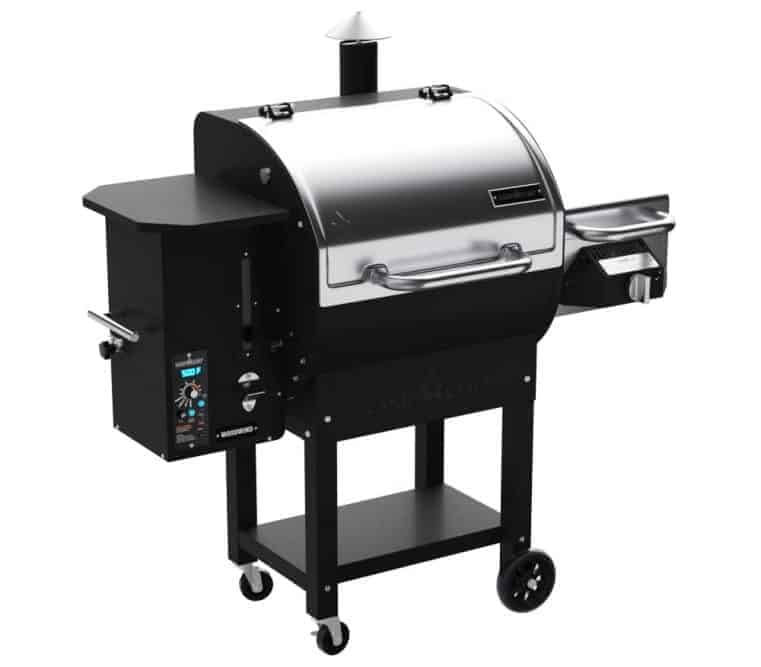 Back to Setting Up the Smoker..
Once the smoker is preheated and ready to go, it's time to smoke!
If you want to see all of my recommended smokers.. check them out HERE.
Step 7: Smoke Cook the Stuffed Chicken Thighs
The cooking instructions include (2) sub steps.. cooking them for about 40 minutes at 275 °F then foiling them to tenderize and finish.
Place the muffin pan of wrapped chicken thighs on the smoker grate and leave them for about 40 minutes. This is to get them to about 145-150°F and to get some smoke on them.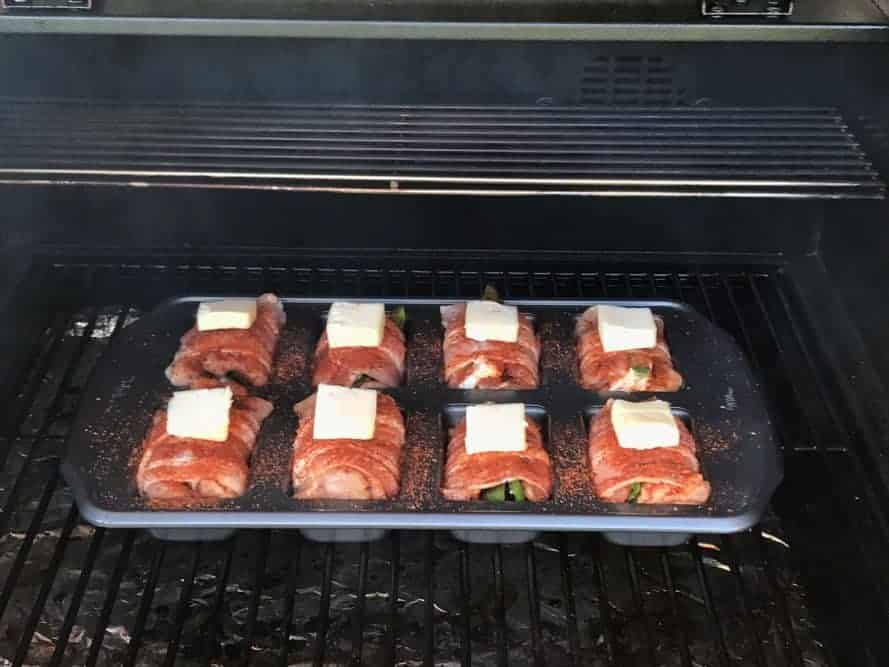 After this, cover the muffin pan with a piece of foil to let the thighs tenderize and finish cooking. I recommend using a leave in thermometer such as the "Smoke" by Thermoworks to monitor them. This process will only take about 20-25 minutes tops for them to reach 170-175°F.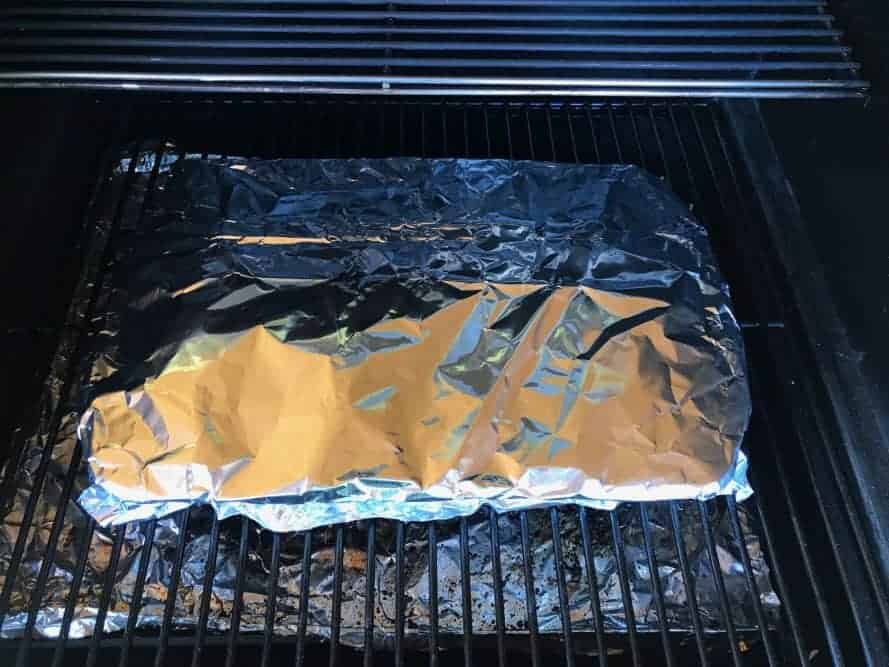 Once they finish, use a instant read thermometer to check each one and make sure they have reached at least 165°F with an optimum temperature of 170-175°F for tenderness.
Step 8: Sauce Them Up (Optional but recommended)
Remove the chicken thighs from the muffin pan with a fork and lay them on a Weber grill pan, cooling rack or even a cookie sheet.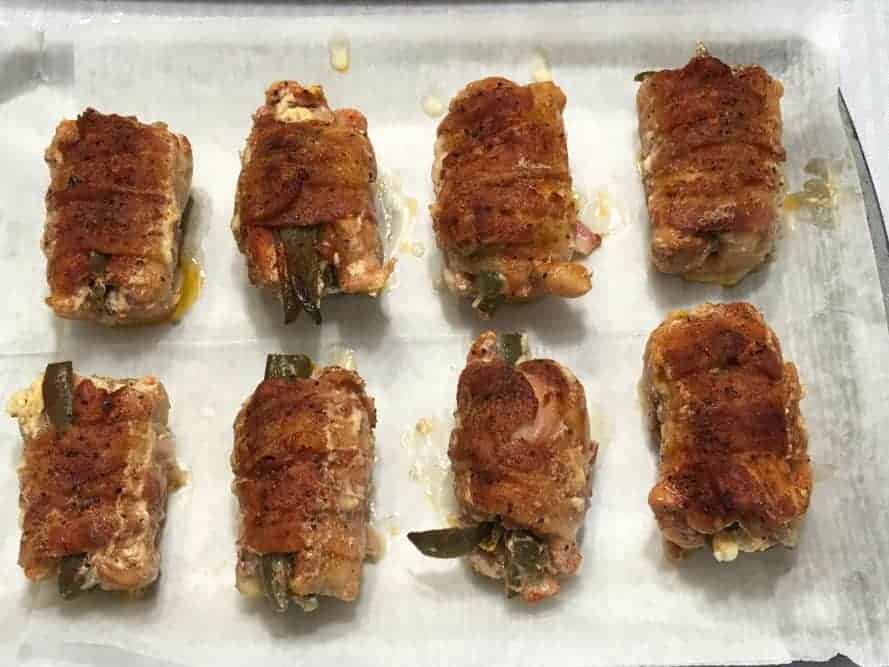 Make a batch of my barbecue sauce or your favorite sauce and coat each piece of chicken liberally using a basting brush. You can also dip the thighs in the sauce if you like.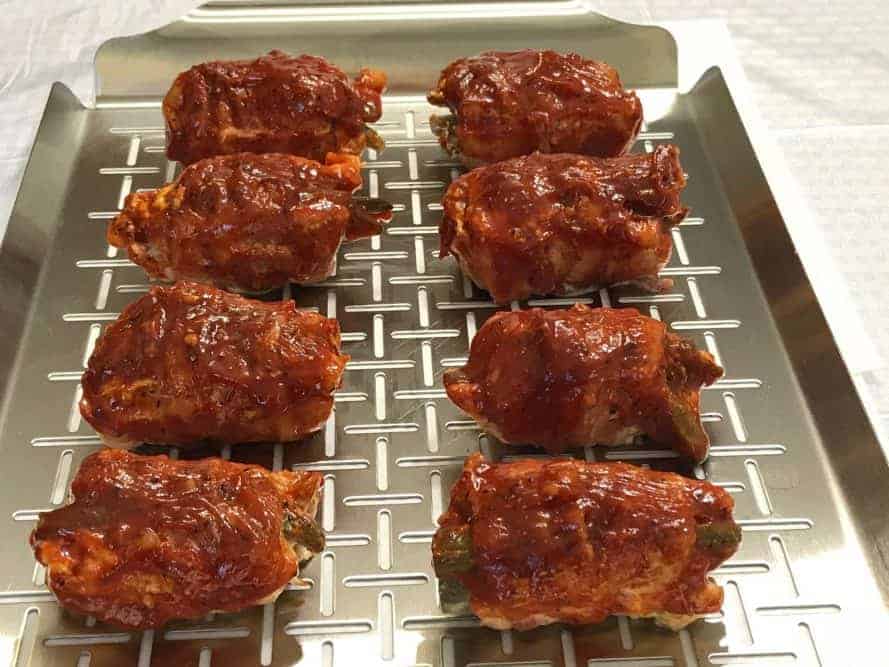 Step 9: Finish and Serve
Place the thighs back in the smoker at 275°F for about 10-15 minutes to set the sauce.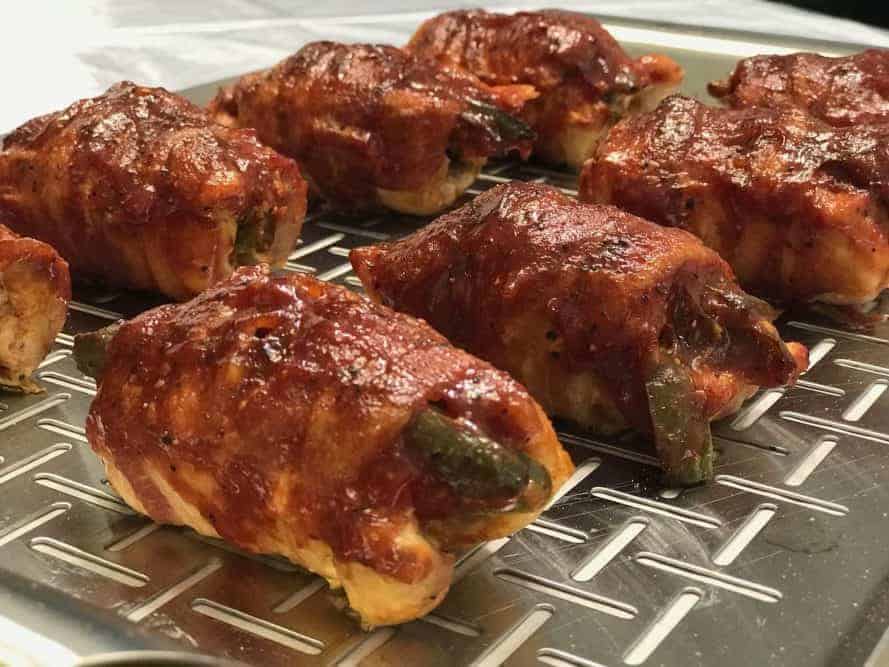 Bring them in the house and serve them up immediately.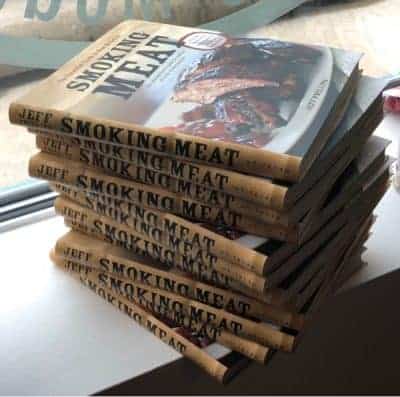 The book is full of recipes and contains tons of helpful information as well. Some have even said that "no smoker should be without this book"!
With more than 900 reviews on Amazon.com and a rating of 4.7 out of 5 stars, it comes highly recommended.
It is a Bestseller in Barbecueing & Grilling books on Amazon.
Thin Blue Foods Store | Amazon | Barnes & Noble | German Edition
Get Almost Anything at Amazon
If you enjoy the newsletter and would like to do something helpful, then..
The next time you decide to order something at Amazon.com, use THIS LINK to get there and we'll get a small commission off of what you purchase.
Thank you in advance for using our special link: http://www.smoking-meat.com/amazon
---
Printable Recipe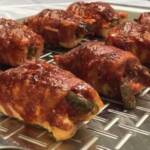 Print Recipe
Jalapeño Cream Cheese Stuffed Chicken Thighs
These smoked chicken thighs are first stuffed with strips of jalapeno and a healthy dollop of cream cheese then wrapped in bacon and smoke cooked to complete.
Ingredients
8

boneless

, skinless chicken thighs

8

oz

cream cheese

4

fresh jalapenos

, cleaned, deseeded

8

slices

of thin bacon

½ to ¾

stick of butter

Muffin pan with at least 8 holes. Large rectangles are best.
Instructions
Clean and

deseed the jalapenos

then cut them into ¼ inch strips. Cut the block of cream cheese into 8 equally sized pieces. Set aside.

Lay a piece of the cream cheese and 2-3 pieces of the jalapeno strips in the center of each thigh and fold over to close.

Wrap a piece of stretched bacon around each chicken thigh to hold it closed. Place the stuffed and wrapped thighs into the holes of a muffin pan to help them hold their shape while they cook.

Preheat the smoker to 275°F using indirect heat and hickory or pecan for smoke.

Once the smoker is ready, place the pan of chicken onto the grate of the smoker and let them cook for about 40 minutes.

After 35-40 minutes, cover the pan with a piece of foil to tenderize the chicken and let them continue cooking for about 20-25 minutes or until they reach 170-175°F.

Remove from the smoker and serve immediately.