Pulled Pork Recipe with Coleslaw
Smoking-Meat.com is supported by its readers. We may earn an affiliate commission at no extra cost to you if you buy through a link on this page.
Read this article without ads
This is a pulled pork recipe I have been wanting to get on the website for some time now.. I being a Carolina native am a little partial to southern barbecue.. we put slaw on our smoked pulled pork sandwich and if you have not tried it.. well I am about to tell you how!
Smoking the Pork Shoulder
Ingredients:
8 lb Pork Butt or Picnic)
Spicy Rub (recipe below)
Barbecue Sauce (recipe below)
Instructions: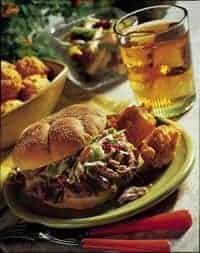 Rub the pork butt generously with spicy rub. Wrap tight in plastic and refrigerate overnight. Remove pork from refrigerator and smoke pork butt for 10-12 hours at 225 degrees or until the internal temperature of the meat reaches about 200 degrees. Shred pork by hand and place into bowl. Cover with smoky BBQ sauce. Toss and serve. May put in 170 degree oven to keep warm.
Note: This pulled pork recipe assumes you know the ins and outs of actually preparing and smoking the pork butt or picnic. If you need more details on how to prepare and smoke the pork shoulder in this recipe then go on over to the Pork Shoulder Recipe page.
Spicy Rub
Ingredients:
1/4 cup Dark Brown Sugar
1 cup Paprika
1/2 cup Celery Salt
2 Tbsps. Granulated Garlic
1/2 Tbsp. Mustard Powder
1/2 Tbsp. White Pepper
1 tsp. Cayenne Pepper
2 tsps. Ground Thyme
1/2 tsp. Salt
Instructions:
Sift all ingredients into bowl. Mix well.
Smoky Barbecue Sauce
Ingredients
1 cup Apple Cider Vinegar
1 cup Ketchup
1/2 cup Ketchipotle
(chipotle ketchup)
3 Tbsp. Brown Sugar
1/4 tsp. Salt
2 Tbsps. Yellow Mustard
Instructions:
Mix all ingredients together and simmer for 10 minutes in a sauce pan.
Note: You can also use your own bbq sauce in this pulled pork recipe or for a flavor that will knock your socks off, order my special rub and sauce recipe..
Cole Slaw recipe below..
Cole Slaw Dressing
Ingredients:
1 1/2 cups White Vinegar
1 cup Cider Vinegar
1 1/2 cup Sugar
6 Tbsps. Dry Yellow Mustard Powder
2 Tbsps. Celery Salt
2 tsps. Ground White Pepper
Instructions:
Place all ingredients into stainless steel saucepan. Bring to a boil mixing well. Turn off fire and let cool.
Cole Slaw Mix
Ingredients:
3 heads White Cabbage (sliced thin)
8 ozs. Green Pepper (julienne)
8 ozs. Red Pepper (julienne)
8 ozs. Red Onion (thin slice)
12 ozs. Carrots (julienne)
1 cup Peanut Oil
2 tsps. Celery Salt
2 1/2 cups Cole Slaw Dressing (recipe above)
Instructions:
Toss all ingredients together. Let stand one hour and serve.
This pulled pork recipe makes about 8 servings.
Making the Sandwiches
Pull the pork butt into small chunks/strips and place a good heaping on bottom bun. Next put about a tablespoon of the smoky barbecue sauce on the meat. Heap some of the awesome cole slaw you made on top of that, place the top bun on and chow down.
See the picture above for a better idea of how the sandwich goes together.
Get Jeff's Products!